Dahab, Desert & Diving
Hail to the Hive!
After 4 amazing days in Cairo we made the joirney to the Sinai and our next destination hotel. Happy Life Village. I've worked on a few resorts but I've never taken a holiday on one and wasn't really sure what to expect, especially with a corny name like 'Happy Life Vilage'. What could I expect? An Egyptian version of The Waltons?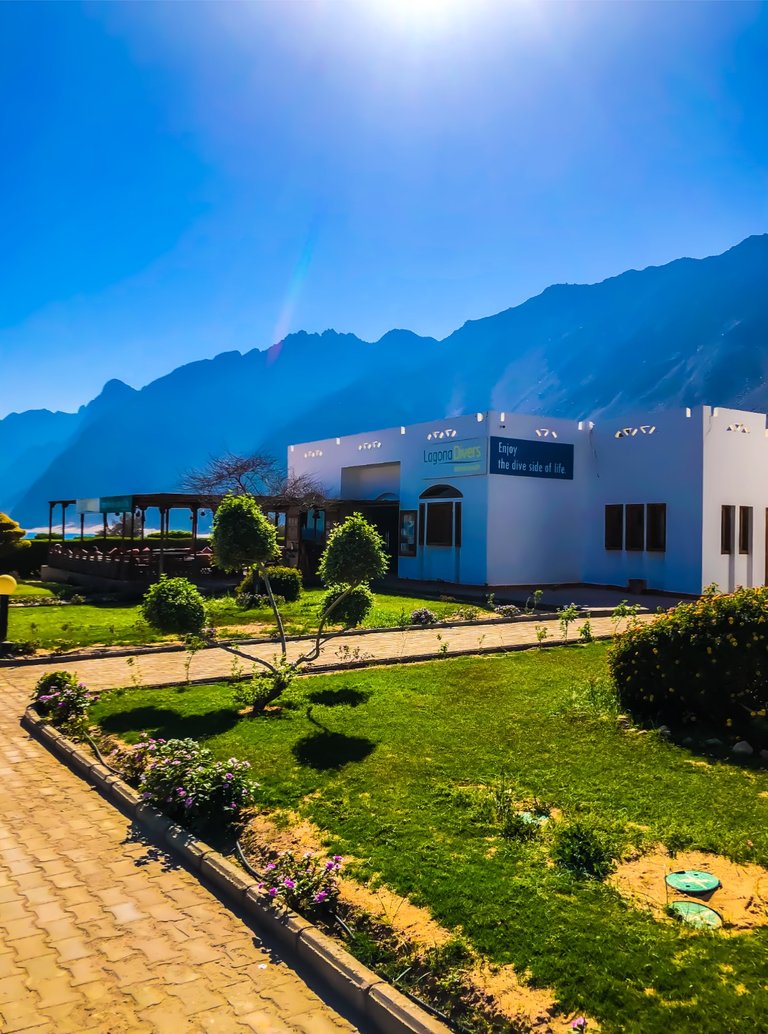 Anyway, right after breakfast I went down to scope out the dive shop and organise a bit of scuba adventure for the week, sign liability releases and show diving certifications etc. All the stuff I used to ask people to do when walking into my old dive shop.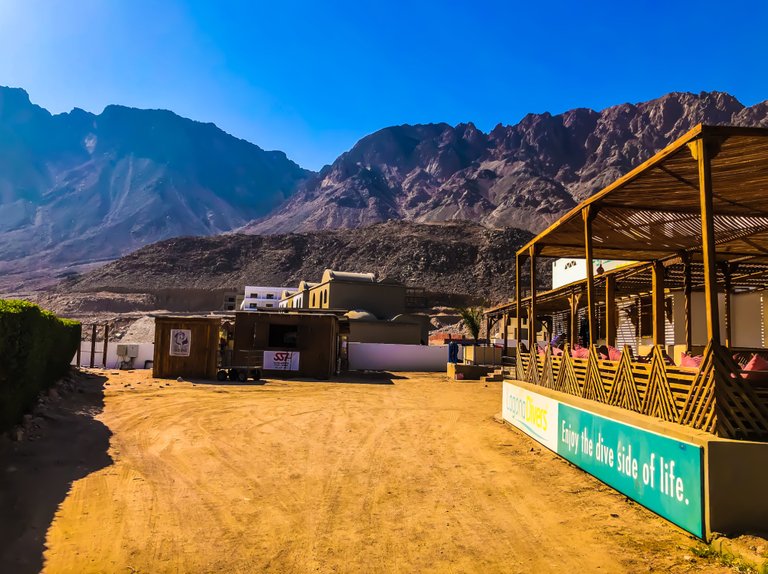 Me being me, I also asked to have a nose around their compressor room and general set up out of professional curiosity. They had a very nice and tidy little operation here I must admit. The tank filling stations were neatly organised and well maintained ( always a good sign) and their gear was in good condition, we had brought our own anyway but again it's a good sign they do thing's properly.
There was also good gearing up areas in the shade and chill out areas for before and after diving excursions. I was impressed, a very nice set up.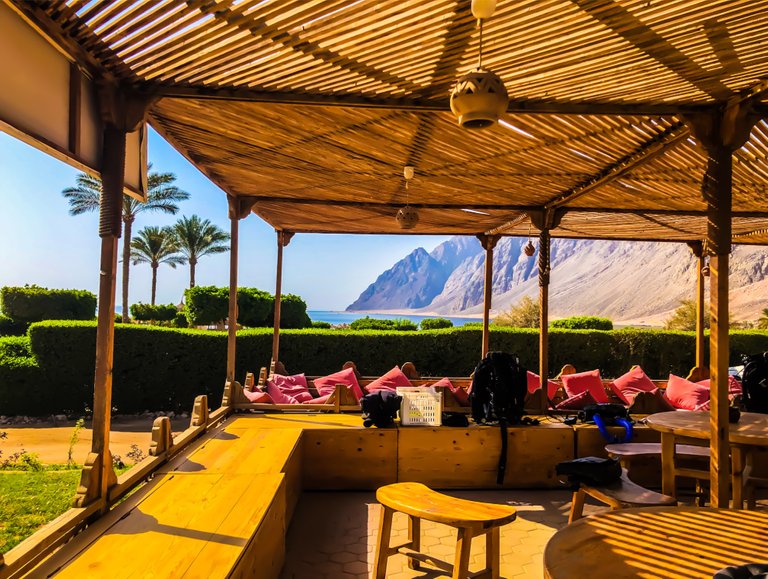 After the first days check out dives to be sure we weren't a liability the following day we loaded up a Toyota Truck and drove out to a nearby dive spot they called the Islands, due to it being a shallowish site with lots of coral islands underwater.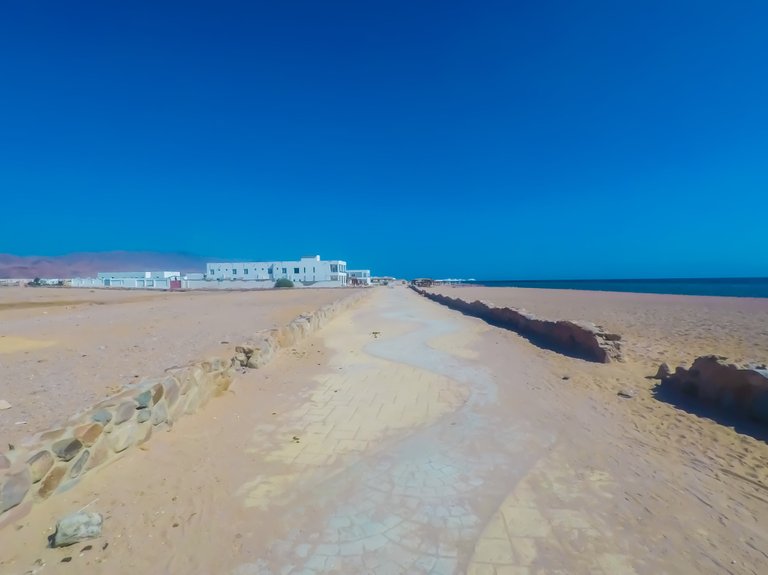 Luckily, or maybe by design, there was a shady spot to gear up to spare us from the desert sun. My head was already a tad red as I had cauga bit of sun riding camels around the Pyramids a few days earlier.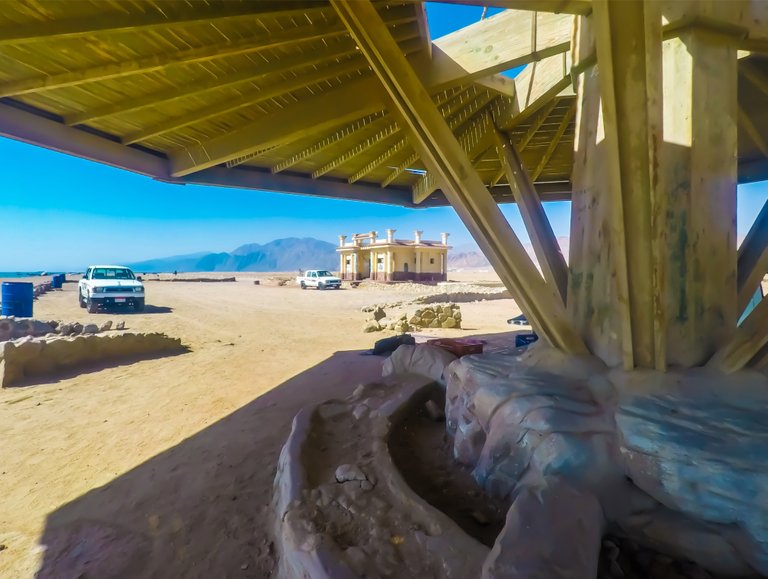 As we assembled and donned our scuba gear I was lost in memories of my previous visit to the Sinai 30 years earlier, the red mountains and desert conjuring up many a lost memory from my adventurous youth.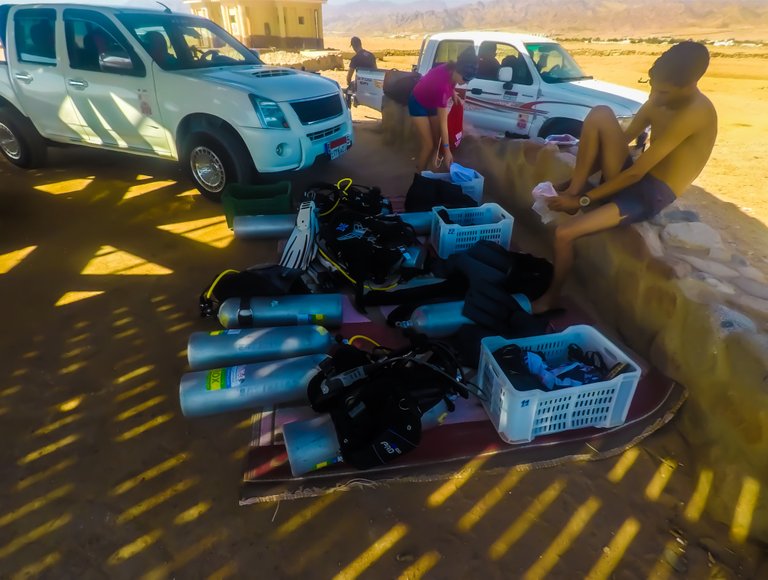 So much had changed here and I guess I had also changed a great deal in those 30 years.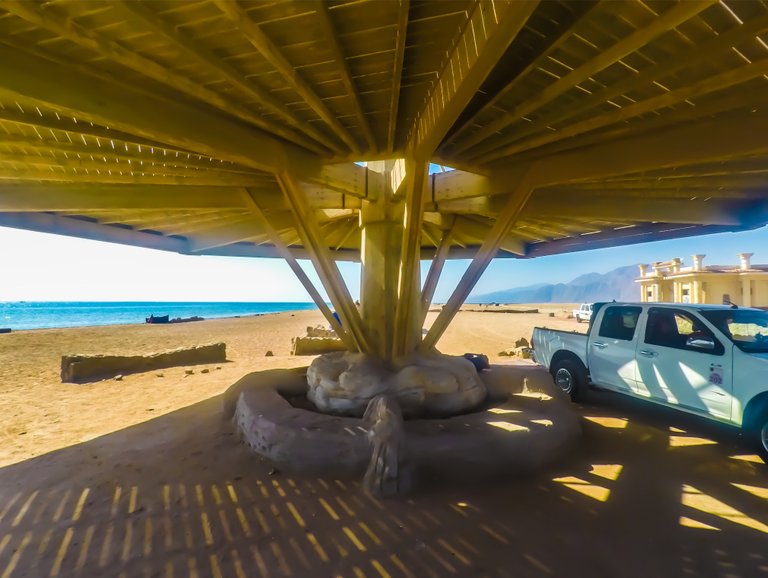 After Abdul gave us a dive briefing we entered the water from the shore carefully walking into the sea over the rocks.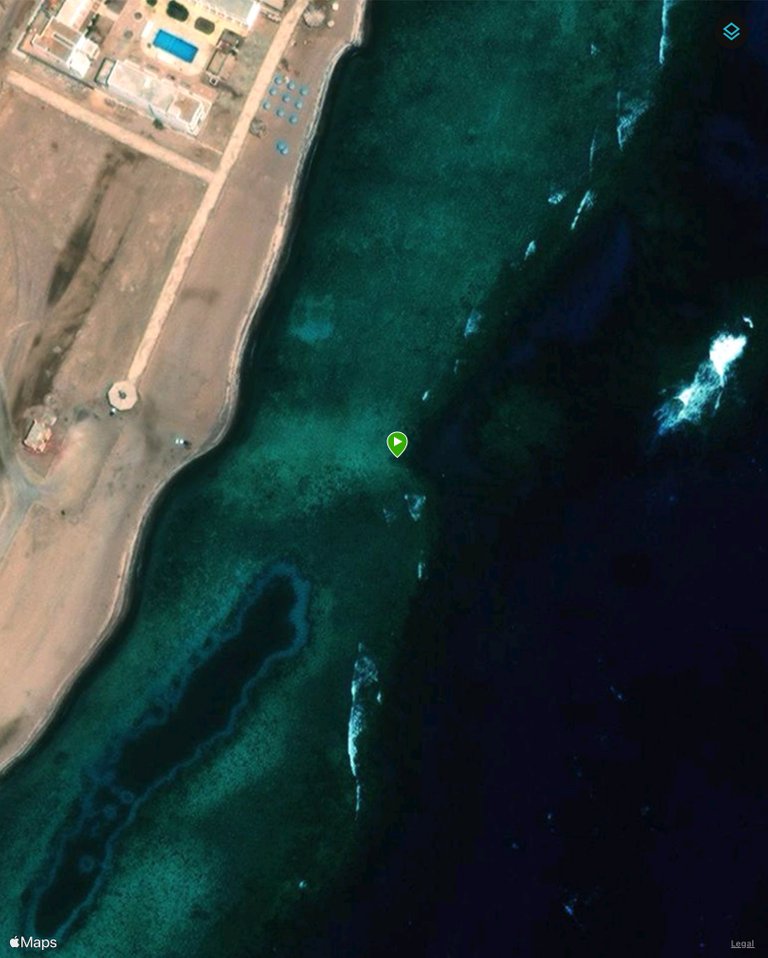 Image source: Apple Maps/Garmin Dive App
Almost immediately we were greeted by the underwater hooligans that are clown fish. Nemo has a bad attitude I'm telling you now. If these fish were bigger we would all be afraid to get in the water. Absolutely aggressive little wankers they are. But luckily harmless.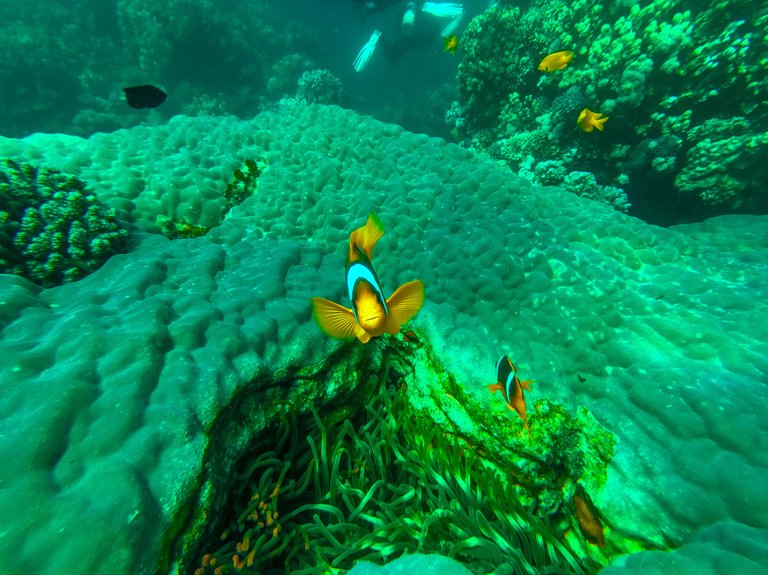 It was a small group with a Polish couple in front of me that were directly behind the guide.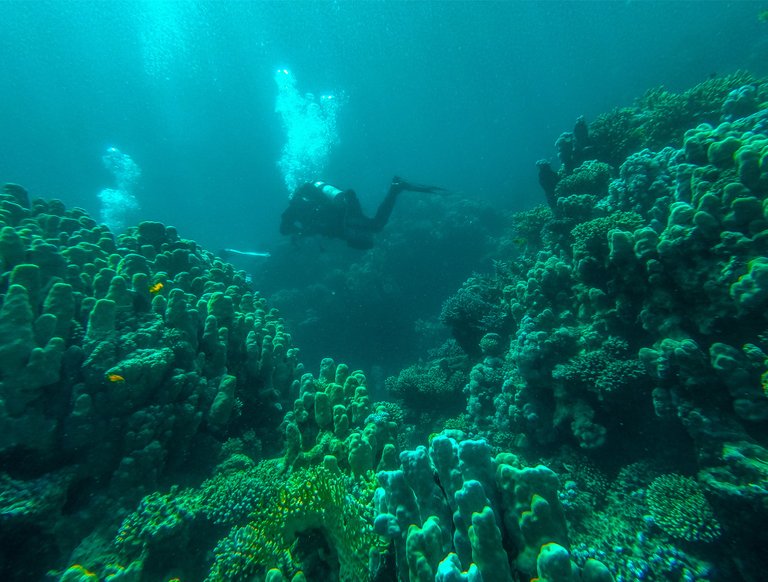 I like to be able to see where everyone is. I guess old habits die hard.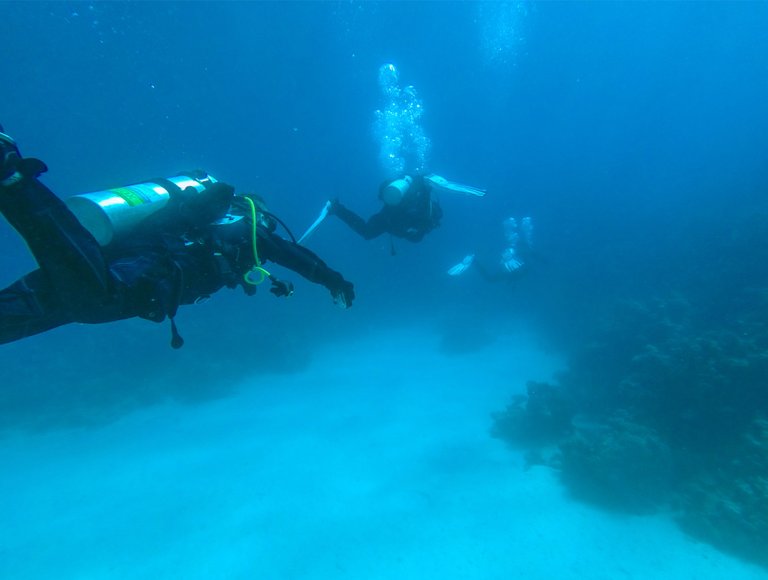 Everyone was comfortable and competent. They were good divers and we all slowly and in a relaxed fashion spent a good hour underwater taking in the beauty of the reef.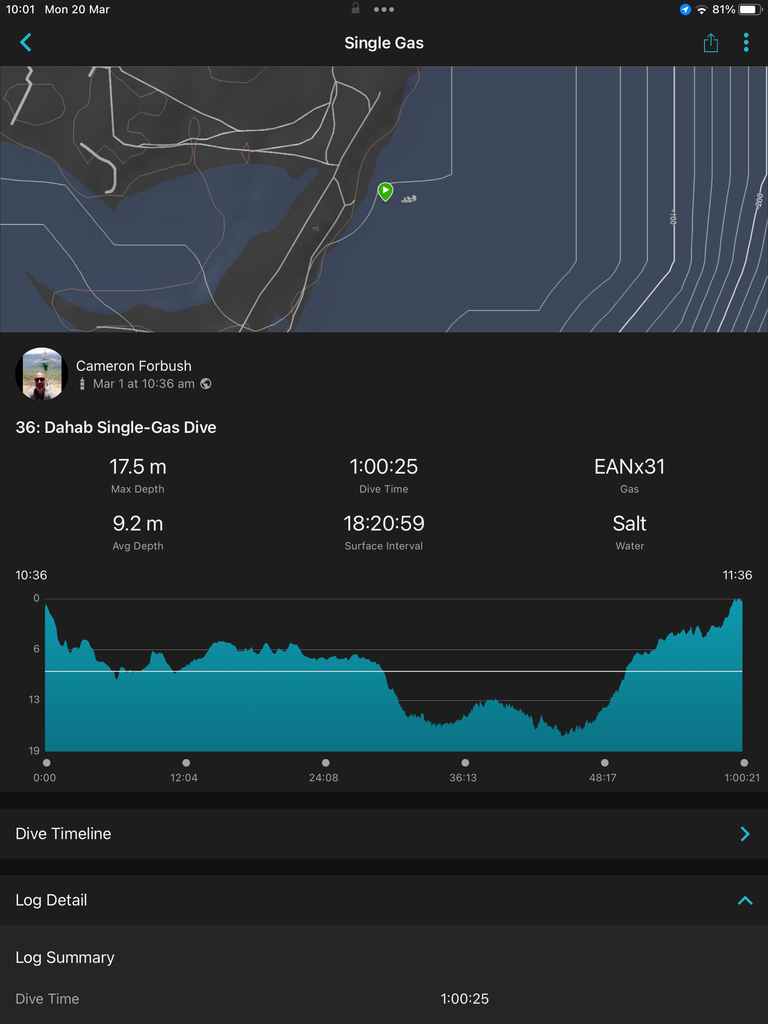 Nice to see that even being a little rusty my air consumption is still good and an hours dive easily achieved 😁.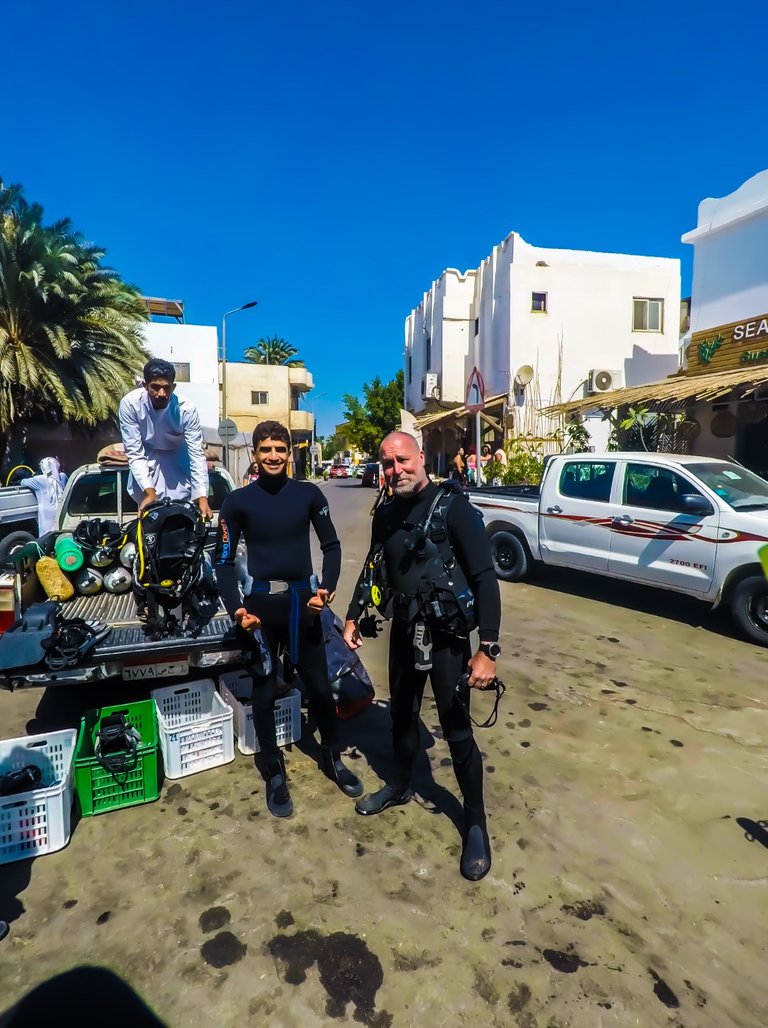 Next stop, Lighthouse reef and an underwater Elephant awaits! We had to drive into the town of Dahab for this and this freaked me out as it wasn't at all like this 30 years ago. Not in the slightest.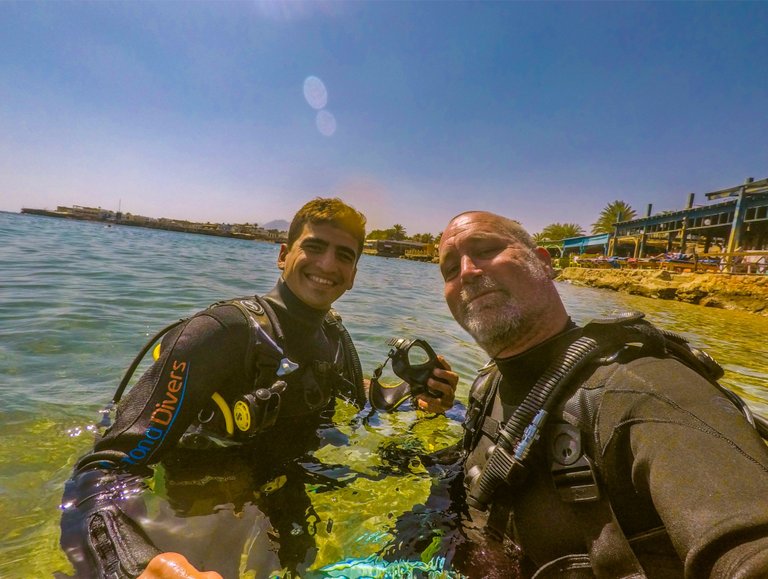 An odd walk in full scuba through the town and then into the water.
The visability on this next dive wasn't great but it's not everyday you see an elephant underwater.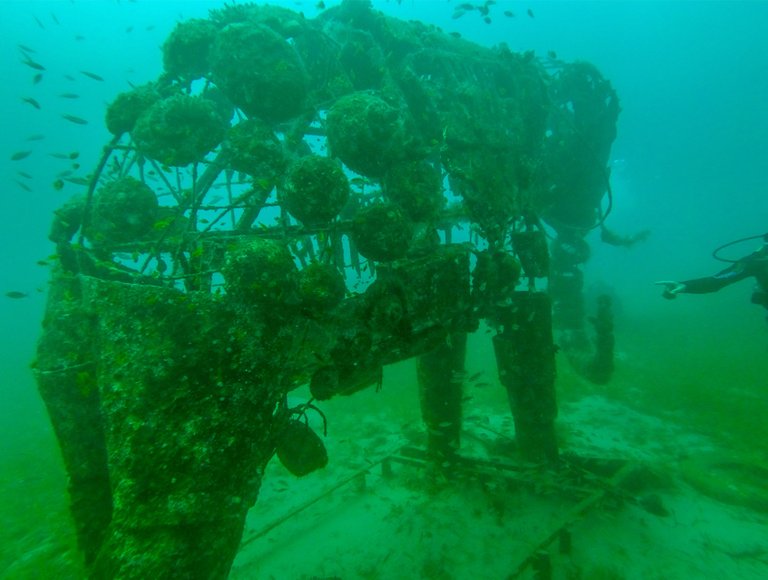 Even if it is made out of random junk.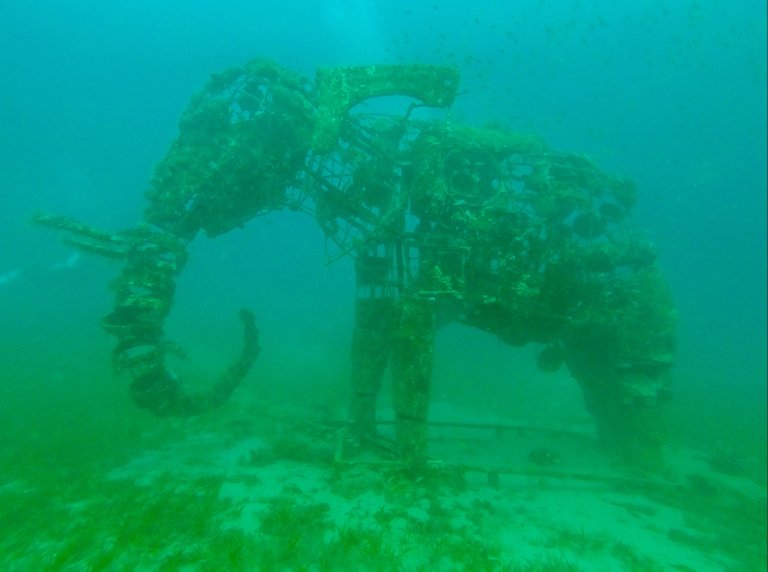 It's not everyones cup ofvtea but I like quirky underwater sculptures like this. I can see it's mostly a sandy training area so it does make it a little more interesting for the students and theres no corals for them to damage here.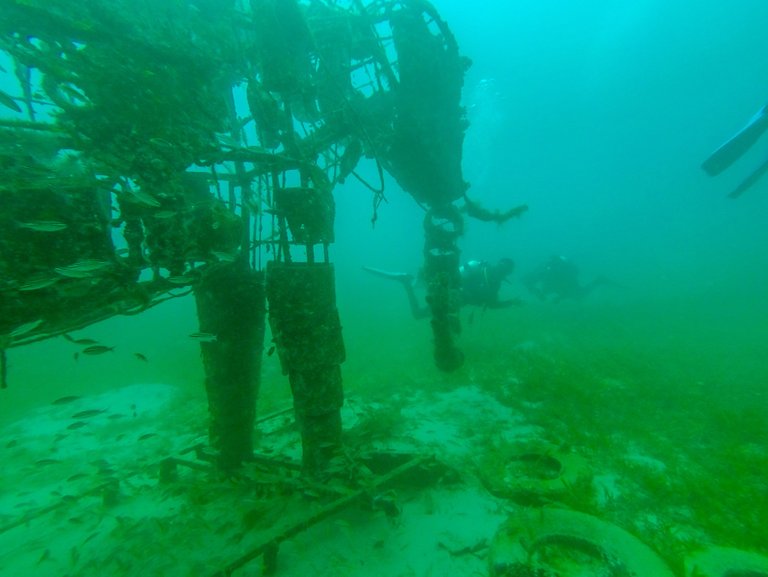 We all quite enjoyed the swim around the elephant and it was a cool photo opportunity. I did e mail some shots of my new Polish diving friends diving with the elephant to them to show off.
The next day was a trip out to the Blue Hole which again involved a drive across the desert shoreline. This time I was accompanied by @diveratt.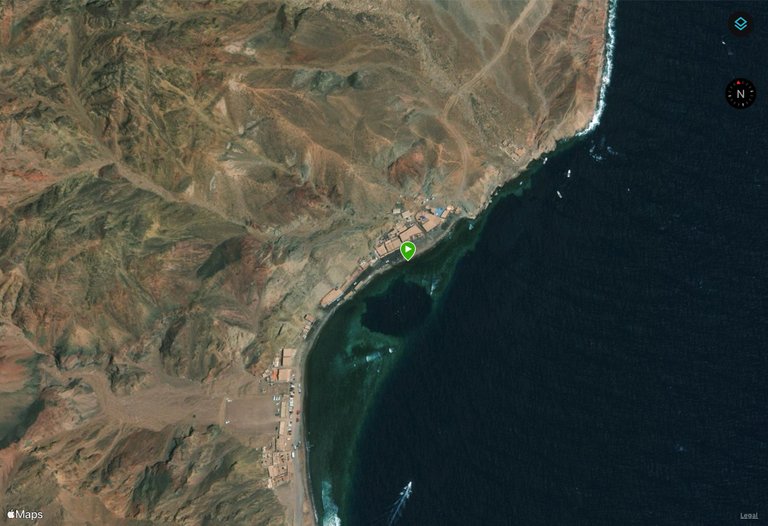 Image source : Apple Maps/ Garmin Dive app
He's dived it before but it was a first for me as I wasn't a diver 30 years ago when I was here in 1993. It was two years later my scuba journey started in 1995.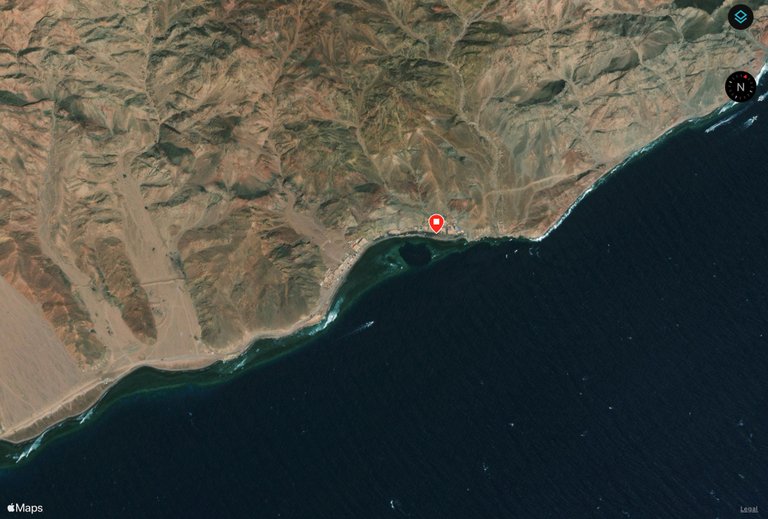 Image source: Apple Maps/ Garmin Dive app
The Blue Hole was created by a combination of a cave collapsing and rising sea levels which now means you have an incredibly deep dive site accessible from the shoreline. This has made it an extremely popular dive site and one sadly that many have lost their lives in.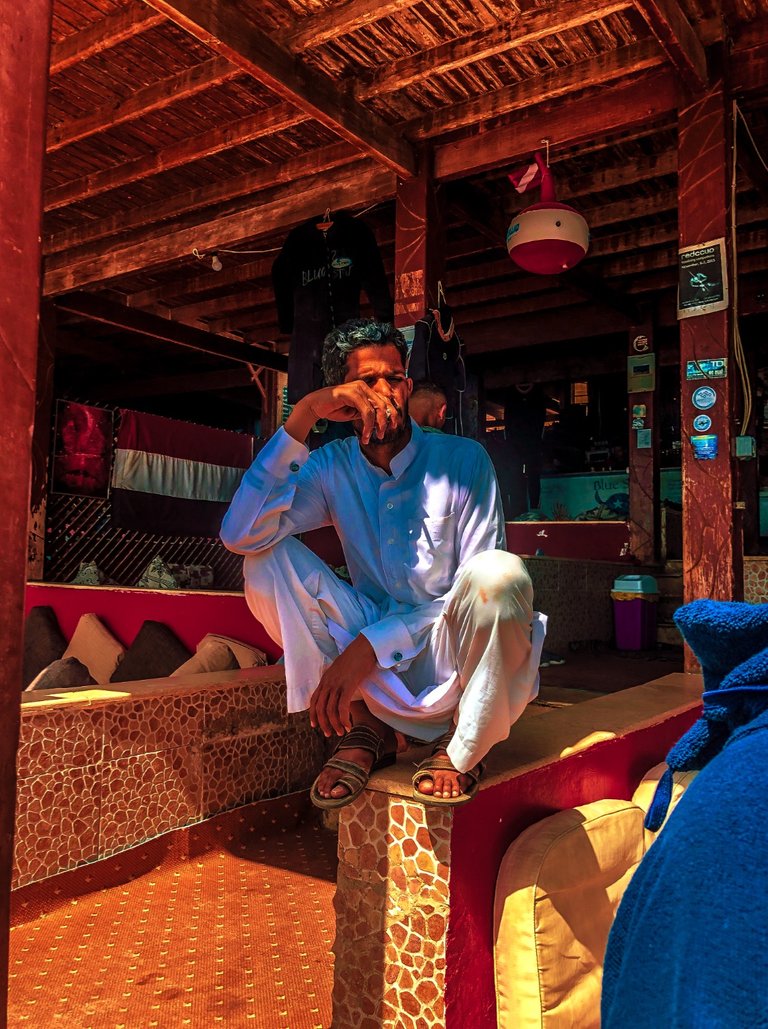 Our driver is clearly exhausted and taking a well earned tea break.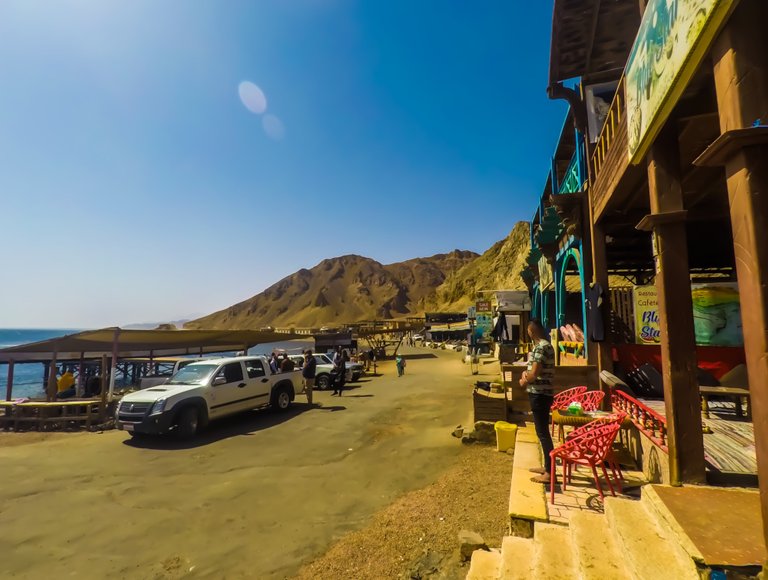 Thisnlittle site at the blue hole is more reminiscent of what Dahab used to look like 30 years ago.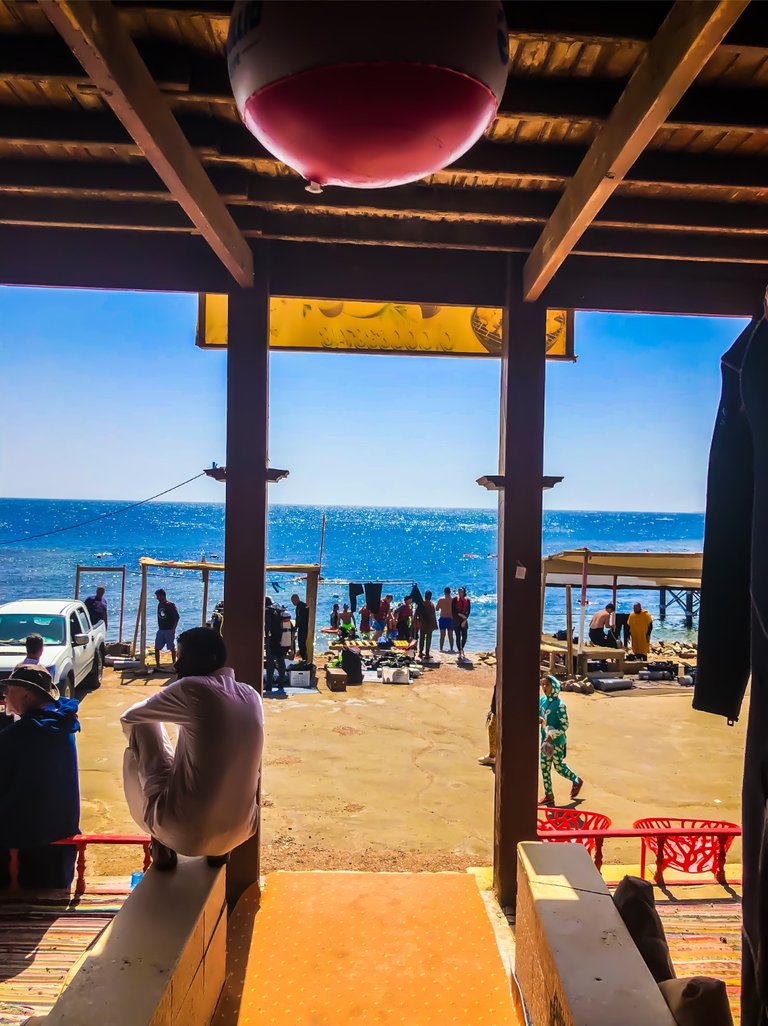 Little bedoiun cafes on the shoreline and rag rugs and tea.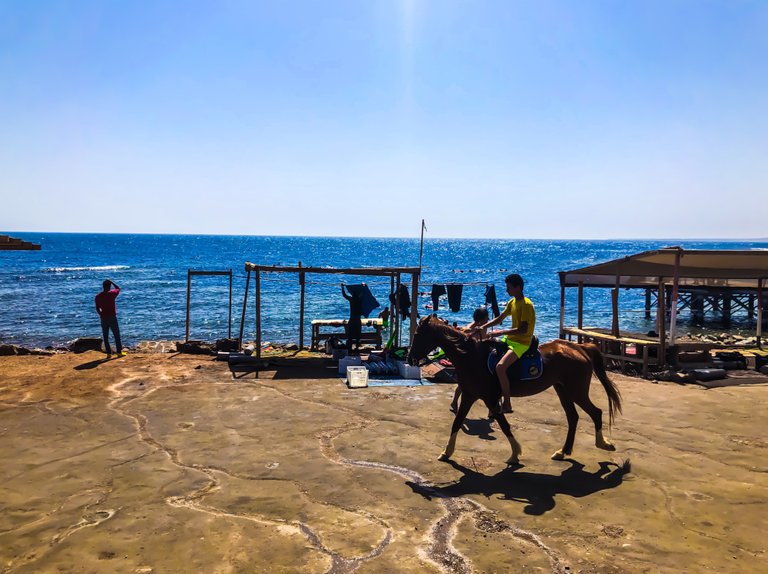 Our dive guide, Ahmed, clearly has friends at this particular cafe so we used it to dump our gear, and of course have a quick cuppa.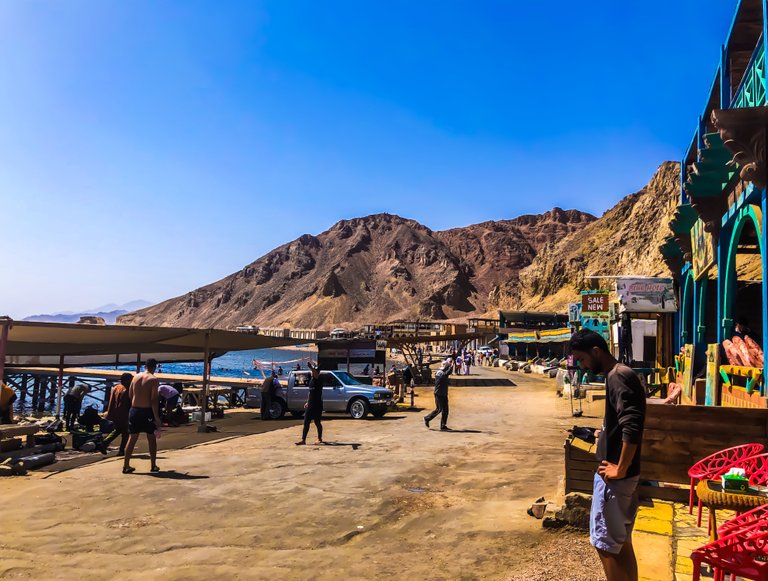 Then it was time to gear up, and get in!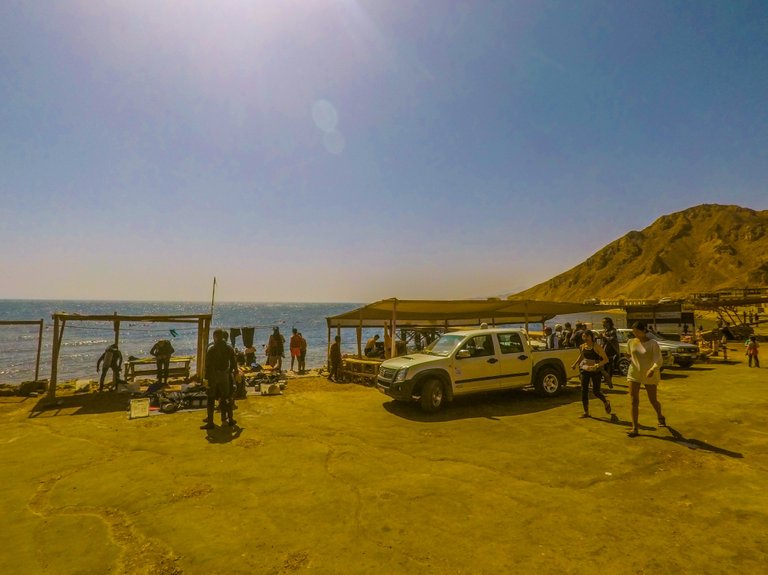 We did a couple of dives in the area on this day and both were lovely. It was nice to be back underwater with @diveratt as we used to do a bit of diving in fron of our houses in the Philippines a few years ago. Same same but different as now we were shore diving in the Sinai.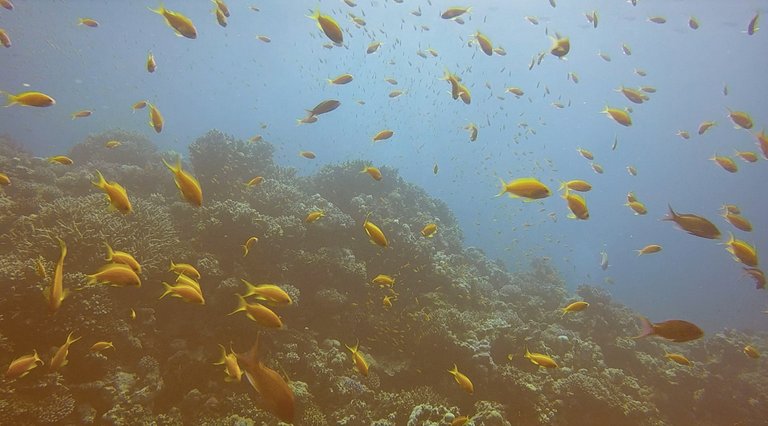 It was very colouful, reefs were healthy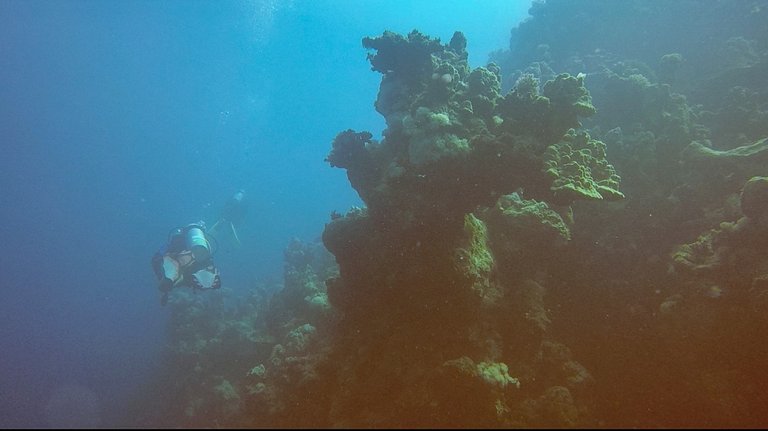 It had dramatic underwater landscape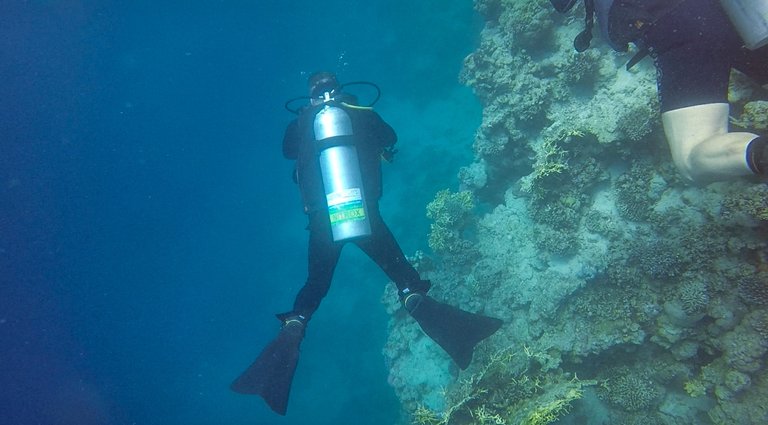 And was deep!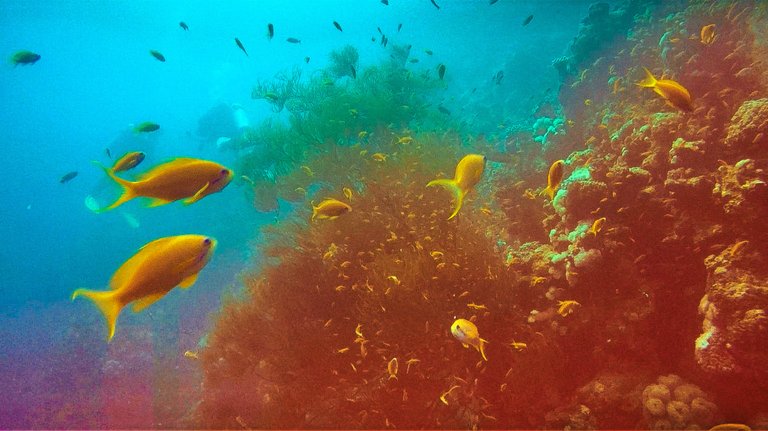 We weren't diving deep deep though as on a single cylinder thats how you end up dead. Nope, we were looking at the colourful stuff, corals and fish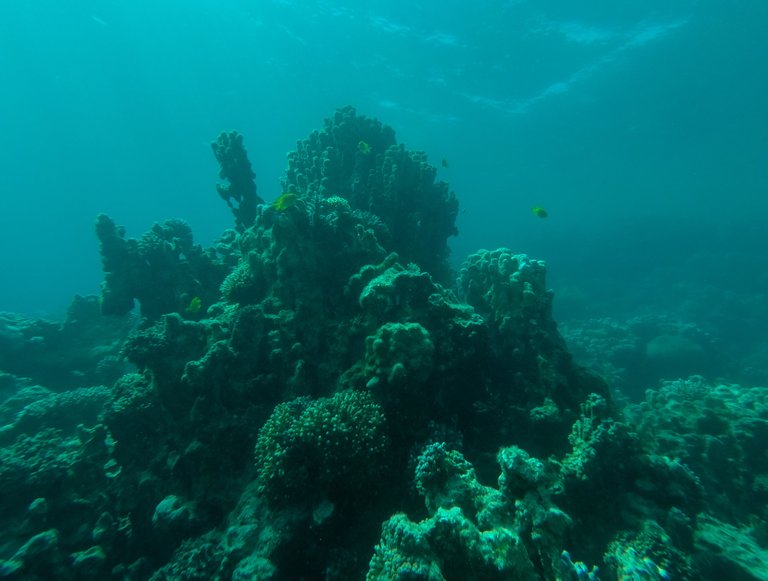 And the deep backdrop just added to the flavour.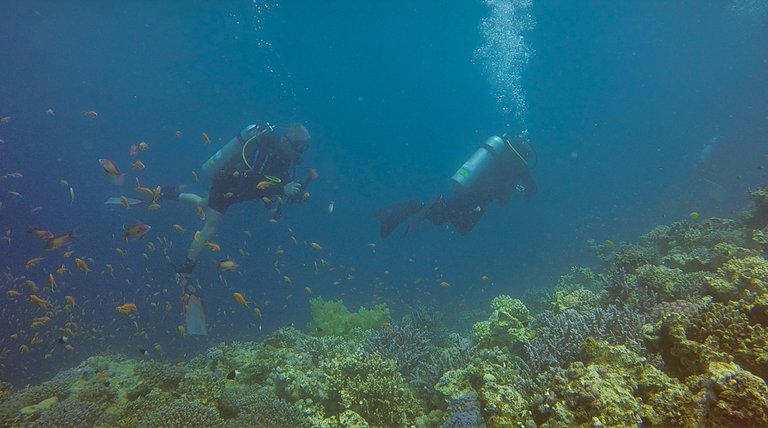 After 30 years I finally made it back tomthe Siani and got to experience it from underwater this time which made my trip complete. It felt almost like , unfinished business.
Job done!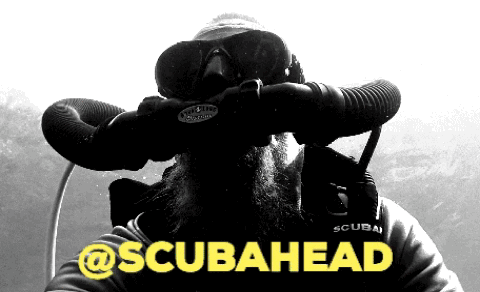 ---
---