The Soup Of Boom 🔥♨️🌶️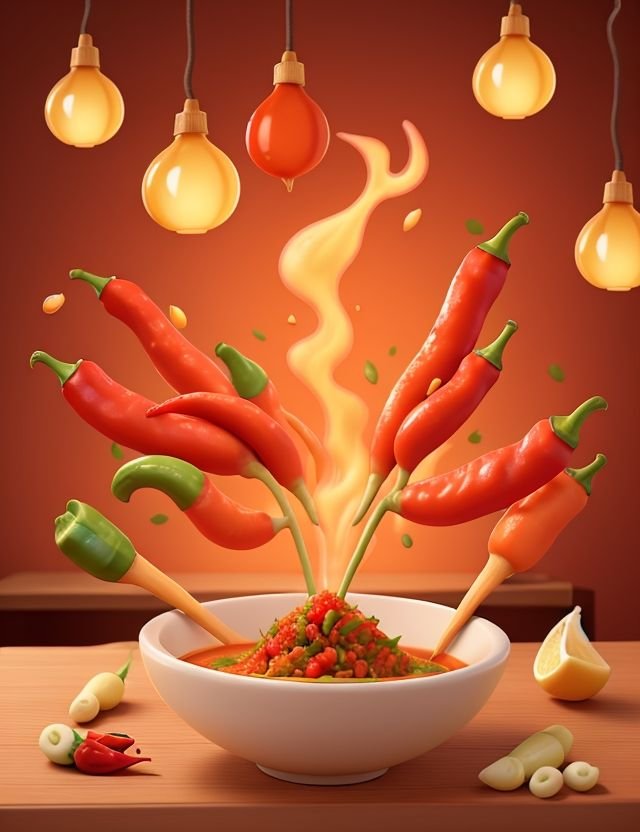 ---
---
I laughed...
I couldn't help but laugh out loud at first when I saw the face he made.
John gasped for air, gulped down water and made the most hilarious face ever.
After about 10 minutes of him stripping his clothes off and gulping water. I had laughed my fill.
I looked at my roommate as he laid down naked and exhausted with his mouth open.
"How're you feeling Acnologia?" I said as I held back a giggle due to the cleverness of my dragon pun.
He held his middle finger up to me as a response.
"You claimed to be the most fiery food taster in the world. Yet one plate of my super spicy spaghetti and here you are spewing flames like a dragon in heat." I said laughing again, while remembering his face.
"It... isn't... over yet." He replied in between breaths.
He then turns over and stands up.
"You still have to eat my own meal."
He begins wearing his clothes.
"I believe the win is already mine." I say boasting.
"There's no food spicier than the Super Spicy Spaghetti!!.", I announce to no one in particular.
"We'll see..." John simply says and walks out.
I came into the room later in the afternoon and saw that John was already in the kitchen.
I heard the noise of scraping pots and smelt the faint scent of pepper.
"You in there John." I asked from the kitchen door.
"Yep, I'm making your meal now." He shouted from the inside.

It was A Simple Challenge.
We weren't meant to check on what each other was making, we were only allowed the name of the meal just before we took a spoon of it.
Then the person who ate his meal completely, would be crowned the Dragon Tongue.
3 hours later, John came out from the kitchen with all smiles.
His brown skin, proof of his African birth, glistened with sweat as he held the steaming bowl towards me.
Inside the bowl, there was a black liquid with pieces of meat floating inside.
The scent alone made me thirst for water.
"What is it?" I asked with sweat trailing down my back.
"It's a popular meal in my homeland of Yoruba. It's traditional name is 'Gujiya dan Miya' but in English, you can call it pepper soup."
He then smiled and sat me down at the table, putting a spoon in my hand.
"Now then, you mild tongue American. You think you have what it takes to drink centuries of culinary history?"
I didn't like the taste of defeat. Heck, I didn't even like the thought of defeat.
Thinking of ever losing at something I tried gave me a bad headache and having to admit that I had lost in a competition made me feel bile rising up the back of my throat.
Hence to avoid the hurtful experience of losing, I vowed to always be the best in whatever field I embarked on.
Academics, Music, Athletics, you name it. I always aimed for the top, I was always at the top. Not once did I ever think of defeat. Until now as I looked at this bowl of black peppery poison brought to me by this roommate of mine.
I looked at him, jeering me on as I struggled on the decision of trying his meal.
He looked at the time and reminded me of the time limit before trial.
If given a meal and the time period of 5 mins passed before the participant tries the food, it is assumed he has forfeited.
"2 mins remaining..." He said out again.
"I know John, I'm the one who set the time." I said out in frustration.
I looked at the soup again. There were so many things wrong with it.
If it is as pepperish as he says, why isn't it red?. Why does it look brown?.
"You've grown cold feet perhaps?" John teased again, thoroughly enjoying my indecisiveness.
"Quite a sharp tongue for someone who finished only half of my spaghetti." I retorted back at him.
"Quite a loud mouth you have for someone who boasted a lot and now won't try a spoon of soup." He replied back smiling.
"Why is a spicy soup black? Is it really peppery?" I asked him
"Taste it and find out." He said with a smirk.
"30 seconds remaining."
I closed my eyes and scooped the soup into my mouth.
I barely heard John say the words,"And so it begins..", before my tongue burst alive.
With tears in my eyes, I swallowed the liquid in my mouth.
Squirming as the pepper slid through my throat, warming my whole body but burning my tongue.
I took a glass of water and nearly choked as the soup became hotter, the water becoming harder to swallow than the soup.
I held the table edge as I gasped for breath.
"One spoon down.." I looked at John with tears in my eyes as he stood up to pour himself the same bowl of soup.
"Are you through?" He asked me, a smile tugging at the side of his lips.
I shook my head, not wanting to move my tongue, lest it hurts me even more.
I took another spoon, and went through the same experience again, this time my gums inside the mouth were affected too.
I took another glass of water out of instinct and went through the same ordeal.
"2 spoon's now..." John counted just before he sipped his own helping of the soup from the bowl itself, letting out a gasp of steam when done.
My will dragged me on though. Taking spoon after spoon of the brown soup until the soup either became milder or my tongue became numb.
By the time I gave up, there was only a piece of meat in my bowl and John had finished 3 bowls of his.
"You actually finished it. I'm impressed." John said, laughing at me.
I laid as a sorry flop on the floor, my clothes discarded at a corner as they were wet with sweat, tears and water.
I took a glance at the empty bowl, glad at my victory.
I didn't taste defeat today nor did I taste anything for the next 3 days…
---
---
---
GLOSSARY
Gujiya dan Miya or Pepper Soup, is a traditional soup made in Nigeria that is eaten,usually coupled with boiled rice or can be eaten alone.
It is very spicy and is always advised to be eaten with a cup of chilled water close at hand😂😂
The spiciness of the food makes it a lovely meal to use and warm up someone suffering from cold and helps them sweat out their illness😃
How it can be prepared, (for those willing to try this spicy meal), can be found here.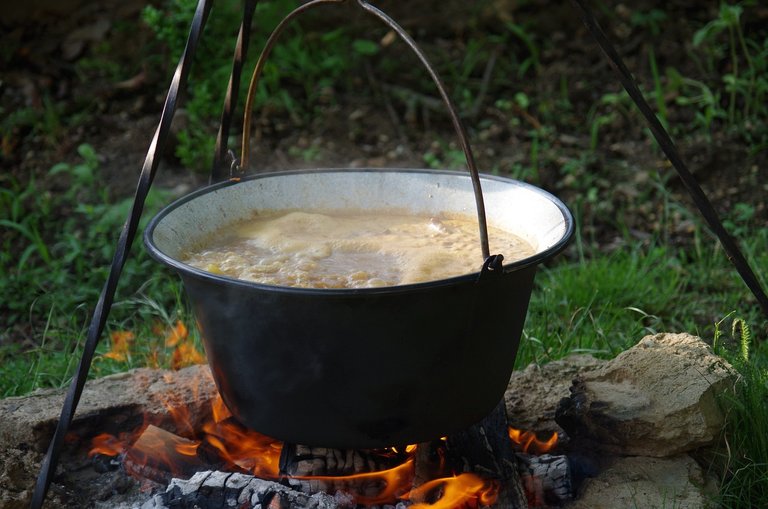 ---
This is a story written in response to the past inkwell prompt Taste.


🍲 Header Image was Made using Leonardo AI
🍲 Soup Image by Andrea on Pixabay


My Instagram page.
---
---