A Refreshing Weekend Treat at Palicte Beach Resort | Asturias, Cebu
Hi everyone! How are you today? I hope everyone is safe and well as we create another remarkable memory in our daily life. I'm glad I made a post today despite the busy schedules in school. 😊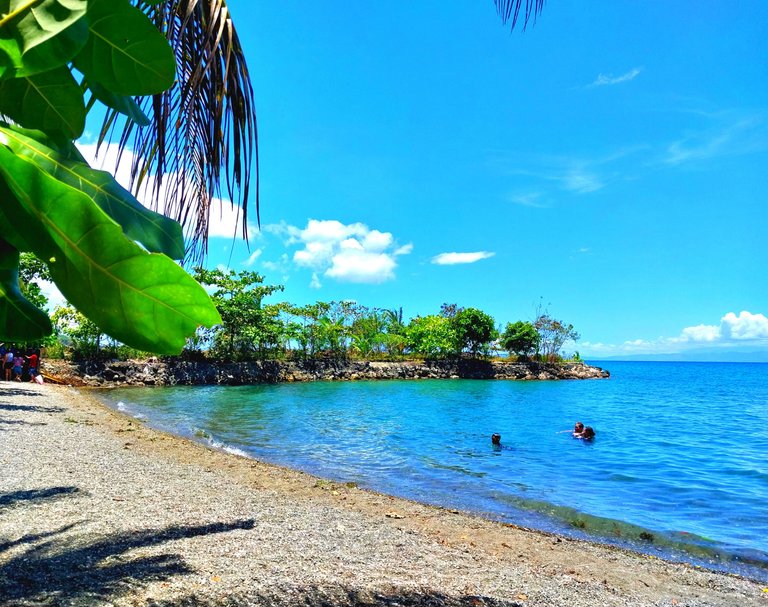 Having been tied up with a lot of paper works to finish and submit this week, I told myself I need to get out and take a short break. All of us wanted to submit paper works on time so that we will not be reprimanded about our duties and responsibilities, yet our body also needs to recharge to the different challenges given.
So timely that my Tita Leonida (a friend of mine from Asturias, Cebu) who became my foster parent every time I'll be visiting her place, invited me to come over to her birthday celebration. It's not that lavish but those close family ties were only invited. I'm glad to hear her words of invitation for me to recharge and enjoy for a while.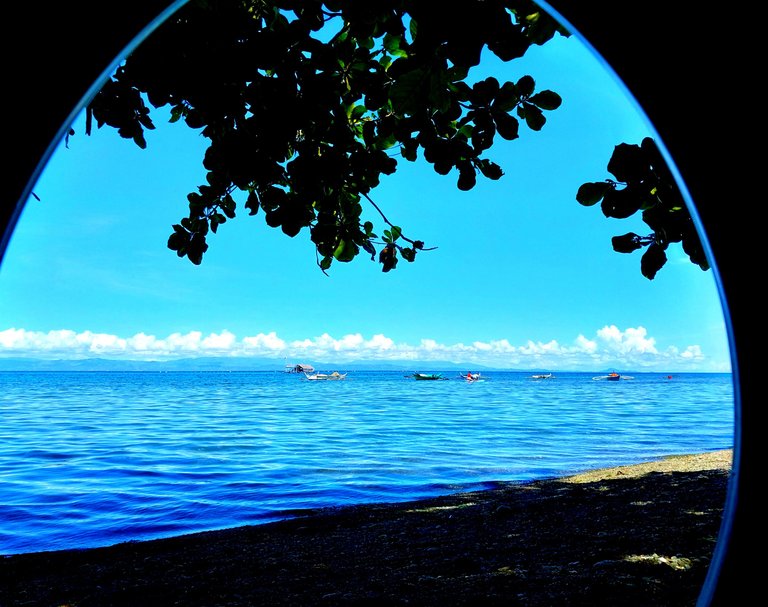 She insisted on going to the beach and dipping for a while to enliven our weekend since her birthday falls on Sunday. A wish was granted to her to make her happy on her big day.
For today, I will be sharing with you our relaxing weekend treat adventures on one of the beaches of Asturias, Cebu, the budget-friendly Palicte Beach Resort.
---
What does the resort offer?
Entrance
Upon arriving at the entrance, you will see wide parking spaces for motorcycles, and cars visiting the place. These green plants welcome you at the entrance.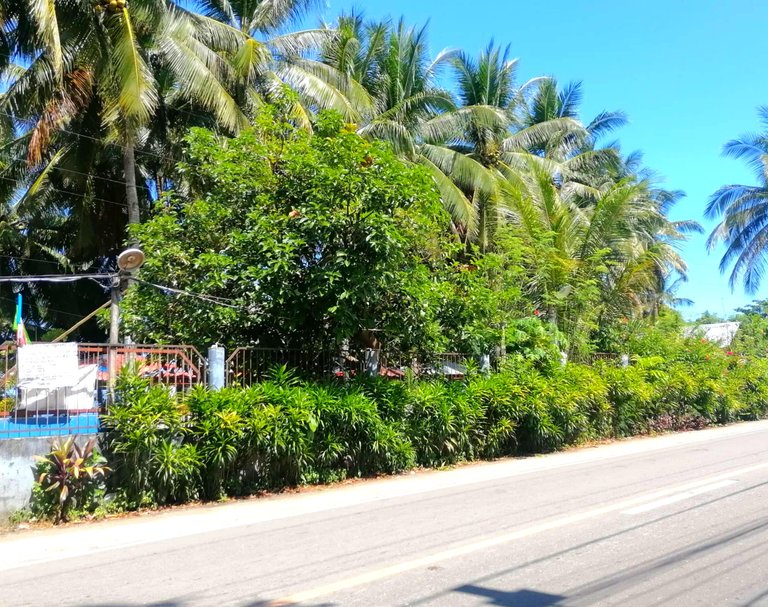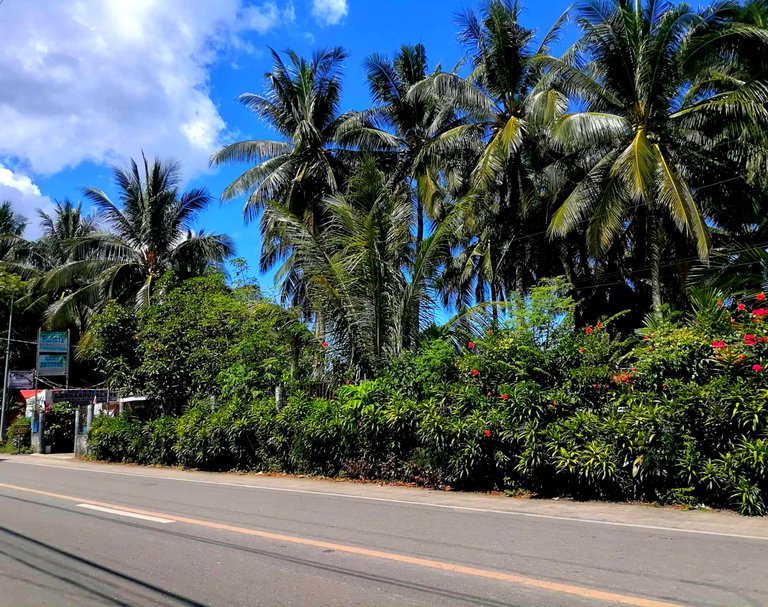 On the side, you will see a small sari-sari store for some light snacks and ice cream sold by the owner.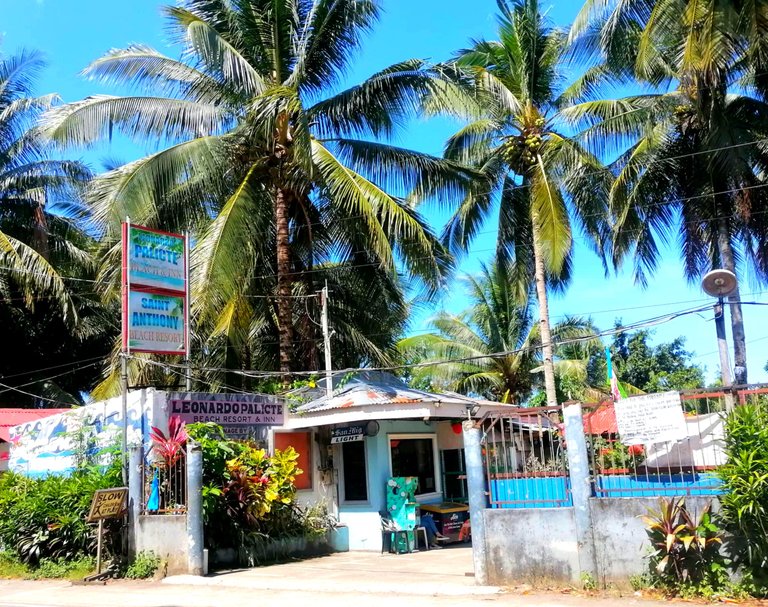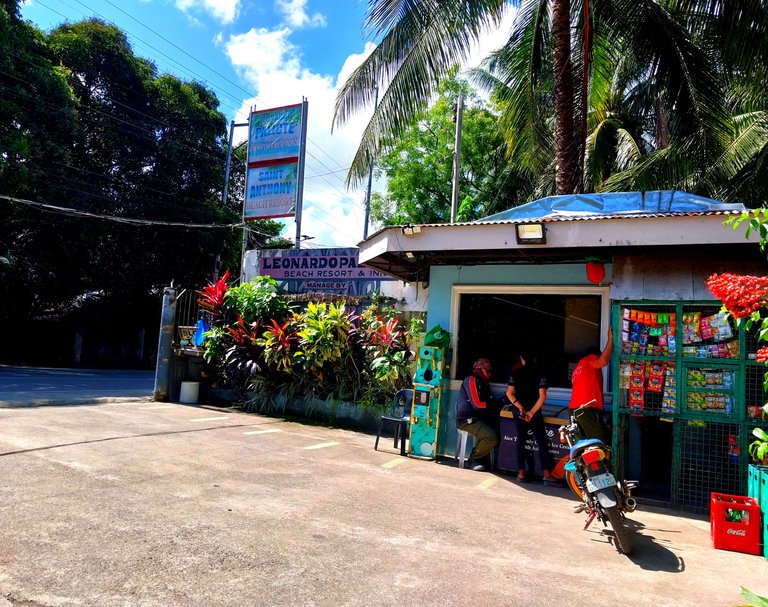 You will also pay the entrance fee of Php25 or 0.45 USD to enjoy dipping at the beach.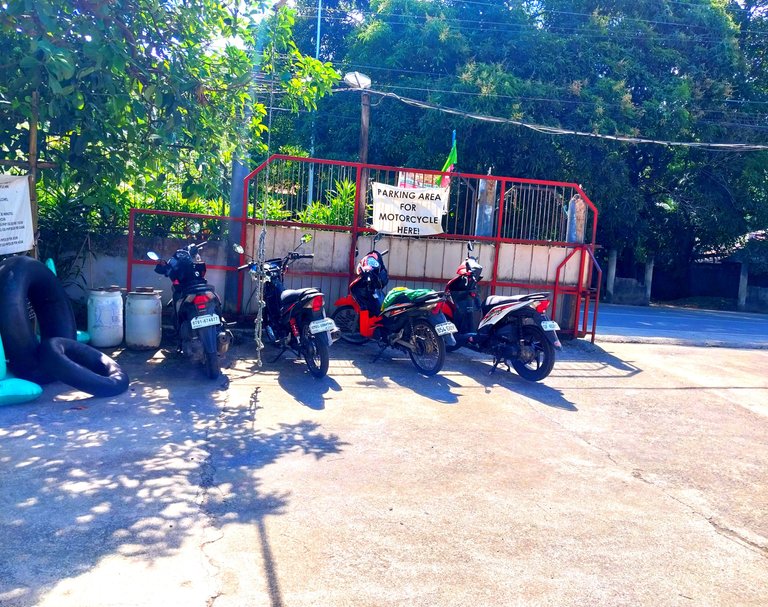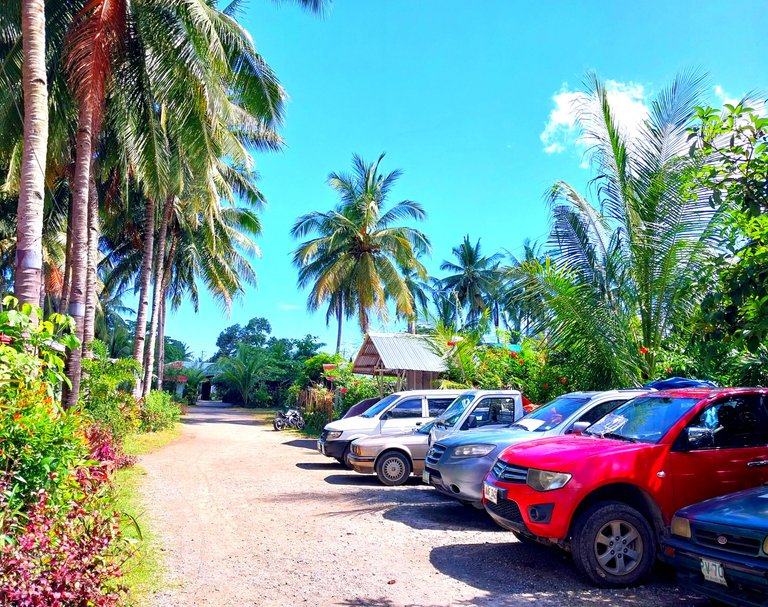 Parking space for cars and motorcycles
---
Cottages and Tables for Rent
You can also rent cottages and tables here. If you are bringing a big group of family or barkadas (group of friends), don't worry they offer affordable cottages for barkada and family sizes worth Php300 or 5.39 USD for 10 persons or more.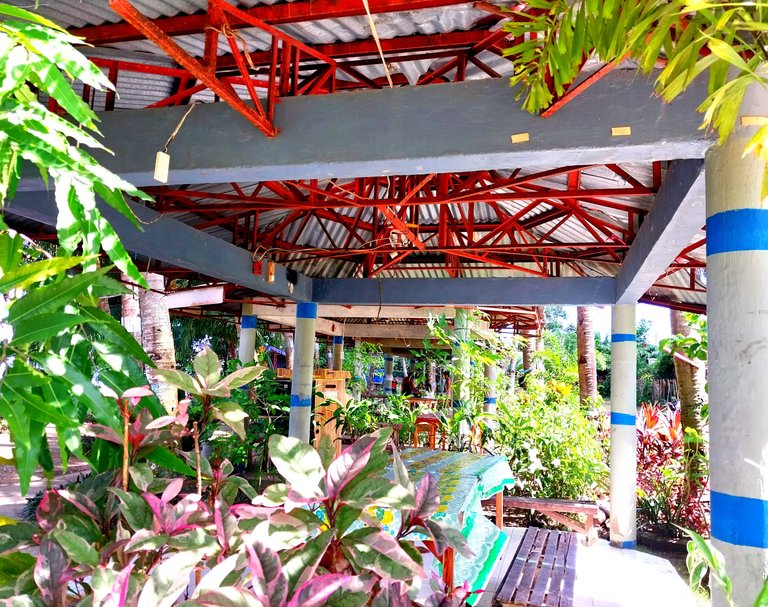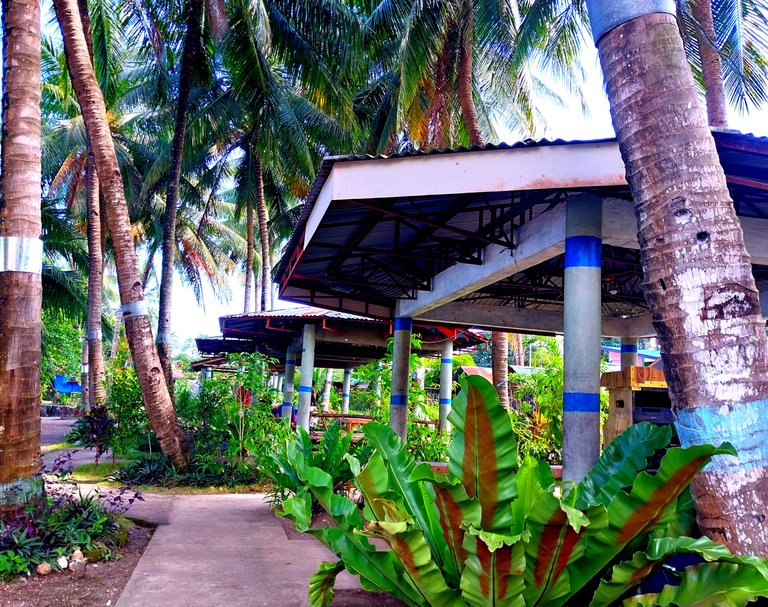 Cottages for rent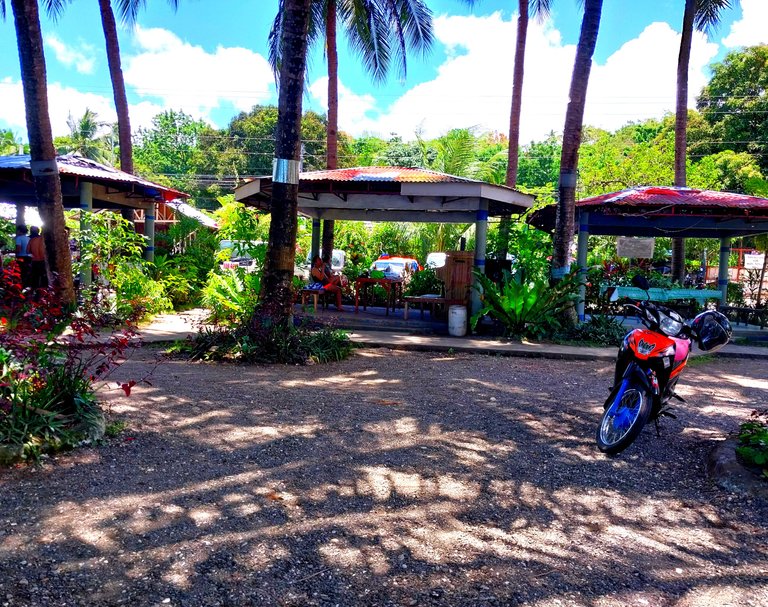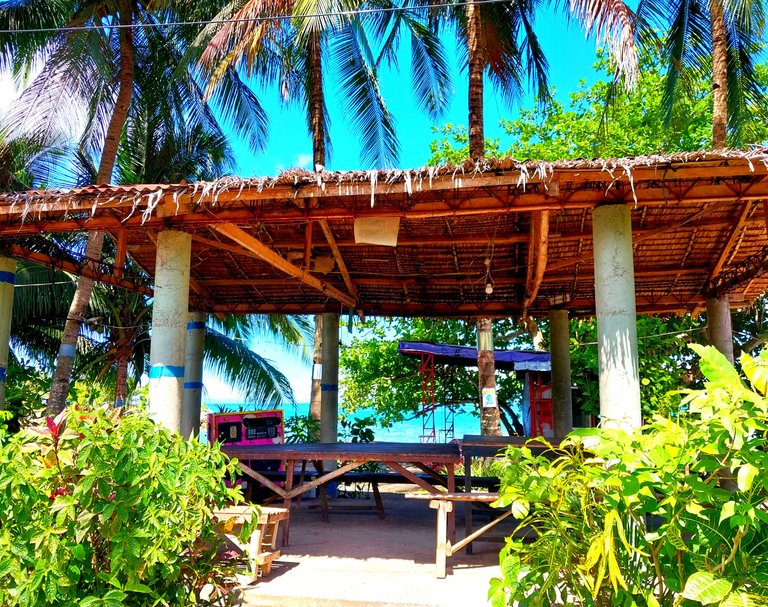 If you only bring small groups, you can rent wooden tables and chairs for only Php150 or 2.70 USD and enjoy a front beach view. How amazing it is?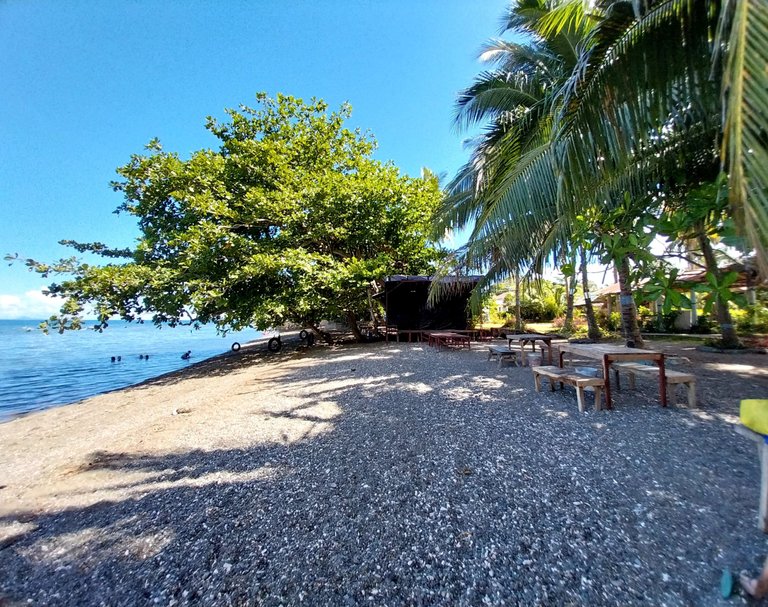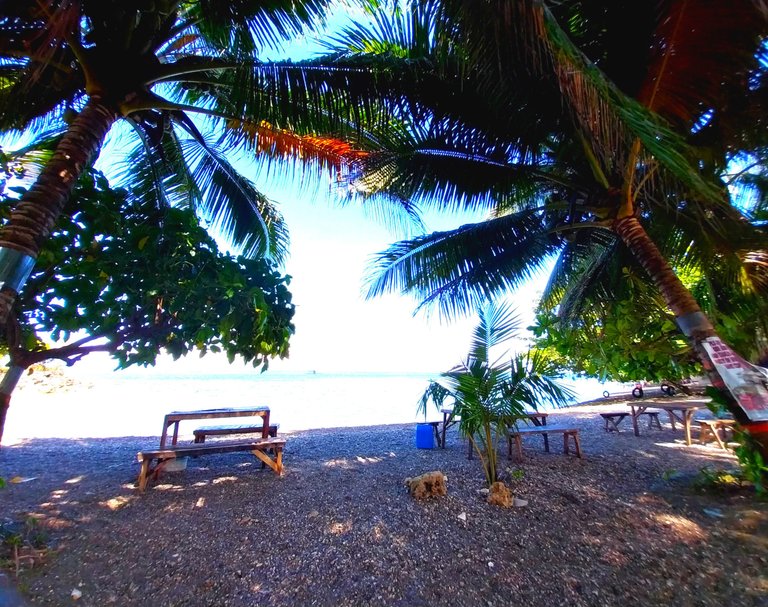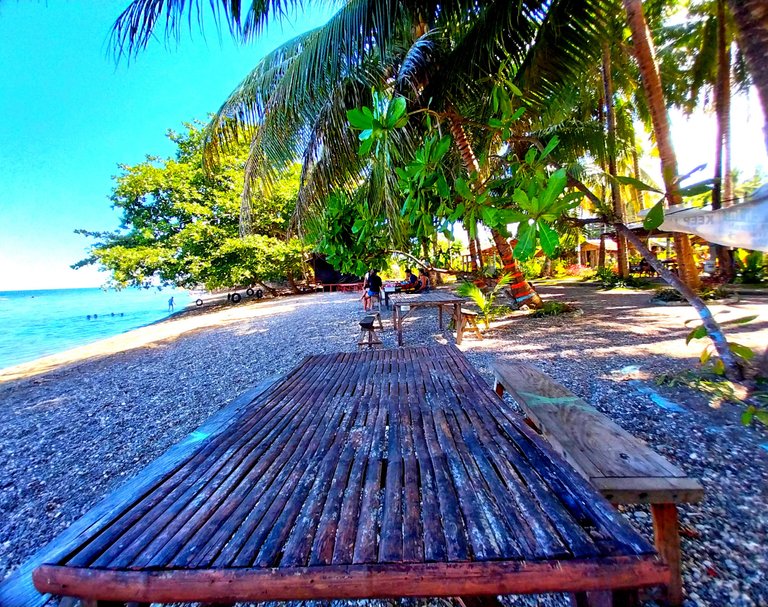 ---
Rooms
For an overnight guest, there are also rooms available for an overnight stay here. You can have their native and air-conditioned rooms.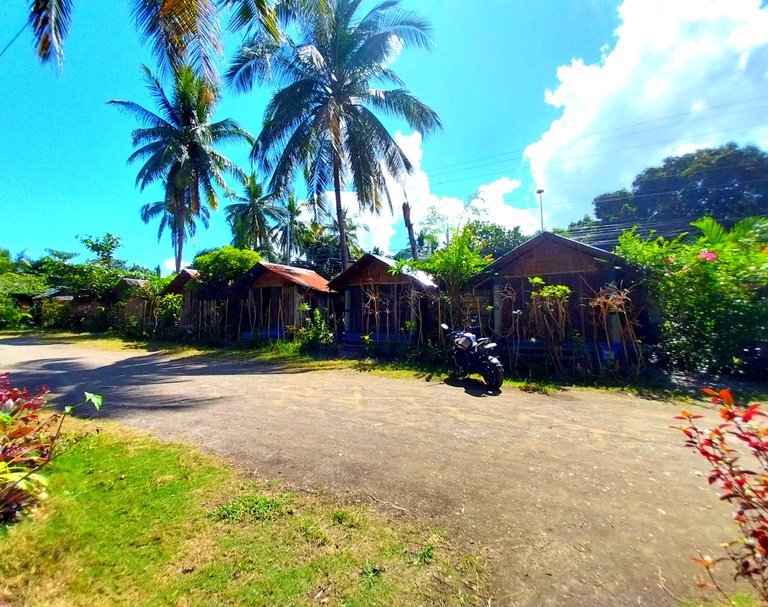 Native fan rooms good for 3 persons will only cost ₱250.00 or 4.49 USD. Airconditioned rooms without bathrooms good for 4-5 persons will only cost ₱500.00 or 8.99 USD. Airconditioned rooms with their bathroom are good for 4-5 persons and will only cost ₱600.00 or 10.78 USD.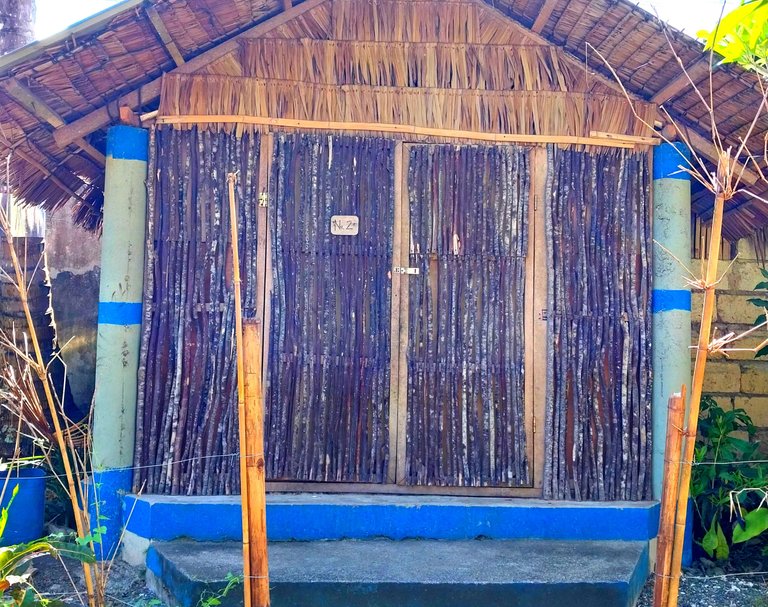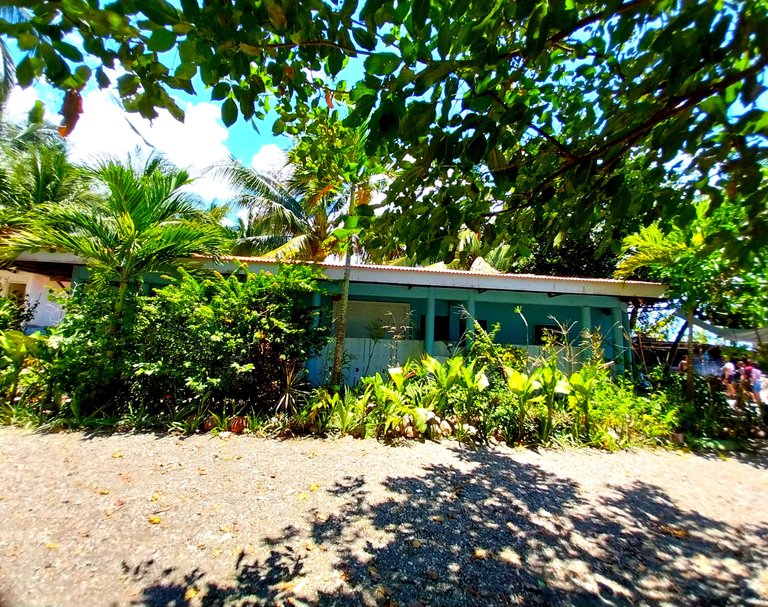 I was so amazed by their rooms' budget-friendly prices here and you enjoy the best sunset view in the afternoon.
Other Amenities
Playing area
If you are bringing your kids with you or younger ones, there is also a playing area in the place where kids can enjoy and play on the trampoline for Php25 or 0.45 USD for 2 persons good for 30 minutes. Kids will not be bored in the place because of the wide open space where kids can play and the playing area also. But of course with proper guidance from the parents.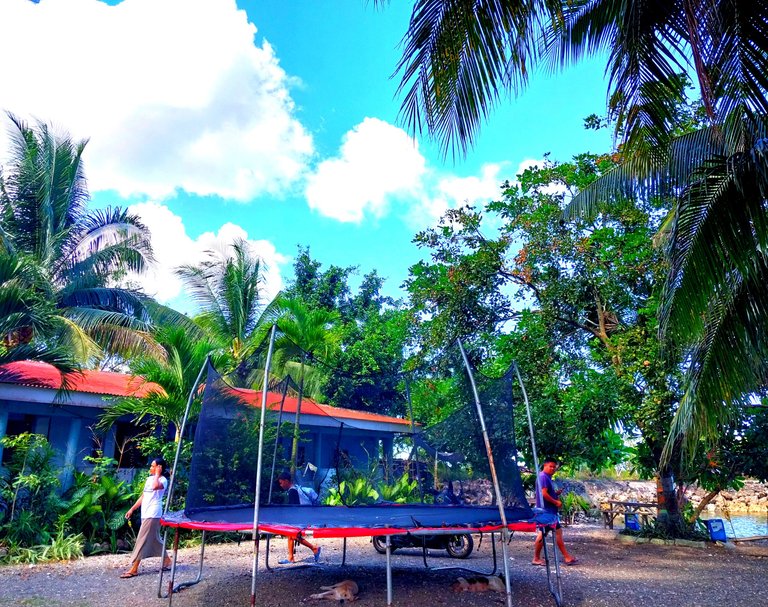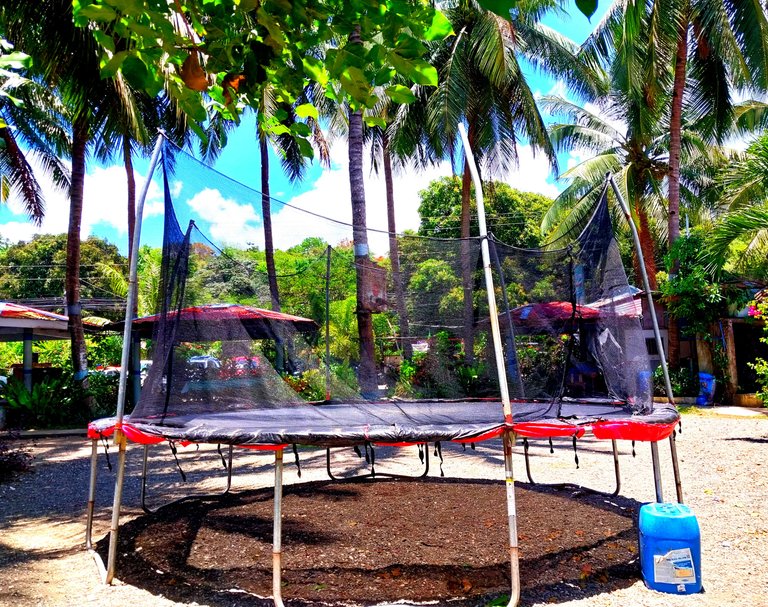 Grilling Station
Another thing they can offer is they have a place for grilling where you can grill your favorite foods like pork barbecue and fish. It is located on the side so it will not cause danger to visitors. It's free of use.
Hammocks and swings made of used tires
Another is, their hammocks and swings made of wood and used tires. You can enjoy their swings under the tree facing the sea.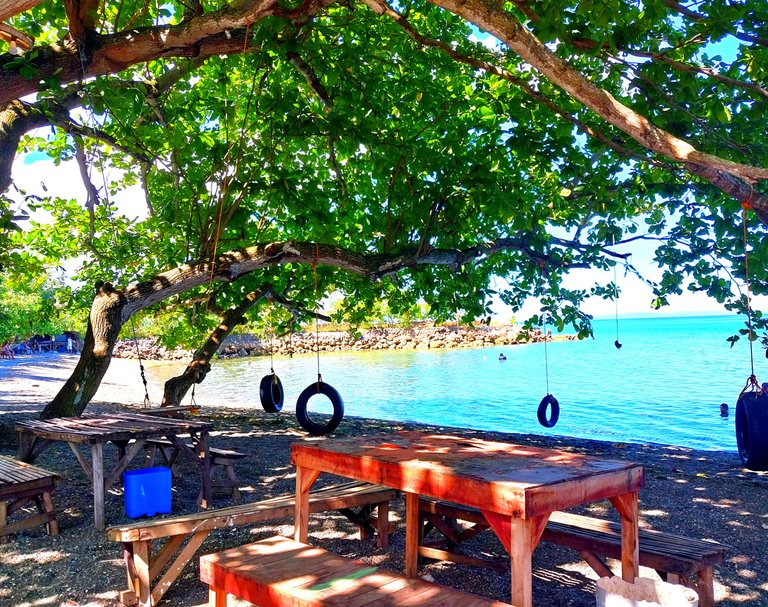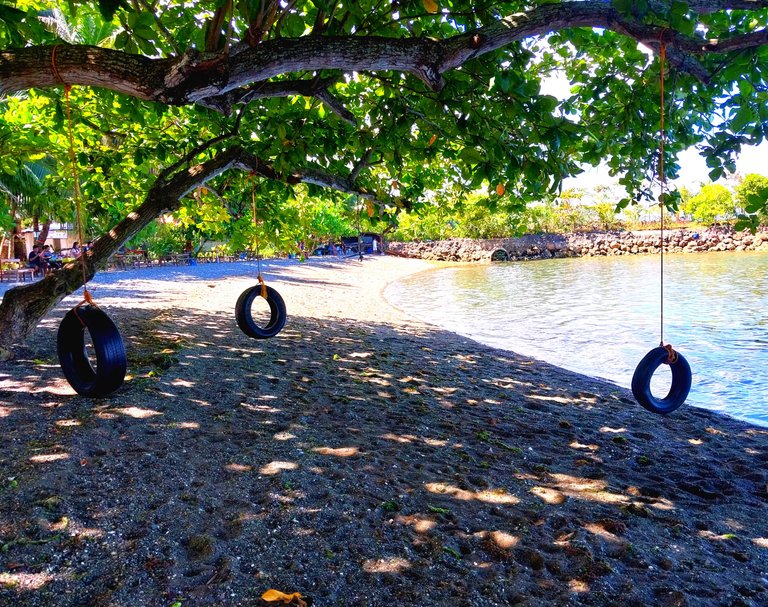 That child feeling of yours to try out these swings is so overwhelming😄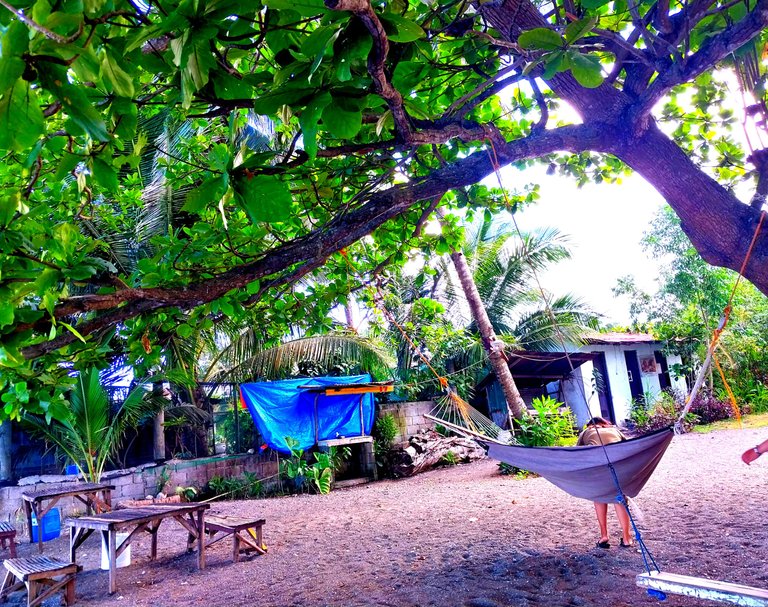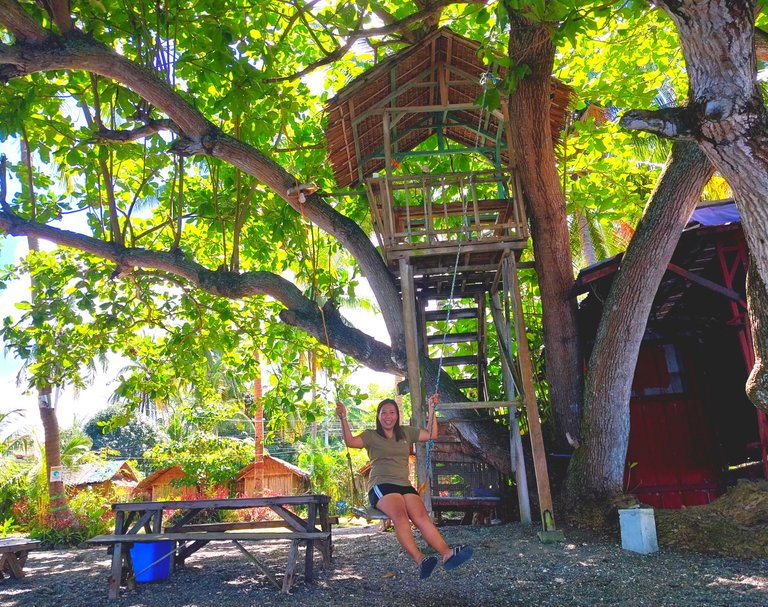 Comfort Rooms
One thing that people love to observe when going to other places is the availability of comfort rooms. Don't worry, the place offers a free comfort room used for showers or changing clothes after a dip for beachgoers.
Videoke Machine
For those family and barkada who loves singing, you can rent a Videoke machine. Just inform the attendants of your needs for they are very approachable.
Spacious Ground
The beach has a wide ground where you can bring your tents and mats to enjoy the beach. Your kids will never get bored in this place for they can roam around.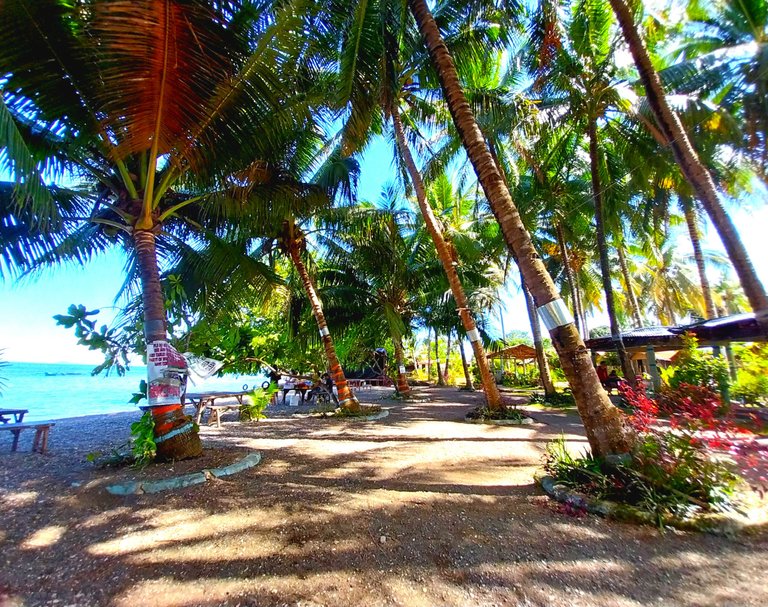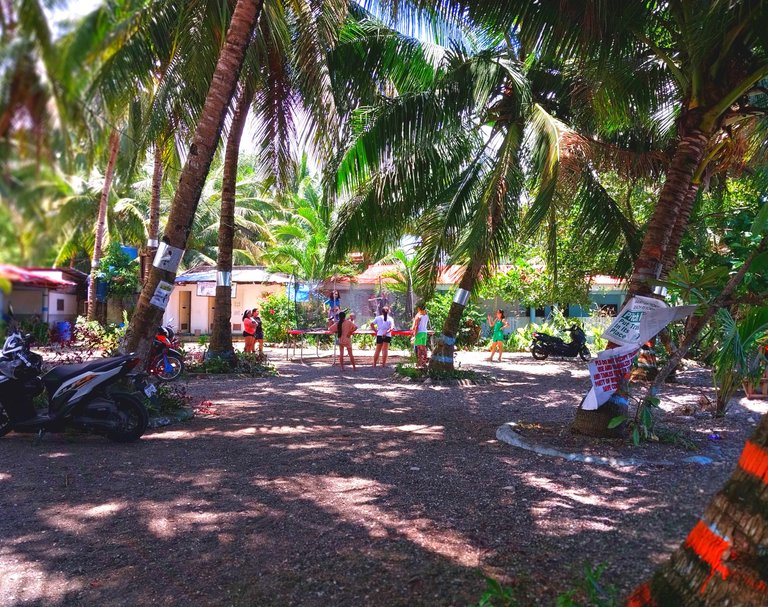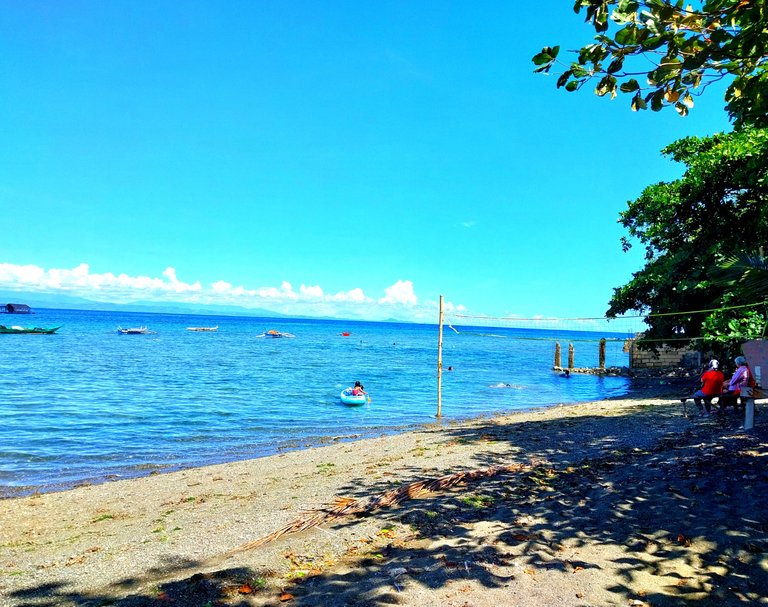 ---
Compared to other beaches, this beach does not offer you white sand, but one thing I love about the beach is the serenity and tranquility that the place offers. This suits me very much.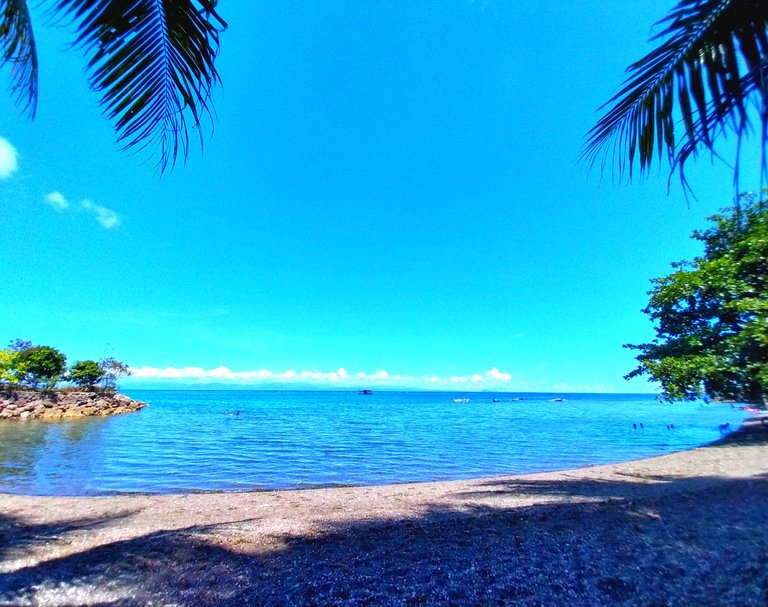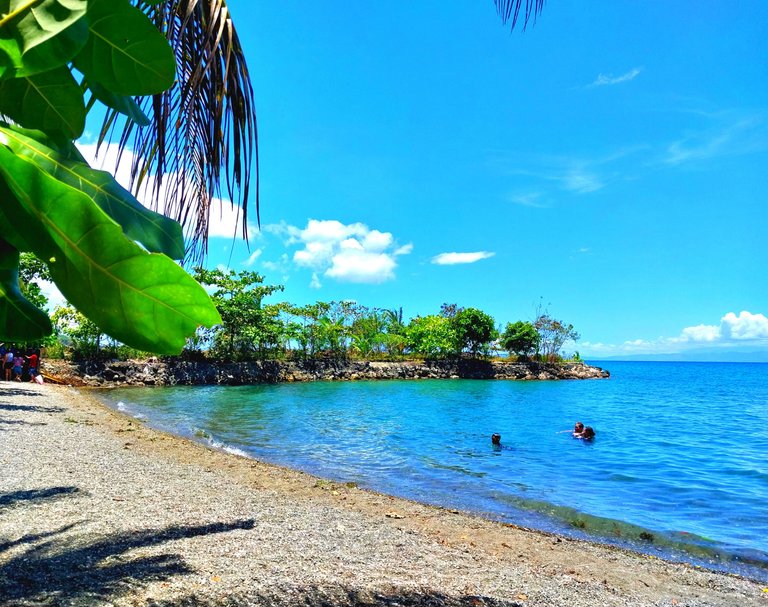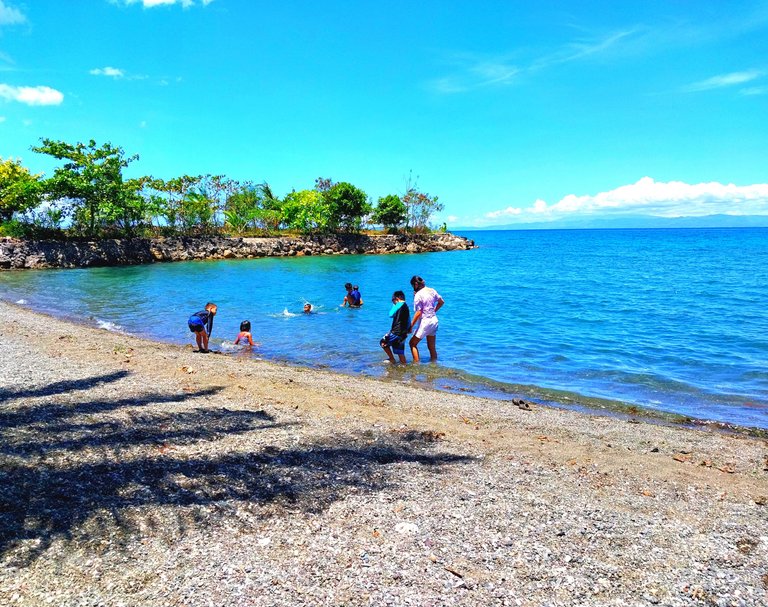 According to Sandy Gingras, "At the beach, life is different. Time doesn't move from hour to hour but from mood to moment. We live by the currents, plan with the tides, and follow the sun." And because of the exhausting week, I had, recharging with this kind of view enliven my spirit brightly.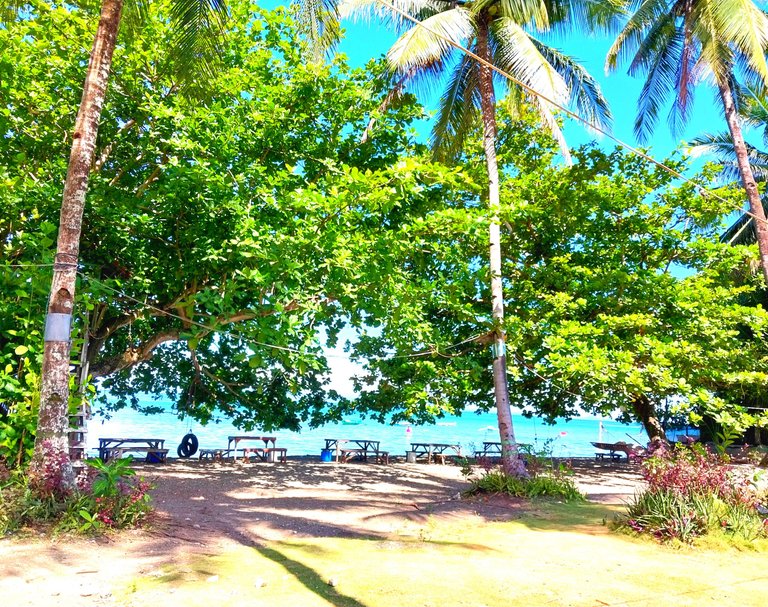 Because of its spacious ground, you can bring with you your mats or your tents to enjoy more in the place. While we are dipping into the water, some families were bringing with them mats and tents.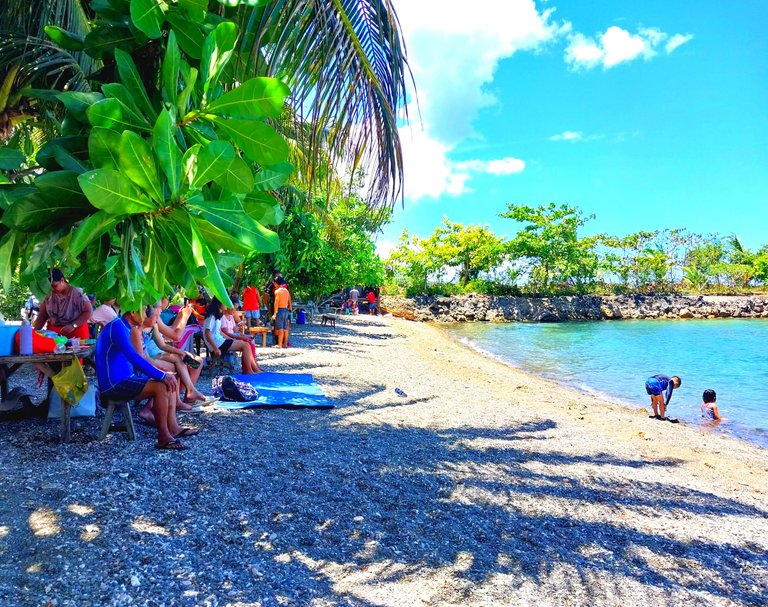 ---
Indeed, it's a relaxing treat for me after a tiresome week of overload paper works. I am delighted with the place and enjoying so much of my time dipping in the crystal clear water.
After eating our food, we talk and share meaningful moments.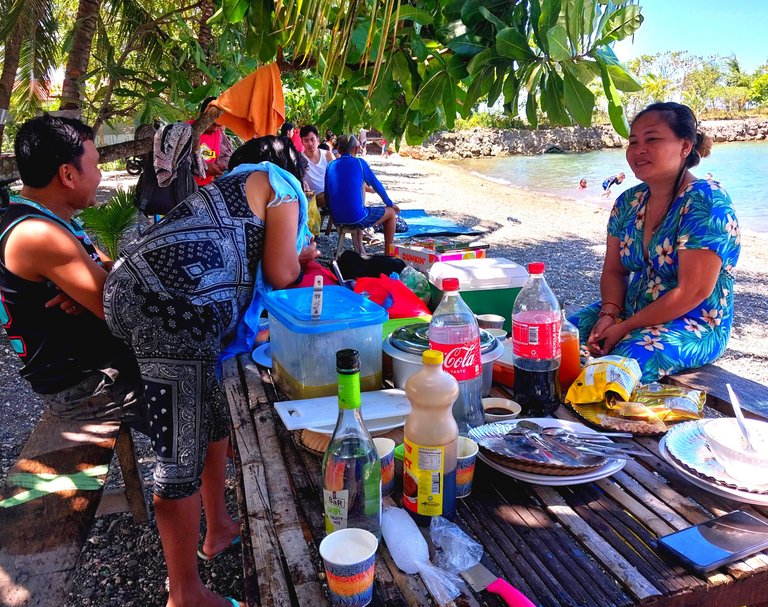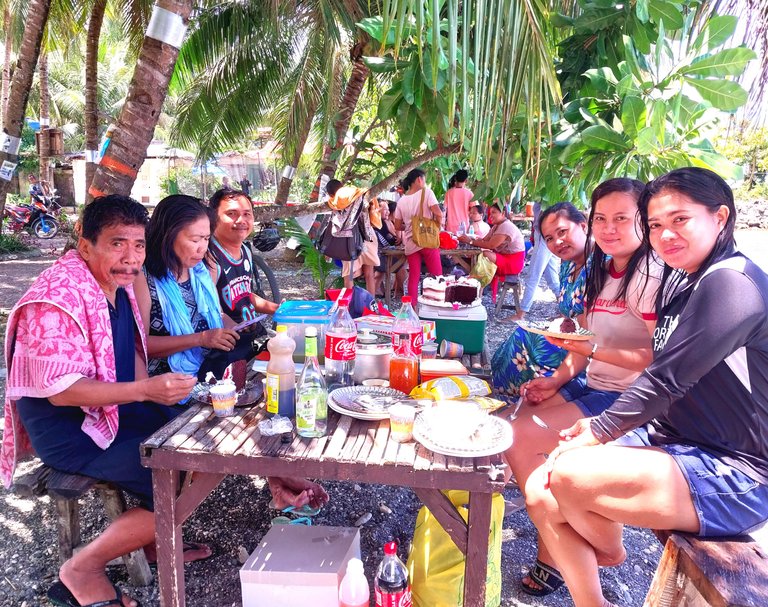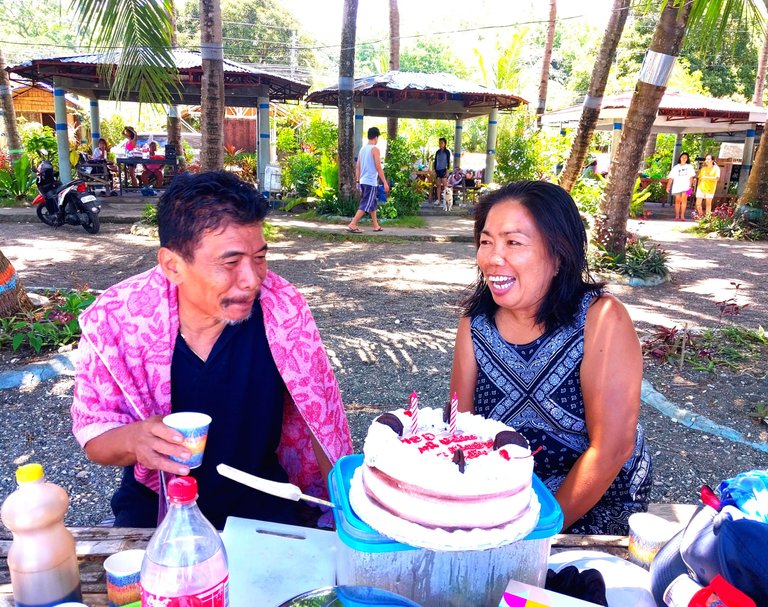 That was a fruitful weekend I had. I'm glad I was able to come, take a break for a while, and celebrate moments with them.
---
How to get there?
Palicte Beach Resort is located in Brgy. Tubigag-Manok, Asturias, Northwestern Cebu — approx. 2 to 3 hours drive away from Cebu City.
By Bus: Take a V-hire from the Ayala or IT Park Cebu terminal going to Tuburan. Ask the driver to drop you off at Palicte Beach Resort. The fare is Php180.00 (one -way per head).
By Private Car/Motorcycle: Using your google maps/waze, navigate Palicte Beach Resort, the place is along the national road and it's very accessible.
Have a nice day everyone!
---
Thank you for taking the time to read and support my blog. That's all for today's blog my Hive friends. Have a great day everyone! See you on my next blog.
---
---