TALES FROM THE GARDEN - It's so HOT, I hope it will SURVIVE!!!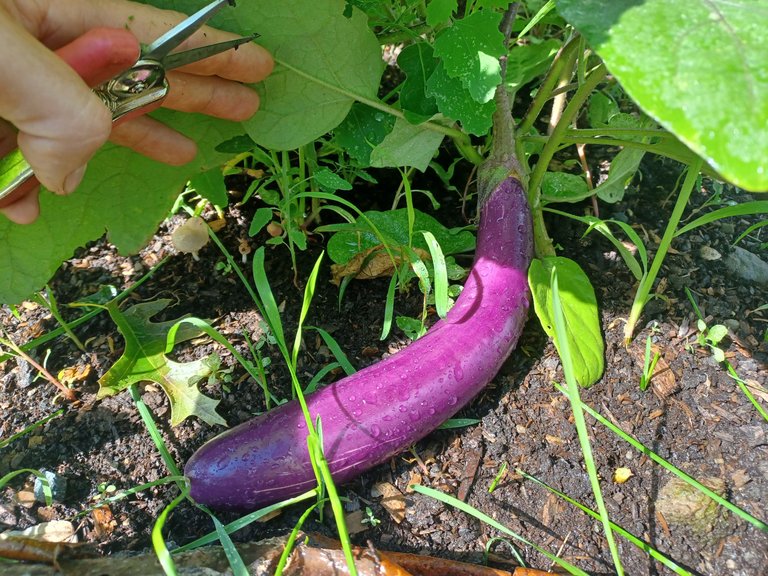 ---
It's always scary leaving the vegetable garden for a few days!
Thanks to being crafty with our friends, we found a teenager who was willing to house sit, take care of the dog, the fish and the garden while we went to a festival!!!
We had quite a few things going before leaving, first there's that pretty eggplant you see in the top photo, we harvested it, and put it away in the fridge so that it wouldn't overgow whole we were gone. We never grew eggplants, so we wanted to be on the safe side for tuis one... hopefully it wasn't too early!
Then we had to clip some more leaves from our pak choi and swiss chard, like we did a couple weeks ago using the Cut and Come Again method.
The patch of what I thought was going to be full of cantaloupes, is starting to show as something entirely different! It looks like Potimarron, which is a great surprise. This squash is a small punkin that tastes a little like chestnut. It's so delicious, and we will enjoy that very much.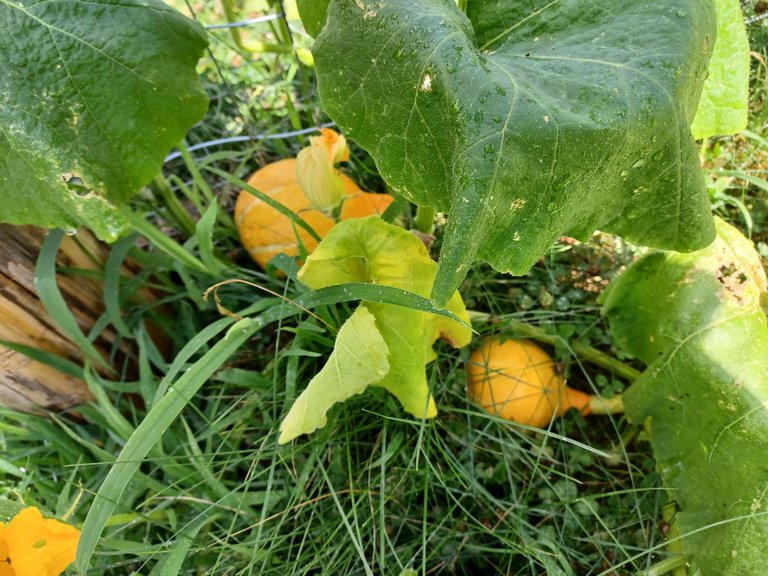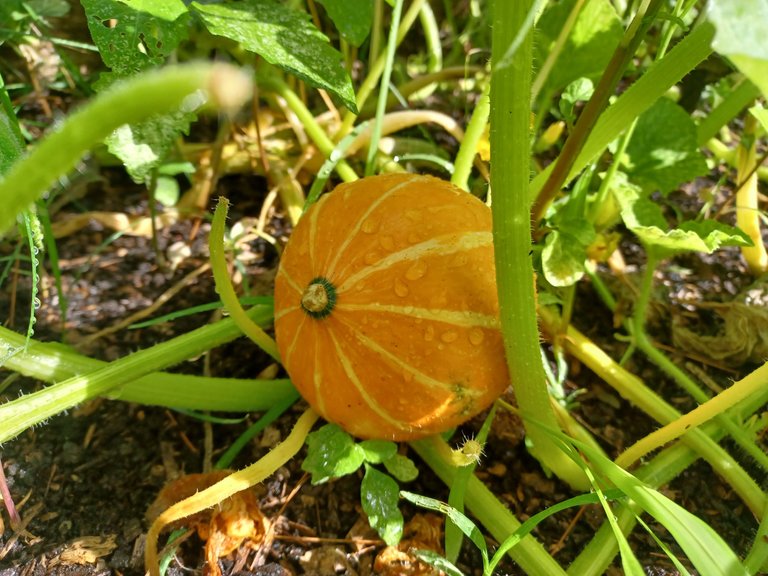 I collected some seeds last time we were in France. I hope the squash we have keep growing... it's been so hot some of the legs of this plant are looking a little dead! Could it be from over-watering?
Squash and the likes, are other plants we haven't grown very much, so I don't know what's up with that. I did cut off the dead bits to see what will happen.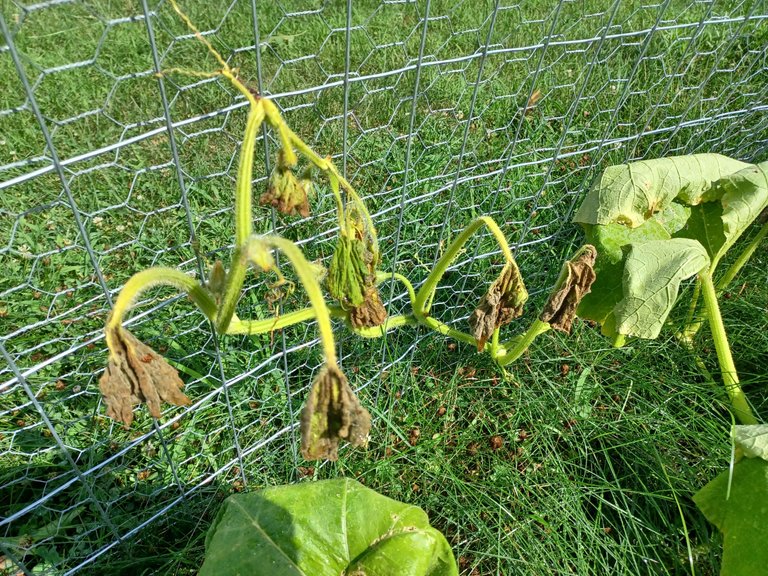 Our tomatoes are coming along nice though! I cannot remember the names of these two types at the moment, but the grape ones are these really sweet yellow bursts of flavor, we eat them like candy!!!! It's hard to keep them in the fridge very long.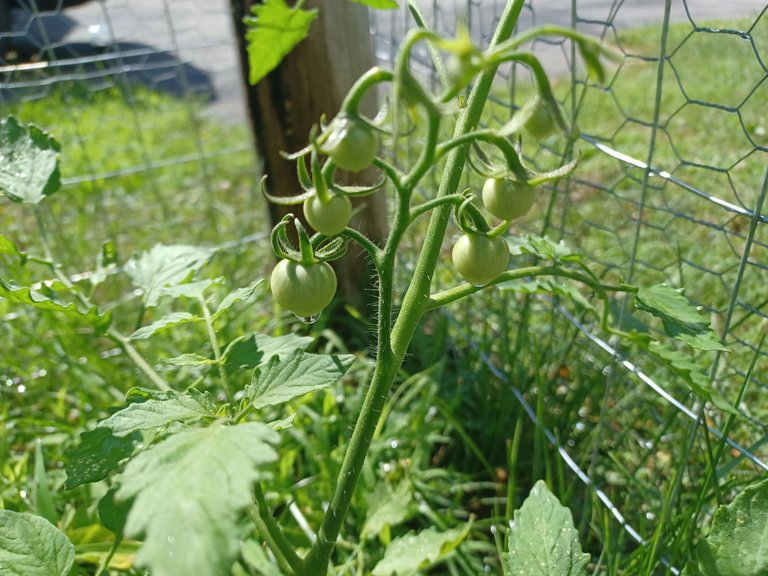 The larger tomatoes are an heirloom variety that is also very sweet. These should come out all pink and slight purple tie-dyed looking, unless they've gotten cross-pollinated. In that case it'll be a nice surprise too. I just love tomatoes!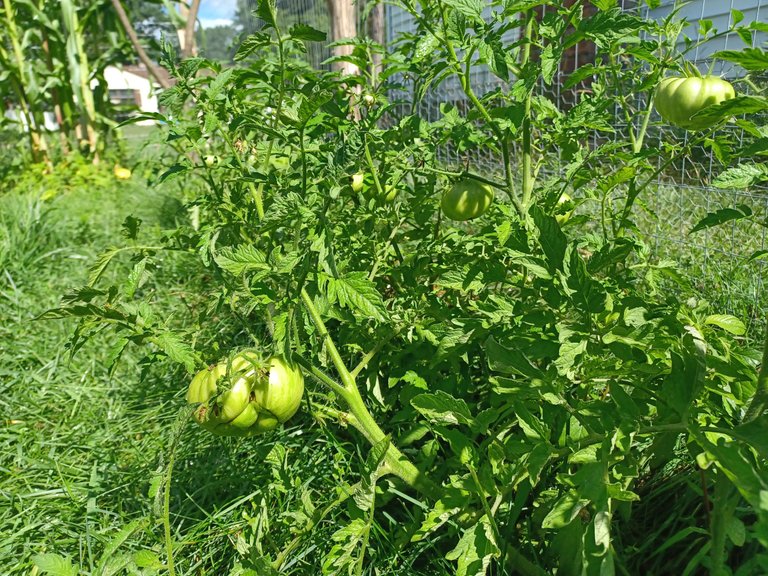 The cucumbers ars also doing great, we've already had a few. They're nice and juicy, with small soft seeds.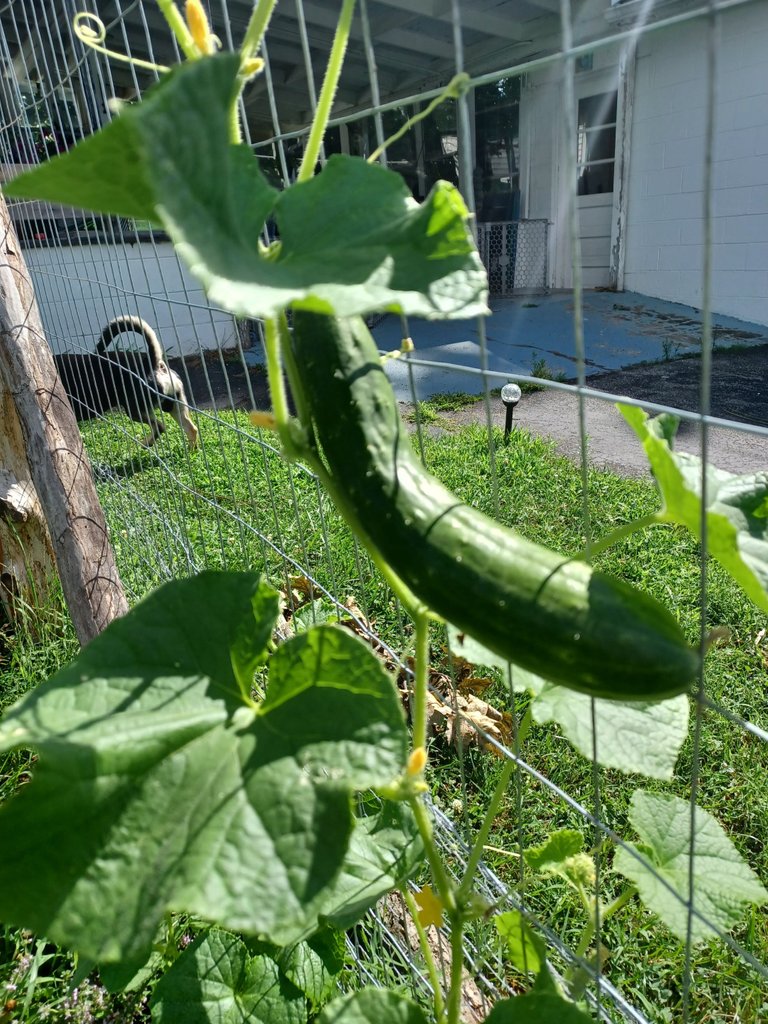 And here's our lonely radish, I'm convinced the birds found all jut one of the seeds...and that's why only one out of fifty grew! Damn birds!!! They sure are pretty though. I'm letting that go to harvest the seeds.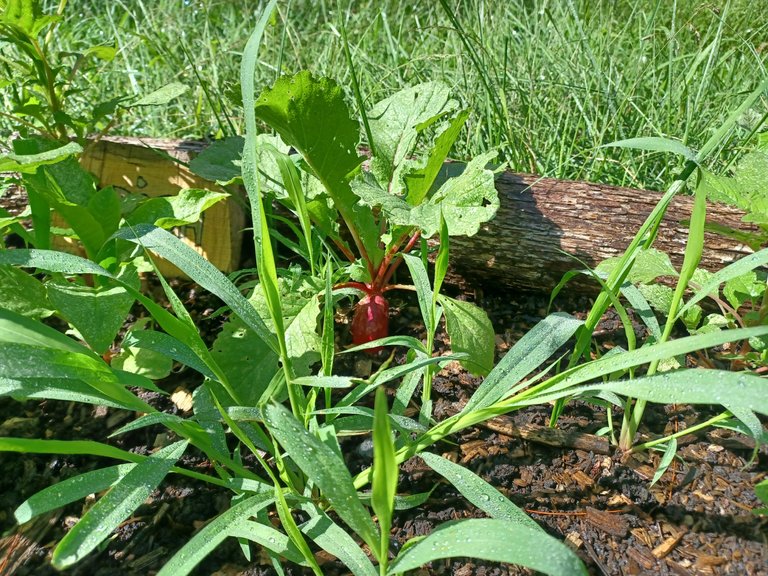 Broccoli Broccoli... it seems we have always had a hard time growing it. The ground got too hot apparently, and it all bolted very early. It's ok though, at this point what I want to do here is just collect the seeds (again) to make delicious sprouts! It's still sandwich season ain't it?
The problemmis thr solution.
Also we ate a lot of the flowers while they grew!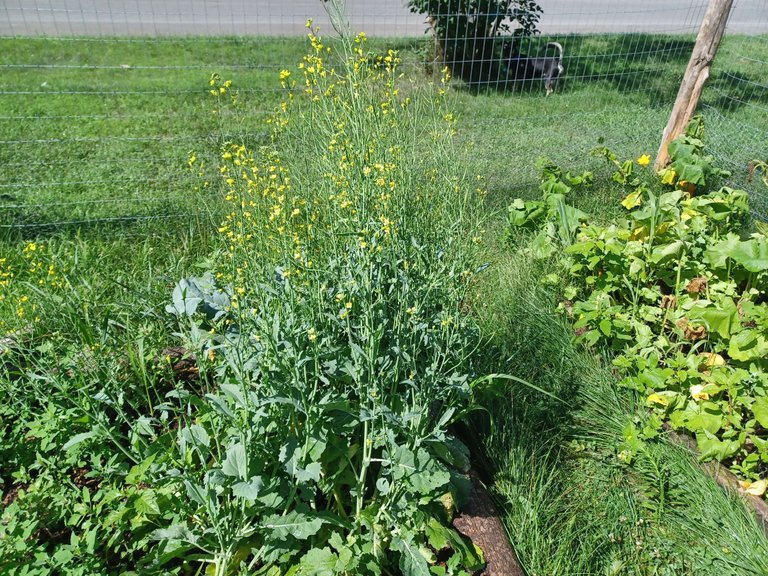 That's really all there is to the garden this week... there are more eggplants coming, and bell peppers are also on their way!
AS ALWAYS... THANK YOU FOR LOOKING, AND DON'T FORGET YOU CAN SUPPORT ME WITHOUT MAKING A DENT IN YOUR WALLET
Simply use our referral links and we'll earn a little extra along the way:

| Hive | Presearch | Odysee | Minds | Hipcamp |
---
---
Find me on Social Media:
Insta: https://www.instagram.com/mugwortexpress/
LBRY: https://lbry.tv/$/invite/@MugwortExpress:5
Odysee: https://odysee.com/$/invite/@MugwortExpress:5
Minds: https://www.minds.com/register?referrer=NoMansLand
---
---
FINDING AND HELPING DECENTRALIZATION EVERYWHERE: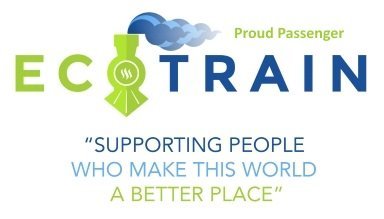 If you want to know what really is inside this Coconut, take a look at my Humans Of Steemit.
And don't forget… Dreams Come True!
---
---