2022 Senstless Family Road Trip Day 2 - Altoona IA to Denver Colorado - Red Rocks!!!
Read this post on TravelFeed.io for the best experience
---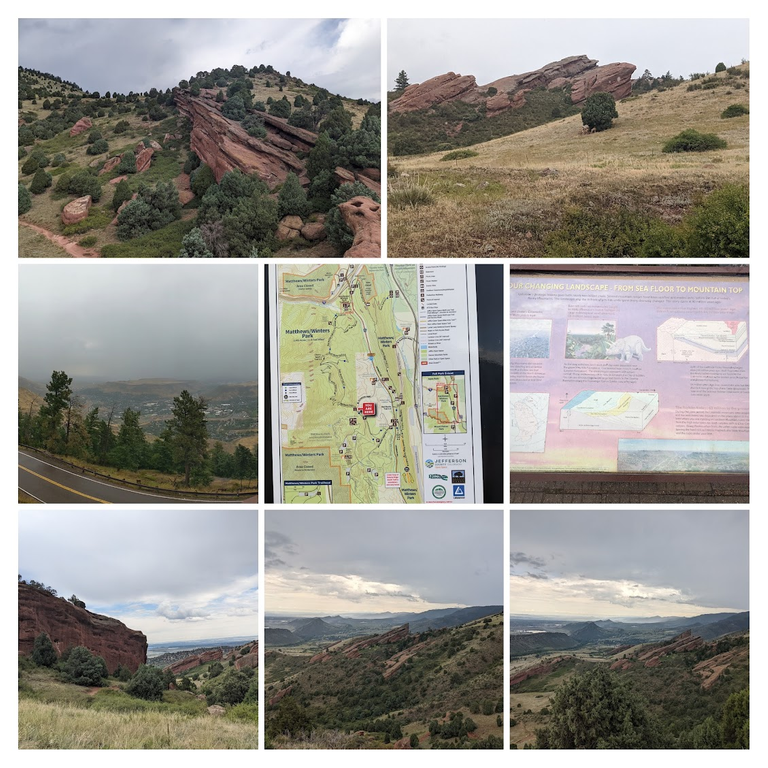 Another Summer, Another Epic road trip in the books.
After a great vacation last year, we decided we could do another 10 day, drive across the country cramming in a as much as we could. Spend all day doing stuff, then load into the truck and drive another 4-6 hours... why not!!! I think I spent the entire vacation on almost no sleep and all coffee, but I will get to that later.
[Day 1 Drive to Denver Co - Red Rocks Amphitheatre()
Wake up while the rest of the world sleeps and get your drive on.
Let's just say I didn't get much sleep the first night in altoona. No idea why, not sure if I was worried about oversleeping the next day, or the hotel was just too hot or loud with the bed was uncomfortable. I woke up every 30 to 45 minutes check the clock and rolled back over. When I woke up at 3:00 or 3:30 I decided that was it and I might as well just pack up and make everyone get in a truck. I honestly don't think it's that bad to load them into the truck that early and let them sleep while I eat up some miles before anyone else gets on the road. Well I'm sure they would much prefer to sleep and horizontal position in bed, since I am the driver and I had enough frozen coffee I decided to hit the road early and maybe get to Red rocks in time to do more than just hang out at the hotel.
Driving Altoona Iowa to Red Rocks Park & Amphitheatre - 694 Miles and 10 Hours

The drive from Altoona to Red rocks was a near 694 mi, as Google maps shows excluding any detours for say gas, restrooms, etc. It took all of 10 hours, as I pretty much did the speed limit on i-80 and was severely bored with nebraska. I now know why people say there's nothing to see in nebraska and I thought Iowa could be boring.
We did manage to get the Red rocks early in the afternoon, I think it took us probably closer to 11 and a half or 12 hours considering that the drive on this shows 10 hours, and this was pulled at night and that also assumes no stops for gas and bathrooms. I believe we needed two or three stops, I only stop every 3 to 4 hours in the truck needs fuel or we need a bathroom.

Sneaking in a Hike before the Storm and the Day Ends
Well I was hoping to get to walk around the amphitheater it was closed because they were going to have a show that night. While it was closed we were still able to hike all around the park. After getting some recommendations from someone else who had been there before I was just getting back we took off our first take a vacation.
Park Map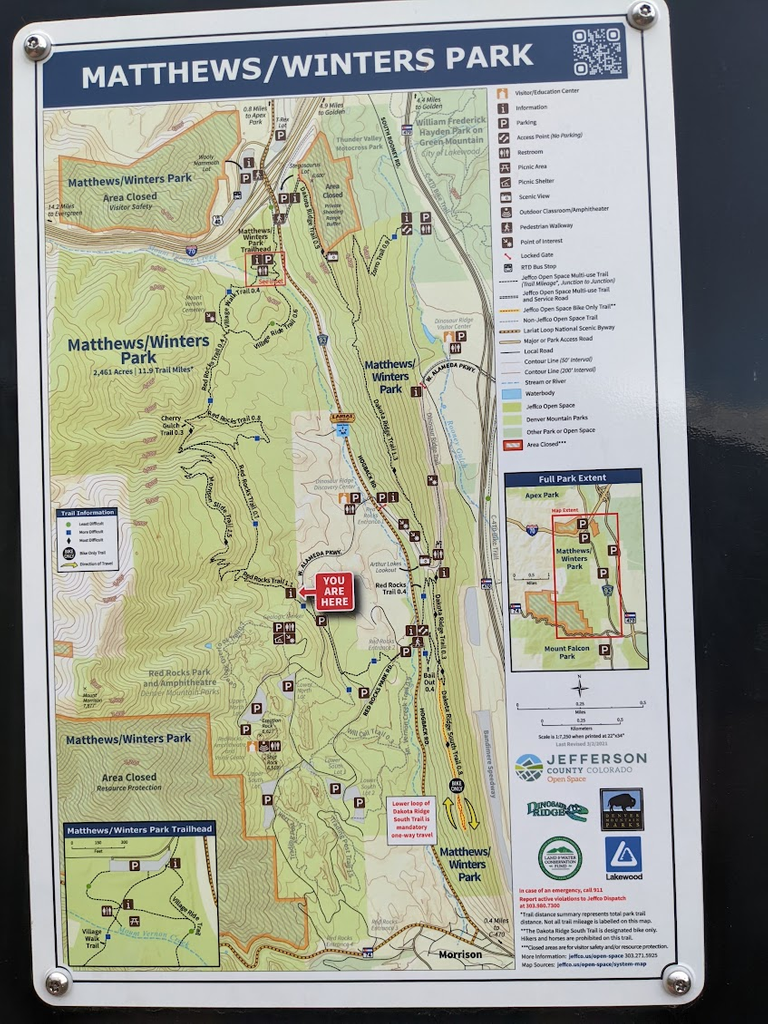 As you can see there's lots of options to go hiking. You could really do a couple of massive loops if you had time, but by looking at the sky we know we didn't have that much time today. You could see that the clouds are rolling in and it looked like it might start to rain after checking the weather app and thinking we had just enough time to get back before it started we set off.
Photos from the hike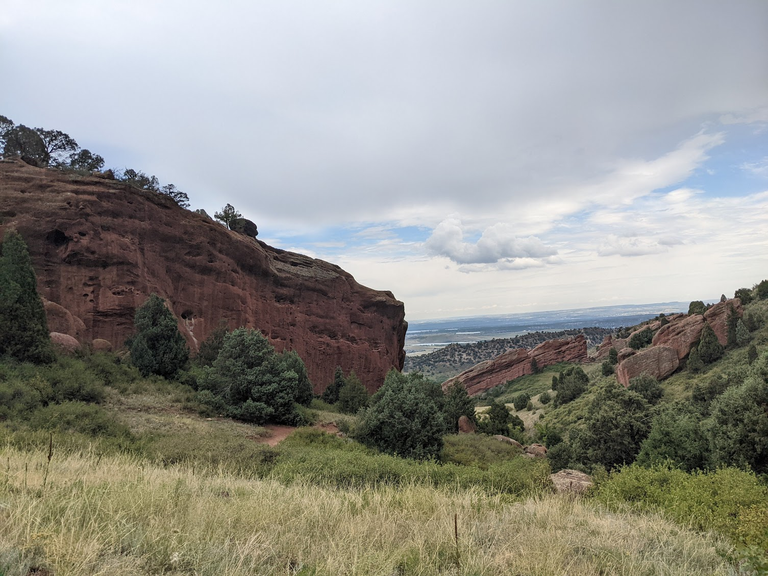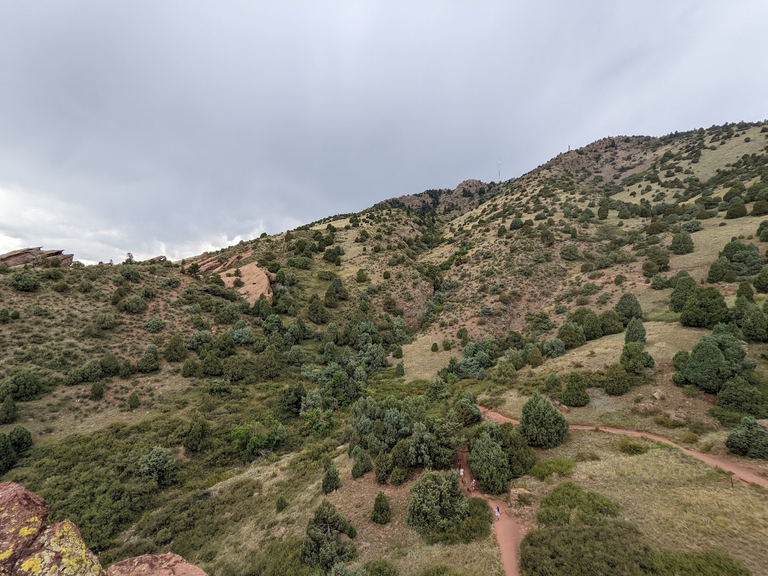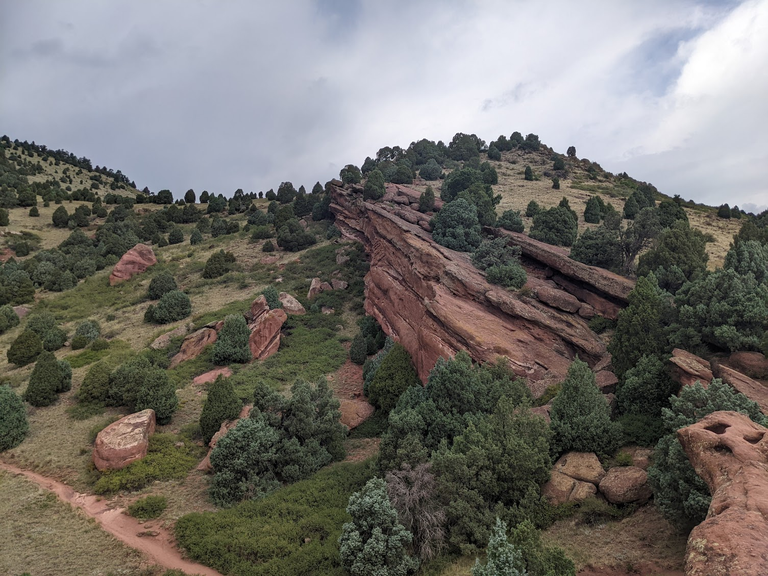 Say some deer - they could care less about us
We were pretty excited to see the deer, although they looked at us and were pretty much disinterested. I must not be any hunting in this area and they must be pretty used to seeing people. They just kept on walking and munching as they went up the mountain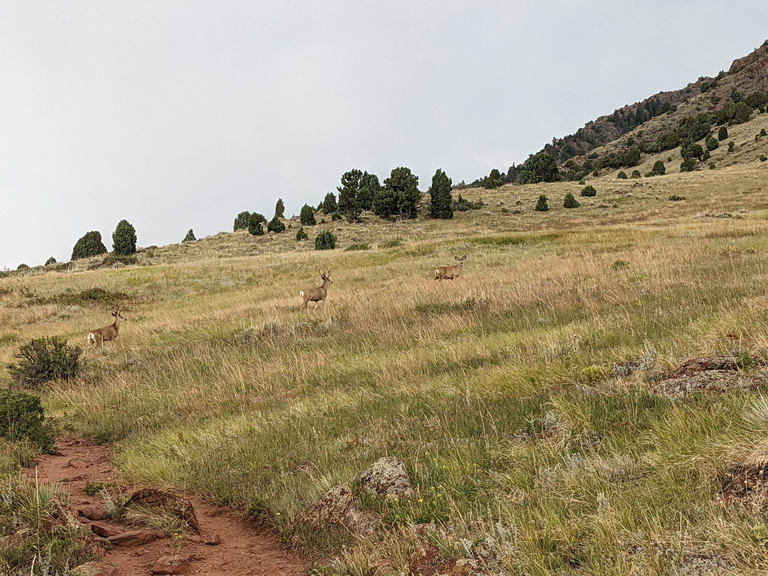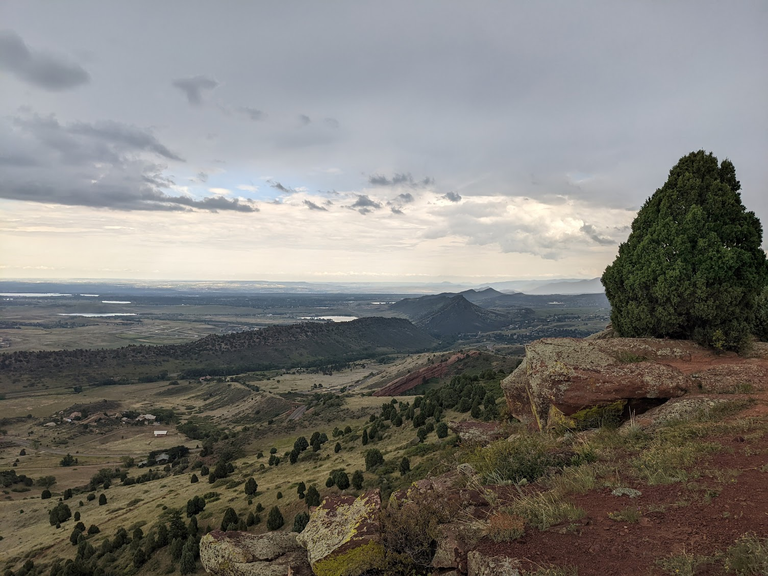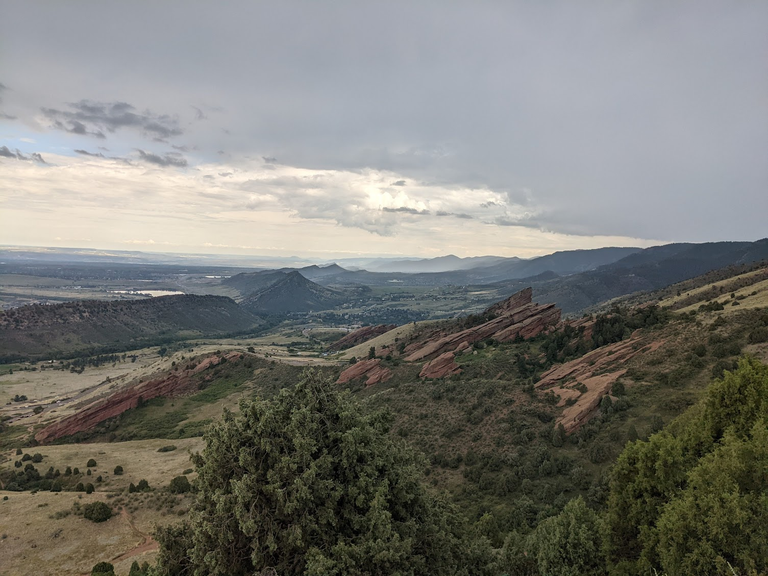 Started raining hard enough even the deer hid behind a tree!!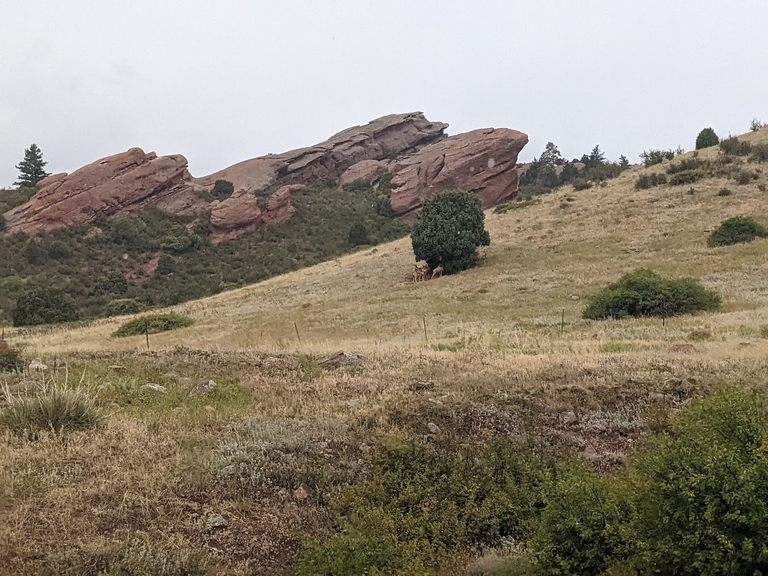 We did not make it back in time before the rain came. We were going as fast as we could, but the rain did make the rock was slippery and going downhill with some little dicey. We didn't want to go too fast and slip and get injured and make us be up there even longer. At one point we came around the corner and the wind was blowing the rain almost horizontally, and I saw these deer hiding behind a tree so they were sheltered from the rain. The kids that we should do the same and laid out the storm, but I was afraid that it would rain for a long period of time and make the trail a muddy slippery mess. So we continued down the trailer until we got to the car.
Hike Results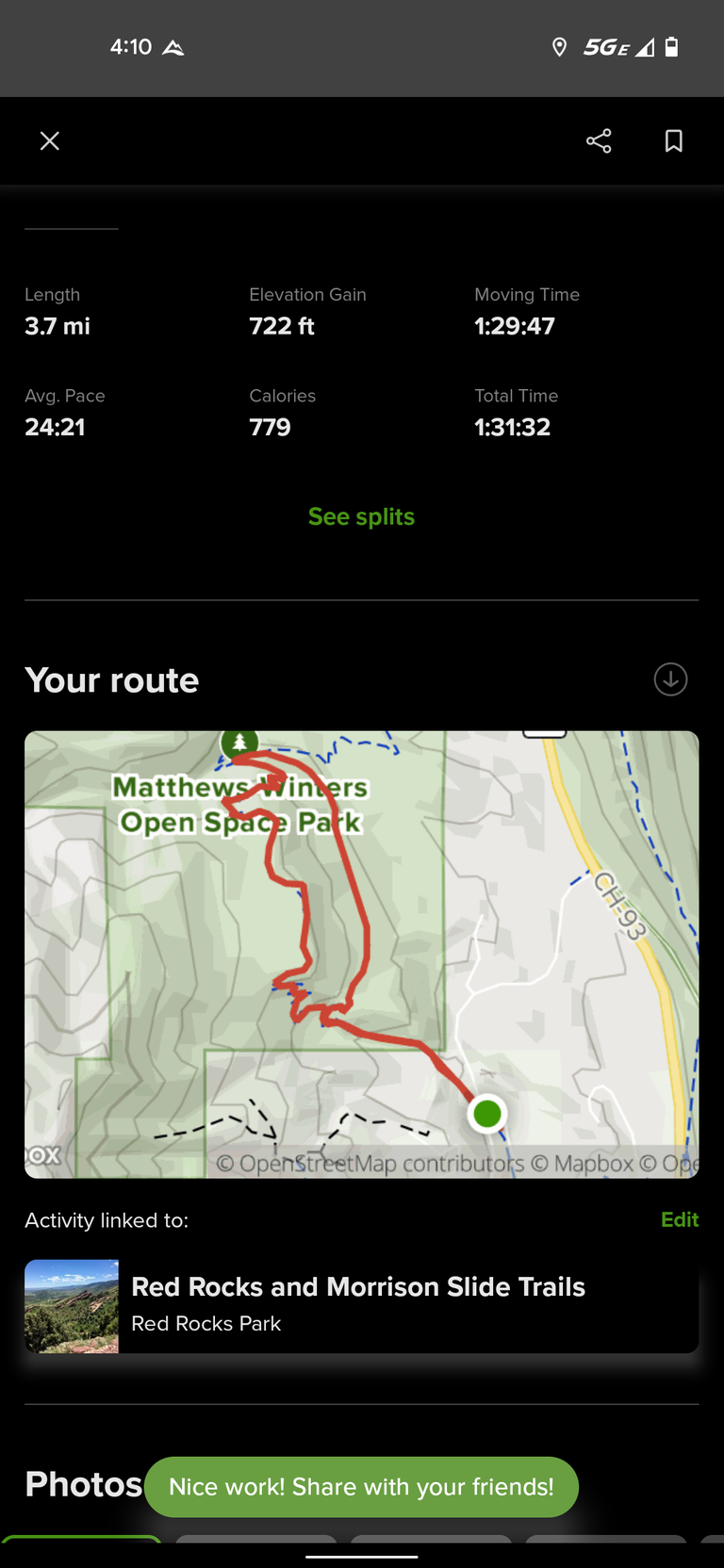 As you can see we did a pretty good hike on the first day, it was just over 3.7 mi with a pretty decent elevation gained and the average price was fairly good considering the number of pictures we took, the elevation, and the fact we sat in the car for 12 hours that day and we're literally stiff to start.


Look Out Mountain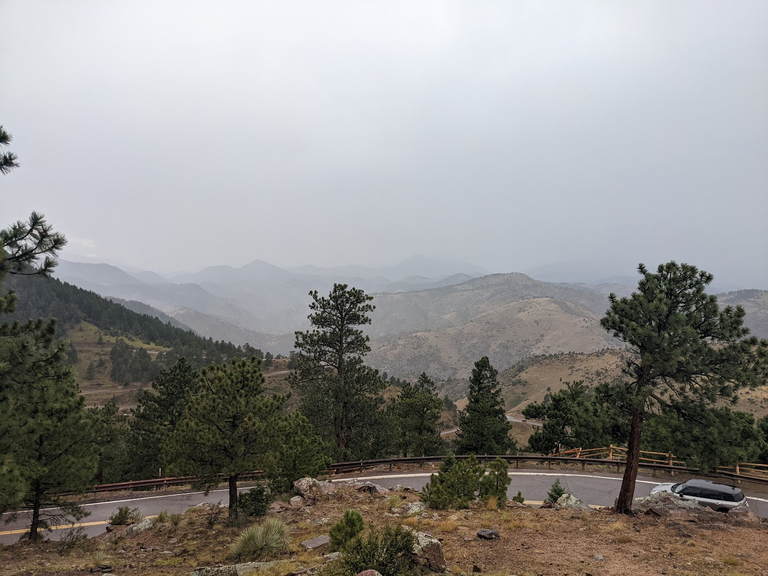 Since it was raining we pulled off the phone and decided to see what else we could find that we might be able to do in the rain. We found lookout mountain that was only a little ways away so we piled in the truck and took off. We went to go see if there was a nice overlook here.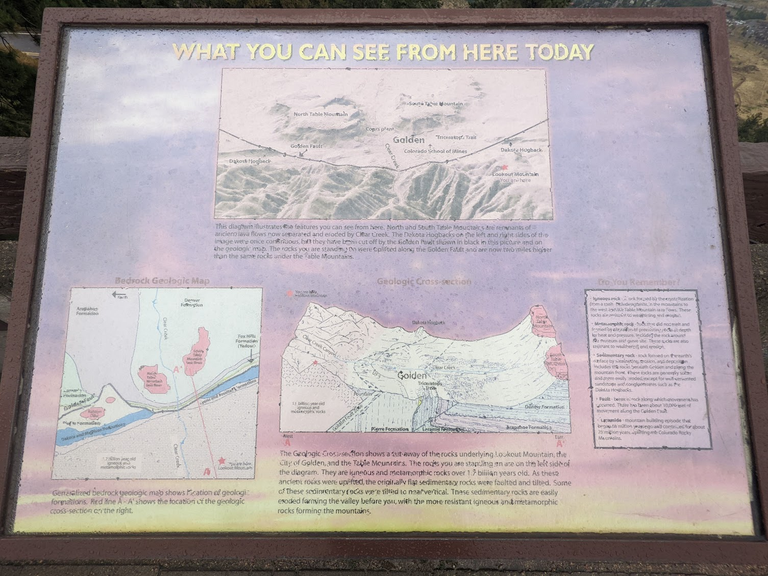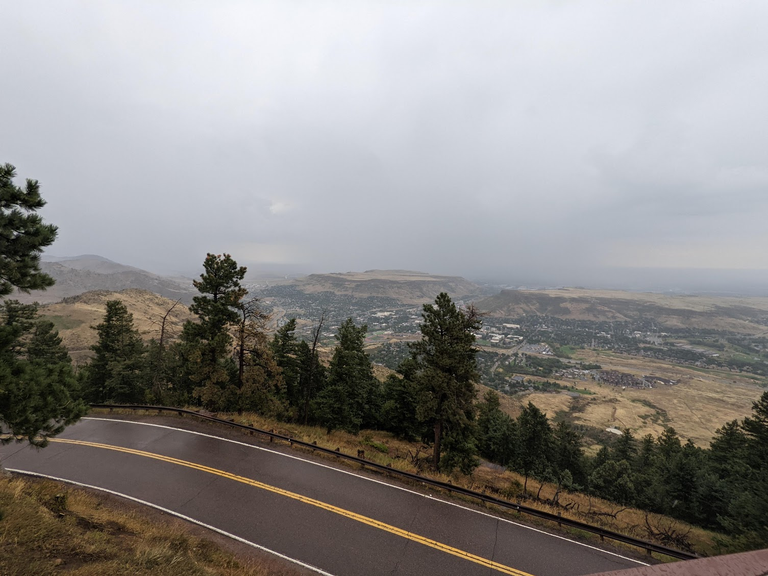 Overall The view was pretty good, but a little lackluster from what I was expecting. I thought look I'm out and might be a little bit higher and have a more grandiose for you. Didn't have some educational signs talking about how the geography was formed and what their was to see. Maybe it's a more impressive sight if it wasn't raining with low clouds if you can see in the photos. It might be one of those overlooks where you can see for miles and miles and miles, but in the conditions we had that visibility was lowered and it wasn't as impressive.

Continental Divide in El Dorado Springs - Failed due to strong thunderstorm.
We got in the car and drove 45 minutes north to go to El Dorado springs, go to the state park and see if we could take a hike and go to the Continental divide. Unfortunately when we got there it started to be an absolutely torrential downpour. I will say that El Dorado Springs was so beautiful that we decided to add it to our list of things to do if we ever get back. El Dorado Springs State Park when we were pulling in had an absolutely magnificent view of sheer Cliff walls, with a raging River coming down and it just looked like a beautiful place to hike. I'd like to go back and spend a couple of days around the area hiking and get a chance to hike to the Continental divide.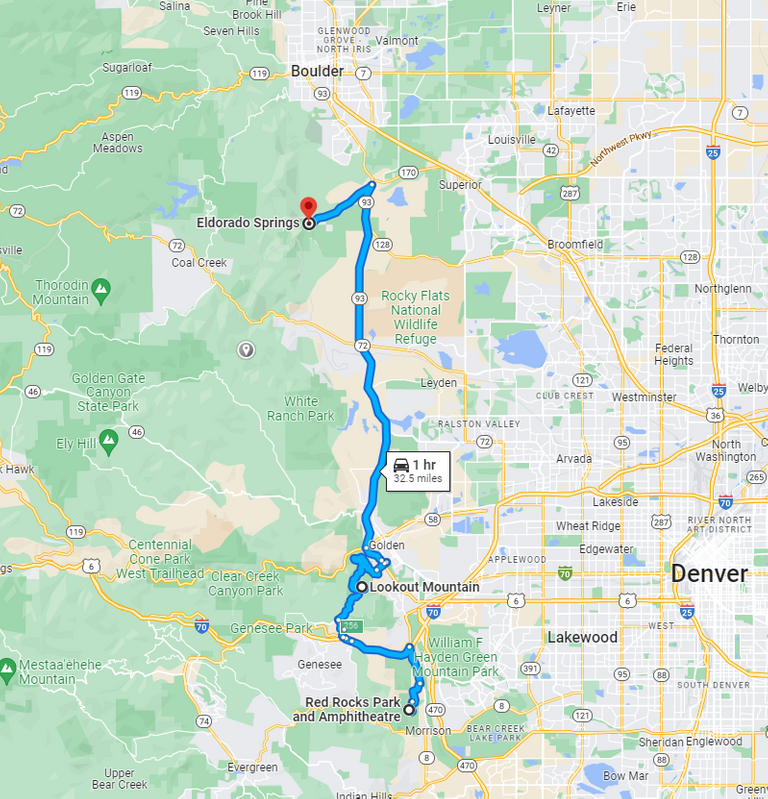 Vacation Stats
Pre Drive Friday Night
Day 1 -Drive to Altoona
Day 2 - Drive to Red Rocks & Hike - Drive to Look out Mountain and Eldorado Springs
694 Miles Red Rocks
10 Hours to Red Rocks
65 Miles Round Trip
2 Hours Round Trip
Vacation Running Stats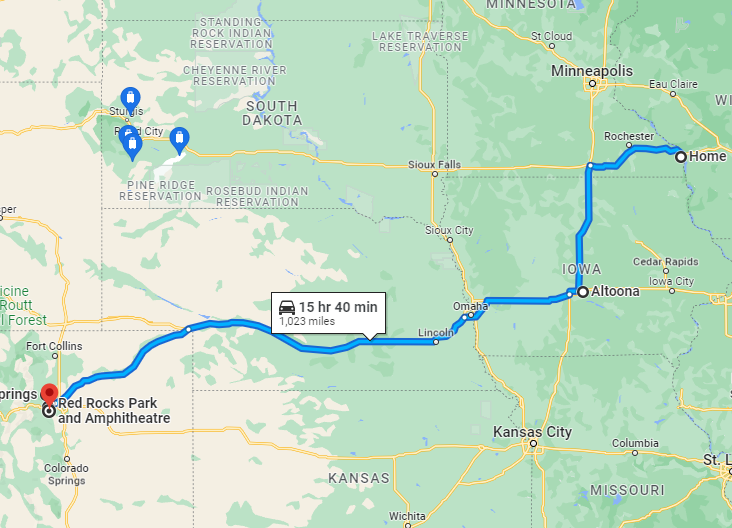 Total Miles - 1,030

Total Time Driving - 16 Hrs
Summary
Not too bad, already 16 hours in a thousand miles into the trip. I started my triple diameter after the first 15 or 30 minutes on Friday night, so I know it won't be completely accurate so I might have to round up a little bit at the end but so far this is tracking pretty true to where I think I was. It was a significant amount of drive but we are now in a general area of where we want to be with just shorter drives left in between everything. Having to only drive 4 to 6 hours in between sites will still allow us to explore the area and enjoy the sites.
---
View this post on TravelFeed for the best experience.
---
---