Full Weekend Outdoors, Beach Time, Shore Fishing, Rope Swing, and then Kayak Fishing...
Fall Colors on the Upper Missippi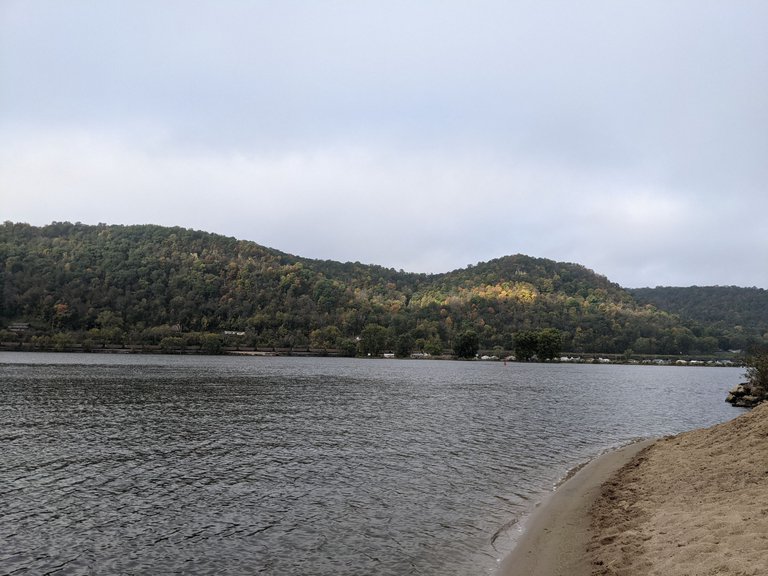 One Last Beach Run
After last weekend, the kids asked to go to the beach one more time this fall. I called the boat dealer, and they said we could wait a week to bring it in and get it ready for winter. After checking the weather and seeing 80's, we decided to go for it.
We go out as soon as the fog would let us, but it was after 9 before we hit the beach after a 45 min cruise. Funny enough, we were the only ones there until about 1pm.


Shore Fishing - Almost skunked.
Here is one of the three bass I caught. Another was when I was out fishing on a rock pile in crocks, that I should most likely not have been trying to stand on. I didnt dare dig out my phone for another tiny fish. I did manage to hook one that was in the 10-12 in range, a really nice fish, but still under the limit. As I was walking it towards shore to grab my phone, it spit the hook and swam away.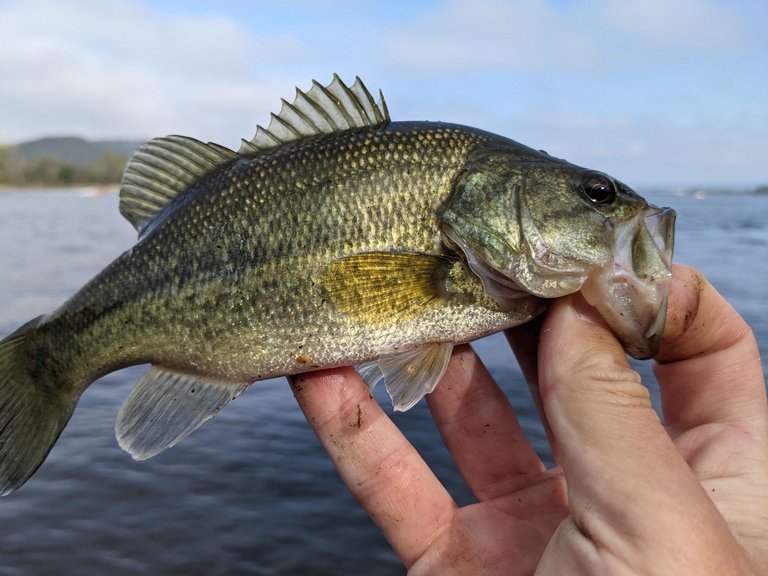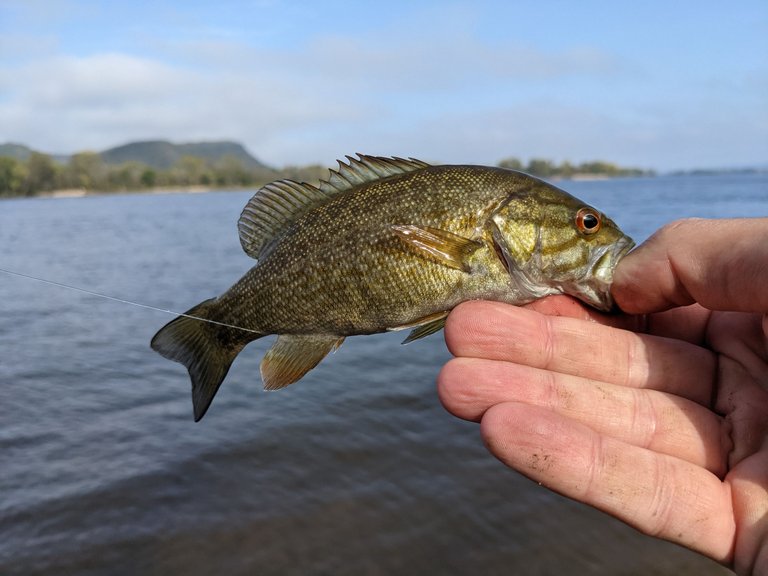 Quite day on the river, fall colors coming.
The colors changed a little more since last week, we were hoping for more color change, but it typically happens for us the day before a rain, and then they all end up on the ground without much of a show. You would think it would be pretty along the river, but we never that heavy color you see other places.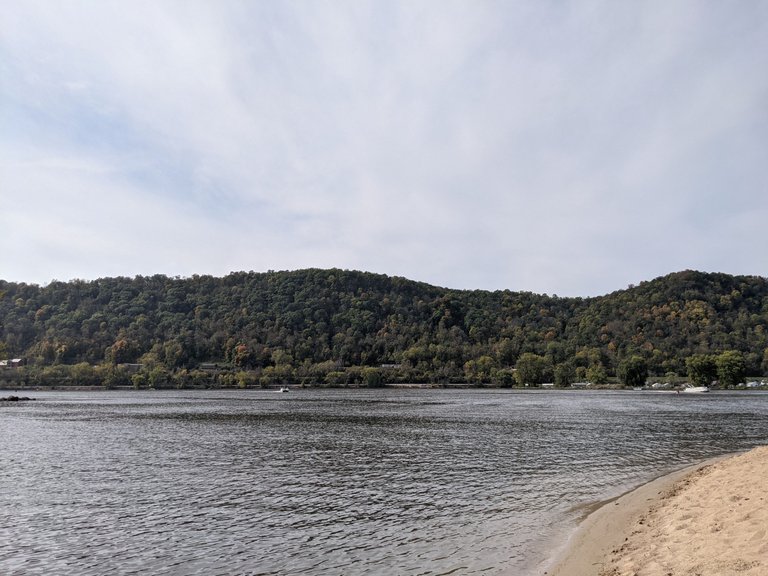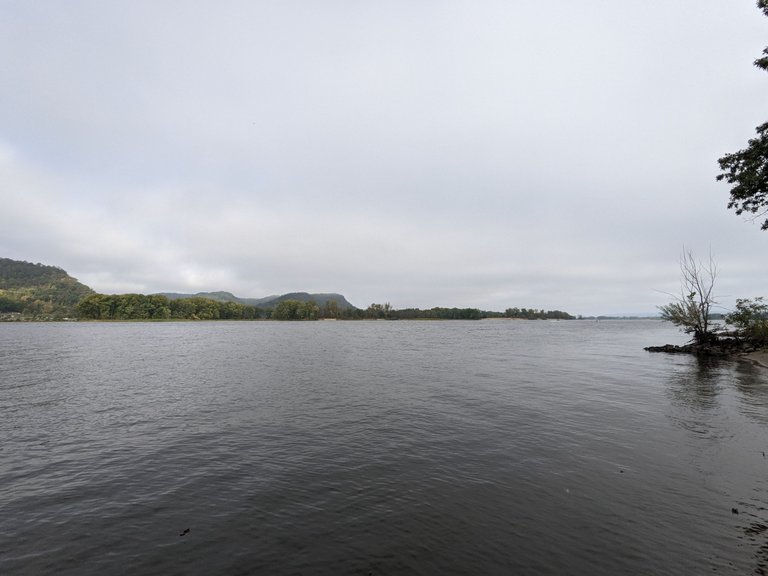 Rope Swing for Hours.
One reason why the kids love this beach is the rope swing. There is on off on the busy side of the island. It really is a nice one on a strong tree, that as long as you don't hold on too long, you land in deep enough water.
The boys played on the rope swing for a couple of hours. Best part was, no one else was even coming over to check it out. We had this section all to our selves until the very end. They had to be sore on Sunday - because they would just hang on the rope non stop. Here is a pic of them trying to do the rope together... classic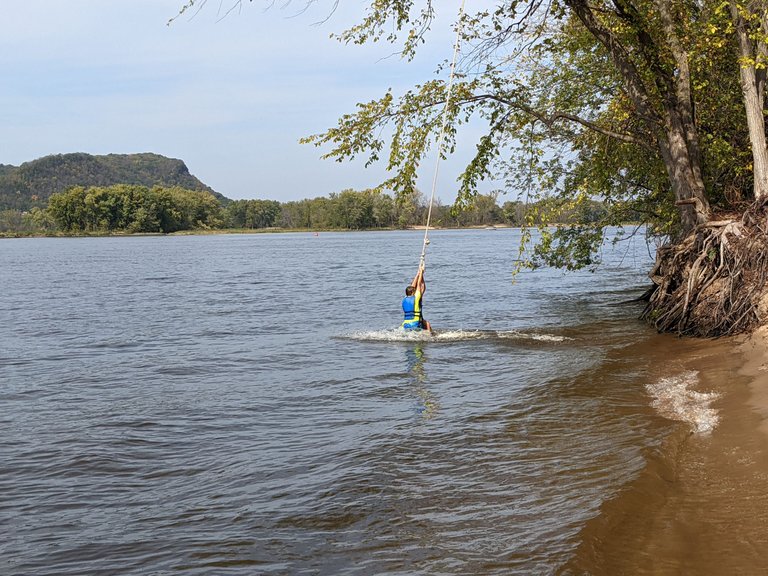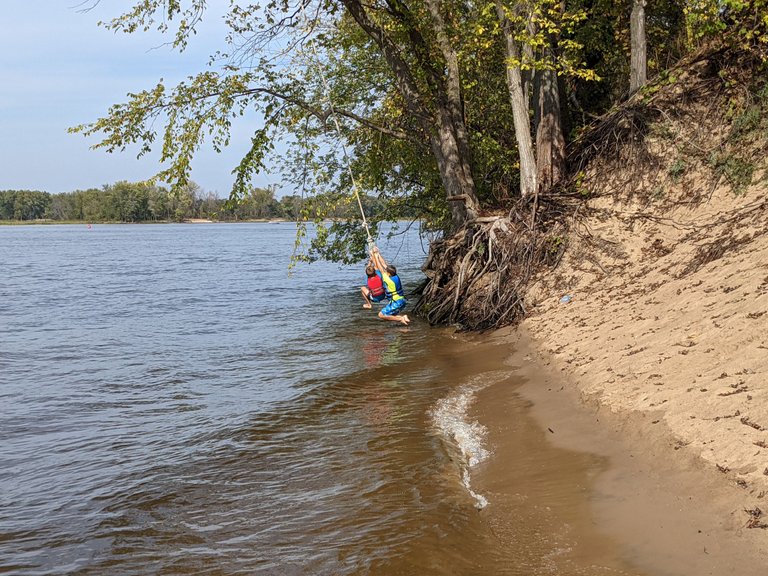 Massive Cruise Ship On the River
On our way back to the landing, we saw the biggest boat I I have seen on the Mississippi River. It is not normal to see a ship like this going down the main channel. I am used to a barge, or other local boats. Maybe there is an American Queen or other large paddle boat stopping over night but nothing like this. I have no idea how they will manage the really narrow sections of the river, where there are sand bars on both sides and the river is really curvy. I am sure they will be find, but I wouldn't want to be driving.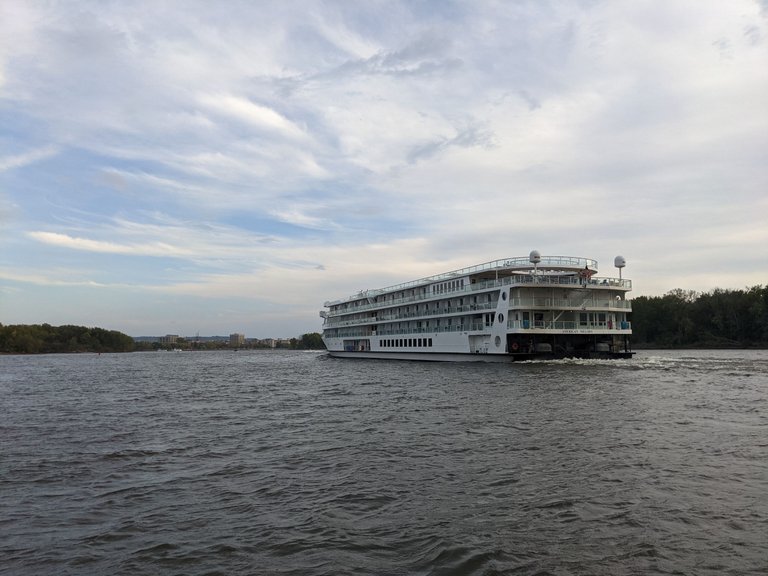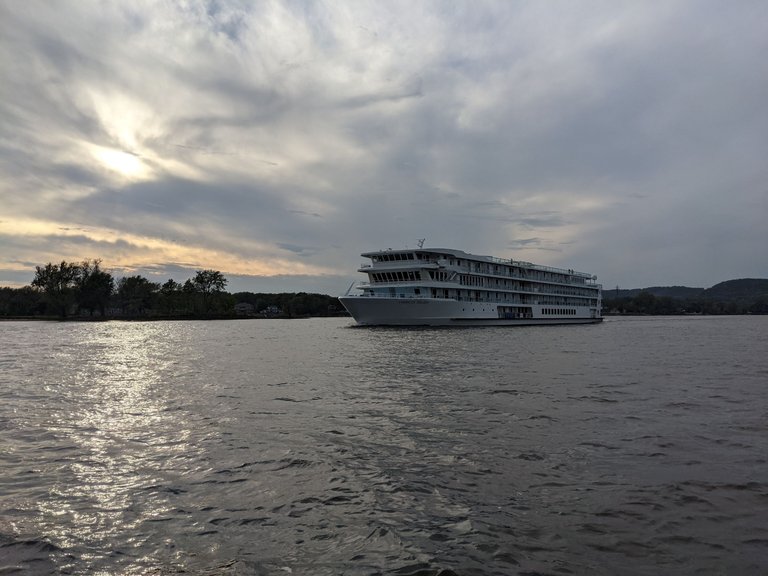 Sunday Kayak Fishing
It was nice on Sunday as well. I managed to convince my oldest to give Kayak fishing a try. I really enjoy it, plus if the fish are not biting, you can still just explore where you want and it nice weather.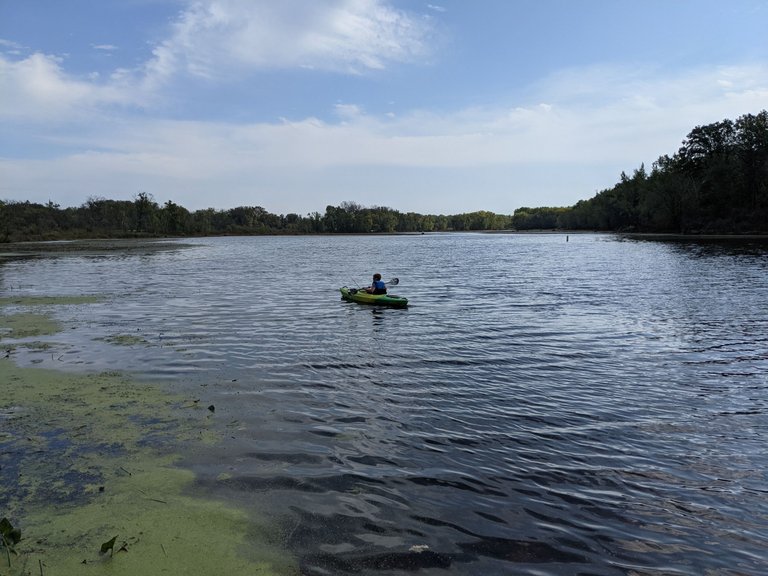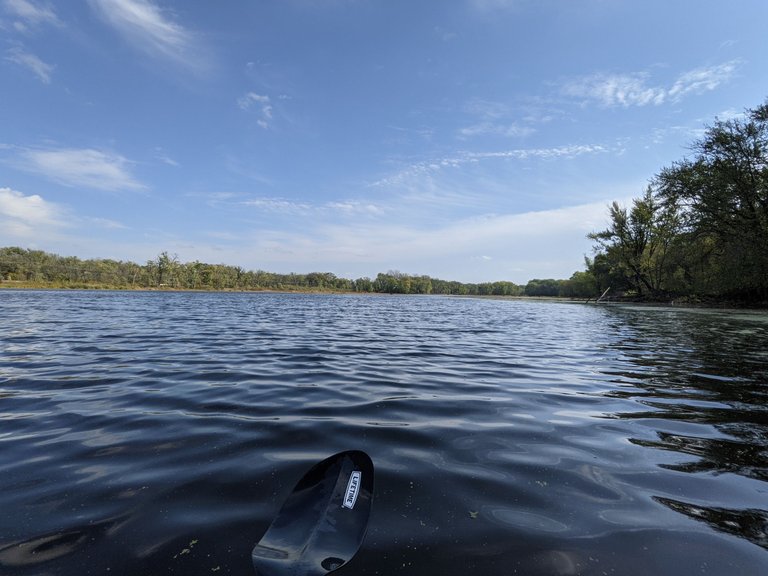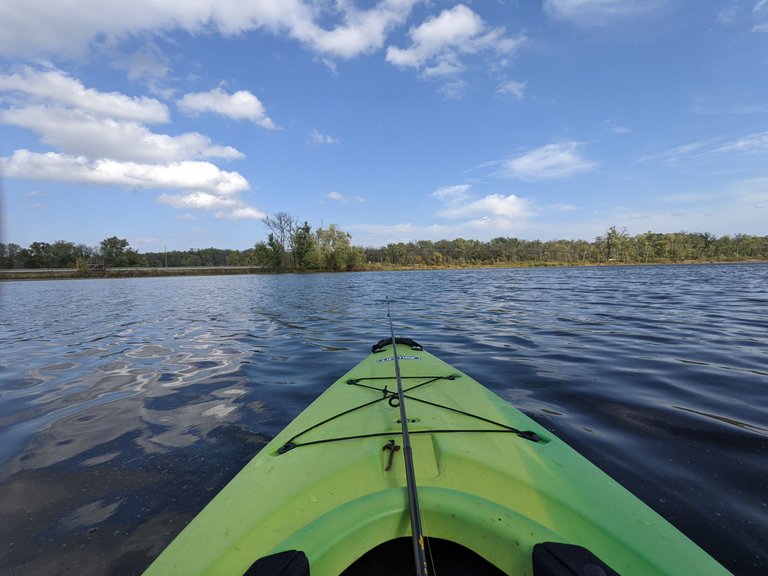 15-20 Beaver or Muskrat Houses?
We saw 15-20 of these... not sure what build them. They only in 1-2 feet of water so it will clearly free in solid. Seems add as I thought beaver dens were usually swim into so that wont work here. I will have to ask around what they are for sure.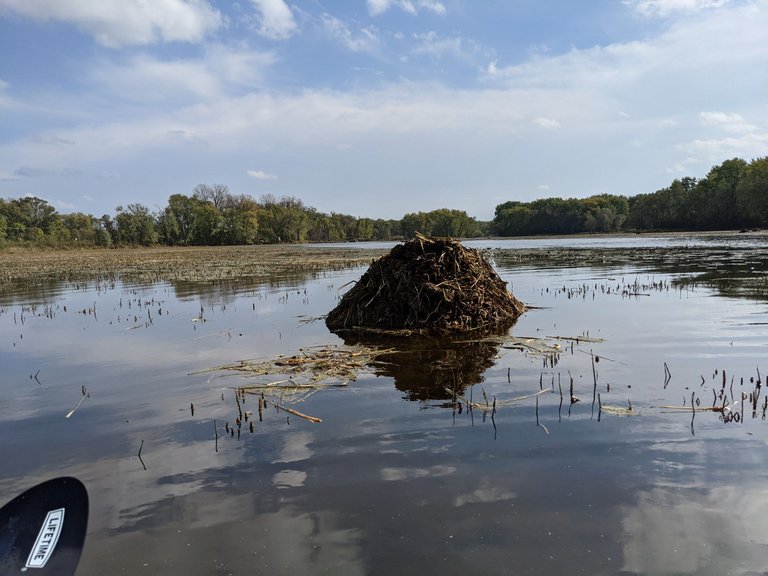 Son Caught The Best Fish
My son did great, was fishing off on his own and caught a small perch. At first he convinced me to keep it, to see how many we could catch. I did catch one really small one, but that was it. In the end, this was really too small to clean and he decided to toss it back. I hope to find them in bulk next time, and add 2-4 inches to make a really nice eating fish!!!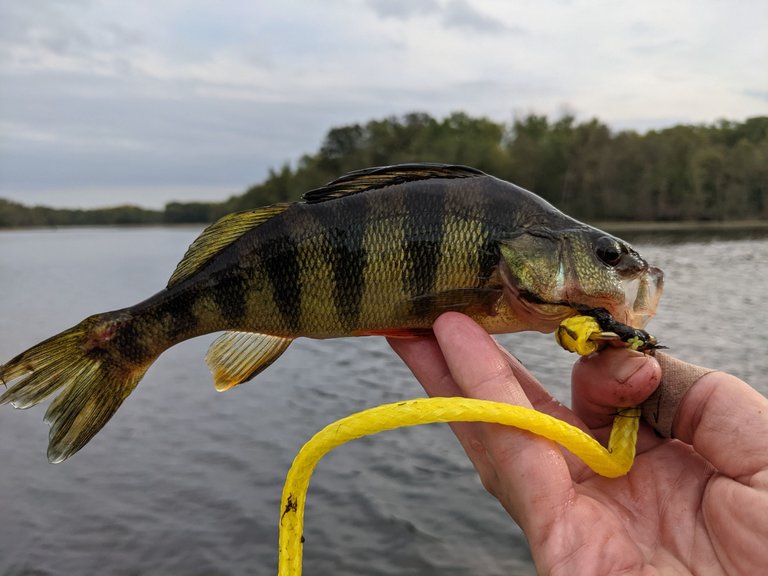 Thats All - My weekend fun is over!!!
Hope you all had a great weekend.
sbi-skip
---
---