Lazy Day Paddle Boarding and Fishing Mississippi River Backwaters
Was supposed to rain all day.
So I made bacon and Bisquick rolls for breakfast.. cause why not. I was supposed to drink coffee and watch football all day.... Guess not
About 11am my wife and kids got restless and said they wanted to go paddle boarding and fishing... We loaded up and
The inflatable paddle boards in the fishing gear and headed off to a local park. . Have decent luck here in the past but they have always been small. There are some times in the spring or the fall where you can get lucky if the water depth is right. The water was a couple feet lower than where I would have preferred it to be today but, the fact that these are back Waters of the mississippi, there isn't that much you can do.
We fished under this bridge here, and it's very popular spot to fish for sunfish. After blowing up the inflatable paddle board, I started fishing with my oldest. He and I started getting a heavy bite right away on the small stuff.
He did manage to land this one impressive bluegill, and I had to run back to the truck to get the Fish basket. After a while he andy youngest switched for a while, and then all 4 of us were fishing.
Here are a few photos.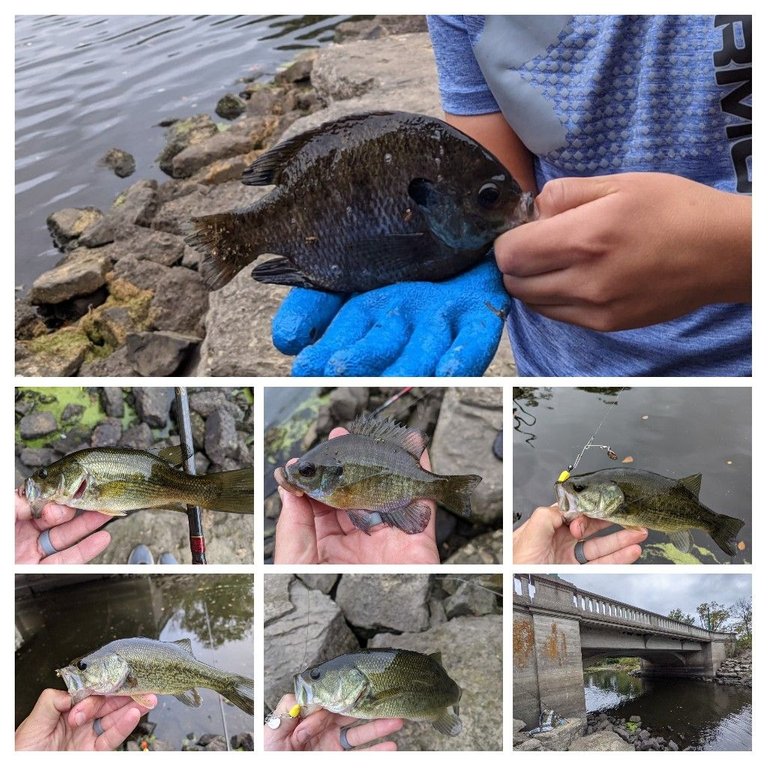 As @thebigfish would say, many of these would be just a snack but, in 3 hours I caught maybe 20 and missed that many. Not to mention I spend half.my time fixing everyone else's rigs and putting on worms.
My oldest probably caught 15, my youngest who doesn't like fishing that much and would rather hunt for lures, weights and old line even caught like 10. That's with them baiting, casting and hooking themselves. Even Mrs. Senstless caught a few all on her own, and she has never fished much.
Sure we might have caught a few of the same fish a couple of times but that is pretty heavy action and I'll take that every day just for fun. The huge and constant action is a blast, even if you don't get dinner.
Unfortunately since we only caught one keeper I decided not to keep it and clean it and toss the back. Caught some.flack for that, and I guess I will be cleaning them before now on... Even if it's one keeper.
I am sure we won't get too many more warm days like this in. October and the paddle board days are coming to an end... It will be hiking, kayaking, and fishing all fall.
---
---