Rising Star Weekly Journal- Level 58 Added 7 New Cards Last week Plus an Award Pack!!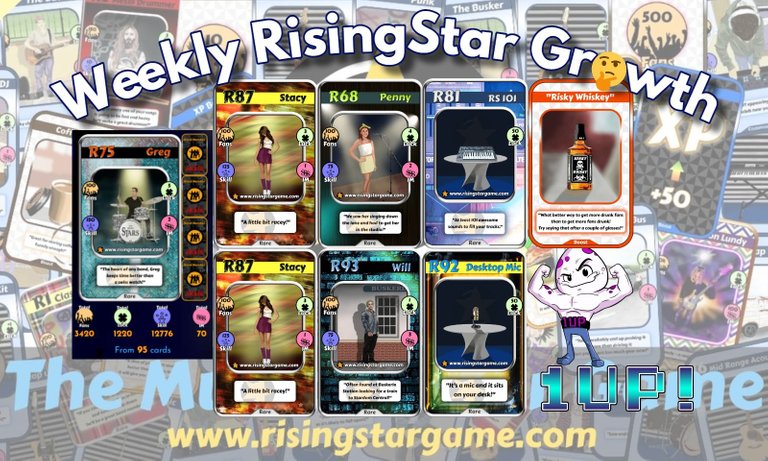 Rising Star Profile
Here are some quick stats about my account.
Rank: 320
Level: 58 (+3)
Missions: 1091 (Last week 996)
Mission Ego: 1850 (LW 1542)
Lesson Skill: 8829 LW 7976)
Card Fans: 3420 2840 (+580)
Card Skill: 3947 (+667)
Unique Cards: 59
Total Cards: 95
Joined 8/12/21
STARBITS Earned: 416,825
STARBITS Spent on Cards: 250,000
STARPRO Withdrawn: 0
Packs Purchased: 13
Pizza Slices: 6
Pizza Box: 4
Coffee Cup: 1
Risky Whisky: 1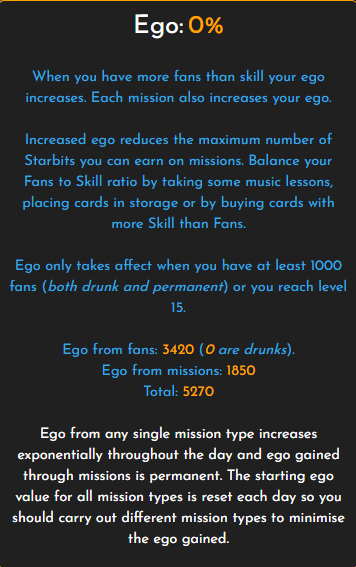 EGO - Need More Fans
My Current Ego Snapshot shows me at only 5270, with basically no drunks. I don't seem to get very many drunks the past few weeks. I bought a Risky Whisky, but don't seem to be using it very effectively yet and sometimes only get a few drunks with it, like 14?
In the last week I did run more missions than music lessons and some longer ones balancing my time away from the game and Earning Starbits to buy more cards. I know the gap shrunk a little, but I still have a 7K buffer over my Ego.

Illegal Busking - The OG Mission
When you first start - this is what you see. You can Earn 10 XP and 1-8 Starbits. Now XP won't change (unless you buy a booster) but StarBits will. Doing good here, up to 87 with 0 Drunk fans. Adding those cards is really helping me up the StarBits I can earn. More cards will only help in the long run.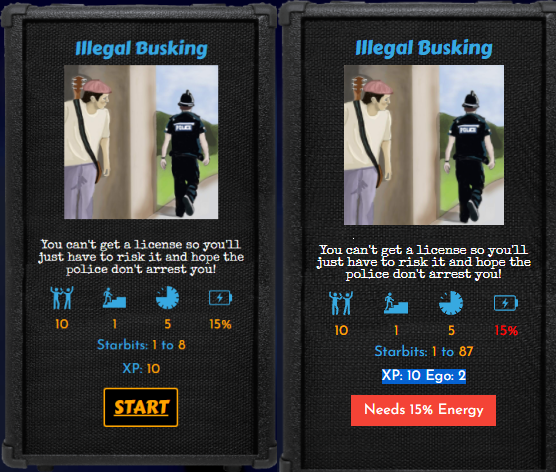 Music Lessons
Your first lesson - assuming you don't buy a microphone will look something like this. You earn an amazing 120 XP and Skill reward of 5-10. I still love music lessons for grinding through levels. It builds your skills, gives you no drunks, and a healthy 120xp. It really is a perfect balance to missions.
I managed to increase my skill floor from 35 to 37 and the top reward from 70-75. I did recently decide to buy some other instruments other than mics. While I know they wont help me until I do a piano lesson, they were half the price of the cheapest rare MIC, and gave me better stat ROI for my StarBits. I think I may focus that direction for a while seeing I am good with my 7k lead over ego and I earn a good amount per lesson with my current set up.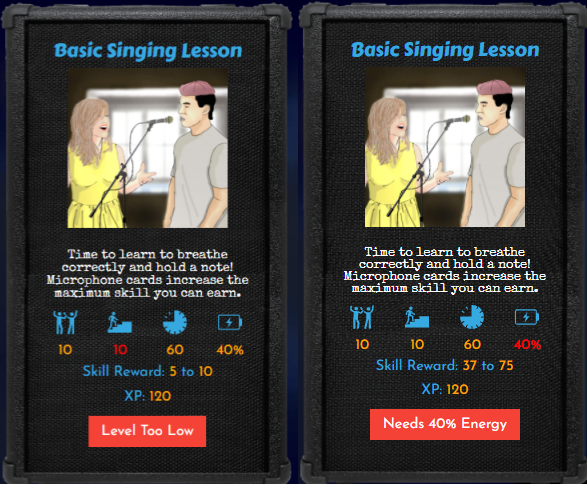 Recent Buys 33,350 StarBits and 6 Cards & A Risky Whisky with Post Payout Money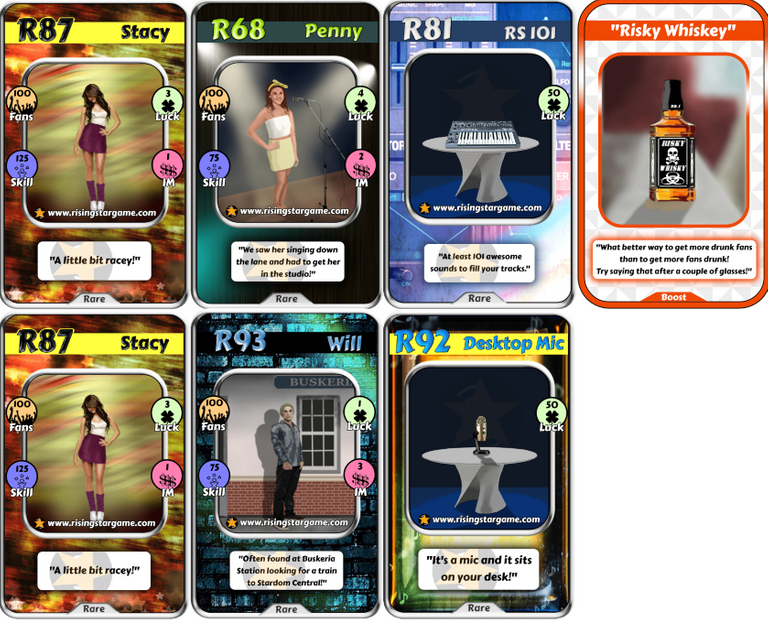 R87 Stacey 6800 & 6300
Stacy is a great card that I found a rock bottom prices. I guess it is only this low as it is right in the middle of the pack opening and the market is flooded. With 125 Kill and 100 Fans it adds to both stats and really helps build the stats up
R68 Penny 7000
Penny was a solid add, and I took it even though it was slightly higher than other purchases because it was discontinued. The card has solid stats, and with it being out of print, I fear the price will soon tip 5 figures. As I also like to collect one of each, it was a good time to pick it up.
R93 Will 5900
Willl - Oh Dirt Cheap will. Sub 6k for a well balanced card with a good amount of fans is a score any day. I will buy as many as I can. The 25 slip I have in Ego is easy to make up in one lesson.
R92 Desktop Mic 4100
I added one more Desktip mic for a good price. I want to keep boosting my lesson as much as possible. This was by far the best price of any rare Mic and gave me the best ROI
R81 RS 101 3250
This is were I started a different path. I could find no MIc under 7k this day, and decided that if I would buy the cheapest rare card I could find in music. Enter the RS 101. I will do this from time to time, and just shop the basement to build stats. It seems to work the best when my funds are tight.
Risky Whiskey 7500
Got some nice upvotes, and decided to spend some HIVE for SB and buy a Whiskey. I want to find a way to get more fans, but not sure I really know how to use it. I think it might be best to get more than one, build them full of fans and the claim all at once at the start of my day? Not sure but I will see if I buy a 2nd.


Next Buys
I plan on saving 100k and buying another 12 pack. After buying singles, and seeing how close the stats where, I think I will save my self some time scouring the market and the gods of randomness take over.
Strategy -
Fans, Fans and more fans. Basically I am just trying to add as many cards as I can to build my stats to make progressing easier. I am not worried about levels right now and am trying to buy more cards.
Major Milestones
Starbits Millionaire
Level 50 to Unlock Starbits Millionaire Mission
Level 55 to Unlock Local Mini Tour Support
1000 Missions
16:18 You completed your 1000th mission and received a FREE RANDOM CARD PACK. Go to the Cards page to open it!


Pretty solid pack. I needed all of these cards and Remy is a good rare to grab. Plus lets be honest, any free pack is an amazing pack!!
Thoughts and Comments
Let me know what you think I should do next, or how to improve my band better. I got PIZZA, LUV and BEER to tip if they are working.
---
---