Rising Star Weekly Update - Adding 6,500 Fans for 377k Starbits - Ahead of my 2023 Goals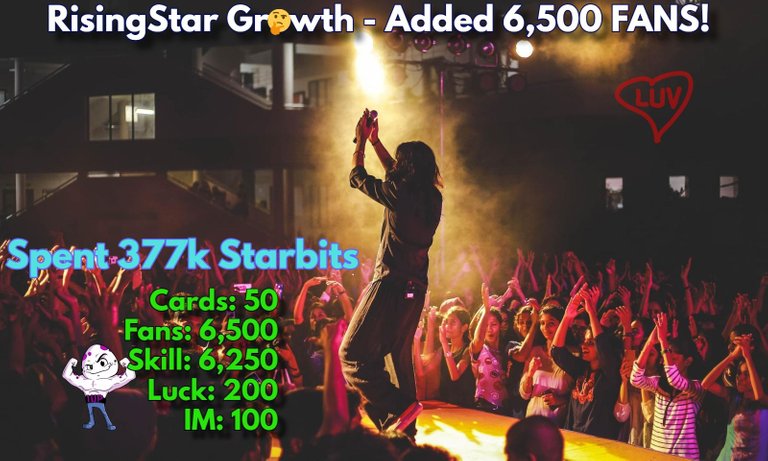 Rising Star Profile
It's been another great week in the world of rising Star, and my rising startup. I feel like my new goals have gotten me on board and aligned with a more serious view on growing my account. This means significantly increasing my fans and any supporting attributes I need to counteract my ego.
I continue to run as many daily missions as I can, but will admit that last week showed a significant decline in missions run, efficiency, and Star bits earned due to my very hectic schedule. There or three or four days where I barely ran 15 or 20 missions, that includes the 5-minute missions. I got distracted or as some would call it focused on work and it caused me to forget for several hours to go kick it off another mission. I should have just recognized what was going on and chose to run commissions but I'm not that intelligent in the moment.
I've been playing 17 months and I'm impressed with my growth so far. While I'm not able to rank yet, I feel like I'm now building a band and card base that will allow me to compete better down the road from my in-game earnings. Clearly the top of leaderboard will always require external investment just like every other game that I've played, but I might be able to crack the top 100 if I switch focuses for a while. That's not the priority now, but down the road I may have to go for it.

Here are some quick stats about my account.
As you can see all of my categories are growing at a relatively even pace and some of these numbers are much higher than I ever thought I would be able to get to when I first started the game.
Rank: 178
Level: 146
Missions: 11,755
Mission Ego: 75,495
Lesson Skill: 123,084
Total Cards: 4,893
Card Fans: 119,978
Card Skill: 99,315
Cards Luck: 23,220
Cards IM: 2,154
Unique Cards: 505
Joined 8/12/21
Packs Purchased: 3
Boxes Purchased: 10
Pizza Slices: 6
Pizza Box: 4
Coffee Cup: 1
Risky Whisky: 1
Cans of Petrol: 5
2nd Edition Birthday Cake: 3

Card Buying Binge 377k+ StarBits All On R271 Hazel!?!
I have no idea how this happened. I was just in the market for the cheapest fans that I could add to help reach my goals of adding 200,000 fans this year. I did avoid buying cards for a few days because I would have been investing heavily in touring buses that have no skill, and I did not think I had enough of a buffer to allow the purchase I was not expecting to get this lucky.


As you can see while I spent $377,000 Starbits, I only managed to add one card. The r271 Hazel was clearly dumped by someone on the market on mass, and cheap. I was able to add 50 copies of the card, giving me $6,500 new fans combined with 6250 skill for an amazing net loss of only 250 skill points. This has to be one of my more balanced buys yet. While I was expecting to add significantly more cards of lower value, and expecting to have anywhere between 10 and 15 unique cards I'm very happy with this person. In fact I would repeat this every week if I could.
I had to run one music lesson to cover not only this purchase but a a day or two of mission ego. That makes buying things even easier when the fan skill is so balanced, and doesn't hurt my ego. That's really impressive especially considering these were the cheapest fans I could find. It wasn't like I had to pay a premium to get such balanced cards, I just had to wait and keep checking to find the opportunity.

Following My Goals
+200,000 Fans
I am on my track to hit my plus 200,000 fans by the end of the year. While it's early to be on track or slightly ahead is really promising since I expect my furnace to increase halfway through the year and it will be easier to buy even more fans.
2,500 Skill from Drum Lessons
I have not started any work yet I'm building up my drum lessons more, but anticipate I may have to make my first buy someone in the February at lunch time frame. I think spending three to 400k on drum lessons will give me a significant boost towards my goal. We'll see where we are at the end of P1 before I get too concerned
Stretch Goal
I also had additional stretch goal potentially chasing rankings. And without shopping unique cards the other day and was shocked to see I could add 50 unique cards for less than $70, 000 Star bits. I may have to consider allowing myself to spend the 70 to 80,000 to add 150 and help ranking. While not a primary goal, it does seem fun to add new cards and complete the collection along the way. If I don't I know it will cost me a lot more down the road.
While I know my buddies like @monsterjamgold love buying packs, I think their luck is just better than mine, and I am better off buying everything off the market. I am sure happy the market is so robust always have cards for me to buy.

Major Milestones
Starbits Millionaire
Level 50 to Unlock Starbits Millionaire Mission
Level 55 to Unlock Local Mini Tour Support
Level 80 to Unlock Country Tour with Cheap Rehearsal Room
5 Cans of Petrol
Thoughts and Comments
Let me know what you think I should do next, or how to improve my band better. I got PIZZA, LUV to tip if they are working.
---
---