Senstless Family 2021 Summer Road Trip Day 6 - Myrtle Beach Sunrise, Swimming and Skywheel!
This is by Far the biggest road trip we have taken!!!
I know this happened back in May, but I am finally able back to blogging and decided this would be a fun one to revisit and share. We did a 10 day road trip - and drove over 3000 miles!! We had a ton of fun and did something new everyday.
Bad news is I some how lost my log book for the trip that tracked times, miles and gallons of gas bought. Oh well. I do have the financial break down. Even with driving, free hotels, and not eating out.... I still don't want to revisit the carnage of spending.


Daily Tradition Continues - Sunrise for all!!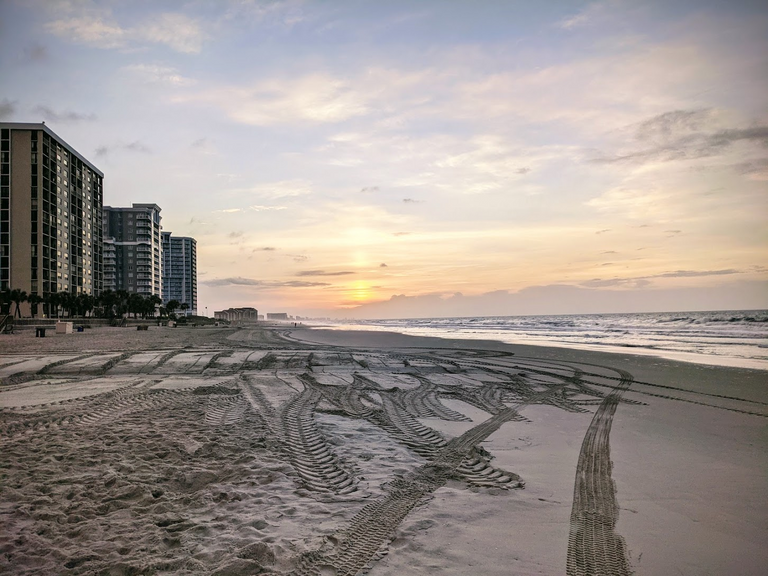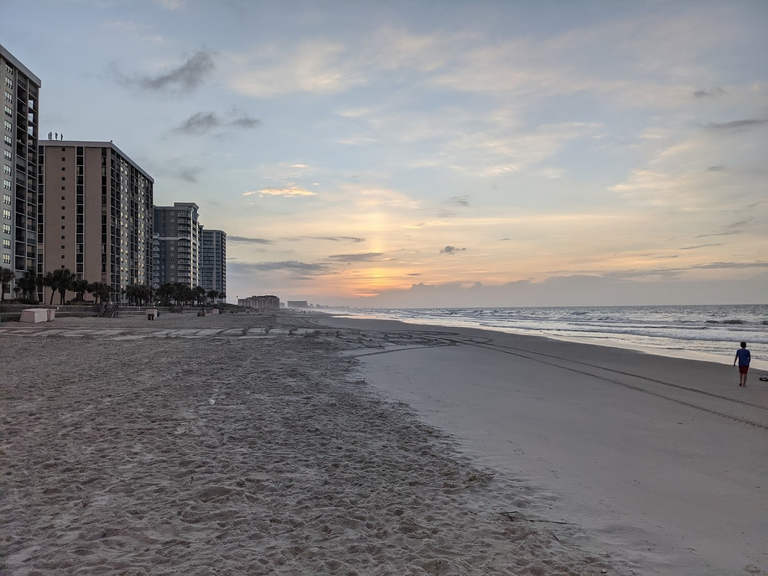 The kids, at this point are not loving this tradition... they say they need more sleep, yet want to stay up watching TV. Not going to happen champ, this is vacation, no time to relax and slow down. Drive it hard and come home exhausted!!!
Metal Detecting
You bet, I hauled the super cheap metal detector all the way on the trip just for this!!! It was worth it too, I managed to find $0.22, in the same area all the hotel chairs were. Cleary I can retire and live on that!! The real issue is the unit gets false readings from salt water, so I was pretty limited on what where I could search. I saw some other enthusiasts out, and they were by the water line, or in the surf. Maybe someday I will swing for one of those, it would be fun to use around here in the lakes and beaches too.
Relaxing Day - Playing on the Beach - Shopping and Checking out South Myrtle Beach.
You can tell we are from the north, a little rain can't keep my kids out the ocean. See what I mean by a long shallow entry. You can see how far out my oldest is and still only to his knees. It made it super safe in our minds because they could stand up and not get swept out, and still play in the waves. You had to go a long ways out before you had to jump off the bottom and ride the waves up.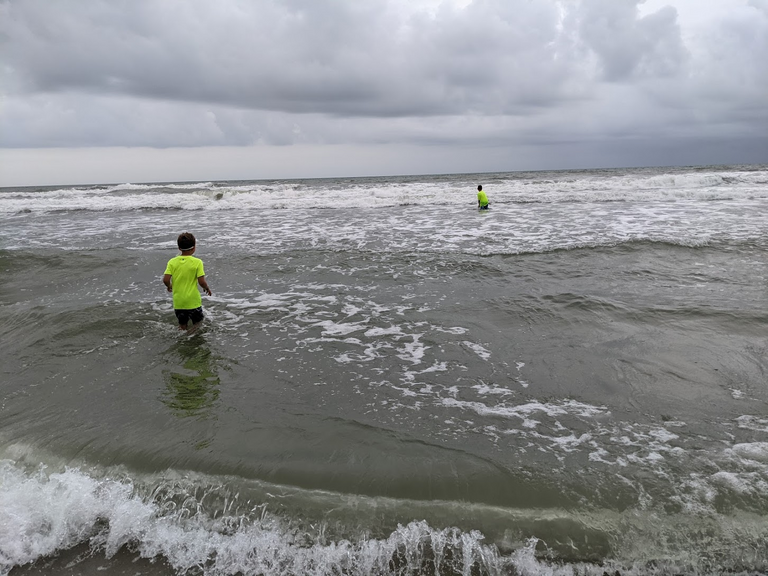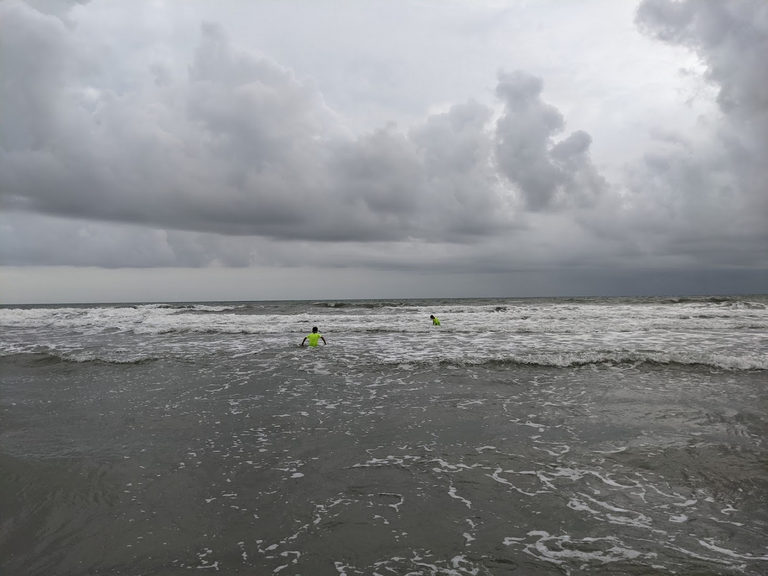 Sky Wheel
We drove down to the main Myrtle Beach area, where it is a pure tourist trap with 1000 surf shops, restaurants,
stupid traffic, insane parking, and general stupidity. I struggle to understand the appeal of driving up and down the same stretch of road that is bumper to bumper stop and go traffic, but that must be a thing there.
Here is a promotional pic of the sky wheel. We only took a few from the inside, and all you see is my face and not much else outside. I sat with my back to the ocean so my wife of course has the good photos from that day. Sound familiar... You know who takes all the photos...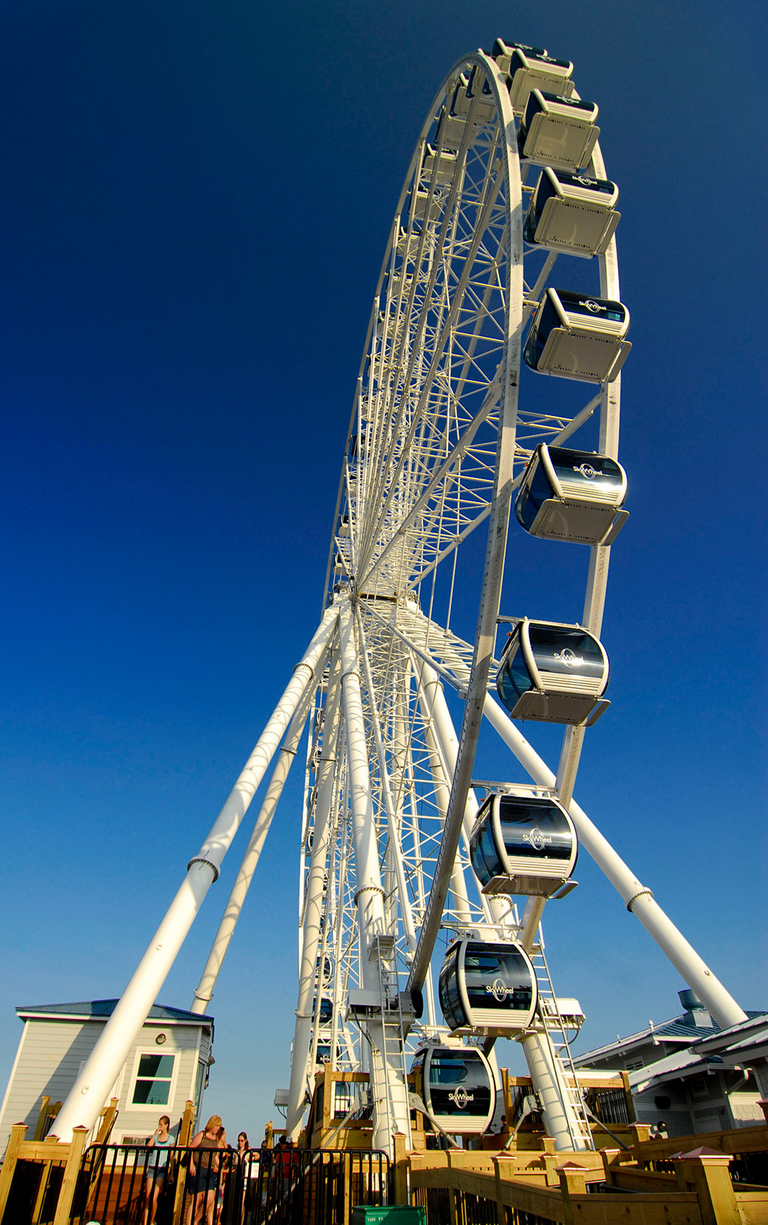 source
We found a place to eat dinner, and walked a few blocks stopping in the surf shops until we found one to buy some clothing. The kids got a sweatshirt screen printed and both my wife and I got some shirts. We bought a log of clothing this trip, but we also planned on it, and didnt pack as much, planning to buy a new shirt to wear every few days!!.
Vacation Stats
Day 1 - Drive to Sandusky
Day 2 - Drive to Kitty Hawk
Day 3 Explore Kitty Hawke
Sunrise
Beach time
Bodie Island Lighthouse
Airplane ride
Day 4 - Hang Gliding!
Sunrise
Beach Time
Hang Gliding
Shopping/Beach/Pier Fishing
Day 5 - Sunrise and Drive to Myrtle Beach
Sunrise
300 Miles to North Myrtle Beach
More Beach Time
** Day 6 - Sunrise Myrtle Beach - Beach Time and Sky Wheel.
Sunrise
NO DRIVING ( Well just around Myrtle Beach Area)
Sky Wheel
Shopping
Day 7 Preview
More Driving - Lots of it.. time to relocate and find the next adventure. Best part is - no more after day 7, but these are some of the coolest days we had! The next few days will have a lot more photos and, and the miles will really add up quick to get back home in 4 days.
Vacation Stats
Total Miles - 1556
Total Time Driving - 25+ Hrs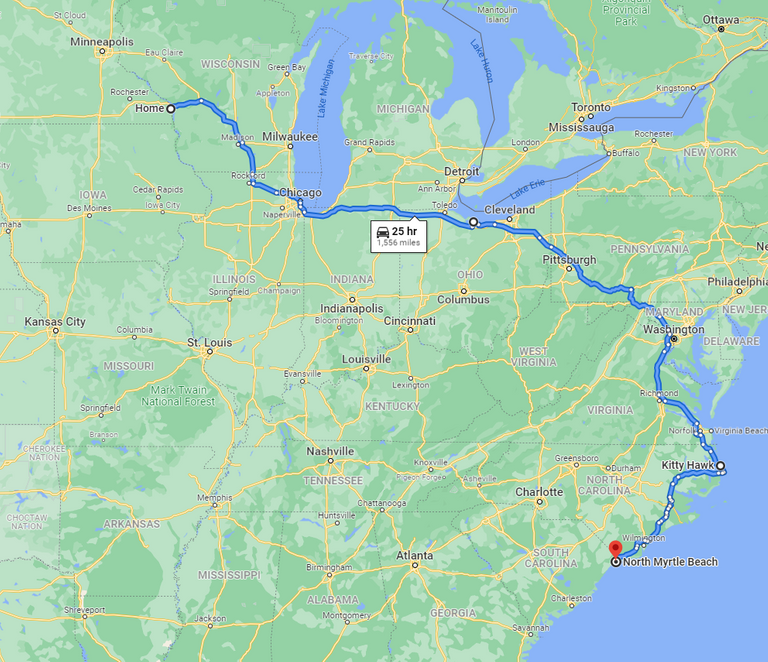 ---
---