Between the good and the bad, I am the ugly one [WE]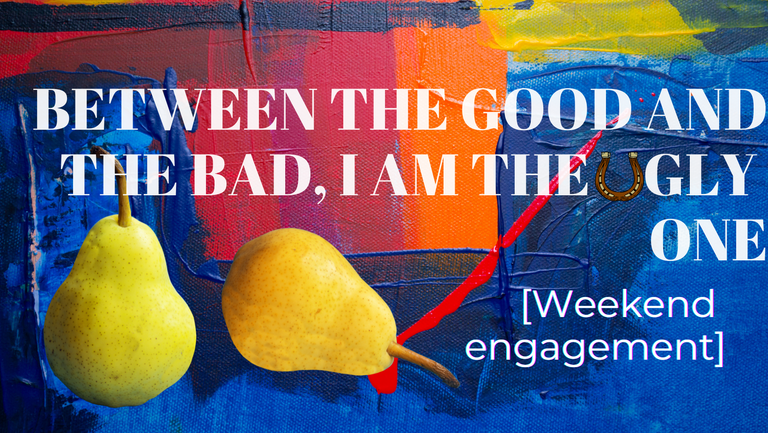 That's right, dear weekenders, I've been thinking these days that any mortal who knew me a little or for a lifetime could write about me, it doesn't matter, I could certainly reach this same conclusion, I'm sure I'm the antihero, if necessary, the experiences in my life affirm it, they are born from this unique and healthy mental clarity that I had one day back in my younger years, "I don't want to disappoint anyone, for that very reason I want no one to place their trust in me" uf what a liberation to come to this terrible statement, to be able to recognize my ability, or rather inability to trust, (to trust someone else, or to trust myself too), of course I would never betray anyone, known or unknown, it doesn't matter, but perhaps the reasons In order not to do it, they do not have to do with something heroic, but rather with the torment of my conscience that prevents me from attacking life in any way.
An example for anecdotes: yesterday I went to help in the kitchen of an association non-profit in which they make popular vegetarian pots for homeless people, speaking with the good man on WhatsApp, he tells me the address of the place that for some reason he avoided giving me directly at all costs until he had no choice, I already I knew that from the instructions he had given me and my knowledge of the place...
I knew where I was getting into...
I got off the bus, two stops before and I had to walk about 10 more blocks, as I got closer to the exact location, I enter a small neighborhood with an exceptionally precarious housing situation, I don't like going to those places because honestly I don't want to find some ghost drug dealer from whom I could have bought or stolen a modest amount of whatever it was that was looking in some of my other lives, please no more war.
Finally I go directly to the place in question, he attends me and I begin to "serve" as this man said in reference to the devotional work that is practiced in the temples of all the religions of the world. In the middle of the job he asks me "what motivates me to give my time to what they call karma-yoga" my answer was "nothing, I just wanted to do it" I sit down to wash semi-rotten fruits donated by a greengrocer in the area, in what would be called recovery of resources, not even the wildest of the pantheon of Aryan gods of India would allow someone to eat those fruits, but it was what there was and leaving that in an edible format was my task, I don't think anyone has ever thrown so much fruit into the compost in their time at work, we ended up talking about life, mine as it was, and I'm almost sure that the man ended up thinking that I myself could well be receiving one of those rations in the week in which they make the delivery, and of course that's why I was there, I could be calmly preparing food for myself, I worked a lot, happily and a little disgusted, it was time to leave to continue cooking but this time for my family , that was also the excuse I used to flee with the last rays of the sun, there was an impressive sunset out there, and I left grateful for the experience, I said goodbye with a big hug, I really want to go back the next week.
Happy because at least during those two hours I was not there suffering the thoughts of recurring obsession that I suffer for being an asshole.
And just like this example, I have a thousand more, who don't speak well of me, although they don't speak so badly either.
Till the next time¡!

---
---