Creating Content on the Blockchain Part 8 - Gamefication & More On Being Seen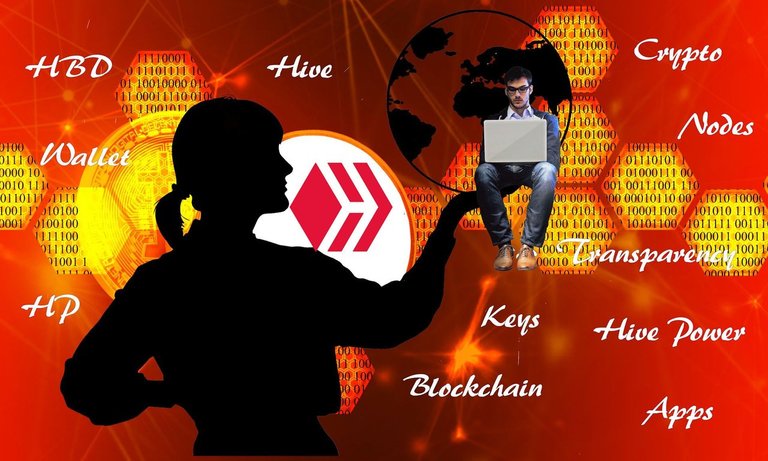 This post is part of a series I'm building to help beginners on Hive learn the basics. My goal is to help you to get a base to build on your time on the platform.
Covered So Far
I've created an index post showing what is covered in each part of this series.
Visit the Index to review what has been covered.

One of the many things continuing to fascinate me on Hive is the fact there isn't a company running the show. There's no one in control deciding what gets built on the blockchain.
Anyone who comes along with coding skills and the idea for an dapp can build it and deploy it on the blockchain. Anyone who comes up with ideas to help build community can put that project together.
We, the community, get to decide the value by supporting or ignoring.
Talk about power of the people.
HiveBuzz
Hive Buzz is one of several projects added to the blockchain. @arcange started it on the legacy chain. He has a team of people running it now.
HiveBuzz is a gamification of our activities on the blockchain. As we reach different levels on our activities, HiveBuzz will appear on our posts with a comment telling us what we've earned.
Here is the most recently one I received. It literally showed up as I was writing the previous paragraph. Talk about timing.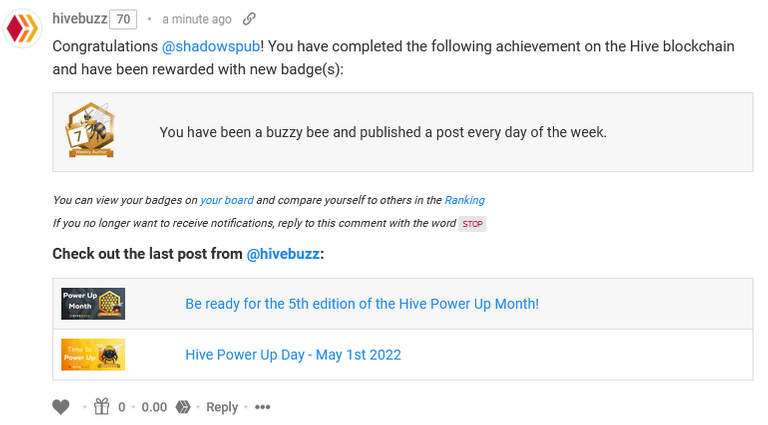 There are many badges you can earn including:
Posting
Commenting
Upvotes
Earning Rewards
Replying to Comments
Upvoting Others
Posting All Week
Posting All Month
Those are just the badges you can earn for creating content. There are more. As you can see in the screen capture below, there are other tabs to explore.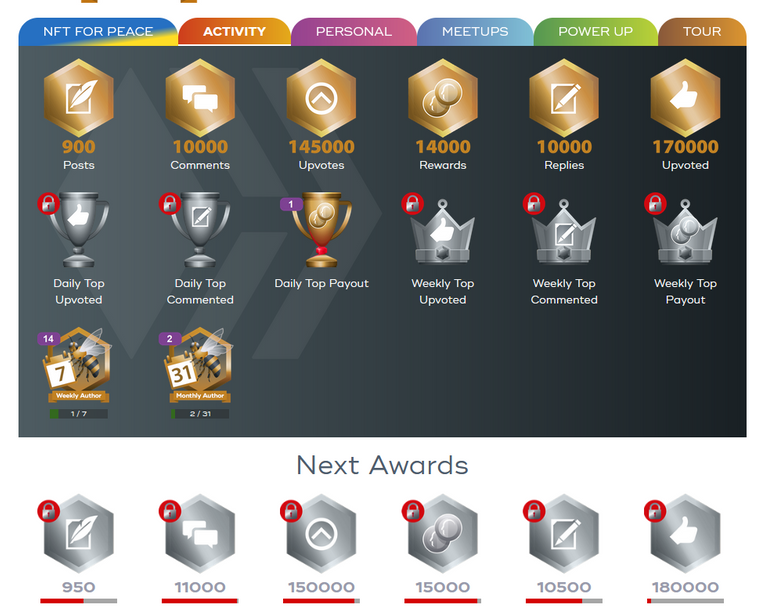 When I'm on the my board, I can download the images to update the image I use to display them at the bottom of my posts. I have a few to add currently.
Below the tab, Next Awards, shows me the next level I want to attain. If I click on the image, I can learn exactly how close I am to earning the next level.
I need to write 22 more posts to reach 950 posts. Well, 21 when I hit publish on this one.
Since everything is transparent on the blockchain, you can replace your username in the address bar with someone else's and learn what they have earned.
Friendly competition can be fun.
DreemPort
DreemPort is built on the Hive blockchain but is open for anyone who creates content to use. You can create content on a blog, a site like Medium, a blockchain. Anywhere you create content to share with others.
It's rather literally a PORT. You join to read and share content. Then you return to where you enjoy creating content.
There are no followers, communities or cliques on DreemPort.
What DreemPort Is
It's a unique curation project. Born from watching the all too human biases inherent in people curating others. @dreemsteem, the creator behind DreemPort, came up with the idea to have people curate randomly chosen posts and rank them.
This is the screen I see as a registered user all ready to login: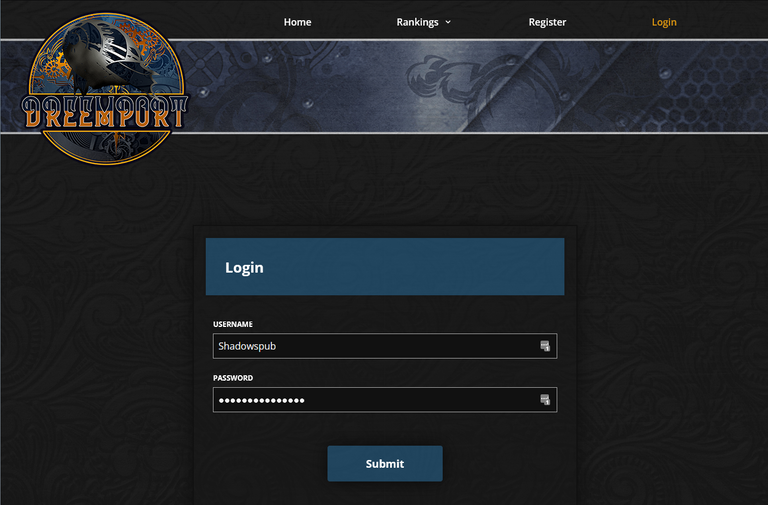 Once I login and go to the Curation tab, I'll see this: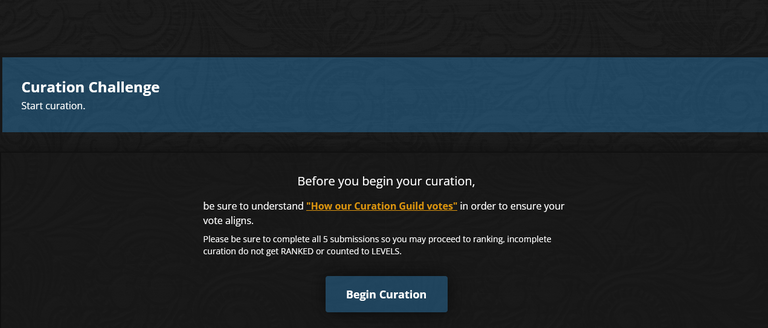 I can then click to review an outline of how the Curation Guild votes so I can try to vote the same way. (the guidelines open in a new browser tab). And then click "Begin Curation" to be presented with the 5 randomly chosen posts.
You read the posts. If you can, leave a comment. You'll rank them and then submit your own post.
For more detail on how to use the DreemPort site, visit this post.
If you'd like to see what the experience for a new user was like, you may want to check this post out by @harlowjourney.
She recently decided to try it out and then wrote this post. It was great to see a new user's perspective.
DreemPort Challenges
To help communities gain exposure and new members, DreemPort has partnered with different communities to have a challenge for three weeks.
As of this writing, the challenge is with the @ecotrain community during the moth of May 2022.`
You write a post responding to their Question of the Week, submit it to the EcoTrain community when you write it and then DreemPort on Friday (and only Friday) for it to be curated on Monday.
Check in with @dreemsteem (on Hive) to find out the latest challenge if after May 2022.
DreemPort Discord
Remember I told you most projects have a Discord? DreemPort has one. You can join it here.
It's a great place to meet the DreemPort team and participants and to ask questions. It's also the host for the next project I'm going to talk about.
PYPT - Pimp Your Post Thursday
This is a project I started in late 2017 in The Ramble discord server. I took a break in 2020 and then returned in 2021 bringing it to the DreemPort discord as the two projects have the same goals.
The objective is for people to gain exposure for their content no matter where they create it.
DreemPort is a site you can visit and participate Monday to Friday.
PYPT is a live voice show held on Thursdays at 12pm Eastern time.
You bring along your post or a post you really enjoyed to share. You can bring more than one post. People take turns sharing the posts.
It's a great opportunity to meet new people, find new content and share yours with others. Conversations often flow from posts and we end up into some interesting discussions.
Participants can feel free to ask questions. We're more than willing to try to help out.
The shows are recorded and uploaded usually on Monday when a recap post is published with the recording and links to the posts that had been shared. I also try to put a thread on Twitter of the posts, giving them more exposure.
Wrapping Up Today
You've learned about just three of several projects on Hive meant to help people gain greater enjoyment on the blockchain.
Tomorrow will be some more of the same. I can't cover all the projects but with some exploring you'll find more.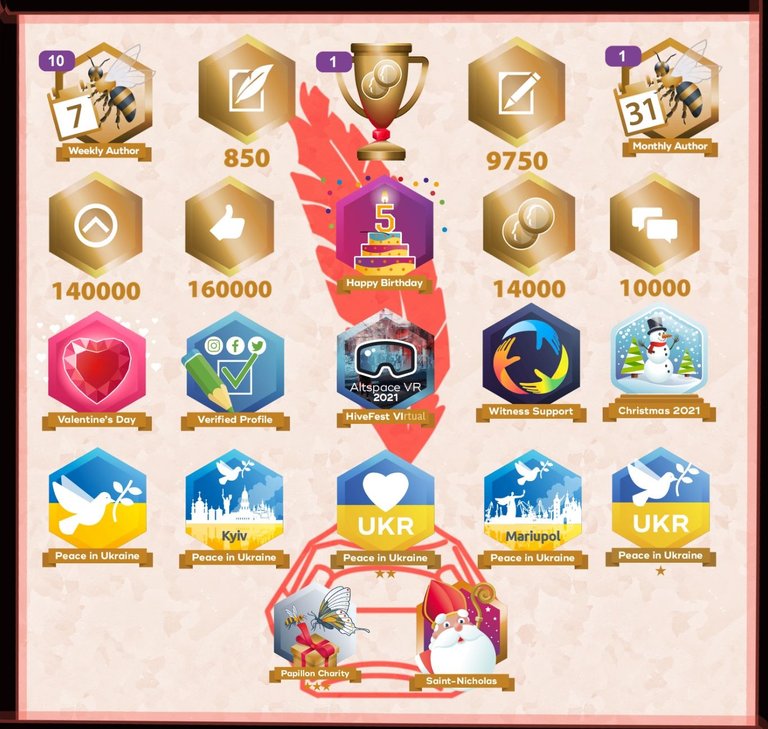 Shadowspub is a writer from Ontario, Canada. She writes on a variety of subjects as she pursues her passion for learning. She also writes on other platforms and enjoys creating books you use like journals, notebooks, coloring books etc.


Would you like to receive writing prompts every day? You can subscribe to Prompt A Day to get started.

Share your posts by joining us on the DreemPort Discord

---
---