Hivefest Created Rabbit Holes To Jump Into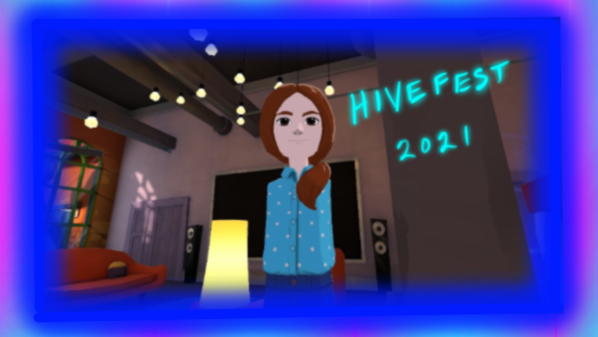 Hive joined the cartoon world… well I mean virtual reality where we all got to look like cartoons. It was my first Hivefest and my first use of a VR platform. From the reading I've done since then, it seems it worked better than last year. The last two years have been virtual events due to the pandemic.
I updated my Ginabot notices yesterday morning to capture posts from others recapping and talking about their Hivefest experience.
This morning my chief mischief maker, better known as Hobo the cat decided that waking me up before 4am was a good thing. She's as subtle as a sledgehammer when she wants me up.
In addition to poking me with her claws, tapping my face and jumping on me, she started playing with the Ziploc bag I put things in that she could and would use as toys during the night.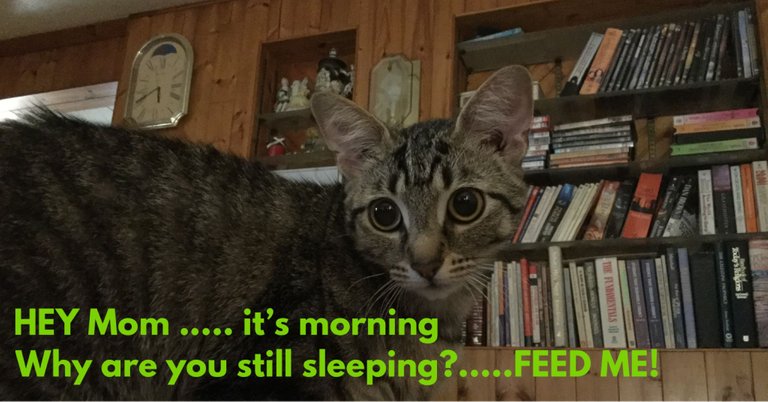 Given the opportunity, my mouse, mouse pad, eye glasses etc become her night toys. I put them away to stop her. Now she's found the bag and can get my attention by getting into it, seems I need to use something else. I'm thinking one of the storage bins I use for my dehydrated foods might do the trick.
Anyways, once she had me awake and wasn't about to let me back to sleep, I decided I'd explore through the accumulated notices and see where they took me for an hour. I should have known, an hour wasn't going to cut it and it wasn't just going to be the Hivefest catching my attention. Five hours later, I'm getting around to writing this.
@NiftyPhil did a couple of great posts -- Day 1 & Day 2 -- with lots of screen shots. There are some neat shots in other posts as well. Well on the posts I took the time to look at what else they post about. Thus the rabbit holes, cause you know when you're curious, rabbit holes are candy.
He writes about the WAX chain and NFTs a lot, something I've been interested in. After he directed me to where to get a WAX wallet, he dropped me an NFT -- Thanks Phil.
I own some WAX but it's been sitting on Bittrex since I bought it. Partially because I was trying to get my head around where to find things like the wallet and partially because I'm head down in some projects like finishing my Christmas coloring book and getting it published before December.
My View on Hivefest
My hat is off to @roelandp and all the hard work he's done on the event. I know from experience there is a ton of details to attend to when organizing an event in real time. I can only guess there is still a ton of details to deal with for a virtual event along with the inevitable software glitches.
He's posted a great wrapup post here and has said he'll be breaking the presentations out of the livestreams for those who would like to check out some of them. Thank you for that, there is some I'd like to relisten to and a few I missed. They will be available on the Hivefest YouTube channel
Check out his post for more details. Some interesting stats:
256 were able to register to get their badges, up from 174 last year
1146 users joined the event worlds, up from 782 last year
14,895 visits from 84 different countries, up from 4,629 last year
There were a lot of non-Hive people joined the event. Some of whom were a tad… odd. To say the least.
I didn't attend all the presentations, missed a few I wanted to see. After needing to restart the app a few times at inopportune times, I finally figured out that I needed to shut down my browser, was mostly able to leave Discord open for DMs but even that pushed the app's limits some. I know my next computer is going to have as much RAM as I can possibly afford since I do a lot of graphic work these days.
I wasn't really sure why VR and not just livestream or Zoom for a virtual Hivefest. But after attending, it is nice being able to interact somewhat like in real time. I'm sure the environment will improve over time. I was able to have a few conversations over the two days.
I think the most natural (as in sort of like real time) was with @crimsonclad, who is always a pleasure to chat with. That conversation led to @yidneth finding us and the three of us chatting. I found if there were several talking nearby that conversation became a challenge. Strong voices would overpower others, which is often the case in real time.
I was able to chat with @dreemsteem, @penderis and @bluefinstudios some. Blue found that the Mac presented challenges for him using the app. Dreem and I used the messaging feature a lot which made chatting easier.
Most of the conversations I had were up in the NFT Showroom where I was able to connect with @lordbutterfly, @solominer, @jarvie, @roelandp and @schmidi. Fewer people around really helped. The messaging feature was also great to have. @schmidi did a great post with lots of screenshots too.
Caught up to @sgt-dan towards the end but I had heard him a few times as I was floating around. Usually shilling PYPT, thank you for promoting the show which runs every Thursday at 12pm EST in the Dreemport discord. He also streams it to Twitch.
@themarkymark announced his @hivepunks NFT project during his presentation and then sold out all 10,000 of them in 36 hours. I'm thinking that the presence of NFTs on the chain is going to grow.
Not to be unkind, but, some people are not speakers. Knowing a topic and being passionate about it, doesn't always translate well when you're just not a public speaker. That's okay, not everyone is a speaker. Not everyone can engage and hold an audience's attention. It's also okay to know that and enlist someone to share your message on your behalf.
As you might have guessed, there were some fantastic presentations. There were also some that I was really interested in the subject material and disappointed with the presentation.
We take the good with the bad and overall, I don't regret taking the time to attend. Hive has a lot going on and bringing us together at least once a year to get some updates on projects and the state of the blockchain is vital. I know that the presentations that were done pretty much just scratch the surface of what is cooking on Hive.
This is getting lengthy so I'm not going to get into the rest of the rabbit holes I found while exploring Hivefest posts but I do know:
I want to learn more about things like the HAF (@blocktrades and @howo presented on that)
I found some references to a project called #projectblank that I think is going to be like a Twitter on the chain
I discovered @inji just before Hivefest and then missed @therealwolf's presentation on it so I want to hear that when it's available
I came across some information about collaborations with @peerplays and Amasa that I want to explore some more https://www.amasa.io/
I realized I didn't have @taskmaster4450 on my notifications for some reason. Fixed that.
added a few others to the list as well
discovered that noise.cash and read.cash don't actually operate on a blockchain even though you can earn BCH on them. After the Uptrennd experience, that detail is a red flag for me.
Aren't you glad I didn't talk about the rabbit holes I found? Maybe.. In another post. At some point.
Overall, I like that there may be a hybrid HiveFest next year which will be great for those who don't travel to still take part. There's my morning used up, and half the afternoon.
Has been a long hour.
---
---