Snafu Survival Series #1 -FFF-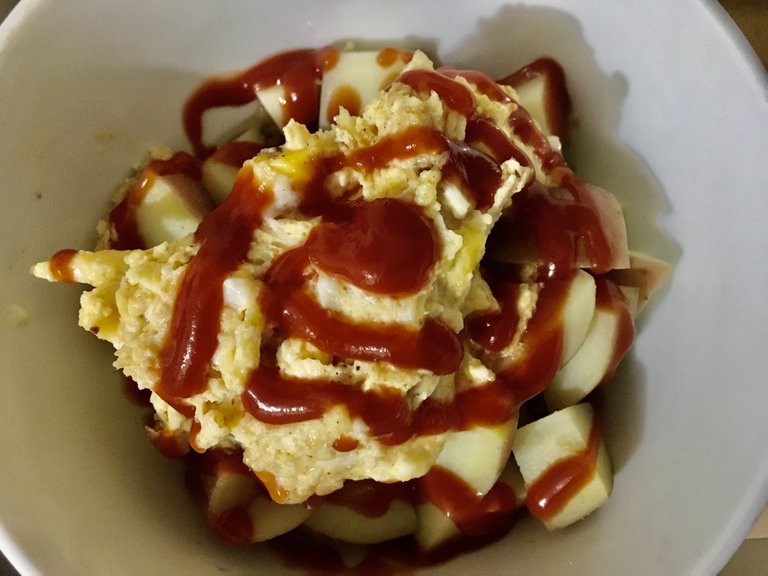 Sweat was beading across my forehead faster than a prehistoric Neanderthal woman preparing to sell her necklaces wherever Neanderthals sold their beaded jewellery. It was a warm day at 27 degrees Celcius, but the cause of the sweat wasn't the heat. I'm Australian and February is usually the hottest month of the year and can be far far hotter, so no, it wasn't that.
Well, not on it's own.
The sweat that bypassed my eyebrows and annoyingly formed droplets on the lenses of my glasses, was caused by a mild but ever-increasing anxiety.
The anxiety was triggered by several reasons, firstly was an impending Housing Trust inspection at 10am that morning, my toilet had decided to bubble and gurgle violently at random intervals, and what I was told was an interview with a potential employer in the afternoon.
Later I needed to go into the city to pick up my pass for the Adelaide Fringe Festival as I am performing some stand up (and I am horribly under prepared). That's in the beginning of March and February is rocketing by. The booker, the guy who books comedy gigs, is pressuring me because ticket sales are down. Given that he's living in China with a coronavirus outbreak, figuratively speaking breathing down my neck is probably not the most hygienic things to be doing.
I felt like I was at breaking point!
The Inspection
My home is clean and the inspection took all of about 5 minutes, if that, but I have had bad experiences with Housing Trust inspectors in the past to the point where the stress would induce blood noses. Thankfully they were either retired or put in other positions, you wouldn't tolerate that sort of thing in your business.
By comparison, my current housing manager is good at her job. She just asked a few questions, asked me to show her through my home and backyard and then at the end, as a seemingly perpetual after-thought, to test the smoke detectors with a small wooden stick that she carries exclusively for that purpose.
After she was gone, I closed all of the doors and I could start to relax again, be thankful that the blocked toilet behaved itself (I will explain in another post) and finally focus on preparing lunch.



Snafu Survival Meal #1
Because money was tight I needed to be frugal, focused and inventive.
I had 3 large eggs, two medium sized potatoes, mince meat, and tomato sauce (ketchup).
First, I sliced up the potatoes and put them in a pot of water to boil.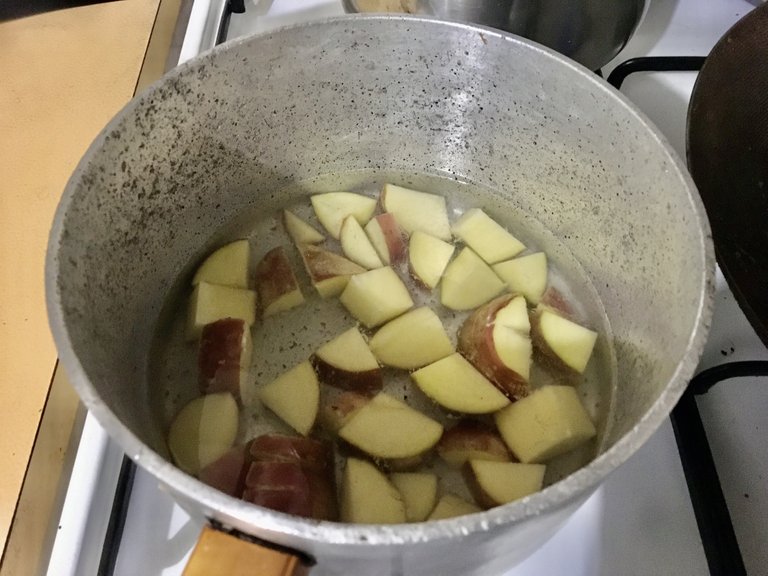 Boil the potatoes
Then I fried the meat and the eggs in a well-loved wok.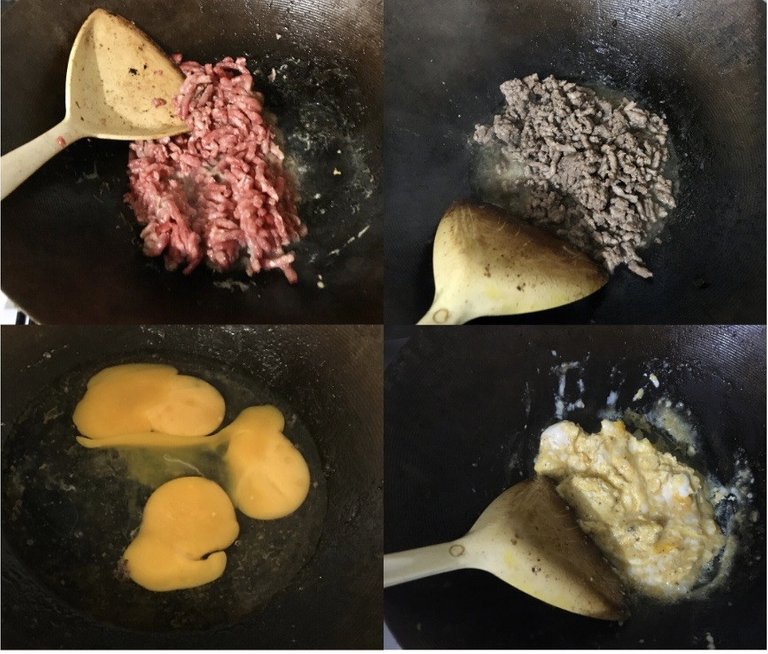 Keep your eyes on that which fries
Draining off the excess fat, the cooked meat then goes into a large bowl.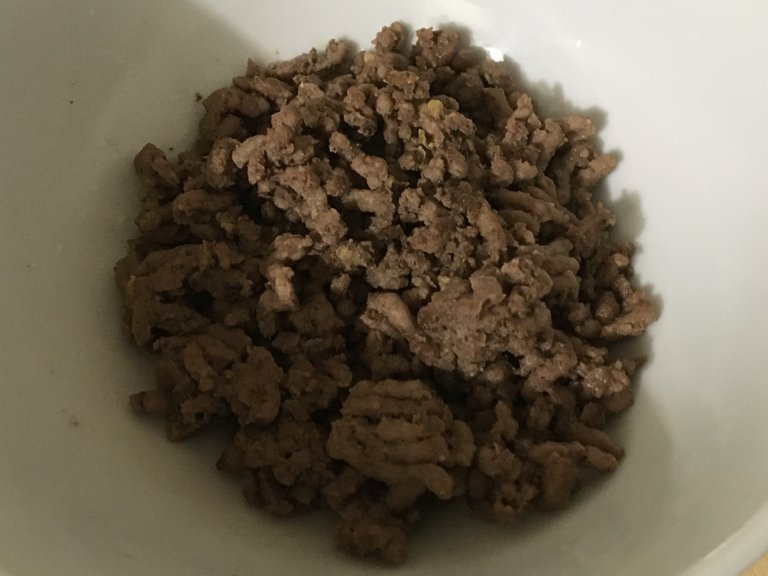 It looks amazing, huh?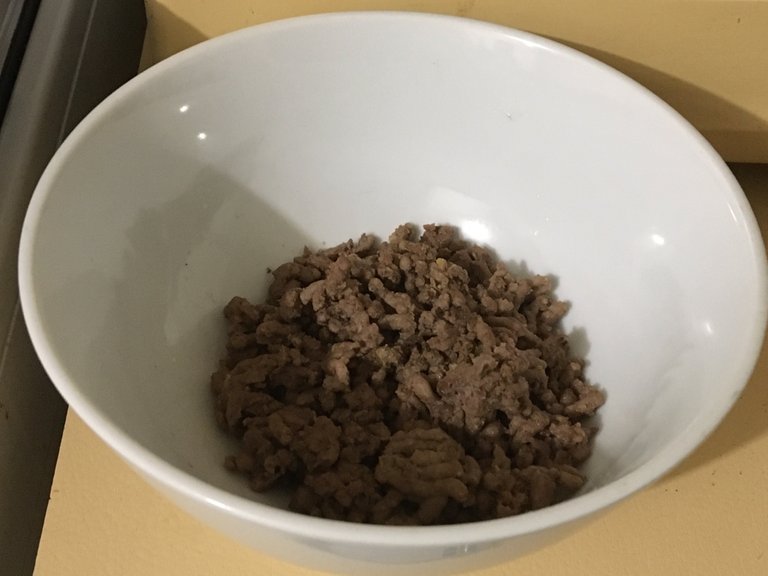 The first layer was the meat.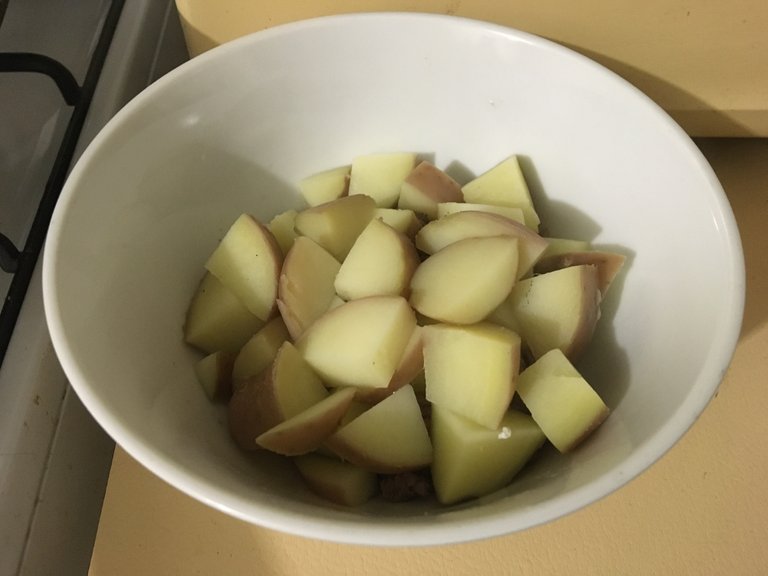 The second layer are the potatoes.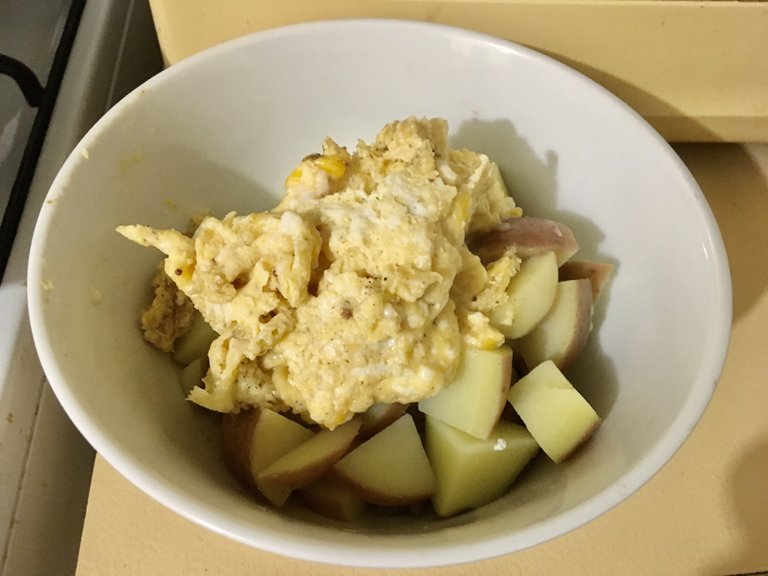 The third layer are the scrambled eggs.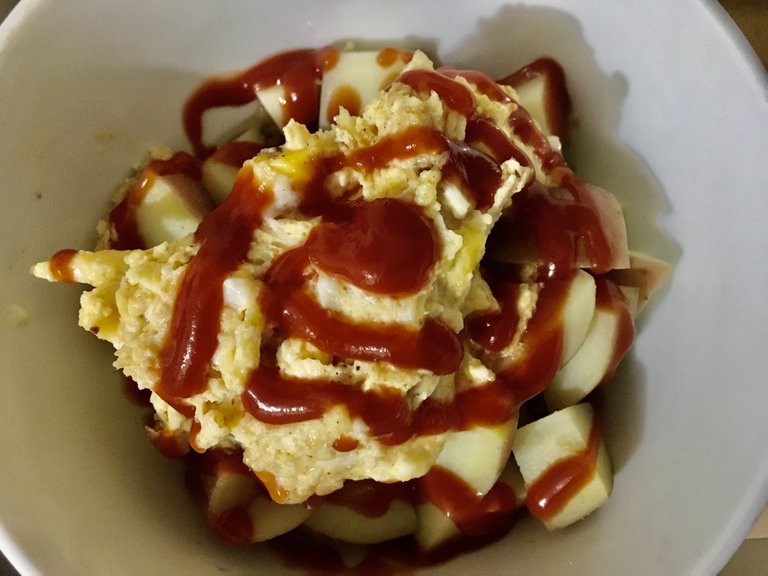 The final presentation was a target shape made out of tomato sauce (ketchup).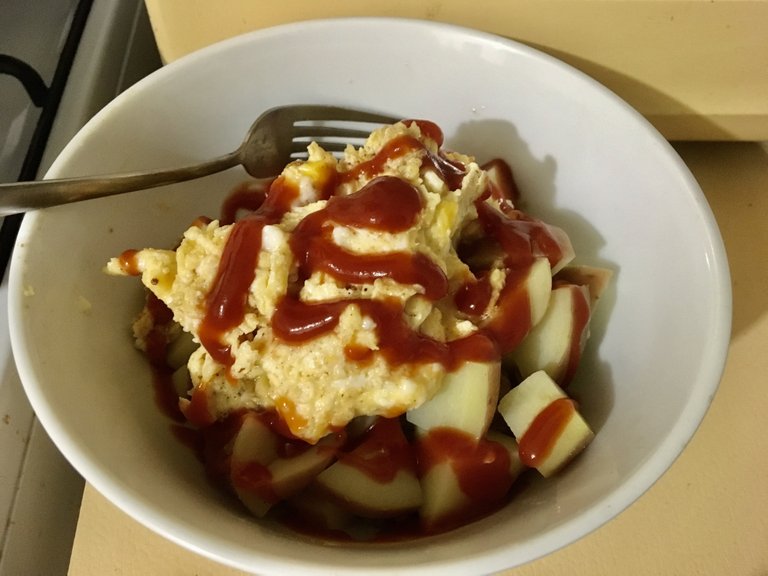 A fork for both size scale, and the ideal eating implement for this meal.
The Interview?
After lunch was done I mellowed out somewhat. I printed out my resume, making sure it was suitable for the data entry position I was told the interview was for.
When it was time, I showered, put on my best interview clothing before heading to the job centre building.
When I arrived I was greeted by the receptionist.
"You look nice!" she said impressed by my appearance, possibly lying.
"Thank you." I countered, thinking "Steady on love, you're married." to myself mentally tongue-in-cheek. I knew she wasn't interested.
"Is it it still hot outside?" she inquired, noticing before I did, the fresh dark sweat stains forming on the front of my shirt.
"Are there hand dryers in the toilets downstairs? Your shirt is wet!" she explained.
My mind flickered through memories of the locations downstairs, the Men's toilets didn't but the Disabled ones did. It was a space issue apparently.
"I'll be back!" I said, without a trace of an Arnold Schwarzenegger impression, a missed opportunity for sure.
The hand dryer was lower than chest height, designed purely for drying one's hands and not for drying clothing while it was still being worn. I made do, jamming the wet patches as close to the heating element as possible, nearly burning my fingers in the process.
It was good enough for now and I headed back upstairs.
The interview room was filled with hopefuls in various levels of preparedness. I was by far the best dressed there, and I wasn't even wearing a tie.
The interviewer came in, he was not an employer but rather a recruiter for an employment agency, he was OK dressed but chewing gum as he spoke thinking we wouldn't notice.
We we asked to fill out our names on a piece of paper and to fill out tax declaration forms and another employment form. I had forgotten to bring my relevant details with me!
"Who here doesn't have a forklift licence?", he asked between gum chews.
I raised my hand, suddenly feeling very out of place.
"You can cruise then!", he said condescendingly, trying to sound like a teenager and not the man in his 50's he was.
"I thought there was a data entry position?" I enquired, confused.
"There is a data entry position, the winery want someone to do data entry from 7am until 12 and then jump on the forklift for a couple of hours in the afternoon.", he explained.
"Ahh, OK." I said before leaving.
"I thought I had clearly explained that when I listed the job!", he said condescendingly; gum threatening to escape his mouth.
"What a loser!", I thought to myself.
"That was quick!" said the receptionist, shocked at my sudden emergence from the room.
"They wanted people with a forklift.", I countered.
"That was my fault.", said another woman said apologetically.
"That's alright." I said consolingly, knowing the the whole thing was a waste of time but they have quotas to meet, and the truth will always be the first victim in that battle.
I went downstairs, and changed my shirt and put on my trusty Rexxie cap, in order to blend in and navigate my trek through the suburban jungle on the way home again.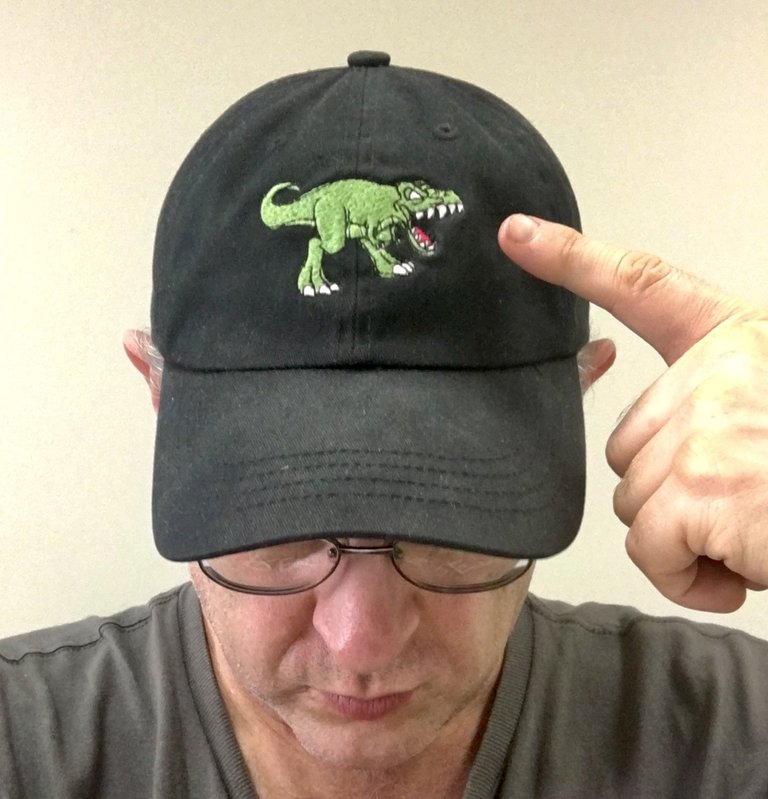 My sexy Rexxie cap
This was a longer than intended entry, but one I hope gave you a few laughs, possibly a few...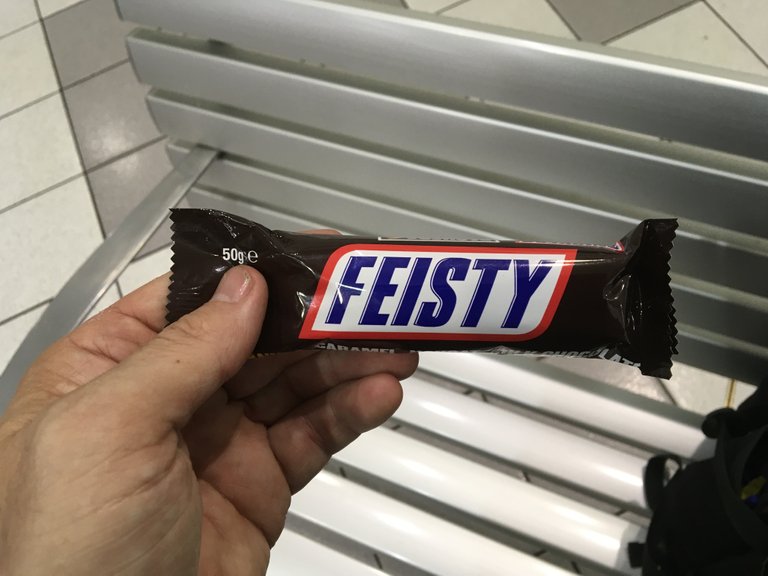 ... Snickers with attitude?
Chuckle.
Anyway, I'll see you next week in the kitchen!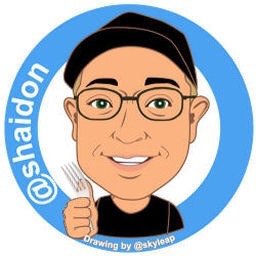 Shaidon's Seal Of Approval
---
---