[ENG/PT-BR] Hold the GRUM FLAMEBLADE train! Creating a monster!
Você pode conferir a postagem em PT-BR
---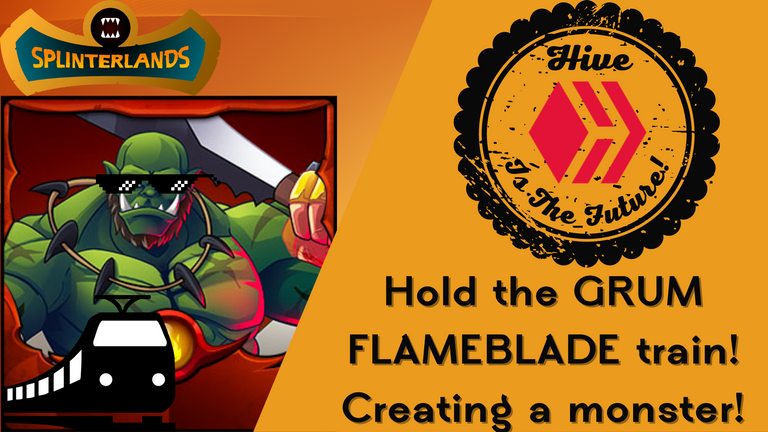 Introduction
Hi Hivers, how are you? Today especially I would like to share a game that was much more for fun than for strategy and in the end, it was a real massacre, I'm glad it was in my favor.
Using one of my favorite fire cards: GRUM FLAMEBLADE! 🔥
This friend here is famous, I could do about 3 posts a week featuring a battle in which something fun or insane happened and that's exactly what I want to show you! So sit on the couch, grab a light snack, that cold coke and let's go!

GRUM FLAMEBLADE
I won't go into too much detail, just a slight mention of our mass ogre, for those who don't know him, is the one below: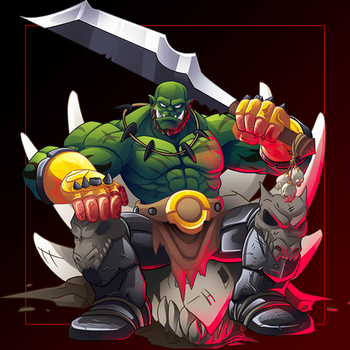 Some information for you to understand the reason to use him in battles is his high ability to become "big", because of one of his abilities, I usually say that he is our DPS in matches, making an analogy to MOBAS.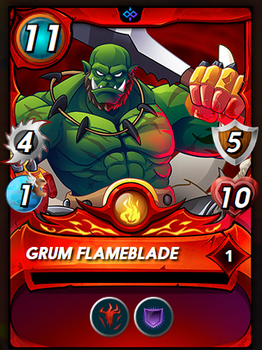 So at level 1 he has the dangerous ability BLOODLUST which with each successful kill, grants +1 to ALL his stats.
Insanely this is what happens, being able to become a real monster with more than 10 attack, which is the example I will show in this replay. Your armor, defense, health and speed also increase, in other words, a real machine!
Would you be prepared to hold that train? Maybe no one is! His second skill is VOID ARMOR and with it, magic attacks hit his armor first, that is, he initially has 5 points of protection against all types of attack!
So, don't forget, he needed firepower and good protection, it's up to him: GRUM FLAMEBLADE!!!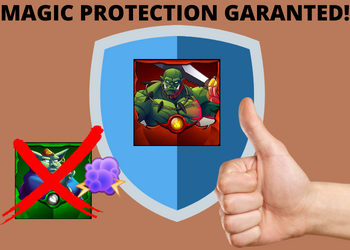 Credits to me for this magnificent image, created in Canva! 😃

Battle Rules
Remembering that this battle is a pure "MEME" and taken to the side of fun. 27 mana, fire, earth, life and death elements enabled!

Only cards with odd mana cost could be used, perfect because our 11 mana monster would enter the field. The other battle rule granted the ability Opportunity to everyone, that is, it would be a hunt for the monsters with the lowest health, a true annihilation.
I felt something like this, with an evil plan being created: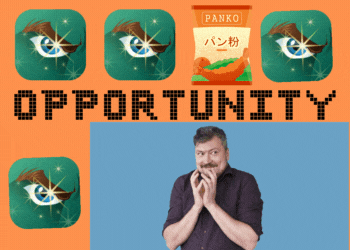 Prepare the flour that the GRUM is hungry!

Team
| Monster | Motive |
| --- | --- |
| | RADIATED BRUTE was chosen to be in the first position, not usually be the protection the team needs, but in this case it just needed to buy time, that was the idea. Along with the attack boost provided by TARSA, what could go wrong? |
| | CHAOS AGENT has as little health as possible, so he entered as a distraction, a way to make my opponent miss an attack with a monster that was made just for that. The only hope was that they didn't come with BLOODLUST too! |
| | Here he is, ready to get giant, the plan was simply this, take advantage of the search would be for the monsters with the lowest health and with that to make good use of their abilities to create the real monster! |
| | I don't really use VENARI HEATSMITH, but for today, everything is released, I put it as a way to get the attention of some SNIPE (I really don't remember if this skill would be prioritized over OPPORTUNITY), but it would also have good protection against any type of attack. |
| | Finally URAEUS the evil snake, always good to enjoy your bass mana cost and its synergy with the melee physical attack boosted by TARSA. |

Battle
When the battle started, I couldn't believe what I saw, my opponent came with monsters with very little health and no armor. A plate full of what would happen: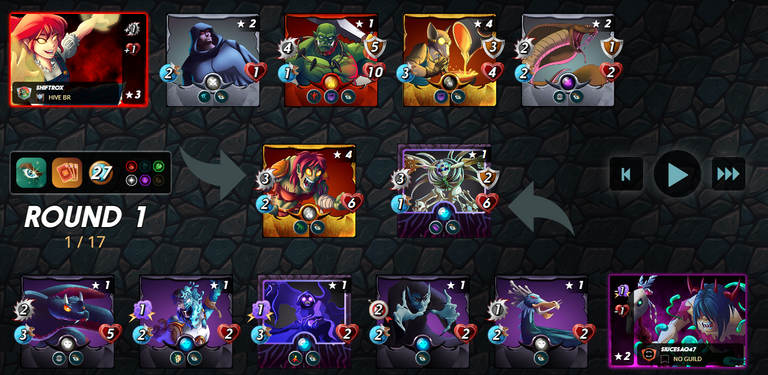 I believe GRUM's vision was something like this: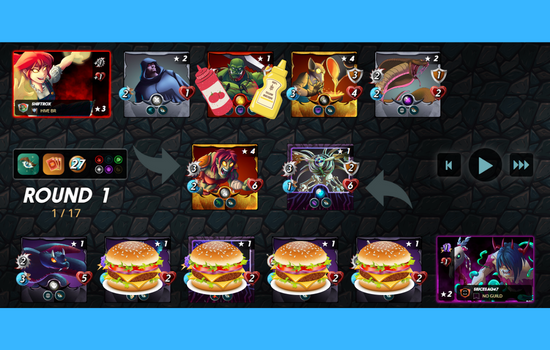 So let's go to snack, oops, the battle!
---
ROUND 1
Things didn't start off very well, but it was already in the plans: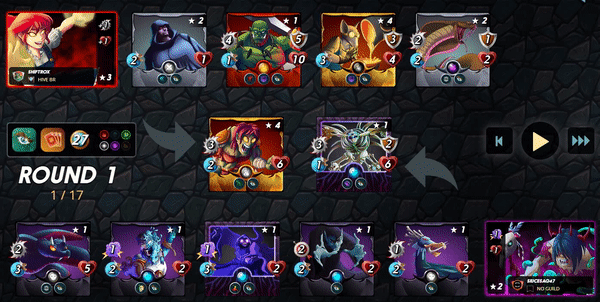 My team would go through a lot more pressure, I just hadn't imagined that I would lose 2 units in the first turn. It was the first kill of the GRUM FLAMEBLADE!
---
ROUND 2
Apparently everyone died or nearly so.
After that 6-damage shoe tap, let's go for the second kill!
---
ROUND 3
Now my whole team went to the ditch with the exception of GRUM FLAMEBLADE.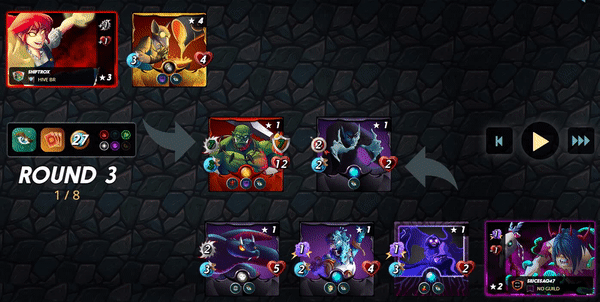 You can already imagine what will happen, right? 3 monsters, 3 more rounds and each hit on these small and fragile opponents opened a multiverse portal! 😁
---
ROUNDS 4 and 5
Two rounds for the price of one!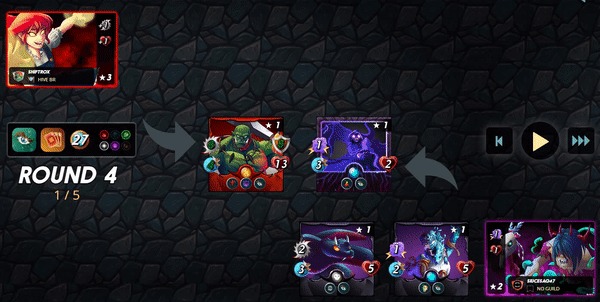 How many kills have there been?
---
FINAL ROUND
Finally, it went like this:
Simply, all the kills were his! 6 rounds, 6 opponents defeated by GRUM!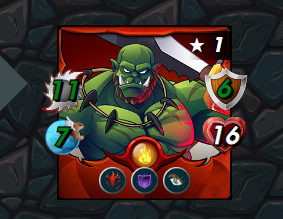 Look at the size of the boy! A real train passing over its enemies, with one stone more painful than the other!

Conclusion
A real battle for pure fun. I like to share this type of duel, although I don't do it that often, but it's definitely something I want to change. I'm already thinking of other ways and fun battles to create content!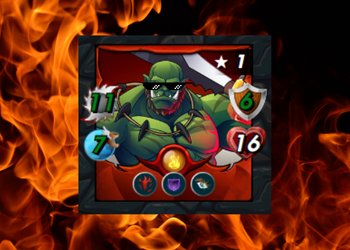 I'll try to do an infinite TRAMPLE, who doesn't? Until next time, thanks for taking the time here with me, until the next post!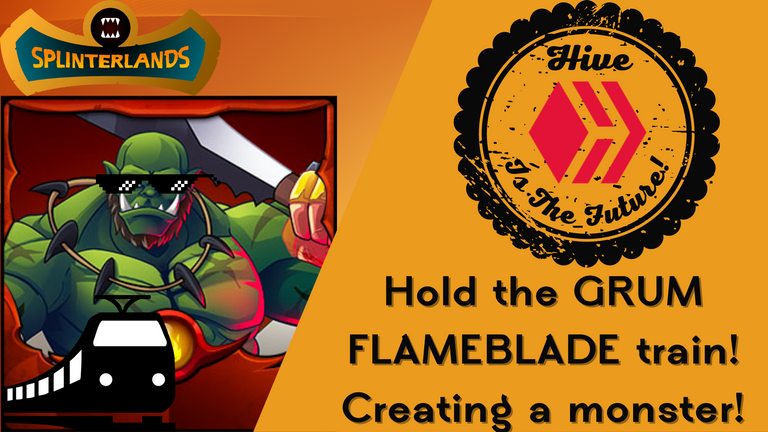 Introdução
Olá Hivers, tudo bem com vocês? Hoje especialmente gostaria de compartilhar uma partida que foi bem mais para a diversão do que para estratégia e no fim, foi um verdadeiro massacre, ainda bem que foi a meu favor.
Utilizando uma das cartas que mais gosto do elemento fogo: GRUM FLAMEBLADE! 🔥
Esse amigo aqui é famoso, daria para fazer umas 3 postagens por semana apresentando uma batalha em que algo divertido aconteceu ou insano aconteceu e é exatamente isso que quero mostrar para vocês! Então senta no sofá, pega um lanche leve, aquela coca gelada e vamos lá!

GRUM FLAMEBLADE
Não irei entrar muito em detalhes, apenas uma leve menção ao nosso ogro da massa, para aqueles que não o conhecem, é esse que segue abaixo: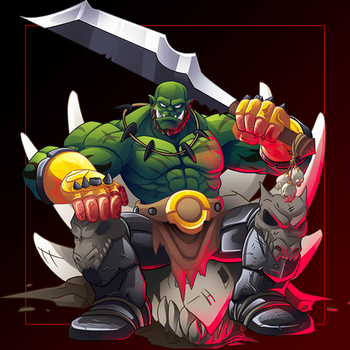 Algumas informações para vocês entenderem o motivo de utilizar ele nas batalhas é sua alta capacidade de se tornar "grande", por conta de uma das suas habilidades, costumo dizer que ele é o nosso DPS nas partidas, fazendo uma analogia aos MOBAS.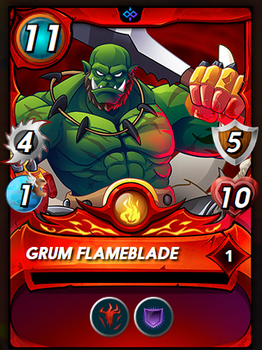 Então no nível 1 ele possui a perigosa habilidade BLOODLUST que a cada abate bem sucedido, concede +1 em TODOS os seus status.
Insanamente é isso que acontece, podendo se tornar um verdadeiro monstro com mais de 10 de ataque, que é o exemplo que mostrarei neste replay. Sua armadura, defesa, vida e velocidade também aumentam, ou seja uma verdadeira maquina!
Você estaria preparado para segurar esse trem? Talvez ninguém esteja! Sua segunda habilidade é a VOID ARMOR e com ela, ataques mágicos acertam primeira sua armadura, ou seja, ele inicialmente tem 5 pontos de proteção contra todo tipo de ataque!
Então, não se esqueça, precisou de poder de fogo e uma boa proteção, é com ele mesmo: GRUM FLAMEBLADE!!!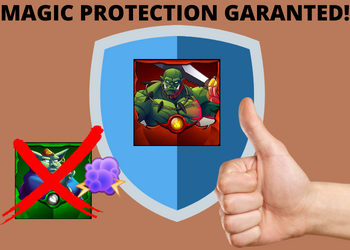 Créditos a minha pessoa por essa imagem magnífica, criada no Canva! 😃

Regras da Batalha
Lembrando que essa batalha é um puro "MEME" e levada para o lado da diversão. 27 de mana, elementos fogo, terra, vida e morte habilitados!

Apenas cards com custo de mana impar poderiam ser usados, perfeito por que nosso monstrão de 11 de mana iria entrar em campo. A outra regra de batalha concedia a habilidade Opportunity para todos, ou seja, seria uma caça aos monstros com menor vida, uma verdadeira aniquilação.
Eu me senti mais ou menos assim, com um plano maléfico sendo criado: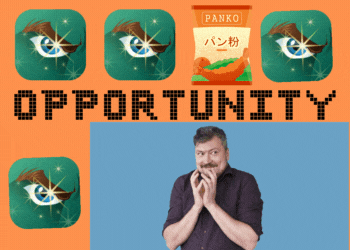 Prepara a farinha que o GRUM está com fome!

Equipe
| Monstro | Motivo |
| --- | --- |
| | RADIATED BRUTE foi escolhido para ficar na primeira posição, não costuma ser a proteção que o time precisa, mas neste caso precisava apenas ganhar tempo, essa era a ideia. Juntamente com o aumento de ataque proporcionado pela TARSA, o que poderia dar errado? |
| | CHAOS AGENT possui o mínimo de vida possível, então ele entrou como uma distração, uma forma de fazer o meu adversário perder um ataque com um monstro que foi feito exatamente para isso. A única torcida era que não viessem com BLOODLUST também! |
| | Aqui está ele, pronto para ficar gigante, o plano era simplesmente esse, aproveitar que a procura seria pelos monstros com menor vida e com isso aproveitar muito bem das suas habilidades para criar o verdadeiro monstro! |
| | Não costumo mesmo utilizar o VENARI HEATSMITH, mas por hoje, está tudo liberado, coloquei ele como forma de chamar atenção de algum SNIPE (realmente não lembro se essa habilidade ficaria prioritária em cima da OPPORTUNITY), mas também teria uma boa proteção contra qualquer tipo de ataque. |
| | Por fim URAEUS a cobra do mal, sempre bom aproveitar seu baixo custo de mana e sua sinergia com o ataque físico corpo a corpo bonificado pela TARSA. |

Batalha
Quando a batalha começou, nem acreditei no que vi, meu adversário veio com monstros com muita pouca vida e sem nenhuma armadura. Um prato cheio para o que iria acontecer: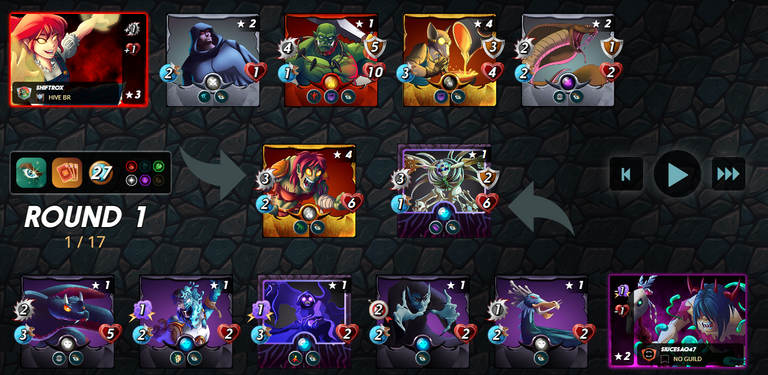 Acredito que a visão do GRUM era mais ou menos essa: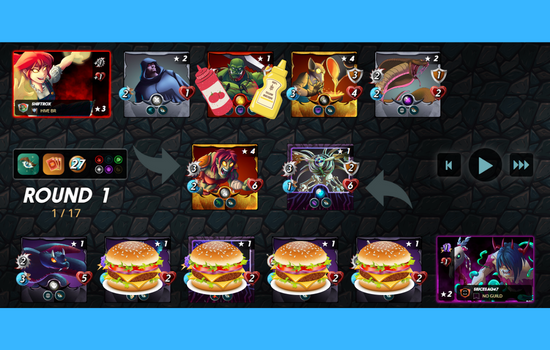 Então vamos ao lanche, opa, a batalha!
---
RODADA 1
As coisas não começaram muito bem, mas já estava nos planos: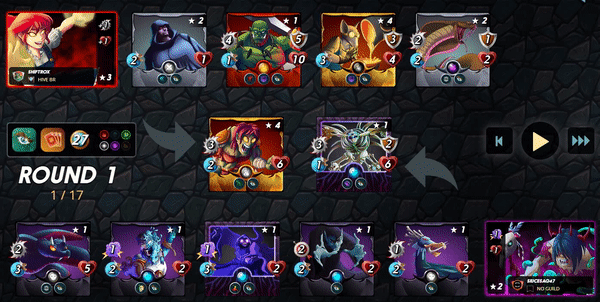 Minha equipe iria passar por muito mais pressão, apenas não tinha imaginado que perderia 2 unidades no primeiro turno. Foi o primeiro abate do GRUM FLAMEBLADE!
---
RODADA 2
Aparentemente todo mundo morreu ou quase.
Depois dessa sapatada de 6 de dano, vamos para o segundo abate!
---
RODADA 3
Agora sim minha equipe toda foi pra vala com exceção do GRUM FLAMEBLADE.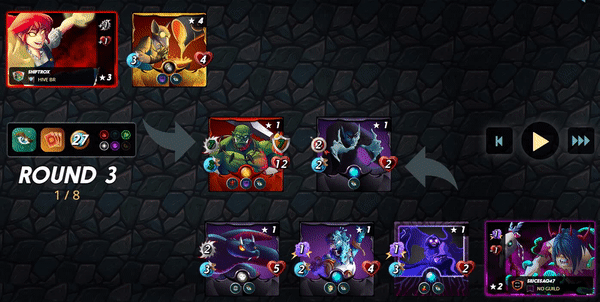 Vocês já podem imaginar o que vai acontecer né? 3 monstros, mais 3 rounds e cada acerto nesses pequenos e frágeis adversários um portal do multiverso era aberto! 😁
---
RODADAS 4 e 5
Duas rodadas pelo preço de uma!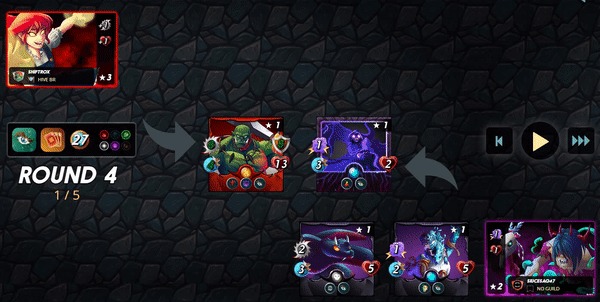 Quantos abates já foram?
---
RODADA FINAL
Por fim, foi assim:
Simplesmente, todos os abates foram dele! 6 rodadas, 6 adversários derrotados pelo GRUM!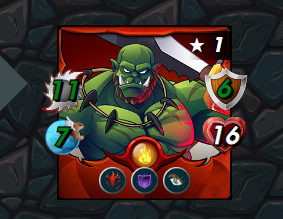 Olha o tamanho do menino! Um verdadeiro trem passando por cima de seus inimigos, com uma pedrada mais dolorida que a outra!

Conclusão
Uma verdadeira batalha pela pura diversão. Gosto de compartilhar esse tipo de duelo, apesar de não fazer com tanta frequência, mas com certeza é algo que quero mudar. Já estou pensando em outras formas e batalhas engraçadas para criar conteúdo!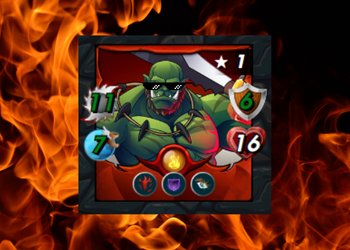 Irei tentar fazer uma TRAMPLE infinita, quem nunca não é? Até a próxima pessoal obrigado por esse tempo aqui comigo, até a próxima postagem!

Image Credit: banners created by me in Canva and the icons can be found at icons8.
---
🎮 Referral Links 🎮
---

Projeto de Curadoria HiveBR // HiveBR Curation Project
---
Follow Me On Social Media
---
---