[ENG/PT-BR] Status Report #7 - Bought 10 cans of petrol and with that I can do 2 new missions!
Você pode conferir a postagem em PT-BR!
---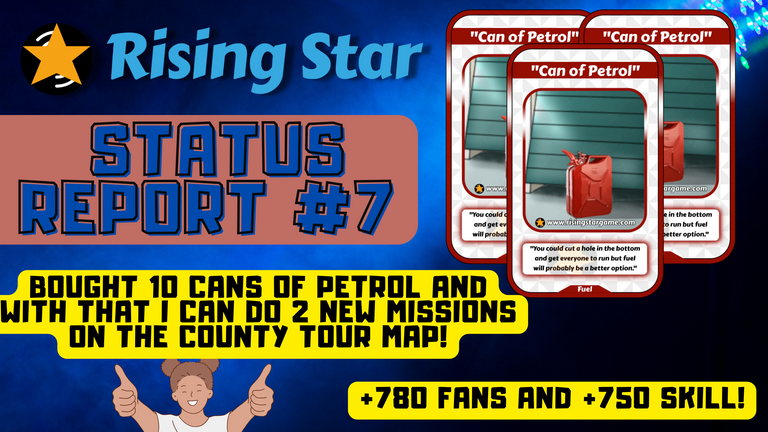 Welcome Music Lovers!
In today's post, I'd like to accomplish something different than what I've been doing normally. With the end of the year approaching and a few days off, I ended up prioritizing writing about other subjects, but obviously I couldn't put aside one of the most fun games I've played in a long time.
So, I thought about sharing my investment, which will be focused on releasing 2 more missions from the COUNTY TOUR map, in addition to buying some cards to increase my number of fans, as I'm always prioritizing improving this attribute.
Come with me and let's go!

County Tour Map
Well, I'm currently on the third map of Rising Star and I can say that I stopped at the first mission of it. Since I got to this point, I ended up not investing in the progression of these missions, or what I affectionately call "career mode", which reminds me of video games.
We can see below that this first mission does not need any special requirements, in addition to those we already know, which are the number of fans and their level. Another detail is that the return value of STARBITS is low because I've already done this mission a few times today.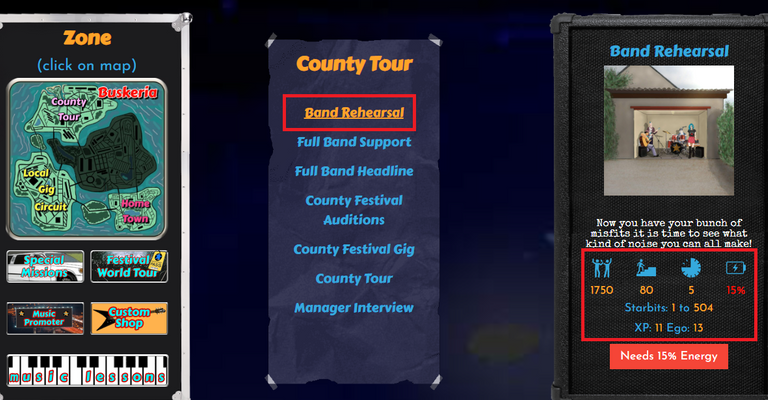 It turns out, that from the second mission, we have a new requirement to carry out some missions, the CANS OF PETROL. They are also a type of NFT and as far as I know, they are not acquired in packs, so we have to buy them in the market, directly from other players or from the @risingstargame2 account: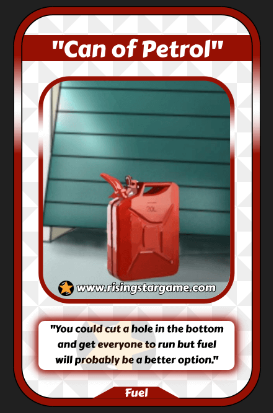 For the FULL BAND SUPPORT mission, we need 5 Petrol Cans: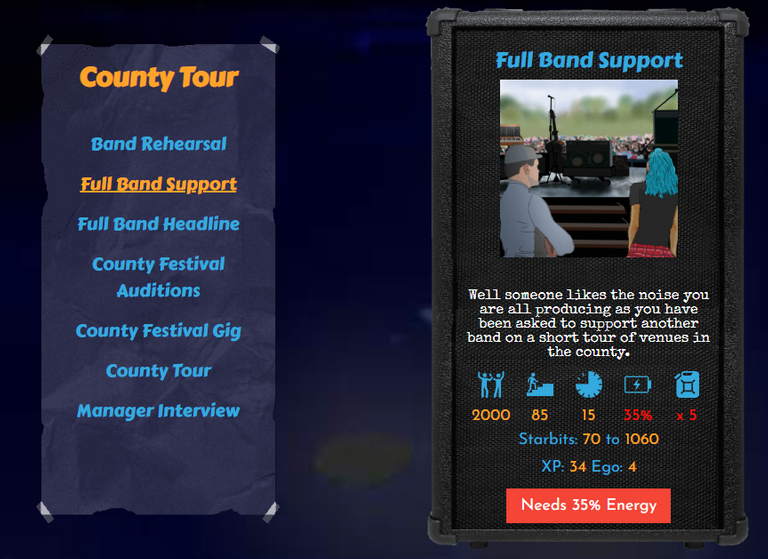 For the FULL BAND HEADLINE mission, we need 10 Petrol Cans: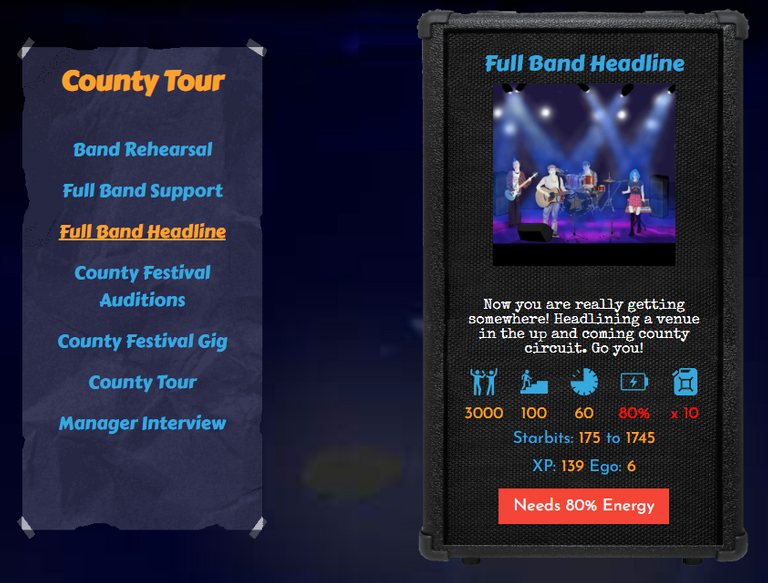 Why am I only talking about these two missions? Because they are the two that I can accomplish at the moment in a matter of level. COUNTY FESTIVAL AUDITIONS needs our profile to be at level 125 and I'm still at 109 as we can see below: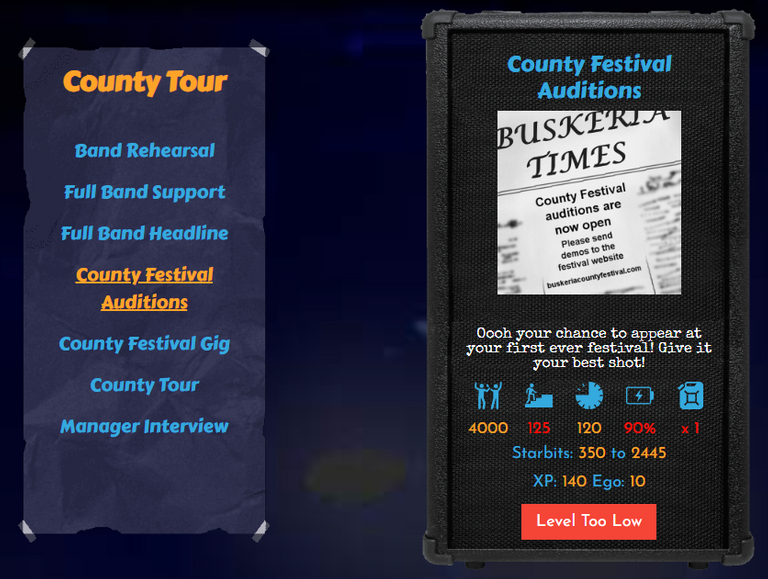 The final thing about gas cans is that you only need to buy the required number for each mission once. So in this case, I only need to buy ten cans and so, the two missions will be released so I can do them as many times as I want.
Buying Petrol Cans
To make purchases, I like to use #NFTMart, as I think it's the simplest and fastest way to buy multiple cards simultaneously, which in this case will be 10 units. You can check the page at this link: https://nftm.art/.
Well, then I marked the filter I made, but you can use it for any letter in question. First you will login with your #hive username, click on BUY CARDS, then on RISING STAR.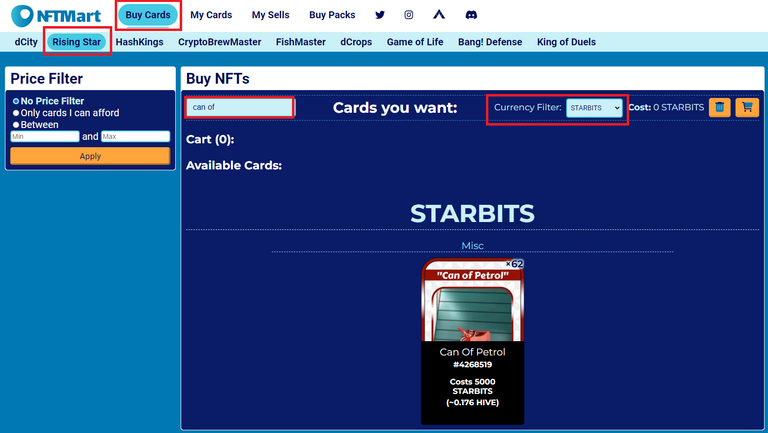 In the text field I put "can of" which is the name of the card, but you can use the identifier, such as, for example, R133 which is the card JAMES. Finally, in CURRENCY FILTER, I already left in what type of payment I will use to buy these cards, being in STARBITS.
I checked the price and clicked 10 times on the card, so 50000 STARBITS in total to buy, since it costs 5000 each. As I mentioned, buying from @risingstargame2, you get the lowest value in STARBITS, which is 5000: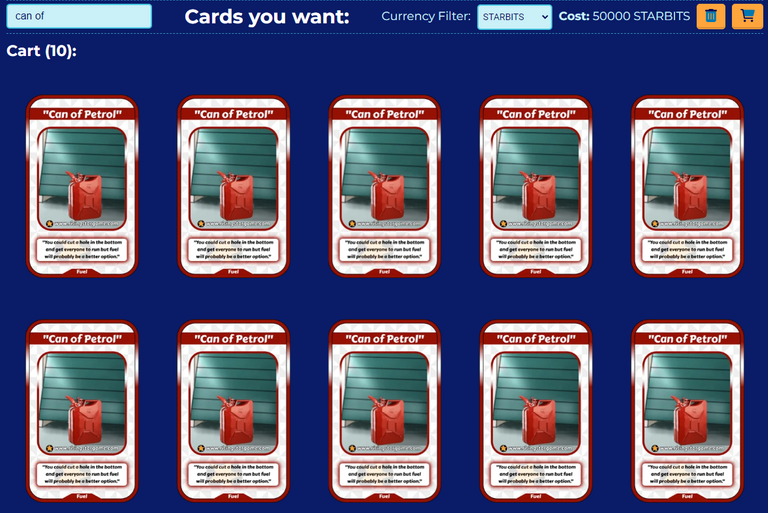 After that, just click on the symbol of a supermarket cart, confirm the transaction and wait for the cards to fall into the collection:

Going back to the quests page, the symbol referring to the PETROL CANS is now blue, instead of the red it was before. Thus begins the process of performing this mission 10 times to unlock the next one: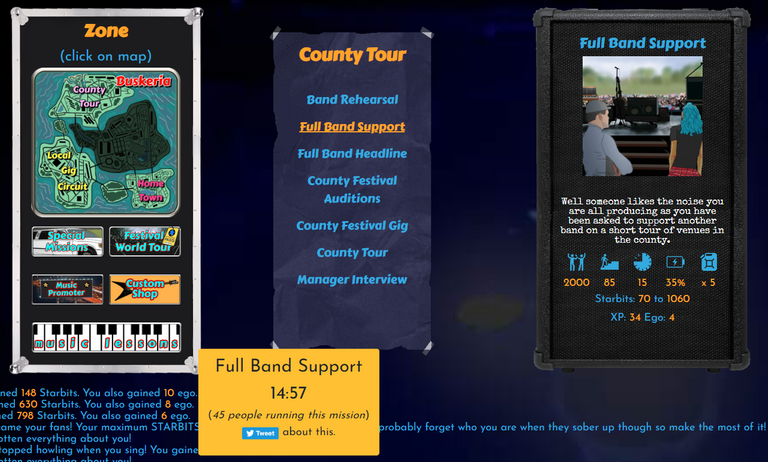 Buying Fans
In order not to stop the number of fans, I'll buy a few more cards also focused on this attribute. So again using #NFTMart, I made a filter where I put the STARBITS value between 5000 and 8000.
With the results, I looked at this card, R271 HAZEL, where we have 130 fans and 125 skills per unit, with a value of 7800 for each one, I considered it a good buying opportunity: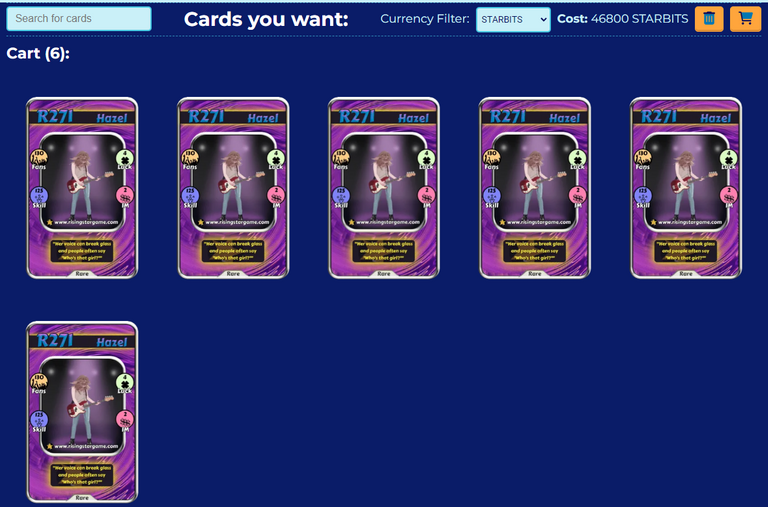 Totaling 46800 STARBITS, with the other 50000 that I used to buy the PETROL CANS, I invested a total of 96800 STARBITS, in the amount of 100k that I set as a spending ceiling for this purpose per week.
So I got the following attributes: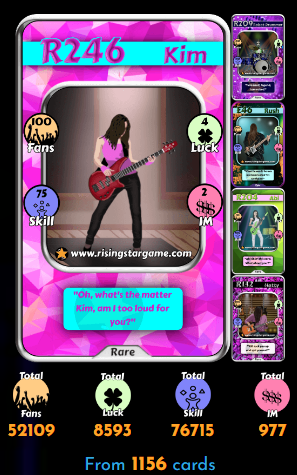 In the case of fans, at the time of this image I had temporary fans, so, in fact, I have 50981 fixed fans. So I close this round of investments.
That is all! Thank you all and until the next post!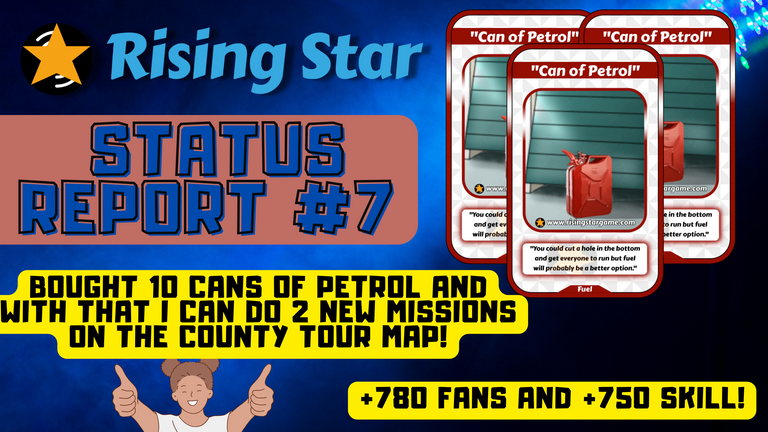 Bem-Vindos Amantes da Música!
Na postagem de hoje, gostaria de realizar algo diferente do que tenho feito normalmente. Com a chegada do final do ano e alguns dias de folga, acabei priorizando escrever sobre outros assuntos, mas obviamente não poderia deixar de lado um dos jogos mais divertidos que invisto a um bom tempo.
Então, ponderei compartilhar sobre meu investimento, que será focado em liberar mais 2 missões do mapa COUNTY TOUR, além de comprar algumas cartas para aumentar o meu número de fãs, pois estou sempre priorizando melhorar esse atributo.
Vêm comigo e vamos lá!

Mapa County Tour
Bem, atualmente estou no terceiro mapa do Rising Star e posso dizer que parei na primeira missão dele. Desde que cheguei neste ponto, acabei não investindo na progressão dessas missões, ou o que chamo com muito carinho de "modo carreira", isso me faz lembrar de jogos de videogame.
Podemos observar abaixo, que essa primeira missão não precisa de nenhum requisito em especial, além dos que já conhecemos que são o número de fãs e o seu nível. Outro detalhe é que o valor de retorno de STARBITS está baixo por que já fiz essa missão algumas vezes hoje.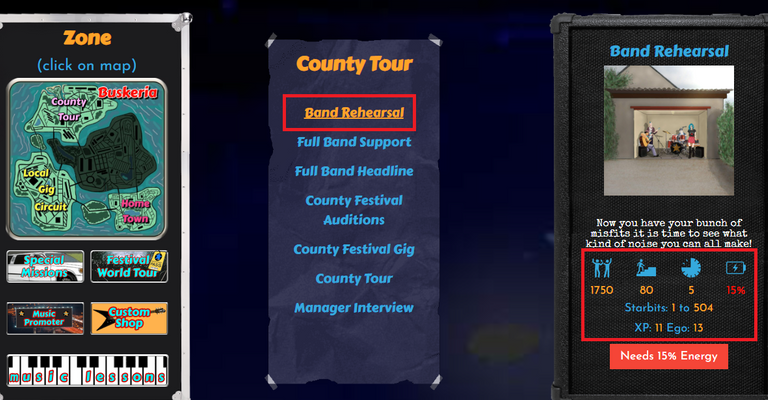 Acontece, que a partir da segunda missão, temos um novo requisito para realizar algumas missões, as LATAS DE GASOLINA. Elas também são um tipo de NFT e até onde sei, elas não são adquiridas em packs, então temos que comprá-las no mercado, diretamente de outros jogadores ou da conta @risingstargame2: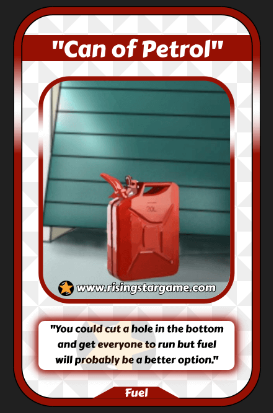 Para a missão FULL BAND SUPPORT, precisamos de 5 latas de gasolina: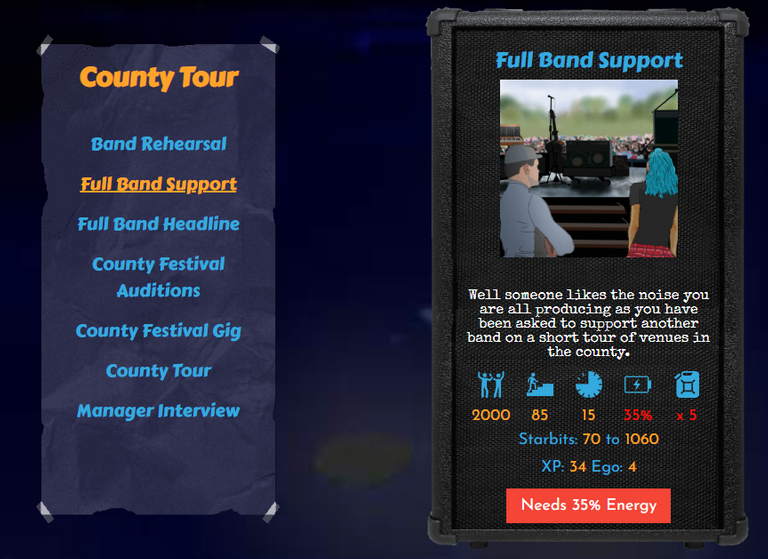 Para a missão FULL BAND HEADLINE, precisamos de 10 latas de gasolina: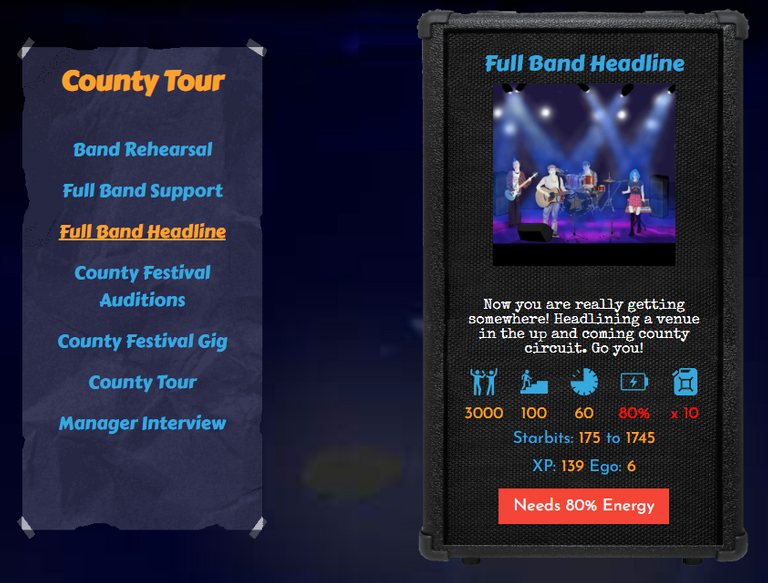 Por que estou falando apenas dessas duas missões? Pois são as duas que consigo realizar no momento em questão de nível. A COUNTY FESTIVAL AUDITIONS precisa que nosso perfil esteja no nível 125 e ainda estou no 109, como podemos observar abaixo: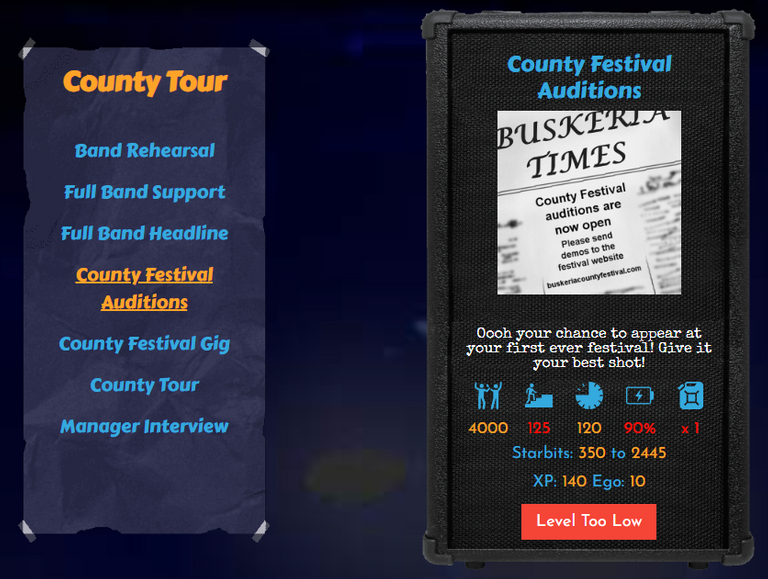 O detalhe final sobre as latas de gasolina, é que você só precisa comprar o número necessário para cada missão uma vez. Então neste caso, preciso comprar apenas dez latas e assim, as duas missões estarão liberadas para poder fazê-las quantas vezes quiser.
Comprando as Latas de Gasolina
Para realizar as compras, gosto de utilizar o #NFTMart, pois acho que é a maneira mais simples e rápida para comprar várias cartas simultaneamente, que neste caso serão 10 unidades. Você pode conferir a página neste link: https://nftm.art/.
Bem, então deixei marcado o filtro que fiz, mas você pode utilizar para qualquer carta em questão. Primeiro você irá realizar o login com o seu nome de usuário da #hive, clica em BUY CARDS, depois em RISING STAR.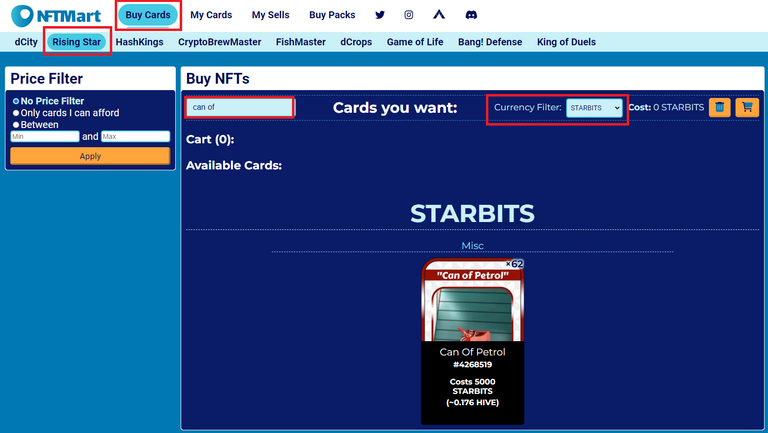 No campo de texto coloquei "can of" que é o nome da carta, mas você pode usar o identificador, como, por exemplo, R133 que é a carta JAMES. Por fim, em CURRENCY FILTER, já deixei em qual será o tipo de pagamento que utilizarei para comprar essas cartas, sendo em STARBITS.
Verifiquei o preço e cliquei 10 vezes sobre a carta, sendo assim 50000 STARBITS no total para comprar, já que custa 5000 cada uma. Como havia mencionado, comprando da @risingstargame2, sai pelo menor valor em STARBITS que são os 5000: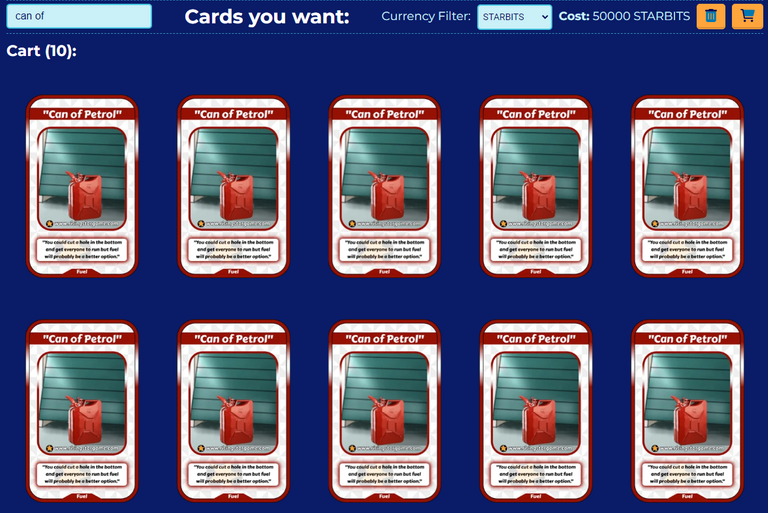 Após isso, é só clicar no símbolo de um carrinho de supermercado, confirmar a transação e esperar as cartas cair na coleção:

Voltando para a página de missões, o símbolo referente as LATAS DE GASOLINA agora fica em azul, ao invés do vermelho que estava antes. Assim começa o processo de realizar 10 vezes essa missão para liberar a próxima: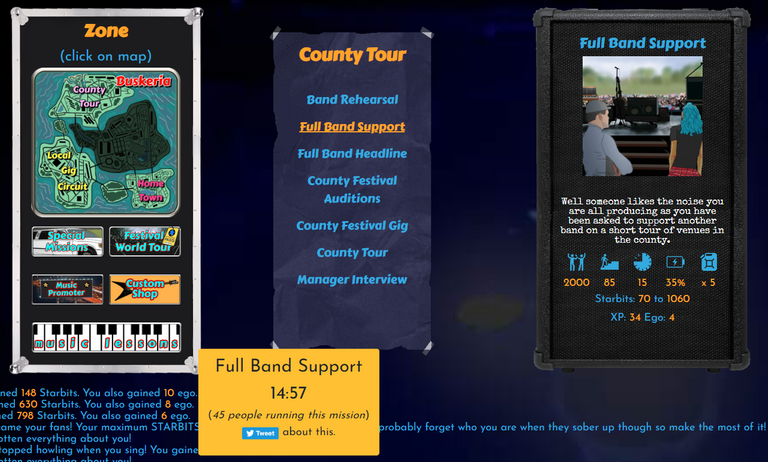 Comprando Fãs
Para não ficar com o número de fãs parado, comprarei mais algumas cartas também focada nesse atributo. Então novamente utilizando o #NFTMart, fiz um filtro onde coloquei o valor de STARBITS entre 5000 e 8000.
Com os resultados, olhei está carta, R271 HAZEL, onde temos 130 fãs e 125 habilidade por unidade, com o valor de 7800 por cada uma, considerei uma boa oportunidade de compra: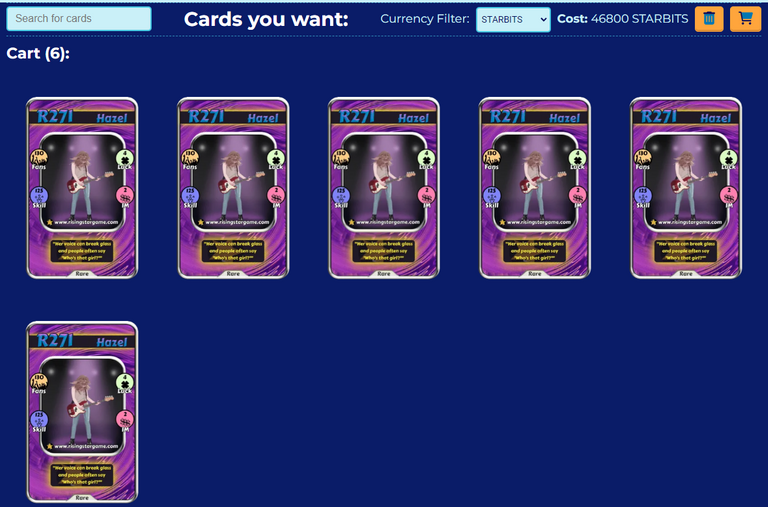 Totalizando 46800 STARBITS, com os outros 50000 que usei para comprar as LATAS DE GASOLINA, investi um total de 96800 STARBITS, no valor de 100k que estabeleci como teto de gastos para essa finalidade por semana.
Sendo assim, fiquei com os seguintes atributos: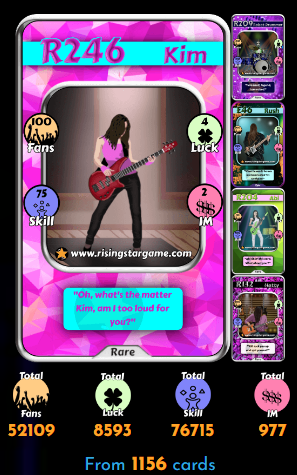 No caso dos fãs, no momento desta imagem tinha fãs temporários, então, na verdade, estou com 50981 fãs fixos. Assim encerro essa rodada de investimentos.
Isso é tudo! Obrigado a todos e até a próxima postagem!

Image Credit: banners created by me in Canva.
---
🎮 Referral Links 🎮
---

Projeto de Curadoria HiveBR // HiveBR Curation Project
---

---
---