[PT-BR/ENG] 12 packs e realizando a abertura de 1 hoje! // 12 packs and opening 1 today!
This Post Was Also Written In English
---
Criado no Canva

Olá Comunidade, Boas Vibes!!!
Como havia dito, consegui juntar os 100k de Starbits e comprei os 12 packs. Na verdade caso alguém não saiba, é como se tivesse comprando 10 packs pelos exatos 10k de Starbits, mas ai no caso vem 2 de bônus.
A postagem onde anuncio isso, pode ser vista aqui: [PT-BR/ENG] Finalmente chegou meu card milionário! // My millionaire card has finally arrived!.
Então, realizei a compra e já abri o primeiro, vamos ver como que foi?

12 Packs
O processo é bem simples, na parte aonde compramos os packs, basta ir na opção "Buy 12 Packs for 100.000 STARBITS", ali na esquerda, uma pop-up vai abrir e aí é só realizar a compra.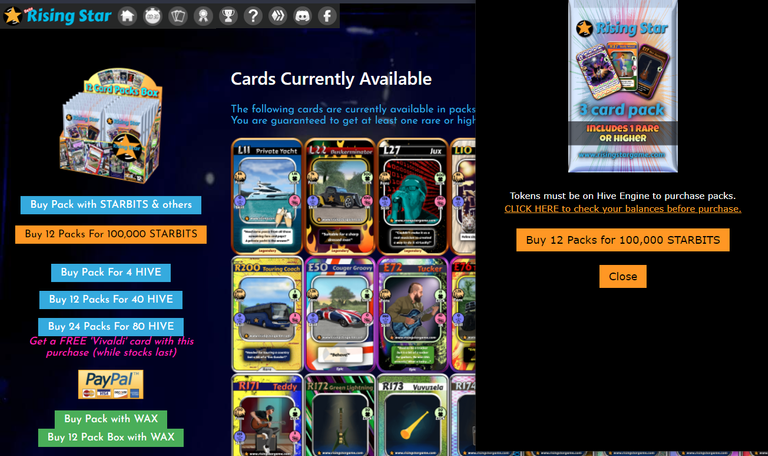 Lembrando que as Starbits devem estar na sua carteira HIVE, então é necessário realizar o saque do jogo para a carteira ou comprar por algum lugar como na Tribaldex.

Abrindo o Pack
E para o nosso primeiro pack, tivemos os seguintes cards:
i65 Melodica: 10 Luck (NEW).
i78 Starshall RG30: 1 Luck.
R167 Diana: 125 Fans, 100 Skill, 3 Luck e 2 IM (NEW).
Nada muito especial, mas 2 cards novos. Para se ter uma ideia, acho que a ultima vez que abri um pack, nem era esse modelo novo, os cards raros que são os garantidos, vinham sempre na esquerda, aparentemente isso mudou.
Ficou bem mais legal e bonito, a forma como os cards viram e aparecem, foi uma melhoria cosmética muito bem vinda na minha opinião.
---
Esse é o valor do card neste momento, listado na https://nftm.art/.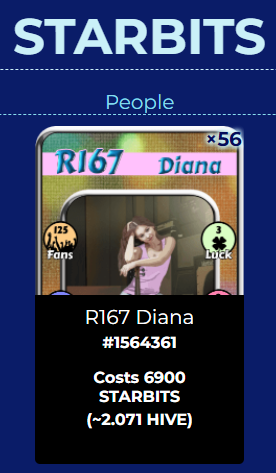 Quase o valor de um pack que é 10k de Starbits. Então bem, estou satisfeito, depois de tanto tempo sem abrir um pack, é sempre bom este momento de suspense e alegria.

Considerações
Bem é isso, abrir packs é sempre a coisa mais divertida, pois mexe com as nossas expectativas, desejando que venha algo bem legal.
Espero que vocês me acompanhem nas próximas postagens! Vamos curtir esse momento juntos! Até a próxima.



Created in Canva

Hello Community, Good Vibes!!!
As I said, I managed to gather the 100k of Starbits and bought the 12 packs. In fact, in case anyone doesn't know, it's like buying 10 packs for exactly 10k Starbits, but then there's 2 as a bonus.
The post where I announce this can be seen here: [PT-BR/ENG] My millionaire card finally arrived! // My millionaire card has finally arrived!.
So, I made the purchase and opened the first one, let's see how it went?

12 Packs
The process is very simple, in the part where we buy the packs, just go to the option "Buy 12 Packs for 100,000 STARBITS", there on the left, a pop-up will open and then just make the purchase .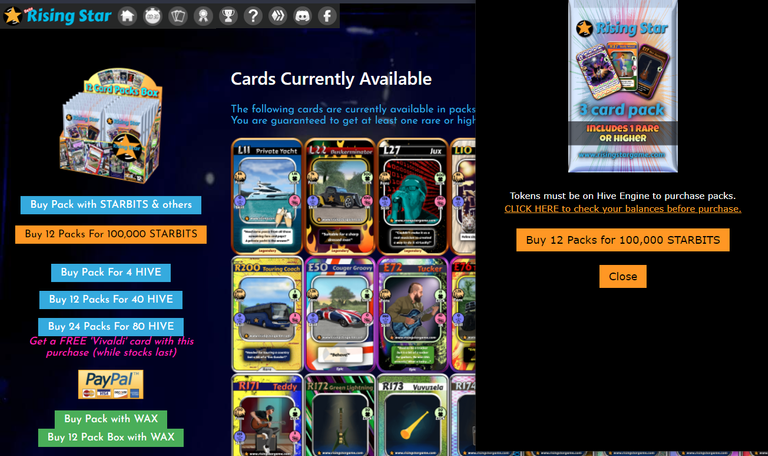 Remembering that the Starbits must be in your HIVE wallet, so you need to withdraw the game from the game to the wallet or buy it somewhere like Tribaldex.

Opening the Pack
And for our first pack, we had the following cards:
i65 Melodic: 10 Luck (NEW).
i78 Starshall RG30: 1 Luck.
R167 Diana: 125 Fans, 100 Skill, 3 Luck and 2 IM (NEW).
Nothing too special, but 2 new cards. To give you an idea, I think the last time I opened a pack, it wasn't even this new model, the rare cards that are guaranteed were always on the left, apparently that has changed.
It turned out much nicer and nicer, the way the cards turn and appear, it was a very welcome cosmetic improvement in my opinion.
---
This is the value of the card at this time, listed at https://nftm.art/.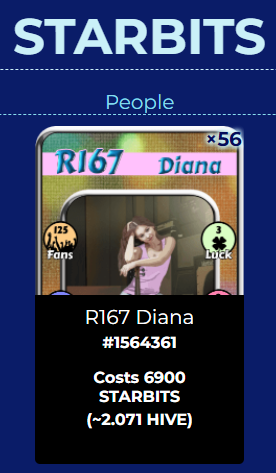 Almost the value of a pack that is 10k of Starbits. So well, I'm satisfied, after so long without opening a pack, it's always good to have this moment of suspense and joy.

Considerations
Well that's it, opening packs is always the most fun thing, because it messes with our expectations, hoping that something cool will come.
Hope you follow me in the next posts! Let's enjoy this moment together! To the next.

---
Image Credit: Banners are by their respective owners (some edited by me) and the icons can be found at icons8.
---
Do you like GAMES? Let's 🎮 HIVE-GAMIFY 🎮 everything 😁!



---
---
Feel free to follow me on social media:
---
---