[PT-BR/ENG] Brawl result: I won all the battles, but we didn't finish in a good place.
This Post Was Also Written In English
---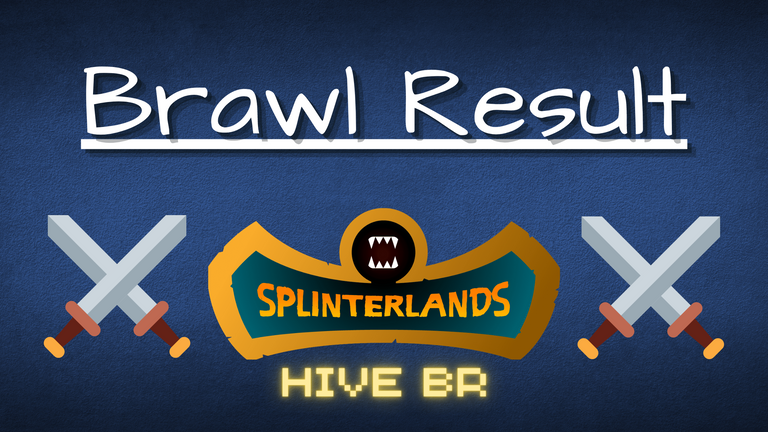 Olá Comunidade, Boas Vibes!!!
Dessa vez algo incrível aconteceu! Consegui vencer todas as batalhas da Brawl que participei e isso me deixou bastante alegre sobre o meu potencial e minhas habilidades no Splinterlands.
Em contrapartida, nosso clã terminou em uma colocação muito abaixo do normal, de todo o potencial que temos, ainda mais se lembrarmos, do primeiro lugar no último evento que aconteceu.
Então um misto de alegria e tristeza obviamente está em mim, mas às vezes com as derrotas, aprendemos muitas coisas e nos reerguemos mais fortes!

🔷 Minhas Batalhas 🔷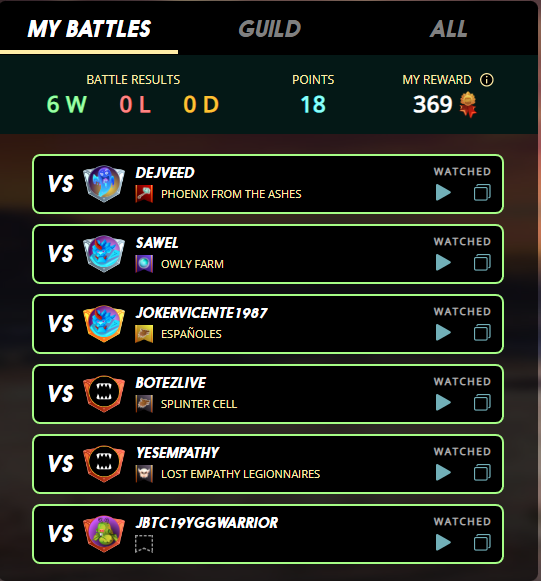 6 batalhas e 6 vitórias. Isso me surpreendeu demais, pois todos nos sabemos como a guerra de clãs é difícil, com muitos adversários formidáveis e que dão tudo de si nas batalhas.
Usando bastante estratégia e contando um pouco com a sorte, consegui vencer todas essas batalhas e o sentimento de alegria e dever cumprido tomo conta de mim.
Sempre disse que não sou nenhum jogador extraordinário, mas conquistar tantas vitórias assim, com certeza me dá uma tranquilidade e confiança nas minhas habilidades. Espero melhorar cada vez mais, com muita humildade e determinação!
Consegui 18 pontos para o clã e 369 Merits.

🔷 Guilda 🔷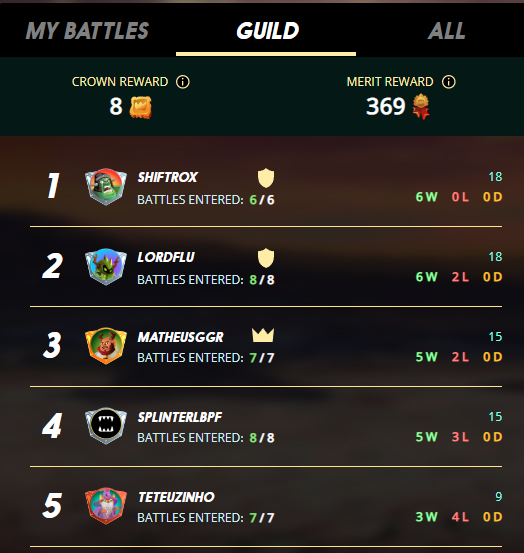 Então, esse é o motivo de bastante alegria, ficar em primeiro lugar no clã, com as 6 vitórias que obtive, dei o sangue pela nossa família e ainda bem que consegui esse ótimo resultado.
Meus irmãos de clã também deram o seu melhor e obtivemos boas vitórias, mas infelizmente a batalha de clãs não é fácil e perdemos muitas batalhas.
Contudo, guerreiros de verdade são forjados na vitória e na derrota, não vamos nos abater e vamos seguir em frente!

🔷 Geral 🔷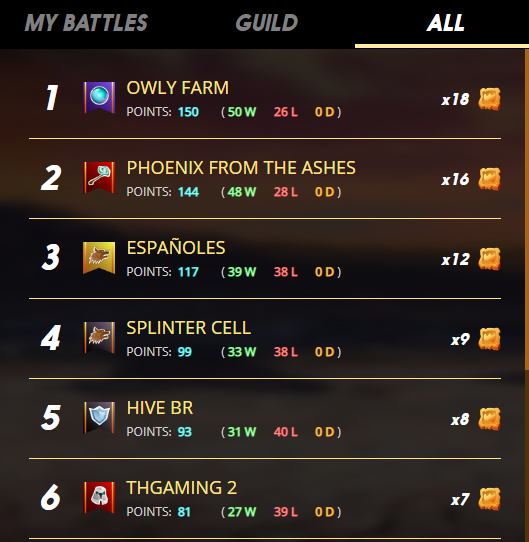 No final da guerra, ficamos em quinto lugar, os resultados foram os seguintes:
93 pontos
31 vitórias e 40 derrotas
8 Crowns
Se serve de consolo, ficamos na frente do clã da THGAMING 2, que acredito ser bem forte, já que é um clã feito por jogadores amantes dessas batalhas difíceis e insanas.

🔷 Por Fim 🔷
Ninguém vence todas, assim como ninguém perde todas. A vida é conduzida por altos e baixos e assim vamos melhorando a cada guerra que acontece.
Aqui no Brasil temos um ditado que diz: "Dias de luta e dias de glória", então dessa vez foi um dia de luta e derrotas, em que não ficamos em uma colocação muito boa, mas o amanhã é um novo dia, com novas possibilidades e novas batalhas!
Avante HIVE BR!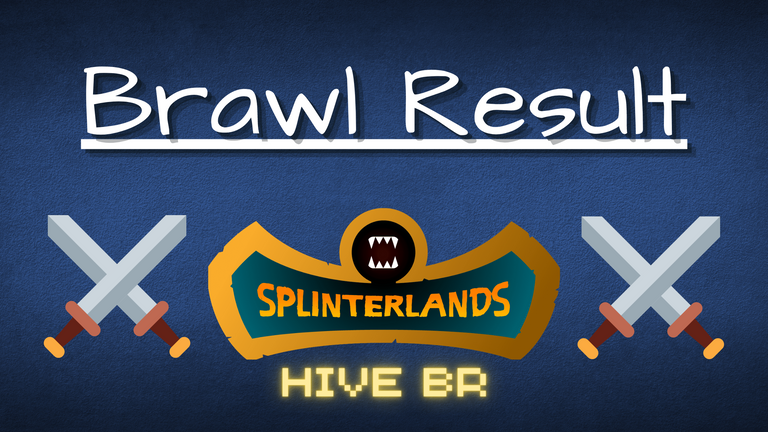 Hello Community, Good Vibes!!!
This time something amazing happened! I managed to win every Brawl battle I participated in and it made me quite happy about my potential and my skills in Splinterlands.
On the other hand, our clan ended up in a position far below normal, of all the potential we have, even more if we remember, the first place in the last event that happened.
So a mix of joy and sadness is obviously in me, but sometimes with defeats, we learn a lot of things and get back up stronger!

🔷 My Battles 🔷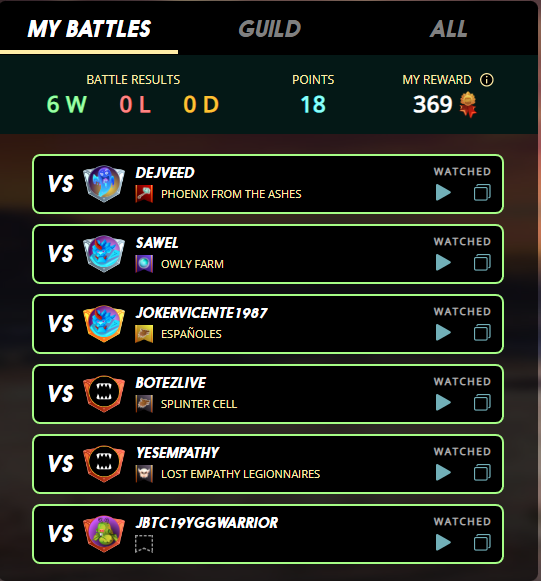 6 battles and 6 victories. This surprised me a lot, as we all know how difficult clan warfare is, with many formidable opponents who give their all in battles.
Using a lot of strategy and relying a little on luck, I managed to win all these battles and the feeling of joy and accomplishment takes care of me.
I've always said that I'm no extraordinary player, but winning that many victories certainly gives me peace of mind and confidence in my abilities. I hope to improve more and more, with a lot of humility and determination!
I got 18 points for the clan and 369 Merits.

🔷 Guild 🔷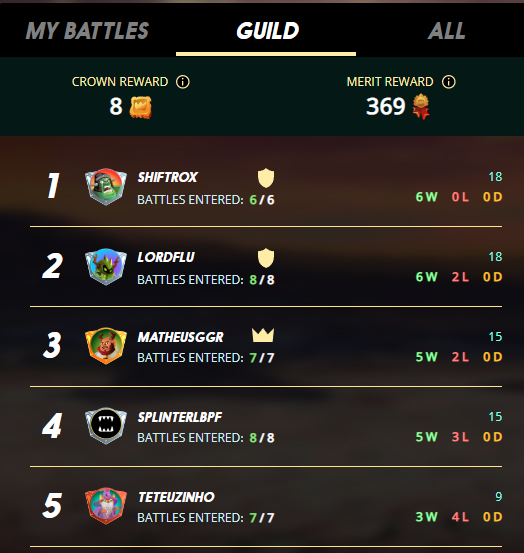 So, this is the reason for a lot of joy, to be in first place in the clan, with the 6 victories I got, I gave my blood for our family and I'm glad I got this great result.
My clan brothers also did their best and we obtained good victories, but unfortunately the clan battle is not easy and we lose many battles.
However, real warriors are forged in victory and defeat, let's not give up and let's move on!

🔷 General 🔷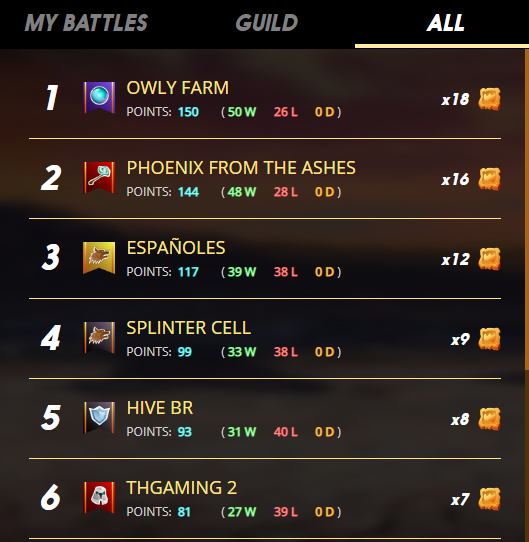 At the end of the war, we were in fifth place, the results were as follows:
93 points
31 wins and 40 losses
8 Crowns
If it's any consolation, we are in front of the THGAMING 2 clan, which I believe is quite strong, as it is a clan made by players who love these difficult and insane battles.

🔷 Finally 🔷
Nobody wins them all, just as nobody loses them all. Life is driven by ups and downs and so we get better with each war that happens.
Here in Brazil we have a saying that goes: "Days of struggle and days of glory", so this time it was a day of struggle and defeats, in which we didn't get a very good place, but tomorrow is a new day, with new possibilities and new battles!
Forward HIVE BR!

Image Credit: banners created by me in Canva and the icons can be found at icons8.
---
🎮 Links de Referência // Referral Links 🎮



---

Quer Apoiar Nosso Projeto? // Want To Support Our Project?
---
Me Siga Nas Redes Sociais // Follow Me On Social Media
---
---