[PT-BR/ENG] EOS Rewards + Lucky Gold Cards!

This Post Was Also Written In English
---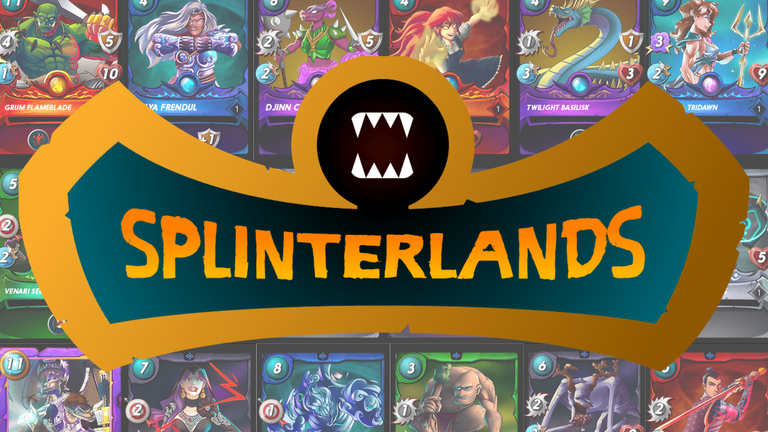 Source

Recompensas EOS + Sorte em Cards Dourados!
Introdução
Foi um final de temporada bem interessante, como tivemos mais tempo para jogar (18 dias se não me falha a memoria), consegui conquistar 61 baús desta vez, alocados na categoria da liga prata 2.
Fiz um grande esforço para terminar essa temporada na ouro 3, no padrão moderno, não foi fácil, encontrei muitos adversários fortes, mas no fim das contas cheguei ao meu objetivo.
Sem mais delongas, vamos ao conteúdo, conto com a presença de vocês!
Recompensas
Utilizando a ferramenta Splintershare, vou compartilhar com vocês como foi os meus resultados: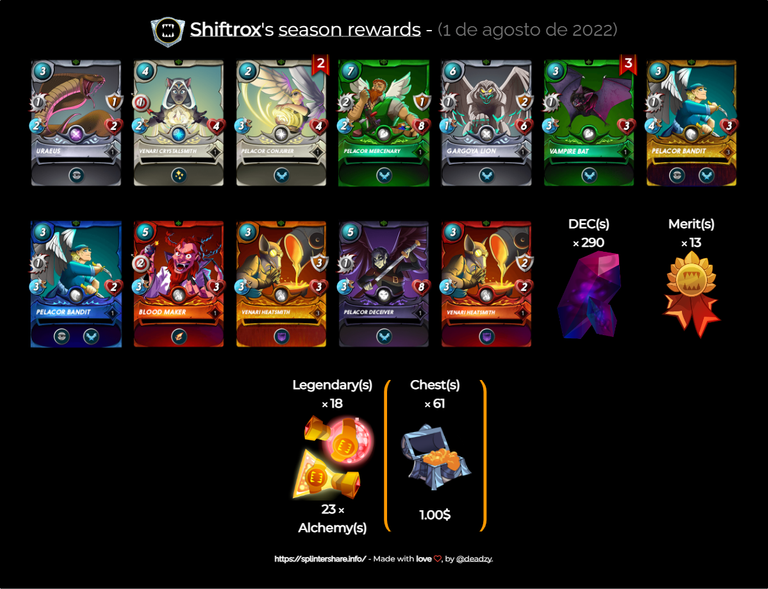 Minhas recompensas foram bem razoáveis, chegando ao exato valor de $1. Esperava um pouco mais? Com certeza, mas agora temos mais opções, como méritos caindo nos baús também e como disse na introdução, essas recompensas estavam alocadas como prata 2, então o multiplicador de DEC nem era tão alto assim.
Um bom destaque e que sempre é bom conseguir é uma unidade épica, como foi o caso da URAEUS: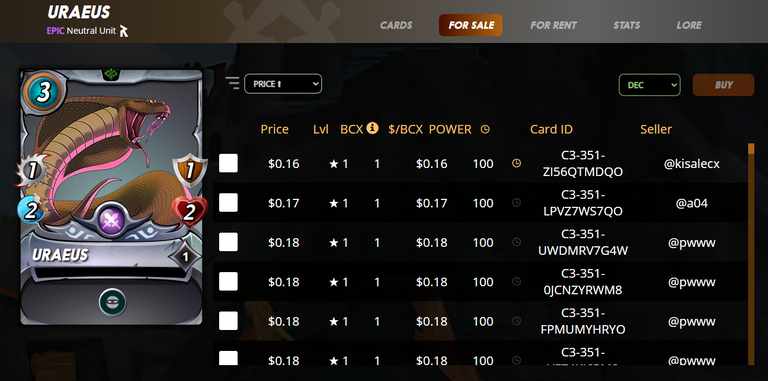 Fonte
Vale a observação de que nessas recompensas obtive 2 cards dourados e sobre isso quero compartilhar também a sorte que estou tendo com as douradas:
| | |
| --- | --- |
| Unidade comum do fogo | Unidade comum da água |
Pode parecer pouco, mas sempre fico agradecido quando consigo esses cards, pois penso em longo prazo na sua valorização, então pode ser que no futuro possa colocar eles para alugar e obter uma renda de DEC ou qualquer que seja o token no futuro.
E agora como terminei na ouro 3, minha recompensa dessa temporada será alocado em cima deste nível de liga, vai ser mais difícil conquistar muitos baús, mas vou aplicar o meu melhor em conseguir o máximo possível!
Cards Dourados
Então para entrar no assunto dos cards dourados, consegui em 2 dias seguidos, com as missões de diárias, mais 2 cards dourados.
Dia 31 de Julho, já com o foco na liga ouro 3:

Source
Dia 01 de Agosto, também da liga ouro 3:

Source
Novamente é como disse, pode não valer muito agora, mas tenho a esperança e aposto na valorização para o futuro, além de que sempre que possível utilizar um card dourado, nos concede bônus nas vitórias das ranqueadas, então sempre muito bom ganhar esses cards.
E um ultimo detalhe, é muito lindo ver a sua coleção crescendo assim:

Lembro de quando tinha apenas a KELP INITIATE dourada, foi a minha primeira e agora a família está bem grande! Com muita determinação, vai crescer mais ainda!
Conclusão
Gosto sempre de compartilhar a minha evolução, acho muito bom os jogadores fazerem isso, por que muitas vezes encontramos dificuldades no caminho, mas nada impede de crescermos.
Sei que ainda estou bem devagar, mas aos poucos vou subindo cada degrau e melhorando mais a minha coleção e a minha habilidade em jogar!
Obrigado a todos pela atenção e por passar um tempo comigo nesta postagem! Até a próxima!

EOS Rewards + Lucky Gold Cards!
Introduction
It was a very interesting season finale, as we had more time to play (18 days if memory serves), I managed to win 61 chests this time, allocated in the silver league category 2.
I made a great effort to finish this season in gold 3, in the modern standard, it was not easy, I found many strong opponents, but in the end I reached my goal.
Without further ado, let's get to the content, I count on your presence!
Rewards
Using the Splintershare tool, I will share with you how my results were: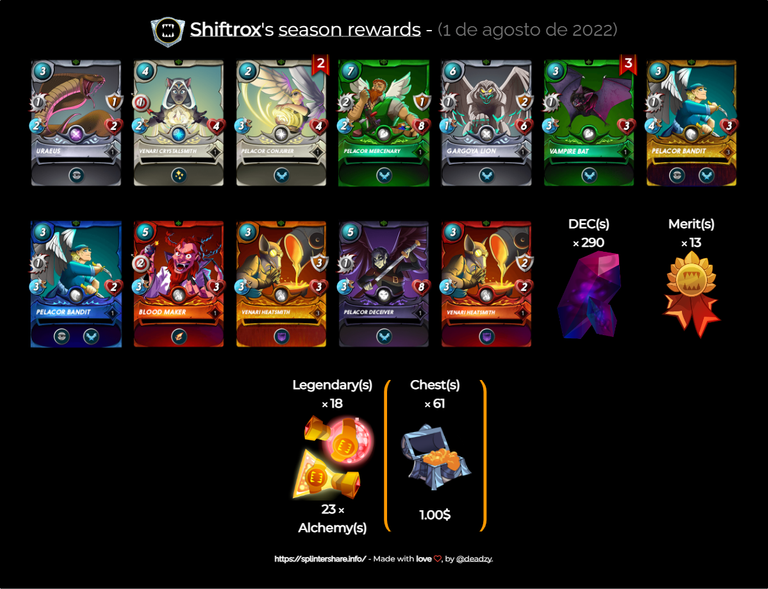 My rewards were very reasonable, coming in at exactly $1. Did you wait a little longer? Sure, but now we have more options, like merits dropping in chests too and as I said in the intro, these rewards were allocated as silver 2, so the DEC multiplier wasn't even that high.
A good highlight and one that is always good to get is an epic unit, as was the case with URAEUS: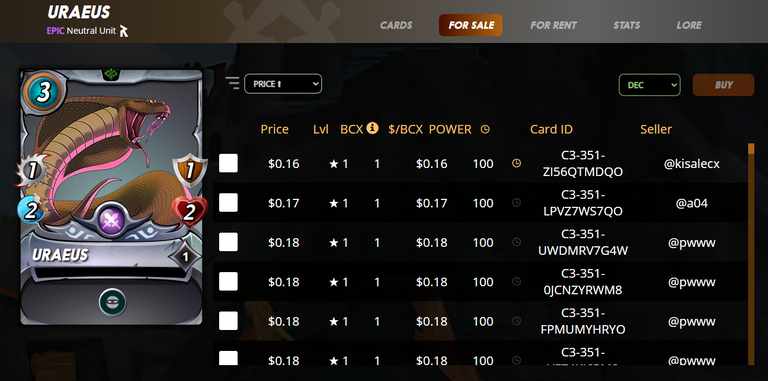 Source
It is worth noting that in these rewards I got 2 golden cards and about that I also want to share how lucky I am with the golden ones:
| | |
| --- | --- |
| Common fire unit | Common water unit |
It may not seem like much, but I'm always grateful when I get these cards, because I think about their appreciation in the long term, so it may be that in the future I can put them up for rent and get a DEC income or whatever the token in the future.
And now as I finished at gold 3, my reward this season will be allocated on top of this league level, it will be harder to get many chests, but I will apply my best to get as many as possible!
Gold Cards
So to get into the subject of golden cards, I got 2 days in a row, with the daily quests, 2 more golden cards.
July 31st, with the focus on the gold league 3:

Source
August 1st, also in gold league 3:

Source
Again it's like I said, it may not be worth much now, but I have hope and I bet on the appreciation for the future, and whenever possible to use a golden card, it gives us bonuses in ranked victories, so it's always great to win these cards.
And one last detail, it's very beautiful to see your collection growing like this:

I remember when I only had the golden KELP INITIATE, it was my first and now the family is quite big! With a lot of determination, it will grow even more!
Conclusion
I always like to share my evolution, I think it's very good for players to do that, because we often encounter difficulties along the way, but nothing prevents us from growing.
I know I'm still very slow, but little by little I'm going up each step and improving my collection and my playing skills!

Image Credit: banners created by me in Canva and the icons can be found at icons8.
---
🎮 Links de Referência // Referral Links 🎮



---

Somos um porto seguro, preparados para ajudar nossos irmãos e irmãs, neste grande oceano de informação e conteúdo da Hive. Nosso objetivo é oferecer suporte para os brasileiros que aqui estão, somos a mão amiga que ajuda aqueles que precisam. Venha conhecer melhor nosso projeto:
We are a safe haven, prepared to help our brothers and sisters, in this great ocean of information and Hive content. Our goal is to offer support to the Brazilians who are here, we are the helping hand that helps those in need. Come and learn more about our project:
---
Me Siga Nas Redes Sociais // Follow Me On Social Media
---
---