Proposal for a new hive game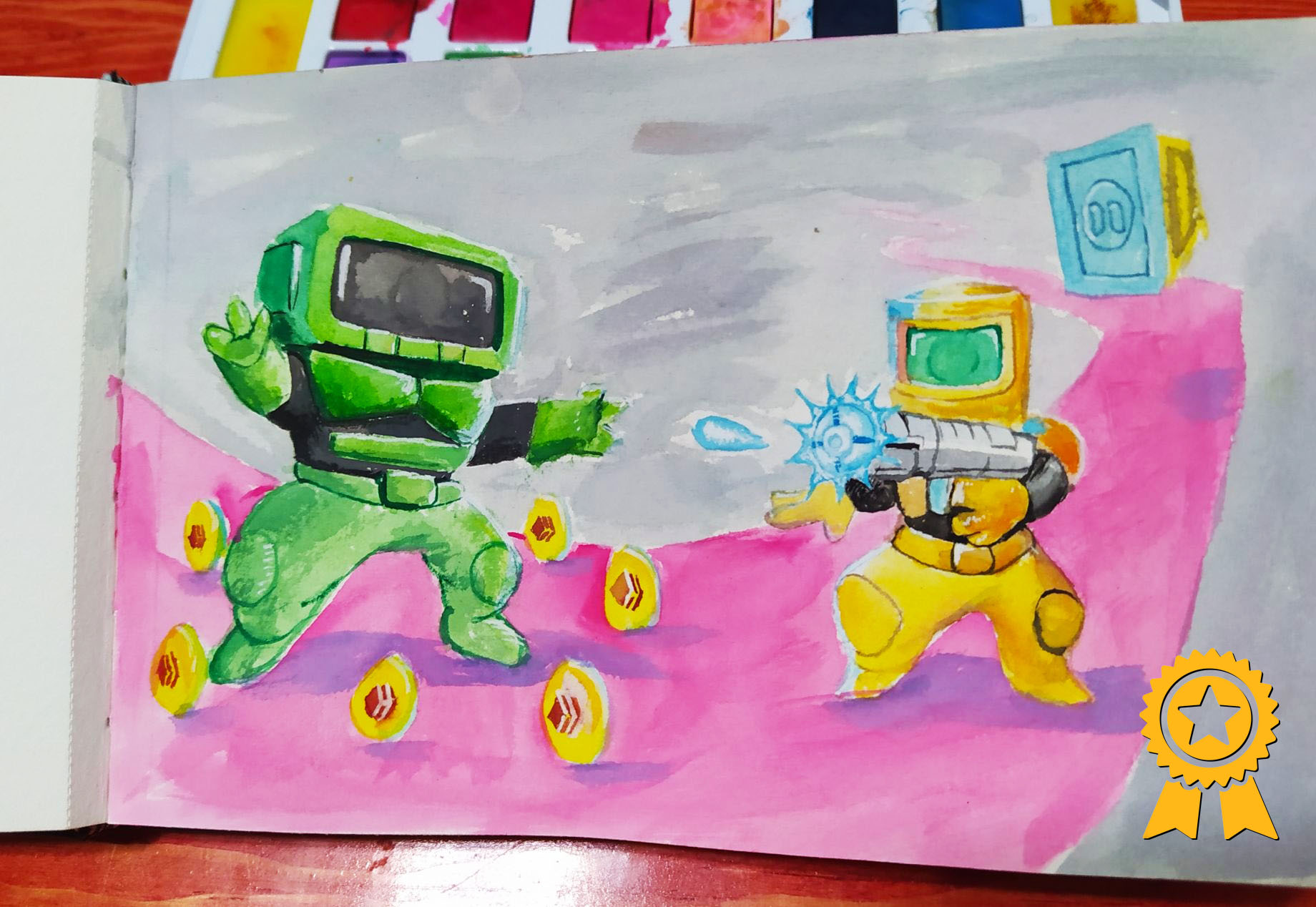 ---
Hello dear hivians, I have been scribbling some ideas for my videogame and I have something to show you, I am gonna share with you fellows the design document version 1.0 of my game.
One-page design document
Game Identity
---
Combat game between 2 to 8 players which consists of collecting all the coins that will be scattered throughout the stage, once the player collects as many coins as possible he must keep them for the duration of the match, on the other hand players can also snatch the coins from their opponents using the weapons that will also be scattered on the stage. At the end of the match time, the player with the most coins will be rewarded for the game with more coins, the other players will keep the coins they collected. It is worth mentioning that in order to enter to a match the player must pay a fee to play, each day the player will receive a limited number of free coins to be able to play, although they can also buy them.
Design Pillars
---
-Action-packed
The game aims to be fast, with short but intense and exciting matches. This will be an action and fun game, in which you will lead a light player who moves quickly around the stage dodging attacks and stealing coins.
-Rewards
The game will reward its players with a cryptocurrency and there will not necessarily be a winner and a loser, rather there will be those who win more or less coins, although there will be those who lose them all their coins bet in the match, but they can always give their rematch.
-Multiplayer
This is the most critical part of the game, it is the base of the process practically because if this part does not work well, the game itself is irrelevant. I have experience making games but not multiplayer games, but I didn't know how to make games for a long time and then I learned how to make them, so it is worth trying.
Genre
---
Action, combat, shooter
Platform target
---
Web
Mechanics Summary
---
Controls will be very simple, move left and right, jump, fire and a third key for special power. You can also aim the gun up and down like in the Metal Slug game. The coins will be taken when colliding with them and the enemies can only be stripped of their coins when they are shot with a weapon. The stage will cover the entire screen and there will be obstacles and enemies that hinder movement and also snatch players' coins.
Features
---
For the first version you can choose a small robot which will be the same for everyone, it will only have different colors to differentiate it from its opponents.
There will be 5 types of weapons and each player can change them during the game, they can appear suddenly in any area of ​​the scenario, the powers can also be saved for later use as a Mario Kart.
The weapons and special powers still in development.
Art Style
The game will be in 2d, with smooth graphics.
Music/Sound
All music and sound effects are not specified yet but will be provided by @gustavmahler.
Conclusion
---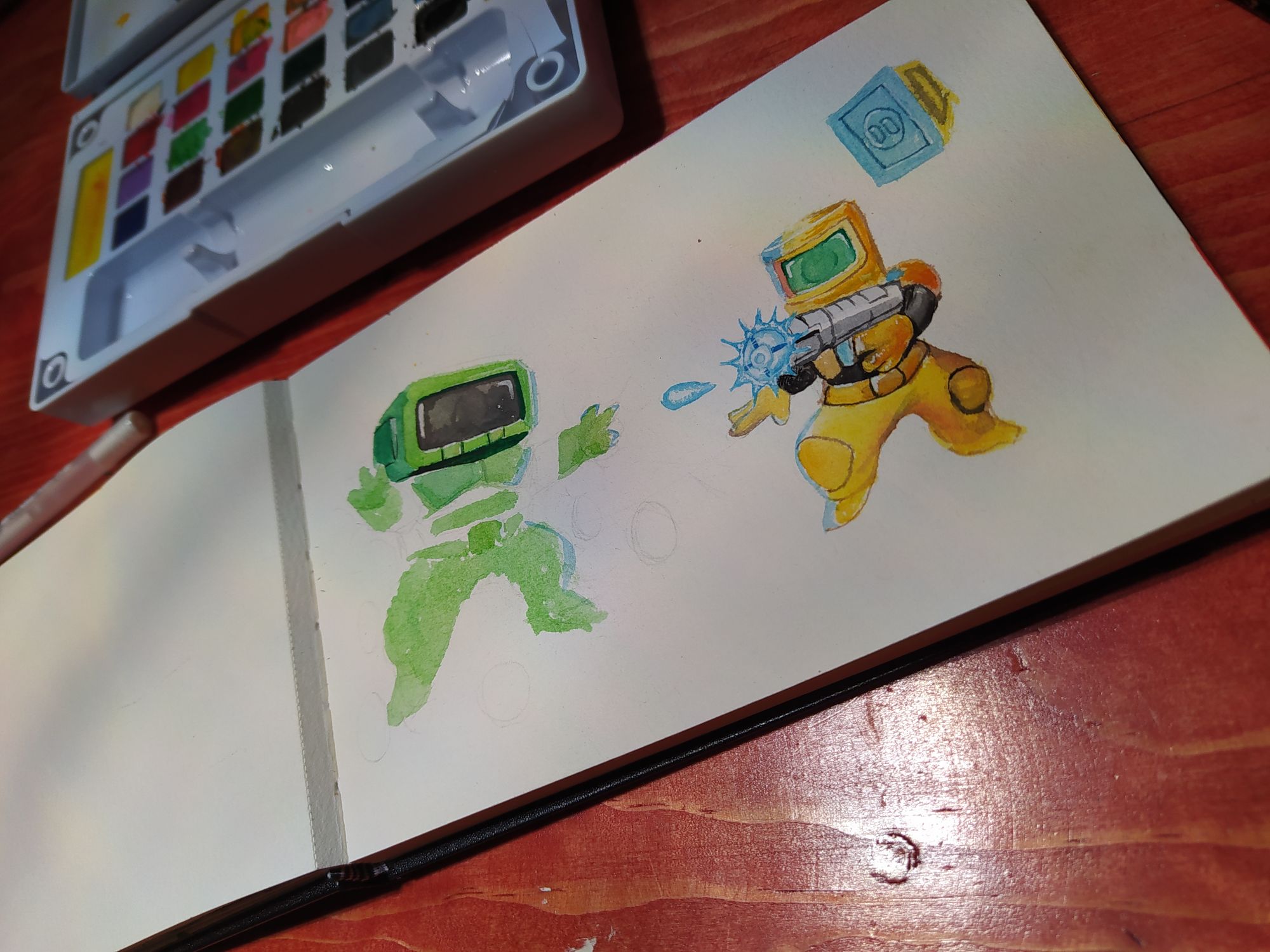 Making games is difficult, but making good games is even more difficult, I would like to know your opinion friends about it in order to go the right way. There are many things to specify, but I think they could be detailed later.
Thanks in advance.
References : https://www.pinterest.com.mx/pin/374291419036371811/
Game design document base: https://gdu.io/

---
---