Bavarian Pork Knuckle with Potato Dumplings and German Pickled Cabbage 🇩🇪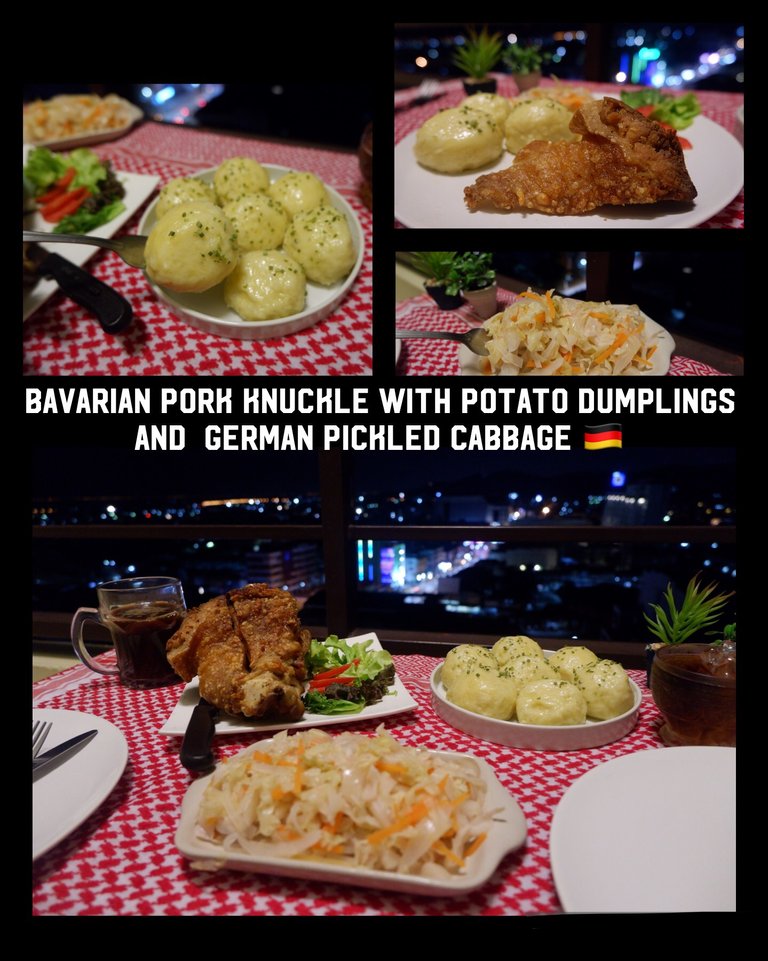 Sa Wad Dee Ka 🙏 Hive community ^^
More than 2 years with the world pandemic, some people have fallen at another country which they can't go back to their home and my boyfriend is the one of them too. 😞
🇩🇪 So today I would like to bring him right back to the fond memories with family and friends by cooked the Bavarian Pork Knuckle with Potato Dumplings and German Pickled Cabbage.
Schweinshaxen mit Kartoffelknödeln und Sauerkraut is a traditional Bavarian dish that so popular and favorite all over Germany especially in Bavaria which is the home of the Oktoberfest and my boyfriend too, of course!😆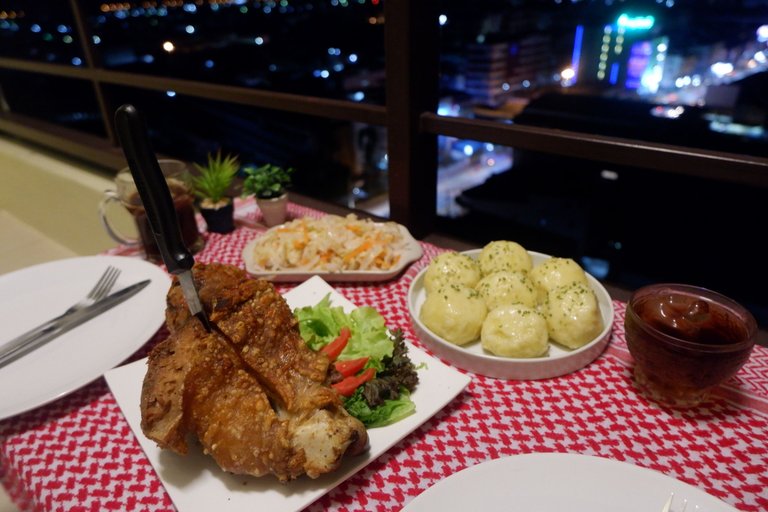 It seem to be difficult to make at home but I adapted the recipe with my method that I can cook this complicated dish within a few hours. Trust me! They're so easy to cook when compare to the original recipe.
Schweinshaxen aka The Bavarian pork knuckles are the perfect mix of spices and herbs which the meat will be tender inside with crunchy and crispy skin outside. There are 2 different style of method to cook Bavarian pork knuckle. Just roasted or boil and roasted which this is the way I show you today and I just boiled the pork knuckle for 30 minutes and roasted it by air flyer for 20 minutes. Quick, right?😁
 

The original recipe using the dark beer for boiled the pork but I'm a non alcohol person so I skip the beer for my recipe and using star anise for the aromatic taste instead.😆
 
Kartoffelknödeln aka Potato dumplings are soft and fluffy dumpling that made from mashed potato combine with egg, flour and starch which they are very common potato dish in Germany.
 
Sauerkraut aka pickled cabbage is a German traditional fermented food made by shredded cabbage and salt to ferment over week or month but my recipe was quick and easy recipe by using Vinegar as the key ingredient that can cooked in 30 minutes. It's a shortcut or last minute sauerkraut!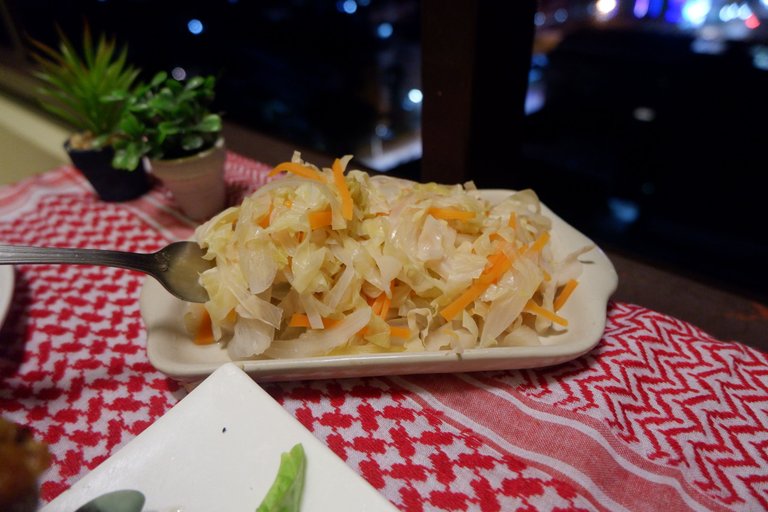 let's see the Ingredients!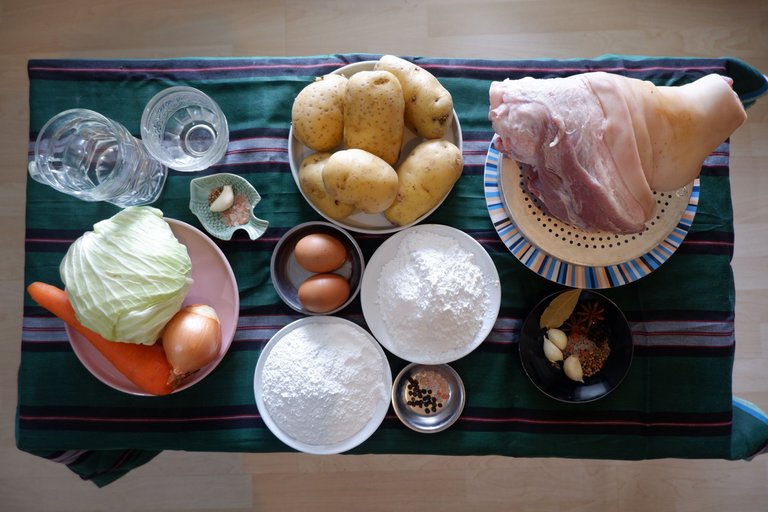 For making Pickled Cabbage (Sauerkraut)
1 medium size cabbage
1/3 part of carrot
1 teaspoon parsley seed
1 teaspoon garlic
2 teaspoon pink salt
1 cup water
1/2 5% distilled vinegar
 
For making Potato Dumpling (Kartoffelknödeln)
1 kg potato
2 large egg
100 potato starch
100 glutenous rice flour
1 teaspoon black pepper
1 teaspoon pink salt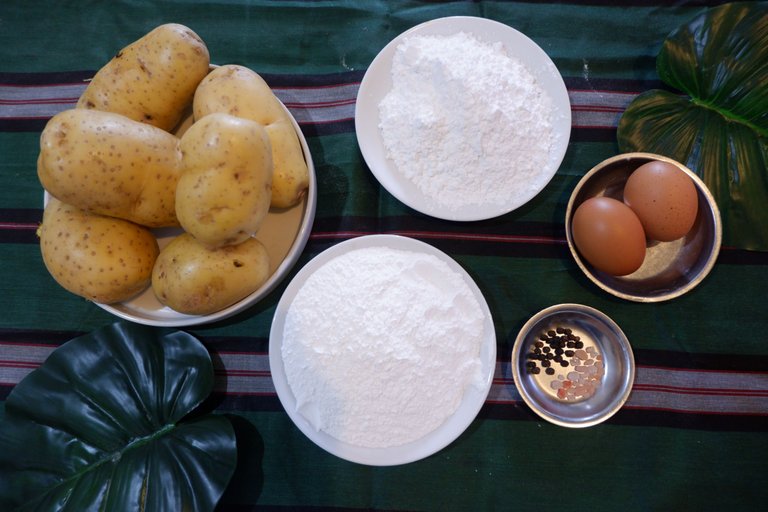 For making Bavarian Pork Knuckle(Schweinshaxen)
2 kg pork knuckle
2 teaspoon garlic
2 star anise
2 teaspoon black pepper
1 teaspoon fennel
2 teaspoon parsley seed
2 teaspoon pink salt
1 bay leaf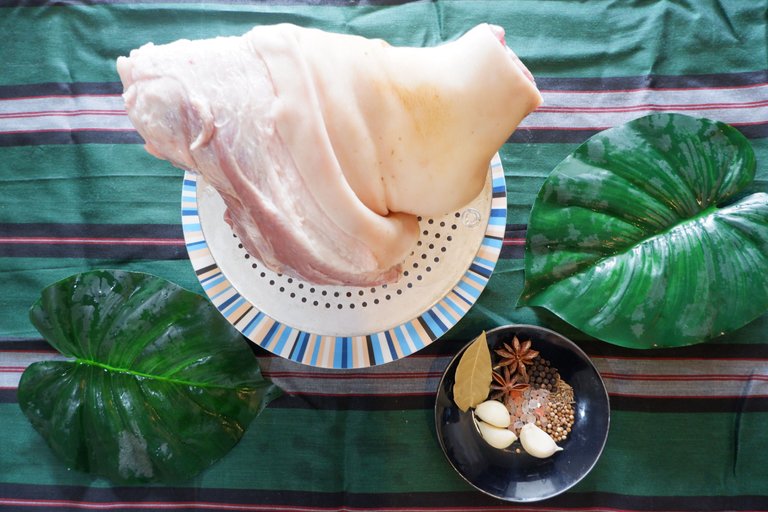 Ready for Cook!
Clean the pork and pinch it by sharp instrument all over the pork and drop it into the boiled water and add all spice and boiled it for 30 minutes.
Move the pork out from the pot and pinch it again while they are sill hot and dry it outside under the sun for at least 1 hour and cover it by mesh cover to protect the pork from the insects.
Brush the pork by distilled vinegar for 2-3 times and dry it again at least 30 minutes to crisp up the skin.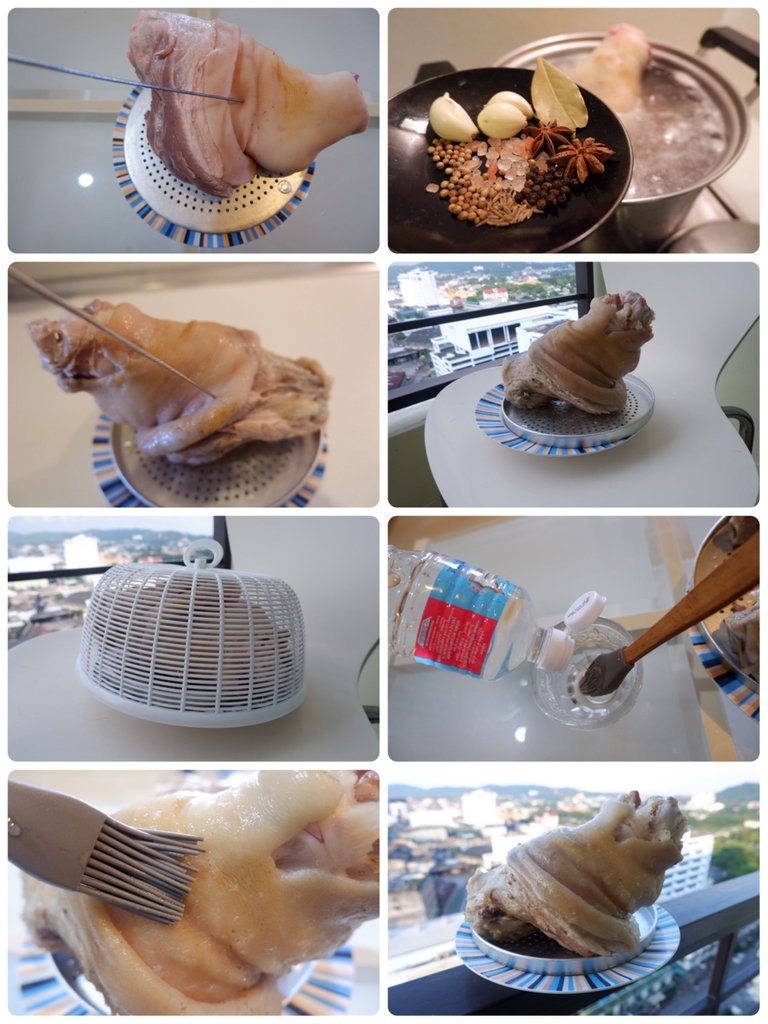 ** For my recipe, I was so worried that the pork might be bigger than the air fryer and my worried was come true. 😱 Luckily there's a tiny conjunction that I can trimmed and cut off the small part of bone off and then it's perfect fit into my tiny air flyer. 😄 Cooking Find The Way!
Let's roasted the pork knuckle together!
Rub the pork by salt and pepper and cut through the skin
with a sharp knife.
Put the pork to the air flyer for 10 minutes then flip the pork to another side for another 10 minutes more and set aside.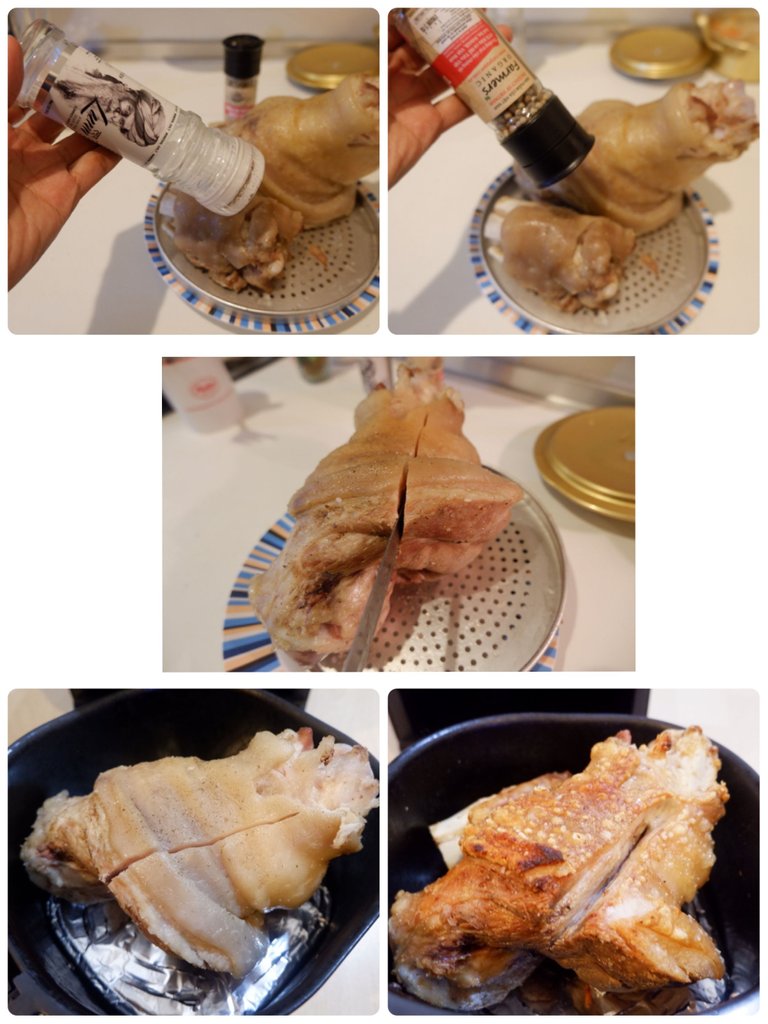 Let's prepare the German Pickled Cabbage
Slice the veggie and pour the water, half of vinegar and all spices and let's it boiled then drop the cabbage and carrots then boil it for 3 minutes.
Stir them and drop the onion and another half of vinegar and return lid to the pot and cook for 10 minutes more and set aside.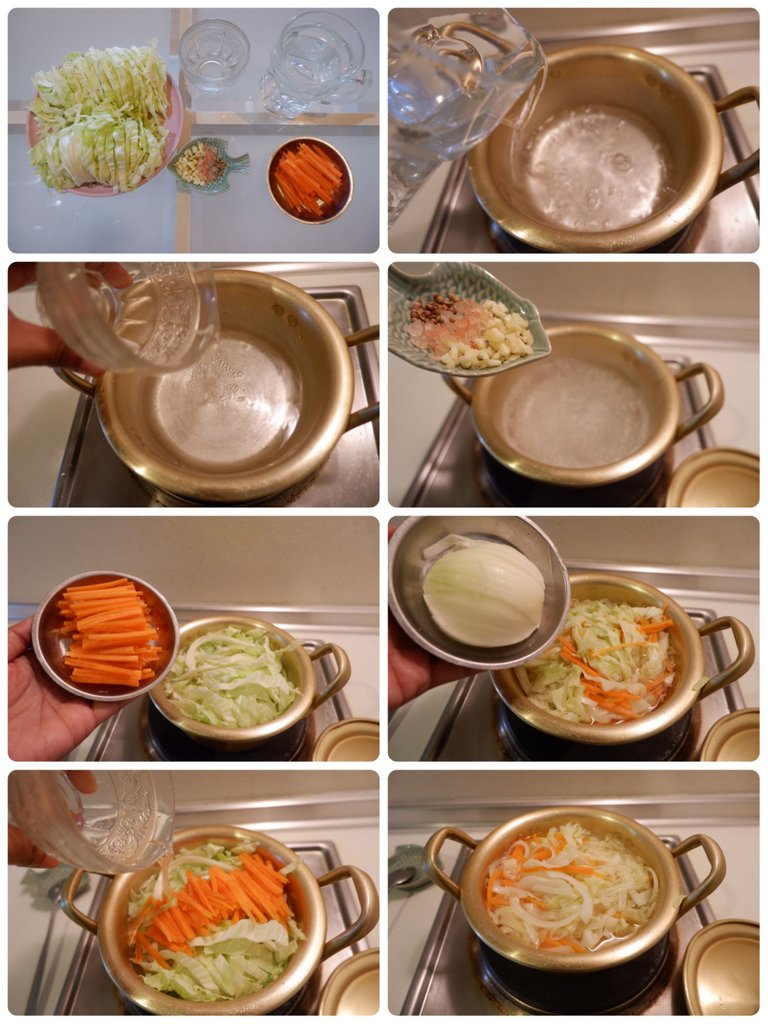 Time for dumping
Clean and peel the potato and cut it into a large chunk.
Put the salt and potato into boil water and boiled it for 15 minutes.
Mashed the potato while they're still hot and drop the beaten egg and stir them together.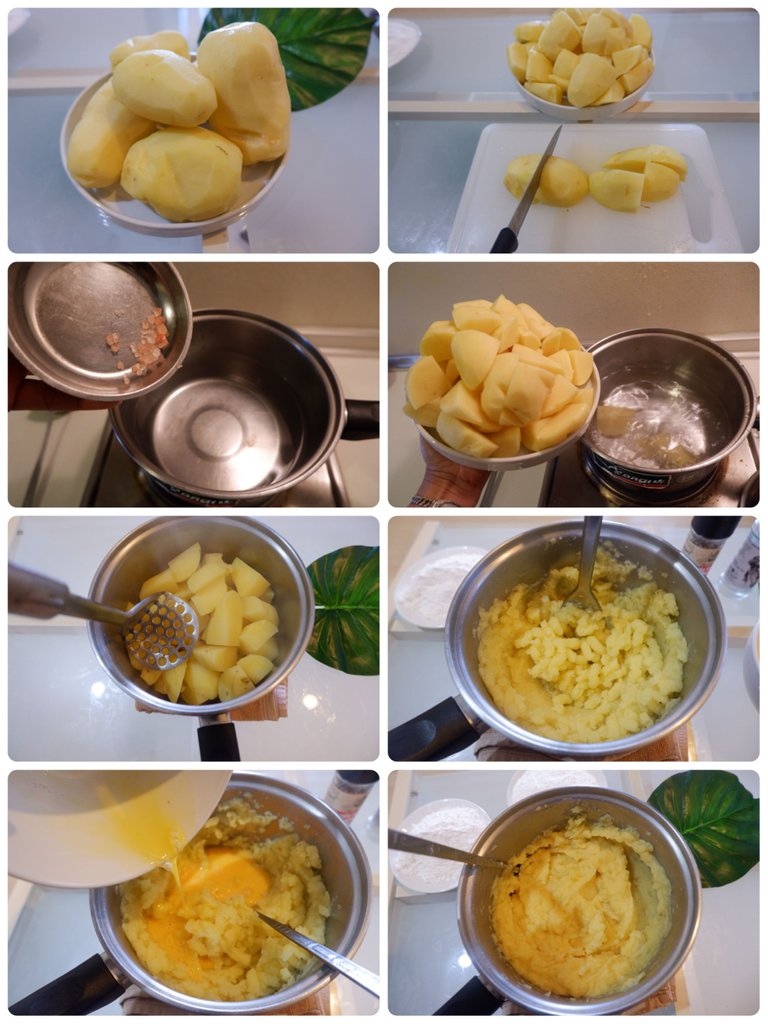 Drop salt, pepper, flour and starch and mix it until a soft dough forms.
Divide the dough into 14 portions and shape each portion of dough into a ball.
Drop gently into boiling water and simmer gently by uncovered about 15 minutes.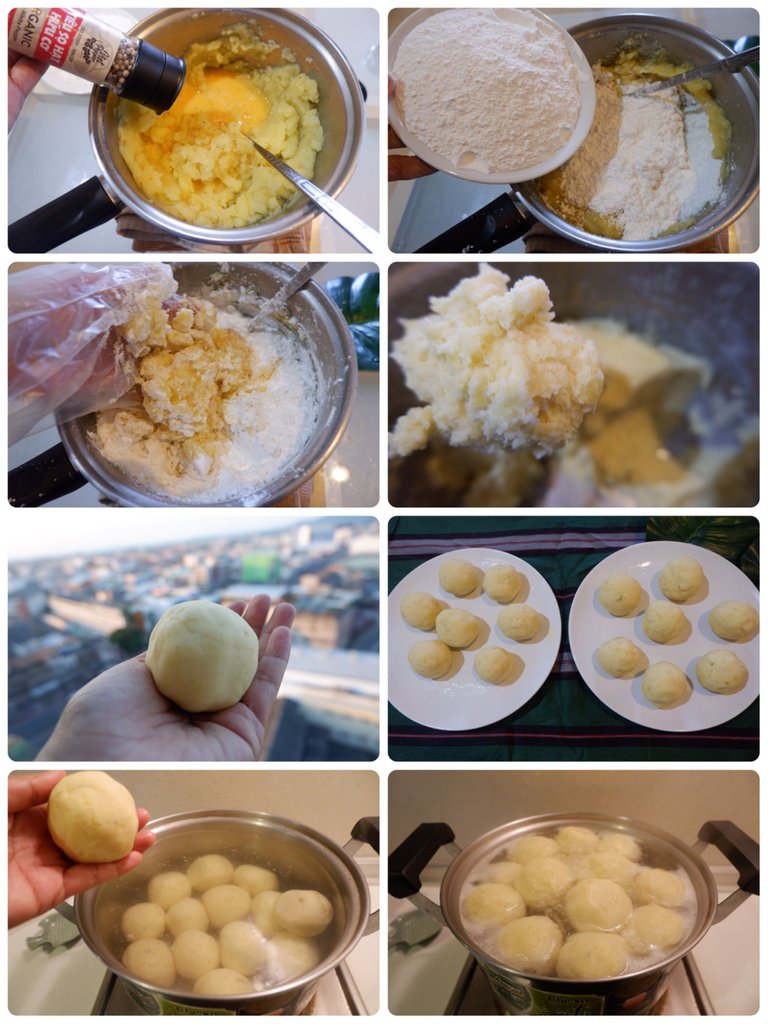 Served Bavarian Pork Knuckle with Potato Dumplings and German Pickled Cabbage with a grass of dark beer, Oktoberfest style! Ready for a cozy dinner in a wonderful night.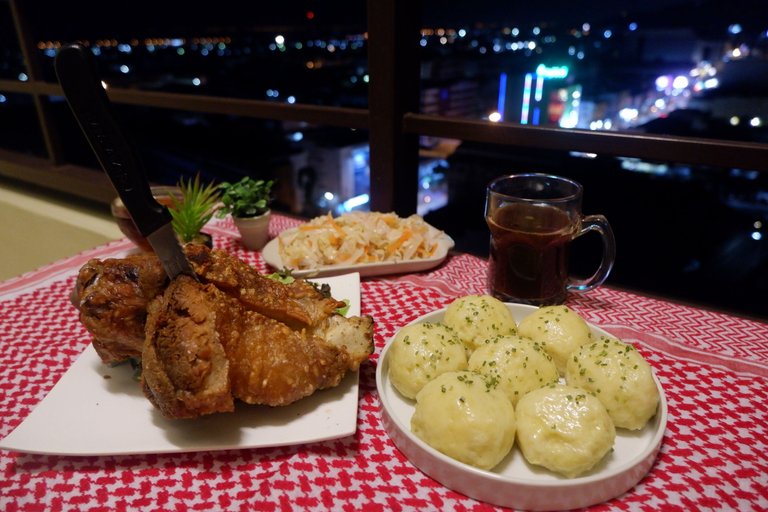 It may sound like a hard core cooking but the results are well worth! Let's cut!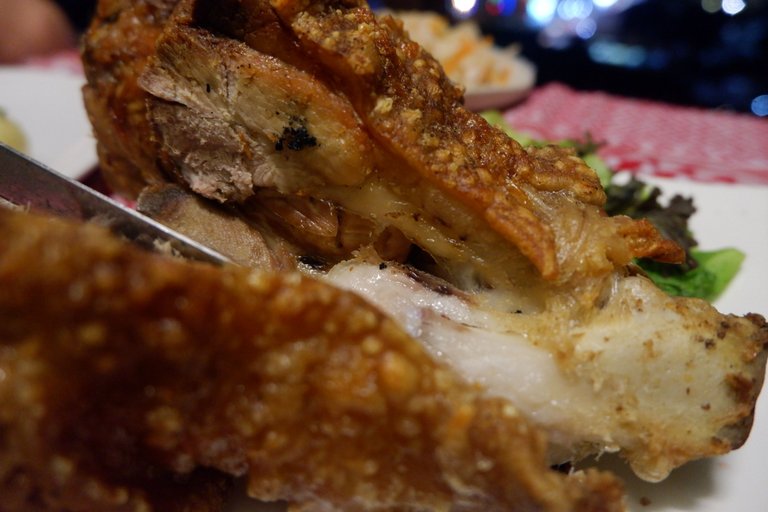 Let's cut a Fluffy Ball.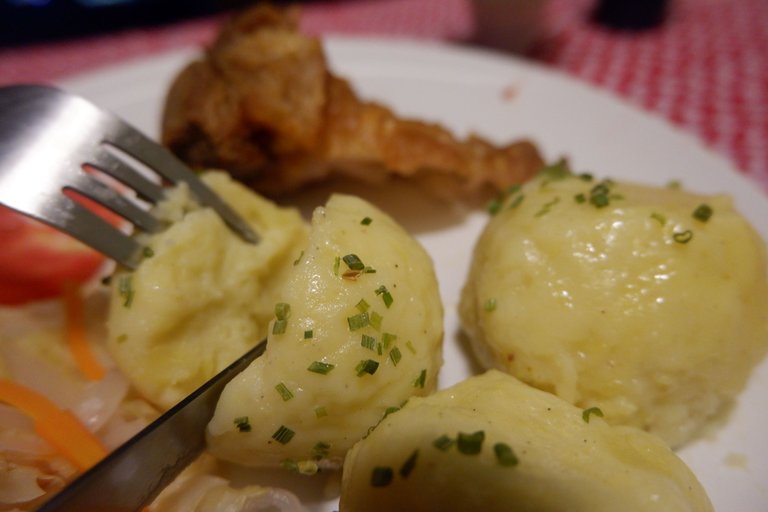 It's definitely a real German dish but a different style of cooking.😀Hopefully, you guys can take inspiration from my ideas on how to connect the fondly memories to returned back to hometown. ❤️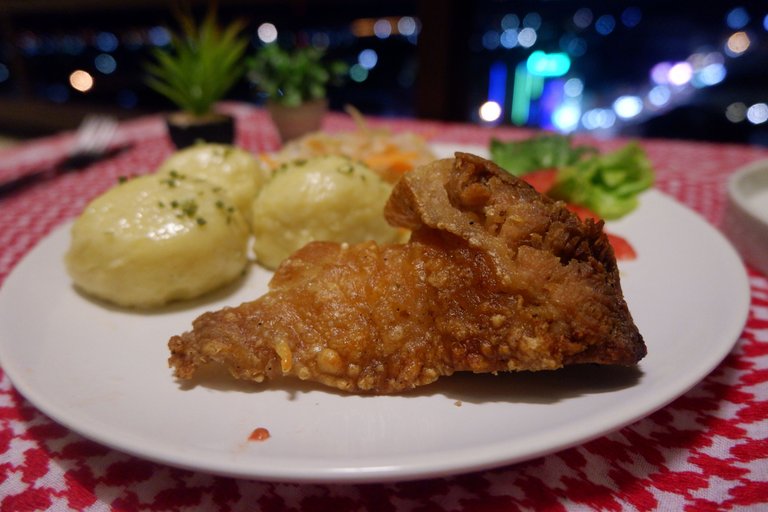 Hope you guys have a great week ahead.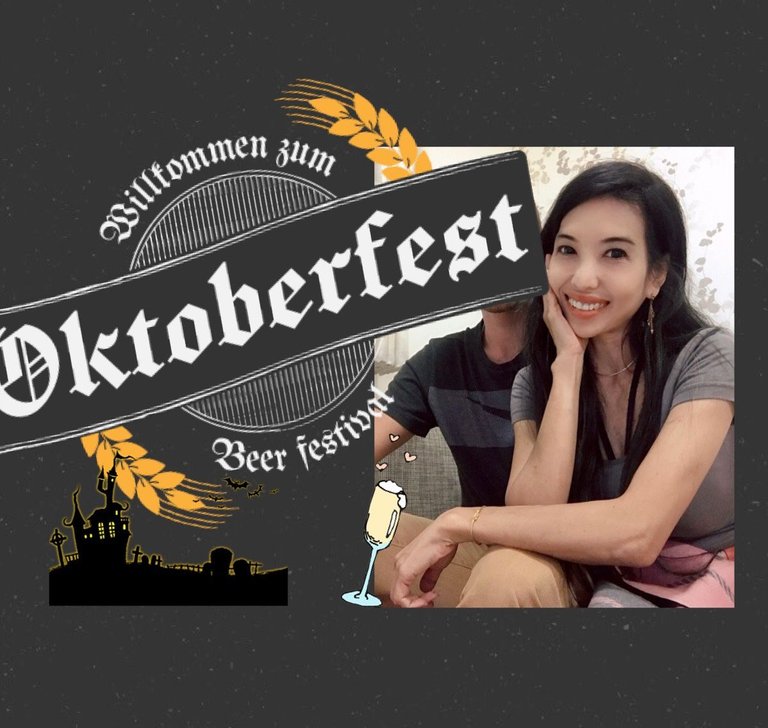 ---
---