Burmese Vegan Egg Curry - Hive Top Chef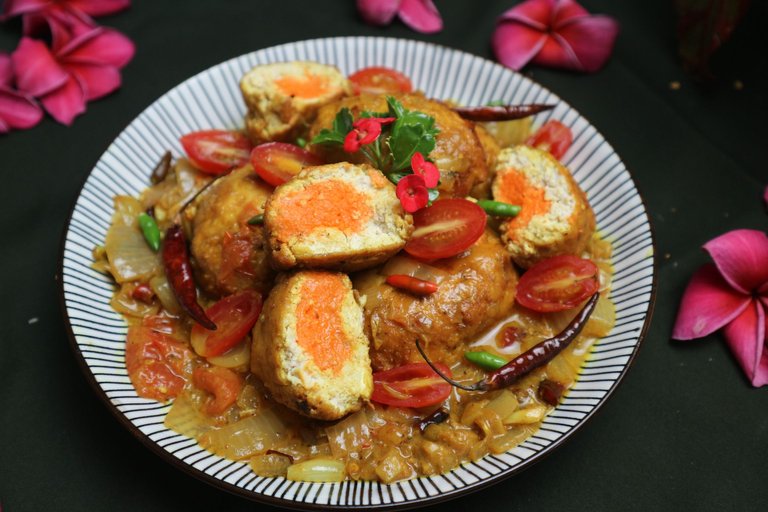 This week on Hive Top Chef the topic is Boiled Eggs. When I saw Boiled Eggs, I immediately thought of Burmese Golden Egg Curry. When I was a child, I grew up with Myanmar workers and this is the reason why I am familiar with Burmese food. And one food that they always do is this Eggs Curry so I got and learn this recipe from them.
Lately, I'm really fascinated with the vegan diet because they are healthy as they come. And They are also free from animal products which makes me feel so good about not harming any animal life. So I did try and create many recipes that avoid animal products including Burmese Vegan Egg Curry as well.
This Burmese Vegan Egg Curry recipe features deep-fried vegan hard-boiled eggs. then cooked alongside in a deeply rich and spicy coconut curry.
I prepared the curry by sautéing the garlic, Burmese shallots, ginger, black peppercorn, coriander seeds, and dried chili. Then add the flavor with mushroom sauce, bird chili, tamarind juice, palm sugar, and miso which I substituted instead of shrimp paste as the original recipe.
I do enhance the flavor by adding turmeric powder and curry powder for aromatic purposes. I also add the tomato and red onion to lift the flavor of my curry.
Lastly, turn that delicious combination into a savory creamy curry by adding coconut cream. It is a delicious, aromatic, and full flavor vegetarian dish.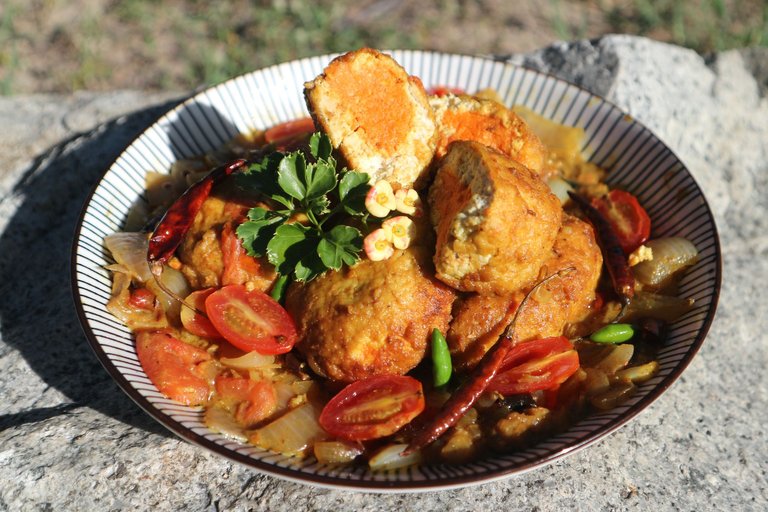 The idea of making vegan hard-boiled eggs was on my mind for a long time and
I've made other vegan egg hard-boiled egg recipes before which were quite similar in look but not always as much in taste. They're savory, soft, and look realistic.
Start with vegan egg yolk, I do use boiled carrots mixed up with some boiled cassava to create an orange creamy egg yolk.
I do use firm tofu for eggs white. This recipe requires rice flour as the natural glue to stick the firm tofu after crumbing and easily forming them as an oval egg shape again.
Lastly, I deep-fried the vegan eggs after steaming them because deep-fry processes will help them to have a harder texture and absorb all the curry beautifully too.
I love these vegan hard-boiled eggs so much, they taste so good at every bite without the cholesterol or cruelty plus extremely healthy.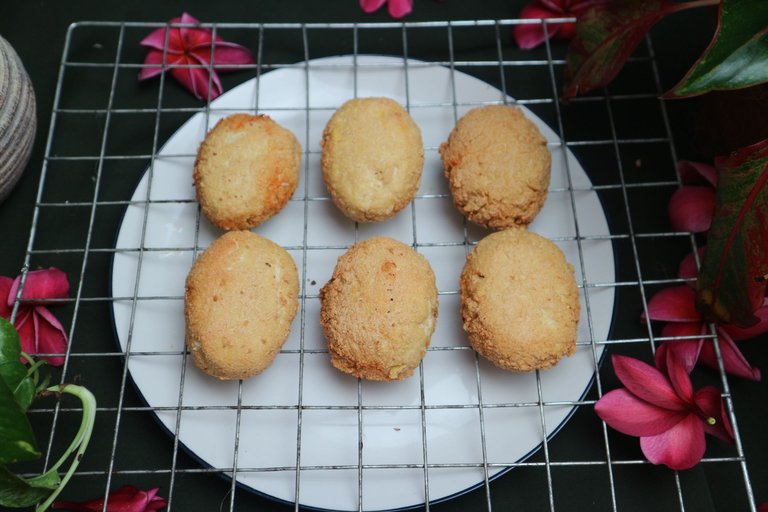 INGREDIENTS
For Hard Boiled Eggs
1 Pack Firm Tofu
1/2 Head Thai Cassava
1/2 Head Carrot
2 Tablespoon Rice Flour
 
For Curry
4 Burmese Shallots
5 Cloves Garlic
Teaspoon Ginger
5 Dried Chili
5 Green Chili
100 Gram Coconut Cream
1 Tablespoon Tamarind Juice
1 Teaspoon Palm Sugar
1 Tablespoon Miso
1 Tablespoon Mushroom Sauce
1 Tablespoon Turmeric Powder
1 Tablespoon Curry Powder
1 Tomato
1 Red Onion
10 Cherry Tomato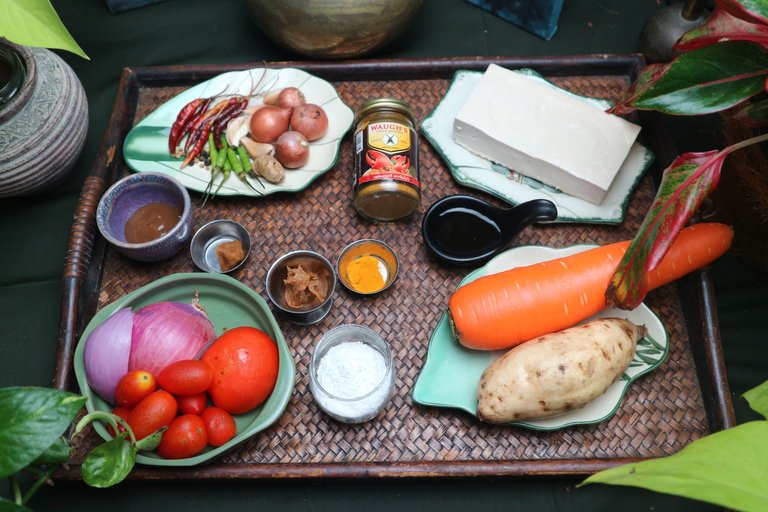 INSTRUCTIONS
STEP 1 - Prepare the Vegetable
Grind the black peppercorn and coriander seeds.
Peel off the garlic, ginger, and shallots skin, then chop them into small pieces.
Cut the dried chili into bite sizes.
Cut the cherry tomato in half.
Cut the red onion and tomato into small cubes.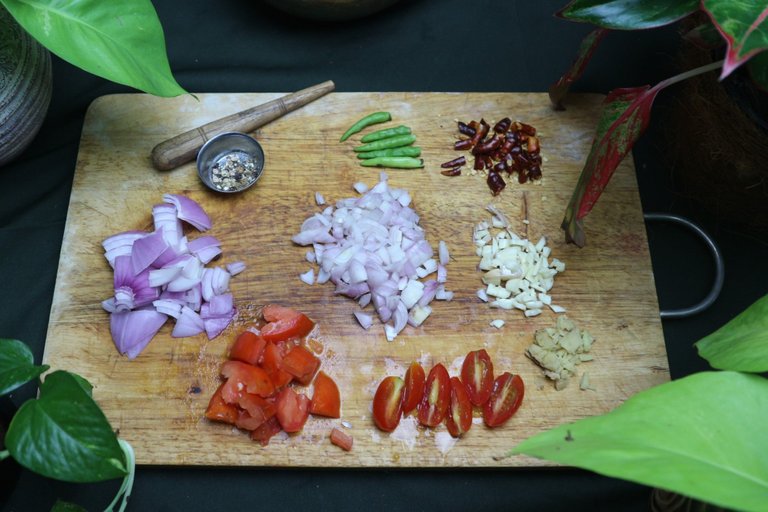 STEP 2 - Making Hard Boiled Eggs
Peel off the cassava and carrot and cut them in half. And then chop them into slices.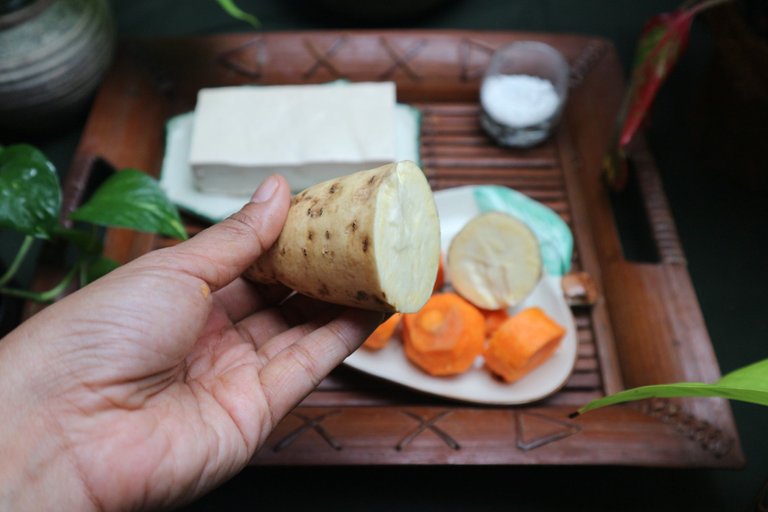 Add the cassava and carrot into a pot. Bring to boil and cook until they are soft for about 10 minutes and keep a check with a sharp small knife into one of the cassava. If it easily slides in and out.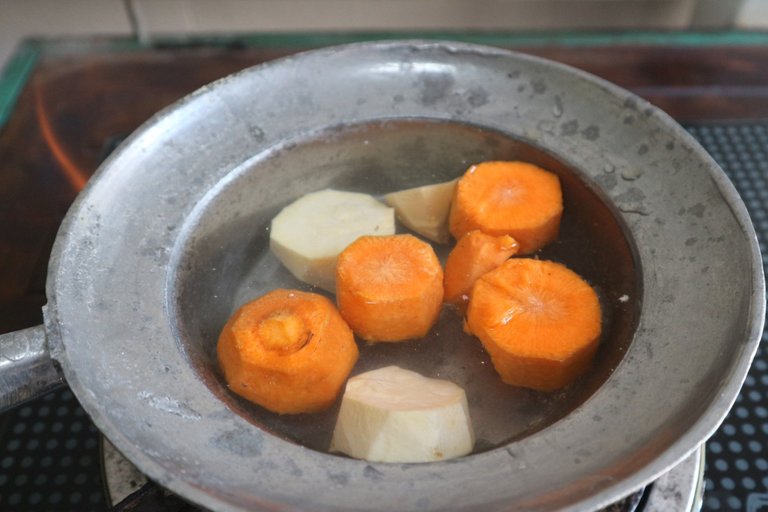 Once they are cooked and tender, then drain them and put them in a bowl.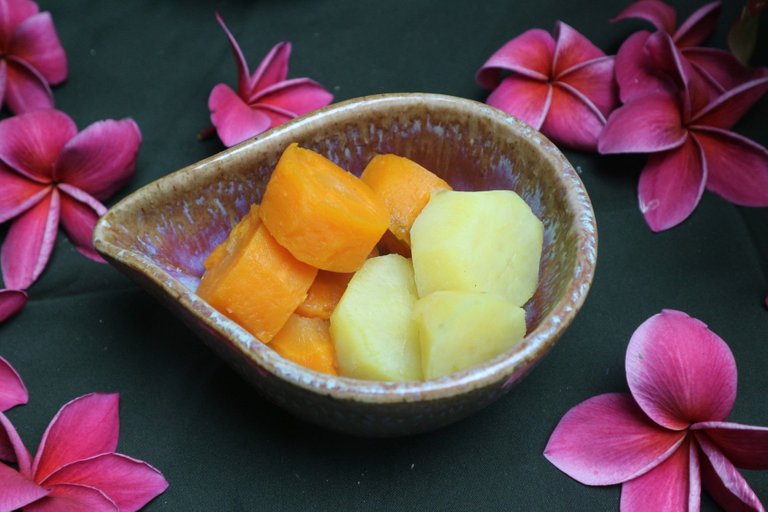 Use a spoon and smash the cassava and carrot while they are still hot, this will make them easier to mashed.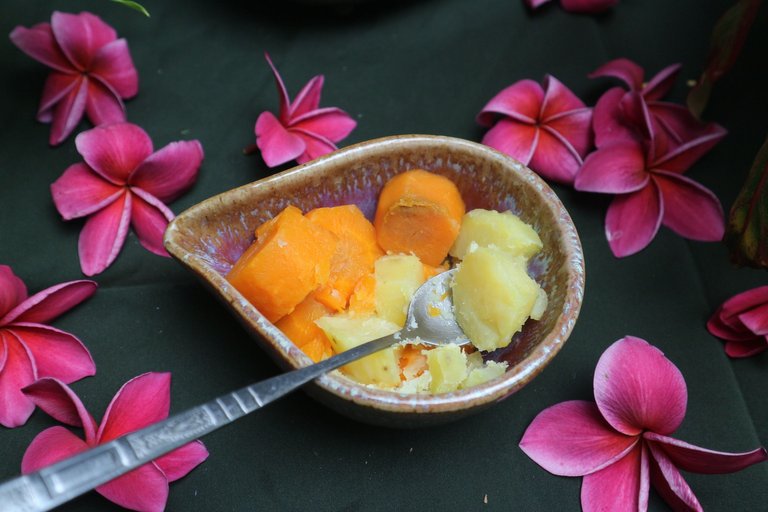 Once the cassava and carrot are mashed, roll them into a ball shape with the hands and put them into the freezer to let them form a bit harder.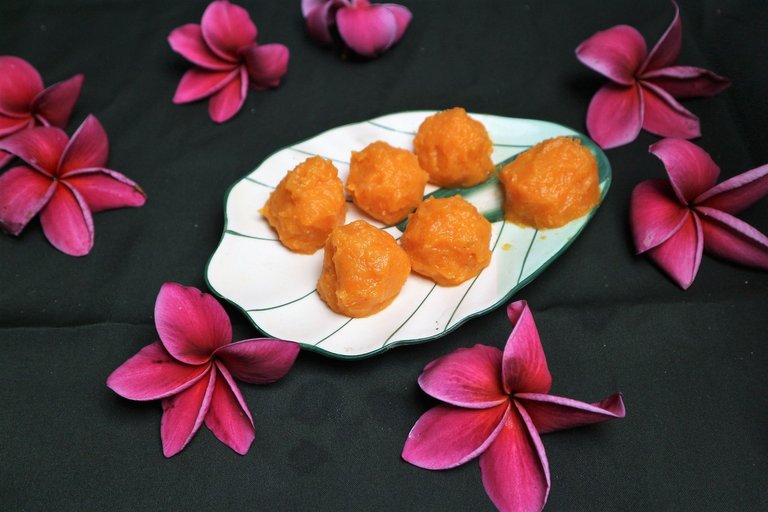 Making the Eggs White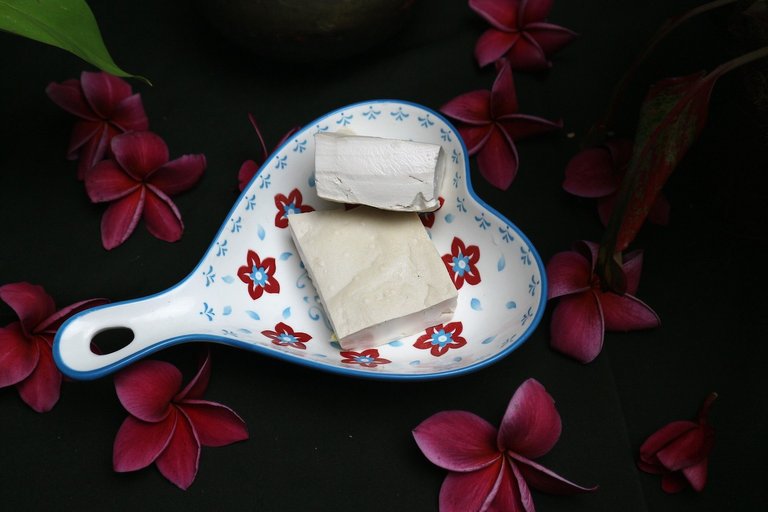 Add the firm tofu into a bowl.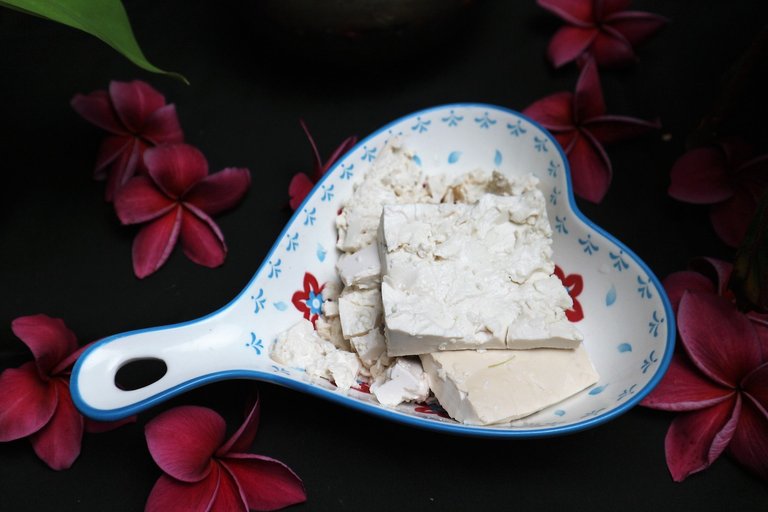 Then press them with fingers or blend them in a food processor until they turn smooth and it's ok to have some lump left. Then add the rice flour and combine them together.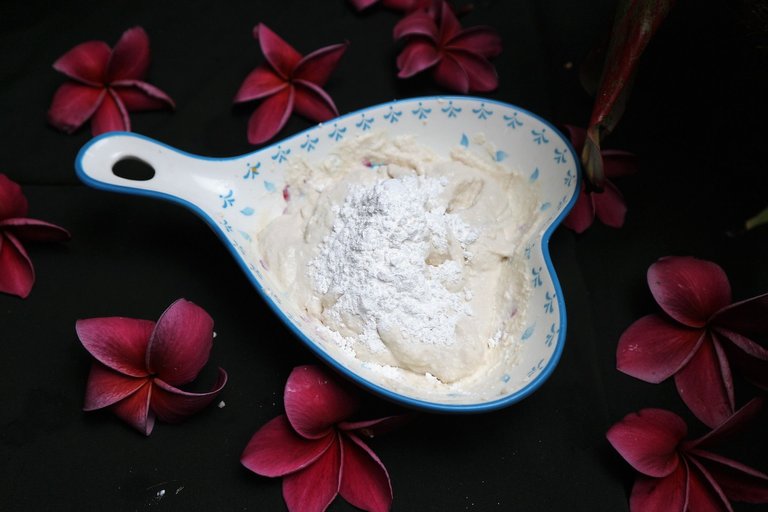 Combine the Vegan Eggs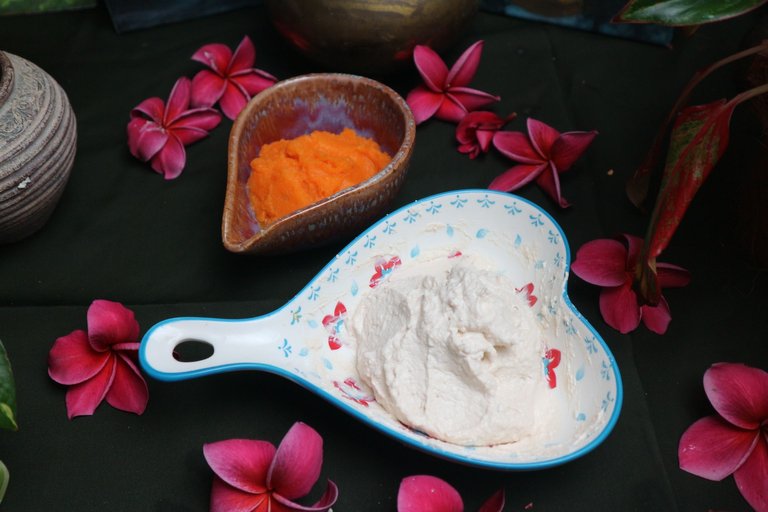 Spread the egg white mixture into my palm and gently drop the egg yolk ball over the egg white mixture then press down the sweet potato ball into the egg white mixture.
 
Spread another portion of egg white mixture on top and form the egg shape. solid.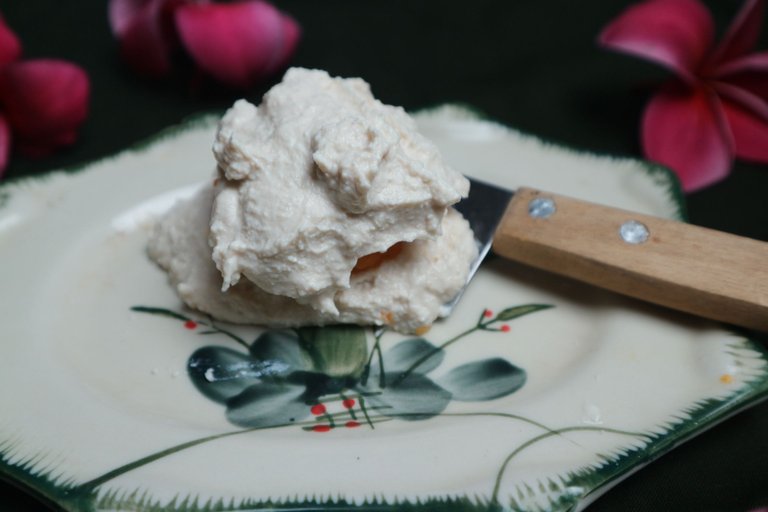 Repeat with the other remaining ingredient.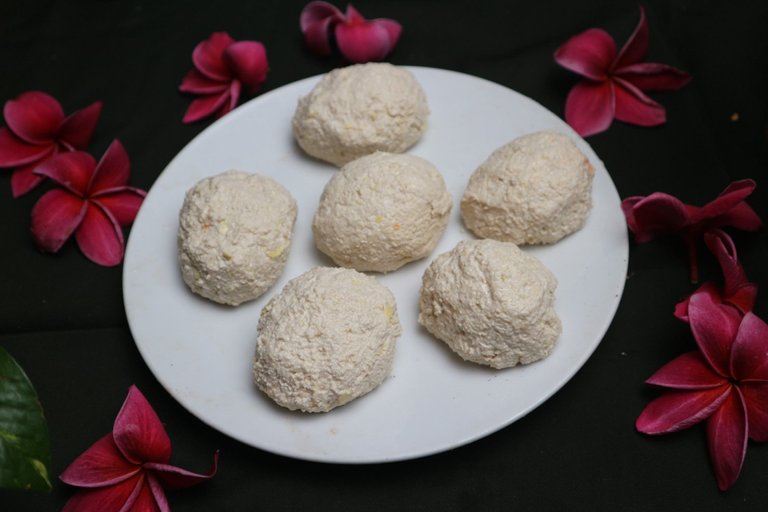 Steam
Drop the plate of vegan eggs in the steamer over medium heat and bring the water to a boil. Then lid on the steamer and steam it for about 10 minutes.
Once the vegan is cooked, turn off the heat and let it cool down a bit.
 
Once turn off the heat, let the steamed vegan boiled eggs completed cool before deep-fry> otherwise, they will break and explode while deep deep-fry.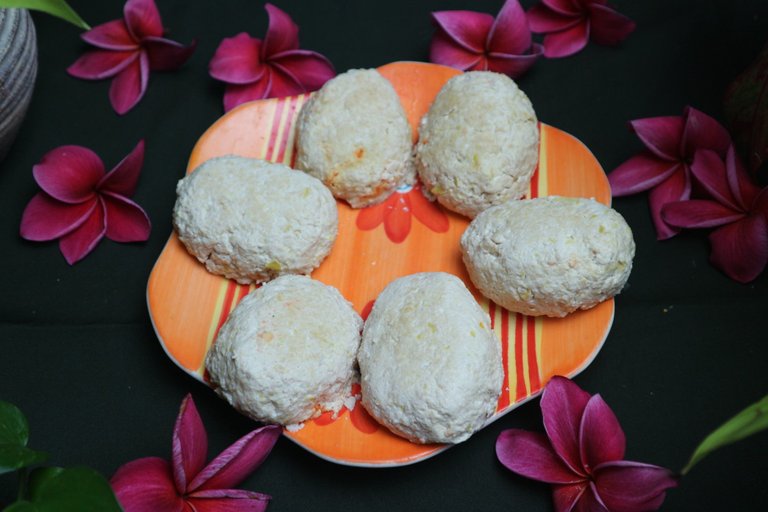 Deep-Fry
Heat a small wok over high heat. And add half a cup of vegetable oil. Then gently place the vegan boiled eggs one at a time in the wok.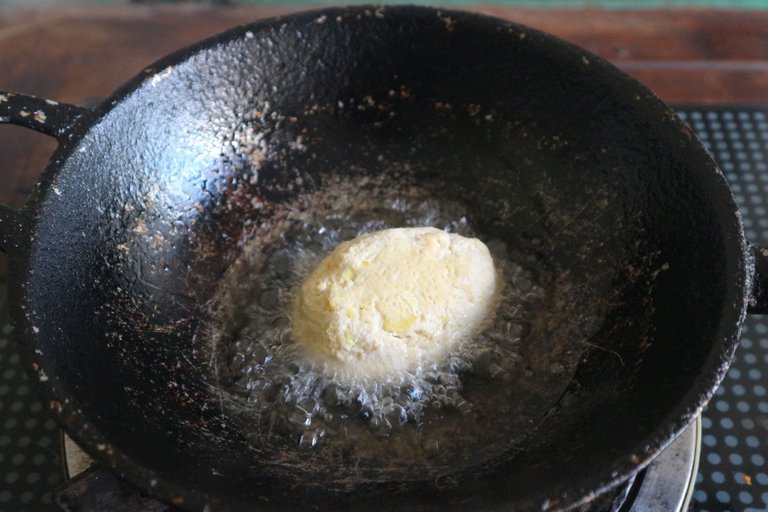 Deep fry both sides until slightly golden yellow for about 3 minutes on each side.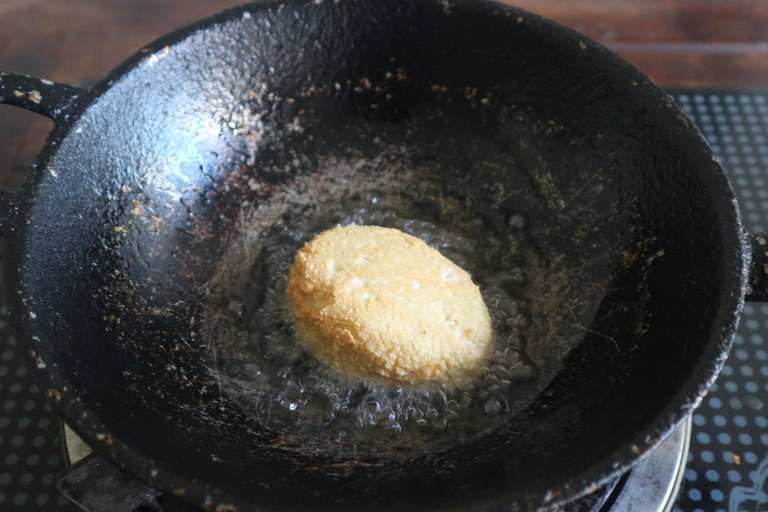 Once the vegan boiled egg is crunchy crisp and transferred from the wok and rest them on the rack. Repeat to deep-fried another batch of vegan boiled eggs and set them aside.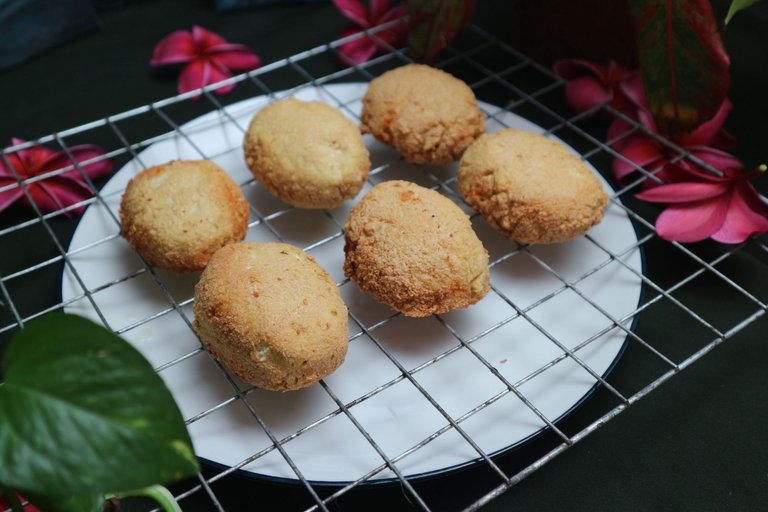 STEP 3 - Making the Curry
Firstly, add Canola oil to the pan over medium heat and let it warm up before adding the shallots. Then start by sautéing the chopped shallots and cook the shallots for a few minutes until they start dazzling and release the fragrance aroma. Then add the garlic, ginger, and dried chili. Then stir well for an additional one more minute.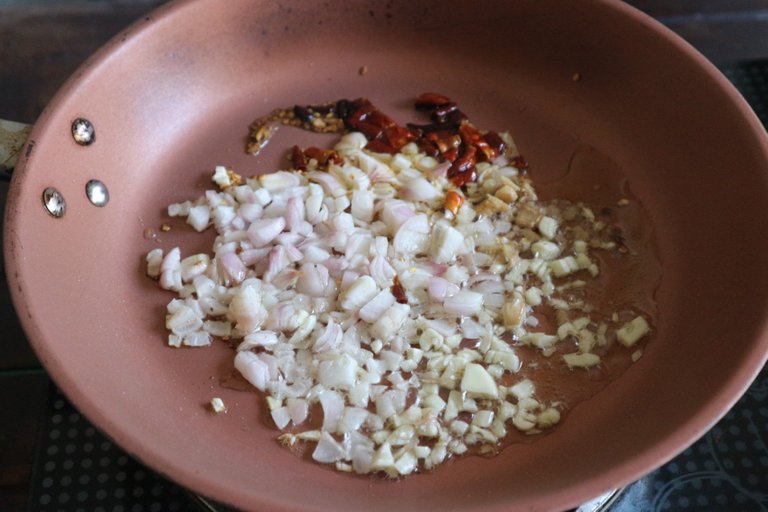 Add red onions, tomato, black peppercorns, coriander seeds, turmeric powder, and curry powder. Then season with miso, mushroom sauce, palm sugar and tamarind juice. let stir until the palm sugar melts and all the season sauce caramelized all over the vegetables.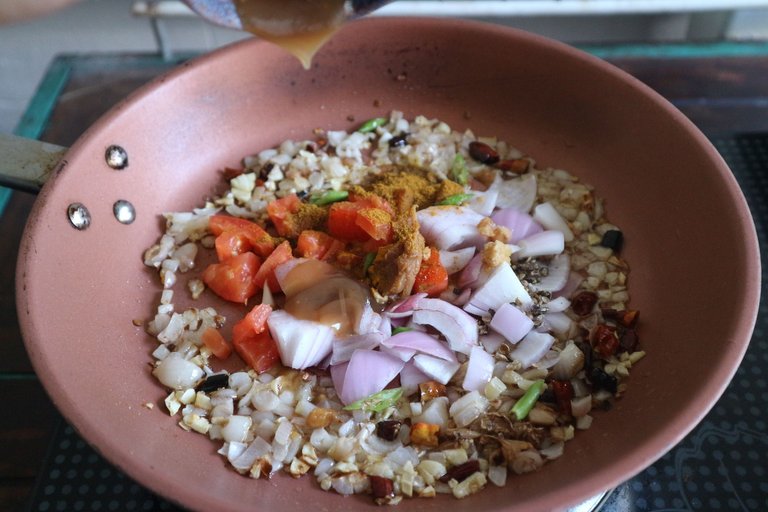 Once the curry base gets slightly cooked and pours the coconut cream into the pan. Then reduce the heat to low heat and let all the curry broth bring to a boil and simmer for a couple of minutes.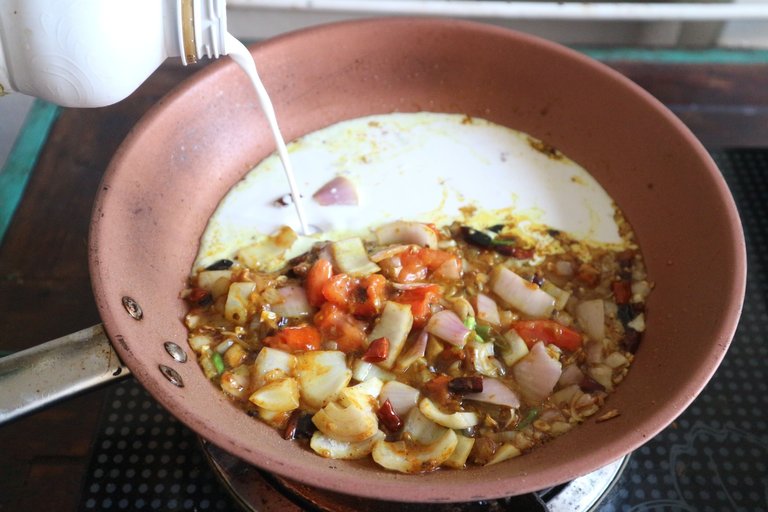 After the coconut curry is cooked, then gently add the vegan boiled egg into the pan.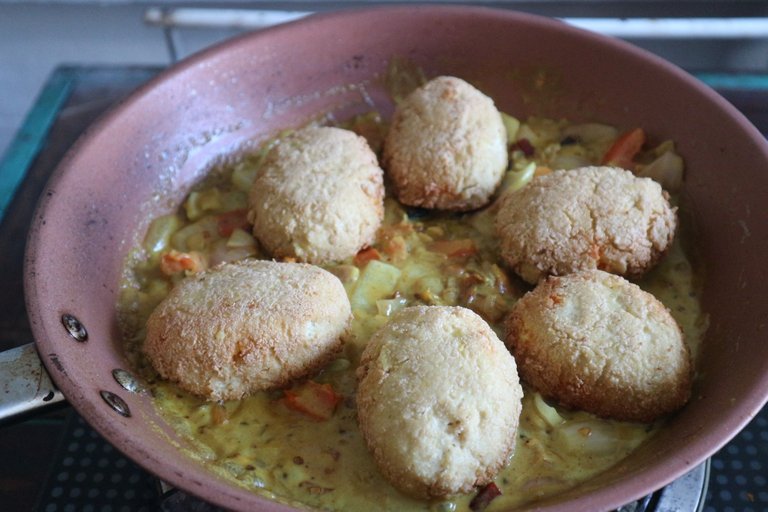 Gently whisk and be super careful to not break the vegan boiled eggs. Continuously whisk until all the curry gravy is evenly combined and the curry has been thicker and caramelized all over the vegan boiled eggs.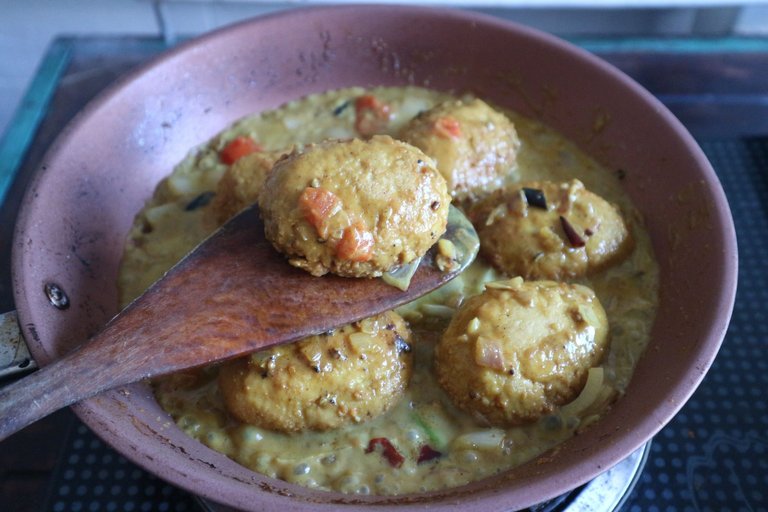 FINAL STEP - PLATTER
To serve, lay the curry at the bottom of a serving bowl. Then gently top the vegan boiled eggs over the curry. Lastly, garnish with fresh chili, dried chili, and cherry tomato.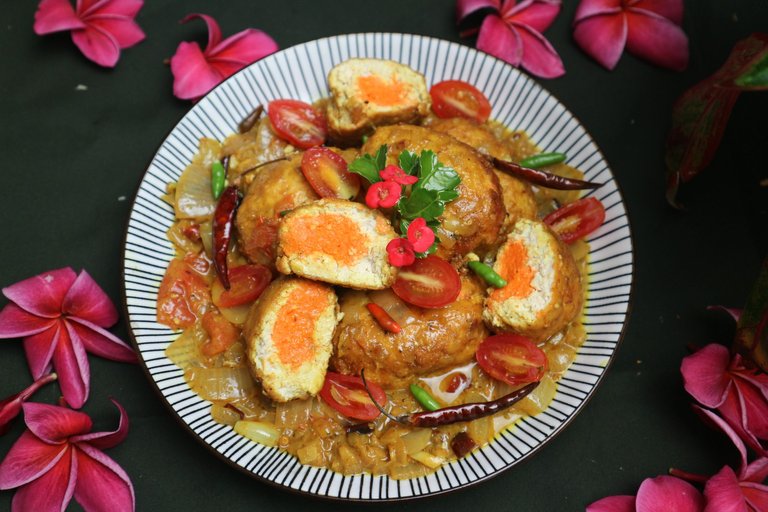 As a result, the flavors of Burmese Burmese Vegan Egg Curry are spicy, sour, salty, sweet and creamy. For this recipe, I end up with 6 large boiled eggs and have them with steam jasmine rice. I do recommend to finished them up the first cooked and having no leftovers.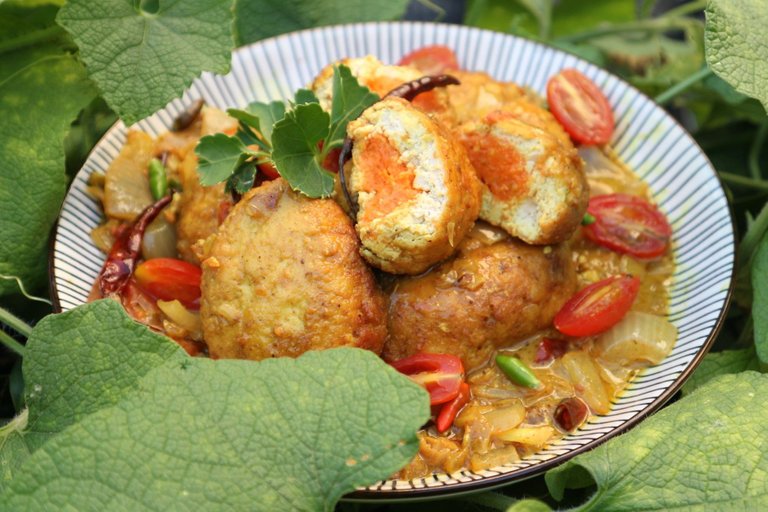 ---
---