German Kartoffelknödel - Stuffed Tricolor Potato Dumplings

Dumplings are a favorite in German cuisine including bread dumplings, noodle dumplings, flour dumplings, soft egg dumplings, filling dumplings, semolina dumplings, yeast dough dumplings, sausage meat dumplings, small butter dumplings, and potato dumplings. I would love to say that Germany is a beloved land of dumplings. And they are lovingly served with everything but often they are simply enjoyed on their own as the main dish.
So today I decide to make an easy and hearty vegetarian recipe for German Kartoffelknödel, Stuffed Tricolor Potato Dumplings for lovely Sunday lunch with my family.
While some German potato dumpling recipes include eggs, my recipe does not and is kept very simple by using sweet potato instead of white potato which differ in appearance and taste. Sweet potatoes are often promoted as being healthier than white potatoes. Partly because of their incredibly high vitamin A content and a generally lower glycemic index may help lower blood sugar and manage our weight quite well.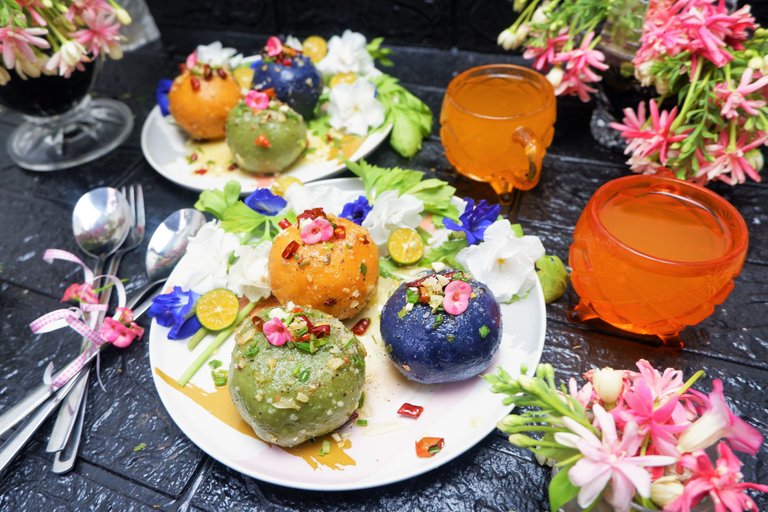 The Stuffed Tricolor Potato Dumplings that I focus on in this post is especially loved in Bavaria, known as Kartoffelknödel and they are often prepared with a tasty filling inside. These filling, pillowy potato dumplings are one of Germany's best-loved comfort foods and are super easy to make.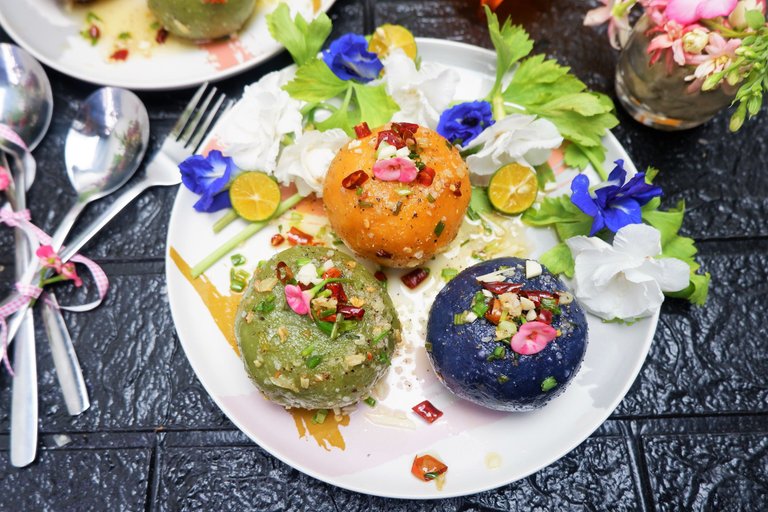 Making My German Kartoffelknödel Without Eggs
As I mentioned above, I do use sweet potato for my Tricolor Kartoffelknödel to produce 3 different colors of my dumplings. It's so a fun way to give these new varieties a taste and appearance. There are some varieties of sweet potatoes that I used for my recipe, like green sweet potatoes, orange sweet potatoes, and purple sweet potatoes. This variety is named so due to the color of its flesh.
Firstly I simply boiled sweet potatoes and mash them with combinations in the three blends of potato starch, corn flour, and buckwheat flour. Then I add vegan butter for creamy and rich purposes. Then I season with salt and pepper for taste.
For the filling. I fry up some chopped garlic, shallots, carrots, jelly mushroom, enoki mushrooms, soy meat, salt, and pepper to place in the middle of the dumplings.
Then I form the potato dumplings into a ball and insert the stuffing inside.
To cook the German Kartoffelknödel, simply boil them for 10 minutes in boiled water or until they float.
Topped them with a chili garlic sauce by sautéing garlic, dry chili flake, spring onion, salt, and black pepper in a pan and tossing with the boiled potato dumplings to combine, then garnish with Parsley and Calamansi wedges.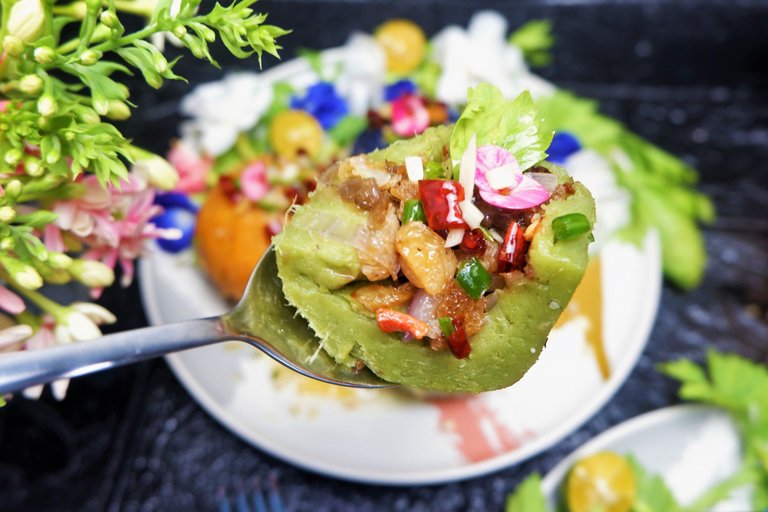 INGREDIENTS - POTATO DUMPLINGS
1 Green Sweet Potato
1/4 Cup Potato Starch
2 Tablespoon Corn Flour
2 Tablespoon Buckwheat Flour
1 Tablespoon Vegan Butter
Pinch of Salt and Pepper
---
1 Purple Sweet Potato
1/4 Cup Potato Starch
2 Tablespoon Corn Flour
2 Tablespoon Buckwheat Flour
1 Tablespoon Vegan Butter
Pinch of Salt and Pepper
---
1 Orange Sweet Potato
1/4 Cup Potato Starch
2 Tablespoon Corn Flour
2 Tablespoon Buckwheat Flour
1 Tablespoon Vegan Butter
Pinch of Salt and Pepper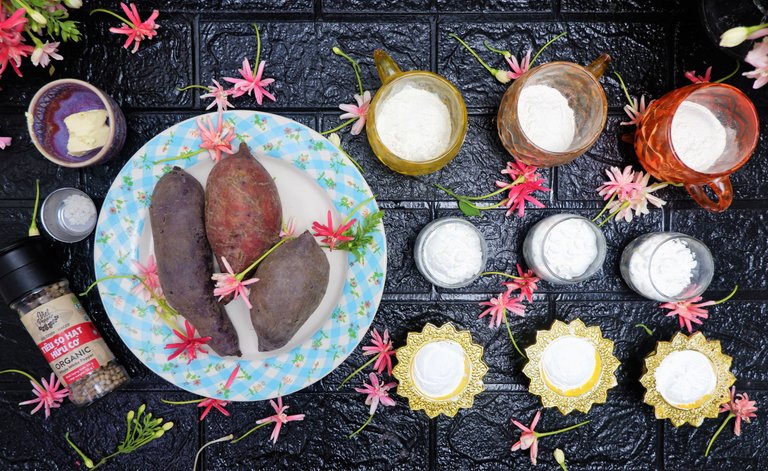 INGREDIENTS - FILLING and Sauce
1 Tablespoon Truffle Oil
7 Cloves Garlic
5 Dry Red Chili
3 Tablespoon Chop Carrots
1 Shallot
1/4 Cup Jelly Mushroom
1/4 Cup Enoki Mushroom
2 Spring Onion
2 Parsley
1 Cup Soak Soy Proteins
Pinch of Salt and Pepper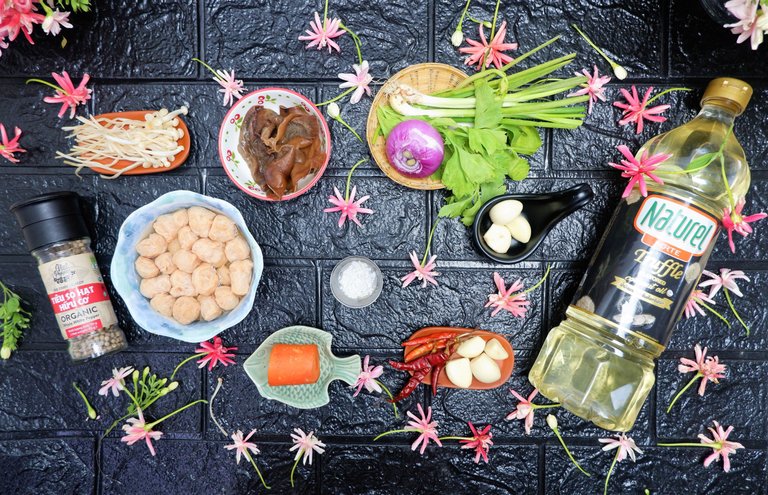 INSTRUCTIONS
STEP 1 - BOILED SWEET POTATO
Place the sweet potatoes in a large saucepan, and fill with enough water to cover the tops of the potatoes. Cook on medium to bring water to boiling, then reduce heat to low and gently boil for 15 minutes or until potatoes are tender. Keep a check with a sharp small knife into one of the sweet potatoes if it easily slides in and out.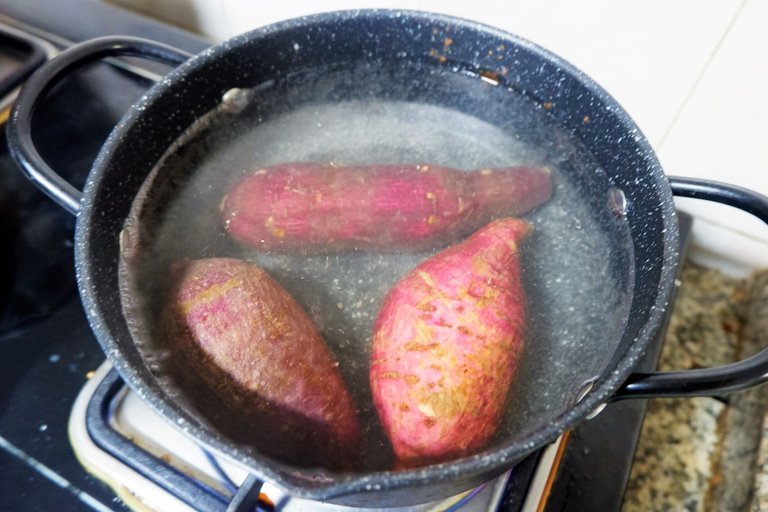 Transfer cooked potatoes to a colander to drain off water and start to slip off the peels with a sharp knife, then discard and removed the peels.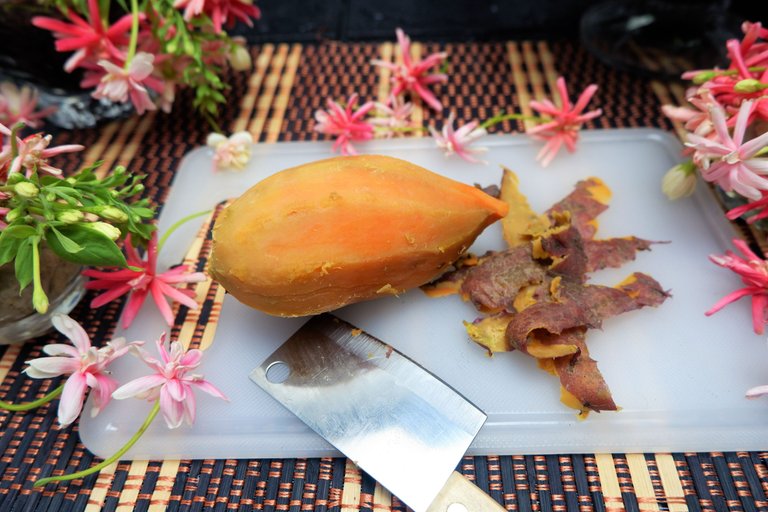 COMBINE THE FLOUR WITH BOILED POTATO
Place the potato starch, corn flour, buckwheat flour, vegan butter, salt, and pepper into the individual sweet potato.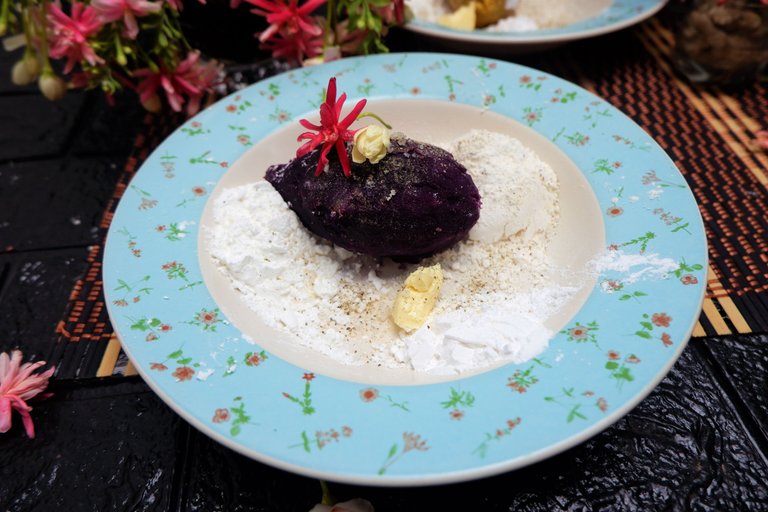 Repeat and add the ingredients with another remaining sweet potato.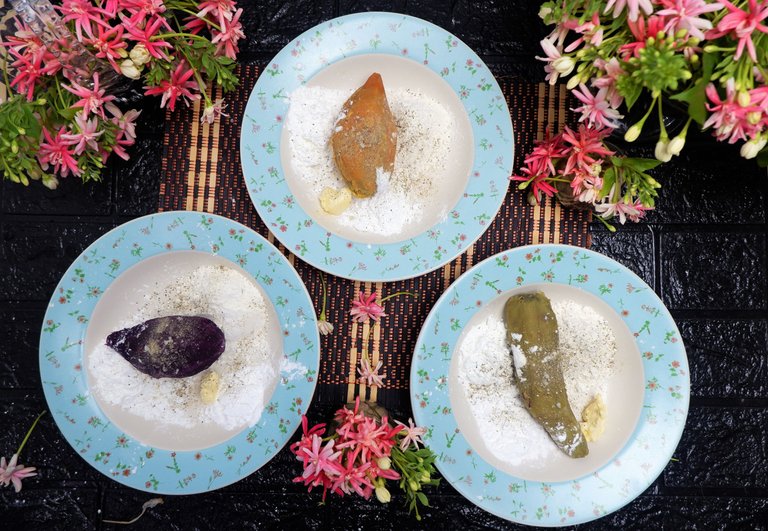 Combine them with the hand until they are forming a sticky dough.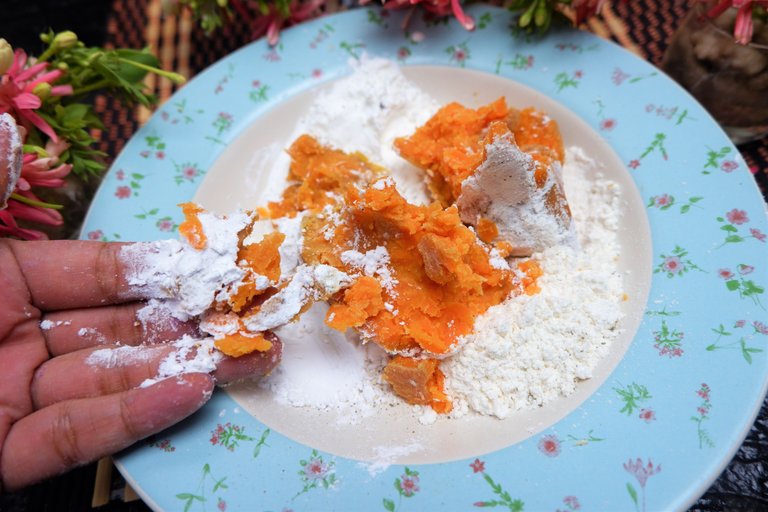 Transfer to a clean floured surface.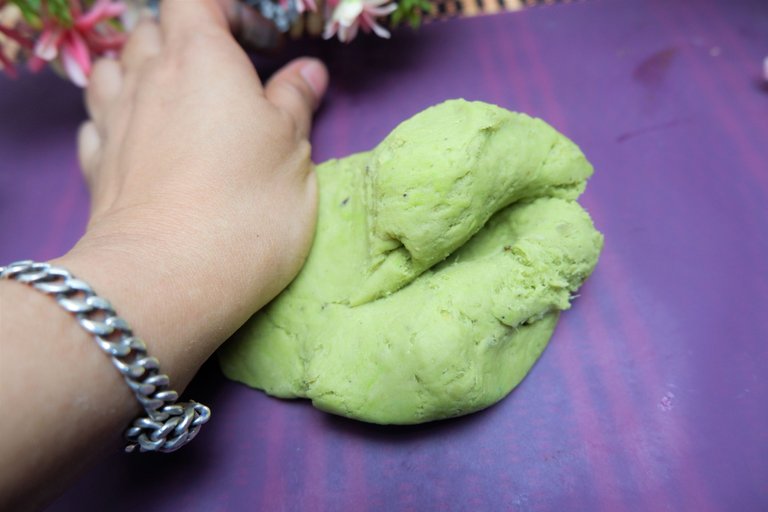 Keep kneading the mixture for about 5 minutes until everything is well mixed and can easily form the dough and no lump of sweet potatoes left.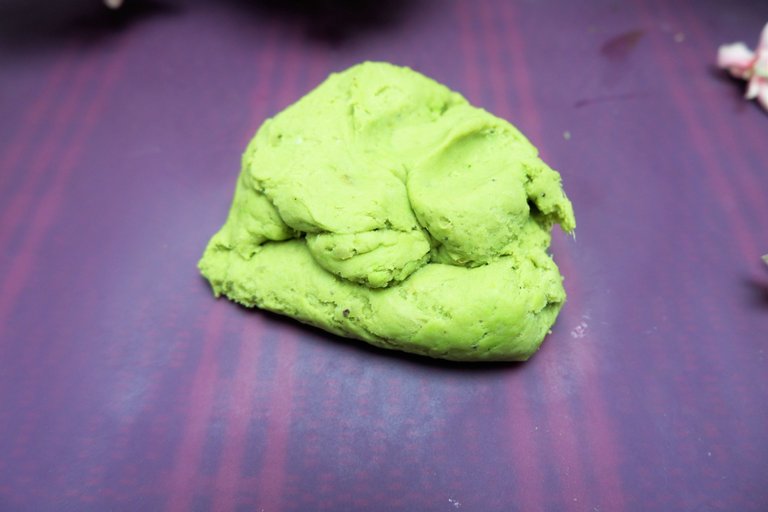 Repeat with the remaining sweet potato.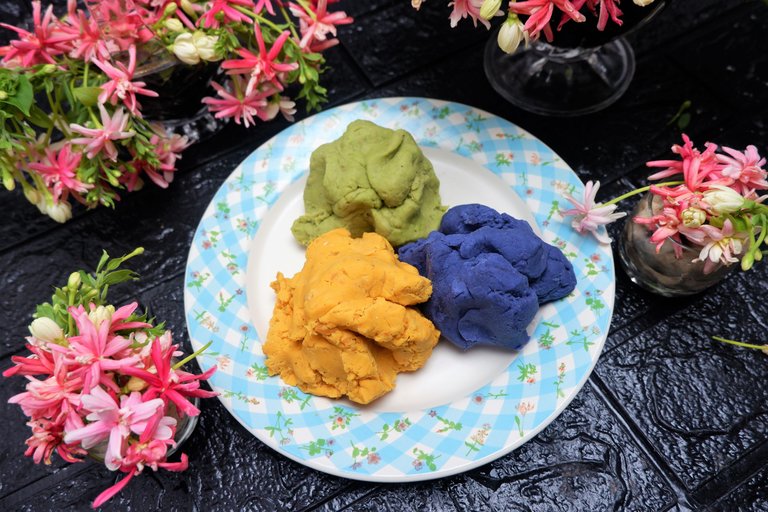 Roughly divide each dough into 2 equal portion sizes.
 
Then roll each dough out into the ball, then cover with a kitchen towel and set aside.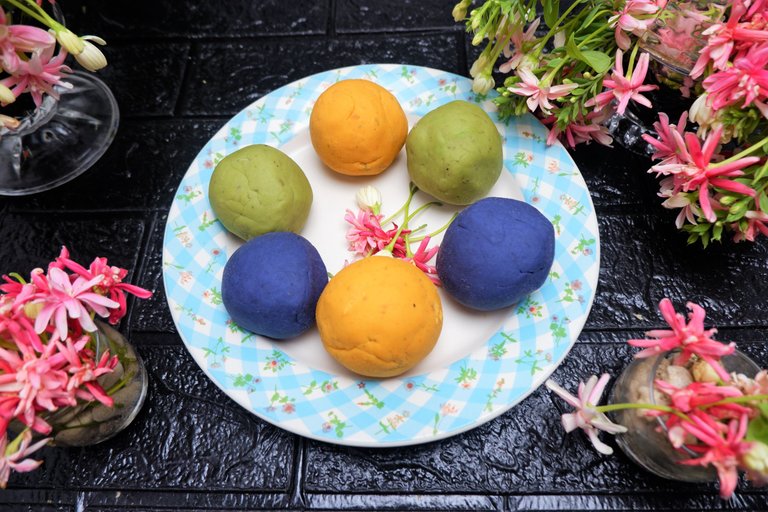 STEP 2 - PREPARE THE VEGETABLE
Slice the jelly mushrooms into the thin slice.
Let's soak the soy meat in the water for about 10 minutes. Once the soy meat soaks enough water then it'll turn fluffy and look like a ball of real meat again. Then squeeze the water out and chop them into small cubes.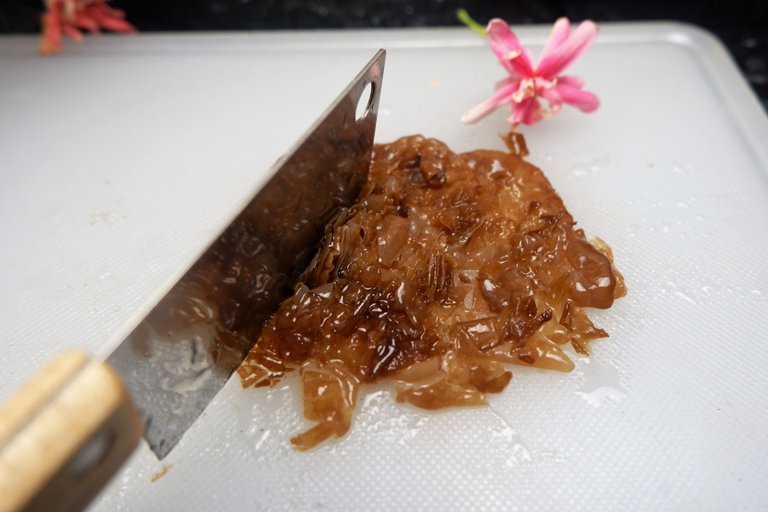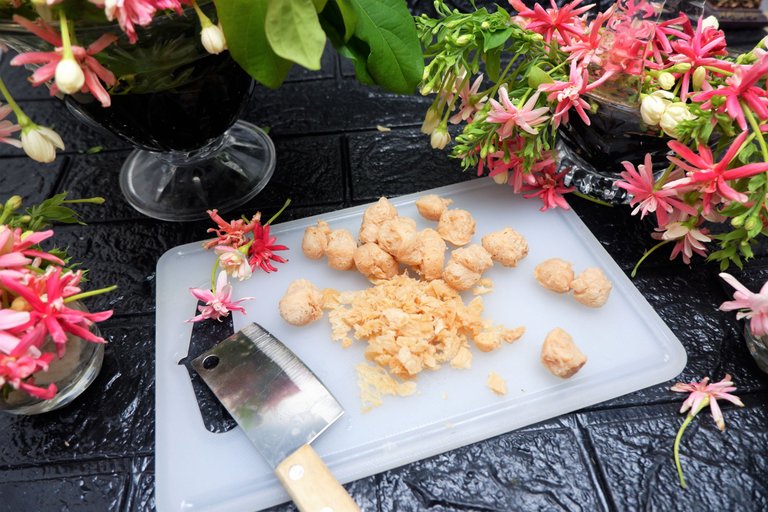 Peel off the garlic and shallot skin. Then slice the thin slice and chop the garlic into small pieces.
Chop the carrots and enoki mushrooms into small cubes.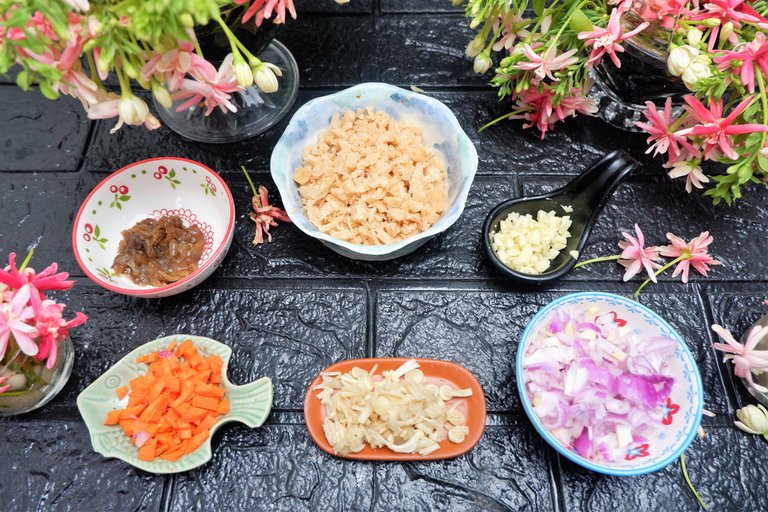 STEP 3 - FRY THE FILLING
Heat the saucepan over medium heat and add the truffle oil. Add garlic, then whisk until the smallest pieces of garlic start to turn dizzying. Then follow with chop soy meat to the saucepan. Sauté them and keep stirring for a few minutes more.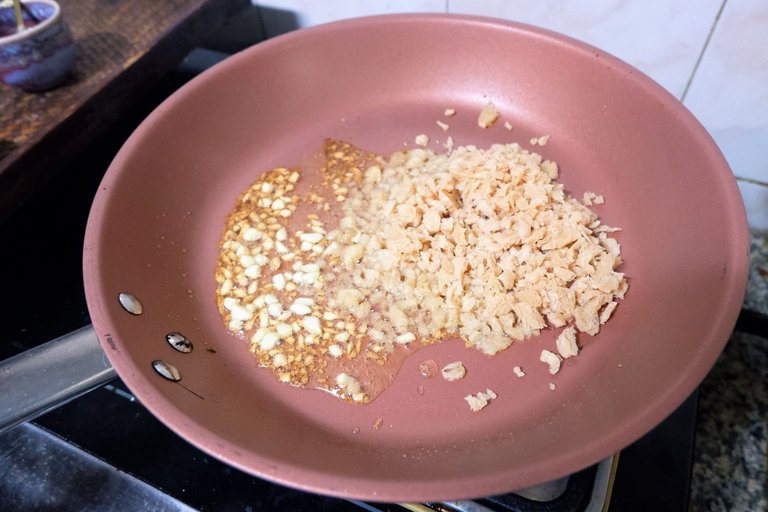 Once the garlic and chopped soy meat are cooked and slightly charred, then add the carrots, jelly mushroom, shallots, and enoki mushroom. Stir them all together and let all the ingredients sit without stirring for about 2-3 minutes.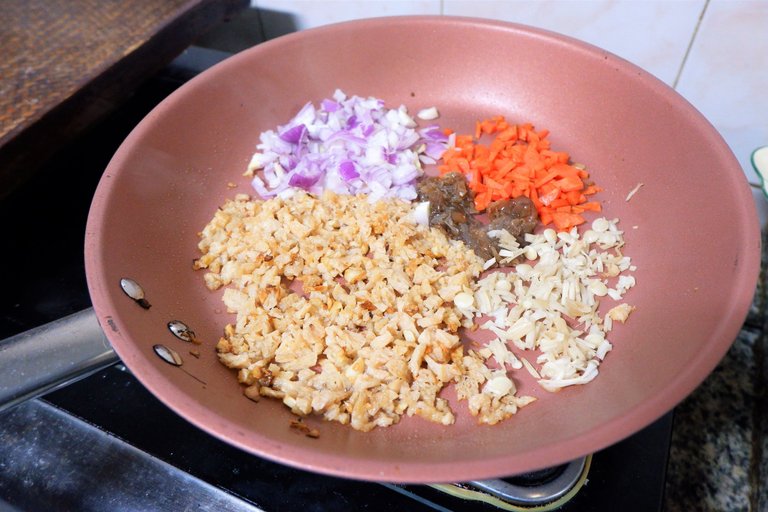 Season the filling by adding some salt and ground pepper for taste.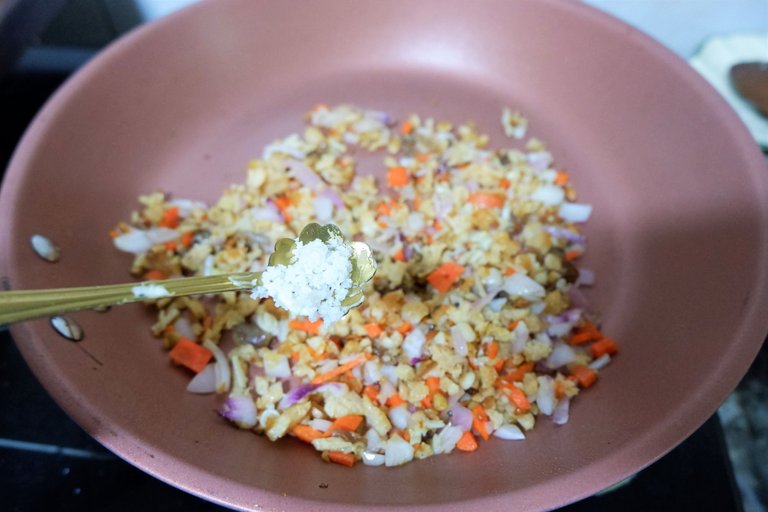 Continue whisk by using the wooden stirring spoon to combine all the ingredients.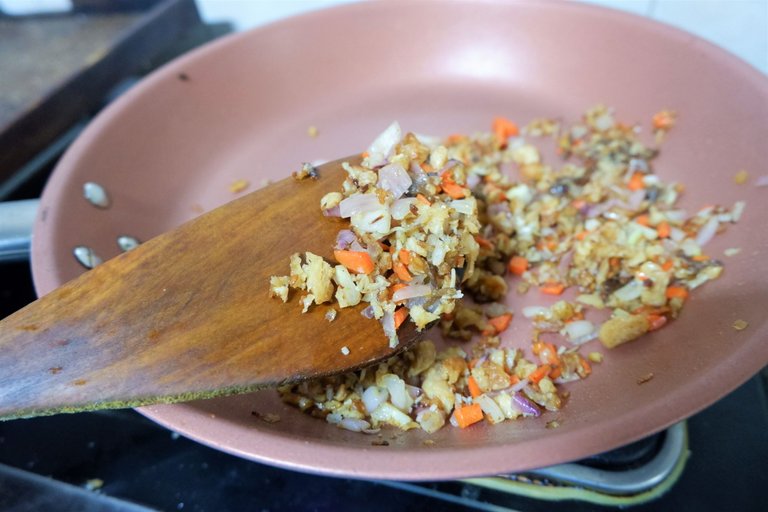 Once all the ingredients are well combined, turn off the heat and set the filling aside.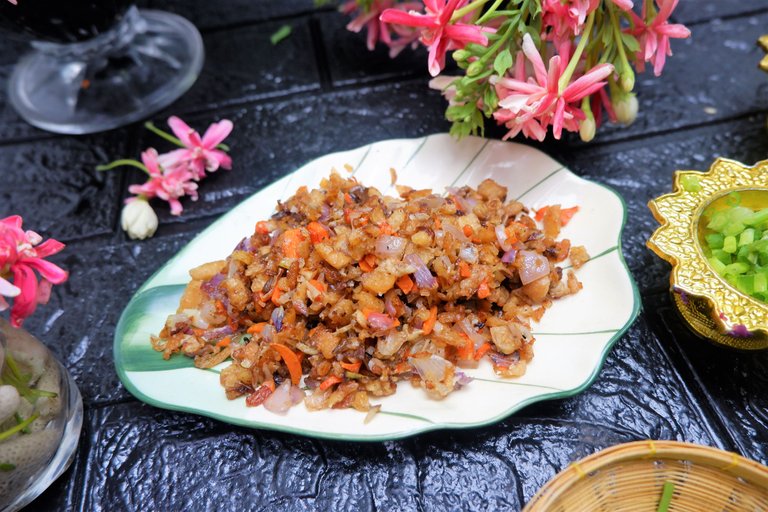 STEP 4 - COMBINE THE POTATO DUMPLINGS
Wet the hand with a little bit of water. Put one dumpling dough of purple potato into the palm and spread it out as a flat circle shape.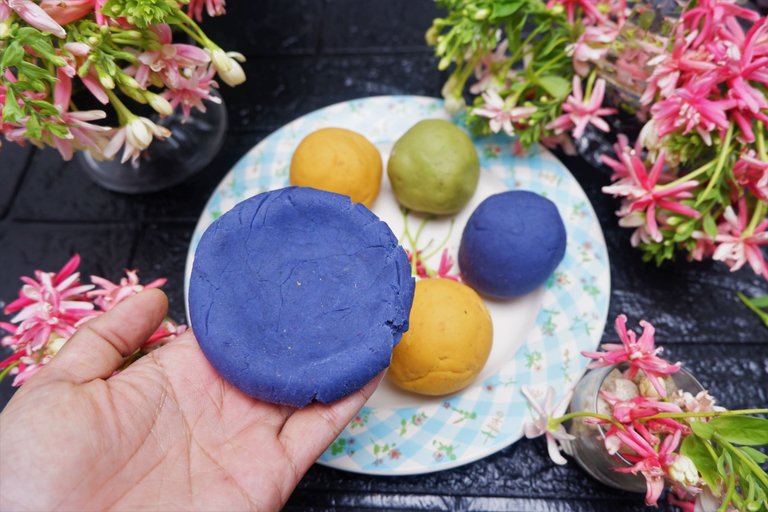 Then place about a spoonful of filling on the purple sweet potato.
 
And wrap the dumpling dough around the filling to form a ball.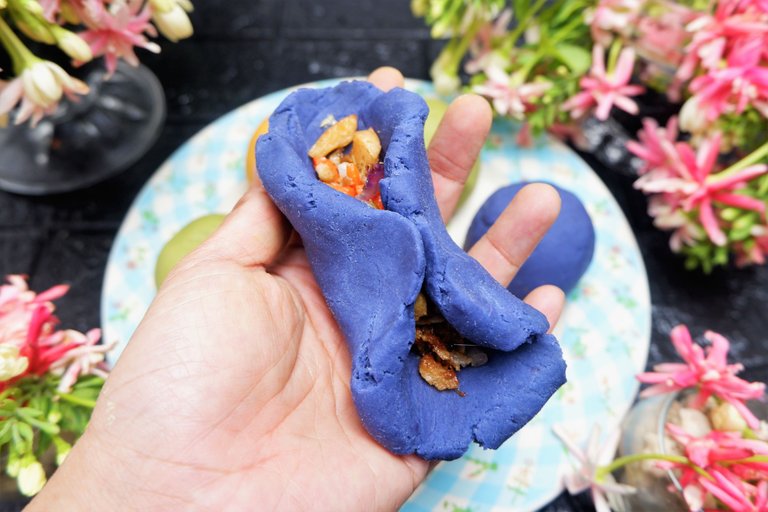 Then pinch tightly to seal.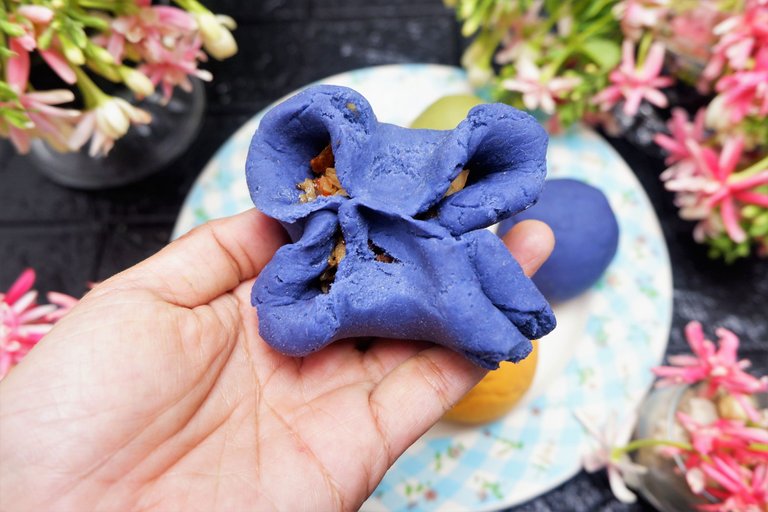 It may need to remove the excess dumpling dough at the end and roll the dumpling dough into the ball.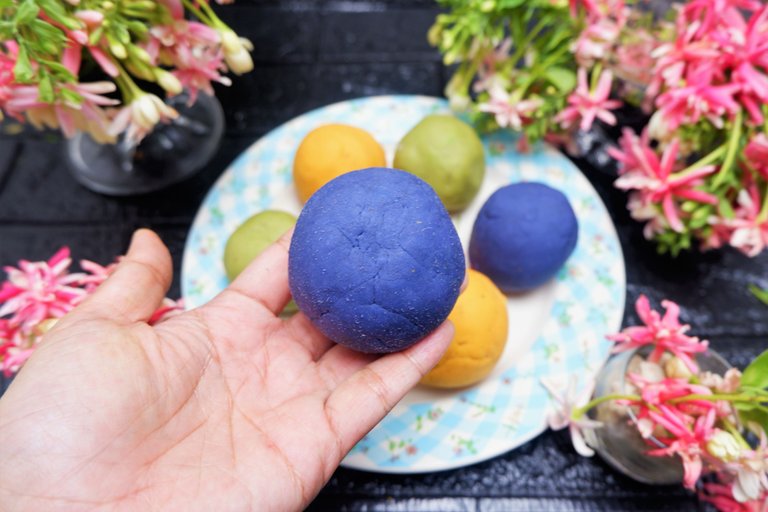 It's quite easy to wrap the dumpling dough and repeat with the green sweet potato.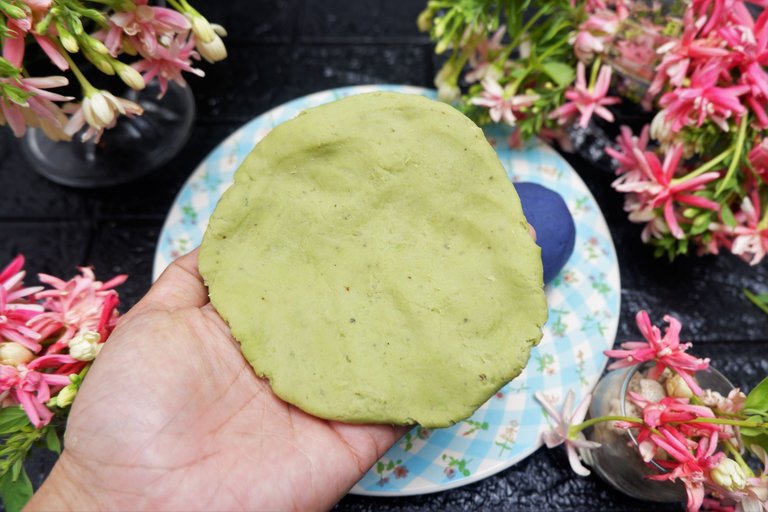 Once the filling is added.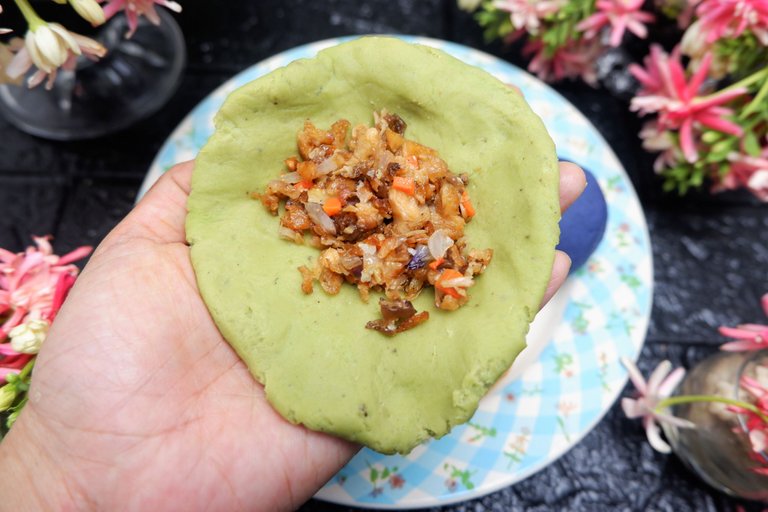 Then simply pinch the dumpling dough together to seal the dumpling dough.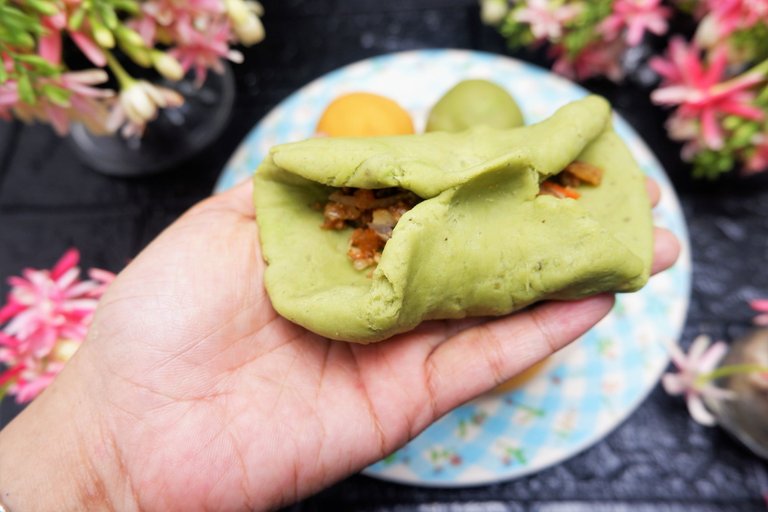 Pinch the dumpling dough together, so the dumpling dough sheet is cover all the filling.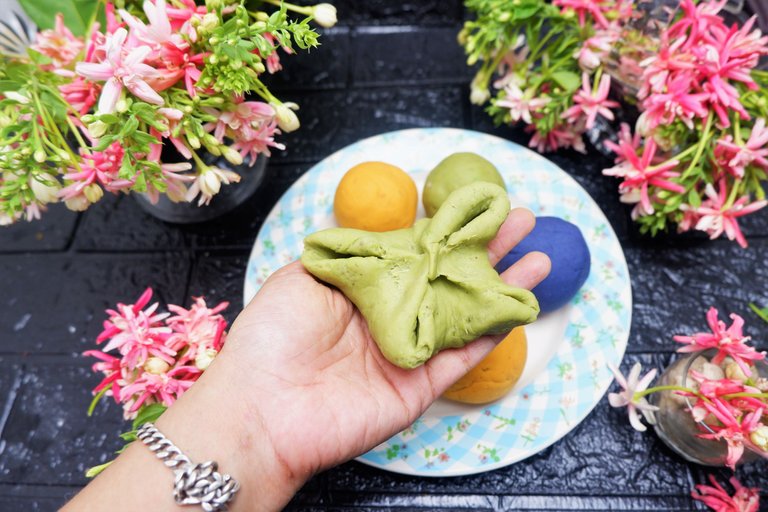 Try to form the dumpling together.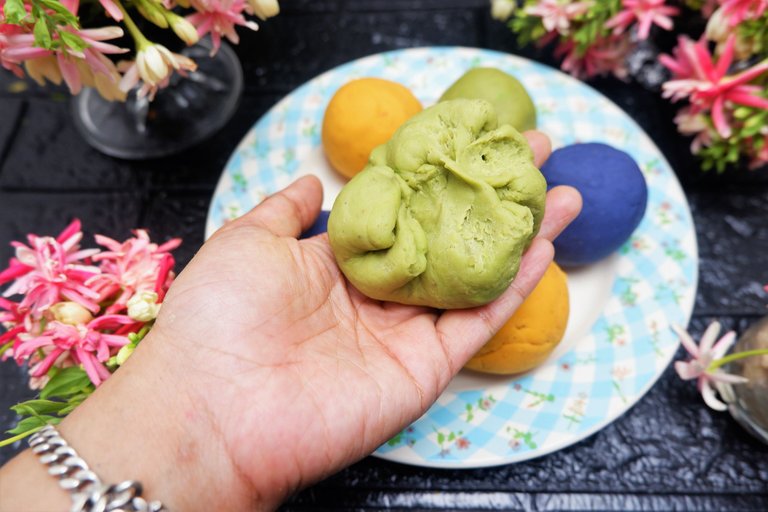 Place it upside down, so the top of the dumpling is smooth.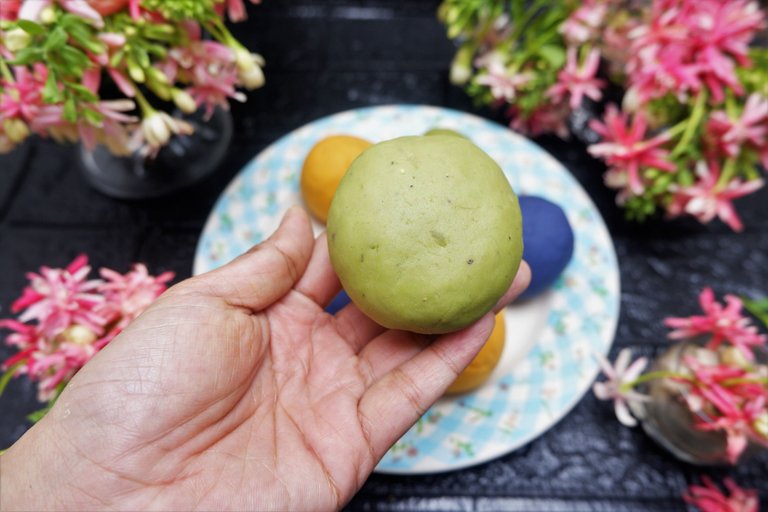 Repeat filling the dumping with another remaining sweet potato and flatten the dumpling dough by hand.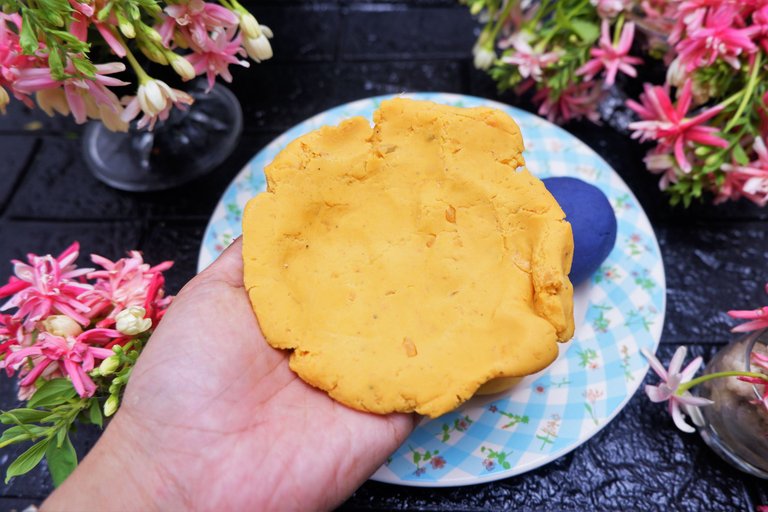 Place a spoonful of the prepared stuffed filling into the center.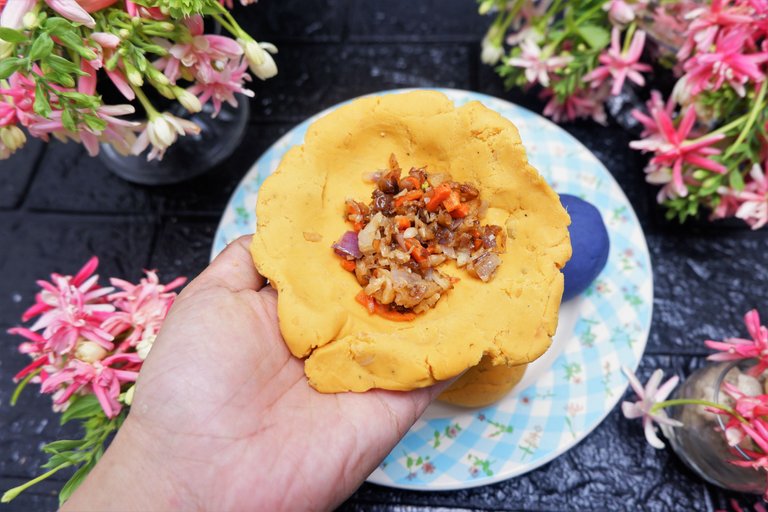 Seal the edges together to create a dumpling ball.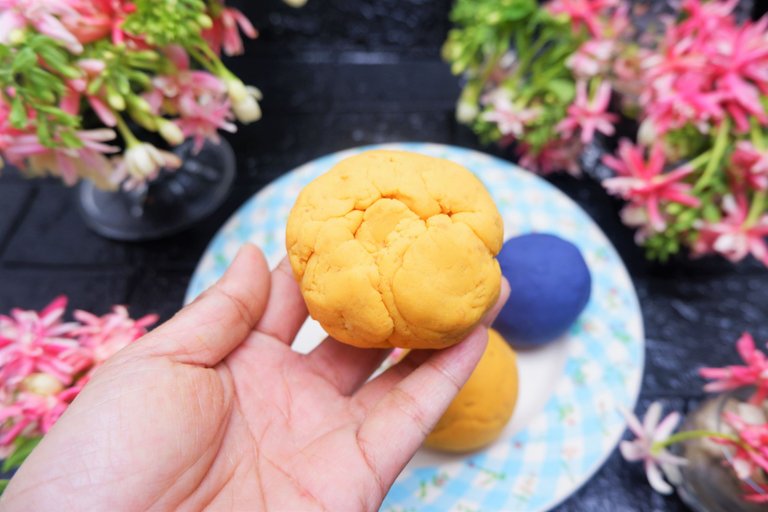 Roll the dumpling dough into a ball.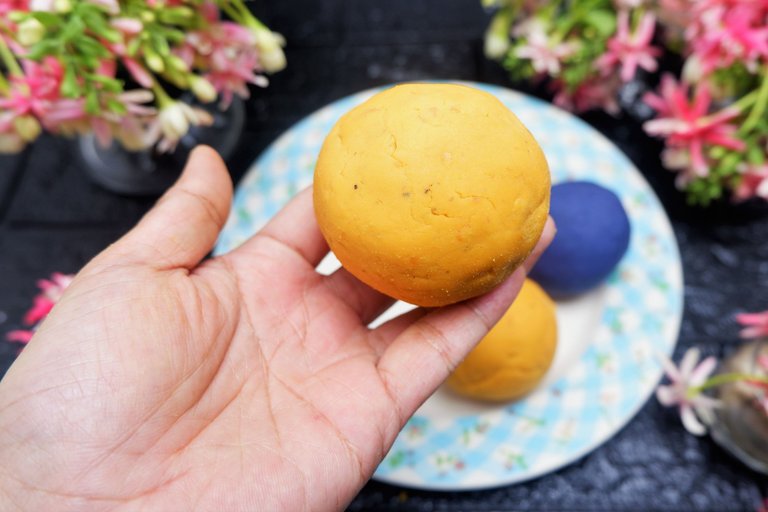 Continue with the remaining dumpling dough and filling. Cover the dumpling with a kitchen cloth and let sit for 10 minutes.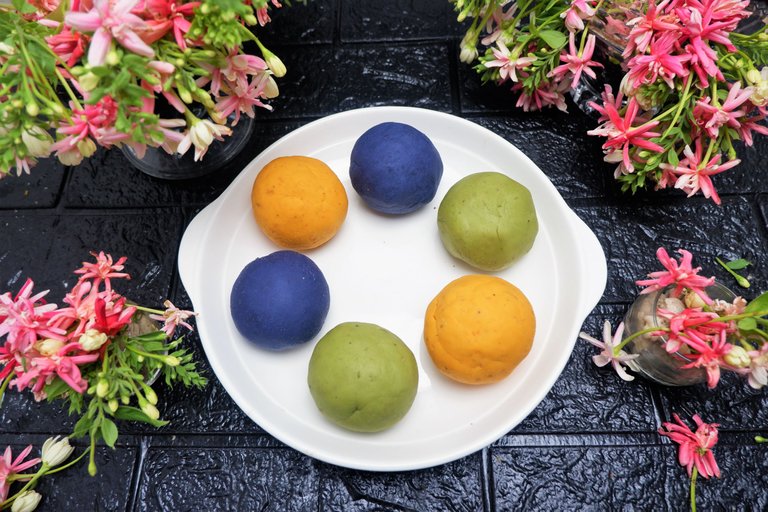 STEP 5 - BOILED THE DUMPLINGS
Bring the water to boil over high heat and gently place the formed dumping into the boiled water. Once add the dumpling into boiled water, then reduce it to low heat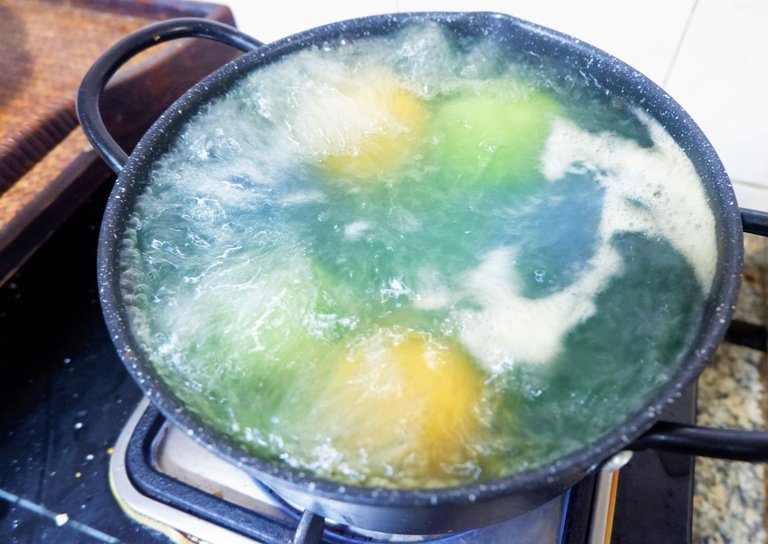 It's important that the water is not too boiling and the dumplings should not break apart in the water.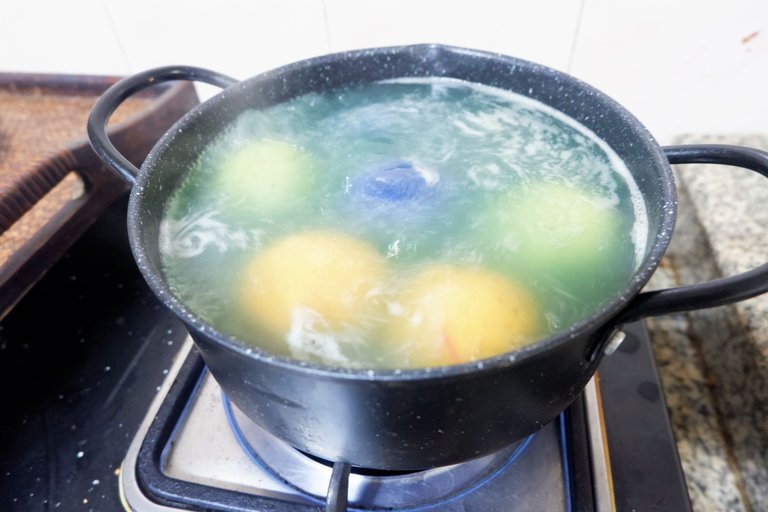 They will sink to the bottom first but will rise after about 5 minutes. Leave them in the water for another 5 minutes before removing them.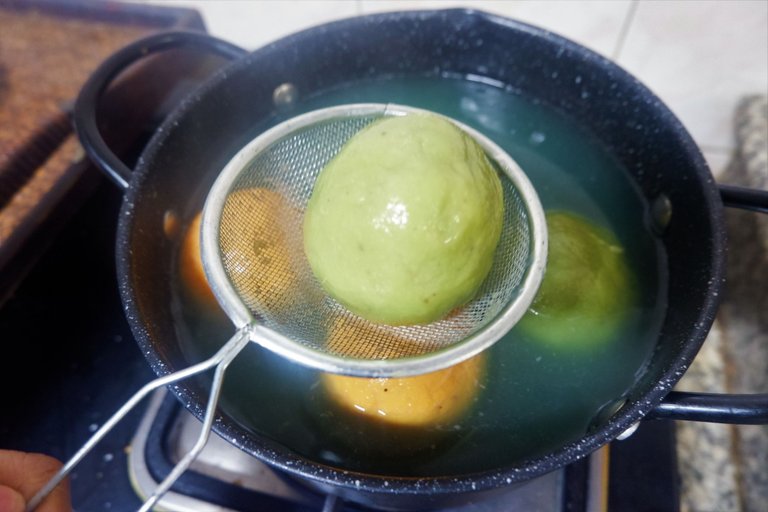 Once the dumplings are ready to boil, then set them aside and let them cool down a bit while preparing the sauce.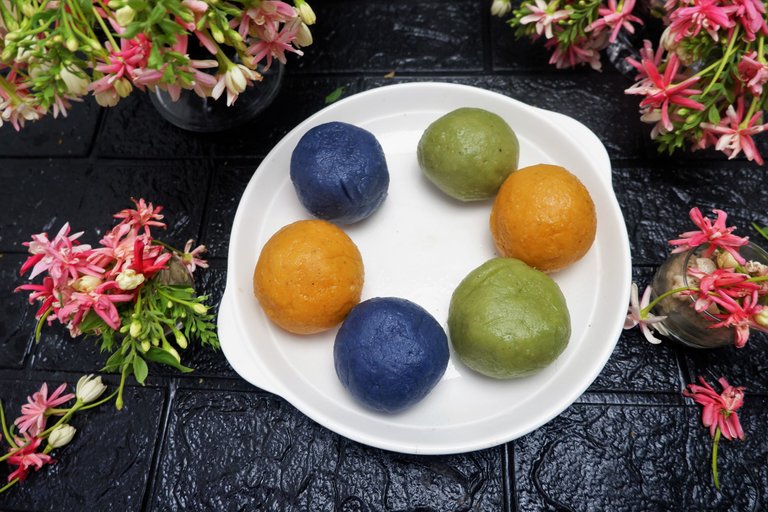 STEP 6 - MAKING THE SAUCE
Heat the truffle oil in the saucepan over medium heat and add garlic, then stir until a bit. Then follow with dry red chili flake and spring onion to the saucepan. Sauté them and keep stirring for about a few seconds.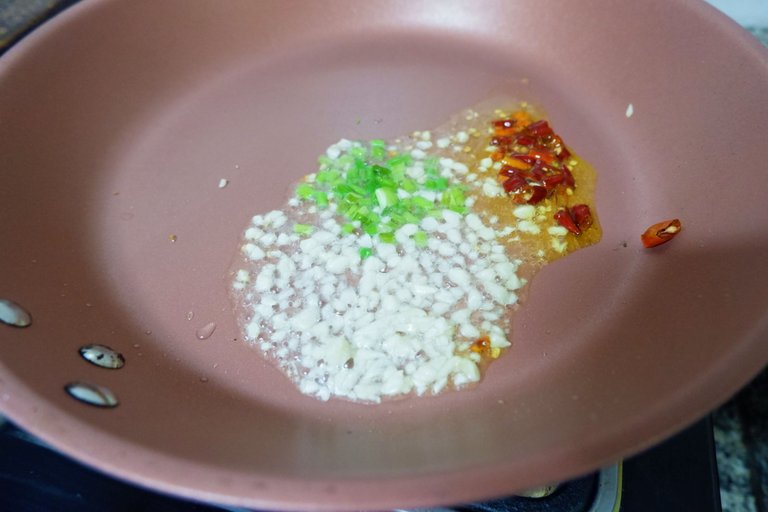 Then gently add the boiled dumplings into the saucepan.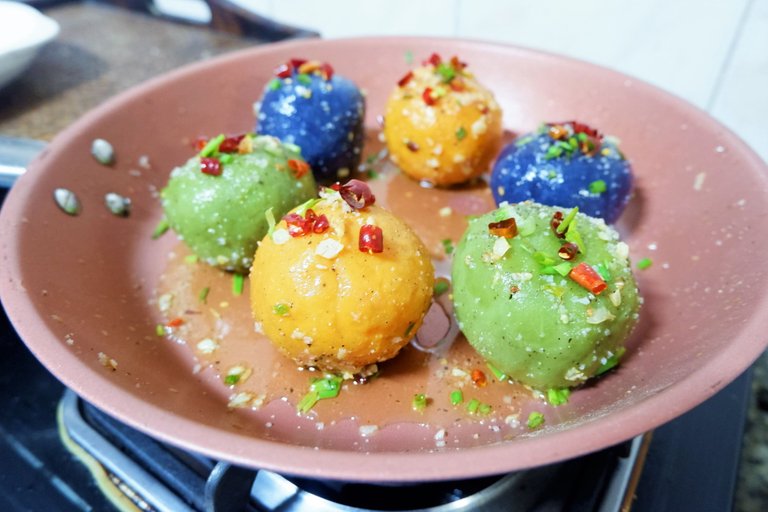 Gently toss the dumpling with the oil and season with sea salt and pepper. Then turn off the heat and remove the dumpling into the platting dish.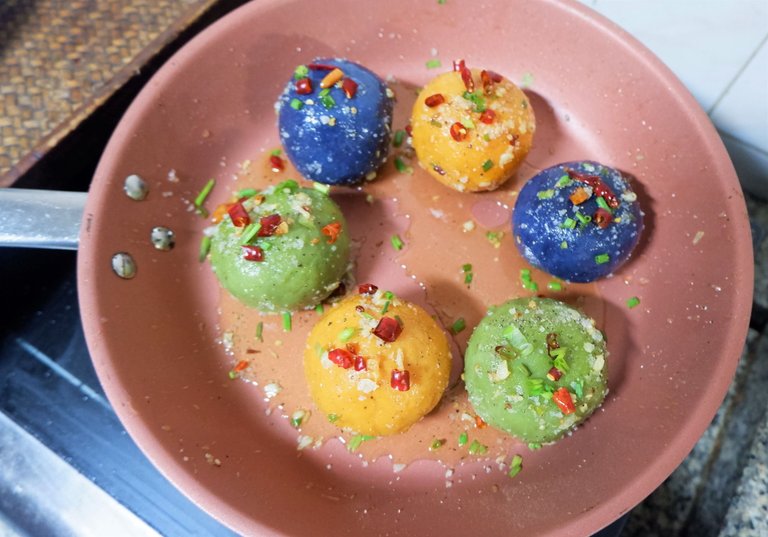 FINAL STEP - PLATTER
I do garnish with parsley and calamansri wedges and sprinkle with salt and pepper. Then serve them immediately. As I mentioned above, there are a ton of ways to add these Stuffed Tricolor Potato Dumplings with another dish but traditionally they are usually served with simple gravy or sauce as I show you guys today.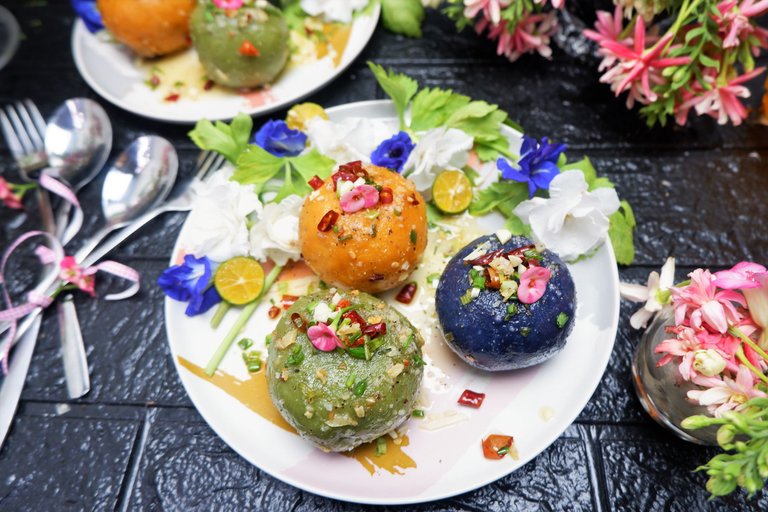 The texture of the potato dumplings should be firm but not gummy, which is best achieved by ricing sweet potatoes. These Stuffed Tricolor Potato Dumplings are soft outside, comforting dumplings filling are savory delicious and drizzled in garlic chili oil and topped with parsley and calamansri wedges are even better!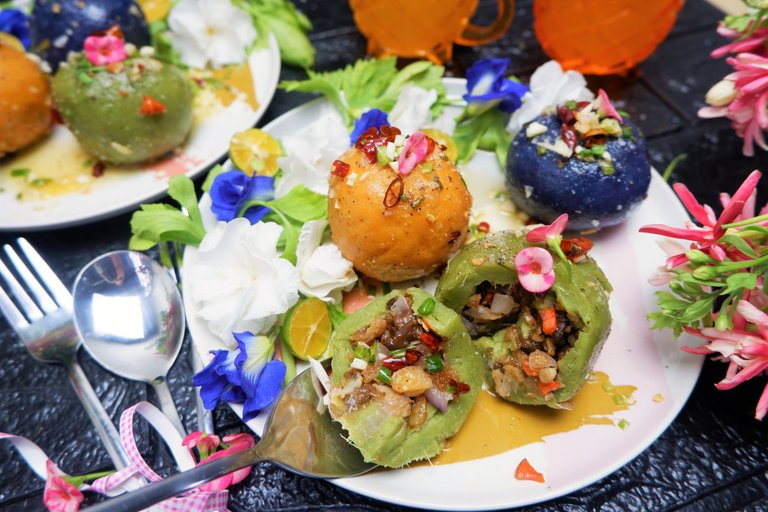 I do not recommend reheating Potato Dumplings so I recommend doing as German way of eating leftover potato dumplings is to cut them into slices and then fry them in oil the next day.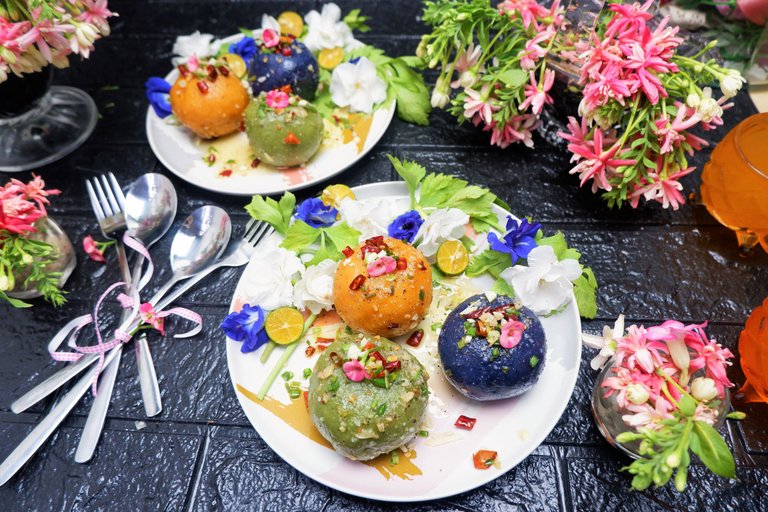 Kartoffelknödel is also quite easy to make, even when a filling is used. This is just old fashion German dish that stuffed the filling into mashed potatoes and boiled it then fried in oil and is completely optional but it's a tasty addition! I'm a fan of the stuffed filling addition.
 
Many thanks for stopping by and hope you enjoy my recipe and give them a try someday!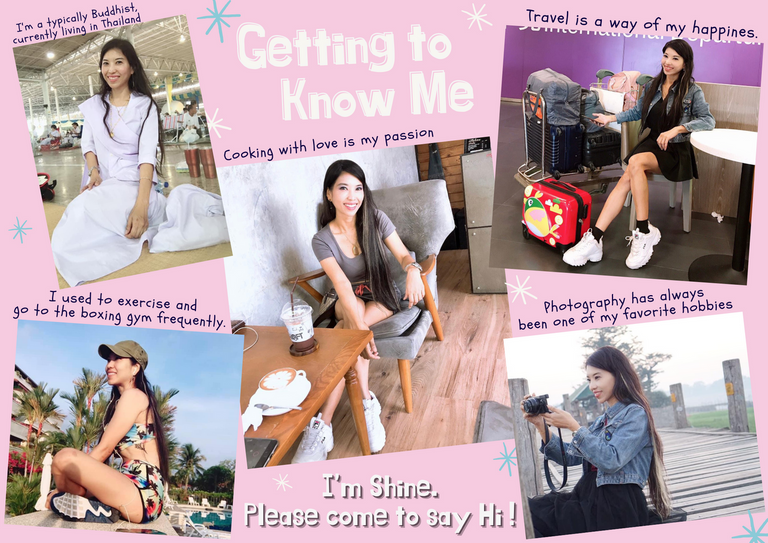 ---
---