Homemade Japanese Curry Rice From Scrath - Kare Raisu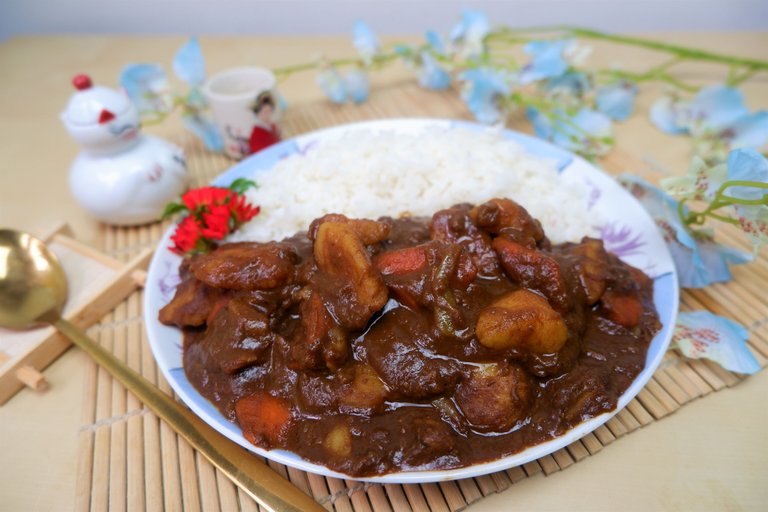 I love all kinds of curries from Thai coconut curries to aromatic Indian curries and savory Japan Curry. This Kare Raisu is rich, thick, and full of delicious flavor over steamed warm rice. As the boxed packages of Japanese curry roux are very expensive, it cost around 5 USD here in Thailand which is why I prefer making my Japanese Curry from scratch.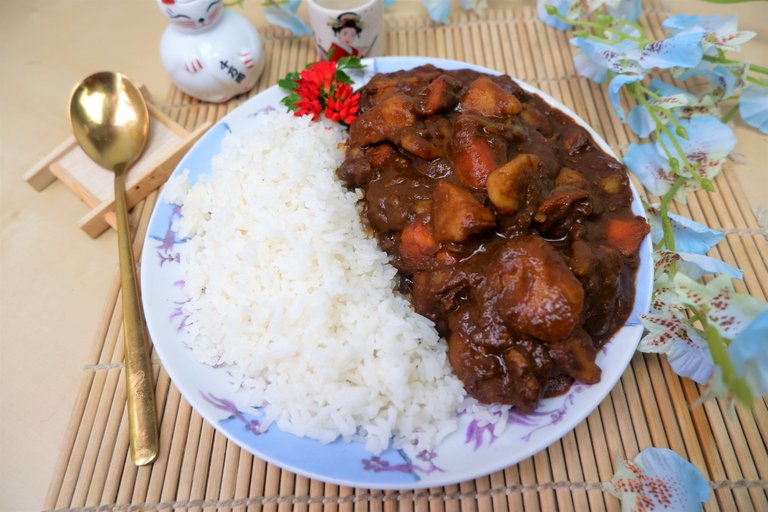 Since I can produce this easy recipe for making curry stew myself, then I never buy any cube of curry roux again. This recipe also makes the perfect Kare Raisu and is such a favorite in my household that I make it at least once a month.
It's really easy to make Japanese curry broth from scratch and it doesn't need to have any meat in it at all! Just simply need to simmer all vegetables in water and make a quick curry based on oil, vegetable, fruits, seasoning sauce, and curry powder.
 
Because Japanese people are not used to eating spicy foods, so I didn't add any chili to this recipe. Japanese curry is thick and like a stew dish more than other curries with chunky vegetables and is slightly sweet by using natural fresh fruits. It reminds me of a classic European stew but with Japanese flavors and ingredients. And of course, it's very possible to drop the ICHIMI, Japanese Chili Powder over the curry on top while serving if you are a person who falls in love with spicy as me!!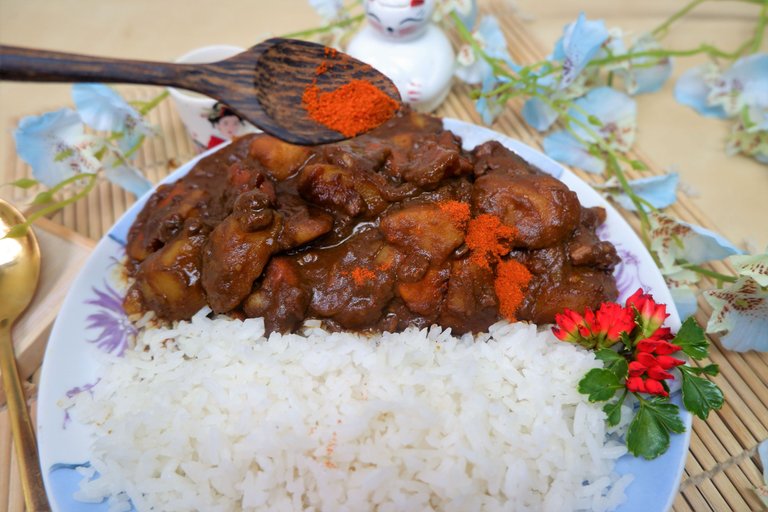 ---
---
JAPANESE CURYY - KARE RAISU
This originally Japanese curry recipe is super simple and also includes the ingredients that are easy to find.! And it needs a few hidden ingredients.
It's including ripped bananas and apples which will bring sweetness and a smooth silky texture to the broth.

The star anise, bay leaf and curry powder play a key role in this curry dish for loading of aroma fragrance.

The cocoa powder and pure chocolate bar lend a rich depth brown color and taste like they're stewing for hours.

Adding baking soda leads to faster caramelization times which reduces the usual 1 hour down to around 15 minutes.

Plus other flavors like ketchup, Tonkatsu sauce, and soy sauce for deeper flavor.

Chunks of carrots and potatoes, a grate of garlic and ginger, and sliced onions stewed in a rich, thick, and sweet broth.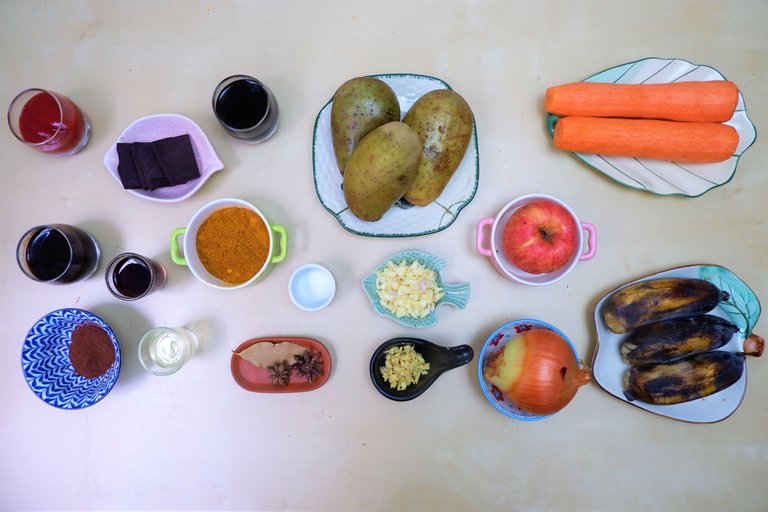 ---
---
INGREDIENTS
For Spice and Sauce
Fresh Vegetable and Fruits
2 Tablespoon Tonkatsu Sauce
3 Large Potato
2 Tablespoon Ketchup
2 Large Carrots
1 Tablespoon Seasoning Soy Sauce
1 Big Onion
3 Tablespoon Curry Powder
1 Medium Apple
1 Tablespoon 50% Cocoa Powder
3 Cultivated Banana
4 Pieces 90% Cocoa Chocolate
5 Cloves Garlic
2 Tablespoon Soy Sauce
1 Tablespoon Ginger
1 Tablespoon Vegetable Oil
1 Teaspoon Baking Soda
1 Bay Leaf
2 Star Anise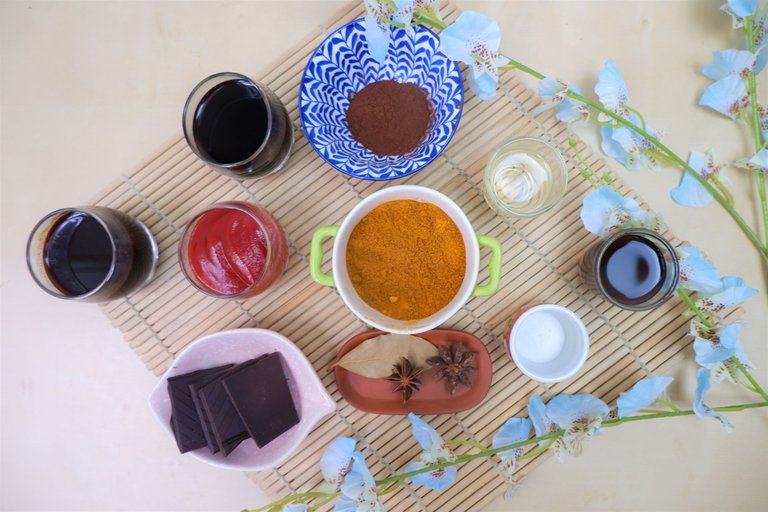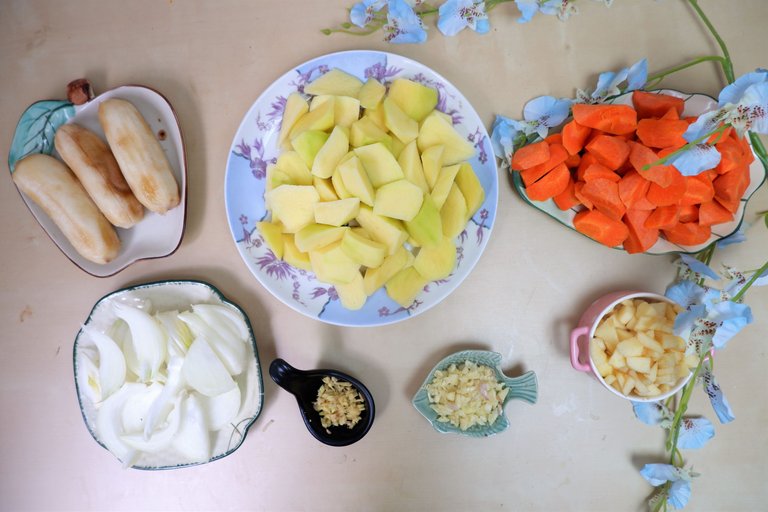 ---
---
KARE RAISU RECIPE
STEP 1 - Cutting as Japanese Style
Washing, pealing potatoes and carrots then cut the carrot and potato diagonally while rotating it a quarter turn between cuts. It's like cutting while rolling them.
Grate the ginger and garlic.
pealing the apple and banana then cube them into square pieces of equal size.
Cut the onions into thin slices.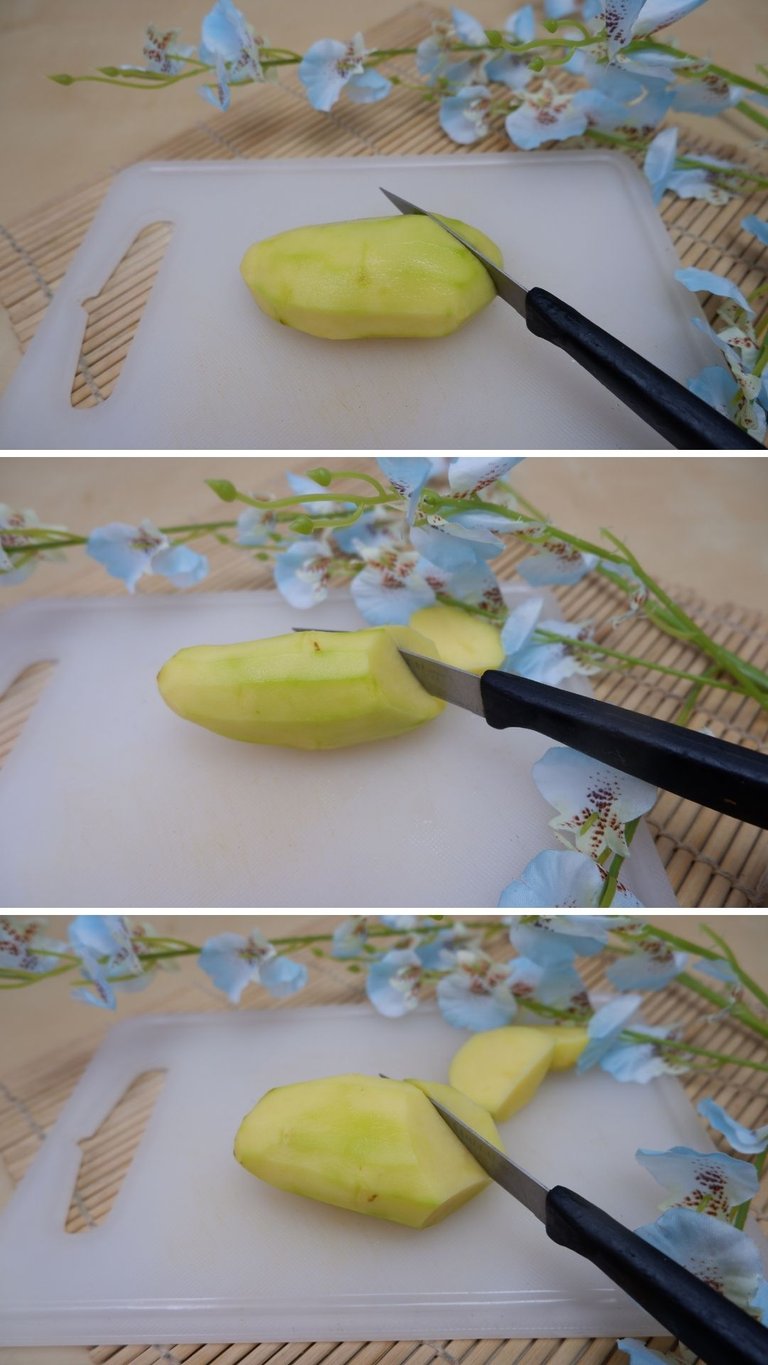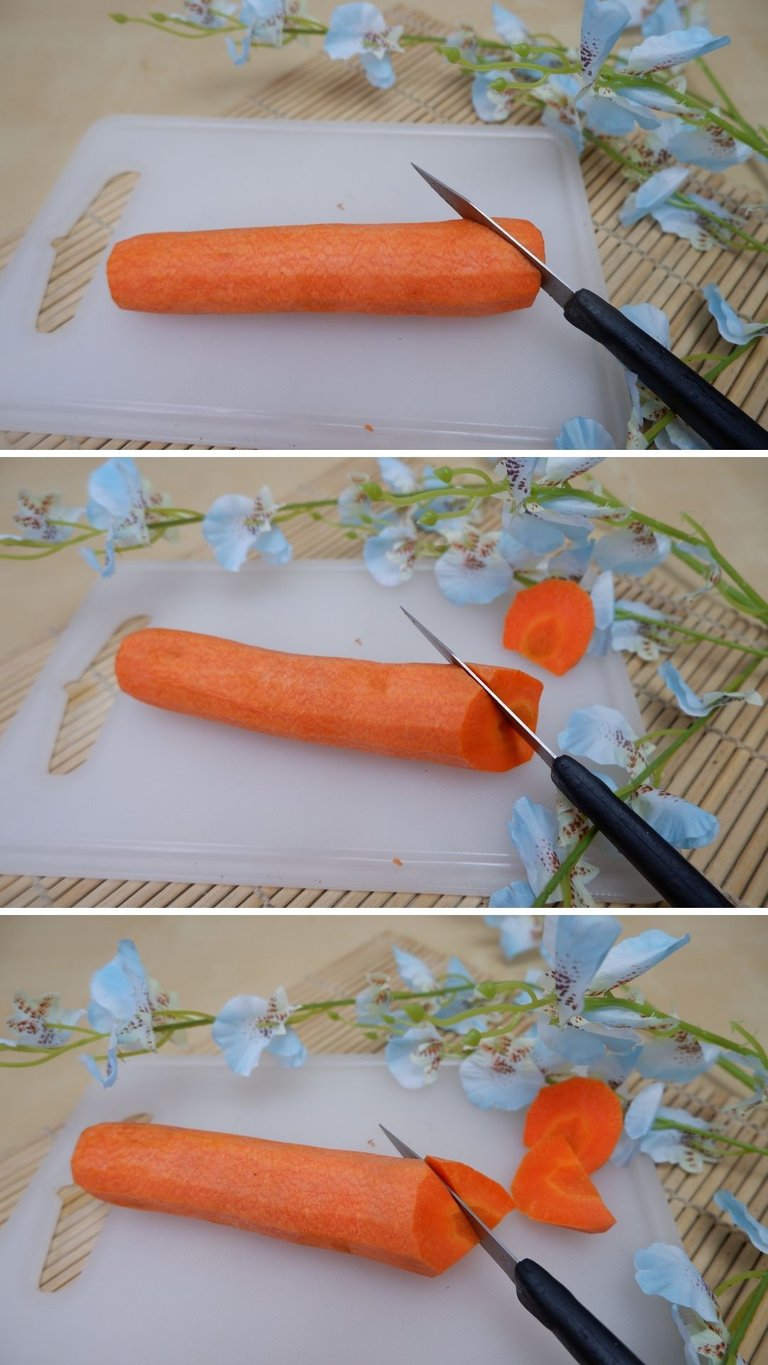 STEP 2 - Fried the Garlic and the Onion
Heat the oil in the pan and add garlic to a pan over medium heat and stir until the smallest pieces of garlic start to turn golden until it releases its aroma. Then add the onions to the pan. Stir to coat the onions with the oil and garlic. Sauté the onions and keep stirring for about 2 minutes.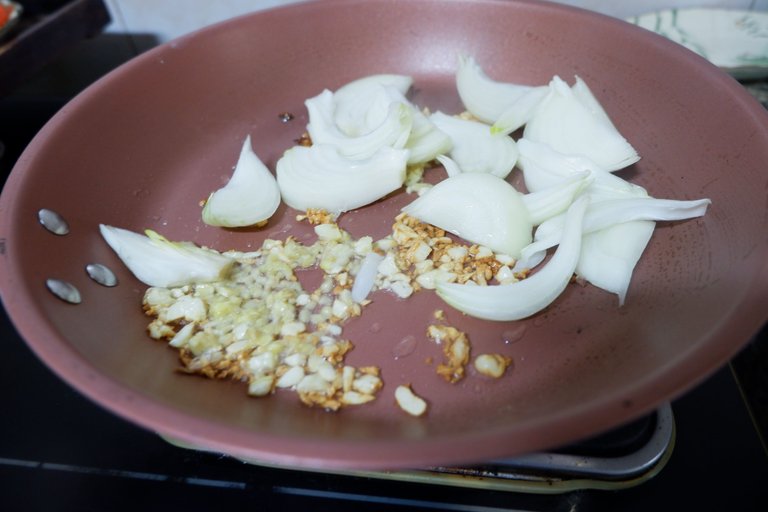 STEP 3 - Sear the Vegetable
Move the garlic and onion at one corner then add the chunks of carrots and potato, and cube of banana and apple.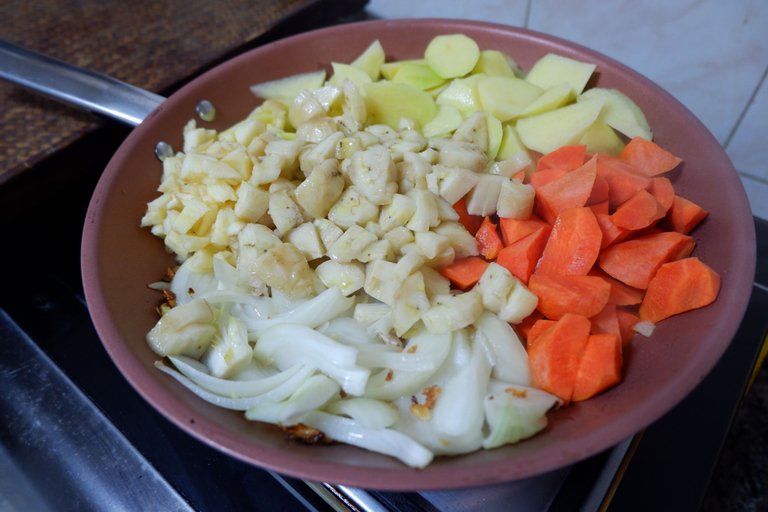 Mix them all together and let all the ingredients sit without stirring for about 5 minutes so it'll develop more flavor.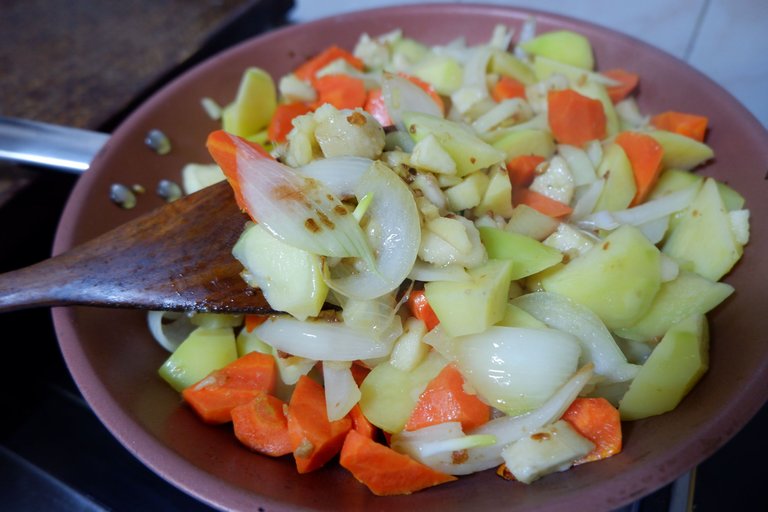 STEP 4 - Seasoning
Add the Tonkatsu Sauce, Ketchup, Seasoning Soy Sauce, Curry Powder, Cocoa Powder, Cocoa Chocolate Bar, Soy Sauce, Baking Soda, Star Anise and Bay Leaf into the pan.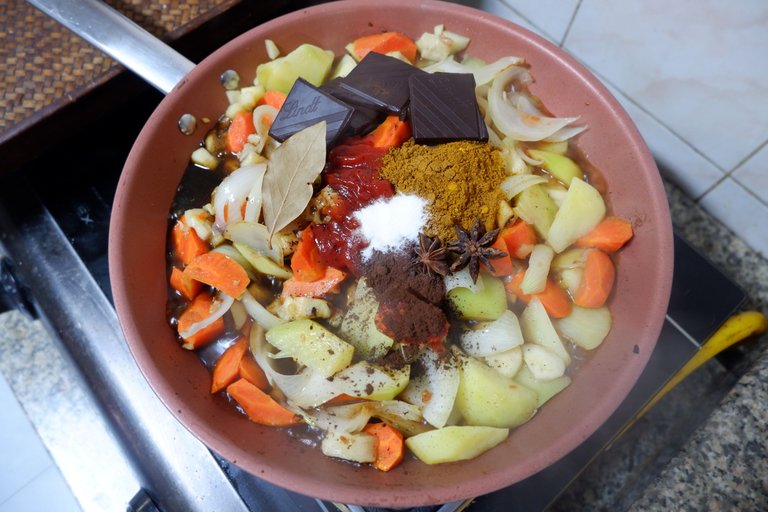 Mix them all together and keep stirring occasionally for 3 minutes. Then let all the curry broth simmer for about 5 minutes over low heat.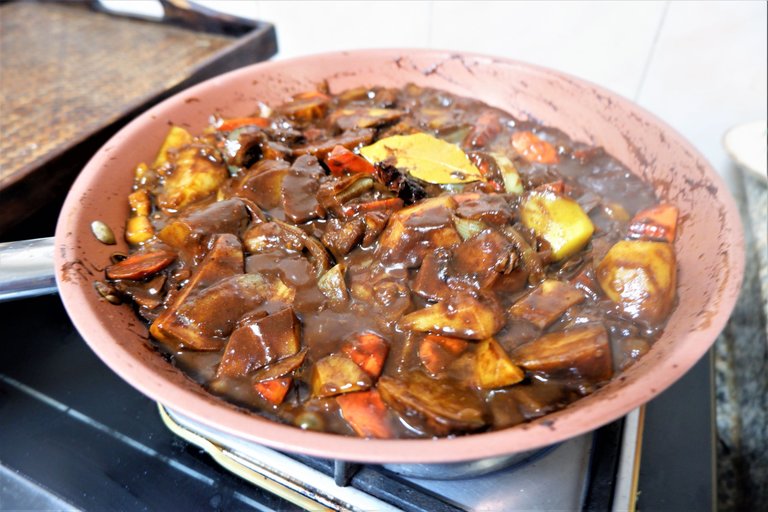 STEP 5 - Stew the Curry Broth
Move all the ingredients into a stew pot.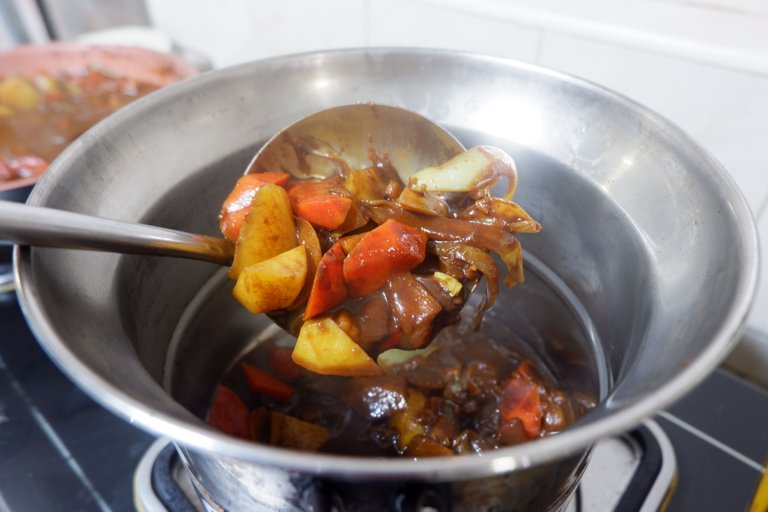 Pour the water into the stew pot until the water cover all the ingredients, proximately about 1000 Milliliters.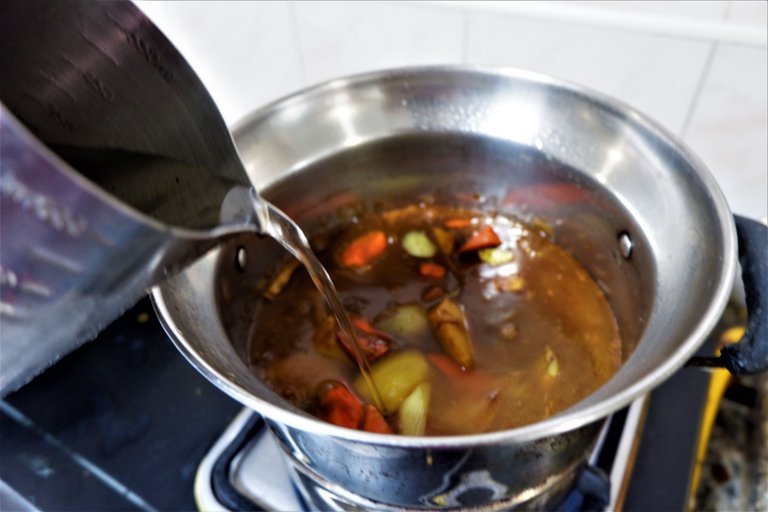 Cover the pot with a tight-fitting lid and bring it to a boil and simmer until the potato is tender for about 15 minutes and stir occasionally to avoid the stew from burning.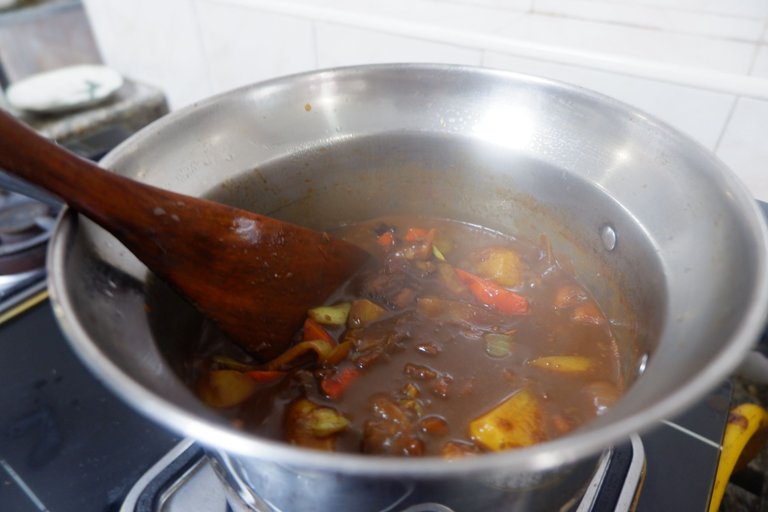 Once the curry stew is ready and thick enough.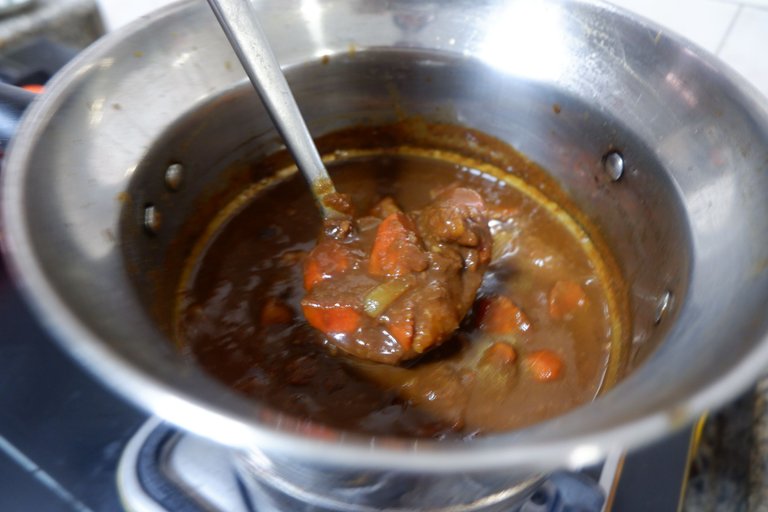 Then turn off the heat and the curry is ready to serve.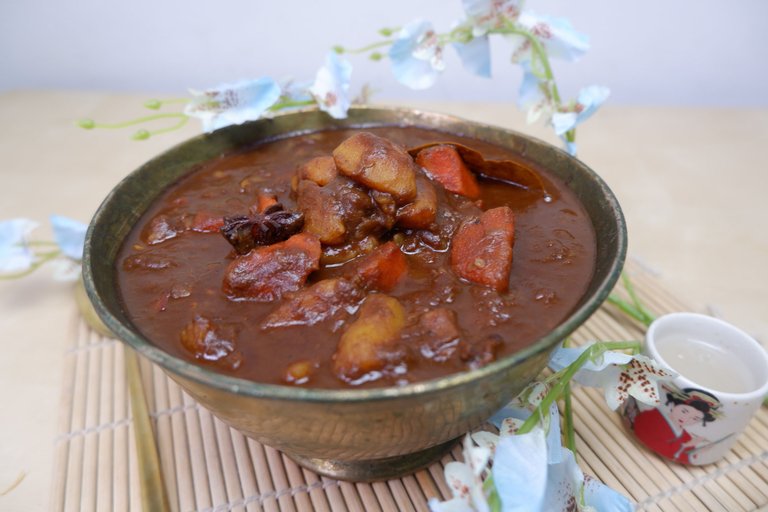 STEP 6 - Platter
Serve the curry on individual plates alongside steamed rice.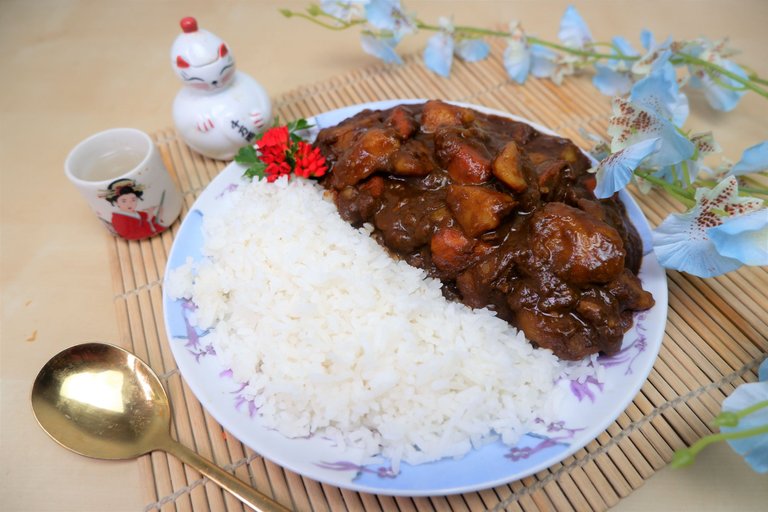 This an great option for a weeknight dinner! Making Japanese curry from scratch is not complicated at all and allows me to control over the flavor. It's also no spicy like other Asian curries, also making it good friend for kids. And easily to adjust the spicy by sprinkle the chili powder at last.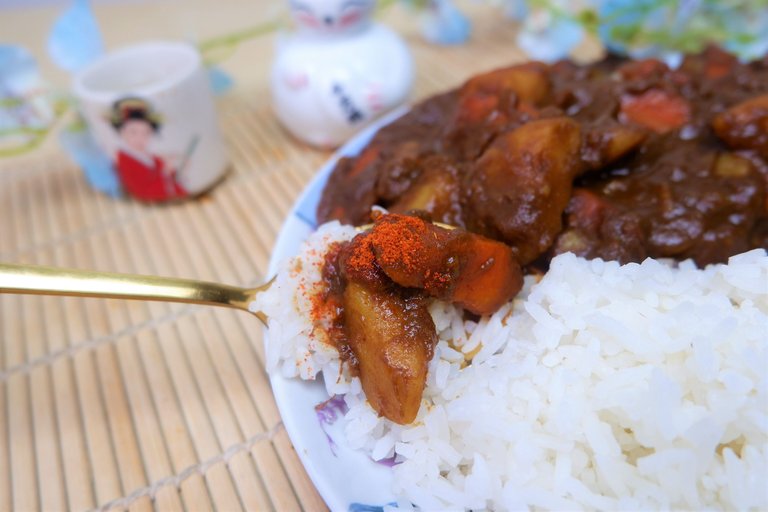 Unlike Indian or Thai curry, this Japanese curry recipe is thicker, milder, and more stew.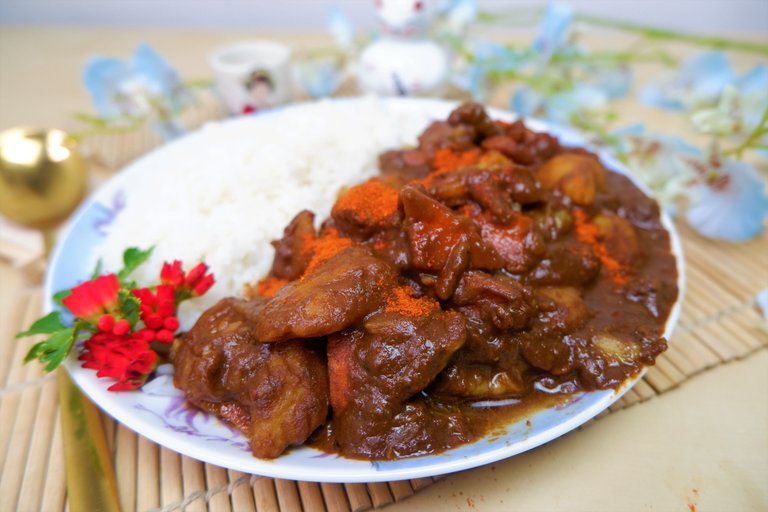 For the leftover Kare Raisu is possible to transfer to an airtight container and store in the refrigerator for up to 5 days. Reheat on the stove over low heat or in the microwave.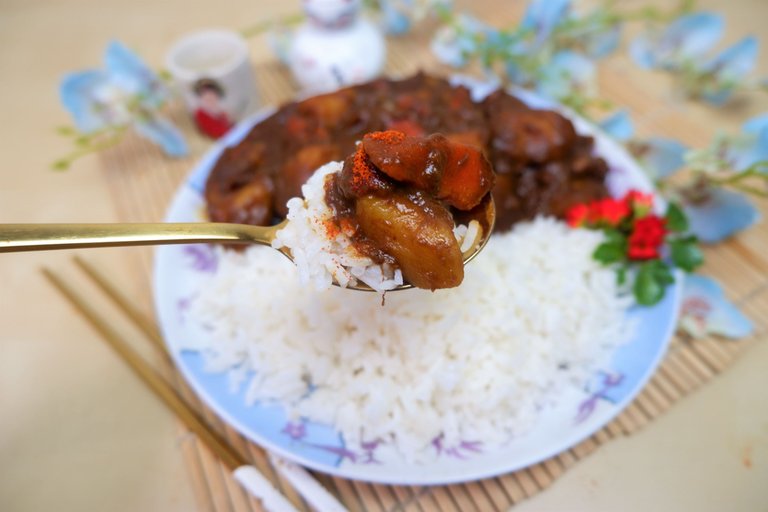 Thanks for reading my blog and hope you guys have a great week!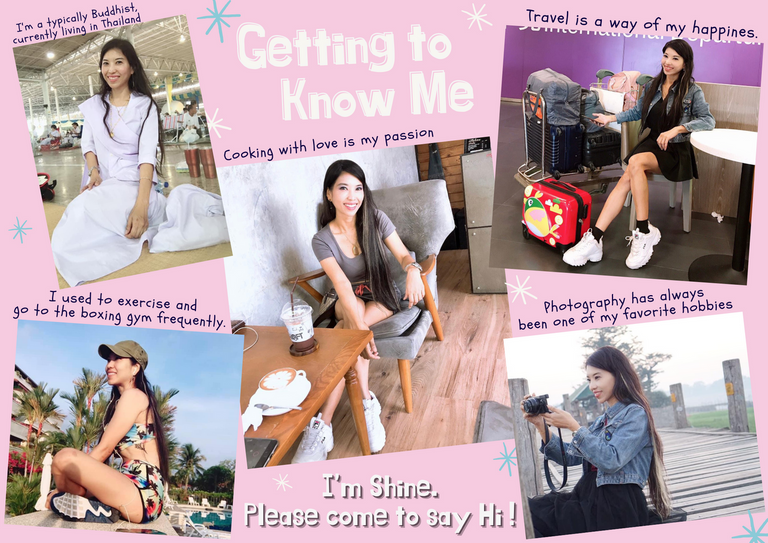 ---
---