My Mighty Green Soup - The Ultimate Immune Booster Soup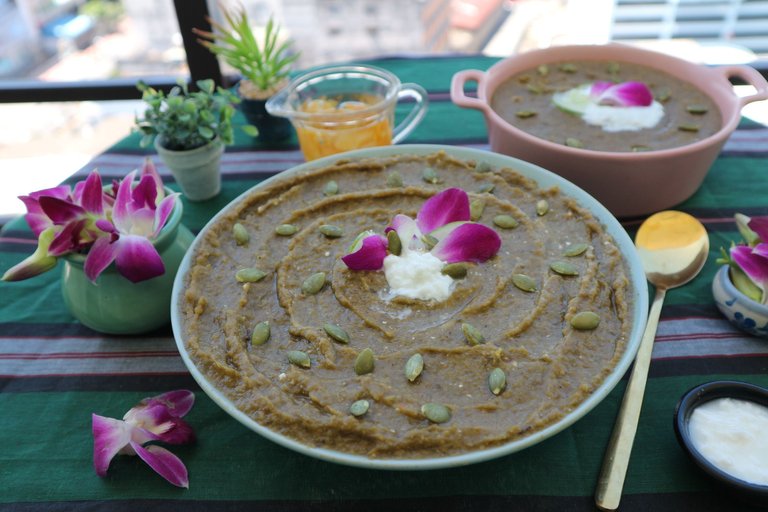 I've been making a variation of green vegetables for weeks. It was a coincidence, wasn't it? I've only cooked green vegetables and share those recipes on my blog too. It began as a means of using up different types of spinach, long beans, stink beans, kale, and other green until today as well.
The green vegetable becomes a kind of comfort food, a recipe that I appreciate a lot each time I prepare it. Because the green vegetable is very perfect to boost my immune system and is also great when I'm still sick and need a healthy diet from them. They're packed with vitamins, minerals, and fiber but low in calories.
I'm so happy about today's post because I'm sharing some of my recipes for making my mighty green soup, a superfood for boosting the immune system and they fit perfectly well with this week's topic on Plant Power (Vegan) Community is "Make Mine Green".
When I'm already in weak condition. It will make me feel better because is so delicious, warm, and cozy plus the ingredients are very simple and have amazing health properties.
My Mighty Green Soup is naturally battery-charged to my body. It is filled with mung beans, green beans, and water spinach. It is an easy way to get my greens.
 
When I'm making a soup that's all about using various types of vegetables and letting them balance the flavor from their natural taste.
Start with the mung bean first, I use raw mung beans in a green husk because they are a good source of protein and fiber plus nutrients combination which is one of the things that makes them special.
I do roast them to get rid of the vegeterribles smell from them first, then soak beans for about 10 minutes and discard the soaking water. And roasted again to make a shorter time when boiling them with other vegetables later.

I did add the apple to balance the flavor with natural sweetness and make the soup smoother by reducing the greeny-smelly.

The key ingredients to making this delicious green soup are sautéing plenty of aromatics, lots of garlic, shallots, carrot, and celery as the delicious base broth.
It's really important to include plenty of spices and herbs, and flavor makers like coconut cream to make sure there's a depth flavor of rich and creamer.

Stir fry the spices with all the vegetables, this makes the spices toasty and brings out the flavor, and more effective than just adding straight to liquids.

In this soup, I've used all of the above plus my other mighty green like green beans and water spinach for its deliciousness and its priceless health benefits, including being a powerful nutrient for boosting the immune system.

Don't stop when it comes to the toppings, Add more greens by a sprinkling of healthy fats from pumpkin seeds and also possible to add more vegan sour cream that I have leftover from my previous dish for a creamy tangy to the soup.

I always prefer a thick texture with a chunky larger blend and I don't like running water soup so I do add not much liquid in my soup.
Since this is a blended soup, I also blend them in a hand immersion blender which gives my mighty soup quite rough and chunky as I prefer so if you like smooth like puree, I do recommend blending with a counter blender and adding more liquid.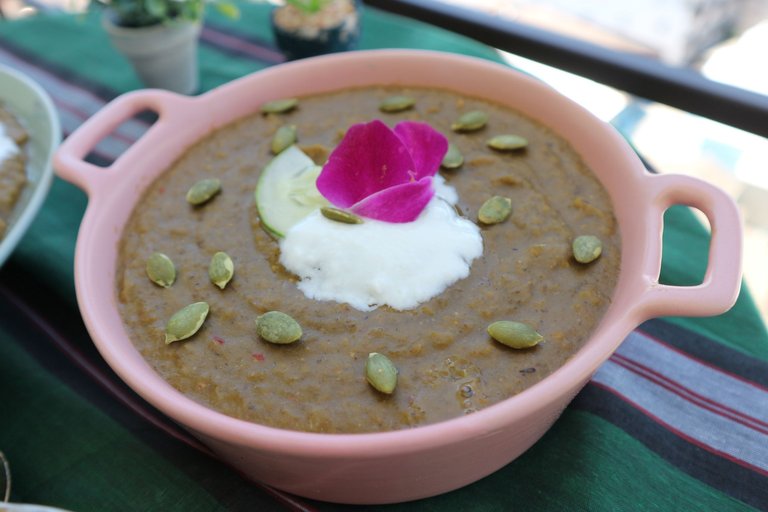 Let's see the ingredients
250 Gram Raw Mung Beans
250 Gram Frozen Green Peas
400 Gram Water Spinach
1 Carrot
1 Shallot
1 Head Garlic
2 Tablespoon Celery
1 Tablespoon Chili Flake
1 Tablespoon Smoked Paprika
1 Tablespoon Himalayan Pink Salt
1 Teaspoon Dried Basil
1 Teaspoon Fennel Seeds
1 Teaspoon Tarragon
1 Teaspoon Sage
1 Teaspoon Rosemary
1 Teaspoon Coriander Seeds
1 Teaspoon Black Pepper
1 Tablespoon Vegan Sour Cream
1 Tablespoon Pumpkin Seeds
1 Cup Coconut Cream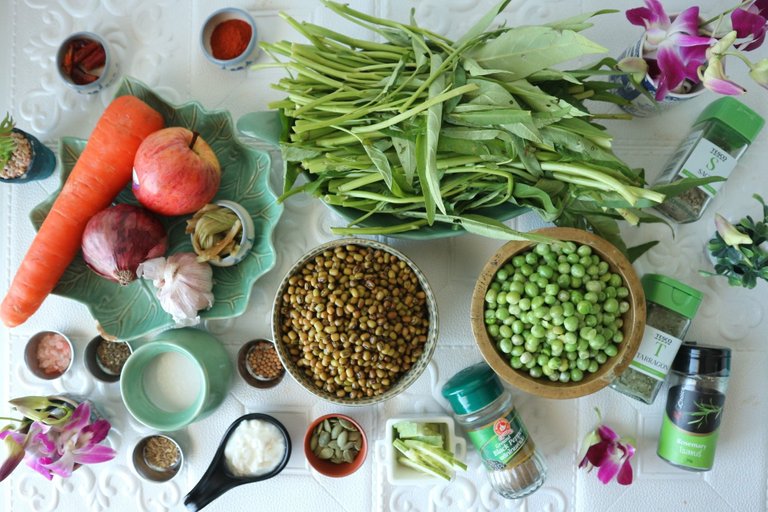 Instructions
STEP 1 - Prepare the Veggies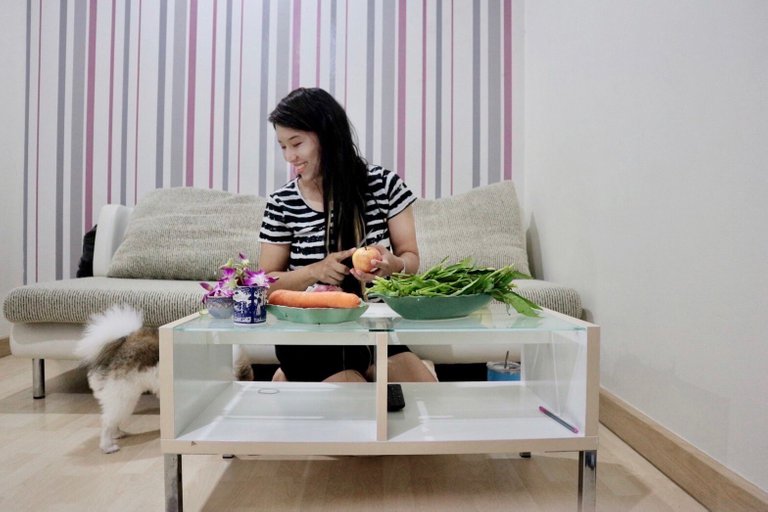 pealing the apple and carrot then cube them into square pieces of equal size.
Peel off the garlic and shallot skin then chop them into small cubes.
Rinsed Water Spinach before using under running water and patted dry, chop the water spinach into bite size.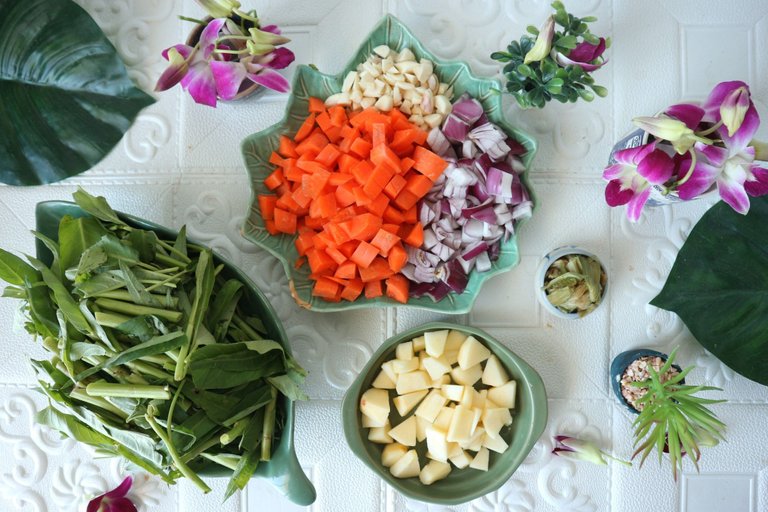 STEP 2 - Prepare the Mung Beans
Rinse the mung beans well, check over for any stones and throw stones away. Then drain the water away. Roasted the mung bean over low heat until they are dried and kept stirring to avoid burnt mung beans, I roast just for about 5 minutes.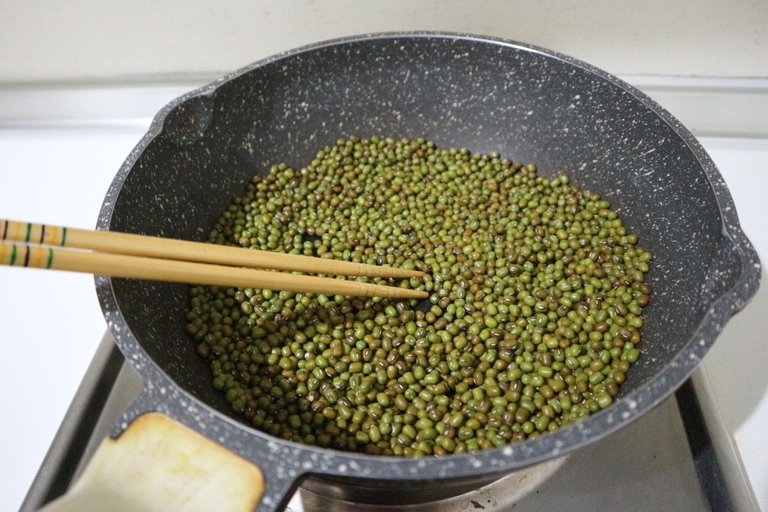 Once the mung beans are roasted, then rinse again and soak the mung beans with clean water for about 10 minutes.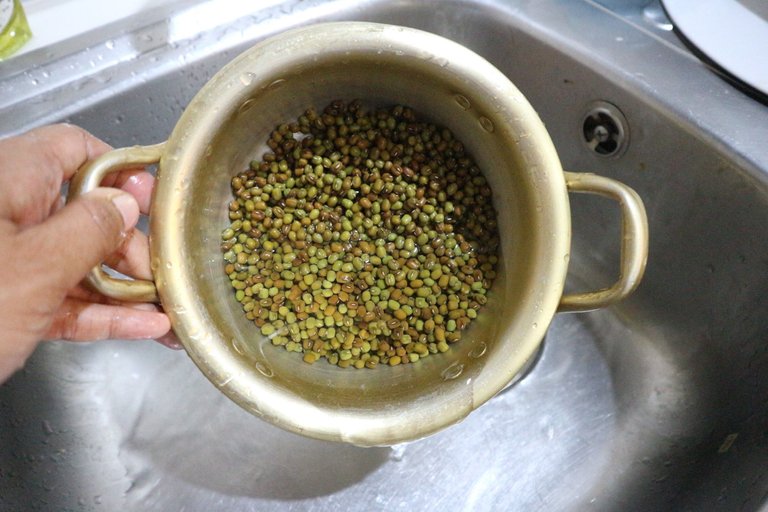 After 10 minutes pass, drain the water and then roast the mung beans again over low flame.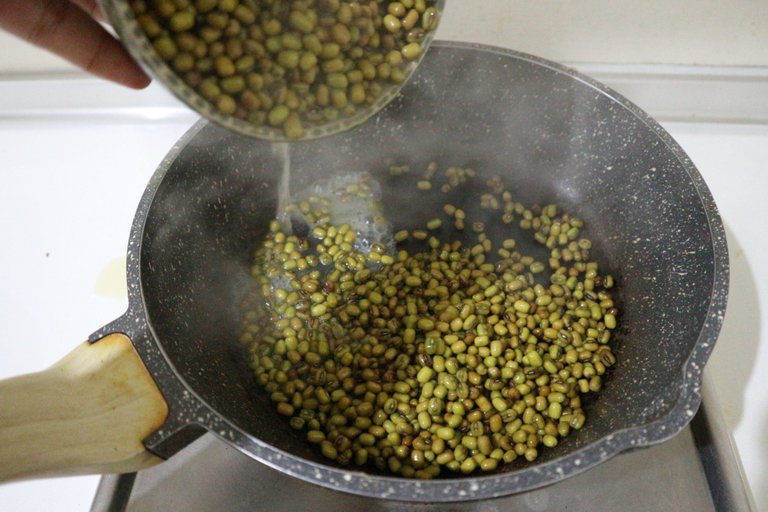 Keep roast for about 5 minutes and stir constantly.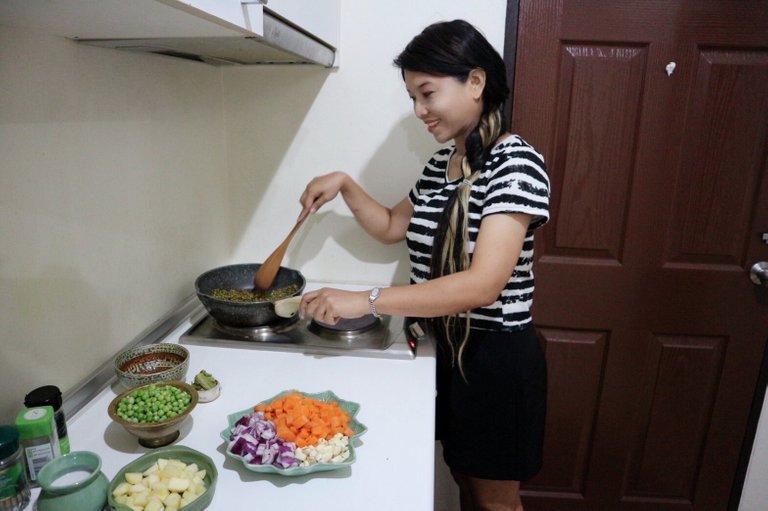 Once the mung beans are roasted and set them aside while sautéing the broth.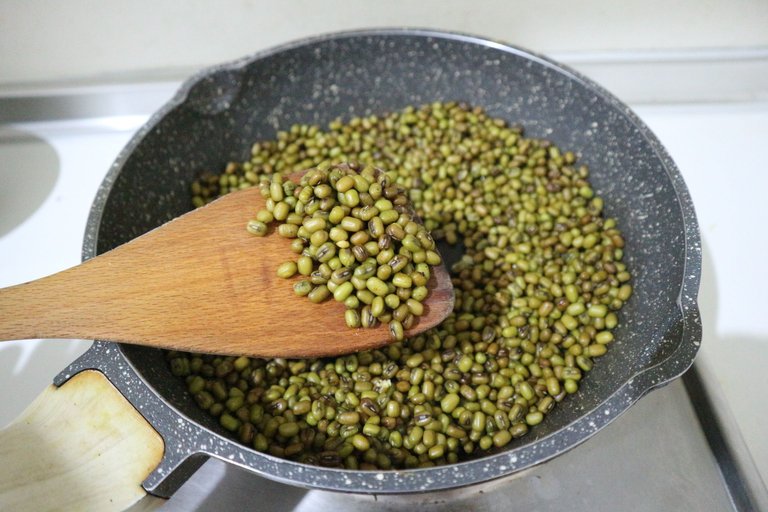 STEP 3 - Sauté for the Soup Based
Heat the olive oil in the saucepan and add garlic to a saucepan over medium heat and stir until they start to dazzle. Then add the shallots to the saucepan and sauté them and keep stirring.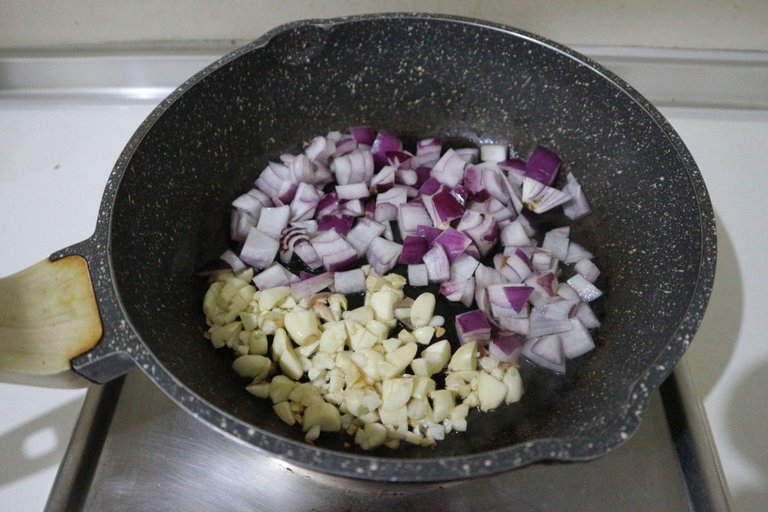 Once garlic and onion release their aroma, then add the carrots and celery stems.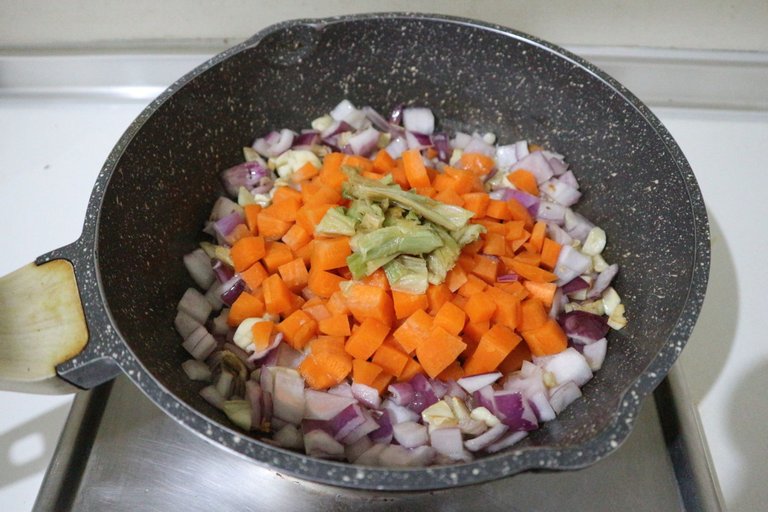 Stir them all together and let all the ingredients sit for about 2-3 minutes.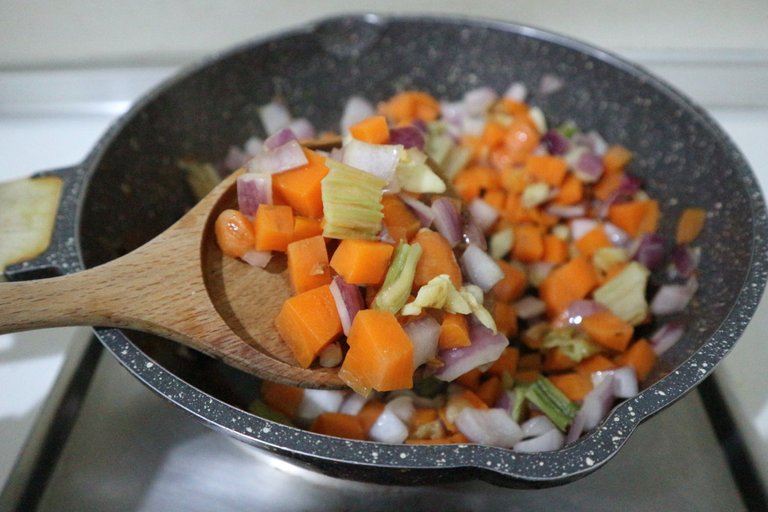 STEP 4 - Add the Vegetables and Season the Soup Base
Add the water spinach into the same saucepan and start to add the spices and herbs like Himalayan Salt, Dried Basil, Fennel Seeds, Dried Tarragon, Dried Sage, Dried Rosemary, Coriander Seeds, Black Pepper, Smoked Paprika and Chili Flakes.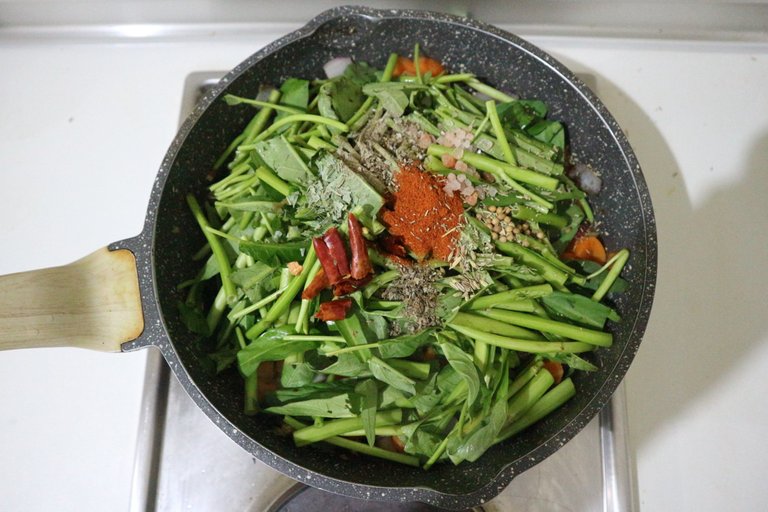 Mix them all and keep stirring occasionally and then let all the soup base continuously simmer for about 2-3 minutes over low heat.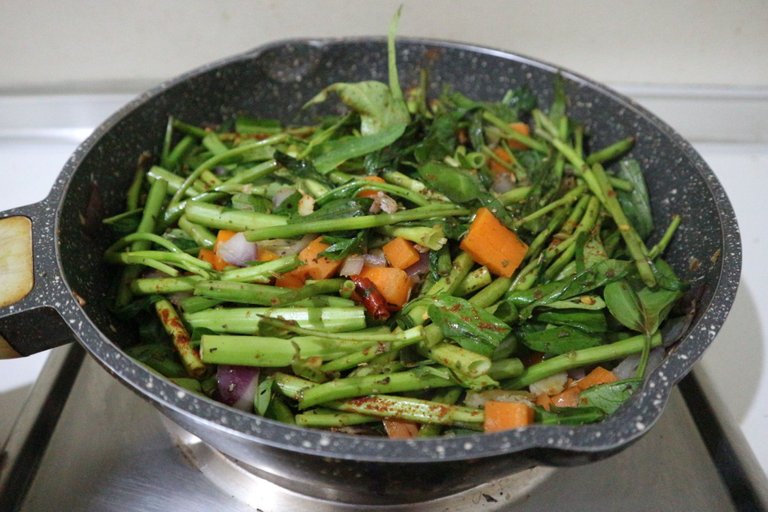 Add the frozen peas into the pan and stir to combine.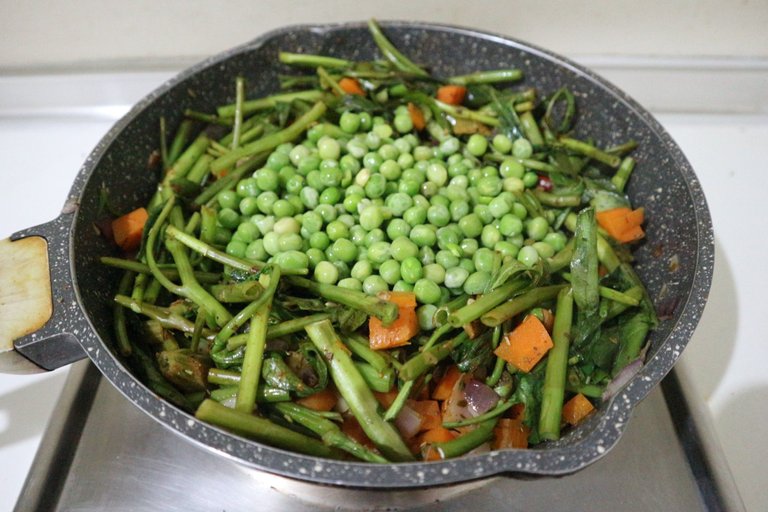 Then add the mung beans into the saucepan.
 
Follow with apple into the saucepan and stir to combine.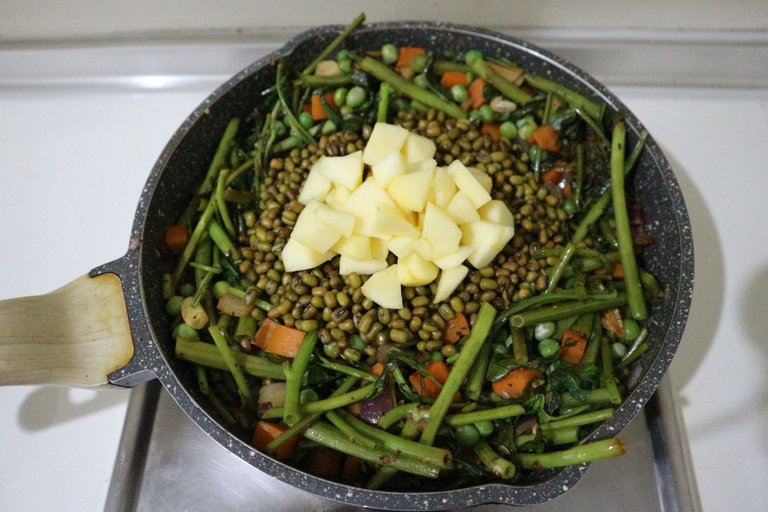 Continue whisk by using the wooden stirring spoon to combine all the spices with all the vegetables.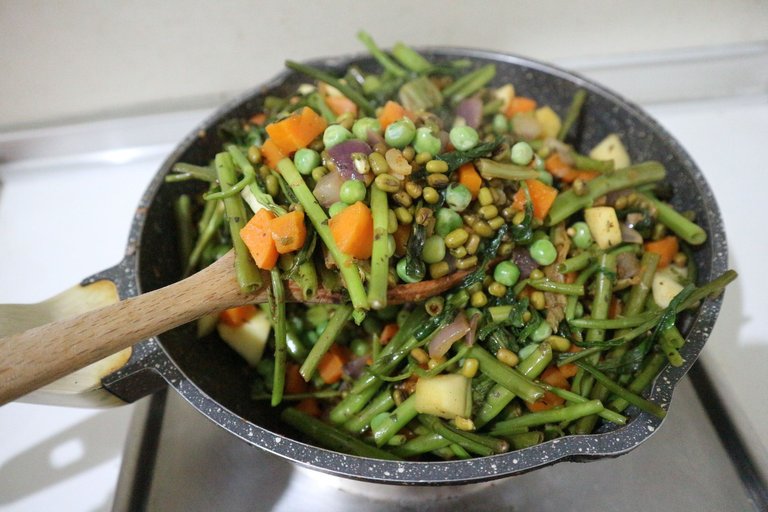 STEP 5 - Simmer
Then move the mixture into the big pot.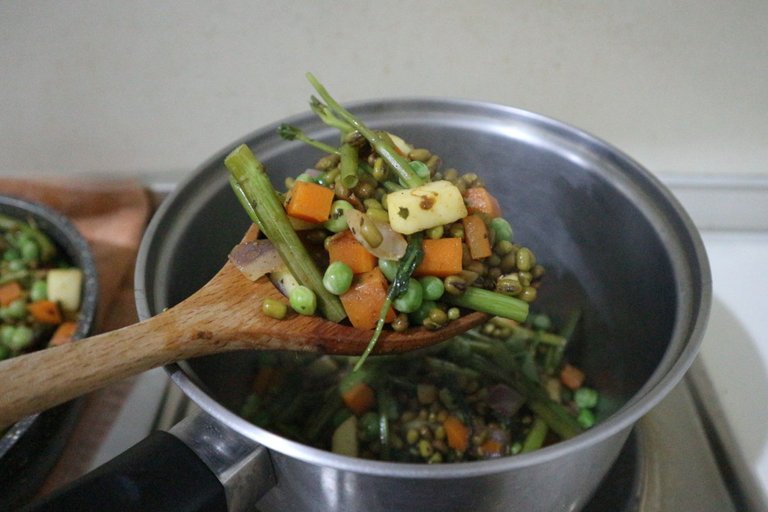 Pour in the water and bring the mixture to a boil.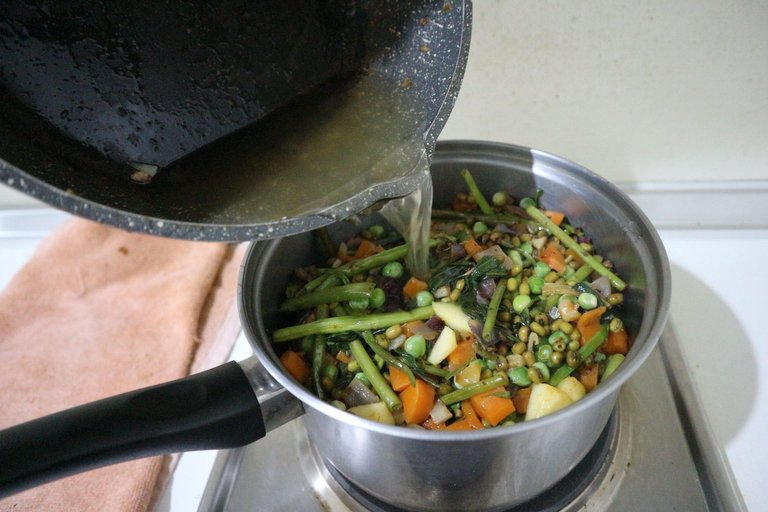 Add more water until the water covers all the vegetables and bring to a boil.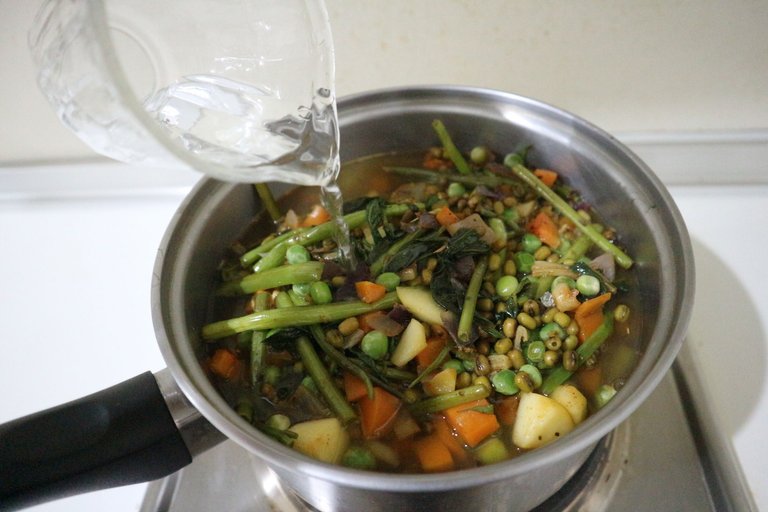 Then simmer for 10 minutes or until the mung beans and green peas are very soft.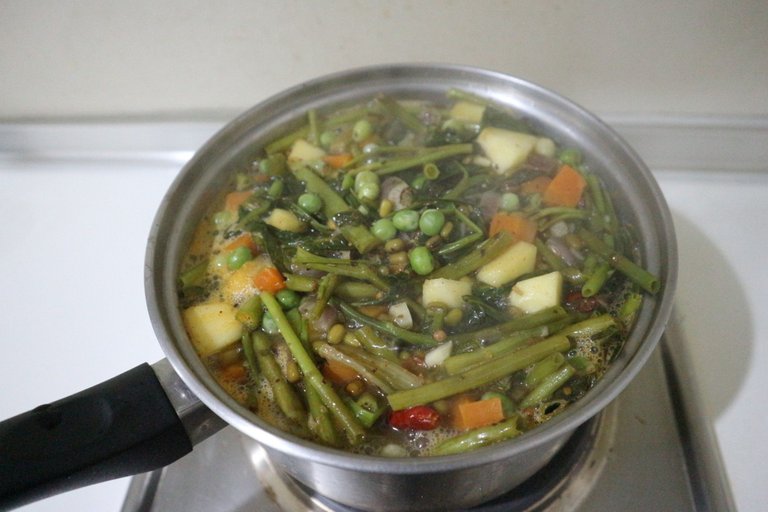 This soup cooking process requires stirring the broth once in a while to prevent it from sticking to the bottom of the soup.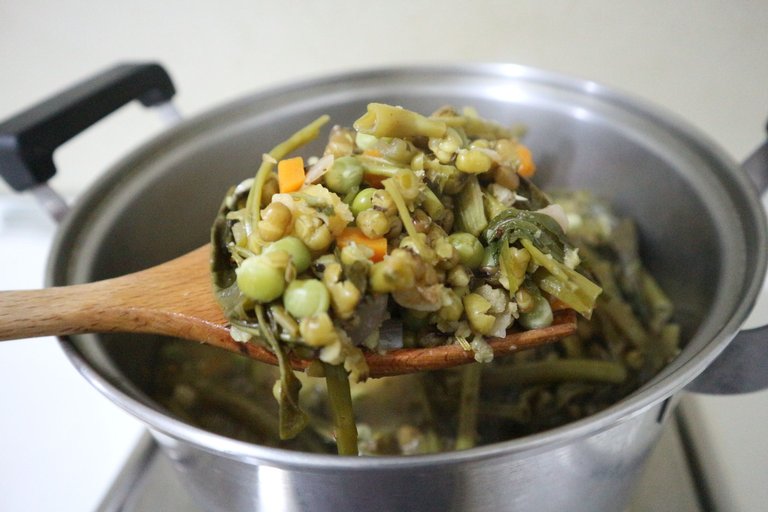 Once the soup is soft, turn off the heat.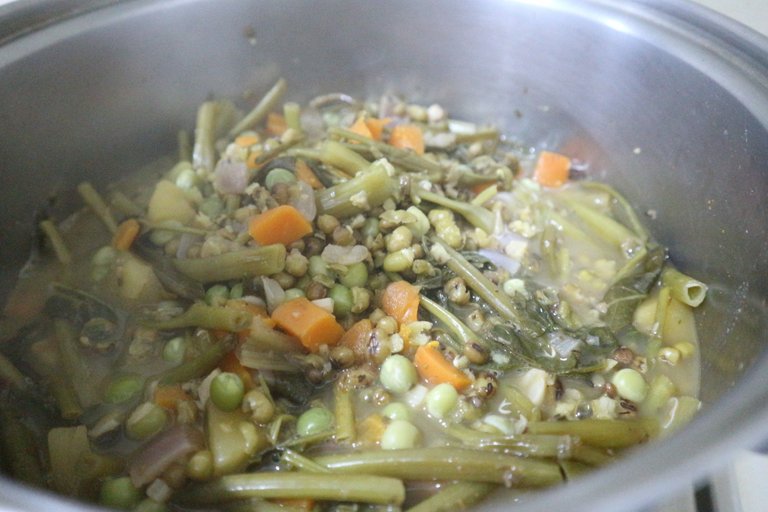 Carefully blend by using an immersion blender until roughly smooth.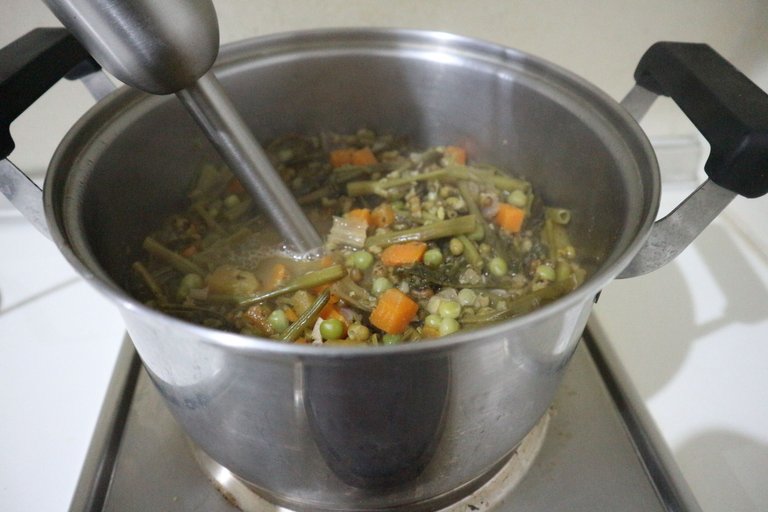 I always prefer to just blend them with the tiny chunky left.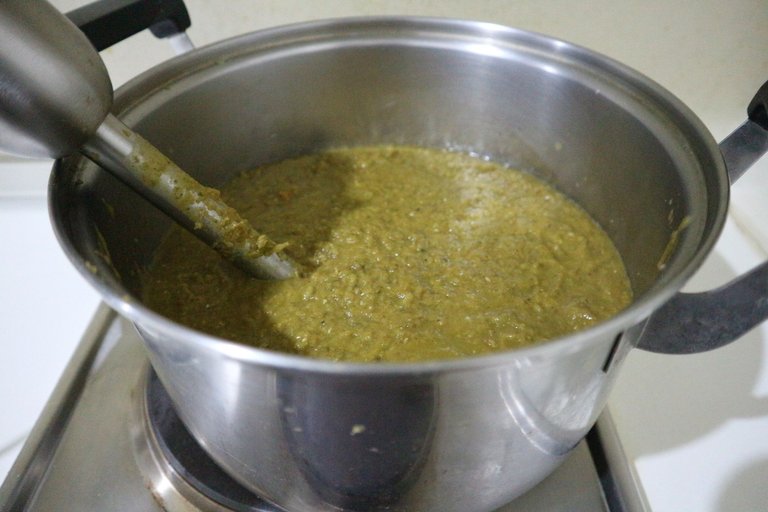 Add the coconut cream into the soup which you can substitute with almond milk or just skip the cream.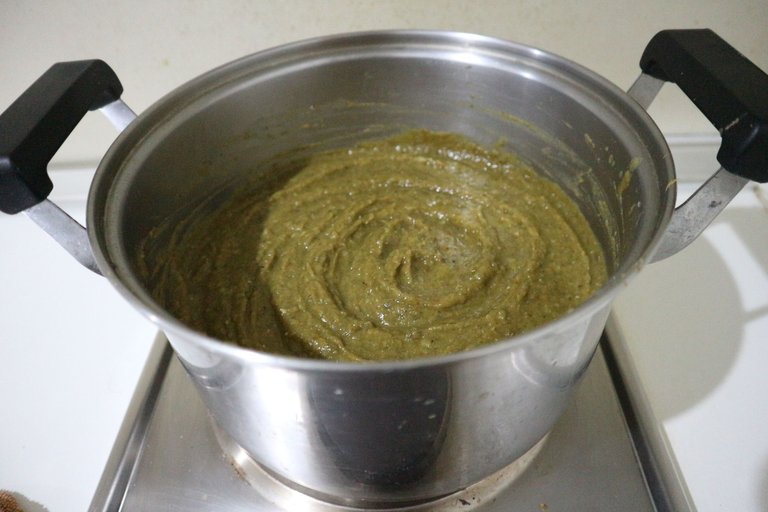 Final Step - Platter
Serve my mighty green soup warm and add more green by topping the soup with pumpkin seeds, fresh cucumber, and a spoonful of vegan sour cream.
This soup is exactly what it should be! It's super healthy and of course, very green soup which it's not fancy, it's so simple and it's so easy to make and can be completed in 30 minutes. I also love to make an overload amount of my green soup and store them in an airtight container and freeze it in the refrigerator and just warm it on the stove by adding a bit of water so this is one reason too that prefer thick soup and adjust it later.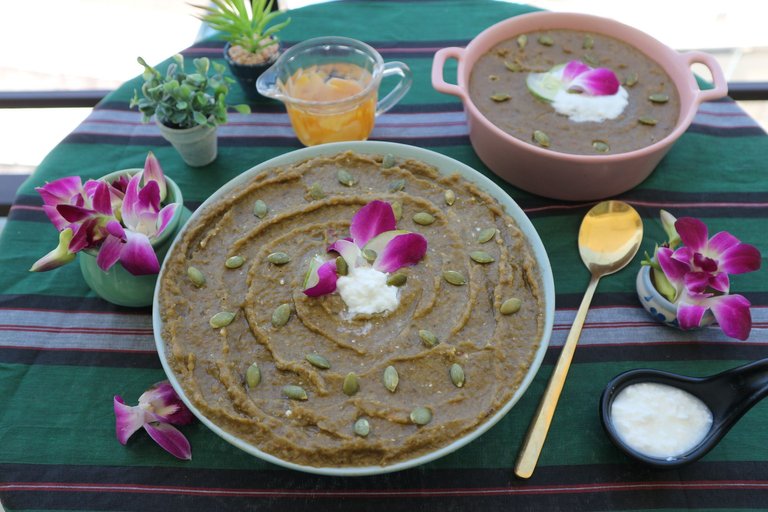 This soup is a warming and such a cozy way to get my mighty green soup!
My Mighty Green Soup is full of nutrients to help me get through my sickness time and boost my immune system. I hope you enjoy my green soup and give it a try.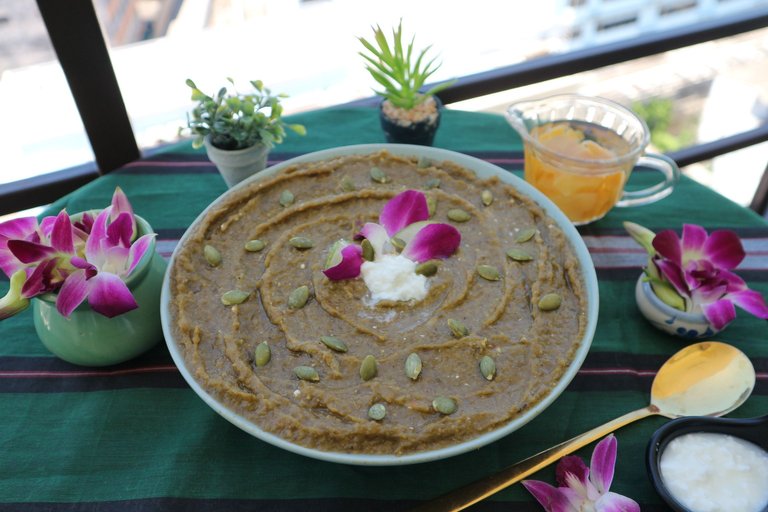 Hope you guys have a great day!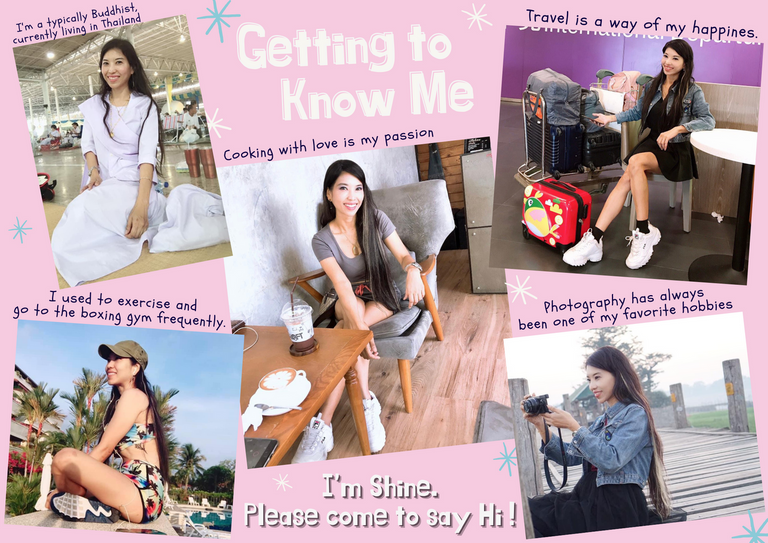 ---
---