Pickled Green Mustard Stewing with Braised Pork 🇨🇳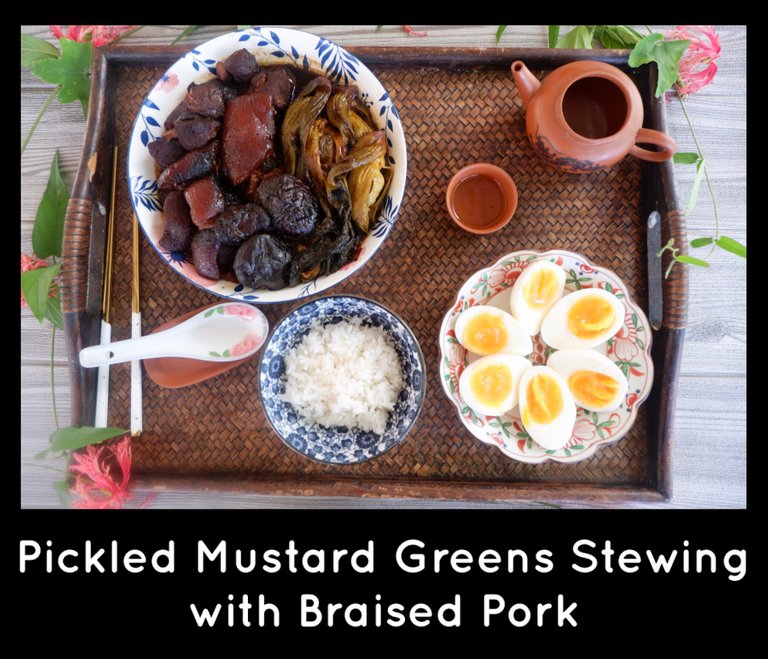 Sa Wad Dee ka 🙏 Hive Community ^^
This is my first time participating with Qurator Top Chef Competition. This week contest is the Mustard Theme. 😊
 
Actually seeds, leaves and stems of the mustard are edible.
The seeds can be pressed to make mustard oil or used as spice.
The leaves can be eaten raw or cook as the Mustard Greens.
The Stems can be preserved as Pickled Mustard Greens.
 
🥬 The mustard are full of nutrition and low in carb which the mustard greens have a peppery and bitter mustard flavor so it's quite popular for pickled the green mustard to get rid of the bitter taste.
Pickled mustard greens are lacto fermented so they can provide good bacteria to promote healthy digestion.
 
After fermented with salt, sugar and vinegar for 3-7 days then it is has a pleasantly sour taste from the pickling liquid, slightly sweetener and indeed salty which is a favorite ingredient in many stir fry dishes, soups or eat as the pickles side dish on their own.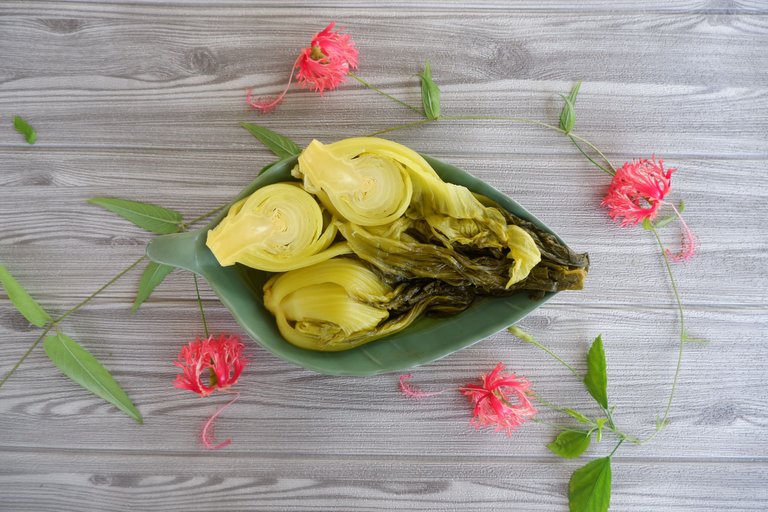 🇨🇳 So today I would like to share with you how to make the Pickled Mustard Greens Stewing with Braised Pork which this dish is one of all time favorite Chinese stew. It's extremely easy to make and the taste is incredible.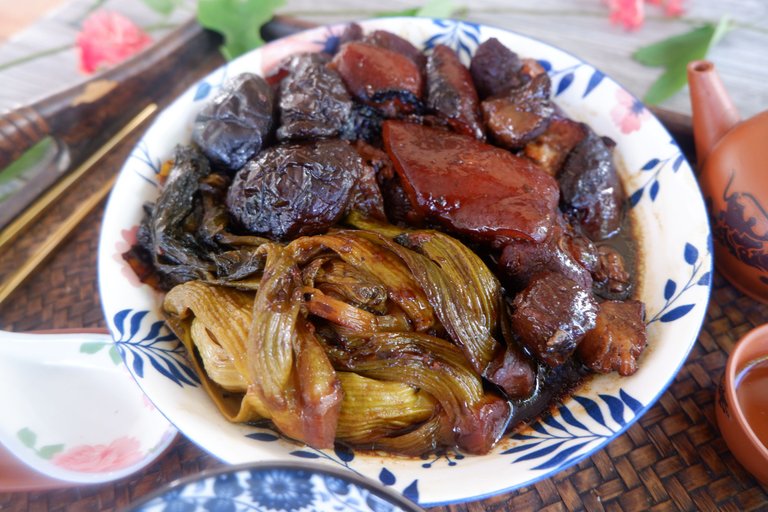 The pickled mustard greens are the perfect compliment with the richness braised pork.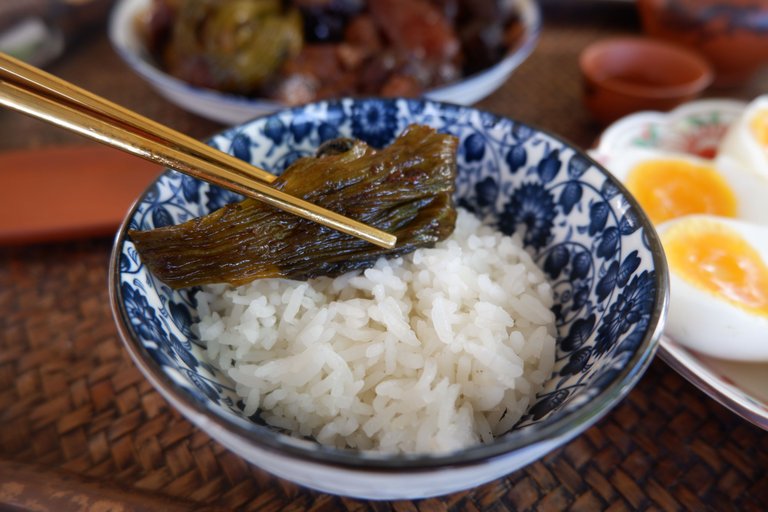 This dish is a parade of sweet, salty, aromatic, savory and sour from the pickled greens and the tender texture of braised pork soy sauce stew.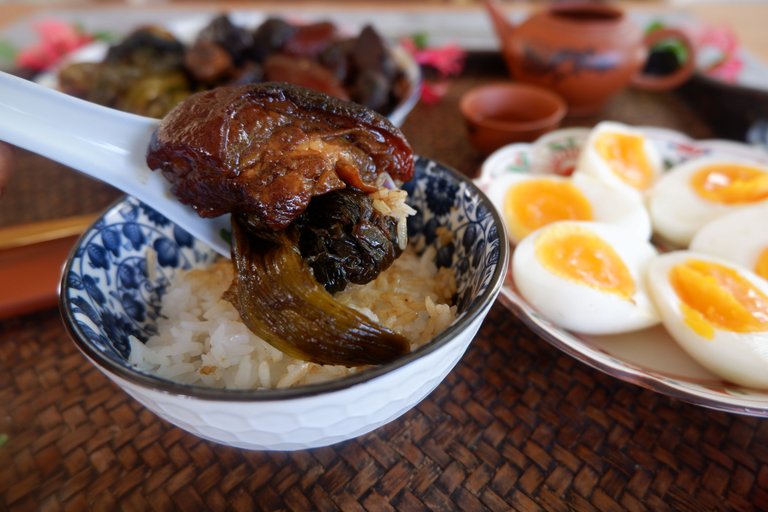 Gathering the Ingredients!
500 Gram Boneless Pork Knuckle
500 Gram Pickled Mustard Greens
3 Egg (Boil as side dish)
1 Tablespoon Salt
2 Tablespoon Garlic
1 Tablespoon Black Pepper
1 Tablespoon Star Anise
1 Tablespoon Ginger
1 Tablespoon Coriander Root
50 Gram Plum Sugar
3 Dried Shitake
1 Tablespoon Soy Sauce
1 Tablespoon Dark Soy Sauce
1 Tablespoon Oyster Sauce
1 Cinnamon Stick
1 Tablespoon Rice Bran Oil
500 ML Water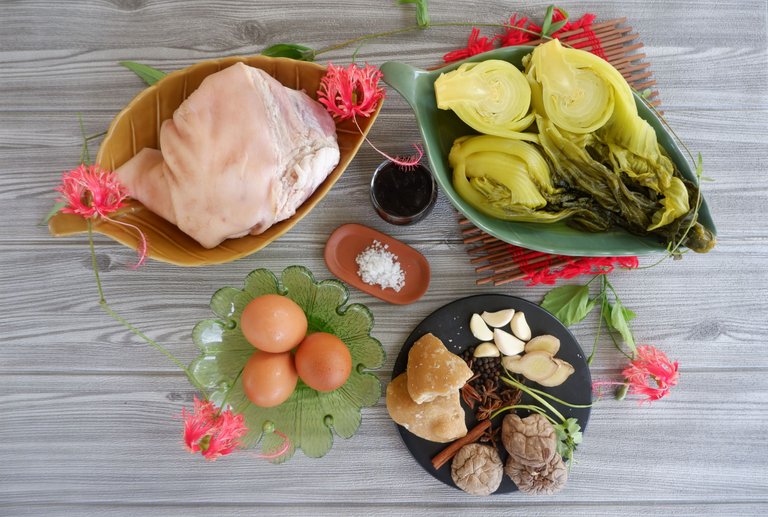 Let's Cook!
Cut half then rinse and boiling the pickled mustard greens.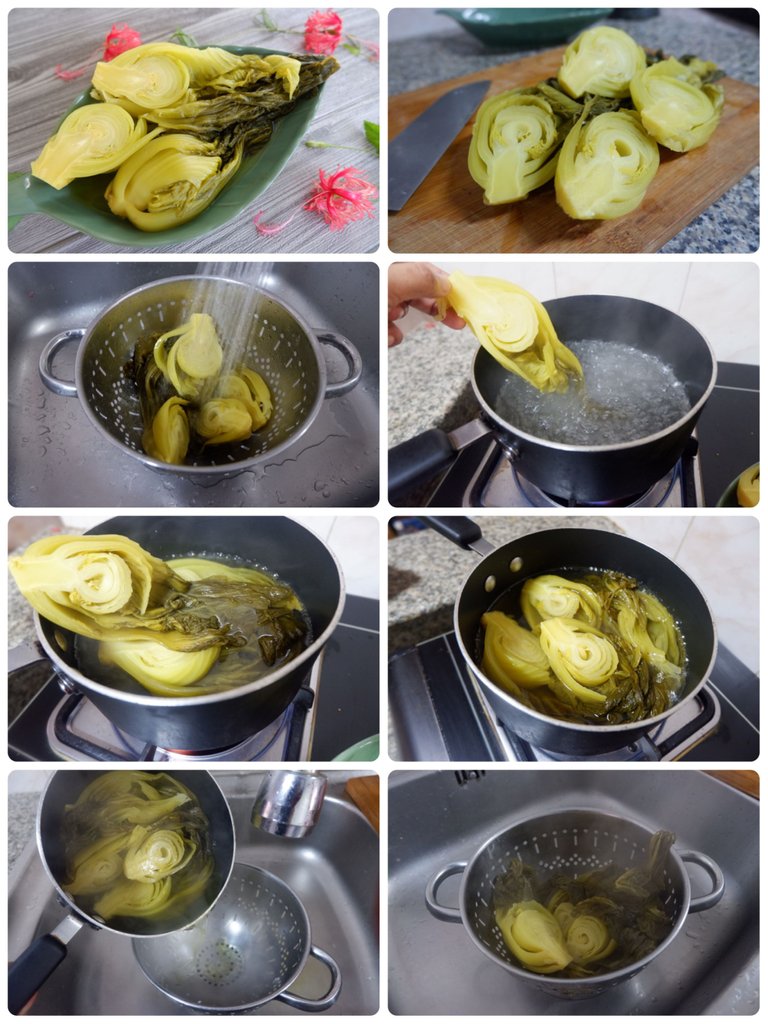 Pour the hot water to dried Shitake.
Cut the boneless pork knuckle into large cube.
Pounding the garlic, coriander root and black pepper in the mortar.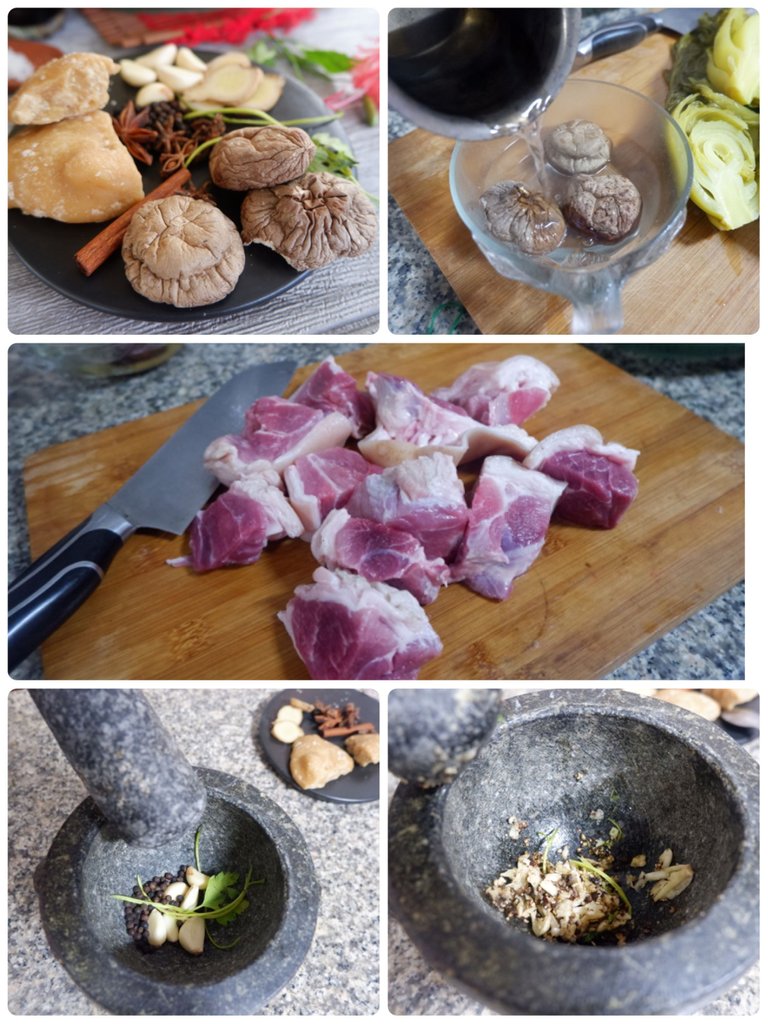 Pour the oil into the pan and add the pounding stuff and stir it until the garlic turn golden brown and add all the spice and stir it.
Add the pork and fried it until the outside turn to cooked and drop the dried shitake.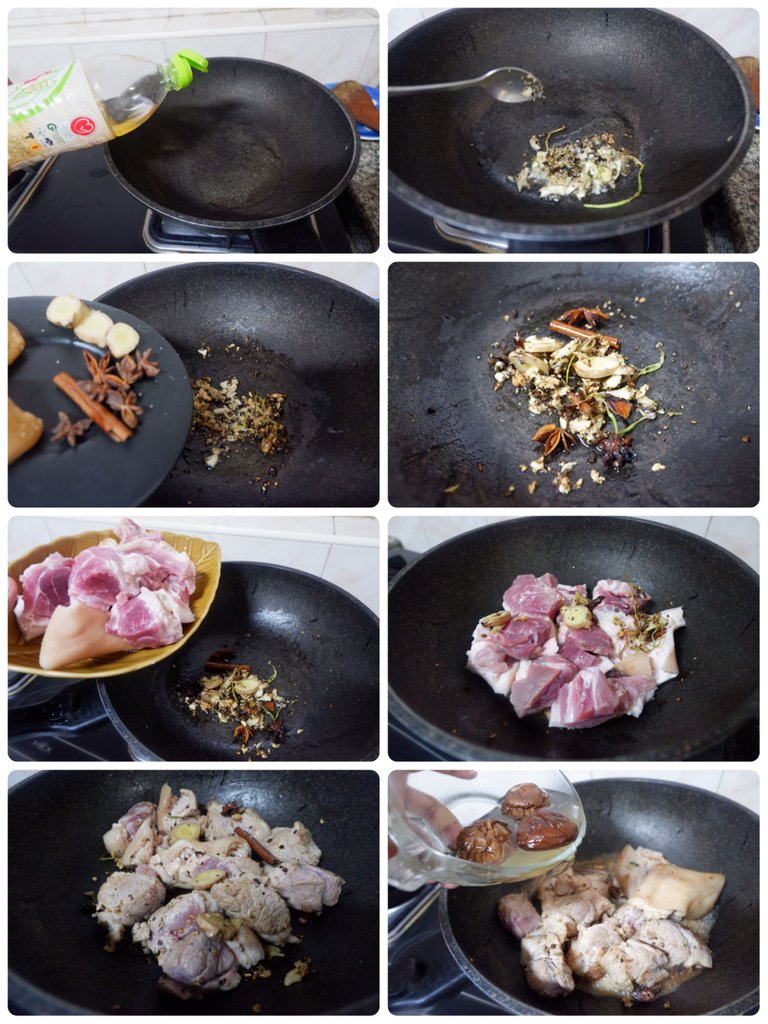 Add salt, all the sauce and sugar and whisk them together.
Lay the pickled green mustard into the pot and pour the stew mixture from the pan over the picked mustard greens and simmering for 45 minutes.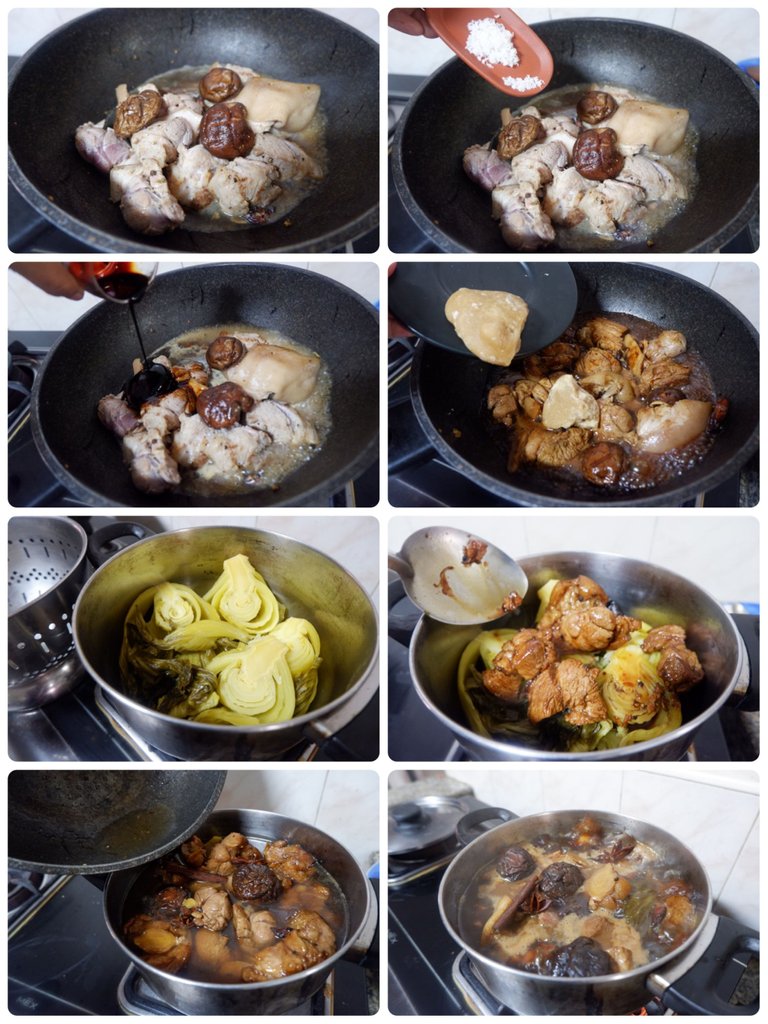 Let's boil the egg!
Boil the egg for 6 minutes then rinse it and peel the skin off.
After stewing for 45 minutes then this dish is ready to serve.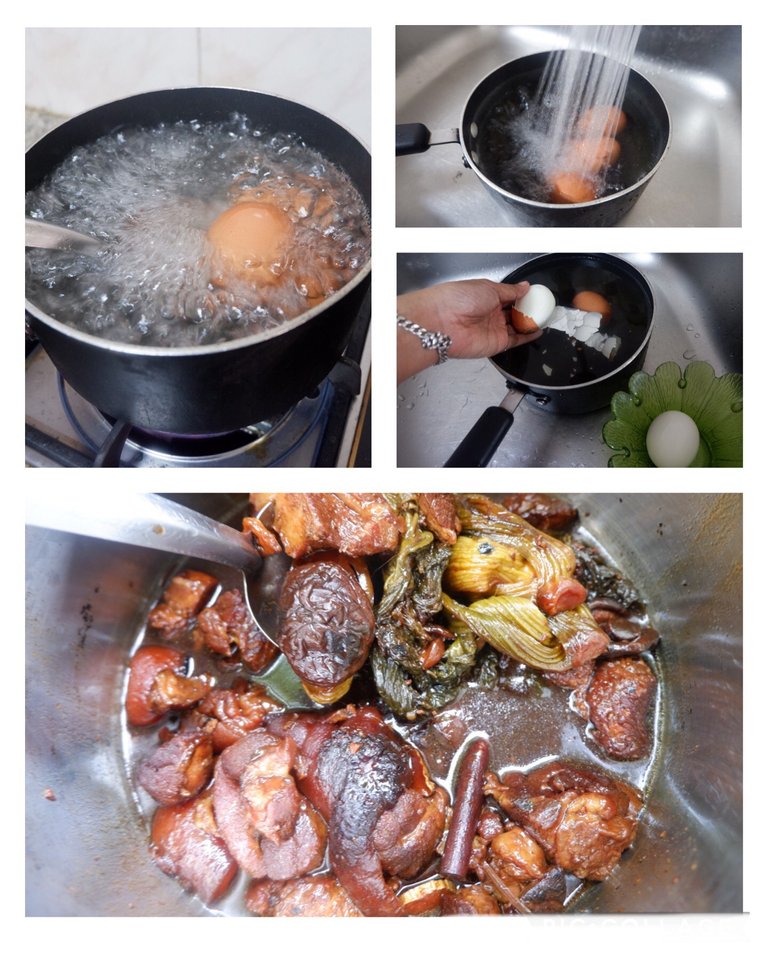 This dish is best serve with steam rice and boil egg.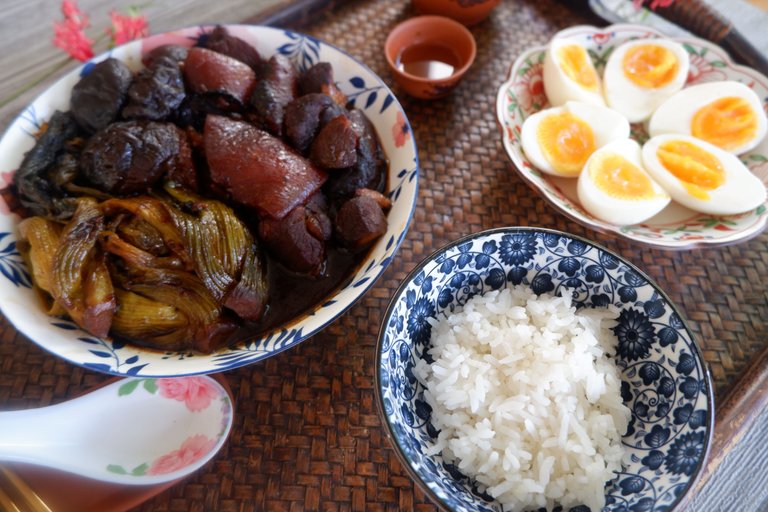 Pull out the chopstick!
Time to Eat!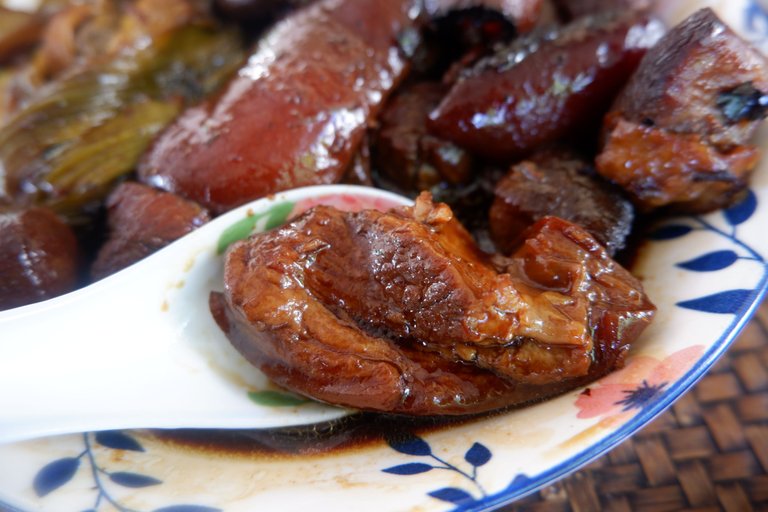 Top the stew over a bowl of rice!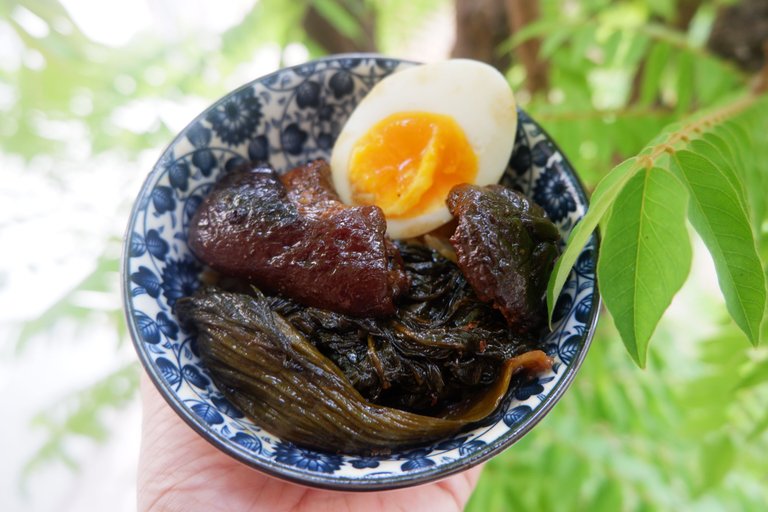 Hope you guys have a great day!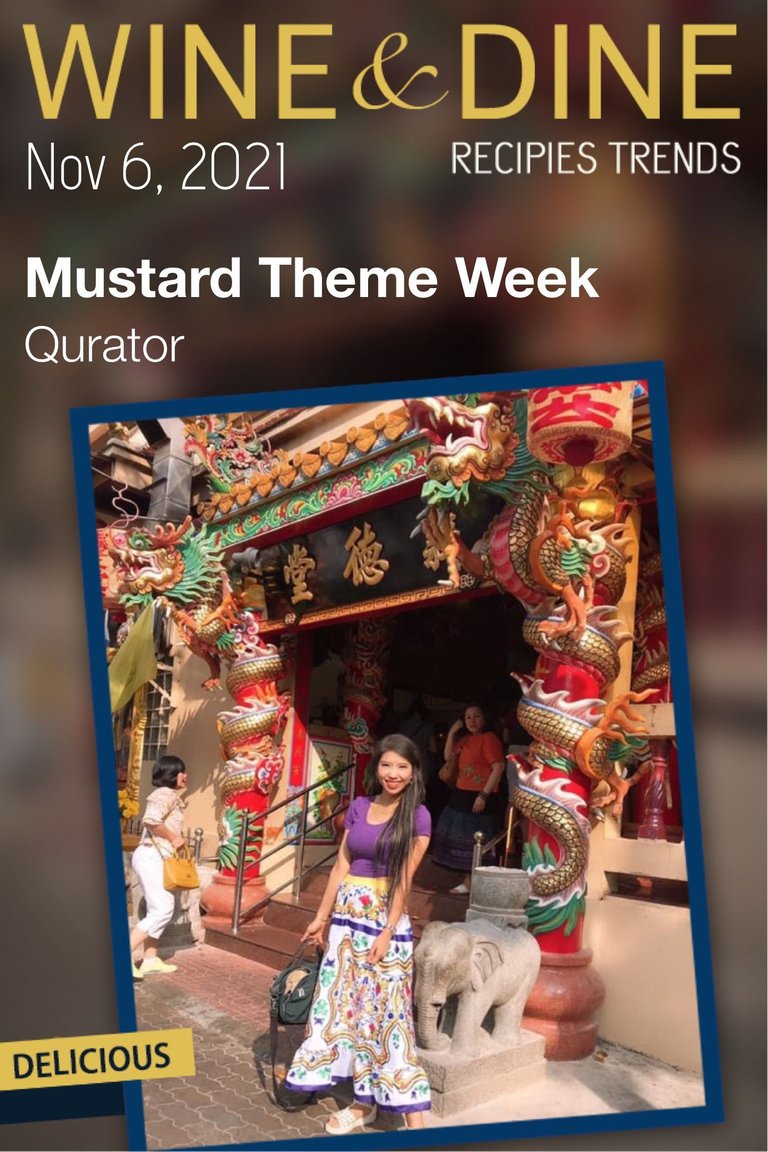 ---
---