Spinach Frittata with Sweet Potato - Super Food to Speed Up Wound Healing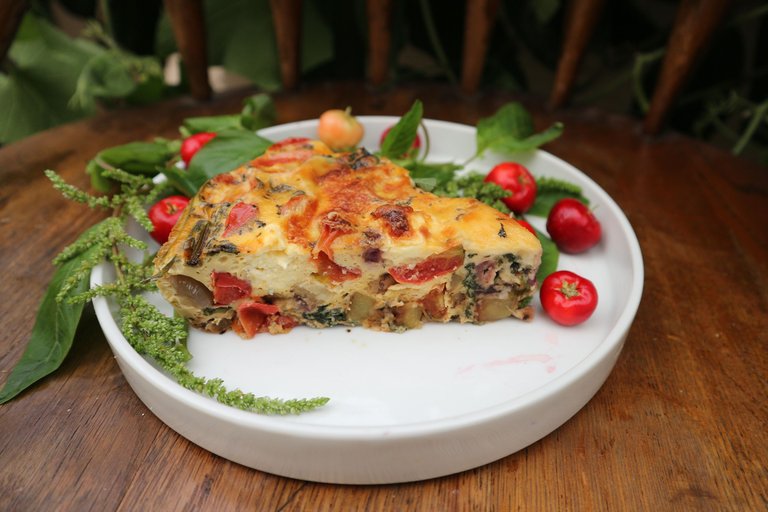 This is my first post on Natural Medicine and I was looking forward to participating and waiting till I have the right story for the community.
Today I want to share a story about my health problems and obviously that I'm a person who fascinates by cooking so I was seeking to find the recipe that helps my body speed up recovery. I really love to share this with you guys. If you or your family are often suffering from fever or easily got sick or get hurt and have a wound. It means your immunity system is quite poor so this recipe is perfect to increase your immunity and speed up wound healing or gain your strength.
I'm very busy with moving to a new house lately and I didn't take rest enough so my body was really stressed and didn't sleep well.
Yes, depression and lack of sleep really weakened my immune system and resulted in developing bacterial infections and abscesses on my left thigh. It's extreme pain and difficult to walk or do any movement and I also get a high fever and absolutely feel ill. Unfortunately, the infection spreads into deeper tissue and creates an abscess pocket on the skin surface, and deep down inside is full of pus, bacteria, and debris. This is because my body has a decreased ability to ward off infections.
After seeing the doctor, he opened the wound about 2 cm in width and 3 cm in depth and also drain the abscess. Once the sore has drained, the doctor inserts some gauze into the remaining cavity to allow the infection to continue to drain. And kept the wound open then cover with a waterproof bandage.
The doctor gives me the instructions including antibiotics medicine and wound repacking the gauze for about 10 days. It means I need to bare the pain of draining gauze inside my wound for 24 hours and going to the Wound Care Center at the hospital to clean the wound every day by pulling out the gauze inside the wound. Then use a cotton swab and soak it with betadine solution and clean the wound about 2 times and plug in the new gauze to drain the abscess.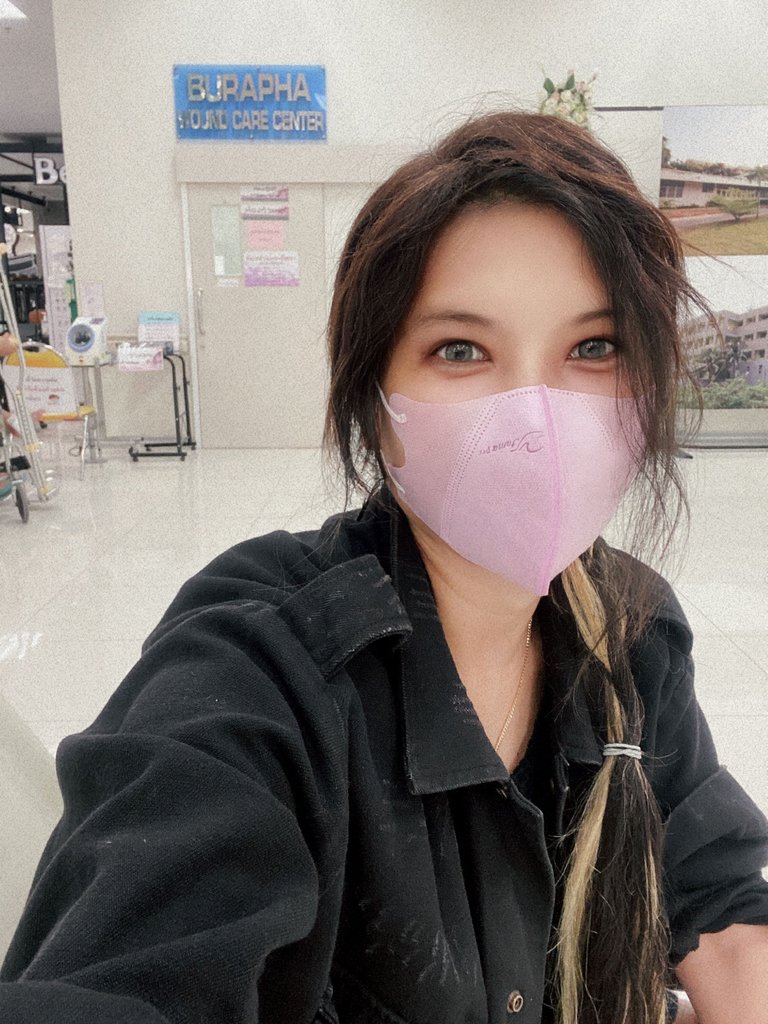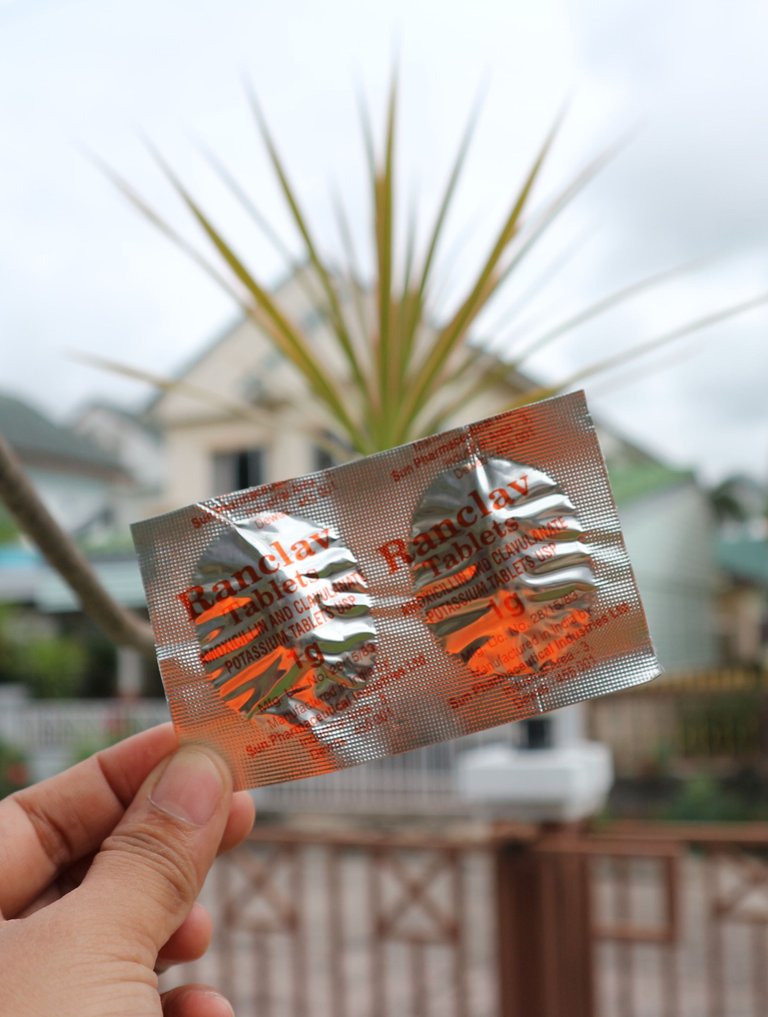 Open wounds are a nightmare come true, not only painful but also take time to heal completely and let the body create new tissues to fulfill the fresh back. Not to forget, the permanent mark on my skin too.
Fortunately, healthful food choices may help to heal the wound faster by providing the calories, vitamins, minerals, and protein necessary to promote healing. So the doctor recommends eating eggs, tomato, sweet potato, all kinds of dairy products, butter or ghee, nuts, and green leaf veggie(especially spinach and kale). When I heard the advice from the doctor, I immediately thought of Spinach Frittata with Sweet Potato which it's sort of an Italian omelet, kind of like a fluffy quiche.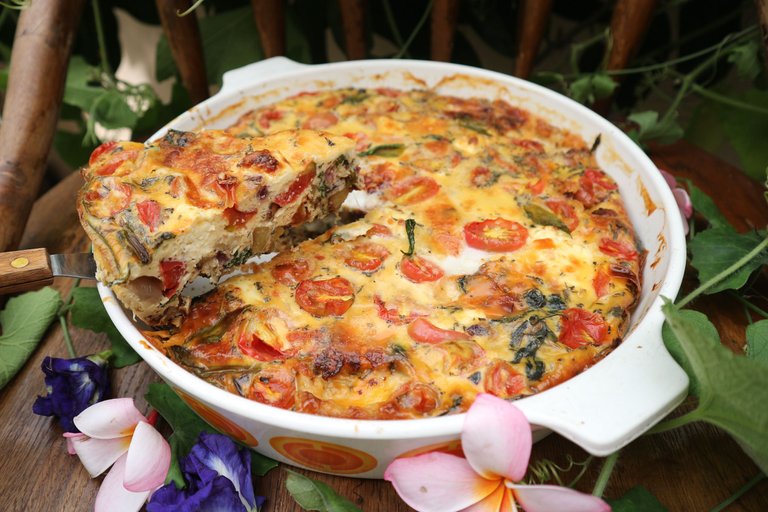 To make this delicious Frittata. Firstly heat a touch of olive oil in a pan, and cooked the sweet potatoes, and sauté the garlic, shallots, mushroom, water spinach, and Thai spinach until soft and translucent. Then I do the seasoning with sea salt and organic ground pepper.
Second, I have beaten the eggs with milk and cream. Then I also add the Italian herbs like dried basil, dried oregano, and dried rosemary, then touch with sea salt and ground pepper.
Later I combine cooked vegetables and the mixture of eggs mix into the baking tray.
Then I top with cheddar cheese slices, feta cheese, cream cheese, mozzarella, and grated parmesan.
Lastly, I top with Thai pink tomato and bake at 175 C for 20 minutes.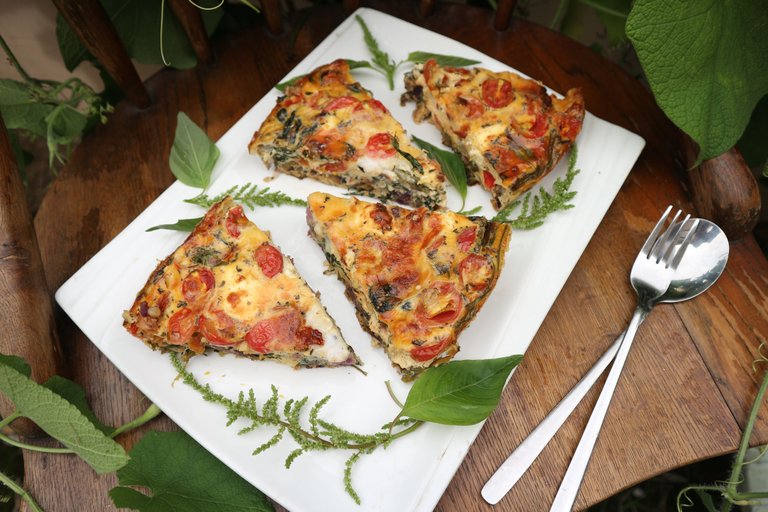 As this week on Hive top chef, we have a topic of "Spinach" and this was perfect for me because I'll use spinach as the main ingredient for my superfood to heal the wound.
Leafy green vegetables like spinach are superfoods for wound healing. They contain Vitamin K, a substance that speeds up blood clotting. It also assists in the production of anti-inflammatory chemicals, fibroblasts, and blood vessels in the body. This results in faster natural wound healing.
So I'll use local Thai Spinach and Water Spinach for my recipe which is easy to find and much cheaper here in Thailand and can provide high nutrients as they are fresh produce. They are so cheap and a good source of nutrients and I did just pay for 5 Bath(0.14 USD) per 1 bundle at the local markets near my house.
Pak Kom Thai in Thai words, Pak Kom means Spinach while Thai refers to Thailand and they can be counted as a vegetable, weed, or even medicinal plant. They are growing widely along the fence as a common vegetable garden for Thais which grow abundantly in this rainy season now. Thai spinach is a good medical vegetable and has properties that have been accepted since ancient times until nowadays. They come with several health benefits with high vitamin A and it's one of the most essential nutrients for wound healing since it helps to control the inflammatory response.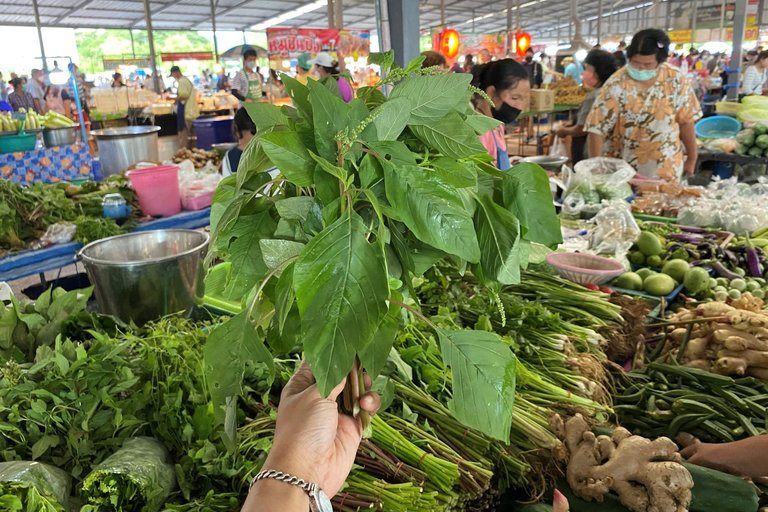 Another spinach that I'll add to my recipe is Water spinach, I was so lucky because my neighbor always brings over the vegetables that she managed to harvest from her garden to me. And a few days ago she gave me water spinach which they are growing beautifully around her fence.
Water Spinach comes with several health benefits with high C vitamins inside and will help to regenerate the skin cells into a fresh and new production. When having scars or damaged skin, consuming water spinach will help to fasten the skin recovery. It is caused by the lots of C vitamins contained inside the vegetables.
Water Spinach is also known as swamp spinach, river spinach, Chinese spinach, and Pak Bung in Thai words. It has a savory, mild, and slightly mineral flavor. Once cooked, the leaves turn very tender like spinach with a hint of sweetness and it's a very common vegetable for Thais, we all love water spinach.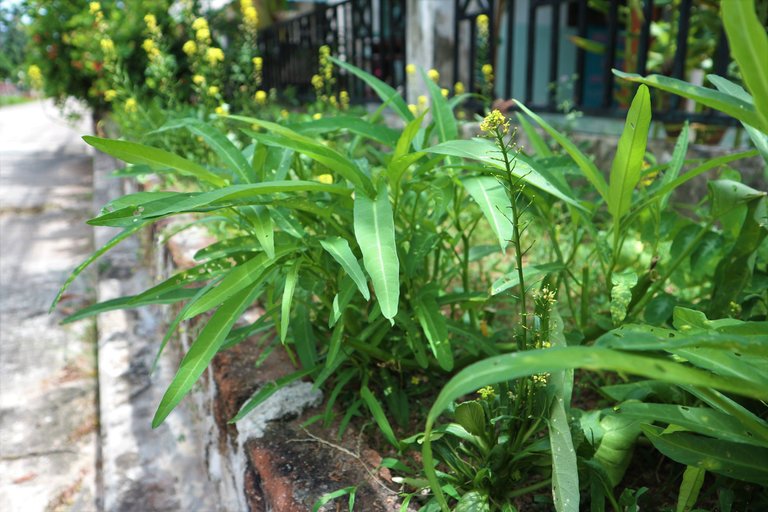 One thing I want to mention briefly is other ingredients.
Eggs are not only an excellent source of high protein but also nutrients that support immune health and wound healing. Every time I went to clean the wound, the nurse always remind me to eat an egg and it'll help to speed up fulfilling new tissue.
Sweet potato is loaded with minerals and vitamins that can heal the body faster. They have a rich source of vitamin A, vitamin B, and vitamin C, which are known to speed up wound healing so I did twist the recipe from the Italian original version by substituting the sweet potato instead of the normal potato.
Any dairy from cows, especially milk, cheese, and butter is a rich source of calcium which can play a significant role in the acceleration of wound healing.
Tomatoes are beauty aids for flawless skin. They are also rich in Vitamin C which will help to promote the growth of connective tissues and speed up to repair of old wounds and accelerates the healing process. I used Thai pink tomato for this recipe and I did just pay for 10 Bath(0.28 USD) per 2 cups at the farmer's market near my house.
After I do more research and don't have any doubt about cooking this Spinach Frittata with Sweet Potato at all. They are easy to make and inexpensive with local produce fresh. From stove to oven and the whole thing will take about 20 minutes to complete. In this vegetable version, I didn't add any meat products and just add lots of colorful and tasty veggies, milk, cheese, and herbs.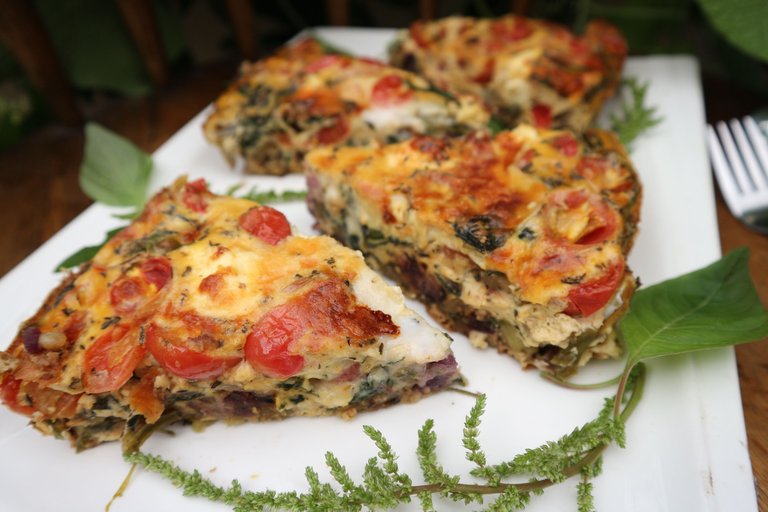 Let's see the ingredients.
8 Eggs
200 Gram Water Spinach
200 Gram Thai Spinach
1 Cup Full Fat Milk
1/2 Cup Heavy Cream
1/2 Cup Cream Cheese
1/3 Cup Feta Cheese
1/3 Cup Mozzarella Cheese
1/3 Cup Grated Parmesan Cheese
1/2 Cup Aged Cheddar Cheese
1 Cheddar Cheese Slice
1 Mozzarella Cheese Slice
1 Head Garlic
1 Shallot
1 Japanese Sweet Potato
1 Japanese Purple Sweet Potato
1/2 Cup White Shimeji Mushroom
2 Cup Thai Pink Tomato
1 Teaspoon Dried Italian Basil
1 Teaspoon Dried Rosemary
1 Teaspoon Dried Dried Oregano
2 Teaspoon Sea Salt
2 Teaspoon Ground Pepper
2 Tablespoon Butter
1Tablrspoon Oil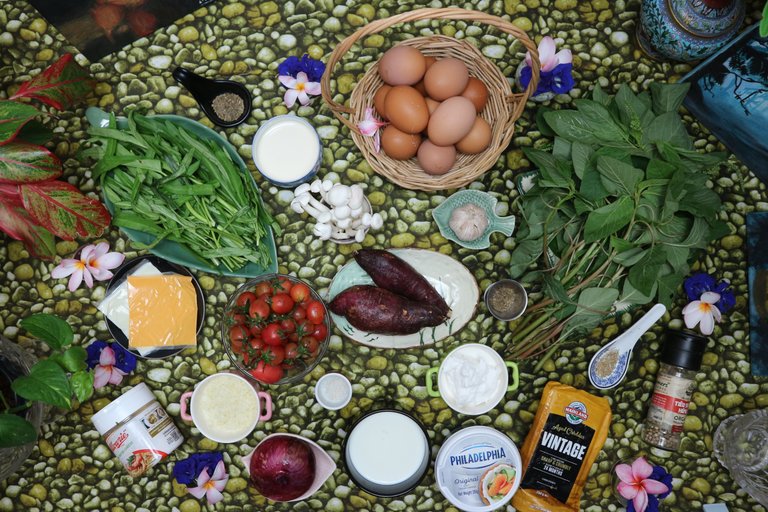 Instruction
Step 1 - Prepare the Veggies
Peel off the garlic and shallot skin. Then cut into small cubes and chop the white Shimaji Mushroom into small pieces.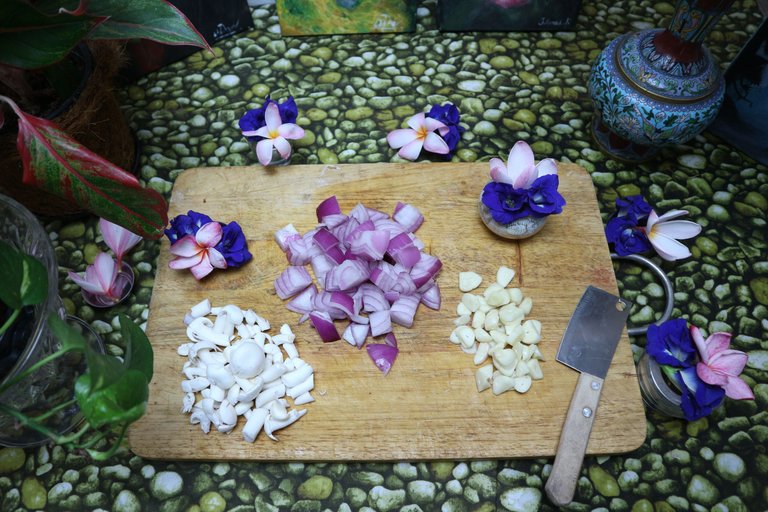 Rinsed Thai Spinach before using under running water and patted dry. Then removed the leaves from the stem and save the young shoots for garnish. Later, chop the water spinach into the same size.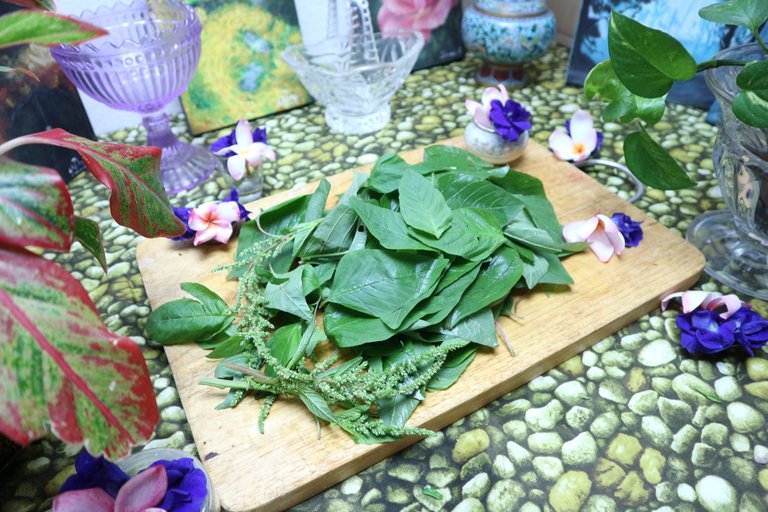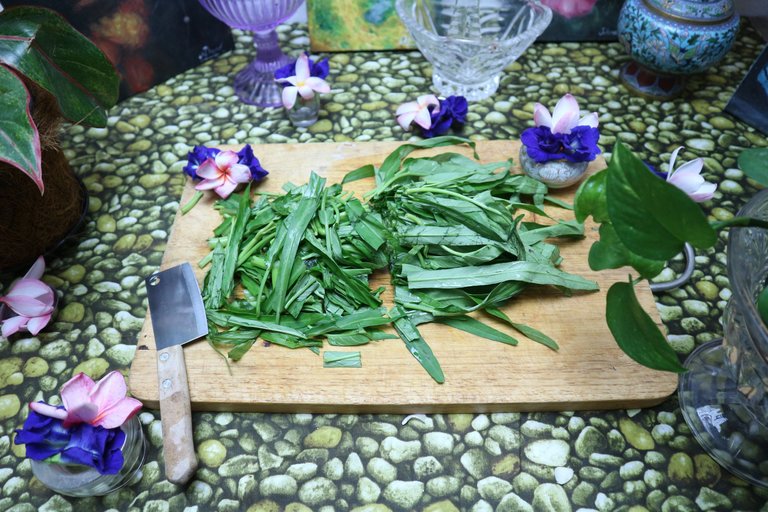 Here are a few important things to get right for this Spinach Frittata with Sweet Potato. Firstly cube and dice cut the sweet potato into square pieces of equal size to get easy cooked raw sweet potato on the stove by stir fry them with vegetable oil.
Rinsed and dried the Thai pink tomato before cutting them in a half.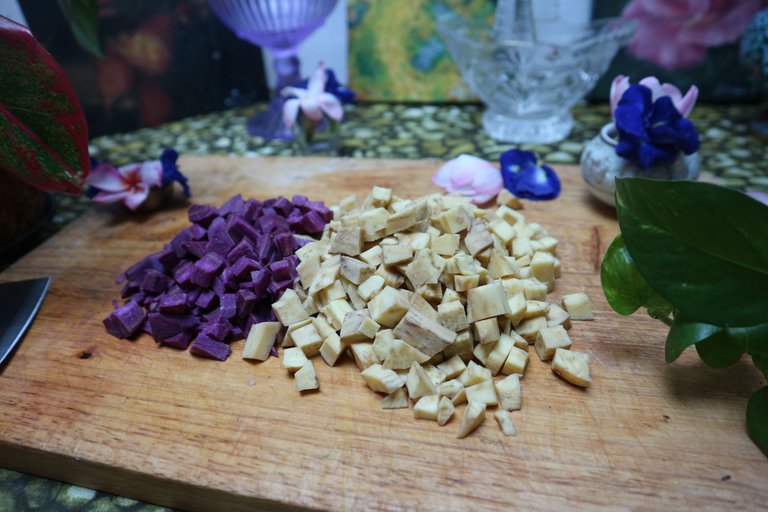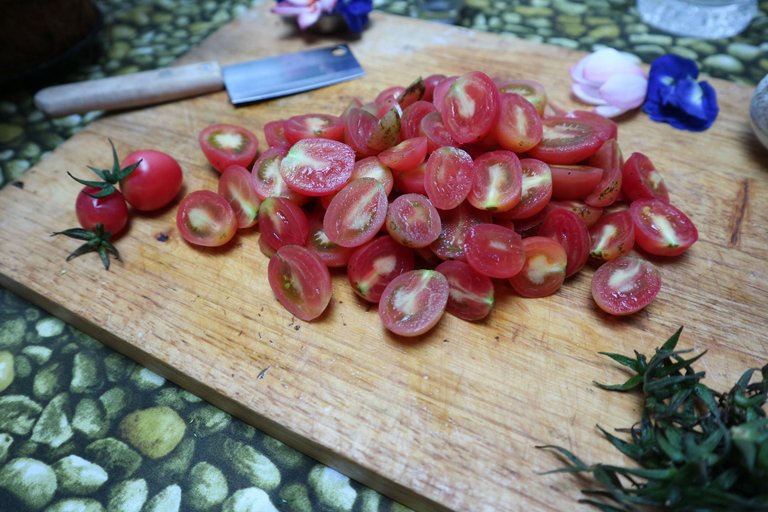 Step 2 - Sauté the Veggies
Start by sautéing the chopped sweet potatoes in a large nonstick pan with hot oil. Carefully add the cube of sweet potatoes to a pan at one layer but try to let all pieces of potatoes touch the pan and let it brown on all sides until golden brown.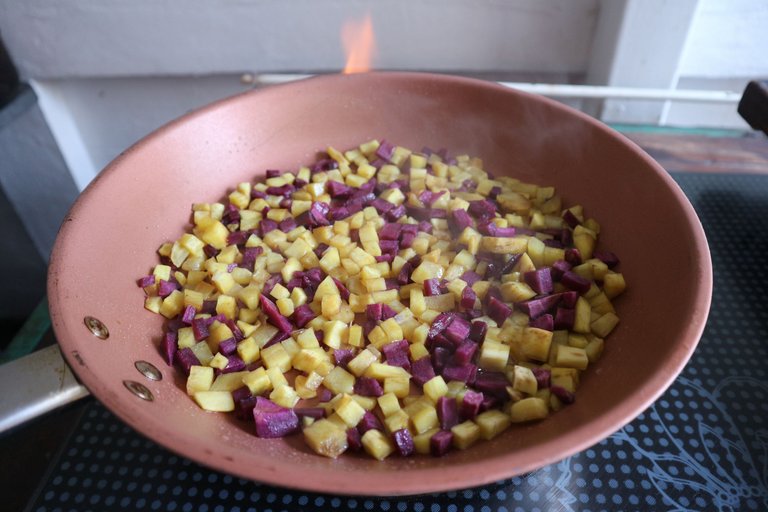 Add garlic and shallot then whisk until they turn dizzying. Then sauté them and keep stirring for about 2 minutes.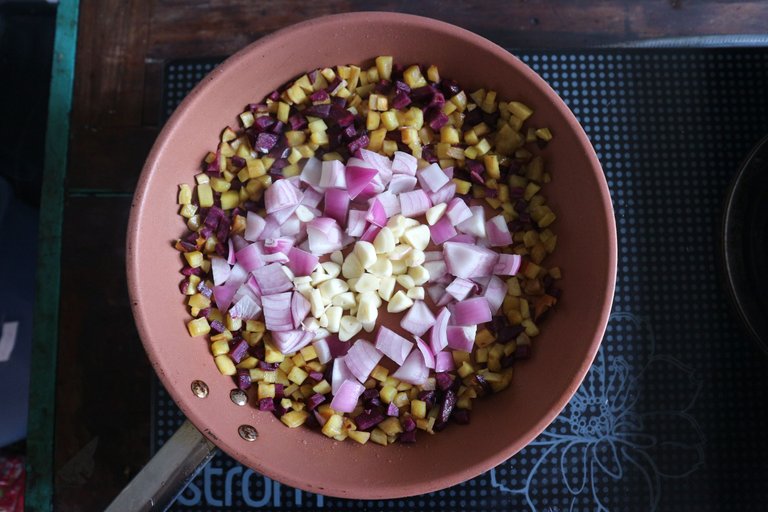 Add the mushroom into the pan and stir to combine.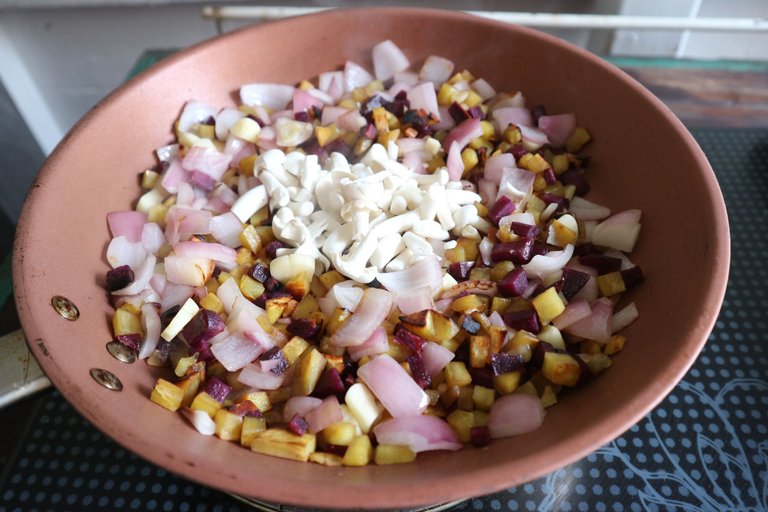 Once the veggies are cooked and translucent, then add the Water Spinach and stir to combine.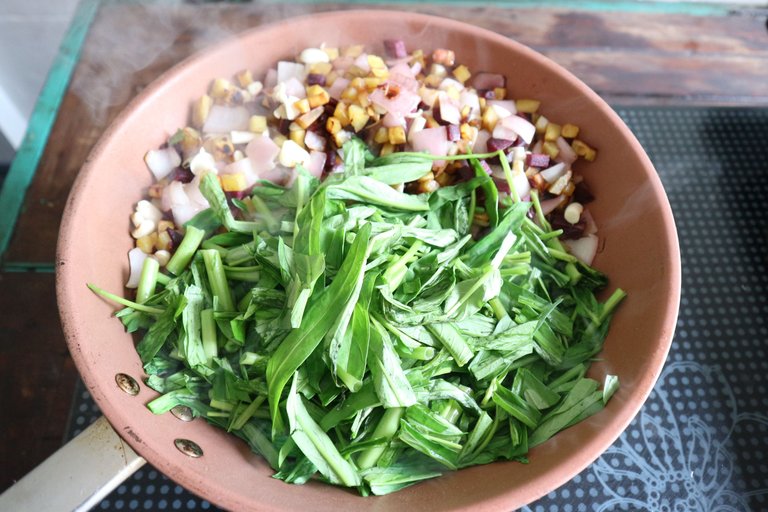 Then quickly add Thai Spinach into the pan and continuously stir fry.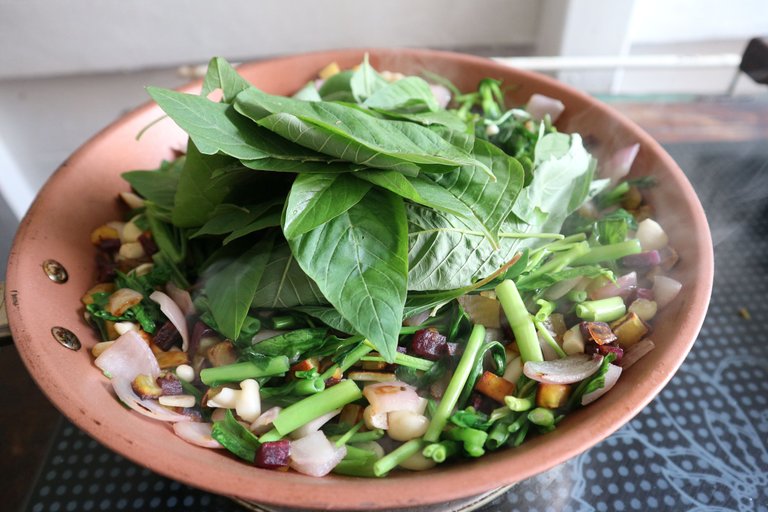 Add sea Salt and ground pepper into the pan and whisk them gently.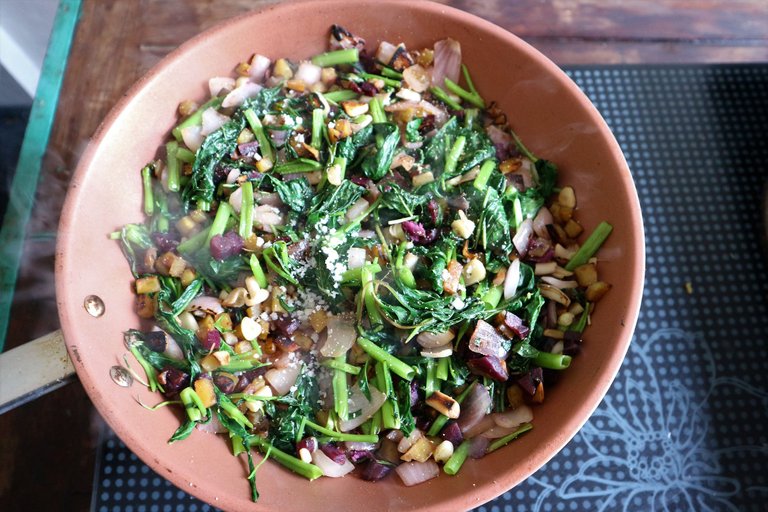 Turn off the heat and add the butter, whisk them gently then let it cools down first and set it aside.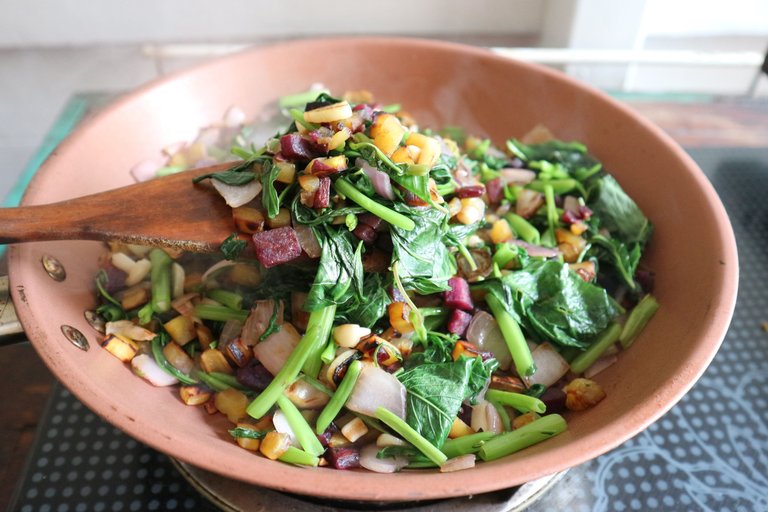 Step 3 - Combine the Egg Mixing
Position a rack in the middle of the oven, and heat to 175 C. Meanwhile, in a large bowl. Crack the eggs into the mixing bowl.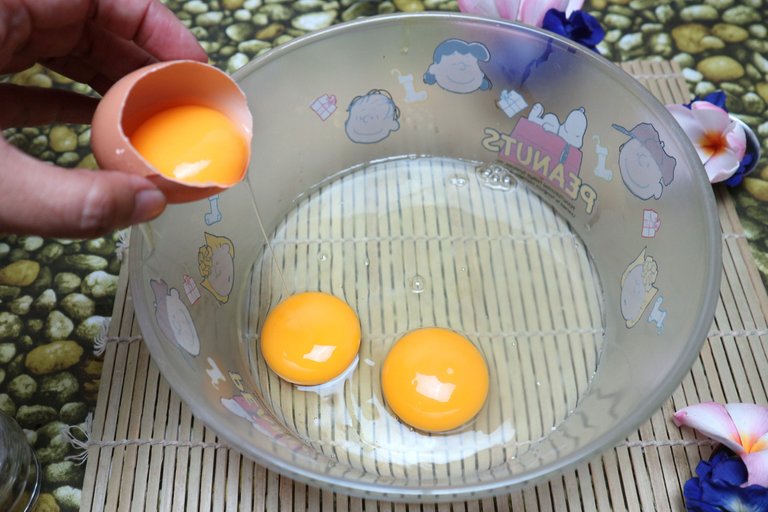 Beaten the egg until well combined.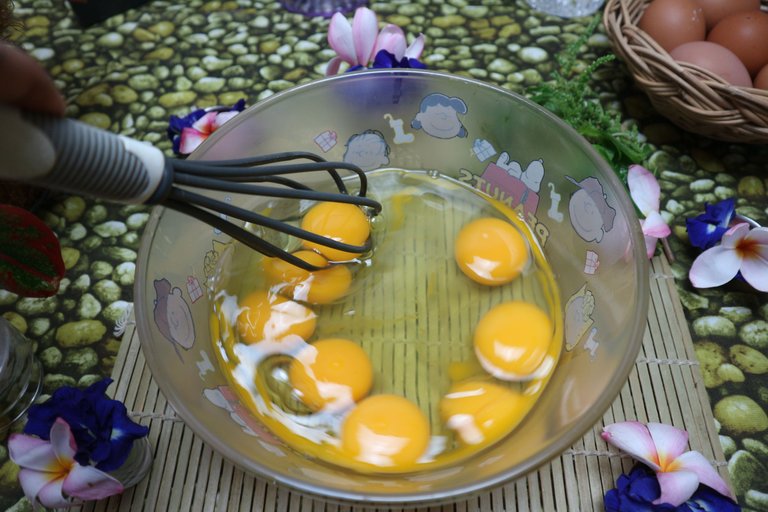 Add the full-fat milk and heavy cream into the same mixing bowl. Whisk them until good blend.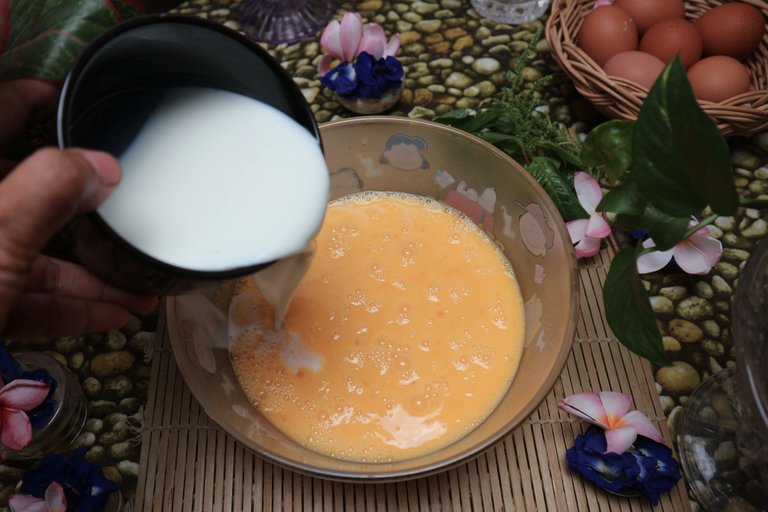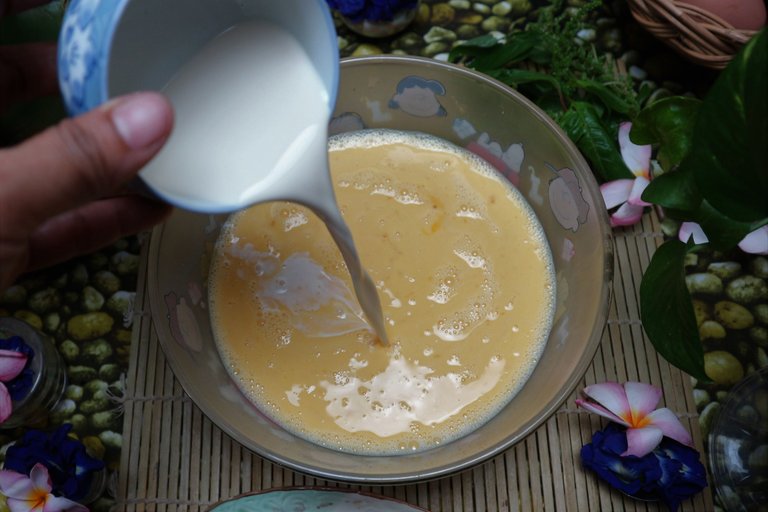 Add the dried basil, dried oregano, and dried rosemary into the egg mixture and whisk together.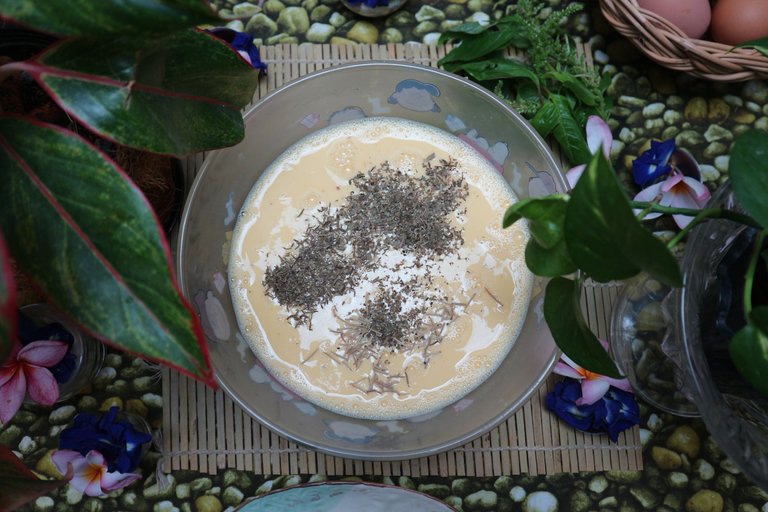 Add the mixture of cooked veggies into the egg mixture.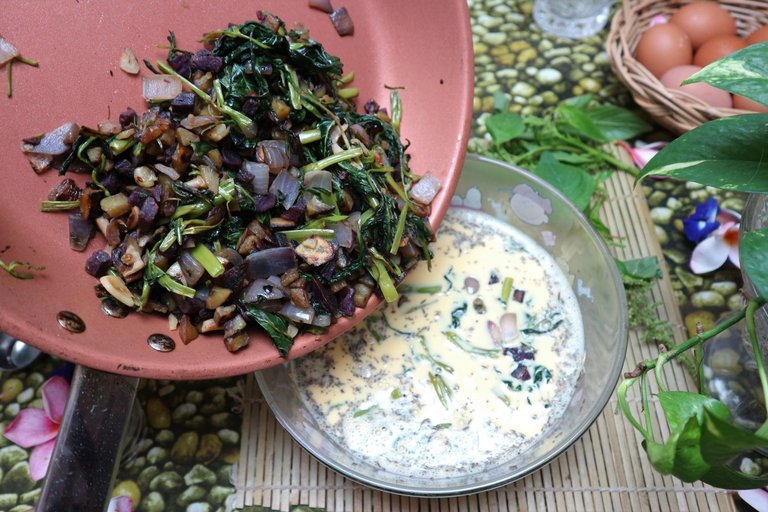 Gently combine the cooked veggies and the egg mixture together.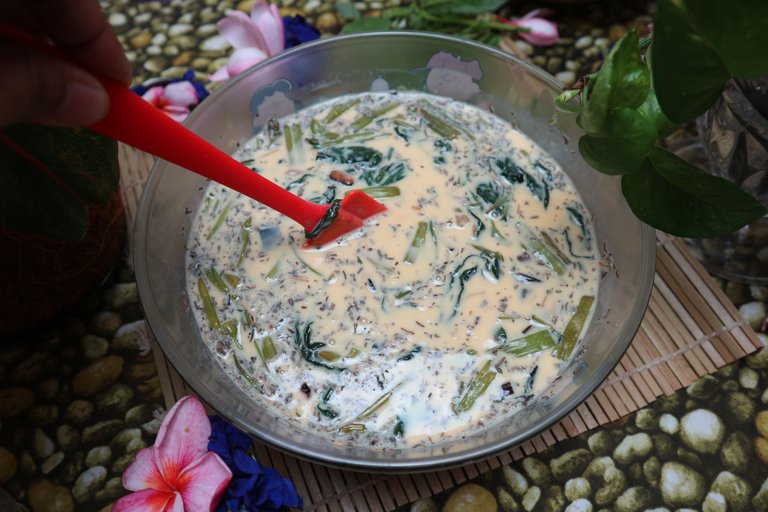 Brush all over the baking tray with the butter and pour in the batter.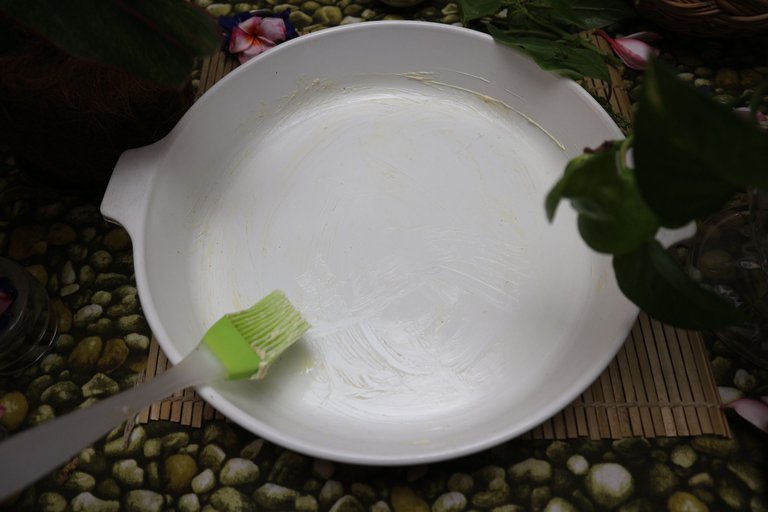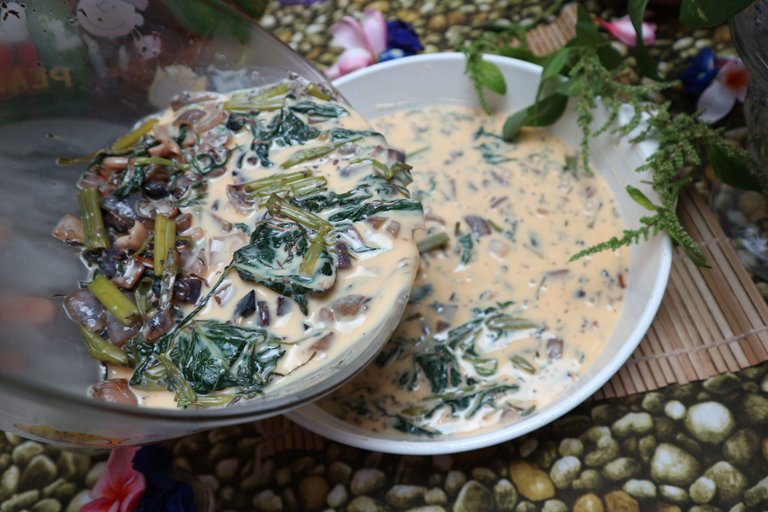 stir gently to distribute the ingredients.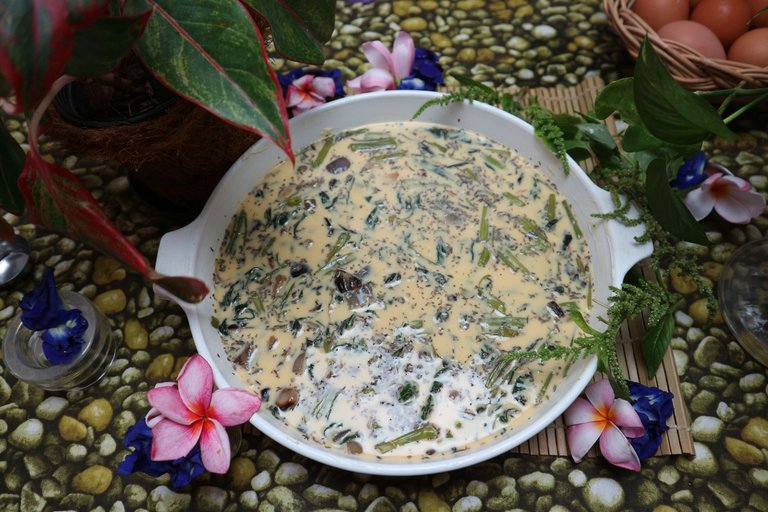 Top the batter with Feta Cheese, Cheddar Cheese Slice, and Mozzarella Cheese Slice,
 
Add the remaining cheese like Aged Cheddar Cheese, Mozzarella Cheese, and Grated Parmesan Cheese.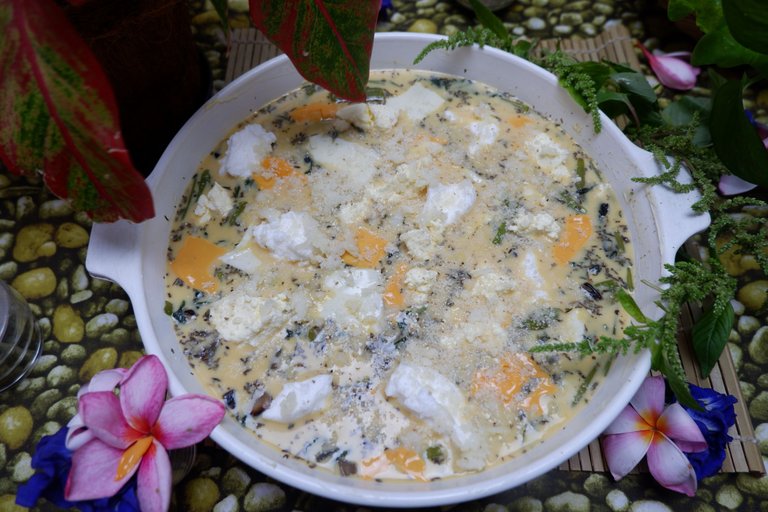 Later, plug in the Thai pink tomatoes.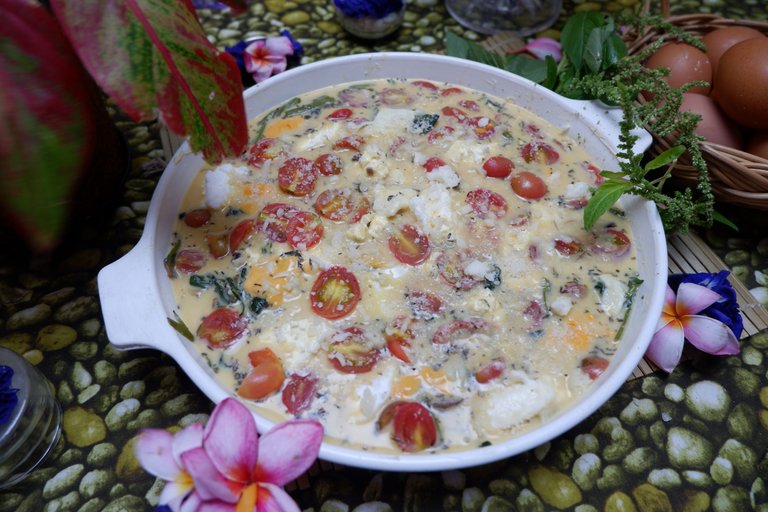 Lastly, transfer the frittata to the oven and bake at 175 C for 20 minutes until the frittata is puffed and set. To check, make a small skewer inserted into the center. If liquid egg mixture flows into the skewer, it needs another minute or two.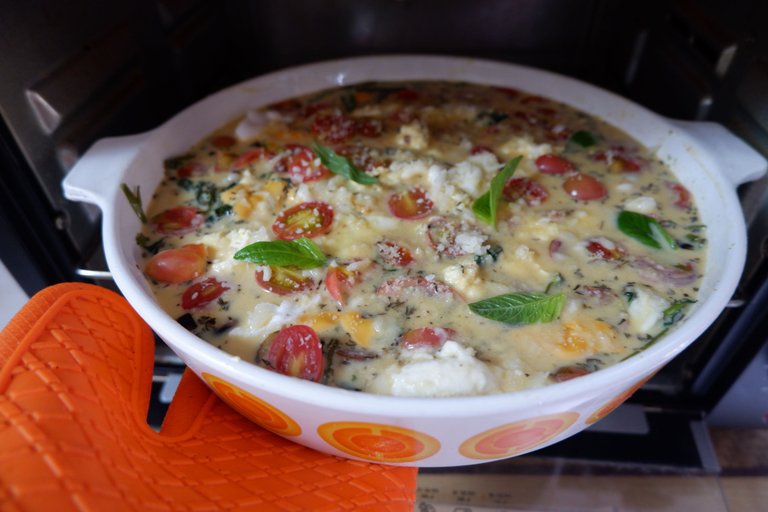 Remove the baking tray from an oven and let it cool for 5 minutes before slicing and serving. I like a browned top, so I place the baked frittata under the oven on the first rack for a minute or two, just until browned.
To slice, cut with a sharp knife and run a thin spatula around the edge of the baking tray to loosen the frittata.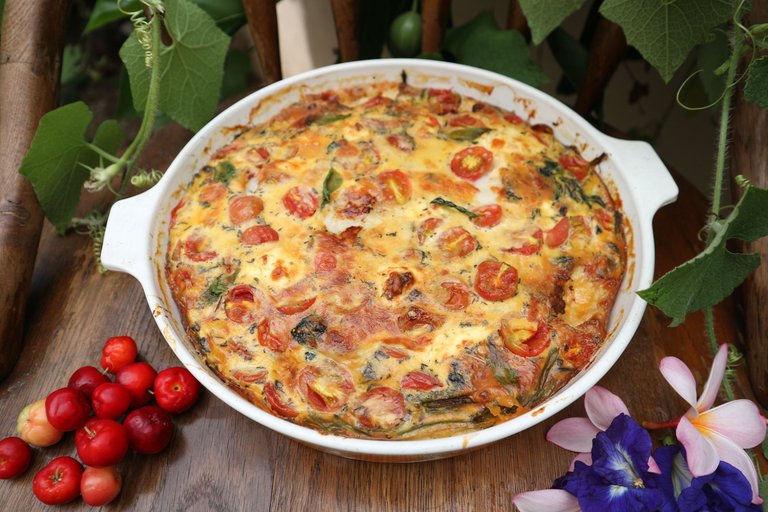 Slice and garnish with fresh Thai spinach that was reserved before. I make this at the night and they can store well and still taste supreme so I can pack them up for on-the-run lunch. This frittata is a perfect meal, a healthy way to heal my wound and speed up recovery!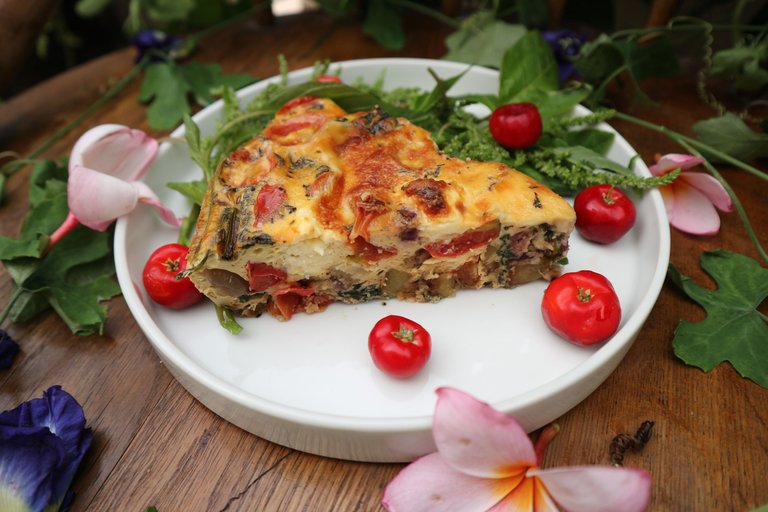 The food I eat during the illness plays an important role in my recovery. I did make another dish like Red Bean Brownie along with this Frittata and these foods not only provide me with energy but a healthy ton of nutrients that help gain my immunity and heal my wound faster.
The doctor did reduce to gauze drain from 10 days to 5 days instead which make me so happy and feel relief because I nearly can't barely the pain with the repacking process. So far my wound looks great and has no more inflections but I still need to go to the Wound Care Center at the hospital every day to clean my wound. So food plays an important role to heal my illness and I hope you enjoy reading my post.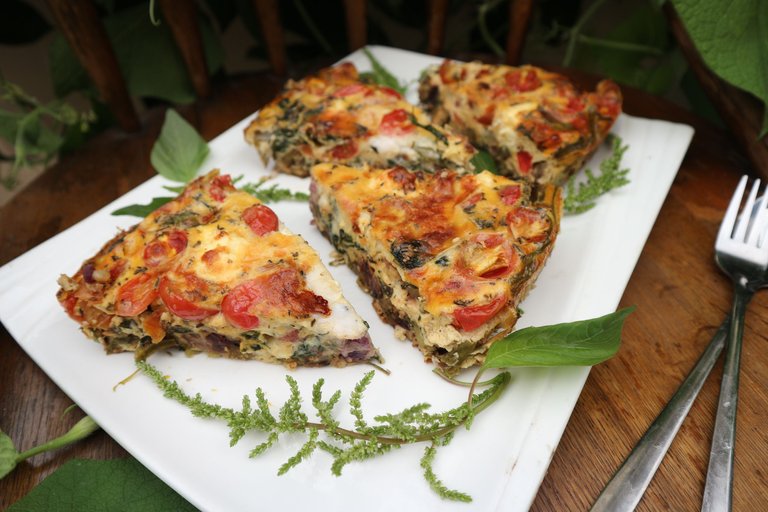 Wishing you guys a healthy, please take care and eat well.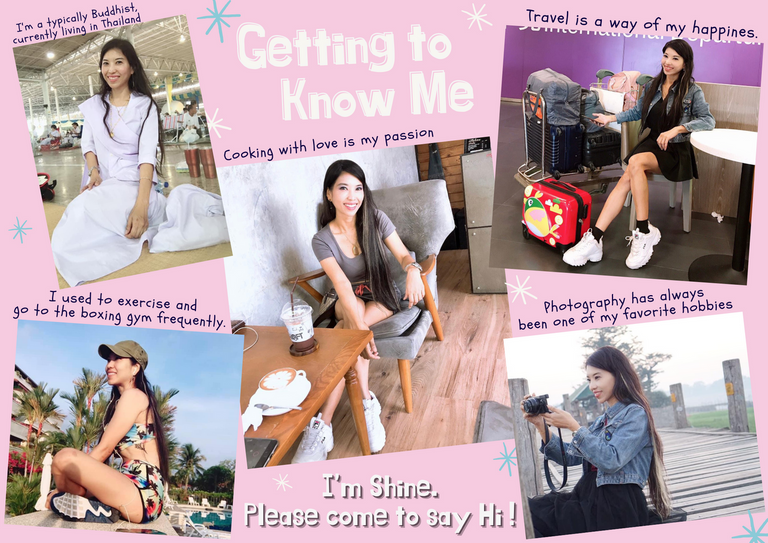 ---
---