Thai Style Pork Belly in Fish Sauce with Sticky Glaze 🇹🇭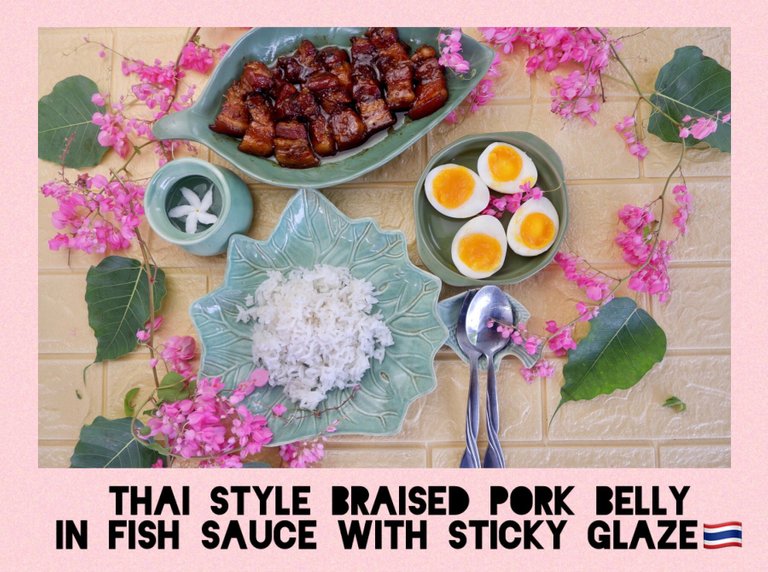 Sa Wad Dee Ka 🙏 Hive community ^^
Pork belly has the popular well known as the fatty meat part but properly cooked will turn pork belly to juicy and tender. Braised Pork Belly is a beloved dish in most of Asian and there are many versions and twists based on the food culture. For Pork belly lovers as Me! This recipe is must a try. 😆
🇹🇭 Today I would like to share with you an idea to make a Thai Style Pork Belly in Fish Sauce with Sticky Glaze. It's a wonderful dish to cook in the morning and enjoy throughout the day with whole family.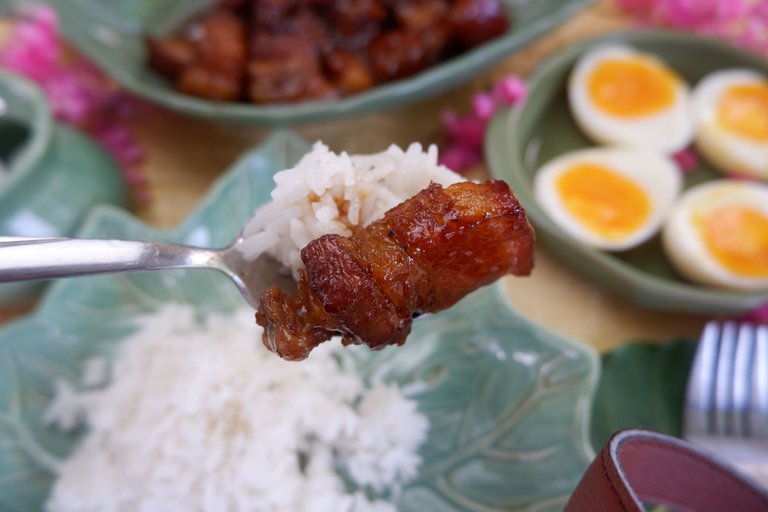 This dish is such a flavorful and all we need is some slow cooking with garlic, pepper and plum sugar that give a signature sticky sweet glaze and salty fish sauce. Thai Style Pork belly is get along really good with soft boiled egg. It will actually lift up the taste of the fish sauce sticky glaze.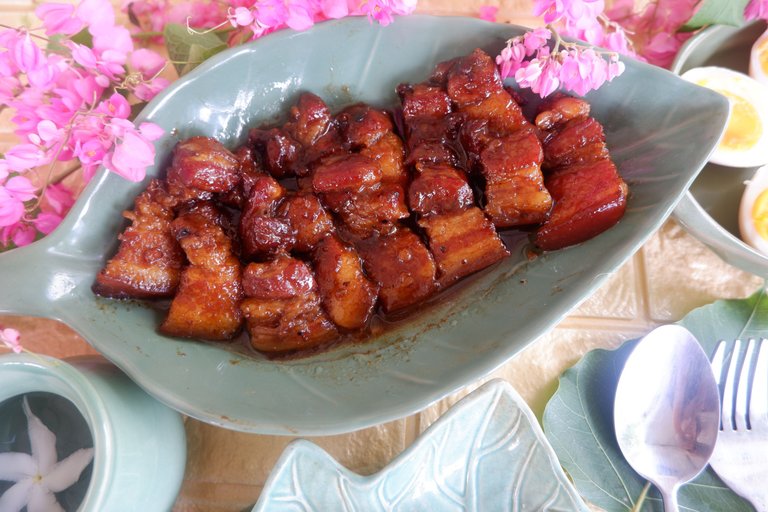 The Key ingredients for my recipe today is the Thai plum sugar which is made from coconut palm trees and has a caramel flavor. Palm sugar is considered as a sweetener from natural with no any chemicals add. Palm sugar contained various vitamins and minerals that can be a good alternative right choice for a person who concern about healthy diet.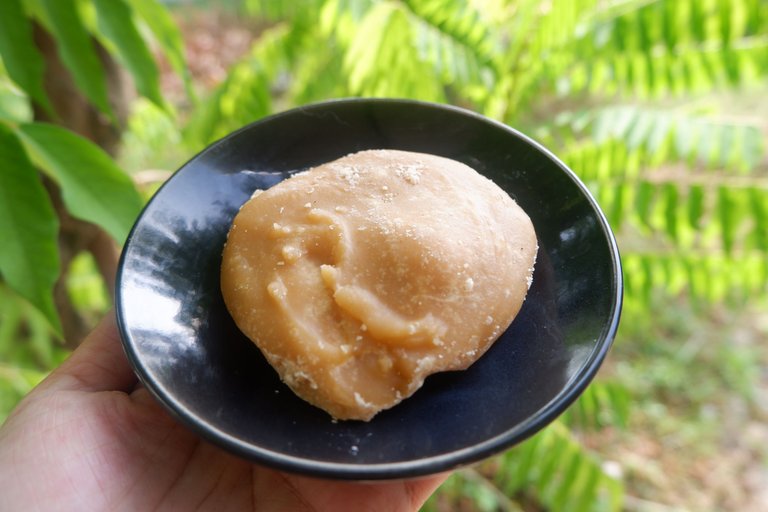 I can't wait to show you how easy it is to cook this dish in my kitchen!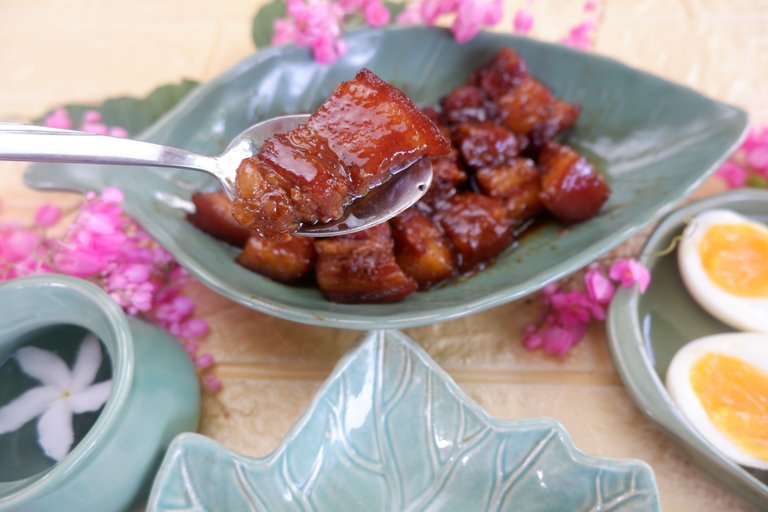 The ingredients are very simple. It's required only pork belly, oil, plum sugar, fish sauce, garlic and pepper. Just SIX ingredients. Amazing! right?
400 Gram Pork Belly
3 tablespoon Fish Sauce
3 Tablespoon Sugar Plum
7 Cloves Garlic
1 Teaspoon Black Pepper
1 Tablespoon Oil
1 Cup Water
6 Boiled Egg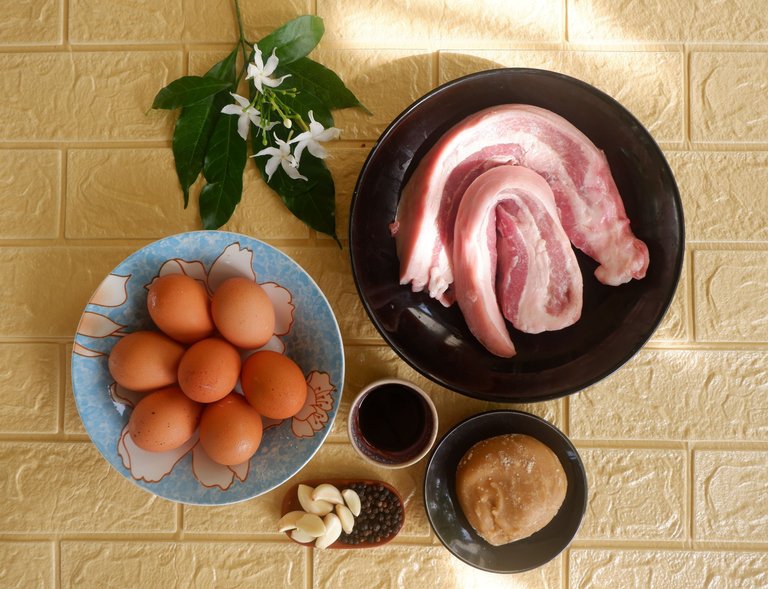 The Simple Steps to Follow!
Pounding the garlic and pepper and set aside.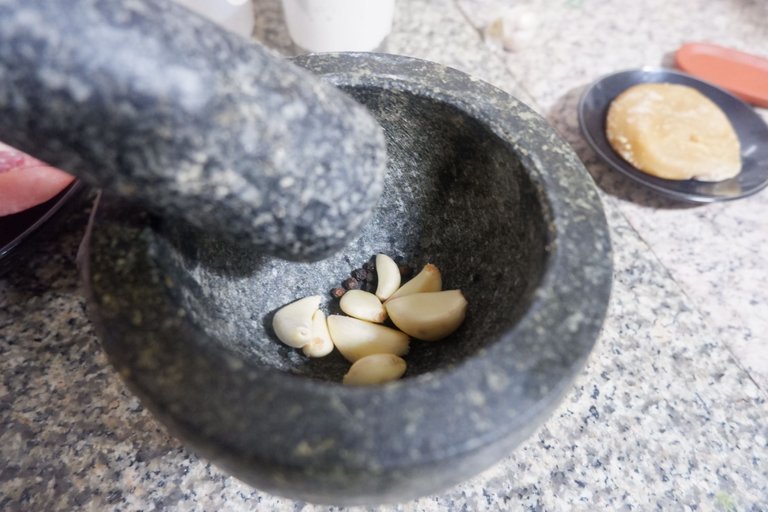 Cut the pork which I prefer to cut it into 1 inch chunks.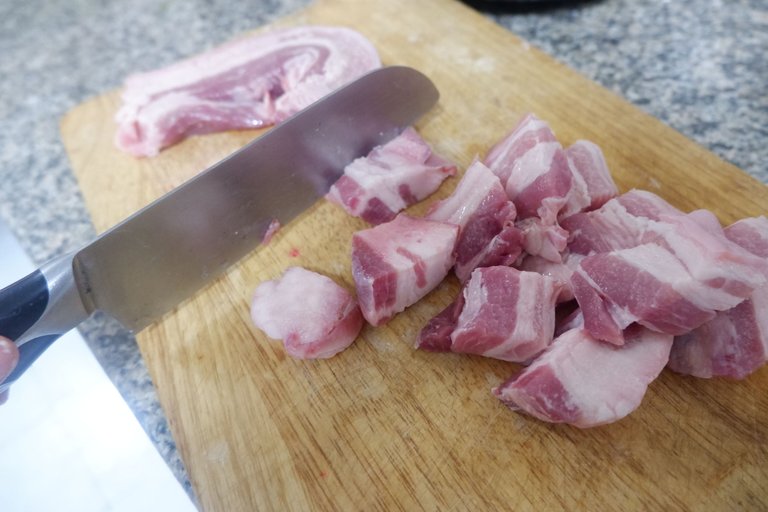 Pour the oil to the hot pan and drop the garlic and black pepper and stir them until garlic turn golden brown then add the plum sugar and whisk it around 5 minutes or the ingredients turn to dark caramel. Drop the pork and fish sauce and mixing them together and pour the water to the pan.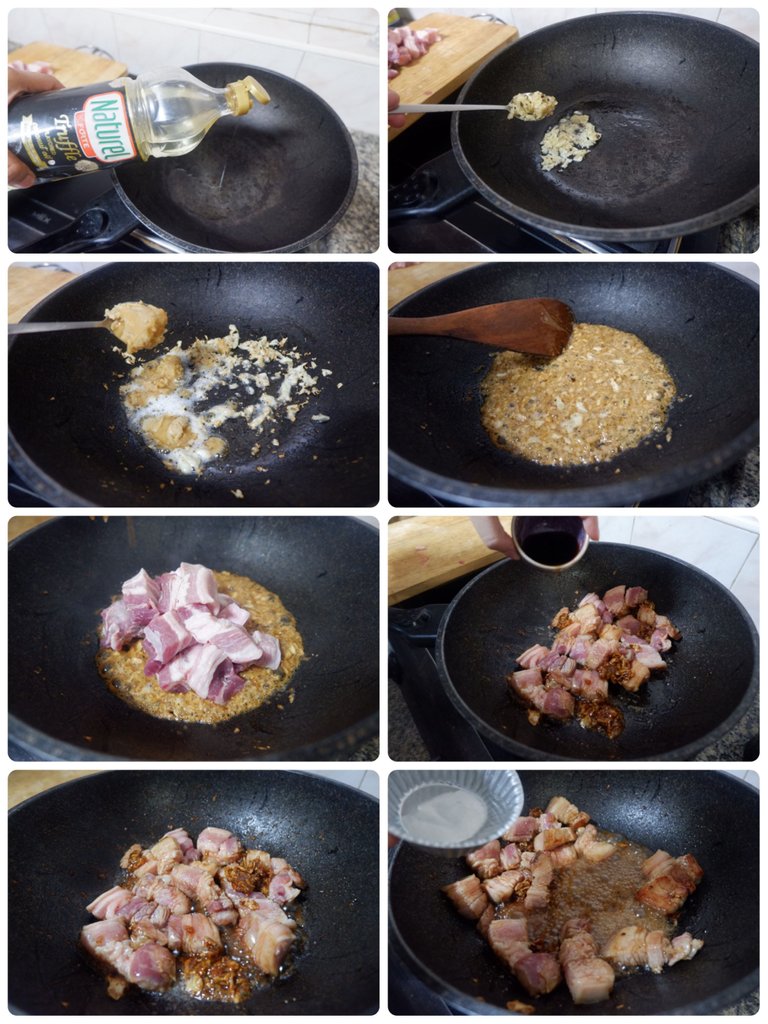 Reduce to low heat and cook with open lid until the liquid get thicker into a sticky sauce around 10 minutes.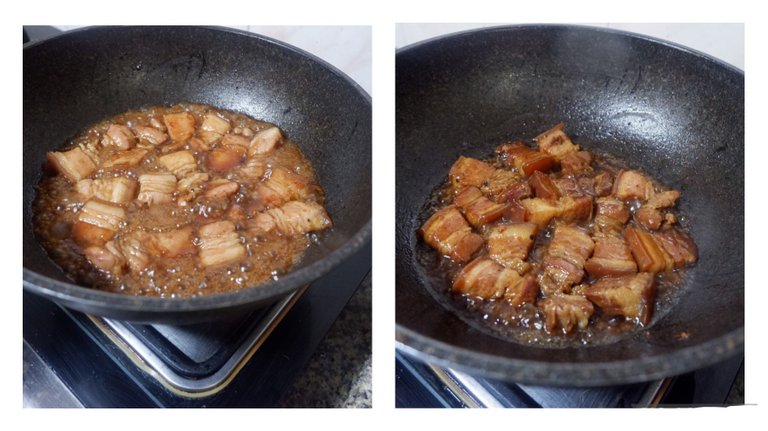 Let's boiled the eggs!
Drop the eggs into the boiled water for 6 minutes and rinse it with running water then peel the skin off.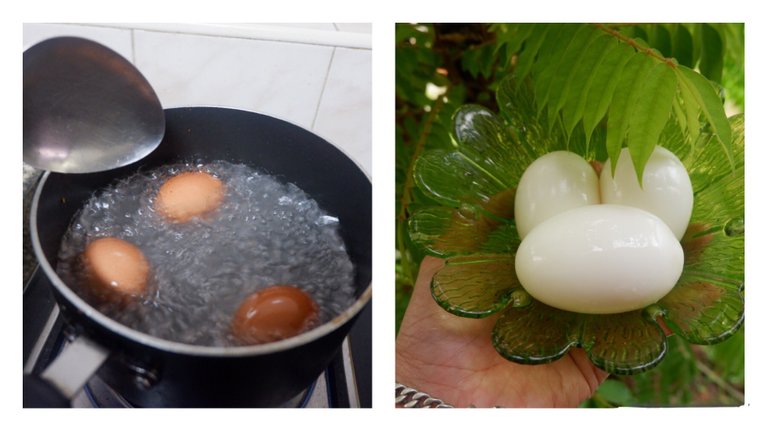 Served with Steamed Rice and Boied Eggs!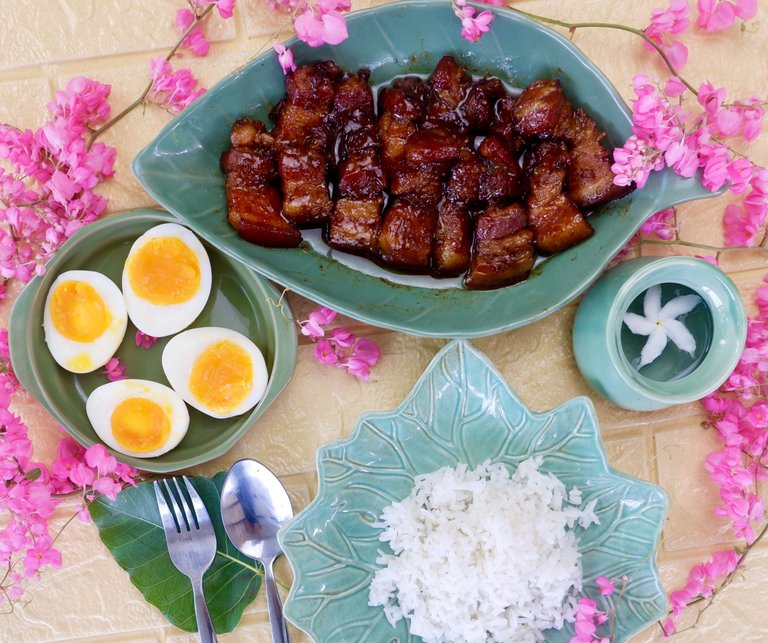 Hope you feel inspired to give a try with my recipe!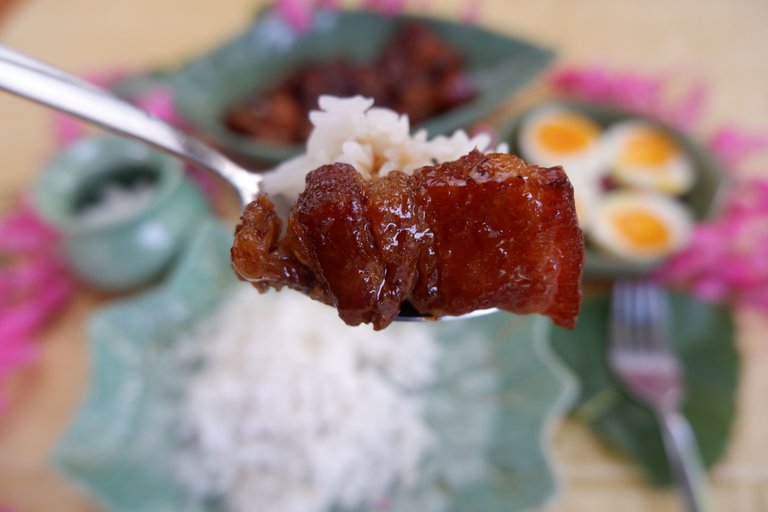 Have a great weekend ahead! Bye Bye 🙋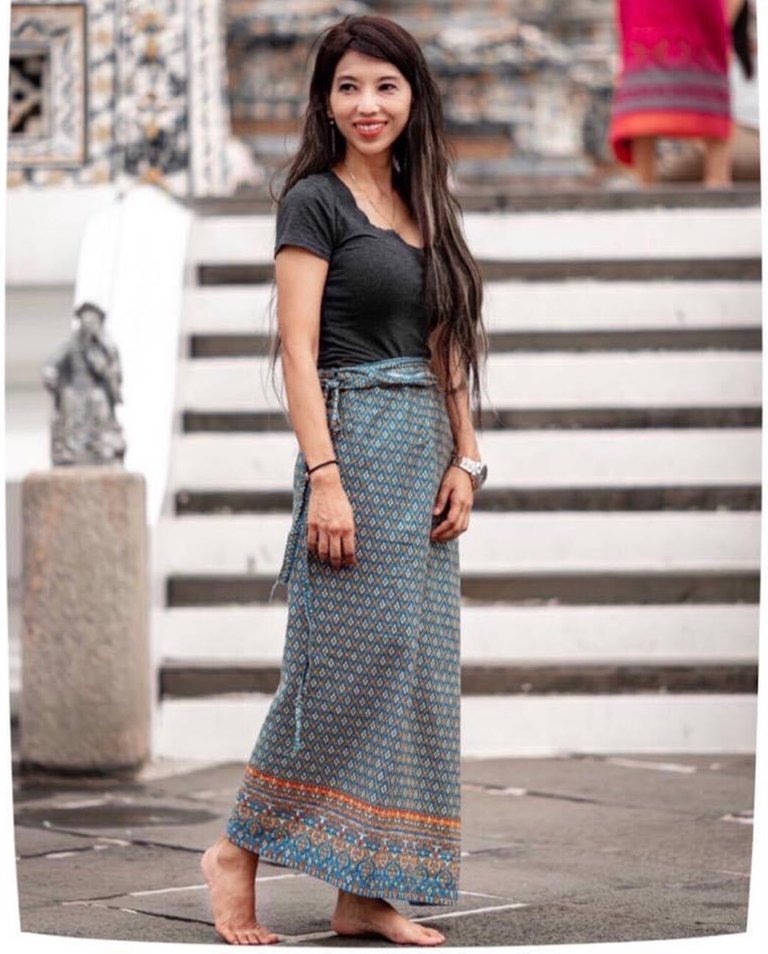 ---
---