Leofinance is the future of financial blogging.

Leofinance: A new developing social media site and financial ecosystem.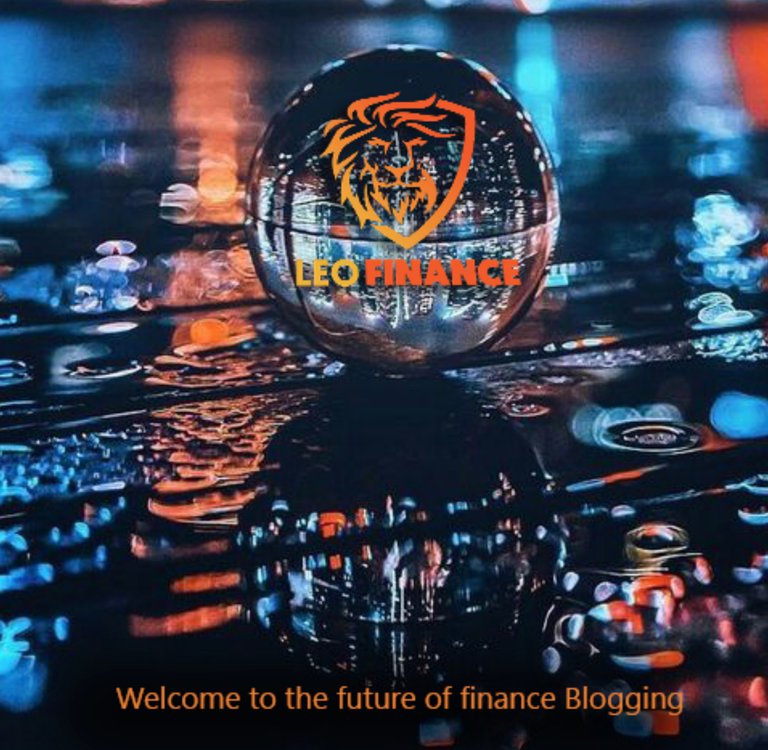 Leofinance: Summary
In this post I give you an overview, which is based on my three plus years on this platform.
What is Leofinance
How to join, it's easy!
Why join this platform?
First, What is Leofinance?
Social Media Meets Web 3.0
LeoFinance is a blockchain-based social media platform for crypto & finance content. Our tokenized blogging app allows users and creators to engage and share content on the blockchain while earning LEO token rewards.
#Source: Leo FAQ
So basically content producers get paid, and consumers of content get paid.
Create
Content creators on LeoFinance earn LEO token rewards for publishing blog posts about crypto and finance. Content is stored on the Hive blockchain - which means that it is both immutable and censorship-resistant. As users receive upvotes, they gain more rewards on a Proof of Stake basis.
#Source: Leo FAQ
So the stuff you make belongs to you, and if people don't like it, they block you, so they don't have to look at your stuff, or listen to your videos, but your blog with your writing or your videos stays up.
Earn
LEO operates on a Proof of Stake model. Users can stake LEO into LEO POWER which gives them influence over the daily rewards pool. The upvote economy allows them to distribute a certain amount of upvotes each day to content creators. Creators and curators split rewards 50/50.
#Source: Leo FAQ
So you get paid for your writing and your videos, plus the people who give you likes or in this platform #UpVotes get paid also.
Do you have a big Twitter or YouTube following?
They can join you hear and still enjoy your content, plus interact with you and your other followers, but they also get paid!
3 Second, Fee-Less Transactions
In order for LeoFinance to be possible, we need to efficiently distribute thousands of LEO per day to hundreds of different content creators. With 0 fees and 3 second tx times, the Hive blockchain provides the suite of tools necessary to run our project.
#Source: Leo FAQ
So stuff happens really fast!
Wrapped LEO (wLEO)
Wrapped LEO is a cross-chain token bridge that connects our native token (LEO) to our ERC20 equivalent token (wLEO). This bridge allows users to stake LEO on the Hive blockchain and earn rewards for content creation and curation. When users are ready to trade LEO or use it for ETH dApps, they can use the cross-chain bridge to seamlessly wrap LEO into wLEO to their ETH address.
#Source: Leo FAQ
So we trade a version of our token on Uniswap to tie its price to Ether, so when Ether price goes up, our token price goes up. It worked.
Tokenized Attention
LeoFinance's long-term model is focused on sustainability. Ads are displayed throughout the pages of our blogging interface. As the site attracts more readers, the ad revenue builds. 100% of ad revenue is used to buy and burn LEO.
#Source: Leo FAQ
We are getting paid for Ads so we can pay the bills.
We are burning hundreds of tokens daily to create scarcity an increase the price.
Second, How do you join?
100% Easy 20 Second Sign-up And Free Account
Just like your twitter account there are no charges or fees. You literally just click on sign up, click on Twitter, enter the name you want for your account and you are good to go. You can be posting and commenting in less than a minute. Try it out today and post an introduction post. As you earn crypto you can stake it or trade it for Ethereum or cash it out. Use it to try other dapps as there are some really good Ethereum games in beta right now with a lot more coming.
#Source: Leo FAQ
Sign up is free, easy and fast.
Check out how easy it is in this video:
https://twitter.com/FinanceLeo/status/1334504633323098113?s=20
Ethereum Investors Use MetaMask Sign Up
& Earn Ethereum for blogging or Vlogging
Learn How Here: https://twitter.com/FinanceLeo/status/1334504633323098113?s=20
.
Third, how do you earn?
One way is you write good content about crypto...and people will #Like or #Upvote your content, and in 7 days those votes which are actually cash crypto monies which you can use to pay rent, buy food or pay bills. Learn more here.
Do you want to read instructions on making your first post? Read here.
The second way is you make good content videos...
and people will #Like or #Upvote your content, and in 7 days those votes which are actually cash crypto monies which you can use to pay rent, buy food or pay bills. Learn more here
The third way is you buy Leo and stake it,
...so you earn money for Liking or UpVoting content. You get half the value of every vote. Then in 7 days those votes which are actually cash crypto monies which you can use to pay rent, buy food or pay bills. Learn more here and here
The fourth way is you buy Leo Miner Tokens,
these allow you to participate in a special income stream where you earn Leo for staking your miners. It's sort of a cryptocurrency lottery, but you can calculate how much you reliable earn based on the number of miners you own. Every day you earn crypto monies which you can use to pay rent, buy food or pay bills. Learn key concepts here and here.
The fifth way is delegate..
Delegation is a very special form of investment, where you loan someone money, which they use to make money, and then split the profits with you according to a specific number. Delegation is special because you buy LRO, you stake Leo and you loan Leo Power, but your Leo never leaves your wallet. So you invest your money, but you never lose control of your tokens. Beautiful Right?
It's perfect if you want to invest your money, but not your time. You get every seven days.
The sixth way is to invest your Leo at Cubfinance on Binance Smart Chain a Pancake Swap type platform.
6216B059-3BCC-4022-A401-317829C9219C.jpeg
https://cubdefi.com - or Cub Finance - is a next generation DeFi yield farming platform. @khaleelkazi has adapted the smart contracts and base layer application of many yield farming applications on the Binance Smart Chain to create our customized user interface: the CUB token and "Dens" which allow you to deposit and earn yield.
But the most important thing, which really makes Cub Finance Unique is the creator @khaleelkazi, his development team, the management team and the community. When you look at other yield farming and staking platforms on Binance Smart Chain, they are built by anonymous developers and groups of whales who coordinate to launch a dApp. While there's nothing wrong with anonymous ownership. There is a big advantage to having known leadership with a track record of honesty and fairness. LeoFinance is a 2 year old project with a lengthy track record of building applications in the blockchain space.
That's it...
We have finished the overview of Leofinance, and you now have learned:
#What is Leofinance,
#How to join and ...
#Why you should join this platform.
You now know, that Leofinance is more then a blogging platform, it is a blogging platform, a decentralized exchange, a blockchain statistics application, and it will also has a Pancake Swap styled decentralized trading, staking and yield farming platform on Binance smart chain called Cub Finance.
You have the opportunity to join now, before it's famous, before the Leo Token becomes expensive and start building your understanding of this promising young ecosystem.

Shortsegments is a writer focused on cryptocurrency, the blockchain, non-fungible digital tokens or NFTs, and decentralized finance. He has been a community member for more then three years, and has earned a reputation of 75, on a scale of 0 to 80, which puts him in the top 300 of over 20,000 Hive accounts.
He is also a builder, with two current projects:
The first is the No Loss lottery, a prize linked savings account here on Hive, which awards more the 100 Leo in prizes weekly, and which recent surpassed 1000 tickets sold. @nolosslottery
His latest project is Easy DeFi, which creates a community investment pool allowing community members not yet confident enough to invest on their own, a chance to easily invest in yield-farming and staking on Cubfinance. @easydefi
Cubfinance is the Hive communities home grown Yield Farm and is audited by CertiK, a third party which certifies DeFi projects on Ethereum, Binance and polygon ecosystems.
Sources of more information
https://leopedia.io/explainer/
Social Media
Leofinance Discord! Here!
Cubfinance : https://docs.cubdefi.com/
Posted Using LeoFinance Beta
https://leofinance.io/@shortsegments/why-does-leofinance-have-so-many-tokens-and-how-do-they-create-value-for-investors
https://leofinance.io/@shortsegments/why-does-leofinance-have-so-many-tokens-and-how-do-they-create-value-for-investors
https://leofinance.io/@shortsegments/leofinance-what-is-it-how-to-join-and-how-to-earn
https://leofinance.io/@shortsegments/leofinance-guide-for-beginners
https://leofinance.io/@shortsegments/the-starship-leo-of-leofinance
https://leofinance.io/@shortsegments/why-does-leofinance-have-so-many-tokens-and-how-do-they-create-value-for-investors
---
---