CHILD BLUE: Part 3 FINAL | NIÑA AZUL: Parte 3 FINAL (The enemy is at home-El enemigo está en casa)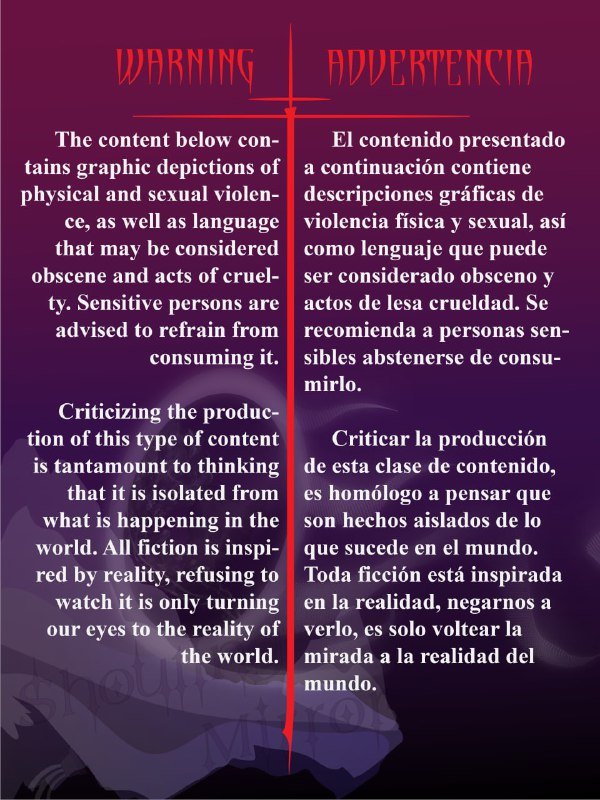 Narrates Clementine/ I remember months ago:
Grandma Laura is very sweet. She spoils me and has treated me with a lot of love since dad brought me here. She has a wrinkled face, and gray hair. Her hands are soft when she strokes my hair. I don't really miss Mom. She didn't want to have me. Dad is not my dad. Her letter said it all. If I show it to him...he's sure to disown me as much or more than Mom. Why do women have children they don't want?
I never understood my parents' love, I used to think it was beautiful. Now it seems a little...strange. Maybe if dad comes to love me like he loved my mom he won't hate me when he finds out I'm not his daughter. It smells like cookies in the kitchen, but my grandmother hasn't gotten up to turn off the oven yet because my head is in her lap.
Narra Clementine/ Recuerdo de meses atrás:
La abuela Laura es muy dulce. Me mima y ha tratado con mucho amor desde que papá me trajo aquí. Tiene la cara arrugada, y canas. Sus manos son suaves cuando me acaricia el cabello. Realmente no extraño a mamá. Ella no quería tenerme. Papá no es mi papá. Su carta decía todo. Si se la muestro…seguro va a repudiarme tanto o más que mamá. ¿Por qué las mujeres tienen hijos que no desean?
Nunca entendí el amor de mis padres, antes me parecía bonito. Ahora me parece un poco..extraño. Quizá si papá llega a amarme como amaba a mi mamá no me odie cuando sepa que no soy su hija. Huele a galletas en la cocina, pero mi abuela aún no se ha levantado a apagar el horno porque mi cabeza está en su regazo.
---
-Grandma, why did Mommy sleep with a stripper? Grandma's eyes widen so wide that her eyelids no longer droop.
-Where did you get that from?
-Mom told me -In a way....
-No no no no, that's not true Did your Aunt Tina tell you? Did Aunt Tina know? Why does Aunt Tina know everything and I don't? -So it's true... mom was a cheater?
-DON'T TALK ABOUT YOUR MOTHER LIKE THAT, REST IN PEACE - Grandma looks a little upset Why is everyone always defending her? She slept with someone else and no one is supposed to judge her? She even hated me, what's my fault, but before she keeps asking me questions grandma intervenes again in a soft and pitiful voice.
-Abuela. ¿Por qué mamá se acostó con un stripper?-Los ojos de la abuela se abren tanto que ya sus parpados no se ven caídos.
-¿De dónde has sacado eso?
-Me lo dijo mamá-De cierta manera.
-No no no, eso no es cierto ¿Te lo ha dicho tu tía Tina?- ¿La tía sabía? ¿Por que Tia Tina sabe todo y yo no?
-Así que es cierto…mamá fue una infiel
-NO HABLES ASÍ DE TU MADRE QUE EN PAZ DESCANSE – La abuela se ve algo alterada ¿Por qué la defienden todos siempre? Se acostó con alguien más y ¿se supone que nadie va a juzgarla? Incluso me odiaba, ¿Qué culpa tengo yo?, pero antes que siga haciéndome preguntas la abuela interviene de nuevo con suave y lastimera voz.
---
-We all make mistakes little girl, even your mother, who loved your daddy so much. But don't think inside yourself that she was a bad person...just...many years ago...your mom and your aunt Tina fell in love with the same man...and how could they not? Your father was a wonderful and caring man who helped this family a lot-why do you mention Aunt Tina so much?
-And what happened? How did he choose mom?
-He never had to choose, it was always the two of them in their private little world. They were in a bubble where no one else could enter. Tina never had a chance...but she really liked your father, and when they were going to get married that thorn was still in her side. Christine always stood out for her sweetness, and Tina for her strong and independent character. They loved each other. But siblings sometimes do bad things to each other in anger that they later regret. Parents have a duty to love them without judging them...but I wish children would ask for advice before disasters happen...not after.
-What happened with Aunt Tina? I wanted to know at once what Aunt Tina was doing here.
-Todos cometemos errores pequeña, hasta tu madre, que amaba tanto a tu papá. Pero no pienses dentro de ti que ella era mala persona…solo…hace muchos años…tu mamá y tu tía Tina se enamoraron del mismo hombre..¿y cómo no? Tu padre era un hombre maravilloso y atento que ayudo mucho a esta familia-¿Por qué nombra tanto a la tia Tina?.
-¿Y qué paso? ¿Cómo escogió a mamá?
-El nunca tuvo que escoger, siempre fueron ellos dos en su pequeño y privado mundo. Estaban en una burbuja donde nadie más podía entrar. Tina nunca tuvo oportunidad…pero en serio gustaba de tu padre, y cuando iban a casarse esa espina seguía en ella. Christine siempre destaco por su dulzura, y Tina por su carácter fuerte e independiente. Se querían. Pero los hermanos a veces se hacen cosas malas enojados de las que luego se arrepienten. Los padres tenemos el deber de amarlos sin juzgarlos…pero ojala los hijos consultaran para pedir consejos antes de los desastres…y no después.
-¿Qué paso con la Tía Tina?- Quería saber de una vez que pintaba Tia Tina aquí.
---
-She...did something to your mother on the day of her bridal shower...I'll just tell you this so you'll understand that your mother was not a cheater. Your aunt put something in her drink, something that made her go off on herself. I wanted to play a joke on her so she wouldn't remember anything the next day. But she got drunk too, so she said she didn't notice when the man dancing took her away. I don't know how much of that story I don't know. But I do know that I know Christine...and she would never have done something like that. But everything happens for a reason my child, if it weren't for that, you wouldn't exist.
I already knew who to blame for my horrible existence.
-I understand, Grandma. Mom must have felt terrible. How could she not see it coming? Yes, Aunt Tina is scary. She's so strong-willed and so pushy. Mom wasn't sweet, she was dumb.
-Ella…le hizo algo a tu madre el día de su despedida de soltera…solo te diré esto para que entiendas que tu madre no era una infiel. Tu tía le puso algo en la bebida, algo que la hizo irse de si misma. Quería jugarle una broma y que no recordara nada al día siguiente. Pero ella también se embriago así que dijo no darse cuenta cuando el hombre que bailaba se la llevo del lugar. No sé qué tanto de esa historia desconozco. Pero si se que conozco a Christine…y ella jamás hubiera hecho algo así. Pero todo pasa por algo mi niña, de no ser por eso, tú no existirías.
Ya sabía a quién culpar de mi horrible existencia.
-Entiendo abuela. Mamá debió sentirse muy mal- ¿Cómo no lo vio venir? Si tia Tina asusta. Es de carácter tan fuerte y tan insistente. Mamá no era dulce, era tonta.

Narrates Jack/ The present
He bites his lower lip and the first tear falls. How many times did Christine cry for your existence? For a fucking night of booze I didn't even remember.
I slap her hard. She falls face first to the floor. She starts crying loudly. I can smell her fear. It's getting more and more exciting. I pull her by the hair to force her to stand up. She cries out in pain "shhh" I tell her. She refuses to look me in the eyes.
She closes her eyes tightly. I shove her to the floor and pull the duct tape out of the bag in my hand. She gets up and tries to run to the door, but I feel her on the floor again with another push.
She stands still. She is afraid to put up any more resistance. I put the adhesive in her mouth and start to tie her hands and feet. Her whole body trembles, she still closes her eyes tightly and urinates on the floor beneath her.
Narra Jack/El presente
Se muerde el labio inferior y cae la primera lágrima. ¿Cuantas veces lloro Christine por tu existencia? Por una puta noche de alcohol que ni si quiera recordaba.
Le doy una bofetada fuerte. Ella cae de bruces al piso. Empieza a llorar fuerte. Puedo oler su miedo. Es cada vez más excitante. La halo por el cabello para obligarla a ponerse de pie. Grita de dolor "shhh" le digo. Se niega a mirarme a los ojos. Cierra con fuerza los ojos. La tiro al suelo de un empujón y saco de la bolsa que tengo en la mano la cinta adhesiva. Se levanta e intenta correr a la puerta, pero la siento de nuevo en el suelo con otro empujón.
Se queda quieta. Tiene miedo de seguir poniendo resistencia. Le pongo el adhesivo en la boca y empiezo a amarrar sus manos y pies. Todo el cuerpo le tiembla, aun cierra con fuerza los ojos y orina el suelo bajo de ella.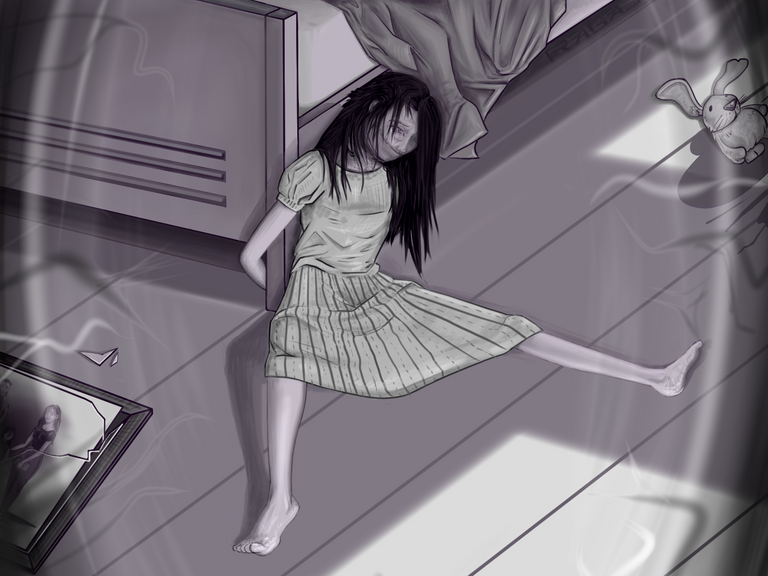 -Are you afraid Clementine?
She keeps quiet trembling with her eyes closed. I run my hand along her thigh. Her eyes flutter open and she shakes her head. I hold her cheeks tightly.
-So you don't want me to touch you.
I pull back her skirt and unbutton her shirt. She's helpless. Scared to death. And she's nowhere near paying for her deception...when the front door rings. Crap.
I adhesively brace Clementine's arms and attach her to one of the bed legs.
-If you make a single noise. I swear I'm going to chop you into little pieces.
I open the door and find Ted. A neighbor with a drinking problem who never liked me and my wife. His wife died in an accident that was his fault and since then he drinks non-stop. He is never sober.
We never invited him over, never let Clementine out of the house so she wouldn't have to see him.
-Jack, buddy. -How's it going? I'm sorry about Christine. I hadn't come to pay my condolences. I never know how to do that. You didn't give me my wife's either, so we're even.
we're even. You got a shovel? I want to bury my dog, he died today.
-¿Tienes miedo Clementine?
Se mantiene callada temblando con los ojos cerrados. Paso mi mano por su muslo. Abre los ojos de golpe y niega con la cabeza. La tomo fuerte de las mejillas.
-Así que no quieres que te toque.
Le retiro la falda y desabotono la camisa. Esta indefensa. Muerta de miedo. Y no está ni cerca de pagar por su engaño…cuando suena la puerta principal. Mierda.
Refuerzo con adhesivo los brazos de Clementine y la uno a una de las patas de la cama.
-Si haces un solo ruido. Juro que voy a picarte en pedazitos.
Al abrir la puerta me encuentro con Ted. Un vecino con problemas de alcohol que jamás nos agrado a mí y a mi esposa. Su mujer murió en un accidente que fue su culpa y desde entonces bebe sin parar. Nunca esta sobrio.
Jamás lo invitamos a pasar, ni dejábamos salir a Clementine de la casa para que ella no tuviera que verlo.
-Jack, amigo. ¿Cómo va todo? Siento lo de Christine. No había venido a dar el pésame. Nunca se cómo hacerlo. Tú tampoco me diste el de mi esposa así que estamos a mano. ¿Tienes una pala? Quiero enterrar a mi perro, murió hoy.
---
For a moment I think about Ted...Ted is never sober. I think about the cocaine I keep in my stash for when my wife's death gets the best of me sometimes. And of the bottles of rum I haven't opened yet.
-Of course. But come on in. Would you like a drink?
His eyes sparkle with joy. So he comes in. I pour him a neat glass of rum and start talking to him about trivial things. Then another glass, and another. He drinks quickly. When he's about to finish the bottle I say, "Do you want something stronger?" And since the drink hasn't taken effect yet he smiles and nods.
I take out the cocaine. He takes a pull. And all at once all the substances in his body explode, this electric one.
-I pay a prostitute. We were having role-playing sex. She's upstairs, dressed as a schoolgirl. You want to fuck her?
She looks like a frenzied bull. I don't think Ted had ever tried cocaine because she's unrecognizable. Unreasonable. She nods and runs up the stairs. I run to keep up.
Por un momento pienso en Ted...Ted jamás esta sobrio. Pienso en la cocaína que tengo guardada para cuando la muerte de mi esposa me puede a veces. Y en las botellas de ron que no he abierto aún.
-Claro. Pero pasa. ¿Quieres un trago?
Los ojos le brillan con alegría. Así que entra. Le sirvo un vaso puro de ron y empiezo a hablarle de cosas triviales. Luego otro vaso, y otro. El bebe rápido. Cuando ya va a terminarse la botella le digo "quieres algo mas fuerte?" Y como aun no le ha hecho efecto el trago sonríe y asiente.
Saco la cocaína. El da un jalón. Y de golpe todas las sustancias en su cuerpo explotan, esta eléctrico.
-Pague una prostituta. Estábamos teniendo sexo de roles. Esta arriba, vestida de colegiala. ¿Te la quieres coger?
Parece un toro frenético. Creo que Ted no había llegado a probar cocaína porque esta irreconocible. Irracional. Asiente con la cabeza y corre escaleras arriba. Yo corro a la par.
---
He opens the door and Clementine's eyes meet mine. I smile at her. Ted walks by Frantic. He doesn't even speak to her. He pulls down his pants and spreads her legs. I watch as her face reddens and tenses as he is inside her. At some point I wonder if I'm doing wrong, but it all goes away when I think of my wife's laughter, of her pain.
I decide to give myself a coke pull at the same time and feel my heart beating fast. Everything around me seems to slow down. Ted pushes inside Clementine. He is full of her blood. The scene sends me into a frenzied giggle. I want Clementine's blood all over me too.
I push Ted and realize that she has her eyes closed tightly and this gives me a lot of anger. I open her eyes and hold her eyelids open with tape.
-Look at me Clementine. You better look at me. What did you say to me when I came to get you, "Daddy?"? I want you to call me daddy now. I'm going to take the adhesive off. If you scream, I'll choke you to death.
I take the adhesive off and she holds back a scream of pain.
Abre la puerta y los ojos de Clementine se encuentran con los míos. Yo le sonrió. Ted pasa Frenético. Ni siquiera le habla. Se baja el pantalón y le abre las piernas. Veo como la cara de ella enrojece y se tensa cuando el está dentro de ella. En algún punto me planteo si estoy obrando mal, pero todo desaparece cuando pienso en la risa de mi esposa, en su dolor.
Decido darme un jalón de cocaína a la par y siento como mi corazón late rápido. Todo a mí alrededor parece ir lento. Ted empuja dentro de Clementine. Está lleno de su sangre. La escena me produce una risa frenética. También quiero la sangre de Clementine sobre mí.
Empujo a Ted y me doy cuenta de que ella tiene los ojos cerrados fuertemente y esto me produce mucha ira. Le abro los ojos y le mantengo abiertos los parpados con cinta.
-Mírame Clementine. Más te vale que me mires. ¿Cómo me dijiste cuando fui a buscarte? ¿"Papi?"? Quiero que me digas papi ahora. Voy a quitarte el adhesivo. Si gritas, te ahorcare hasta matarte.
Le quito el adhesivo y ella contiene un grito de dolor.
-She looks at me, her tears are so many that her hair is soaked.
-Why? I didn't ask to be born. Let me go. I won't say anything. I won't bother you ever.
-Say it, Clementine," I slap her face and grab her neck hard. I let go when she's suffocated and nods at me.
-"Daddy," she says.
-Does it hurt?
-Yes, Daddy. It hurts so much.
I lose track of everything. I don't know how much force I'm using. I put the tape back on. The only thing that occupies my mind is that sound when I depress the chicken, a wet "crack" sound.
When I come to, I realize that Clementine has collapsed from the pain.
Ted lies on the floor. He's dozing.
I try to think of something fast. Clementine is full of blood so I fill the tub and tied up and asleep as she is I plunge her in. I keep her submerged until she wakes up. Bubbles start coming out, I pull her out. She kicks but it's no use.
-Say the last thing you have to say.
-I hate you. You and that lying bitch who forced me into the world.
-Dilo.-Ella me mira, sus lágrimas son tantas que tiene empapado el cabello.
-¿Por qué? Yo no pedí nacer. Déjame ir. No diré nada. No te molestaré jamás.
-Dilo, Clementine.-Le doy una bofetada y le tomo el cuello fuerte. La suelto cuando esta sofocada y me asiente con la cabeza.
-Papi.-dice.
-¿Te duele?
-Si, papi. Me duele mucho.
Pierdo la noción de todo. No se cuanta fuerza estoy usando. Vuelvo a ponerle la cinta. Lo único que ocupa mi mente es ese sonido de cuando de despresa el pollo, un sonido de "crack" húmedo.
Cuando regreso en sí me doy cuenta de que Clementine se ha desmallado del dolor.
Ted yace en el suelo. Adormilado.
Intento pensar algo rápido. Clementine está llena de sangre así que lleno la tina y amarrada y dormida como está la sumerjo dentro. La mantengo hundida hasta que despierta. Empiezan a salir burbujas, la saco. Patalea pero es inútil.
-Di lo último que tengas para decir.
-Los odio. A ti y a esa zorra mentirosa que me obligo a venir al mundo.

---
I find the situation more complicated than abominable. My neighbor is still lying drugged with a cocaine grating in the clementine room.
I hold his neck in my hands and his blue face looks peaceful in Santa Paz. Far away from this filth. She took something to her grave that I may never know.
If I go to prison for the rest of my life, it will probably be as if Clementine won, and that's not going to happen.
I take her thin, soaked body in my arms, dripping with thick drops, and carry it to the kitchen, where I sit her in a chair and put a tinderbox in her hands. I don't light it yet. I set about cleaning everything upstairs.
I tidy up and thoroughly clean her room with bleach and other chemicals that I hope will do some good.
I take the ropes, and anything else that was broken or full of blood, and I conveniently put a generous amount of bottled gasoline in the tank room next to Clementine's. I carry the body of my neighbor's body to his room.
La situación más que abominable me parece complicada. Mi vecino aún yace drogado con una ralla de cocaina en el cuarto de clementine.
Yo tengo en mis manos su cuello y su cara azul luce pacifica en Santa Paz. Lejos de esta inmundicie. Se llevo a la tumba algo, que quizá yo no sepa jamás.La situación más que abominable me parece complicada. Mi vecino aún yace drogado con una ralla de cocaina en el cuarto de clementine. Yo tengo en mis manos su cuello y su cara azul luce pacifica en Santa Paz. Lejos de esta inmundicie. Se llevo a la tumba algo, que quizá yo no sepa jamás.
Si voy preso el resto de mi vida, probablemente sea como si Clementine ganara, y eso no va a pasar. Tomo en brazos su delgado cuerpo empapado, que escurre gruesas gotas, y lo llevo a la cocina, donde la siento en una silla y pongo en sus manos un yesquero. Aun no lo enciendo.
Me dispongo a limpiar todo arriba. Ordeno y limpio a fondo su cuarto con cloro y otros químicos que espero sirvan de algo. Me llevo las sogas, y todo aquello que se rompio o lleno de sangre. y convenientemente pongo una cantidad generosa de gasolina envasada en el cuarto de deposito junto al de Clementine.

I carry the body of my neighbor and leave him in his house practically asleep, since the effect has already passed and he is experiencing the decline of the note.
I wonder if it will only be that easy. I don't lose anything by trying. I tie his little finger with thread, pressing the lighter, and leaving the flame burning, I open all the gas stoves and leave in a hurry, leaving everything closed.
I go to my neighbor's, bathe and change, but I get rid of the clothes he has on, get out with the huge black bag of stuff and drive as far as I can think of, on the way I pay for a ticket to a table dance.
I grope a few girls, kiss a very stoned one and tell her my name, get her into a room and fuck her hard. After leaving her asleep I drive 15 minutes and under a bridge on a drum I burn everything to ashes. I wash my hands well and return to the room with the girl. I undress and sleep next to her, until we are awakened by the sound of her cell phone. I put it on speaker.
"Mr. Preston. Your house had a gas leak and fire, it took much more fire from gasoline lodged in the house. Your daughter has died in the fire."
Llevo apoyado el cuerpo de mi vecino y lo dejo en su casa prácticamente dormido, pues ya el efecto paso y esta experimentando el declive de la nota.
Me pregunto si solo será así de fácil. No pierdo nada con intentarlo. Le amarro con hilo pabilo el meñique presionando el encendedor, y dejando la llama encendida abro todas las estufas de gas y salgo a toda prisa dejando todo cerrado. Voy a donde mi vecino, me bañe y cambie, pero me deshago de la ropa que el tiene puesta, salgo con la enorme bolsa negra de cosas y conduzco tan lejos como me da la mente, en el camino pago una entrada a un table dance.
Manoseo unas cuantas chicas, me beso con una muy drogada y le digo mi nombre, le meto a un cuarto y la follo duro. Tras dejarla dormida conduzco 15 minutos y debajo de un puente en un tambor quemo todo hasta reducirlo a cenizas. Lavo bien mis manos y regreso a la habitación con la chica. Me desvisto y duermo a su lado, hasta que nos despierta el sonido de su celular. Lo pongo en altavoz.
"Señor Preston. Su casa tuvo una fuga de gas y exploto, tomo mucho más fuego por gasolina alojada en la casa. Su hija ha fallecido en el incendio".
---
I get upset and pick everything up quickly. I ask her name and apologize, still very agitated. I leave in a hurry, "very worried".
They identify the corpse with the dental remains. The evidence is reduced to ashes. I am called to testify by protocol and my alibi with the lady at the table dance is proven.
I go to prison for only three years, for the negligence of leaving my daughter alone.
And that's how I'm getting out of prison today, with three years of harassment from a blue, soaking wet little girl who keeps talking to me sardonically, telling me daddy.
-SHUT THE FUCK UP
-Congratulations on getting out of prison daddy. As a gift I'll tell you a little secret. The little girl gets close to my ear and in a faint voice whispers: "Grandma told me that Tia Tina drugged mom so the man would take her away.
And Mom died a miserable wretch believing she was unfaithful, when she was sexually abused. And you killed me, when I was only 12 years old...and whoever took mom from you, is free.
THE END
Or not?
Me altero y recojo todo rápido. Le pregunto su nombre y me disculpo aun muy agitado. Salgo a toda prisa, "muy lleno de preocupación". Me altero y recojo todo rápido. Le pregunto su nombre y me disculpo aun muy agitado. Salgo a toda prisa, "muy lleno de preocupación".
Identifican el cadáver con los restos dentarios. La evidencia quedo reducida a cenizas. Soy llamado a testificar por protocolo y se comprueba mi coartada con la dama del table dance.
Voy preso solo tres años, por la negligencia de dejar sola a mi hija.
Así es como hoy estoy saliendo de prisión, con tres años de acoso de una niña azul y empapada que no para de hablarme sarcásticamente diciéndome papá.
-CÁLLATE DE UNA VEZ MALDITA SEA
-Felicidades por salir de prisión papi. Como regalo te diré un secretito-La niña se acerca a mi oído y en voz tenue susurra.-La abuela me dijo que Tia Tina drogo a mamá para que el hombre se la llevara.
Y mamá murió como una miserable infeliz creyendo que fue infiel, cuando fue abusada sexualmente. Y tu me mataste a mi, cuando yo solo tenia 12 años...y quien te arrebato a mamá, esta libre.
FIN
¿O no?
---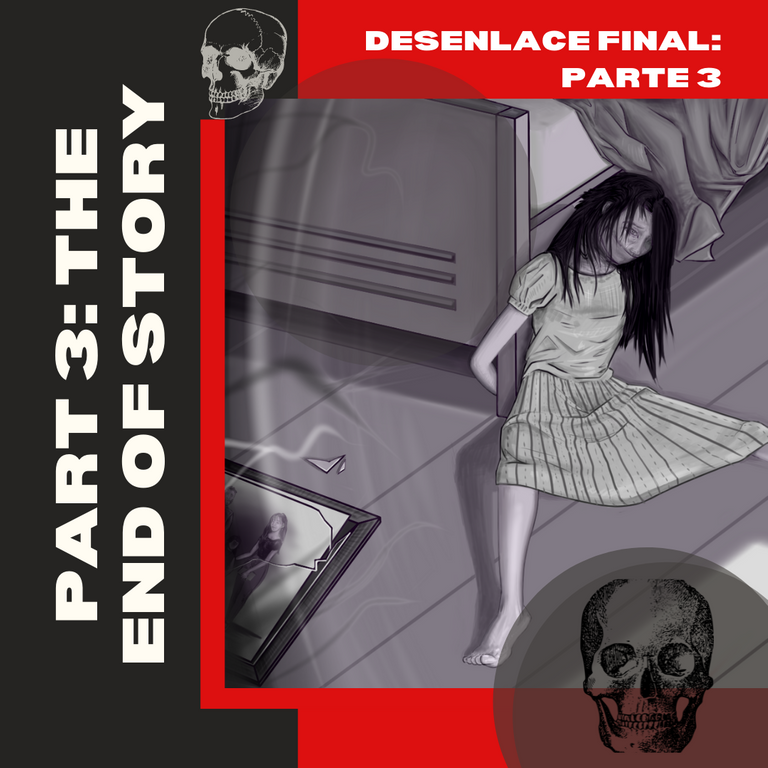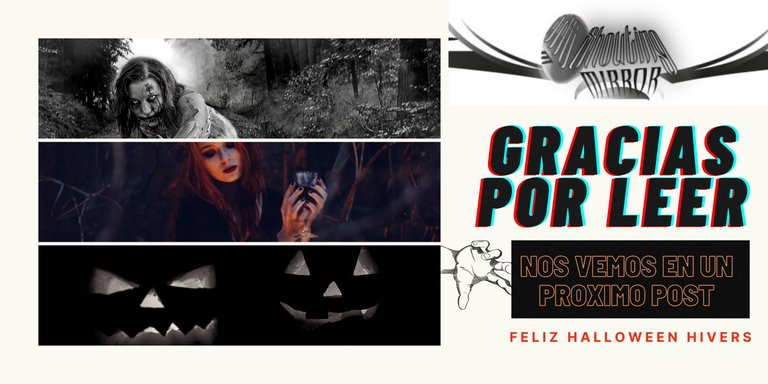 This project is possible thanks to the support of the @aliento community./ Este proyecto es posible gracias al apoyo de la comunidad @aliento.
Translate with deepl.com / Traducido con deepl.com
All rights reserved © Shouting Mirror 2021 / Todos los derechos reservados © Shoutin Mirror 2021
---
---