A Well Thought Out Governance Model for POB - Let's Start The POB Engine, I Am Putting in Some Fuel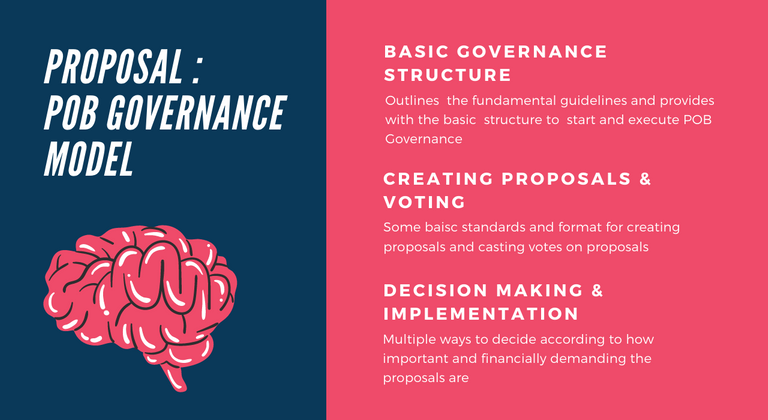 Enough has been said about the silence and stillness the community is experiencing lately. Posts are being made everyday by the people who believe in this project highlight the current situation. So I choose not to say anything about it and Here is a solution I am proposing instead, to move things forward in a logical manner.
Please bear with me, this has gone longer than I expected but I ensure you that it will end up with something actionable.
First of all concluding from the current state of affairs and also some of the @proofofbrainio's recent discussions. It's evident that he is not in a capacity to run this full time or part time even and he is willing to make this a self sufficient, community run tribe. Also he has said that he is considerate of the long term success of POB and he surrenders the 'proofofbrainio' (not literally) and pob fund for community to utilize as they see fit to operate and grow this project.
On similar lines a self sustainable governance model had already been introduced - ARCHON Governance and Multi-Signature - The key to POB decentralization and governance - by @amr008
Which I believe is the ultimate governance system POB must aim for. But provided our present lightning speed towards the community growth and the amount of efforts, resources and coordination it requires, I think it would take years to implement one.
So This Post outlines something easy and logical we can start with now to break this linear indecisiveness. It will also lay down the basic guidelines for community participation in POB governance and how we can propose and decide in an organized and efficient way.
A Basic Structure To POB Governance
Proposals
Any member can submit a proposal by creating a post in POB community with a relevant specific tag.
Proposals can be of Following types
This can include proposals
regarding planning and strategic decisions of the tribe.
To introduce/suggest new initiatives for growth. Or to introduce new projects within the tribe.
to define SMART Goals and Objectives of the tribe - specific, measurable, achievable, realistic and time bound
To review the initiatives/projects/decisions/goals; measure their performance and recommend the necessary changes or future course of action.
Examples
Introduction of curation initiative POBelus - Solutions Not Problems - By @calumam
A proposal regarding termination of an existing policy
A proposal to introduce changes in the current governance
policies are the implementation framework and guidelines about various plans/decisions/initiatives/workings of the tribe that lay down how our tribe should operate. And to automate the routine day to day activities required to run it efficiently. The primary goal of a policy is to standardize a process and to make it easy to execute for anyone by referring to some pre defined guidelines.
Examples
---
FAQ's
Why do we need two types of proposals?
Not just two, we might require more which can be introduced as per need basis. The motive is to implement a basic categorization and to have a clear idea if management decisions that get introduced are being carried forward. #pob-management proposals will define what is to be done and why and how it is gonna be executed whereas #pob-policy proposals will be the guiding lights to various management proposals and their implementation.
Can anyone create a proposal?
Yes, since the community is still in early phase, there is a lack of people who can/will actively participate in core governance. And hence its not desirable to restrict this to a few community members. Irrelevant and lousy proposals, that defy the basic prescribed structure and intent of proposals can always be discouraged with warnings and downvotes
---
Voting On Proposals
The simple solution for this I have come up with is Giving the top 20 stakeholders an equal right to vote. This is a number that Hive blockchain is already using i.e providing top 20 validator nodes an opportunity to validate most blocks.
Why This?
To ensure the growth of community in right direction, it is important that proposals that are in the best interest of the community only get passed. And it wouldn't be illogical to assume that people who have most staked in this project would want to succeed it more than anyone else.
Why only top 20 stakeholders and not 10 or 50
For Representation - Top 20 stakers amount to 63% of the total stake as of now, which is a fair amount of representation of the whole community (whales and non whales alike)

For Unhalted Governance - This number is neither too many nor too less. During a given period of time even if the majority of the individuals get inactive or don't cast their votes. Still it wouldn't stop the proposals to pass. And will ensure that it is still a consensus of at least a few people.

To Attract More Buying And Distribution of POB token - Since Top 20 stakers will have a major say in governance. With progress more people would want to increase their stake by buying to take part in decision making which will also help distributing substantial stake into more holders and increasing the token value.
I have tweaked this number to even less - top 10 stakers - for proposals involving fundamental and major financial decisions (more on this later)
Characteristics of New Governance
Proposals should be made to induce some action or change in how the community operates.
Suggestions are not proposals, suggestions only talk about what our community should do very vaguely.
Results of a contest, Our opinions about If POB will float or drown aren't proposals either
A proposal should be able to explain what it is meant for, how it helps the community, how it can be implemented including the resources required and ways to procure them
Proposals can be about implementing something new, extending something already implemented, terminating something, to automate or standardize a process, or about making any relevant changes that you can explain will help the tribe.
A tag #pob-propasal must be used along with #pob-managemnt or #pob-policy
Only other tags that can be used are - NEOXIAN, PALNET, ARCHON, POB, PROOFOFBRAIN, CTP. Governance of POB is a community matter and the content should be limited to community. Tags such as GEMS and OCD should be avoided as this content is of no interest to their subscribers.
Proposals must be posted in POB community using proofofbrain.io frontend
Every eligible community member can vote only once
Its an individual choice of the member to participate in voting or not
Vote can be casted by commenting on a proposal in bold with the following 👇 and then sharing your views
Yes - To agree and willing to pass the proposal
Yes if, Otherwise No - To agree and willing to pass with certain conditions (changing, adding, removing a point or points in the proposal) that you think can't be neglected or left for future improvement
No - To disagree and not willing to pass the proposal
Votes can be made on a proposal for seven days (until the payout)
A proposal maker should mention all the top 20 stakers (eligible voters)
The proposal maker must edit and announce the status of proposal after seven days. By including this at the end of proposal 👇
Status - Proposed/Passed/Discarded/Undecided
Decision Method - Simple Majority/Special Majority/Alternate Method
Total Votes Casted - xx/20
Yes - yy/xx
No - nn/xx
Decision Making
I propose three ways of deciding on any proposal.
Simple Majority
To be used for proposals that
do not require any Cost in POB
require a total ongoing delegation of 200 POB or less from pob fund
require a monthly expenditure of 50 POB or less from pob fund
A proposal is deemed to be passed with simple majority if 50% of the total casted votes are a 'Yes' at the end of 7 days. Or as soon as a proposal receives a total of 10 Yes
Special Majority
To be used for proposals that -
involve changes in the basic organizational structure (For example introducing a new governance modal is a major decision so I am putting this proposal under 'special majority')
require an ongoing delegation of >200<=1000 POB (between 200 till 1k POB)
require a monthly expenditure of >50<=250 POB (between 50 till 250 POB)
A proposal is deemed to be passed with special majority if 66% of the total casted votes are a 'Yes' at the end of 7 days. Or as soon as a proposal receives a total of 13 Yes
Alternate Method
To be used for proposals that -
are about issuing more tokens, distributing ownership, compensatory hiring etc.
require a delegation of >1000 POB
require a monthly expenditure of >250 POB
Only Top 10 stakers are allowed to vote in Alternate method and a proposal is deemed passed if it gets 70% of the total casted votes to be 'Yes' at the end of 7 days. Or as soon as a proposal recieves 7 'Yes'
---
FAQ's
Why not DPoS?
While DPos will be the ultimate solution when we have a hundered proposals coming every month. As this system will have scalability issues. But right now we have no means of deciding on something even on DPoS and its implementation. Moreover DPoS is not desirable at this early stage when a lot of stake is concentrated with top 5 investors. It might lead to decisions influenced by a single investor at times or towards just the interest of investors. Which is not transparent and fends off the community and hinders community growth.
But I am invested More, Why my vote shouldn't have a weight?
May be you are invested more, you might have even bought tokens and took on a very high risk investment. You might have created basic demand for the token by pooling your hard earned money. but at first, to be honest, it would be hard to determine if you are invested more. Because some are invested with money. Other with their earnings, time and efforts. A few are invested the most; with their money, time as well as efforts. What I want to point out is that - Just Investing money doesn't do the trick neither does just building community. They need to coexist together. if you have invested $20-$30k, but want to sit back and sip red whine for the next five years or do things that only help your investment grow, I am sorry your vote shouldn't have a weight.
Why Alternate Method of Decision Making considers top 10 and not top 5 highest POB stakers?
Though logically the ability to take major financial decisions should be with people having majority stake i.e top 5 as of now representing around 45% stake in POB. But doesn't matter however hard we try there is no absolute end to human bias. Considering the current situation with POB distribution, the top 5 stakers would steer the decisions more in interest of majority stakeholders, while next five will steer the decisions more in interest of distribution to minority stake holders. Creating a balance. And hence giving the voting power to top 10 stakers is the right choice.
Why you should care and vote a Yes for this governance model?
Easy to implement - As you can see it only requires posts and comments to operate. Something everyone here already does. And it doesn't require any special attention to moderate as some of the top 20 stackers will be reading all proposals and can always point out anything that is not how it should be. Though it will require some moderation as our community grows and its governance develop. But we can start without it.

Both Fast & Slow - A proposal can be passed or discarded even in a day if it receives the max required number of 'Yes' or 'No'. And decision making slows down for 7 days if there are not enough people to vote.

Stuctured & Efficient Need of The Hour - The reason why I chose to include answers to a lot of Why's. To give it a relevant structure and not a brainless foundation. It provides the basic structure to decision making that our tribe desperately needs.

Decentralized with central control - The major fundamental and financial decisions remain under the control of top 10 stakers and fund account holder in the end, until pob-funds get developed into multi signatory.
---
Disclaimer
This is a raw governance model for a kickstart. Though it is well thought out but it won't be possible to plan and lay out every minute detail here and now. We will need relevant guidelines or Policies in place about all the aspects presented in this post.
For example -
A comprehensive policy about proposals and their structure and format
A policy about voting and moderation of votes
A policy about concluding a proposal, arriving at a decision and its announcement, defined relevant space to store it and refer to.
etc.
And since this post is meant to introduce this governance model, I have only mentioned here most important points about various topics, that can accelerate the decision making until we refine this and develop into a concrete governance model. I have some ideas in mind to develop this further. Let's pass this and start being decisive.
All kinds of feedback is welcomed.
---
How This Gets Implemented
if @proofofbrainio agrees to operate the community account and use pob fund as per any proposals passed using this system

And if this proposal gets passed with a Special Majority i.e 66% of the total votes casted are a 'Yes'. (Votes to be casted by top 20 POB stakers)
---
Tagging the Top 20 POB stakers as of now
@proofofbrainio @onealfa.pob @richardcrill @leprechaun @trostparadox @jeffjagoe @scholaris.pob @frot @botvotes @calumam @amr008 @vempromundo.pob @faireye @oldmans @ezrider @lucylin @successfull @dwayne16 @interpretation @xyba.pob
How To Vote
Comment With a
Yes - to pass this proposal
Yes if, Otherwise No - to pass with certain conditions (changes to a point or points in the proposal) that you believe are non negotiable.
No - to not pass and discard this proposal
---
Results
Date Proposed - 05/07/2021
Status - Proposed
Decision Method - Special Majority
Total Votes Casted -
Yes -
No -
---

---
Posted via proofofbrain.io
---
---