Accessing CUBFinance from Phone, Bypassing Metamask entirely
Metamask is complicated for a beginner. Period!
I didn't get into pancakeswap LPs because I found the whole metamask thing too complicated. I didn't get into bakeryswap LPs because guess what! Yeah, I found metamask too complicated.
I still find metamask complicated (I have finally cracked the code, but I still prefer the phone app) and would have "most likely" stayed away from the CUBFinance LPs too. Boy what a mistake that would have been LMAO!
It's not just me, most new users I have spoken to found metamask too complicated and is the one thing that was stopping them from using cubfinance! Which is why I find the Trust Wallet so great and makes me want to buy up some more TWT because once people start seeing how easy it is, it will get pretty popular pretty soon! *not financial advice
I was guiding @uwelang through the whole process of using trust wallet.
So why not just write it down here and we can just point anyone else who wants to get involved here. Remember we still have 7 good days of 2 CUB/Block left!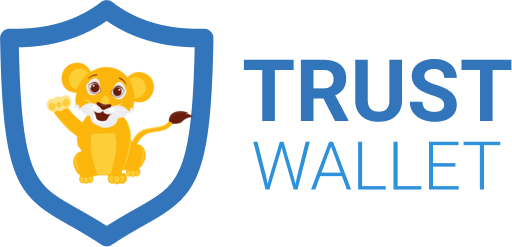 1
Download the Trust Wallet - Create a Multi-Token Wallet.
TW will automatically create a multi token wallet for you when you create your first wallet. If it doesn't, screw it select multi-token wallet option manually to create your wallet.
Save the seed phrase.
2
I you notice carefully, the ETH address, BNB address, BUSD address....literally every erc20 token address or addresses of the tokens on BSC(BEP20) network is the same. It's all a bit confusing at first, So I will suggest you stick to using you ETH address for all purposes.
Send BNB to the ETH address, send BUSD to the ETH address, send CUB to the ETH address, send your house mortgage to the ETH address. You get the idea!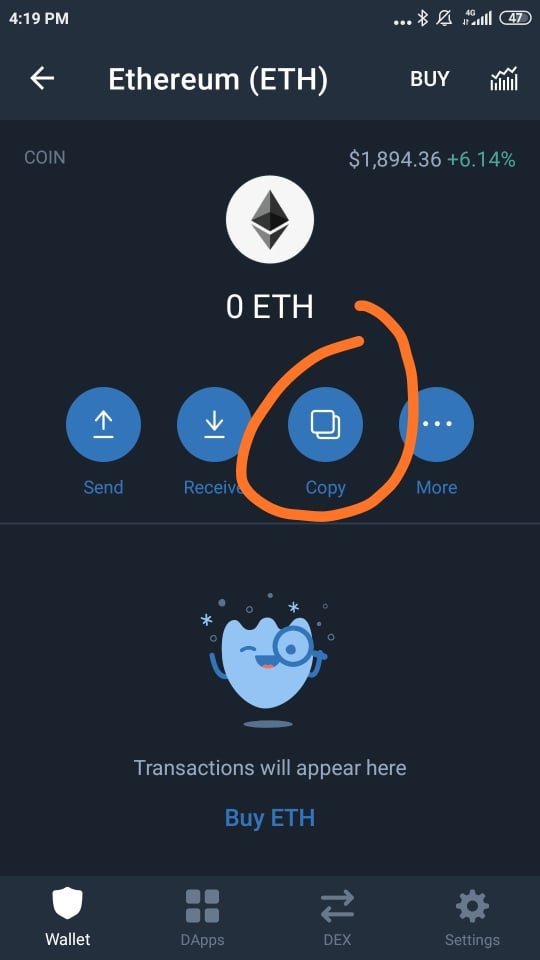 3
Click on the Dapps tab and type in cubdefi.com (or any other platforms you want to use in the future). Once the page loads, click on Connect at the top right corner and select Trust wallet.
Look at the arrow in the image below. Make sure the Binance Smart Chain icon is selected. Sometimes the ETH symbol may be set by default, simply click it and change it ti the Binance Smart Chain.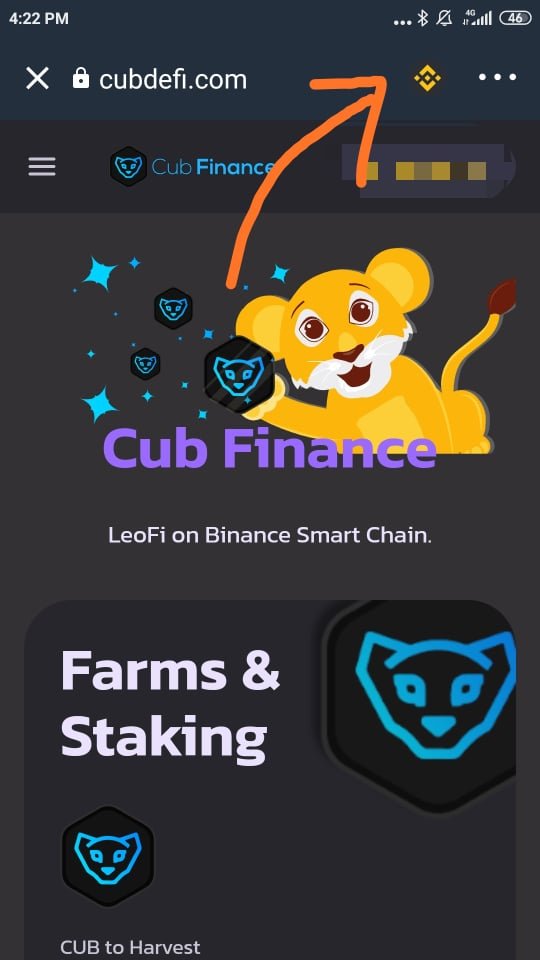 4
There are DENs and Farms for you to stake and earn rewards. Dens are zero risk, but the returns are equally less. Farms are higher risk and you may be subject to impermanent losses. Do your own research on this before diving in.
5
Once you have decided where you want to stake, you get to work. I have already written in detail about the steps with screenshots to make your journey easier in two different posts.
Post with details to staking in the Den.
Post with details to providing Liquidity and staking LP tokens in the Farms.
6
The interesting thing was when Uwe said to me he want to use it on the desktop version but bypass metamask. Up until this morning I myself wasn't aware if this was possible because I couldn't link my metamask...my browser kept acting weird.
But, there is a much much easier way to connect your trust wallet to the desktop site.
Go to cubdefi.com from your laptop/pc and click on connect at the top right corner.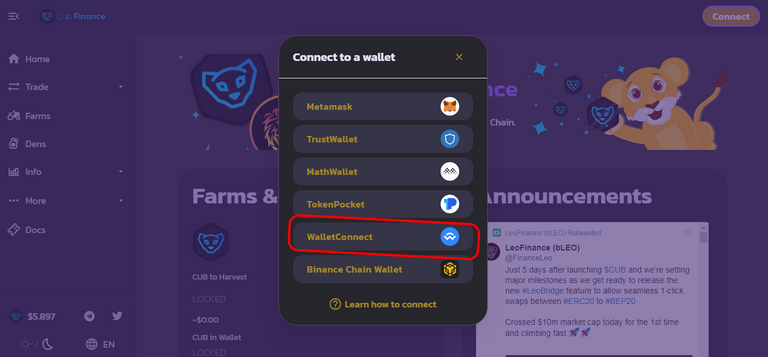 The trick is, you do not select "Trust Wallet" from the options to connect to your trust wallet. This is what I wasn't aware of until this morning when I decided to experiment. "Wallet Connect" does the trick. When you click Wallet Connect, a QR code will appear on your screen. Then you go to settings on your Trust Wallet mobile app and select "Wallet connect" and a scanner will pop up.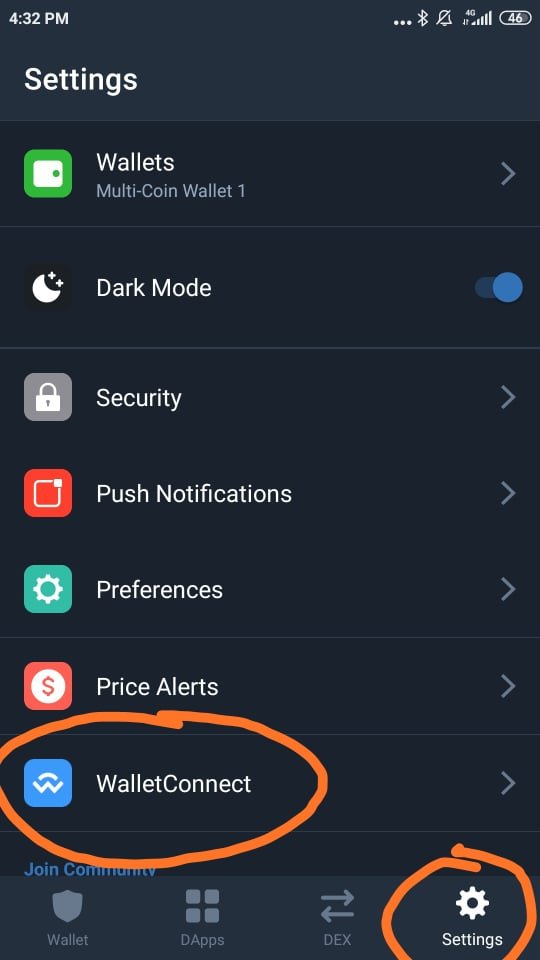 Once you scan the code, your wallet is now connected. But the problem is, the Exchange page gets disconnected every time and is not possible to reconnect.
I'm still trying to figure out if there is a way to fix this. If I do find one, I will edit this post and add it in this section.
CUBFinance has BDC at its grips!
All we talk about on the BDC discord right now seems to be exclusively cubfinance! And why wouldn't it be! I can't remember when was the alst time every single one of went ALL IN on one single project and were in profit withing less than 24 hours....every single one of us, at the same frigging time!
It is truly fascinating how this seemed to bring everyone on the same boat, pushing each other forward! Most of us (except dada perhaps) has made their biggest investments ever on CUBFinance.
Wen $20 CUB eh!

Posted Using LeoFinance Beta
---
---