D-Leasing is fun, and effective - Is this the best way to maximize our HP?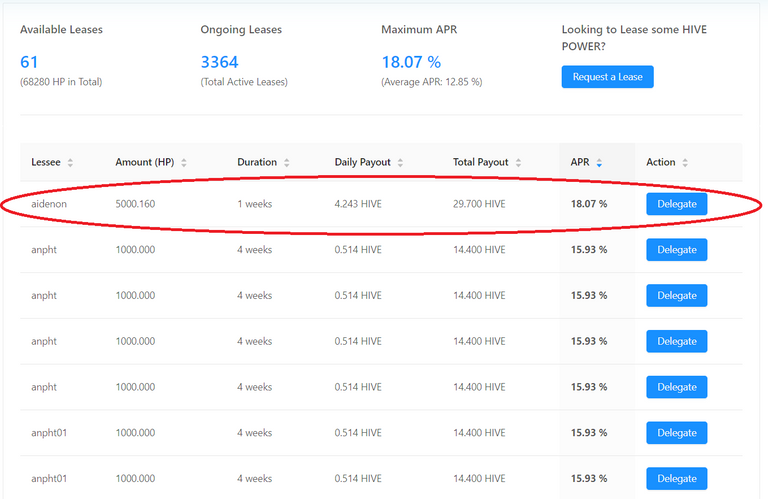 Keeping an eye regularly on dlease.io is proving to be a really fine decision. I found another great deal. Now, sure the actual APR is probably going to be less than the 18% being shown because even though the lease is for 7 days, I will not have my HP back for a total of 12 days. I do not bother too much about the APR as much as I do for the actual numbers. My HP is nearly 13k now. With my full HP at my disposal, I was getting back ~3-3.5 HIVE per day on average from curation rewards.
After filling the lease request above I have now delegated out 10k HP in total out of the ~13k. These 2 leases which totals 10k is going to bring me ~7.5 HIVE daily. That's more than 2x of what I was normally getting, and I still have some HP spare. If you sit down and do the detailed math, you will realize the 5 days of no return after the lease expires is still does not put me at any loss whatsoever!
Sure it does make my vote value nearly nothing. But even with ~13k HP, my vote value wasn't worth anything to write home about anyway LOL! But Leasing out regularly to maximize on "curation" (airquotes because it isn't "actually" curation that I am getting - but it is a curation substitute as I would like to put it!) is an important technique to make my HP grow faster. Because it is actually quite difficult to grow your HP rapidly even by posting everyday. Some days your get great votes, somedays it's peanuts. I'm not complaining, peanuts are still better than no nuts november!
So just relying on post rewards to grow HP, while possible, will be much slower than if I compounded it with using HP to gain more HP! Of course I power up everything I get from the leases daily.
To put things into perspective, over a 12 day period (7 + 5), my curation with my full HP would bring me a "maximum" of 42 HP (12 * 3.5). With 10k leased out, the next 12 days will bring me 90 HIVE "guaranteed." That is 48 extra HP. My 100% powered up posts get me about ~15 HP per post on average (taking both high and low payout posts into consideration - this is not an exact number but a good estimate I am hoping). So that extra 48 HP is equivalent to a payout of an extra 3 posts every 12 days! I'll take that when I am trying to do everything to grow my HP as fast and as honestly as I can!
Posted Using LeoFinance Beta
---
---