Lost!
It was my 3rd (or maybe second) day in China. The only bit of the language I had mastered by then was "Ni Hao Ma?" Meaning, "How are you?" or "Are you good?" That was probably not the best time to get lost in the scorching heat of September. It was in fact the worst possible time for me to get lost now that I look back upon the day!
The visa system in China is a bit complicated for students. At least it is at least a thousandfold increased for first timers with very little understanding of the language and etiquettes of the country. You get a temporary visa which is valid for only 1 month from the day you enter the country. So as a student, you need to apply for visa extension of 1 year as soon as possible because it takes around another 21 days for that visa to be delivered.
So after getting my dormitory and university paperwork in order, I decided to get done with the Visa application on the my 3rd day in the country.
I have always mentioned China has probably the best public transport system anywhere in the world. But everything is in Chinese. The names of the stations, the station list at the stops, the announcements of which stop we are at - everything and anything you can possibly imagine is in Chinese. So you'd have to be decent at understanding and reading Mandarin to make the full use of the public transport system there. By the end of my 6 years stay, I was probably one of the experts at the public transport system in Hangzhou.
But a Day 3 me was no match for the hurdle that lay ahead! I knew that of course, I wasn't stupid. Most students go to China via agents to help them out in these first few days with the critical procedures. I didn't. I had very little faith in agencies due to the a lot of frauds that happen...you can probably read quite a few stories on google. I have had a cousin scammed of quite a bit of money. So I got a basic idea of how to reach the visa application centre from the dorm authority and most of it flew over my head. It was all explained in Chinese of course. I was mostly trying to remember how the characters of the name of the stations looked like! I reached the station at the gate nearest to my dormitory when I saw a bunch of other foreigners lined up with their agent who would accompany them. I was a bit relieved that I could follow them to my destination.
Reaching was uneventful, I didn't even have to bother matching the characters on the station names. Issue arrived once we reached and took our serial numbers. When my turn came, I found out I didn't have all my papers in order simply because I didn't know. It took me like half an hour to fix it but by then I fell way behind in line.
The group I followed to the visa station was already gone by the time I was done, so were all the important stations I had in my head! This was a very tricky situation for me. The easiest solution would have been to just simply take a taxi, but taxis were quite expensive and I was on a limited budget. I also didn't have much cash on me then because whatever spare I had brought were almost wiped out fixing my paper works and paying extra. (For example, a single photocopy was 10 times more than usual price on campus and I had to photocopy quite a few documents. Yes 10 times, you read that right).
I could tell which bus I had to take, but I had no idea which station I needed to get off at. I decided as soon as I hear my university's name I will get off. Problem is, when we were going I got so much into chatting with the rest of the group I missed the fact that there were actually quite a few stations with the university's name! Apparently the university has 5 different gates!
I got off at the first instant I heard the name and that gate, I later found, was the one farthest from my dorm! By farthest I mean, it takes nearly 30-35 minutes to walk from that gate to my dorm! That location was entirely new to me and I had no idea why everything looked different to the place I got on the bus from. I had no idea which direction to go, so I walked around in circles for nearly an hour in the scorching heat - I couldn't even properly ask anyone the direction because well, I didn't know exactly what to ask! When I asked for the direction to the dormitory, I found there are 12-15 different dormitories within the campus and I needed to be specific!
After I was drenched in sweat, thirsty as a dog - I just decided - "Fu*k it! I am going to just sit here by the road till someone finds me."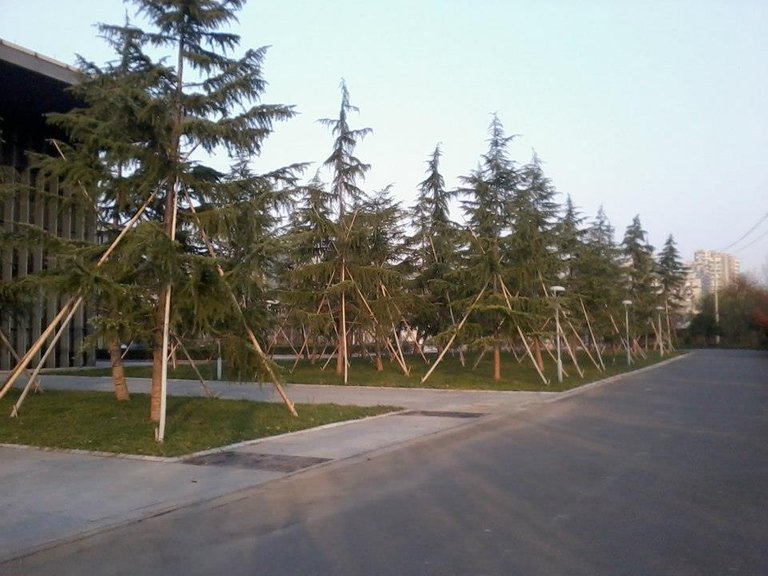 This was the road, although this picture was taken much much later.
It was nearly an hour and a half later that I was put out of my misery when I saw a couple of guys from my year I met at the canteen the day before!
---
---