The Villain-anti hero conundrum of the malfoys!
There are a few things I am very very passionate about. For most of the topics relating to my passion, I have found a lot of people on the blockchain to go into extensive discussions with. This is something I enjoy doing a lot - making logical arguments, debating.
But "Harry Potter" and "Pokemon" are two thing that I am extremely passionate about but unfortunately haven't really found anyone with the knowledge depth to discuss, argue and debate on these topics. Up until now that is!
I have been writing about both pokemon and Harry potter for quite some time now and it never sparked a discussion which is a shame because I put a lot of passion into these posts. However, I was pleasantly surprised to receive an in depth, well analysed comment under my post on the character analysis of Narcissa Malfoy.
My response to the comment was so large, it was fitting to become a post on it's own accord. So I decided to keep it on my blog because as I replied to the comment I realised I was looking at more unexplored areas of the story!
In short, the comment disagreed with my views and provided an argument that both Narcissa and Draco Malfoy was sort of the Anti-hero, and not outright villain. It was a fantastic take, and if you are a Harry Potter fan, I'll advise you go and read the comment here.
Yes Narcissa was not a death eater and neither was Greyback. The reason I brought the comparison of these two is, even though Greyback was not a death eater we do not say he was a good person. So the similar argument that Narcissa was "not a death eater" can not be used to justify that she was good.
But I agree with the point that she didn't "work for" Voldemort. But sympathising with him is equally worse nonetheless and she sure was hoping for Voldemort to triumph as was clear from her interactions at the beginning of Half Blood Prince. Her stance changed only when "her own" family was being ill-treated by Voldemort. Up until then she had no problem as long as Voldemort was ill-treating, torturing and killing other families.
She could have betrayed him and told Voldemort that Harry was still alive and we agree that the outcome of the war would be quite different
Not quite. We can't say for certain that the outcome of the war would have been different. The trajectory would have been different, but the outcome would have been the same. Let me explain -
When Harry decided to sacrifice himself and voldemort cast the Avada Kedavra, Harry cast the same protection on everyone fighting Voldemort as Harry's mother had done on him. This is proven later when Voldemort enters the school and none of his curses are binding on any of the students. Harry's protection was making Voldemort's curses ineffective. In fact in the forest after Narcissa lied to Voldemort, Voldy still cast the Cruciatus curse on Harry to be sure and Harry was able to withstand the curse without showing any signs of pain. His own protection was working on him as well because unlike Lily Potter, the Avada Kedavra didn't kill him because of the whole Horcrux conundrum!
So even if Narcissa hadn't lied, Voldemort's next Avada Kedavra wouldn't have killed harry for two reasons -
Harry was already under his sacrificial protection

He was already the Master of the Elder Wand which Voldemort was using to cast Avada Kedavra and it would have simply backfired on Voldemort again. Of course Voldemort himself would not have died because Nagini was still alive, but he would become bodyless again. Probably the war would have stretched on longer and that was what Narcissa didn't want anymore - she just wanted it to be over regardless of who won as long as her family was safe.
So Narcissa in no was anything close to hero or anti-hero in my eyes. She was embodiment of evil.
I however agree on the point about Draco being an anti-hero and not just pure evil. Despite how much I hate Draco, he was still a minor when he was (I think, and I am pretty sure I am correct) "forced" to become a death eater. You can clearly see his own conscience was constantly disturbed by the things he was asked to do by Voldemort. Draco was even contemplating to accept Dumbledore's protection at the top of the astronomy tower before the remaining death eaters arrived. So Draco saving the trio at Malfoy Manor was probably a move towards good. Or Maybe he was just scared and didn't want to be the one to give a false alert to Voldemort in case it really wasn't harry. Either way, Draco's "good" has a case to be made. Narcissa's doesn't.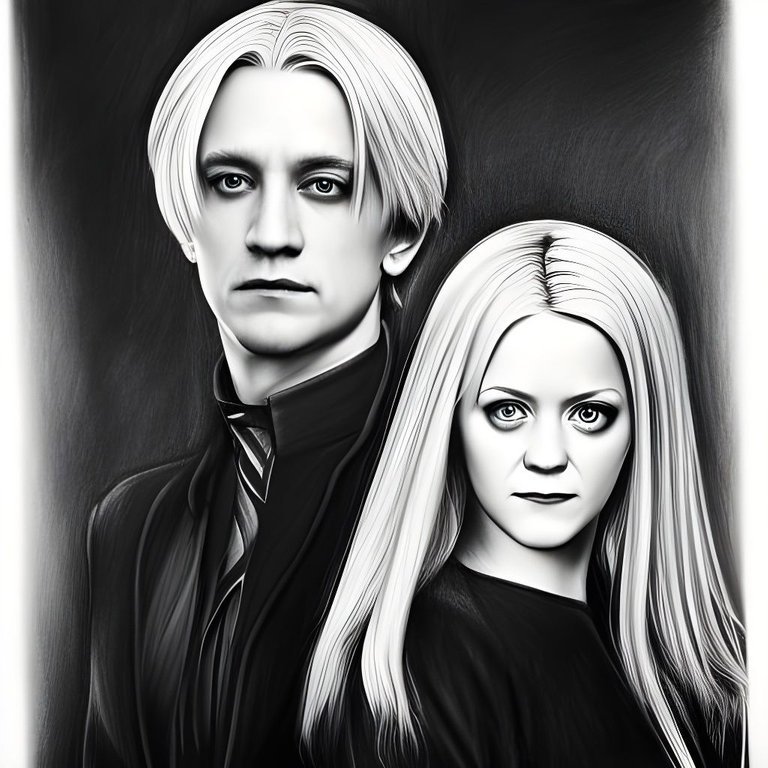 Image created using NightCafe AI
---
---