Spider Mites... Now What??

Some plants in the greenhouse are infected by something of which I think it's spider mites. It's the first time I have to deal with those, so I can use any advice I can get.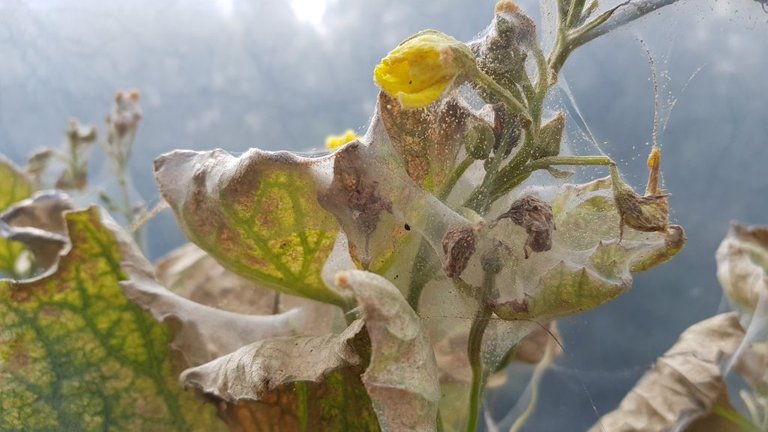 It's obvious I didn't really pay attention to what was going on inside the greenhouse these last 2 or 3 weeks.
A couple of days ago, I was so delighted to see that my loofah plant had finally started growing fruits... until I noticed the plant was covered with webs. The entire plant never looked super healthy, so I hadn't paid attention to the fact that the spots that had been on the leaves since the beginning, had multiplied.
So I went online and asked my friend Google-man if he could tell me what was going on. As always, Google-man knows all, so it didn't take me long to find some pictures that resembled the issue. So by now I'm 95% sure spider mites are the problem.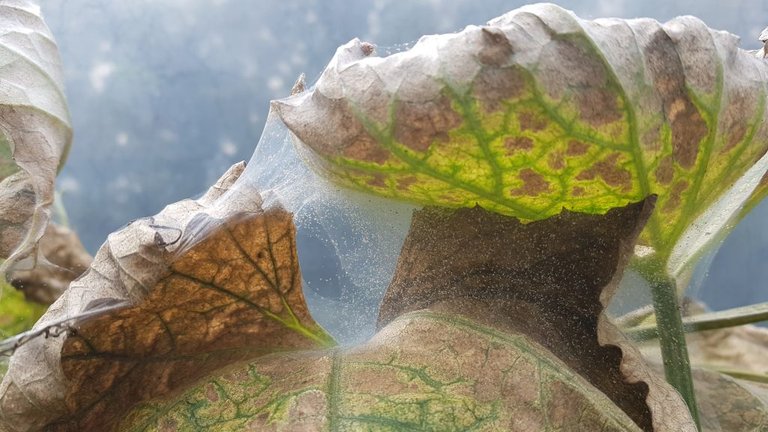 I found quite a lot of info, but still I'm a bit confused.
I removed some marigolds last week that had the same webs on them. However, the melon plants that were next to it don't show any sign of infestation. Neither do my tomato plants. (And I'm very, very grateful for that.) That leaves me puzzled.
I learned that spider mites prefer hot and dry conditions - so I guess during these last couple of weeks, the greenhouse has been like paradise for them.
Now I'm not sure what to do.... For now, I've removed all the infected leaves, but I've also made my peace with it that it's possible I'll have to remove the entire plant (no loofah sponges for us this year).
Later today, after sundown, I'll go around in the greenhouse and spray all plants with water (maybe add some neem oil?), since the little creepers don't like to get wet, apparently.
The problem is that I've learned that they also nest in the soil. I can't find any other solution online than to get rid of all the soil at the end of the season, and start all over again next year. Since the greenhouse is filled with very large containers and raised beds, that's gonna be a hell of a job - not to mention the costs.
I would be very grateful if you could share your experiences with these creepy bastards, and maybe give me any tips or advice. No need to say that organic solutions are the only option.
The end of the gardening season is near, so it's not such a big deal at the moment, but I really want to avoid that these spider mites will pop up again next spring.

Graphic created with The Logo Creator Software


Images have been sourced inside the post. Images that aren't sourced were create with The Logo Creator 7.
Source of divider images

Join The Best Natural Health Community on Hive


---
---
This post was originally published on my MoestuinMomenten.be blog and cross-posted to Hive using the SteemPress WP plugin.
Original link: http://moestuinmomenten.be/spider-mites-now/*
---
---
---