📷 Seascape with a sailboat
Have a nice day! Today I have not just a painting , but the largest painting :-) I painted it on a large canvas, which I made myself, the size of the canvas is 95x65. I wanted to make a gift to my friend, she loves ships and seascapes very much, so I tried to please her somehow...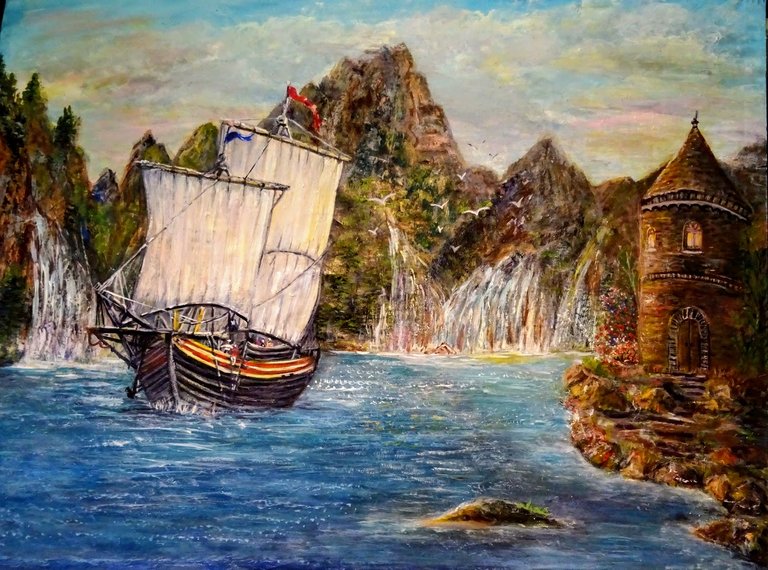 She chose the plot with knowledge of the matter, she often rests in the Crimea, and there are many similar places there :-) But the ship is old, probably Caribbean pirates also sailed on such ships...
And it all started corny. First of all, I depicted the sky. I wanted different shades of color to play in the sky, so that it wasn't just blue or cloudy. Then she began to invent the outlines of high mountains.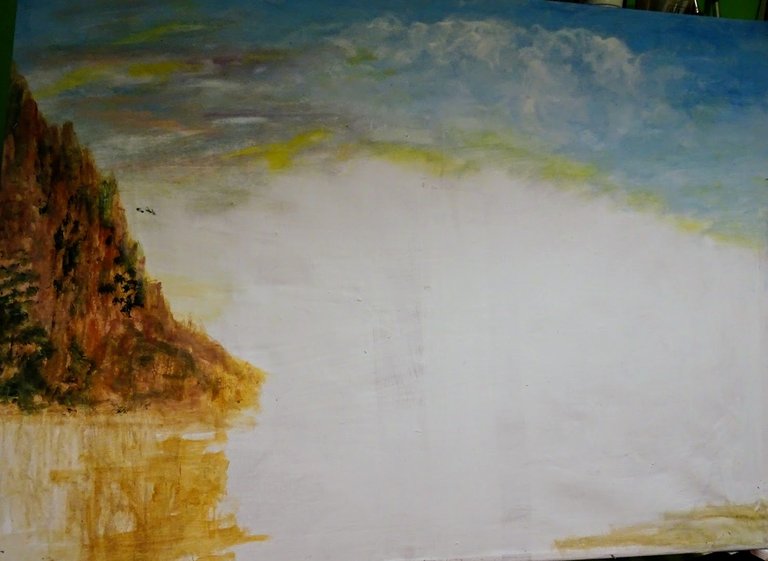 I suffered a little with the mountains. I had to change their shape and outlines several times.
They seemed to me like huge clumsy giants who were chasing someone :-)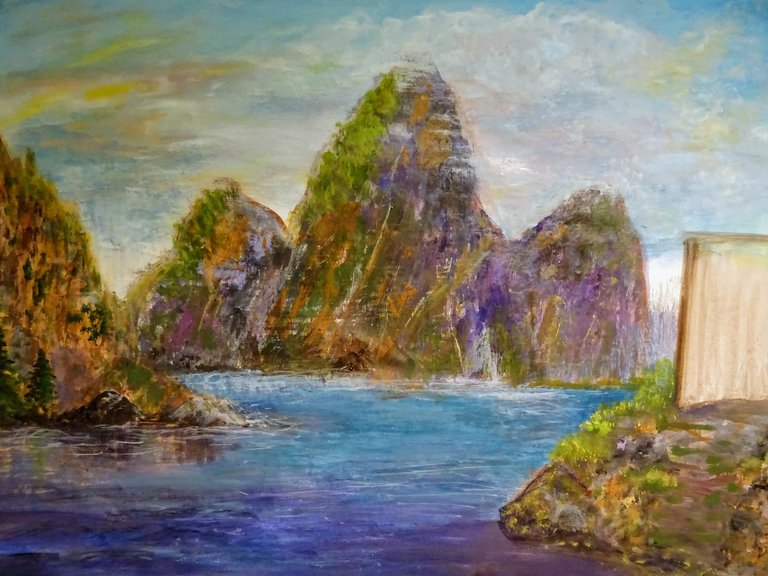 Then I began to look at different photos, and plan their location a little differently. That's what came out of it.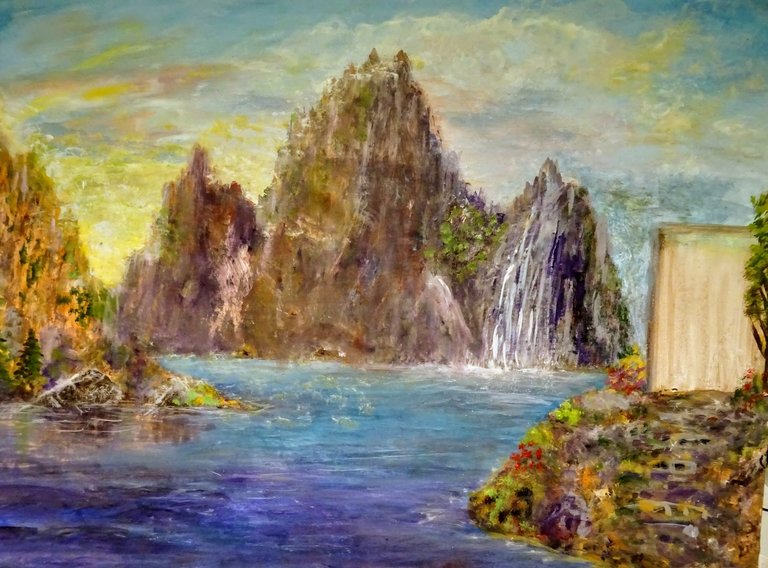 Then I wanted to depict in this gorge also a fortress with a kind wizard
on top, who would fulfill all the wishes of the owner of such a picture :-)
However, I did not leave the mountains alone. I've redone them a little again. Which option did you like best? Yes, I have also placed several waterfalls on the mountains. I really love waterfalls. When you look at the water bubbling and flowing down in powerful streams, you forget about everything. You are amazed only by the power of the elements of Mother nature...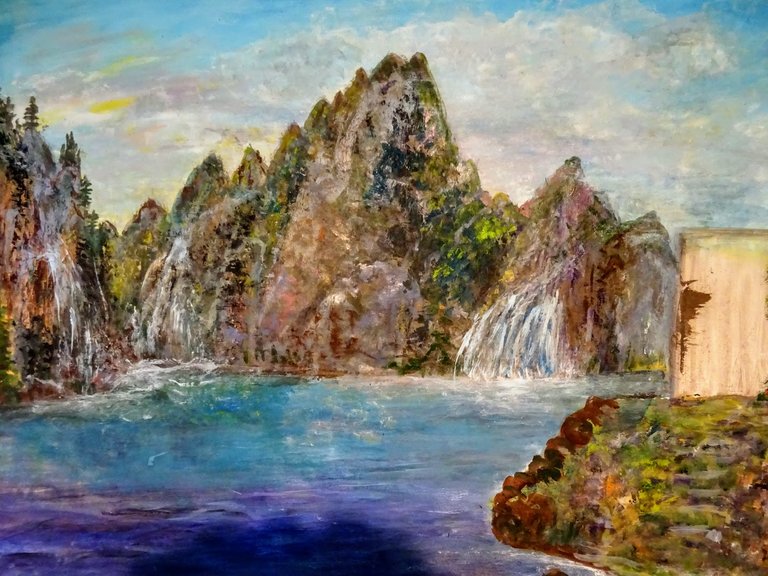 I painted with acrylic paints and this time I used many different shades and colors: I mixed everything, fantasized, added, in a word, created...
And finally I started the most important action in the picture - of course it was a boat with sails fluttering in the wind.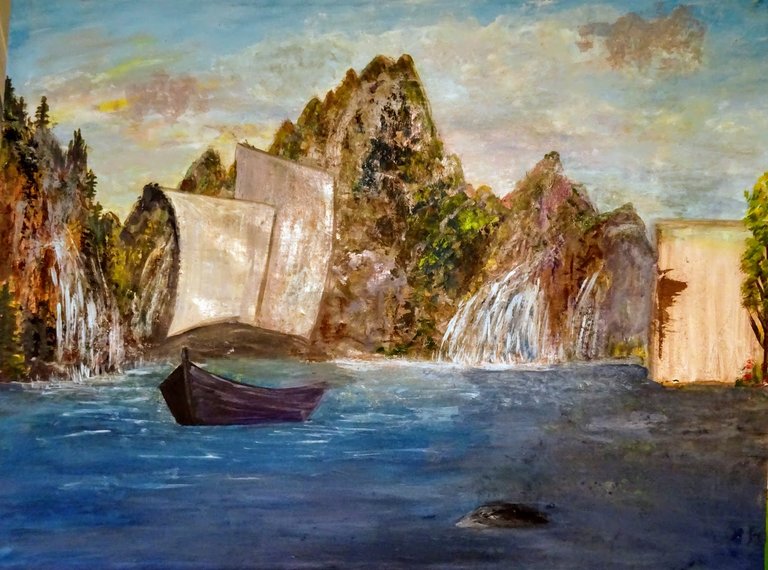 Since childhood, ships have become my favorite type of movement. Even at the age of 3, my parents and I started traveling by boat along the rivers of our vast homeland. That's probably since then I've had such boundless love for them :-)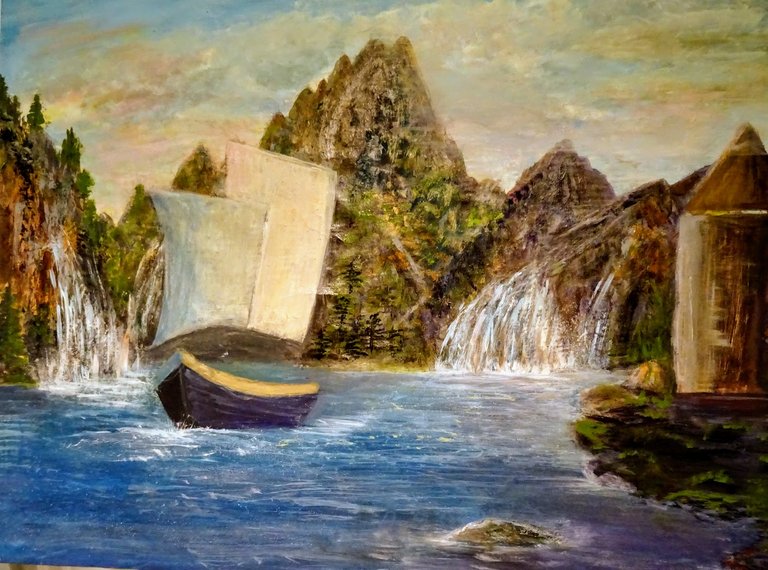 In the course of working on the ship, I also wrote a turret with the same fairy-tale wizard, who often stood on top of his tower near the window and pointed out the way to the light to lost souls :-)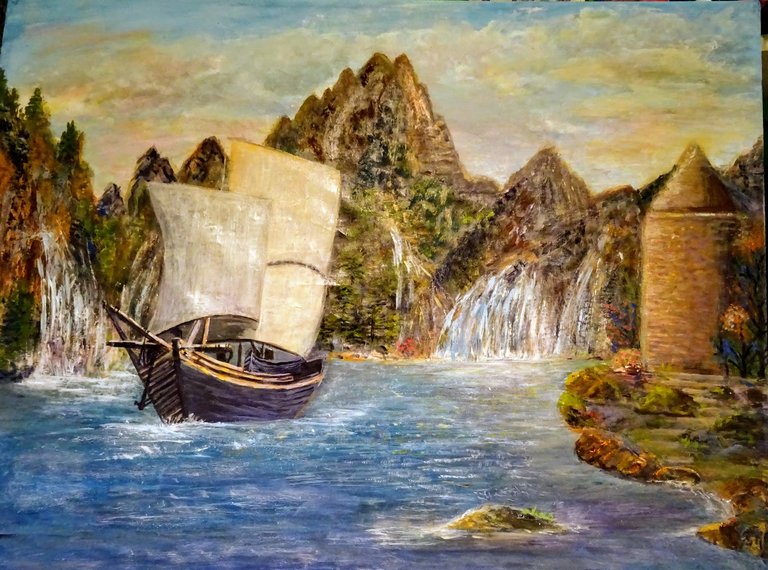 In places, of course, I changed trees and vegetation both on the mountains and near the tower. Then I didn't like something, then it was darker than I wanted, then on the contrary it was brighter. Then I planned the color of the sea waves for a long time... I also wrote a small island, on which various marine inhabitants swam out in the evenings to stare at people...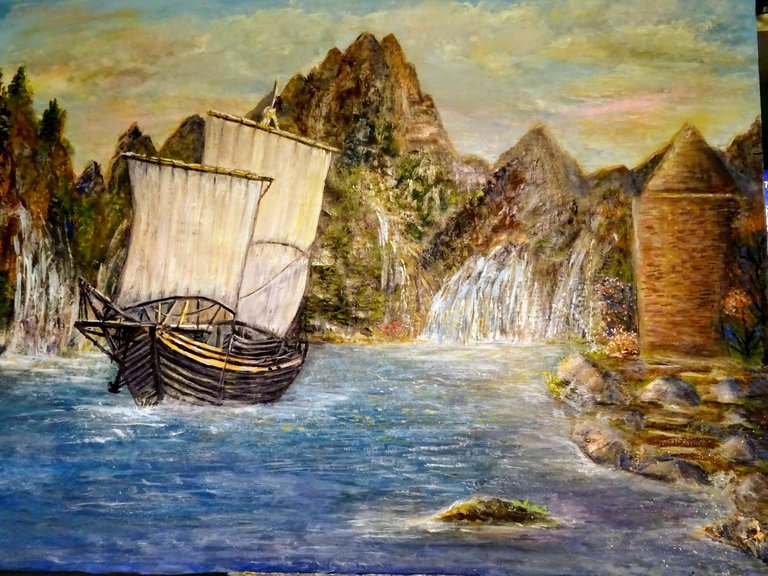 Well, the picture is ready. However, I have processed it somewhat according to the old practice in a special program. I hope that you will like it too?
1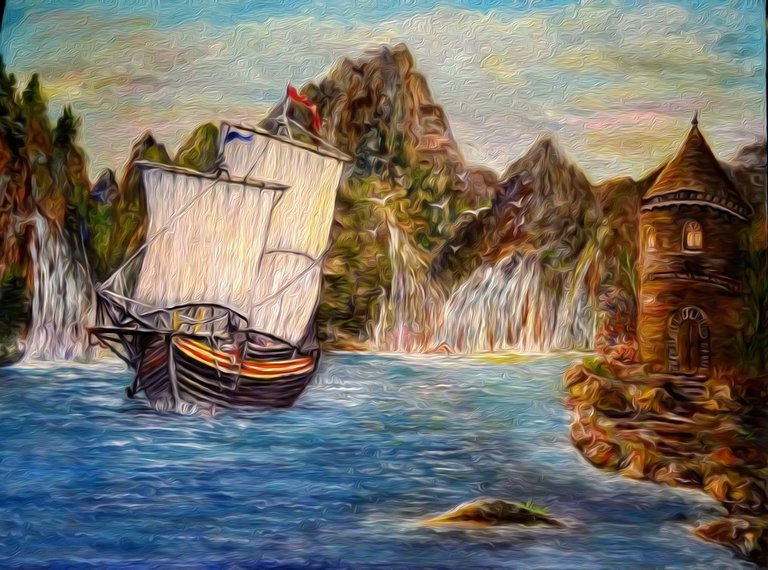 2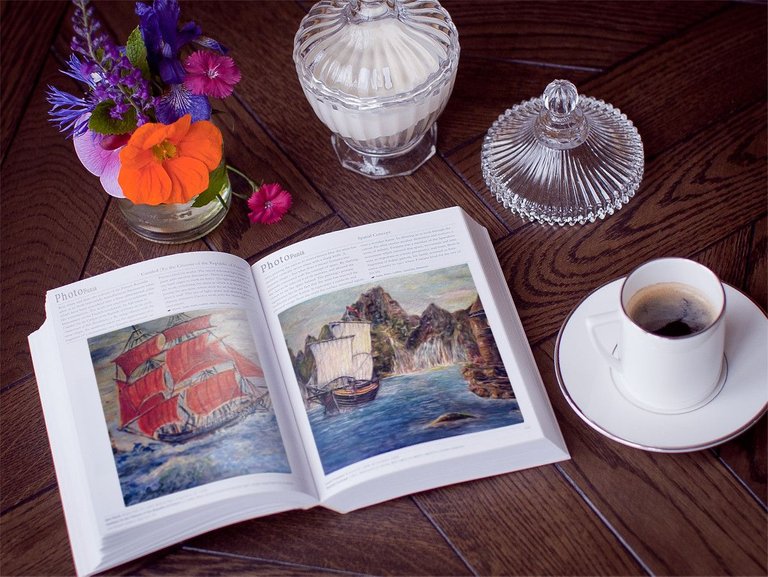 3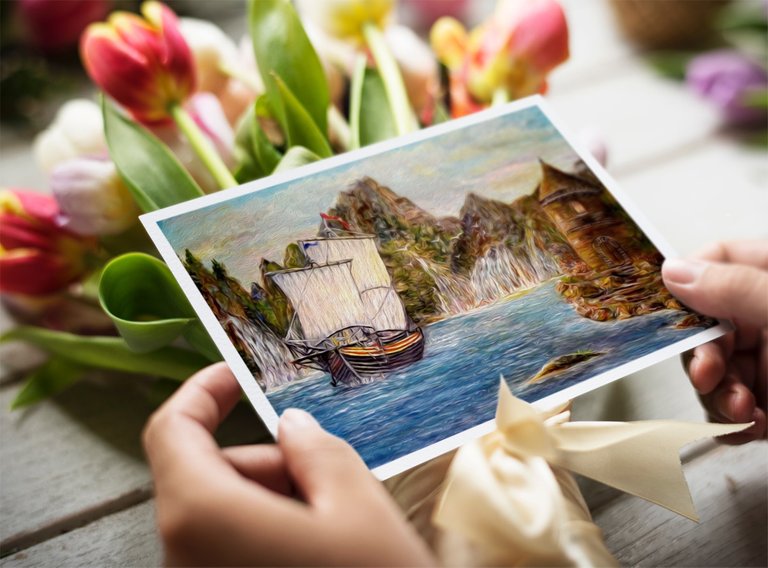 4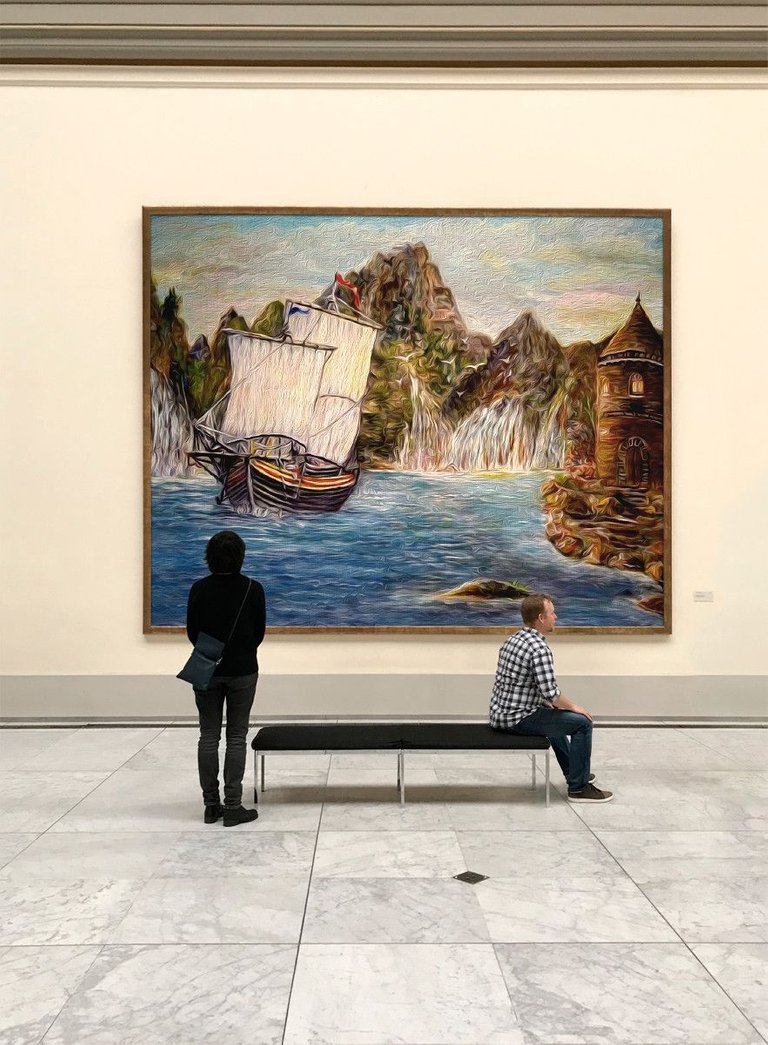 ---
If you like my drawings, then check them out here!
Thank you for supporting me in my work! Your advice helps me a lot!
I published many of my works in this portfolio on the website "Deviant Art", and in General, during the year of painting, I drew more than 100 paintings, of course some of them are just drawings, so to speak, a sample of the brush :-)
But there are also good paintings that have received approval even from professional masters of painting!
---
Thank you for Your attention and visit.
I appreciate Your feedback and comments.
I wish you luck and have a nice day!
Best wishes!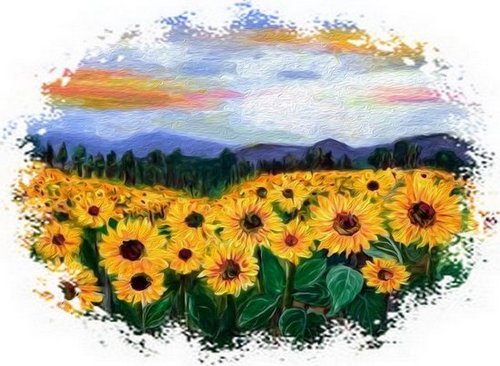 ---
---