[Eng/Esp] Contrasted pomegranates


---
Once again I am visiting this great Colour/Black&White community, I greet you and once again I wish you much success. This is the third time that I publish here, and today I want to share in contrasting photographs, with all the process of flowering, pollination and fruiting of the pomegranate (Punica granatum).
---
Estoy otra vez de visita en esta genial comunidad Colour / Black&White, les saludo y nuevamente les deseo muchos éxitos. Esta es la tercera oportunidad en la que publico acá, y hoy quiero compartir con todos, en fotos contrastadas, el proceso de floración, polinización y fructificación de las granadas, (Punica granatum).

The story of my pomegranate tree is simple: I was given a beautiful, sweet and huge pomegranate, the kind with pale pink seeds, and since it was delicious I decided to take several seeds, from which six germinated, if I remember correctly, generating beautiful seedlings. I gave away four of them and kept two. One of the plants did not support the transplant and the other did grow tall and strong in my backyard, and these photos are of the buds, flowers and fruits that it bears.
---
La historia de mi árbol de granada es sencilla: Me obsequiaron una hermosa, dulce y enorme granada, de las que tienen las semillas rosado pálido, y como estaba deliciosa decidí tomar varias semillas, de las cuales germinaron, si mal no recuerdo, seis, generando unas bellas plántulas. Obsequié cuatro de ellas y me quedé con dos. Una de las plantas no soportó el trasplante y la otra sí creció alta y fuerte en mi solar, y estas fotos son de los capullos, flores y frutos que ella da.

Throughout this series of photos, you can see from when the flower is a bud, until it emerges, opens and is pollinated by melipona bees, in this case the so-called "pegones" (Trigona spinipes), which have a predilection for these flowers, and they feel very happy immersing themselves inside them. Then there is the growing fruit, which is a pale orange color, to later form the fruit, which when ripe will be harvested from the plant. I took these photos days ago, and for this I used my Redmi 8A cell phone, which has turned out to be a good device, and I edited them in black and white, using the Microsoft Office Picture Manager software.
---
A lo largo de esta serie de fotos, se puede ver desde que la flor es un capullo, hasta que emerge, abre y es polinizada por abejas meliponas, en este caso las llamadas "pegones" (Trigona spinipes), las cuales tienen predilección por estas flores, y se sienten muy felices sumergiéndose en el interior de éstas. Luego está el fruto en crecimiento, el cual es de un color anaranjado pálido, para luego conformar el fruto, que al madurar será cosechado de la planta. Estas fotos las tomé días atrás, y para ello empleé mi equipo celular Redmi 8A, el cual ha resultado ser un buen dispositivo, y las edité a blanco y negro, empleando el software Microsoft Office Picture Manager.
Contrasted pomegranate
---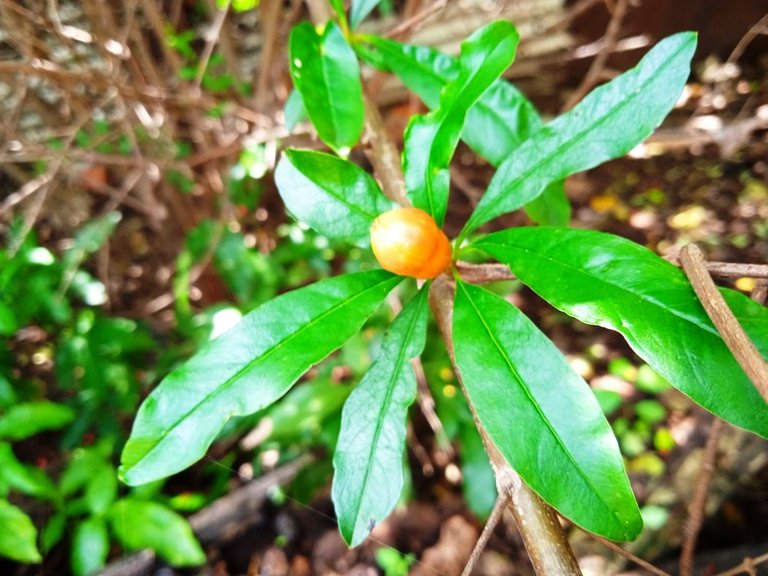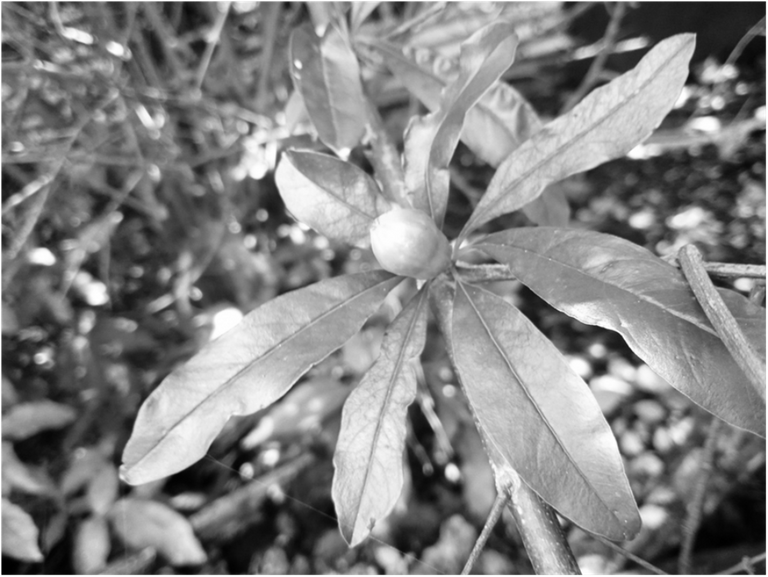 ---
---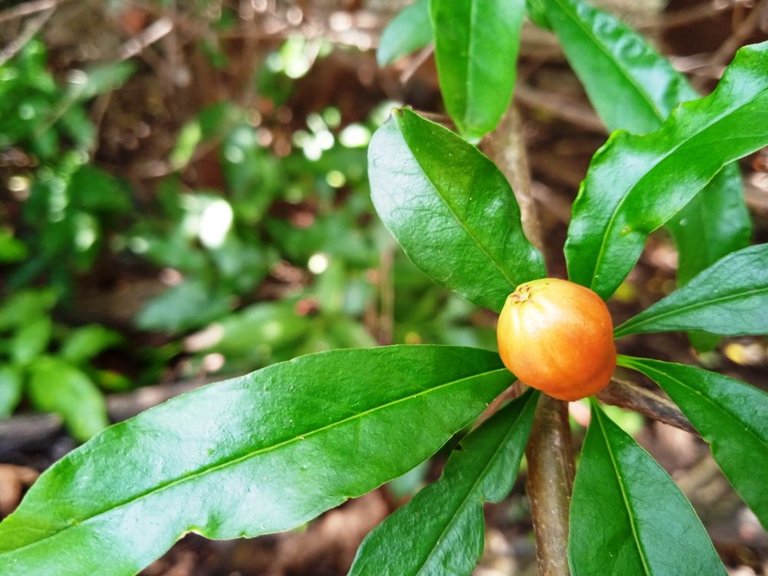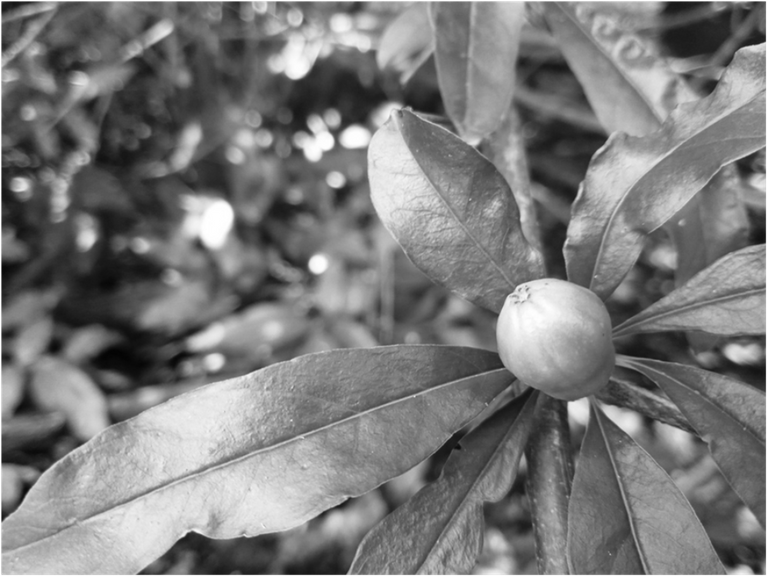 ---
---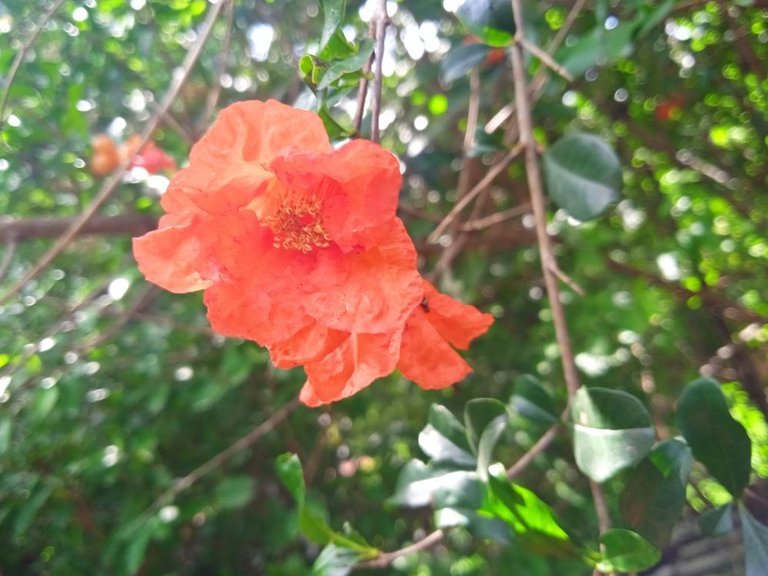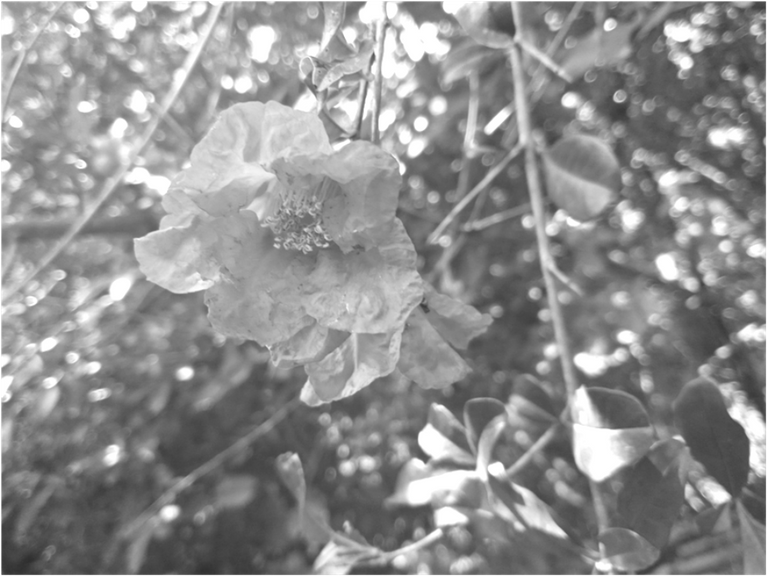 ---
---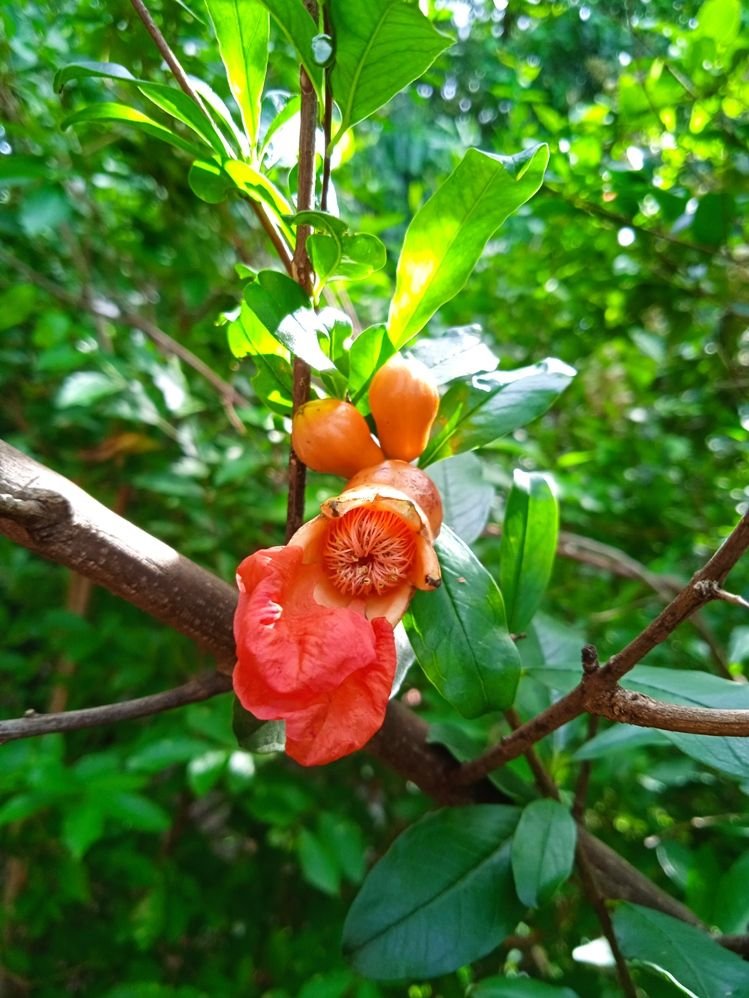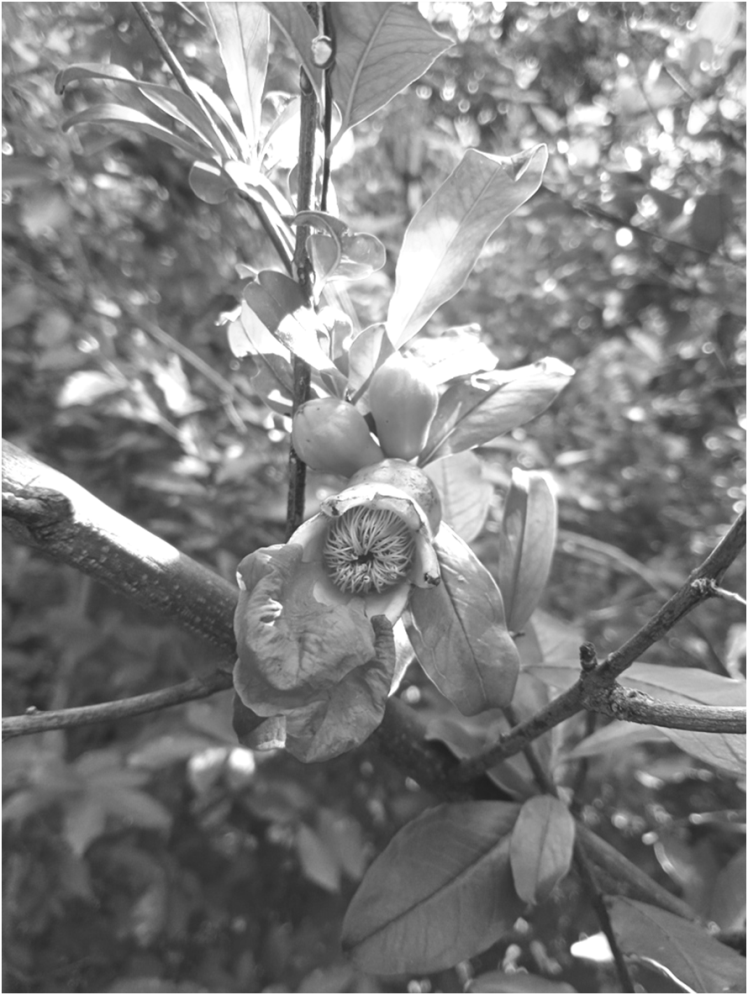 ---
---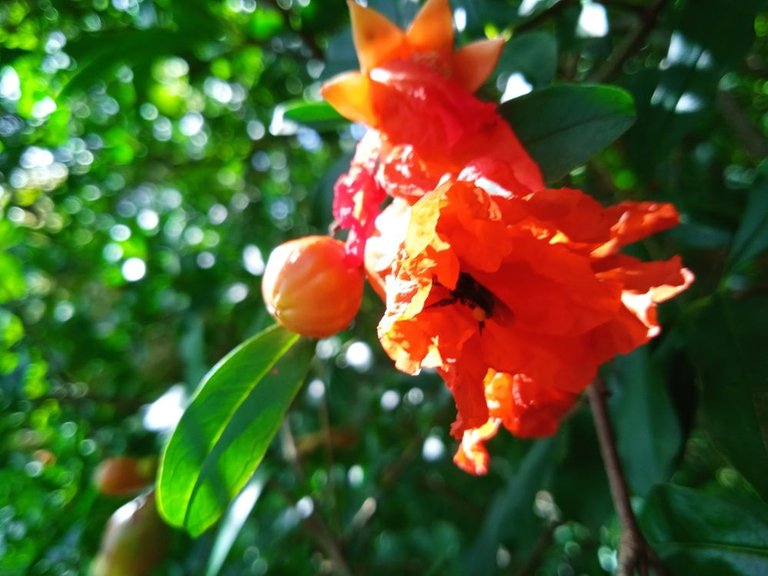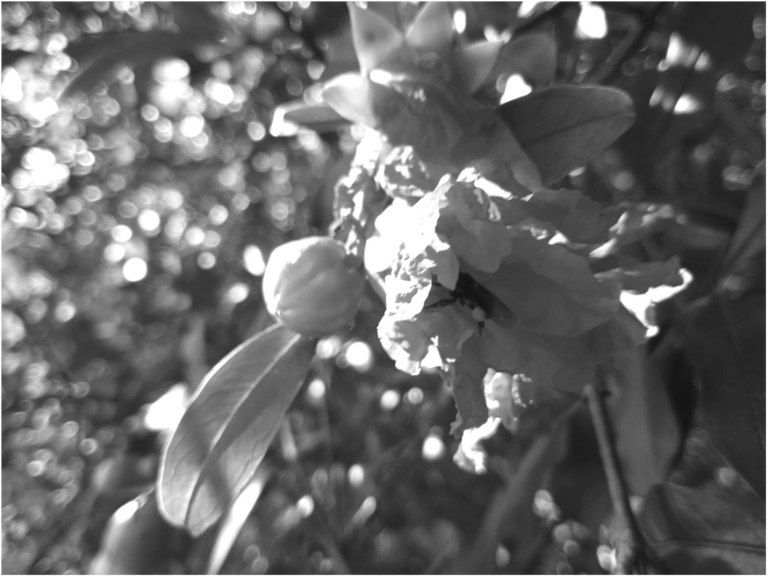 ---
---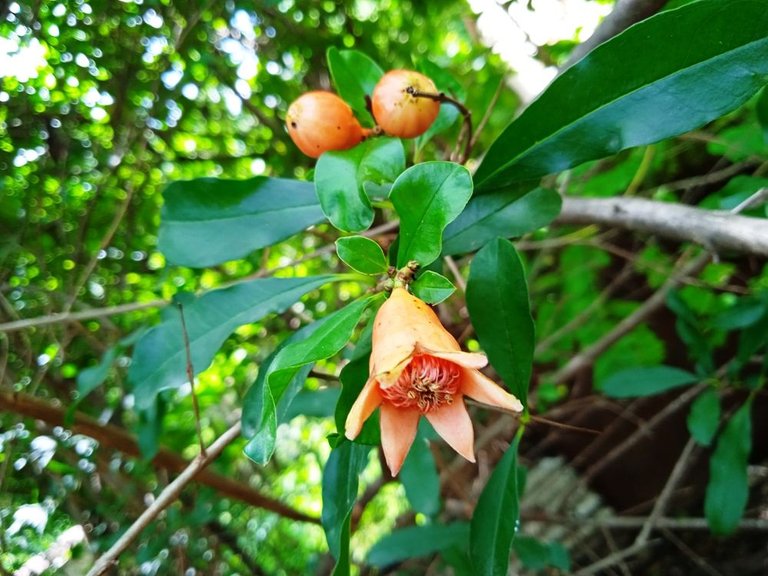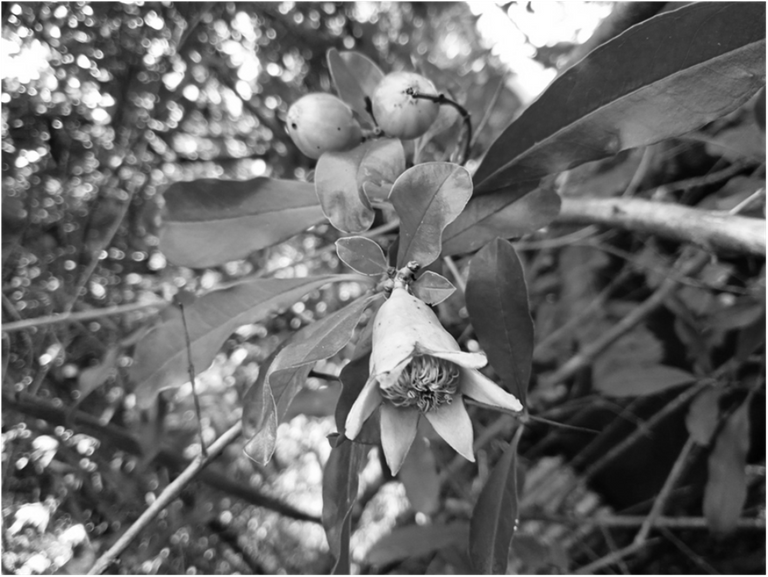 ---
---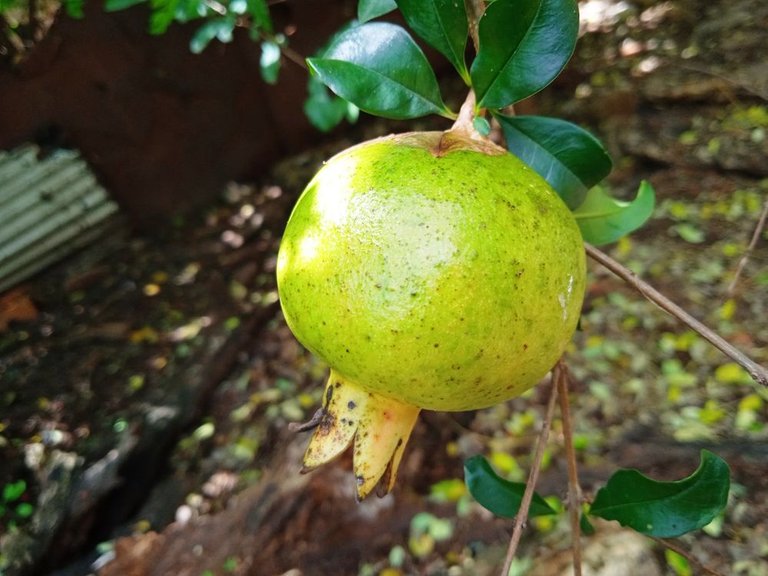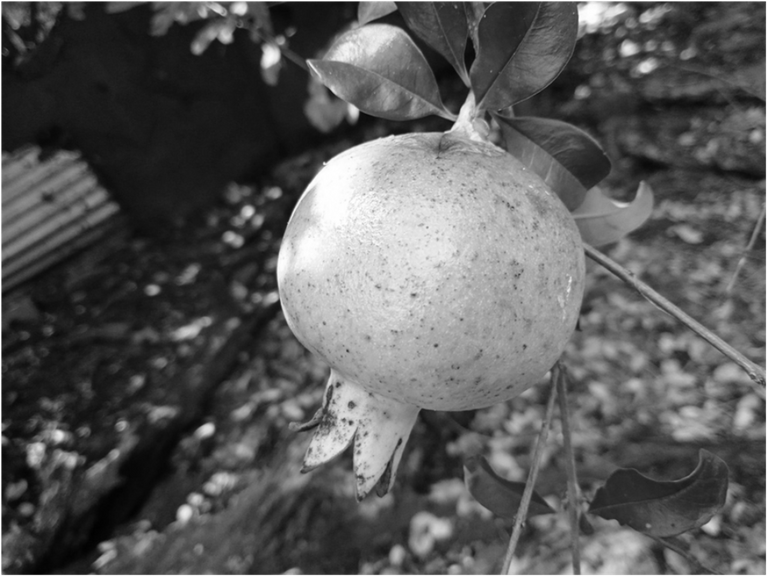 ---

Fuentes de las Imágenes / Image sources
Todas las fotos de este post son de mi autoría y fueron tomadas con mi teléfono Xiomi REDMI 8 A // These photos are my own, and were taken with a Xiomi REDMI 8 A phone

Los divisores son cortesía de @eve66 quien comparte bellos diseños que embellecen el maquetado de nuestras publicaciones. // The dividers used are courtesy of @eve66 who shares beautiful designs that embellish the layout of our post.

En caso de que se requiera utilizar el contenido o las imágenes de este post y de mis otras publicaciones, agradecería que se hiciera referencia a mi autoría (Fabiola Martínez) y se citara el enlace correspondiente. Gracias. // In case it is required to use the content or images of this post and of my other publications, I would appreciate if you could refer to my authorship (Fabiola Martínez) and cite the corresponding link. Thanks.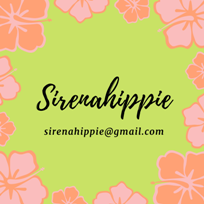 Delegations welcome!

Find our community here

Curation Trail

---
---