Double The Rewards You Say?!

Open The DEC Floodgates!
Hey there my fellow Splinterlandians! For today's share to social media blog post I just want to go over some of the changes in the update code that was released this past week in preparation for the update on the 31st after the end of season. If you are not aware they have reduced earnings from using the starter or "ghost" cards, so every card that you now see with a slightly transparent S that means it is apart of the starter/free cards therefor you will have reduced earning depending on the amount of starter cards used..Pushing bots and players to buy more cards or rent more from other players.


Starter Cards Example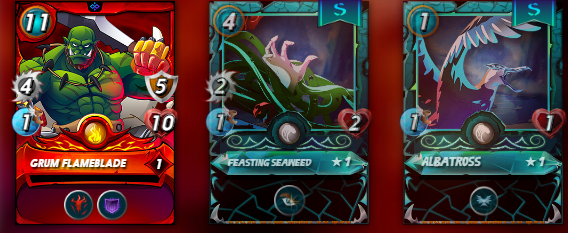 SO IF YOU LOOK ABOVE YOU CAN SEE I OWN GRUND BUT I OWN NEITHER THE FEASTING SEAWEED OR ALBATROSS BECAUSE THE S FOR A STARTER CARD IN THE TOP RIGHT. FOR EACH STARTER CARD USED THE EARNINGS ARE REDUCED BY 14% IN MY BATTLES SO FAR TESTING OUT THE CHANGES. If the rate of DEC earning is reduced consistently at all times someone using a starter deck should only get 2% of their DEC rewards compared to normal play not using starter teams..
I have absolutely loved the changes to the game everyone is earning more DEC thats not using starter card teams or botting. The update for daily chests will be released on the 31st of May and currently the rewards formula will work as shown below

IF DEC EARNING DECAYS AT 14% PER STARTER CARD A FULL STARTER TEAM SHOULD ONLY EARN 2% OF THE EARNINGS SO FAR BASED UPON MY TESTING. UNLESS THIS PICTURE PASTED BELOW FROM THE PEAKD REWARDS POST IS 100% ACCURATE FROM THE TEAM THEY WILL EARN 0%


Chests Galore
So looking at the new rewards table for Gold as an example instead of the 5 chests i receive a day in Gold i could get 10 chests a day just for 16-17 Wins thats amazing! Not only are we earning more we will go through the rewards cards quicker giving people more types of reward cards per year!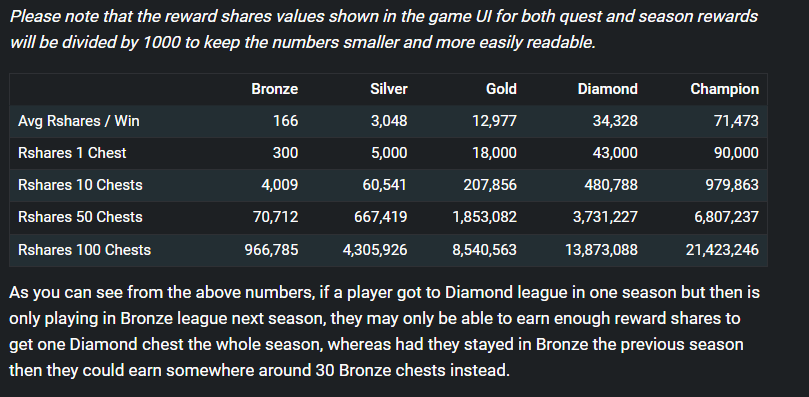 THE UPDATES HAVE BEEN VERY NICE AND I CANT WAIT FOR THE EOS TO SEE THE NEW REWARDS SYSTEM IN EFFECT HOPEFULLY THE 24HOUR COOLDOWN ISSUE IS ADDRESSED WHEN TRYING TO RENT OUT THE SAME CARDS IF YOU USE 1 Gold Foiled Oshannus for example and own 2 their both counted as being played keeping you from renting out either...very annoying other then that i have no complaints about the game. NOW IS THE TIME TO JOIN IF YOU WANT TO BUY THE DIP TO MAXIMIZE PROFITS!

---
---