Dragons Just Do It Better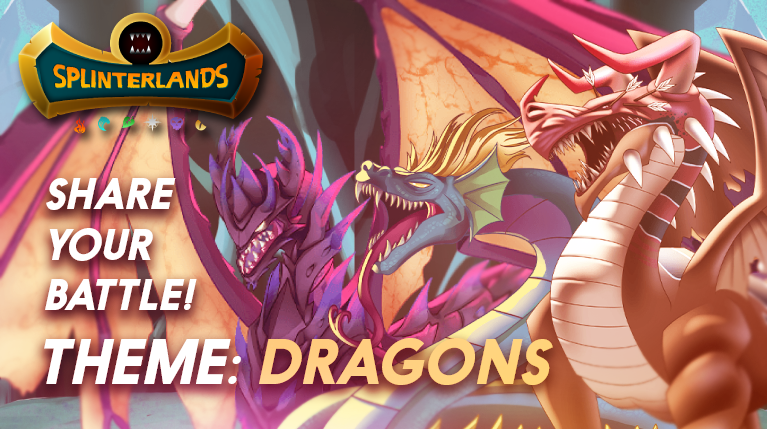 Ruleset
Hey good evening my party people! For this weeks share your battle challenge I will get to demonstrate why dragons just do it better. For this battle we had the Broken Arrows Ruleset which stops players from using any ranged attack monsters.

IF YOU WOULD LIKE TO USE MY REFERRAL CODE IT WOULD BE GREATLY APPRECIATED NOW IS THE TIME TO HOP IN AND BUILD UP THE PASSIVE INCOME FOR THE REST OF YOUR LIFE!
Strategy
I used Quix The Devious to reduce speed to help my monsters avoid melee damage and boost my void dragon in the backs dodge chance and also in a hope to let my sneak attack monster Uraeus tear up their backline before they can attack which alot of the time players dont protect.
Keeping the ruleset in mind I prepared my front line with Djinn Chwalla because he just beats the cursed windeku like a redheaded stepchild in silver. I dont know if that will hold up in Gold where the Cursed Windeku does receive self heal. Last but not least i put my Scavo Hireling to build up my Djinn Chwallas armor keeping him alive one piece of chainmail at a time. keeping opportunity creatures in mind I made sure the majority of my creatures had 2 health points hoping to help out the scavo hirelings life expectancy rate. My thorns and flying ability along with that sneak damage definitely secured the win!
Dragons Galore
I love quix dont get me wrong I go on some crazy win streaks utilizing that speed nerf especially with the Time mage on the Life Splinters Team but I have my eyes on Delwyn Dragonscale as my next purchase for my GF brawls aswell as tournaments because I want to build on my magic based lineup without having to pay for a gold foiled Alric which is just out of my price range. I did notice that it is currently cheaper to get a level 4 Gold Foiled Delwyn Dragonscale rather then a regular foiled one.

LETS JUST TAKE A MOMENT TO ACKOWLEDGE THAT PRICE DIFFERENCE WITH THE SAME RESULTS >:)

---
---