Community Call - Let's help @Davixesk8's father with his Throat Cancer Fight

@Davixesk8, one of our oldest and most active community members needs our help
His father mr. Danilo was diagnosed with throat cancer and is giving his fight against this terrible disease
Medical Report in Spanish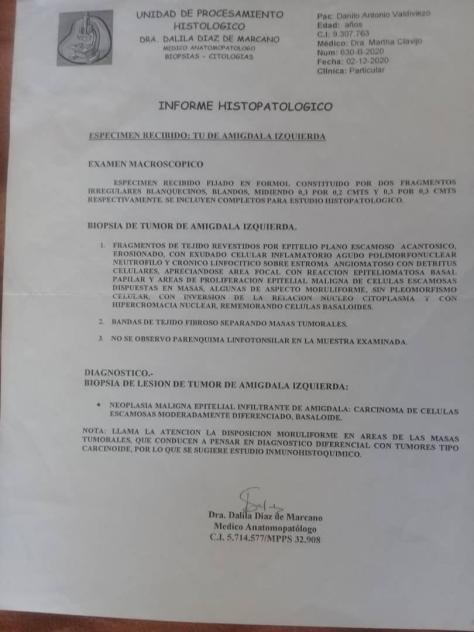 English Translation of Medical Report by @Davixesk8
Specimen received: tu of left tonsil.
Gross examination
Specimen received fixed in formalin, consisting of two soft, whitish irregular fragments, measuring 0.3 by 0.2 centimeters, respectively, complete for histopathological study.
Biopsy of a left tonsil tumor.
1-. Tissue fragment lined by eroded, eroded, squamous squamous epithelium with acute inflammatory polymorphonuclear neutrophilic and chronic lymphositic cellular exudate on angiomatous stroma with cellular detritus, pressing in focal area with basal papillary apitheliomatous reaction and areas of epithelial proliferation, malignant squamous cell masses Some have a moruliform appearance, without cellular pleomorphism, with inversion of the nucleo-cytoplasm relationship and with nuclear hyperchromacy, recalling basaloid cells.
2.- bands of fibrous tissue separating tumor masses
3.- lymphotonsillary parenchyma was not observed in the sample examined.
Diagnosis.
Biopsy of left tonsil tumor lesion.
Infiltrating epithelial malignancy of left tonsil: squamous cell carcinoma, moderately differentiated, basaloid.
---
The public health system in Venezuela is broken and can't help mr. Danilo so the only choise is to do his therapies in a private clinic. The total cost for 40 chemo and radio therapies as well as constant monitoring of mr. Danilo's health is $10,000.
It's almost impossible to have that much money in a country like Venezuela and that's where Hive community comes in!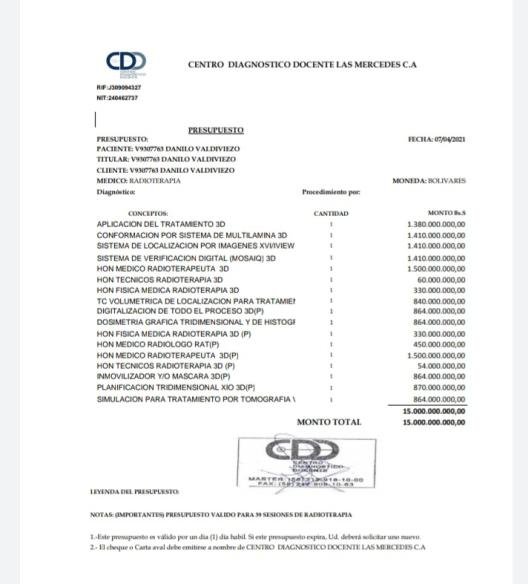 Expenses report in Bolivar
---
Let's show the power communities and help mr. Danilo with our donations
3 ways to help
Donate directly to mr. Danilo via GoFundMe : https://www.gofundme.com/f/ayuda-a-danilo-a-vencer-el-cancer-de-garganta?utm_campaign=p_cf+share-flow-1&utm_medium=copy_link&utm_source=customer



Send @davixesk8 any amount of Hive and HBD



Send @skatehive any amount of Hive and HBD with the memo "Donation for Danilo". After 2 weeks, we'll convert your donations in FIAT and transfer the money to mr. Danilo via GoFundMe.
You can also help us by reblogging this post so we can reach more people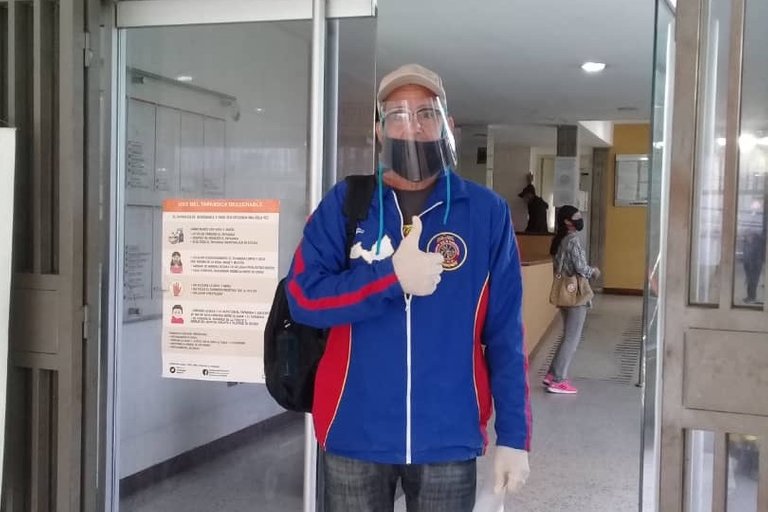 ---
Thank you all
Thank you all in advance for your donations.
We'll share an update post next week informing you about how much Hive and HBD we've raised and highlight our biggest donors.
All posts rewards and tips will go towards mr. Danilo's fight against throat cancer
@Skatehive Skateboarding Community

---
---