"Skater of the Week" Round 7 - Voting is LIVE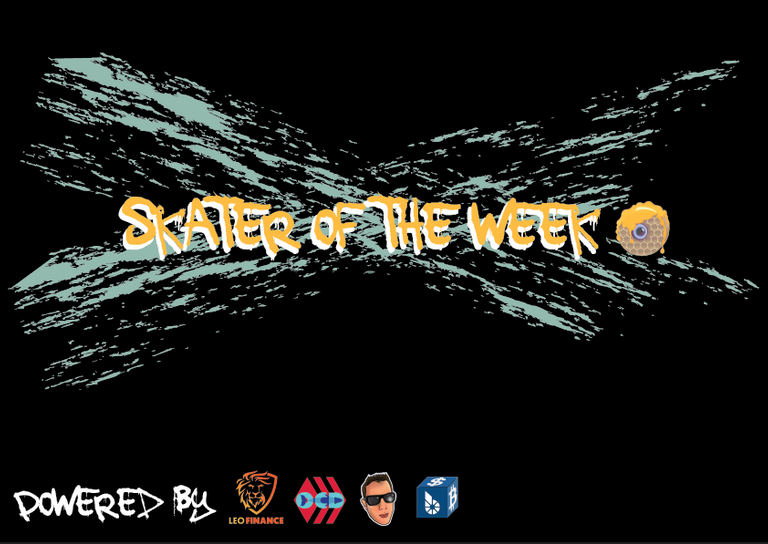 Round 7 Voting is LIVE 🚨
Time to choose who's gonna be "Skater of the Week" this round fam!
Curator Picks
"Skater of the Week" poll is already LIVE on LeoThreads so head over there, log in with your Hive account and vote on your favourite Skatehive post/content creator! You are the judge! Voting ends in 48h!
🔴 Vote Here : https://leofinance.io/threads/view/skatehive/re-leothreads-joo6ycuq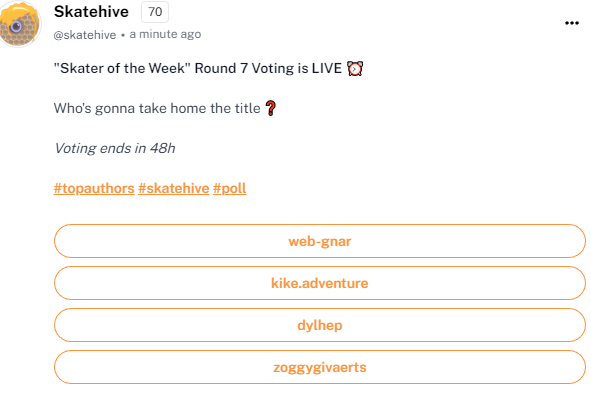 WTF is "Skater Of The Week"?
"Skater of the Week" is an initiative organized by @skatehive in collaboration with @leofinance, @ocd, @theycallmedan and @blocktrades and it's goal is to encourage content creation and engagement within Skatehive, reward the most active community members and get everyone more involved in decision making!
How does it work 📝
Every Friday our curation team will pick 4 Skatehive posts from 4 different creators and the community will choose who takes the "Skater of the Week" title home by voting on a LeoThreads poll. Poll will go live every Friday and voting will last for 48 hours. Winner will be announced every Monday in the new Skatehive Weekly issue.
How to get nominated ❓
"Skater of the Week" curators are looking for
Quality posts : The higher your content's quality the more likely you'll make it to the list
Engagement : Skaters who engage in other Skatehive posts have a higher chance of getting nominated
Rewards 💰
"Skater of the Week" winner will be added as a 60% beneficiary in the next "Skater of the Week" announcement post and post will be voted by our partners @leofinance, @ocd, @theycallmedan and @blocktrades.
Winner's post along with other high quality posts from other Hive communities will get featured in a Weekly Digest post by @weeklytops and will be heavily promoted on Twitter.
"Skater of the Week" winner is a part of "Hive: Author of the Week initiative"

Support Skatehive by
---
Find Skatehive On
... and don't forget to join the Skatehive Discord if you need help understanding more about Skatehive as well as to connect with the community. It' a fun place!

---
---