3SSkaters Hive on Fire!

3SSkaters Hive on Fire!
Hello supporters of the channel, friends of the Hive. We're very excited about the connections we're establishing. How are you guys doing? I hope you're all good on the start of the week. Today we will show you some amazing moments of the channel.
Olá apoiadores do canal, amigos da Colmeia. Estamos muito empolgados com as conexões que estamos estabelecendo. Como vocês estão? Espero que todos estejam bom início de semana. Hoje vamos mostrar pra vocês alguns momentos incríveis do canal.
That one's fucked up. ❤️ Esse deu merda ❤️
Odysee link: https://odysee.com/@3Sskaters:5/deu-merda-desafio-do-bal-o-game-of-skate:3?r=9g7XKbXBCkQjKjjaFtHoFcqRBZUe142V
From the first videos to today are already 8 years. We've been studying throughout our growth ways to serve our content across multiple platforms. We do it as entertainment for the public, and we are aware that it is our job. The Hive is the perfect stage to deliver this content, get us closer to potential business partners, monetize with tokens, and maintain quality relationships with amazing people. In this video we made a joke and each letter we would take a ball of water in the face. We were just crazy kids, we're not to blame for anything. hahaha
Desde os primeiros vídeos até hoje já são 8 anos. Fomos estudando ao longo do nosso crescimento maneiras de veicular nosso conteúdo por diversas plataformas. Fazemos isso como entretenimento para o público, e temos consciência de que é nosso trabalho. A Colmeia é o palco perfeito para veicular esse conteúdo, nos aproximar de possíveis parceiros de negócios, monetizar com tokens, e manter relações de qualidade com pessoas incríveis. Neste vídeo fizemos uma brincadeira e a cada letra tomaríamos uma bola d'agua na cara. Eramos apenas crianças malucas, não temos culpa de nada. hahaha
Odysee link: https://odysee.com/@3Sskaters:5/surfando-o-unic-rnio:6?r=9g7XKbXBCkQjKjjaFtHoFcqRBZUe142V
Have you ever imagined surfing a unicorn? yes, you're not going crazy. A unicorn! We did it, good at least until it just EXPLODES! On that day we count the illustrious presence of our friend Lucas Fink, world champion of SKIMBOARD. We would like to say that these first posts are for us to get to know each other. 3S and Hive. Next week we will make efforts for our community of other social networks come and get to know the BlockChain universe and SkateHive.
Já imaginou surfar um unicórnio? Sim, você não está enlouquecendo. Um unicórnio! Nos o fizemos, bom pelo menos até ele simplesmente EXPLODIR! Nesse dia contamos a ilustre presença do nosso amigo Lucas Fink, campeão mundial de SKIMBOARD. Gostaríamos de dizer que esses primeiros posts são pra nos conhecermos. 3S e Colmeia. Na próxima semana faremos esforços para nossa comunidade de outras redes sociais venham conhecer o universo BlockChain e a SkateHive.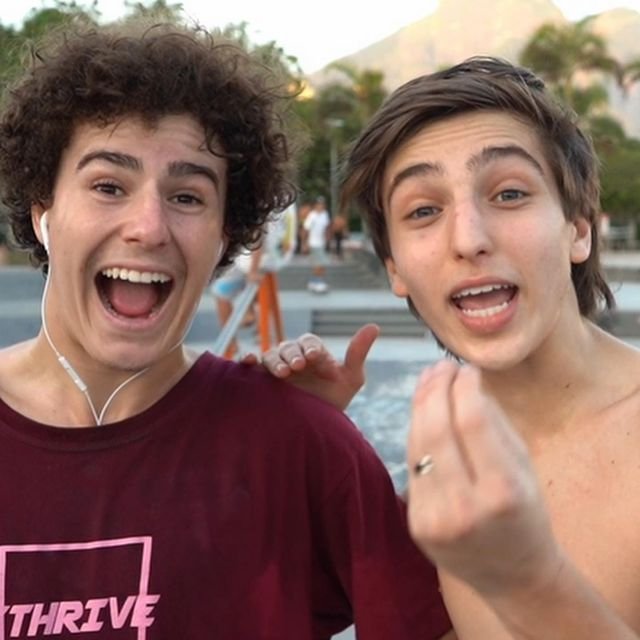 Again, thank you for the reception. If you're enjoying the content leave an upvote, a comment, and subscribe to the channel. Let's take it to the next level!
De novo agradecemos pela recepção. Se tiver gostando do conteúdo deixe um upvote, um comentário e se inscreva no canal. Vamos ao próximo nível!
Follow our channels:
Siga nossos canais:
https://www.youtube.com/c/3Sskaters/featured
https://www.youtube.com/channel/UCgIh--EfJlzGZUk-JV3WNQA
https://www.youtube.com/channel/UCds6emJ9Qh5ykLXncgxUmVA
https://www.youtube.com/channel/UCD_8HCExM-UbpK4eLY7wydA
https://odysee.com/@3Sskaters:5?r=9g7XKbXBCkQjKjjaFtHoFcqRBZUe142V
https://odysee.com/@diegoguerra:8?r=9g7XKbXBCkQjKjjaFtHoFcqRBZUe142V
---
---