Ciertamente es una carta que posee pocos puntos de vida, pero todas las cartas tienen utilidad en Splinterlands /It is certainly a card that has few life points, but all cards are useful in Splinterlands [ESP-ENG]
---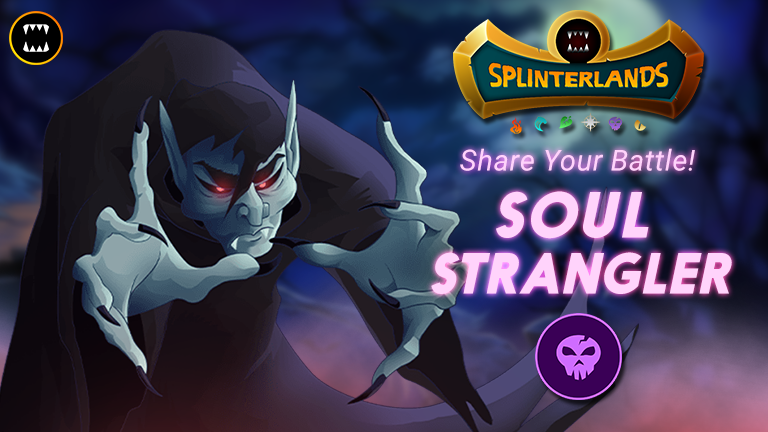 ---
Imágen del banner de @splinterlands / Banner Image by @splinterlands
---
Hola a [email protected] en esta temporada he estado jugando en la Liga Oro (Modern) pero aún no me decido en dónde jugar así que probaré nuevamente en liga Wild para poder comparar los resultados y no precitarme en la decisión, ahora vayamos al punto en el reto de esta semana tenemos a la carta Soul Strangler del elemento Muerte y les adelanto que es una carta que siempre tengo a la mano para las situaciones en las que considero que es más oportuna utilizarla lo cual se desarrollará en el trancurso de la publicación.
Hello everyone, this season I have been playing in the Gold League (Modern) but I have not yet decided where to play so I will try again in the Wild league to compare the results and not to make a decision, now let's get to the point in this week's challenge we have the card Soul Strangler of the Death element and I anticipate that it is a card that I always have on hand for the situations in which I consider it is more appropriate to use it which will be developed in the course of the publication.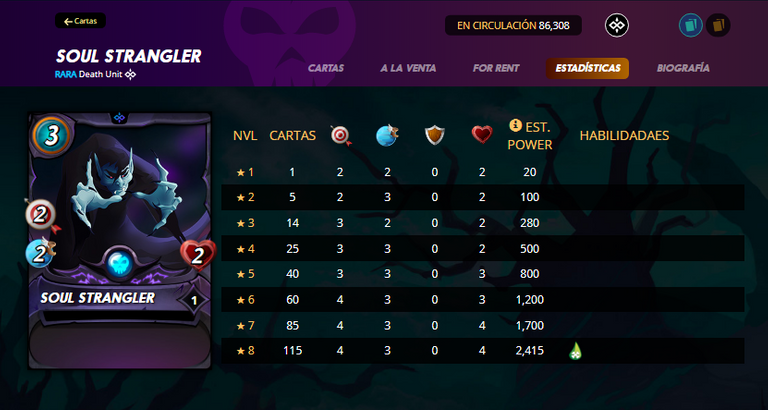 ---
Estadísticas del monstruo Soul Strangler / Soul Strangler monster statistics
---
Edición / Edition: Chaos Legion
Rareza / Rarity: Rara / Rare
Elemento / Element: Muerte / Death
Ataque / Attack: A distancia / Ranged
Habilidad / Ability: Poison at level 8
---
Es una carta que requiere 3 puntos de maná para poder ser utilizada en el campo, la única habilidad que posee la adquiere a nivel máximo pero eso no es problema porque se caracteriza por tener mucho poder de ataque considerando su bajo maná, la mayor debilidad que tiene son sus pocos puntos de vida por lo tanto les mostraré una tabla describiendo algunas de las mejores opciones para poder sacarle mayor provecho en el juego 😉.
It is a card that requires 3 mana points to be used in the field, the only ability it has is acquired at maximum level but that is not a problem because it is characterized by having a lot of attack power considering its low mana, the biggest weakness it has are its few life points so I will show you a table describing some of the best options to get the most out of it in the game 😉.


| Rules | Español | English |
| --- | --- | --- |
| | Los puntos de vida de todos los monstruos serán iguales a los del monstruo que posea la mayor cantidad de vida base en el campo. | The life points of all monsters will be equal to those of the monster with the highest base life in the field. |
| | Sólo pueden ser utilizados monstruos e invocadores de 4 puntos de maná o menos. | Only monsters and summoners of 4 mana points or less can be used. |
| | Los monstruos que sólo posean ataque de tipo cuerpo a cuerpo no pueden ser utilizados en la partida. | Monsters possessing only melee attacks cannot be used in the game. |
| | Los monstruos pierden todas sus habilidades. | Monsters lose all their abilities. |
Cómo ya sabemos Soul Strangler posee pocos puntos de vida por lo tanto le viene muy bien la regla de batalla Equalizer para que no tenga esa debilidad, otra situación conveniente es cuando esté disponible la regla de batalla Little League obviamente al ser una carta de bajo maná es mejor que se enfrente a cartas de "tamaño" parecido, la idea general es colocar a la carta en una posición en la que no quede tan expuesta al daño entonces en la regla Keep Your Distance al menos podemos asegurar que no habrá monstruos con ataque cuerpo a cuerpo y así eliminamos casi completamente a la habilidad Opportunity, una de las situaciones en la que más uso a la carta temática es con la regla Back To Basics porque al no haber habilidades podemos ubicar a la carta en la parte final de la alineación y no podrá recibir daño por buena cantidad de tiempo mientras tanto aprovechamos de todo su poder de ataque.
As we already know Soul Strangler has few life points so the Equalizer battle rule is very useful to avoid that weakness, another convenient situation is when the Little League battle rule is available, obviously being a low mana card it is better to face cards of similar "size", the general idea is to place the card in a position where it is not so exposed to damage so in the Keep Your Distance rule at least we can ensure that there will be no monsters with melee attack and thus almost completely eliminate the Opportunity ability, one of the situations in which I use the thematic card is with the Back To Basics rule because since there are no abilities we can place the card at the end of the lineup and it can not take damage for a good amount of time while we take advantage of all its attack power.



Reglas de Batalla / Battle Rules

| Rules | Español | English |
| --- | --- | --- |
| | Todos los monstruos adquieren la habilidad Opportunity, es decir, atacarán a la carta que posea la menor cantidad de vida. | All monsters acquire the Opportunity ability, that is, they will attack the card that has the least amount of life. |
| | Sólo se pueden utilizar monstruos con costes de maná impares. | Only monsters with odd mana costs can be used. |
Sé que pueden pensar que es una contradicción utilizar a la carta temática en este tipo de regla de batalla porque será un objetivo fácil para los monstruos oponentes pero al ser una batalla de bajo maná y cómo sólo están disponibles los elementos Muerte y Tierra no había muchas opciones para elegir cartas, en estos casos es recomendable utilizar monstruos con mucha vida/velocidad y por supuesto con el mayor poder de ataque posible y, ubicar a las cartas con menor cantidad de vida que prefieras sean atacadas primero lo más cercano posible a la primera posición para que sirvan de señuelo mientras que las demás cartas se encargan de hacer el daño a los contrarios.
I know you may think it is a contradiction to use the theme card in this type of battle rule because it will be an easy target for the opposing monsters but being a low mana battle and since only Death and Earth elements are available there were not many options to choose cards, in these cases it is advisable to use monsters with a lot of life/speed and of course with the highest attack power possible and, place the cards with less life that you prefer to be attacked first as close as possible to the first position to serve as a decoy while the other cards are in charge of doing the damage to the opponents.


Alineación / Alignment
| Cards | Español | English |
| --- | --- | --- |
| | Es un invocador Legendario de edición Promo con sólo 3 puntos de maná otorga la habilidad Poison a todas las cartas aliadas, es decir, cada vez que logren acertar algun ataque a un contrario habrá un 50% de probabilidad de que los envene y pierdan 2 puntos de vida al inicio de cada ronda. | It is a Legendary summoner of Promo edition with only 3 points of mana gives the Poison ability to all the allied cards, that is to say, every time they manage to hit an attack to an opponent there will be a 50% chance that it will poison them and they will lose 2 points of life at the beginning of each round. |
| | Es una carta Común de edición Reward sus estadísticas de combate son fuertes y posee las habilidades Flying y Backfire conformando una gran combinación para incrementar las probabilidades de que el oponente falle algún ataque y poder hacer 2 puntos de daño por cada fallo en este monstruo. | It is a Common Reward edition card, its combat stats are strong and it possesses the Flying and Backfire abilities making a great combination to increase the chances of the opponent missing an attack and to be able to do 2 points of damage for each miss on this monster. |
| | Es una carta Común de edición Untamed con sólo 1 punto de maná la podemos utilizar y posee la poderosa habilidad Redemption lo que significa que al morir hará 1 punto de daño a todos los monstruos enemigos, cabe mencionar que equivale a un ataque de tipo cuerpo a cuerpo así se que se rige a esas reglas de dichos ataques. | It is a Common card of Untamed edition with only 1 point of mana we can use it and it has the powerful Redemption ability which means that when it dies it will do 1 point of damage to all enemy monsters, it is worth mentioning that it is equivalent to a melee attack so it is governed by those rules of such attacks. |
| | Es una carta Épica de edición Reward se caracteriza por su gran velocidad y posee la habilidad Sneak para dirigir sus ataques hacia el monstruo ubicado en la última posición, defensivamente cuenta con 1 punto de armadura y 4 puntos de vida en general es una muy buena carta considerando su bajo maná, la ubico cerca de la primera posición porque prefiero que llegue antes que Life Sapper que necesita incrementar sus puntos de vida. | It is an Epic card of Reward edition is characterized by its great speed and has the ability Sneak to direct their attacks towards the monster located in the last position, defensively has 1 point of armor and 4 points of life in general is a very good card considering its low mana, I place it near the first position because I prefer it to arrive before Life Sapper that needs to increase its life points. |
| | Es una carta Rara de gran velocidad y posee la habilidad Life Leech que le permite incrementar sus puntos de vida en proporción al daño que haga a la salud de algun monstruo oponente, al ser una carta de pocos puntos de vida necesita estar lo más protegida posible mientras aumenta su salud, en algunos casos puede ser una gran molestia para los contrarios volviéndose casi invencible. | It is a Rare card of great speed and has the Life Leech ability that allows it to increase its life points in proportion to the damage it does to the health of an opponent monster, being a card of few life points it needs to be as protected as possible while increasing its health, in some cases it can be a great nuisance for the opponents becoming almost invincible. |
| | Es una carta Rara con mucho poder de ataque y velocidad pero con pocos puntos de vida, la ubico casi al final de la alineación para que no sea atacada tan pronto y tratar de que realice algun ataque con su poderoso daño a distancia. | It is a Rare card with a lot of attack power and speed but with few life points, I place it almost at the end of the lineup so that it is not attacked so soon and try to make some attack with its powerful ranged damage. |
| | Es una carta Legendaria que es muy importante en la partida porque posee super velocidad y mucho poder de ataque. Además, tiene las habilidades Snare y Swiftness lo que le permite remover la habilidad Flying al atacar a cualquier monstruo que la posea e incrementa la velocidad de todos los monstruos aliados respectivamente, lo que la convierte en una verdadera pesadilla para los monstruos oponentes. | It is a Legendary card that is very important in the game because it has super speed and a lot of attack power. In addition, it has the Snare and Swiftness abilities which allows it to remove the Flying ability when attacking any monster that possesses it and increases the speed of all the allied monsters respectively, which makes it a real nightmare for the opposing monsters. |

Batalla / Battle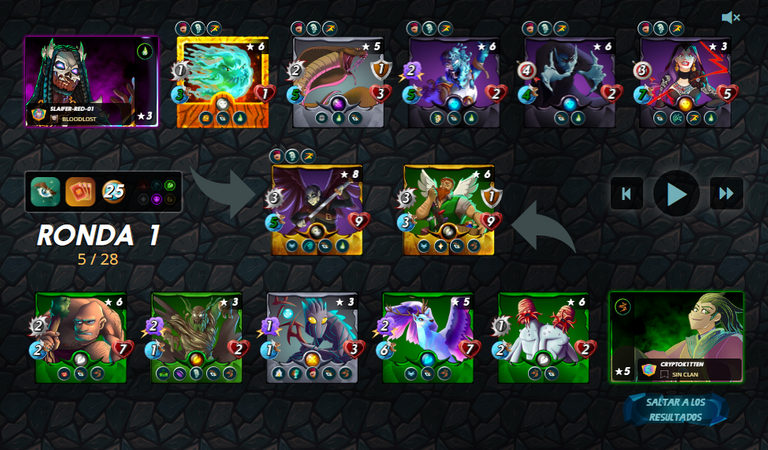 ---
Haga click aquí para ver la batalla / Click here to see the battle
---
Realmente fue una batalla muy pareja el Pelacor Mercenary es un muy buen tanque con sus estadísticas de combate y la habilidad Heal para regenerar 1/3 de su vida máxima en cada turno, la carta legendaria Djinn Biljka tiene la habilidad Camouflage por lo tanto no se le puede atacar directamente hasta que no llegue a la primera posición y disminuye 1 punto de vida a todas mis cartas con su habilidad Weaken, Regal Peryton es una carta muy bien jugada por su gran velocidad, su tipo de ataque es mágico y posee la habilidad Flying que le otorga un 25% de probabilidad para evadir ataques no mágicos ante monstruos que no posean esa habilidad, tal vez era mejor que utilizara al invocador Obsidian que incrementa el poder de ataque mágico en vez de Mylor Crowling.
The Pelacor Mercenary is a very good tank with its combat stats and the Heal ability to regenerate 1/3 of its maximum life each turn, the legendary card Djinn Biljka has the Camouflage ability so it cannot be attacked directly until it reaches the first position and decreases 1 point of life to all my cards with its Weaken ability, Regal Peryton is a very well played card for its great speed, its attack type is magical and has the Flying ability that gives it a 25% chance to evade non-magical attacks against monsters that do not have that ability, perhaps it was better to use the Obsidian summoner that increases the power of magical attack instead of Mylor Crowling.


Mi estrategia está enfocada en la velocidad y poder de ataque combinado con el poderoso invocador Waka Spiritblade que fue de gran ayuda gracias a que el Veneno hizo su efecto en varios monstruos, se desarrolló una buena batalla entre Pelacors siendo vencido el de mi equipo primero, Life Sapper pudo incrementar sus puntos de vida para llegar de la mejor manera posible a la primera posición y no olvidemos la habilidad "especial" Redemption de la carta Cursed Slimeball que contribuyó en poder eliminar a los monstruos más rápido.
My strategy is focused on speed and attack power combined with the powerful Waka Spiritblade summoner that was a great help thanks to the Poison that had its effect on several monsters, a good battle developed between Pelacors being defeated the one from my team first, Life Sapper could increase his life points to reach the best possible way to the first position and let's not forget the "special" Redemption ability of the Cursed Slimeball card that contributed to eliminate the monsters faster.



¿Tú estrategia funcionó? , ¿Qué intentarás diferente la próxima vez? / ¿Did your strategy work? , ¿What will you try differently next time?
Sí, en una batalla reñida pero la velocidad de mis monstruos era superior lo que me permitió atacar primero y con el suficiente poder de ataque para dejar sin atacar a 3 de las cartas del oponente, Pelacor Deceiver pudo aguantar el tiempo suficiente mientras que Life Sapper incrementaba sus puntos de vida, probablemente la carta más valiosa de mi equipo fue Lira the Dark siendo la carta más rápida en el campo y por supuesto haciendo que todos los aliados aumenten su velocidad, el veneno hizo su trabajo y pude quedarme con la victoria.
Yes, in a close battle but the speed of my monsters was superior which allowed me to attack first and with enough attack power to leave 3 of the opponent's cards without attacking, Pelacor Deceiver could hold on long enough while Life Sapper increased his life points, probably the most valuable card of my team was Lira the Dark being the fastest card on the field and of course making all the allies increase their speed, the poison did its job and I could take the victory.


Realmente no cambiaría nada en mi alineación no había muchas opciones para elegir cartas y creo que seleccioné a las mejores incluyendo a la carta temática que a pesar de poseer pocos puntos de vida al menos pudo vencer a un monstruo del oponente.
I wouldn't really change anything in my lineup, there weren't many options to choose from and I think I selected the best cards including the theme card that despite having few life points at least was able to defeat one of the opponent's monsters.


¿Te gusta Soul Strangler? , ¿Por qué o Por qué no? / ¿Do you like Soul Strangler? , ¿Why or why not?
Sí, principalmente por ser de bajo maná lo que permite poder utilizarla en la mayoría de las partidas, su gran poder de ataque es sin duda su mayor atractivo y cómo dije al inicio de la publicación hay que protegerla lo más posible para tratar de que no la eliminen tan rápido, en algunas batallas de bajo maná he probado ubicando en la última posición a Silent Sha-Vi por su velocidad y al lado a Soul Strangler para evitar algunos ataques de los monstruos con habilidad Sneak y pueda hacer daño al tanque enemigo; me ha funcionado muy bien, especialmente la recomiendo en las reglas de batalla que describí anteriormente. Gracias por leer mi publicación! Nos vemos ó leemos jajajaja.
Yes, mainly for being low mana which allows to use it in most games, its great attack power is undoubtedly its greatest attraction and how I said at the beginning of the publication must be protected as much as possible to try not to eliminate it so fast, in some low mana battles I have tried placing Silent Sha-Vi in the last position for its speed and next to Soul Strangler to avoid some attacks from monsters with Sneak ability and can do damage to the enemy tank; it has worked very well for me, I especially recommend it in the battle rules I described above. Thanks for reading my post! See you or read me hahahaha.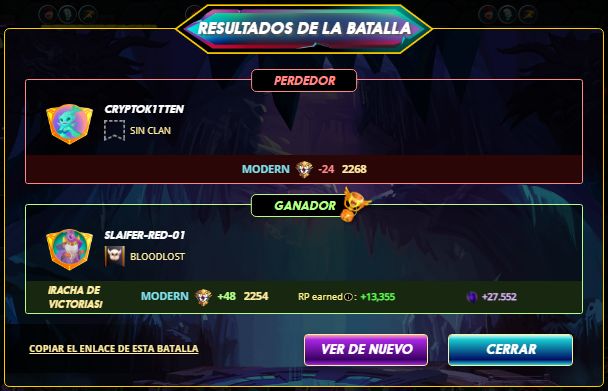 ---
Todas las imágenes utilizadas son tomadas de splinterlands.com / All images used are taken from splinterlands.com
---
Traductor / Translator:
DeepL Translate
---
---