Holiday Sale Is On! BTC, ETH, HIVE, Everything Is On Sale!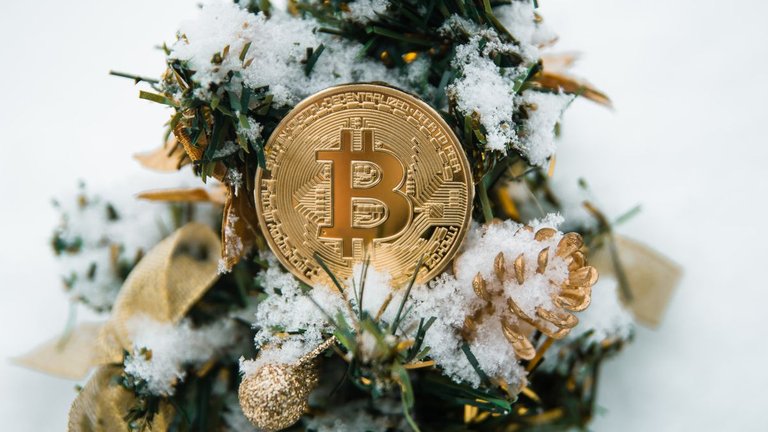 Just as you thought you missed out on the Black Friday (crypto) Sale, this holiday season you get a second chance
Powell wants a recession, Powell gives a recession, Powell makes sure there is a recession.
Do you know Fed always gets what they want? Don't fight the Fed, you can't win. The sooner you accept retail investors are price takers tagging along for the ride, the better you can plan financially.
(With exception of the ape army of course... but then apes made other apes hold the bags of overpriced and now worthless stonks)
Is Powell Santa? Or Grinch?
This can get philosophical. Is the glass half full or half empty? Are you happy when the markets are up or down?
HODL DCA and Stack Sats are the most popular approach in the crypto space
Then can we officially thank Powell for setting the markets up for the deep discount? After all don't you want more sats for the same amount of worthless fiat?
If you are a long term investor and still accumulating, red is the happy color
I get excited whenever the market goes down, and I'll tell you why.
There are only 2 points in time that matters, the time you bought, the time you sold
I am nowhere close to selling everything to fund a retirement or anything, with decades to go, any price is good but I still rather buy it as cheap as possible.
The bear still refuses to hibernate, if you are a follower of the halving schedule and the subsequent all time high, you know we are still years away, and the bear will fall asleep before we know it.
In anticipating bull's return, the risk is not stacking enough. With so much pessimism, we are probably closer to the bottom. We are recoiling.
This is exactly why maintaining non-crypto sources of income is critical, so you always have the worthless fiat to get more of what you love when the opportunity arise, and do it comfortably without resorting to excessive trading (it is difficult to grow your sats by trading for most people).
Bull market will be back, by then your DCA won't give you as many sats, enjoy this while it lasts
Do not expect we will go back to $69k BTC or $3 HIVE quickly. Recovery takes time, it is never a straight line, there will always be bumps along the way. There are multiple resistance to be taken out and new base formed before we can move higher. Traders who are picking up sats at the current price (or lower) will continue to trade along the way and create the peaks and valleys.
Given the economic conditions, I am still expecting a more or less range bound market with potential for another leg down. After the new year when the full force of recession and job losses force people to sell investments to cover living expenses, the current dynamic may just continue for now.
Buy into FUD, sell into FOMO, otherwise keep DCA. Tune out the noise and enjoy your holidays
Final Thoughts
With only 19 million Bitcoins in circulation, and everyone is HODLing, everyone is stacking sats, why haven't we exhausted all the Bitcoins available on the exchanges???
After market cap crashed from $1.28 trillion to now $320 billion, BTC is cheaper by almost $1 trillion dollars, why are there still supply and why are there still "cheap" bitcoins?
If BTC is going to be the reserve currency or global currency, can't the governments afford to buy out most of the BTC? It will cost them almost nothing with the fiat printed out of thin air? Do you think governments are accumulating cheap BTC quietly?
Maybe everyone is not HODLing, maybe everyone still wants to stack fiat, and maybe BTC is only a mean to an end of getting more fiat, or is it the other way around? Getting fiat as a mean to an end of getting more BTC?
When do you think we will have millions out of 8 billion people HODL only 19 million bitcoin.
19 million out of 335 million Americans (top 5% of Americans could comfortably lock-in at least 1 BTC each), then there would be no more supply
19 million out of 1.45 billion Chinese (top 1% of Chinese) then there would be no more supply
Maybe next cycle, we will get there eventually when everyone HODL regardless of the fiat value (maybe... yeah maybe).
Maybe if all BTC holders withdraw their BTC from exchanges so there is no more paper (fake) BTC available to be sold (but someone will blink as the price go up)
American Annual Income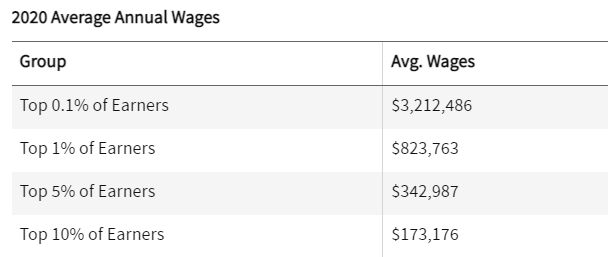 Source: https://www.investopedia.com/personal-finance/how-much-income-puts-you-top-1-5-10/
Posted Using LeoFinance Beta
---
---