Tales of the Urban Explorer: Evergreens
Evergreens was not on our planned list of 'Epic' visits that day. Who would want to travel 70 miles to try and climb in what another explorer describes as, 'a former public house which now sits on a festering plot of vacant land'.
There's one of those quite close to me, which remains unexplored. I don't explore alone, it's no fun and so it will remain so. I despised those working men's clubs built in the 1960s, made of bricks and plastic.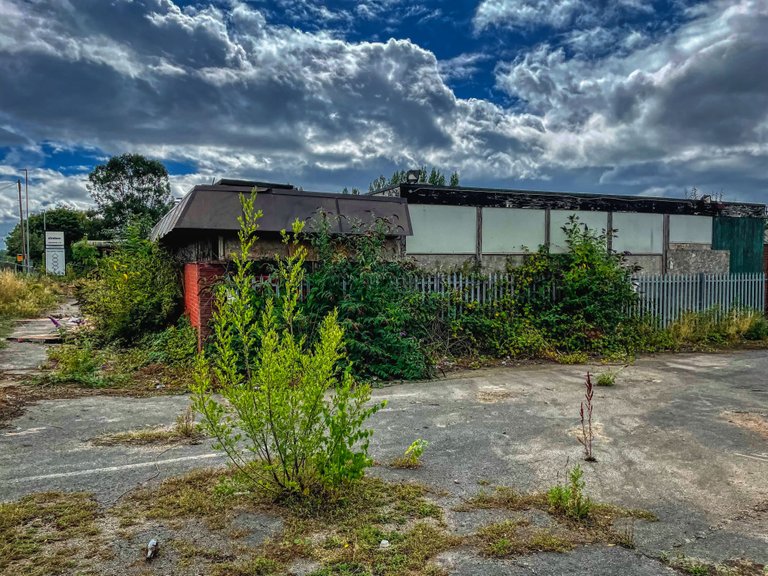 In my later teen years, my friends would drag me into such places so they could drink beer and get pissed. It was never my thing, and I now have an inbuilt hated of this style of architecture due to those shit-filled memories.
Evergreens looked like one of those places and is supposedly being demolished to make way for an Aldi supermarket. The German giant did get their planning permission approved, cleared away the jungle that had surrounded it, and then did… nothing.
…'no jungle, no brush, no brambles, was it COVID that interfered with Aldi's plans?'…
A year and a half later, we stumbled upon what was left and noted the jungle was growing nicely again.
Evergreens closed its doors around the mid to late 00's and has been decaying ever since.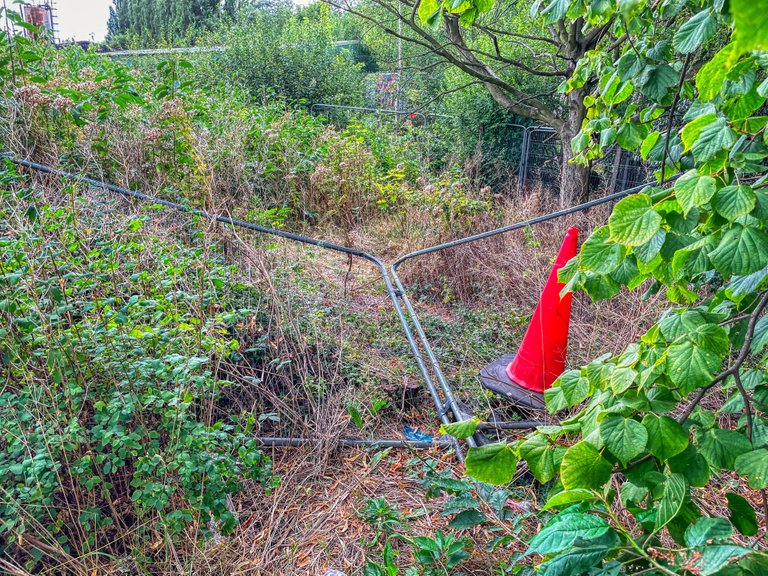 Access to the enclosure was never going to be a big deal, you just need to stand on the herras fencing and then jump off the other side as it tends to spring up and catch your ankle.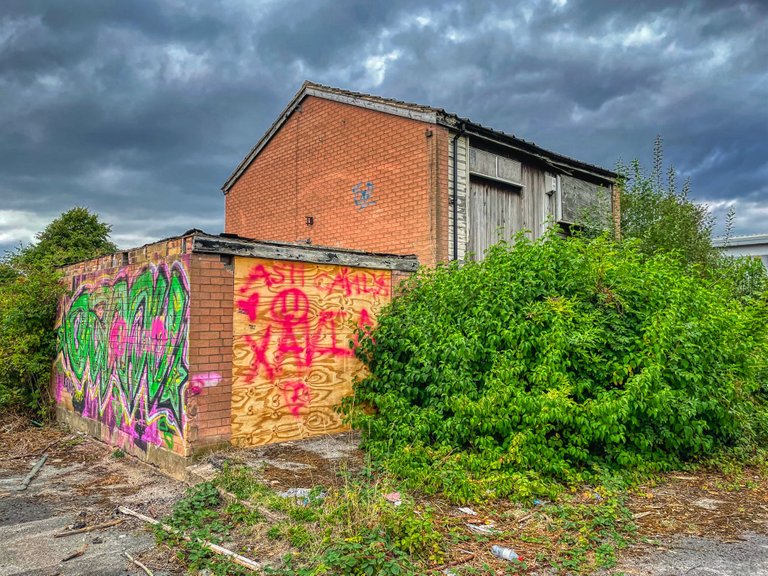 After trudging through the bushes as per the previous image we came upon this house, and garage. I wondered if the landlord might have lived here as it was within a stone's throw from the old pub.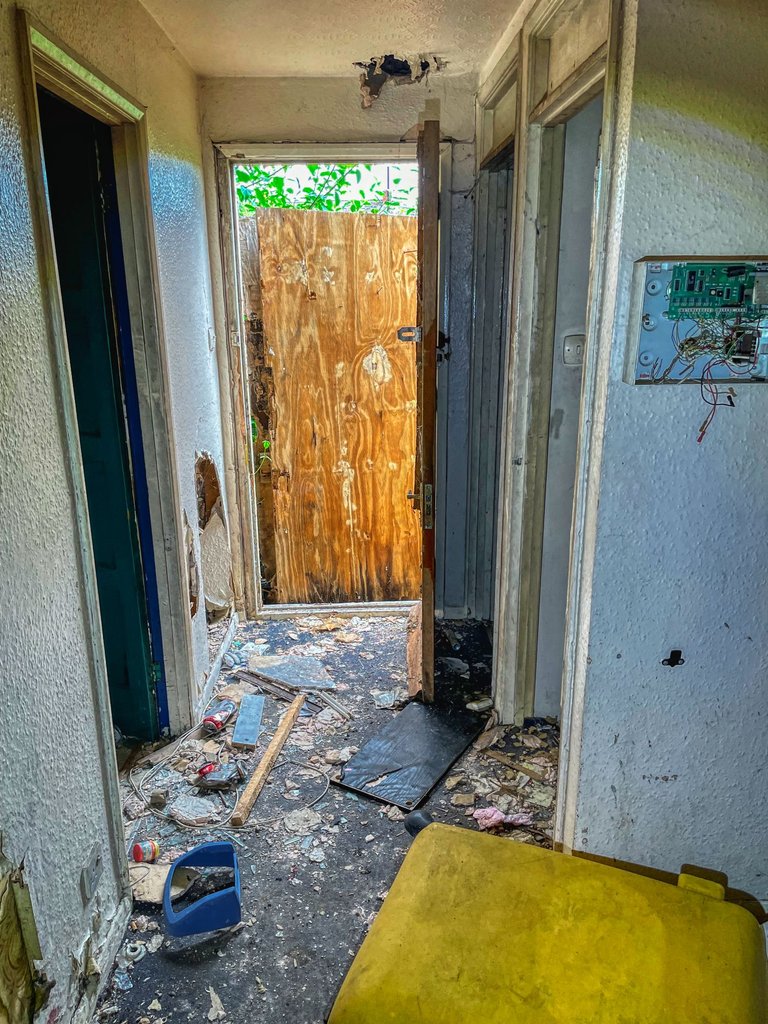 As someone else had ripped off the solid wooden door (maybe with their bare hands), we were inside quickly and into another derelict mess.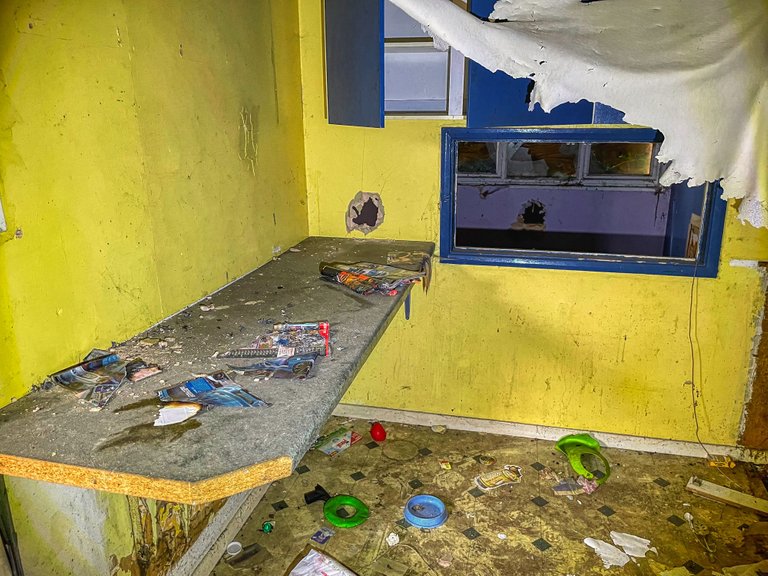 I can't say I like the décor much; bright yellow walls are tough on the eyes.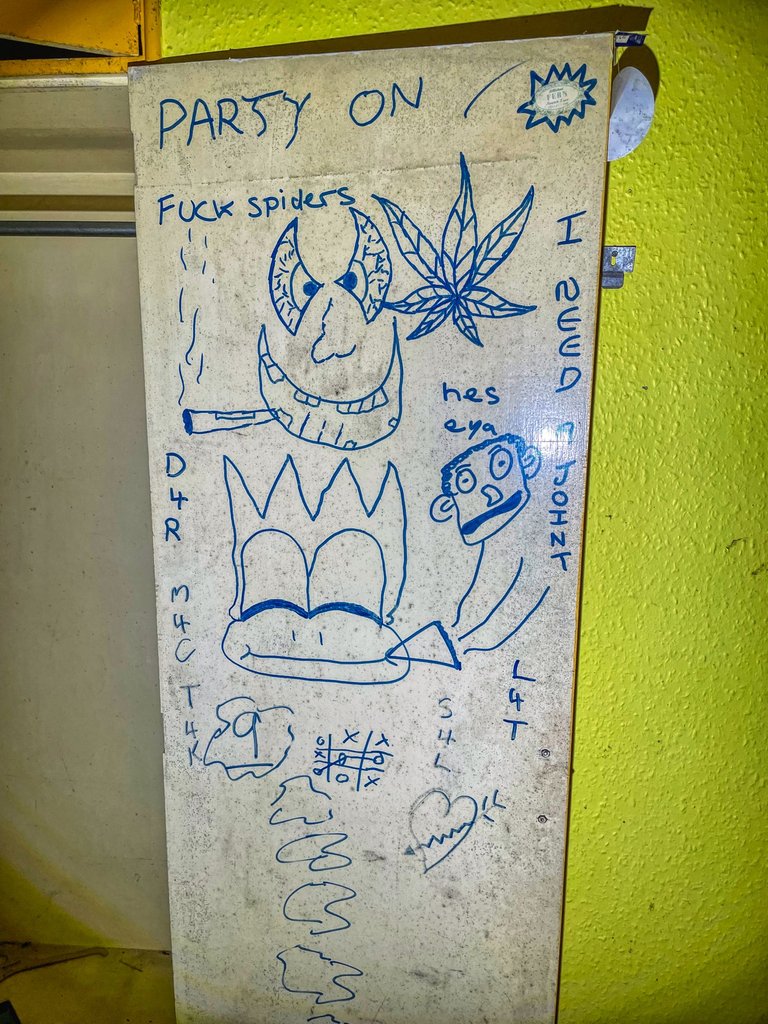 It's hardly surprising that we were not the first inhabitants in here, besides the Hulk who pulled the door off.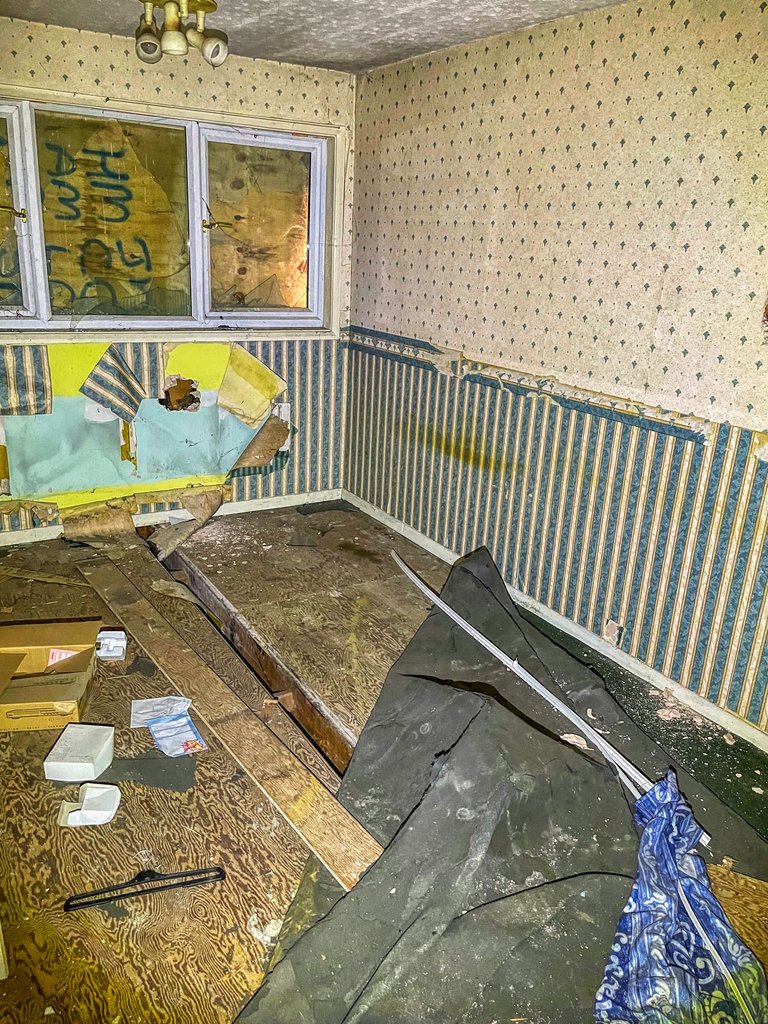 If this was once a house then it was very small and lacked an upstairs even though from the outside it looks like it's a two-storey building.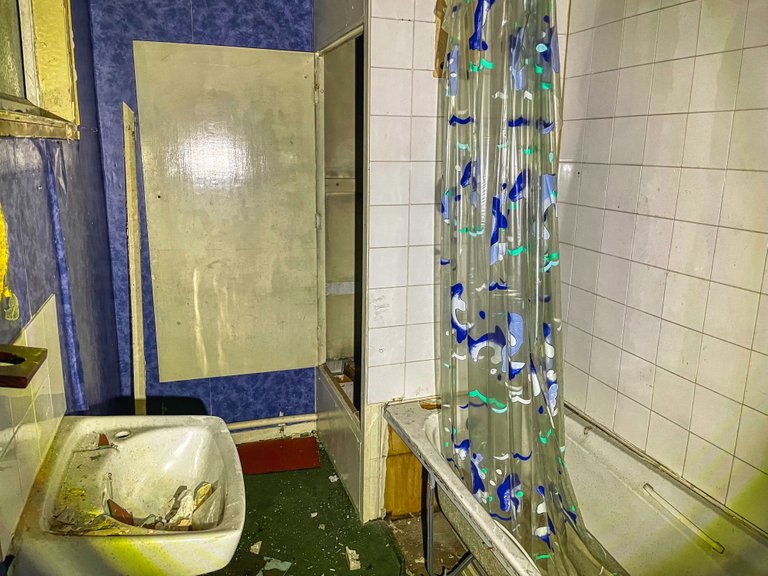 What's at the end is not a wooden door containing a shower, but some storage area. If it was, then you would be submitted to extremely dark showers.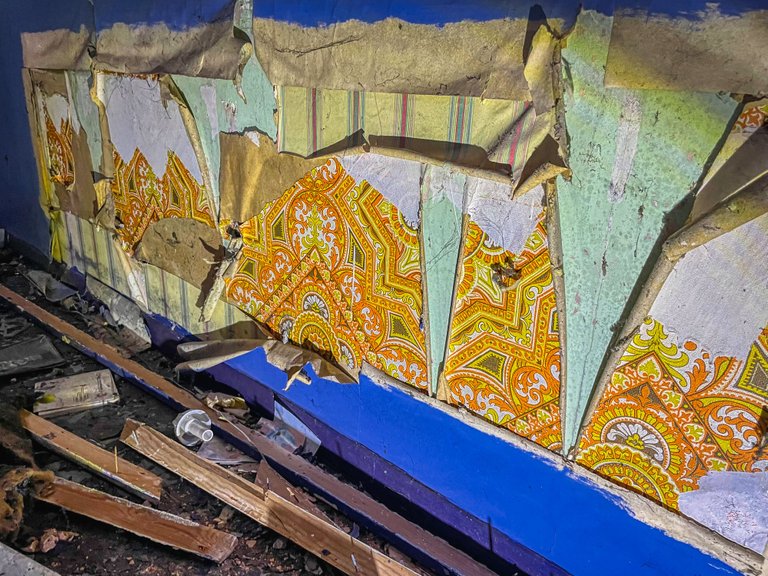 It has yielded several sets of wallpaper. Stripping the old stuff off first didn't appear to be a priority and some of the designs are questionable when it comes to style.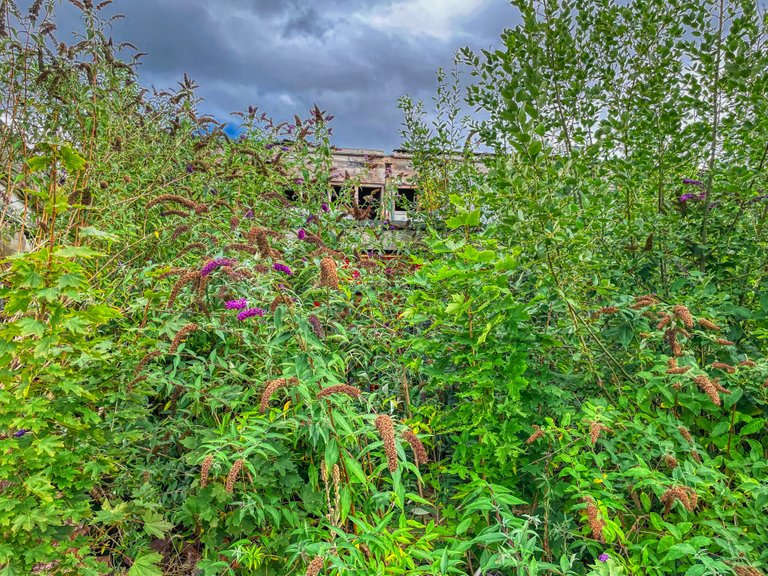 The back of Evergreens was worse than some of the more recent time capsules I have been doing; left vacant for decades.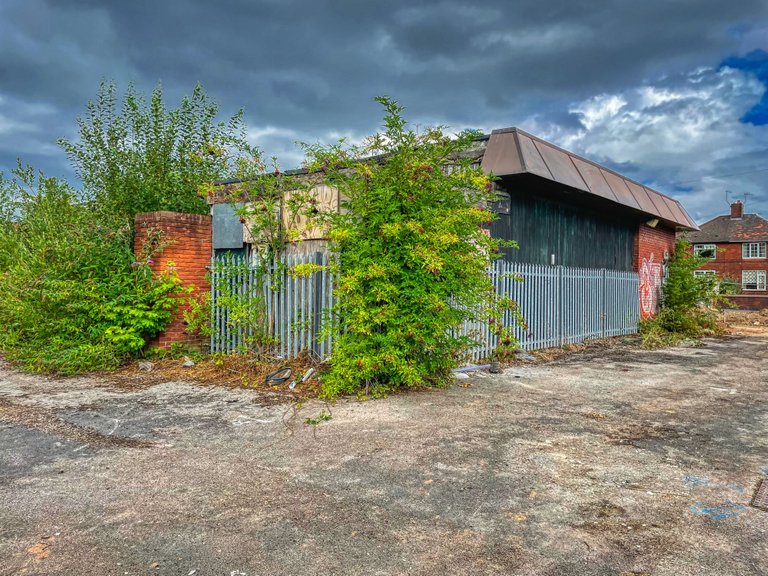 We circled the building looking for weak points and found it severely locked up with no loose 'Palaside' metal strips.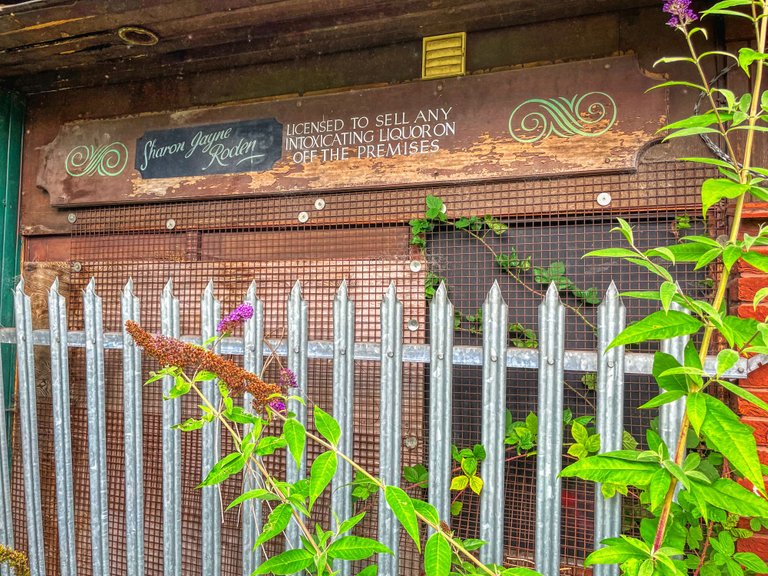 If you doubt this used to be a public house then look at the sign. 'Sharon Jayne Roden' has moved on to better places I would hope.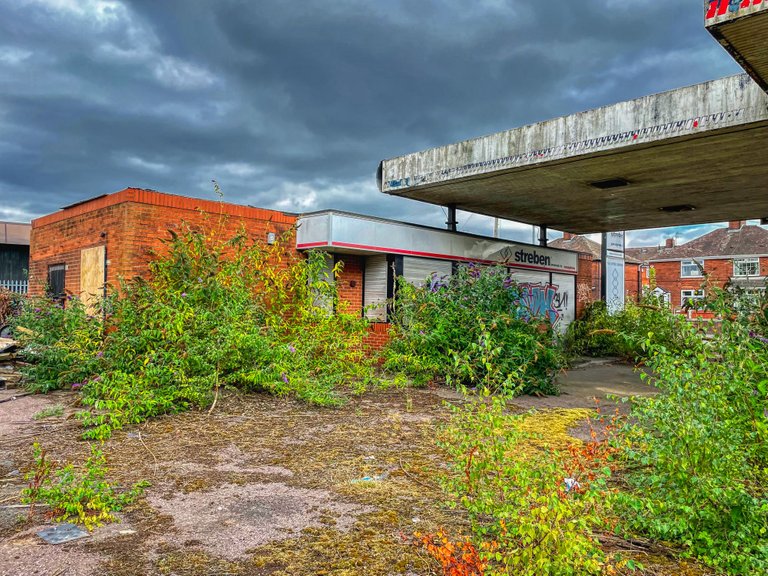 Next to Evergreens lay a derelict gas station; this was equally sealed and things were starting to look grim.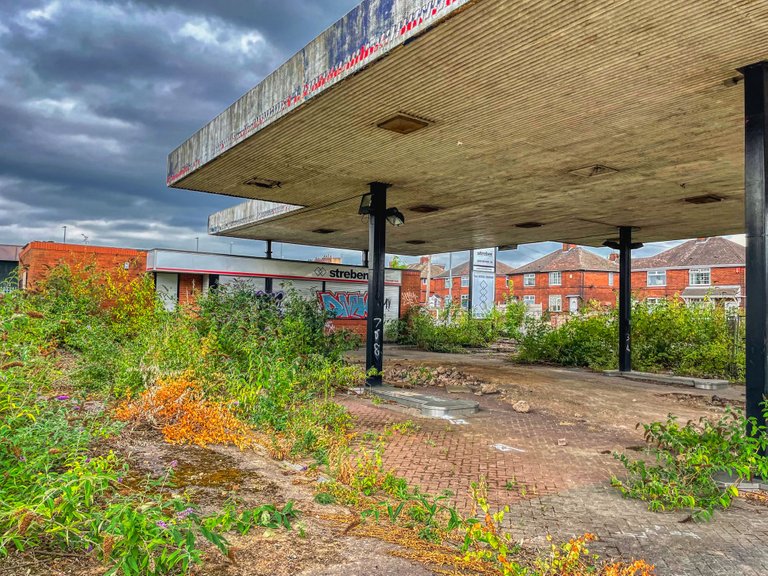 A row of suburban semi-detached properties overlooked Evergreens. We didn't want the cops turning up, and of course, we were always up to 'no-good' in the eyes of the nearby Karens.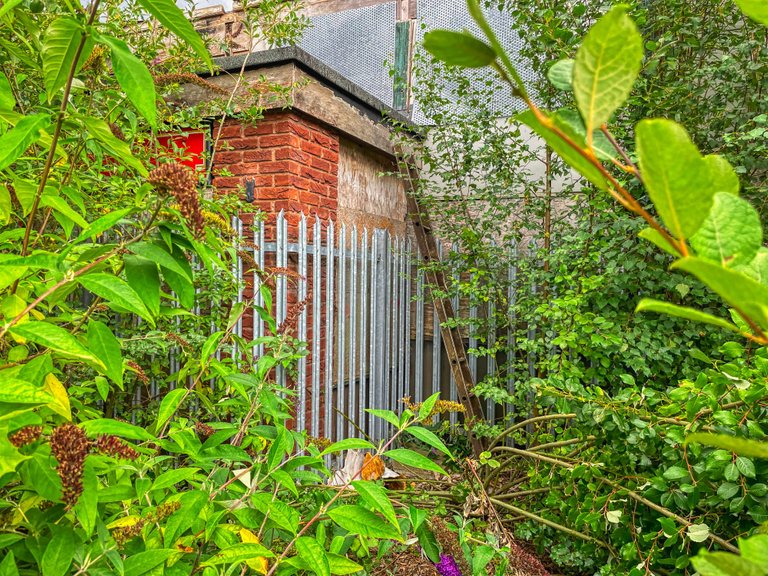 To the rear and thankfully out of pubic view we spotted a ladder. After struggling through the brambles, @anidiotexplores was up in an instant with myself and @lpff in tow.
With all three of us crouched on the roof we peered through a gaping gap that dropped a good fifteen feet into the bowels of Evergreens. A musty, damp rotting stench emerged from the ripped-away roof section.
"I'm not fucking jumping down there", I motioned to the others seeing the dim squelchy-looking carpet in the gloom soaked in ancient beer slop.
...'it could well have been water as it was open to the elements, but beer-slop does sound a little more dramatic?'...
"How about the ladder?", one of the others suggested.
The idea was viable so up came the ladder, and with some deliberation @anidiotexplores slowly lowered it into the pit. It barely touched the ground before running out of rungs and rested unevenly on the sodden floor.
"Do you really want to go down there, with this ladder resting on pure fresh air at the top?"
I looked at @lpff who was shaking his head. We do take risks but being locked in Evergreens forever was not how I wanted to end my days. I would guess we couldn't even get a fresh pint of Kestral, or even Skol.
The thought of drinking that ancient turd-brewed liquid-shit again made me shudder.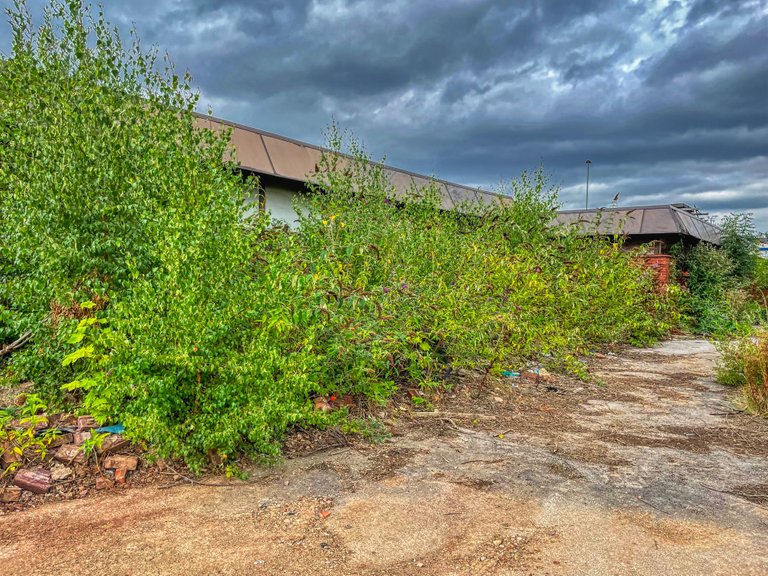 After some deliberation and a committee meeting, @anidiotexplores vetoed the idea.
We were not going down there and whoever left that fucking ladder should have donated a longer one. Cunts!

Do you like posting your Urbex content and photography for FREE on Facebook and YouTube? I like to get some form of reward for my work and every time I create I do just that. Take a look at The Urbex Community on HIVE.
If you want to keep creating for FREE then ignore what you are reading. If you want to be like me and gain something other than BUGGER ALL for your work then click here and learn about posting on the HIVE blockchain.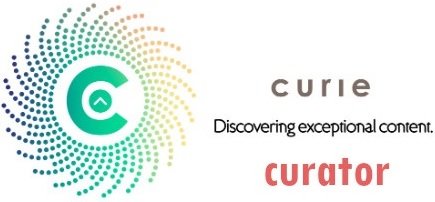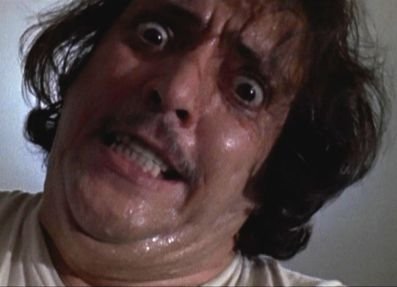 If you found this article so invigorating that you are now a positively googly-eyed, drooling lunatic with dripping saliva or even if you liked it just a bit, then please upvote, comment, rehive, engage me or all of these things.
---
---