Tales of the Urban Explorer: Penketh Heavy Anti-Aircraft Gun Battery Station
We had endured a particularly bad start to the day. A time capsule that would be known as 'Ernie's Place' was supposed to be open.
Our intelligence was only two days old, but it now was quite sealed. Either 'Ernie's Caretaker' was very efficient or some bastard had deliberately told lies to @anidiotexplores.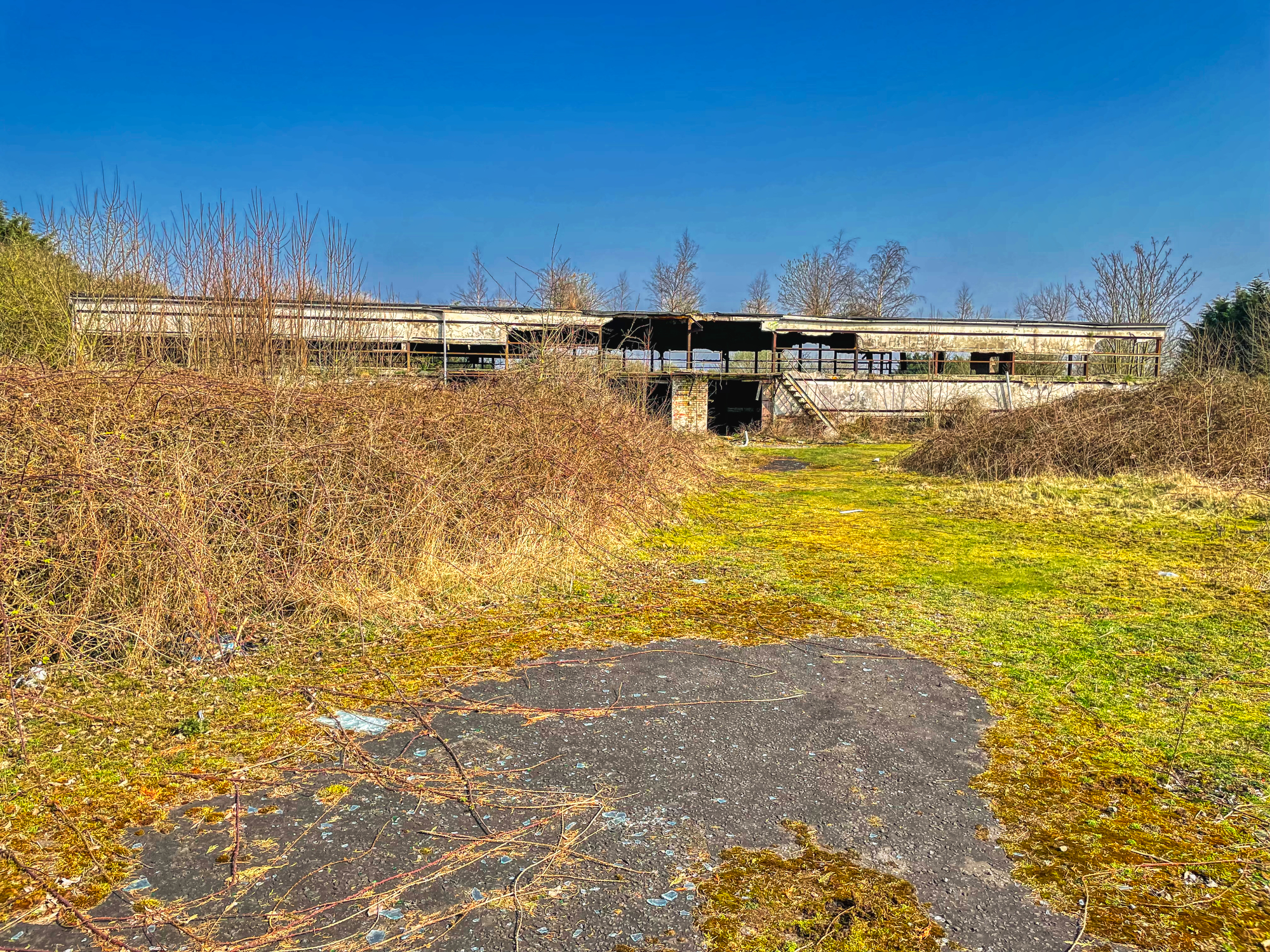 This is the toxic world of Facebook Urban Exploring and its sentiment of premeditated misinformation. It's a good reason to distance myself from the mass idiots on there, and I don't mean @anidiotexplores.
"I know of a POW Camp and a Detention Centre", piped up @anidiotexplores helpfully. We were 15 miles out and had to make the most of a bad start.
We made for the POW Camp which, to be honest, sounded like a 'bore explore' and hoped.
Despite other explorers naming 'Penketh Heavy Anti Aircraft Gun Battery Station' an ex-POW camp it was never actually used as one.
History reveals it was used in World War II, but not to house prisoners. With the cold war looming and the threat of nuclear war by long-range enemy bombers carrying nuclear weapons, it was decided to refit the Penketh gun site out to the 1951 igloo scheme.
With more advanced weapons arriving such as surface-to-air missiles the site was disused and closed in the early 1960s.
Closed since the early '60s, what could possibly be left besides derpy buildings, graffiti, overgrown brambles, rusty barbed wire and the odd human decomposing body?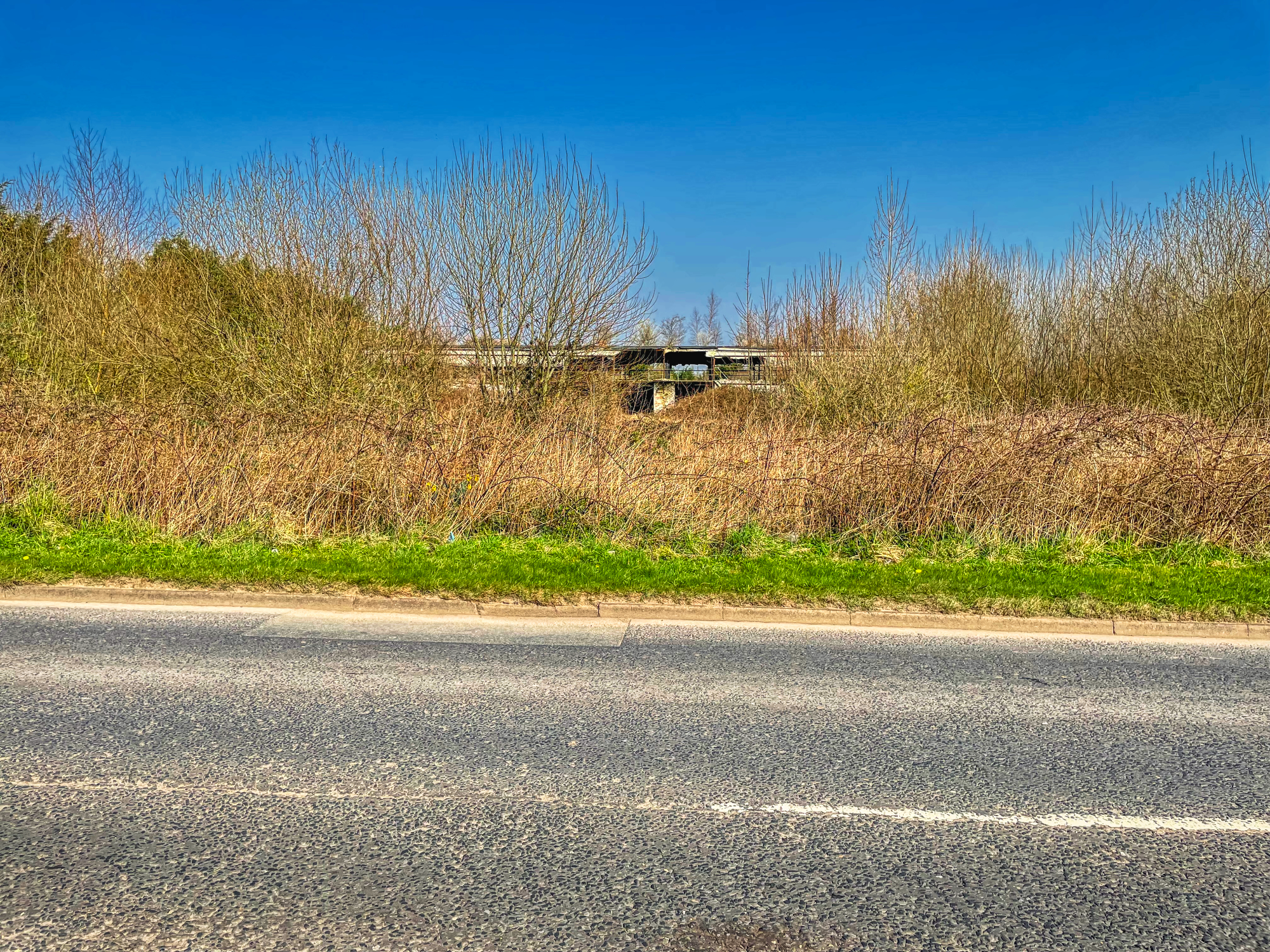 Having nowhere to park besides next to the entrance we did just that. The road was not exactly busy with few buildings about, just the way I like things.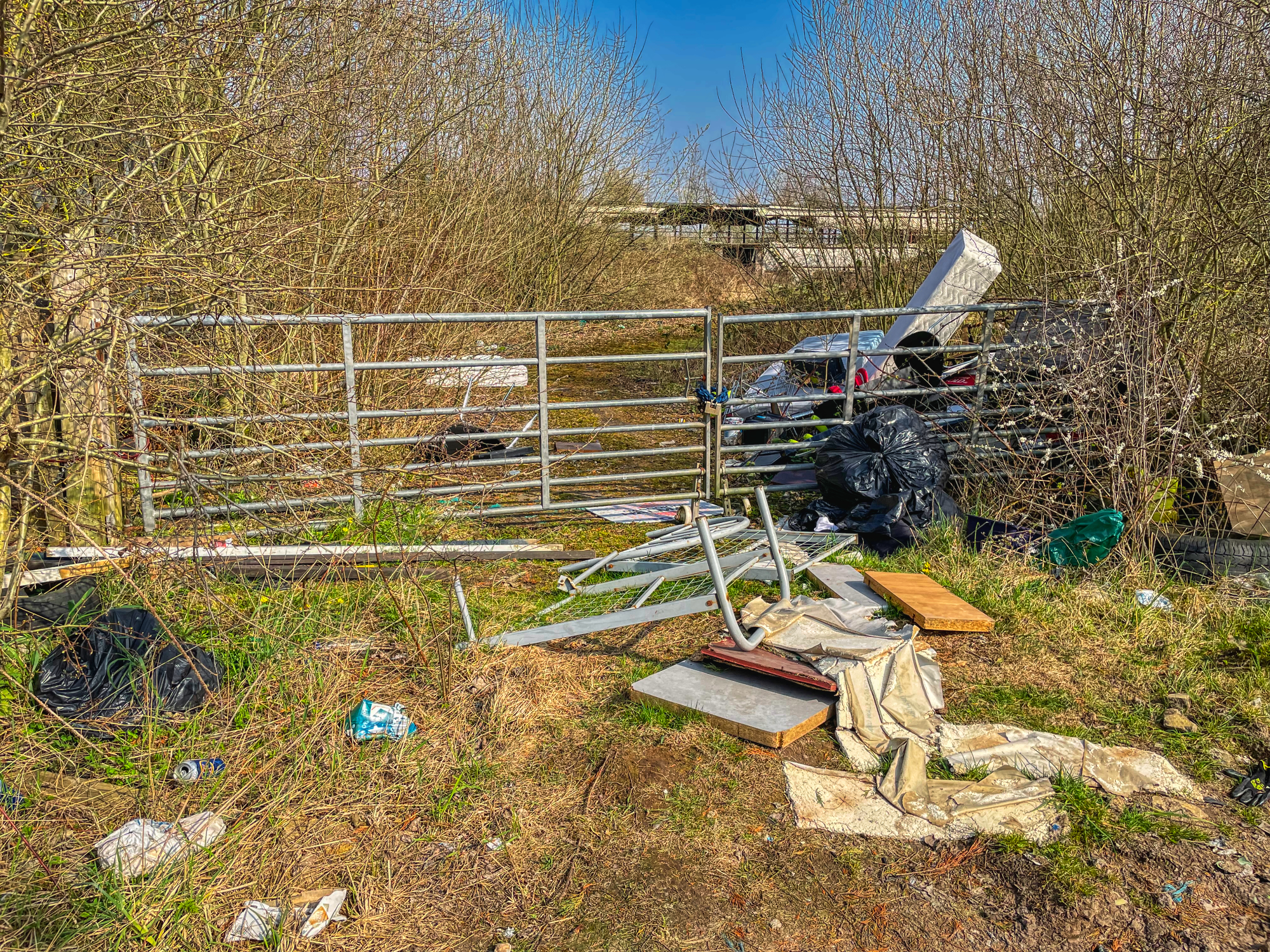 I noted that someone had been fly-tipping their crap. Vaulting the gate was not exactly difficult and we were inside in seconds. It was not going to be a fail but hardly looked sparkling from here.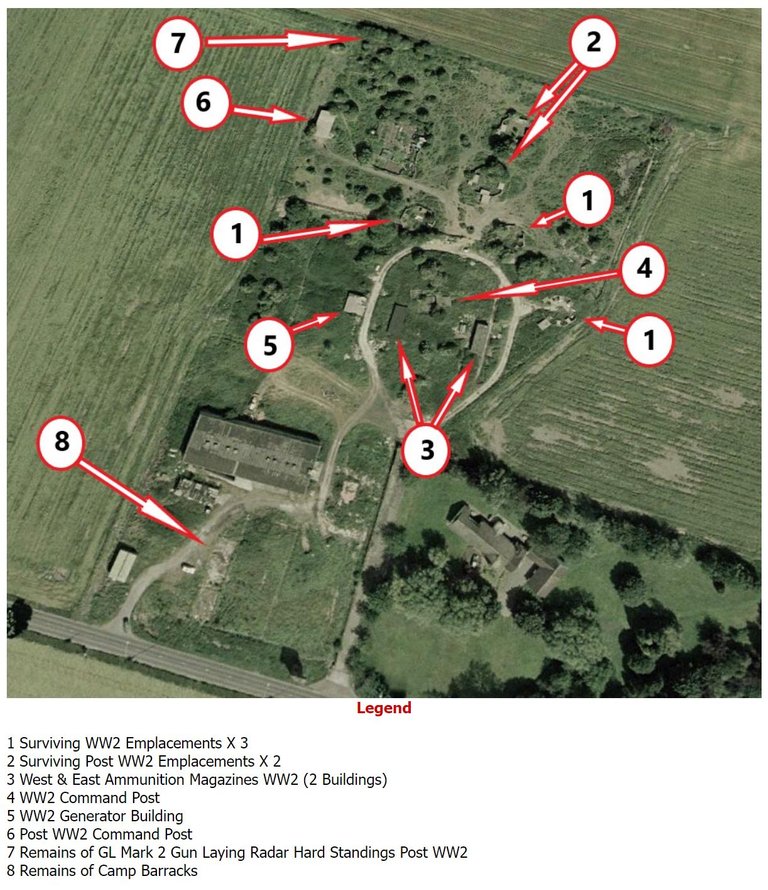 Source
The map I discovered does not mention the most prominent building, a concrete-built two-storey affair, just above (8) and now full of… er nothing.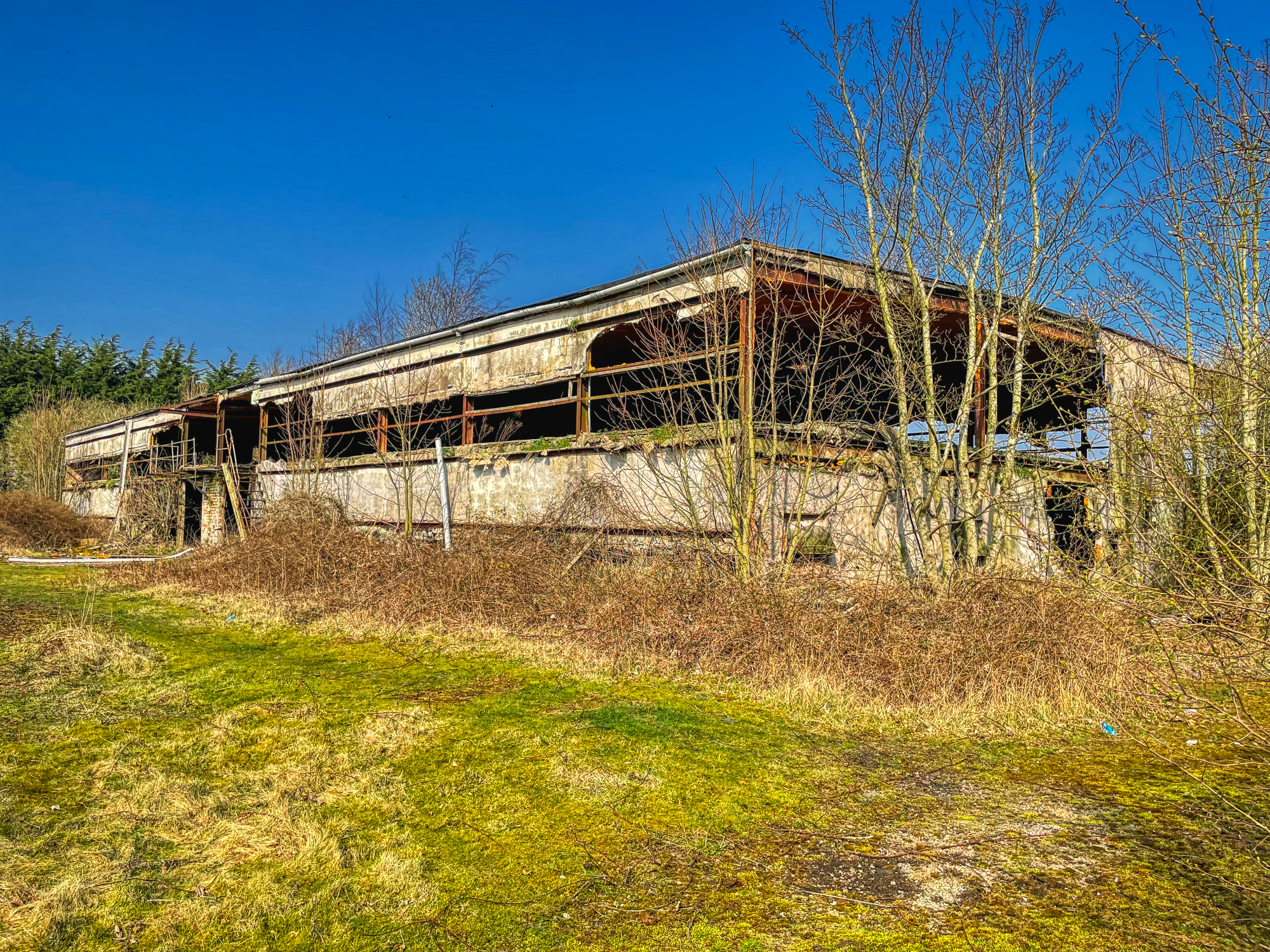 I was surprised to see the brambles cut back, and walking around surprisingly easy. Surely there was no gardener?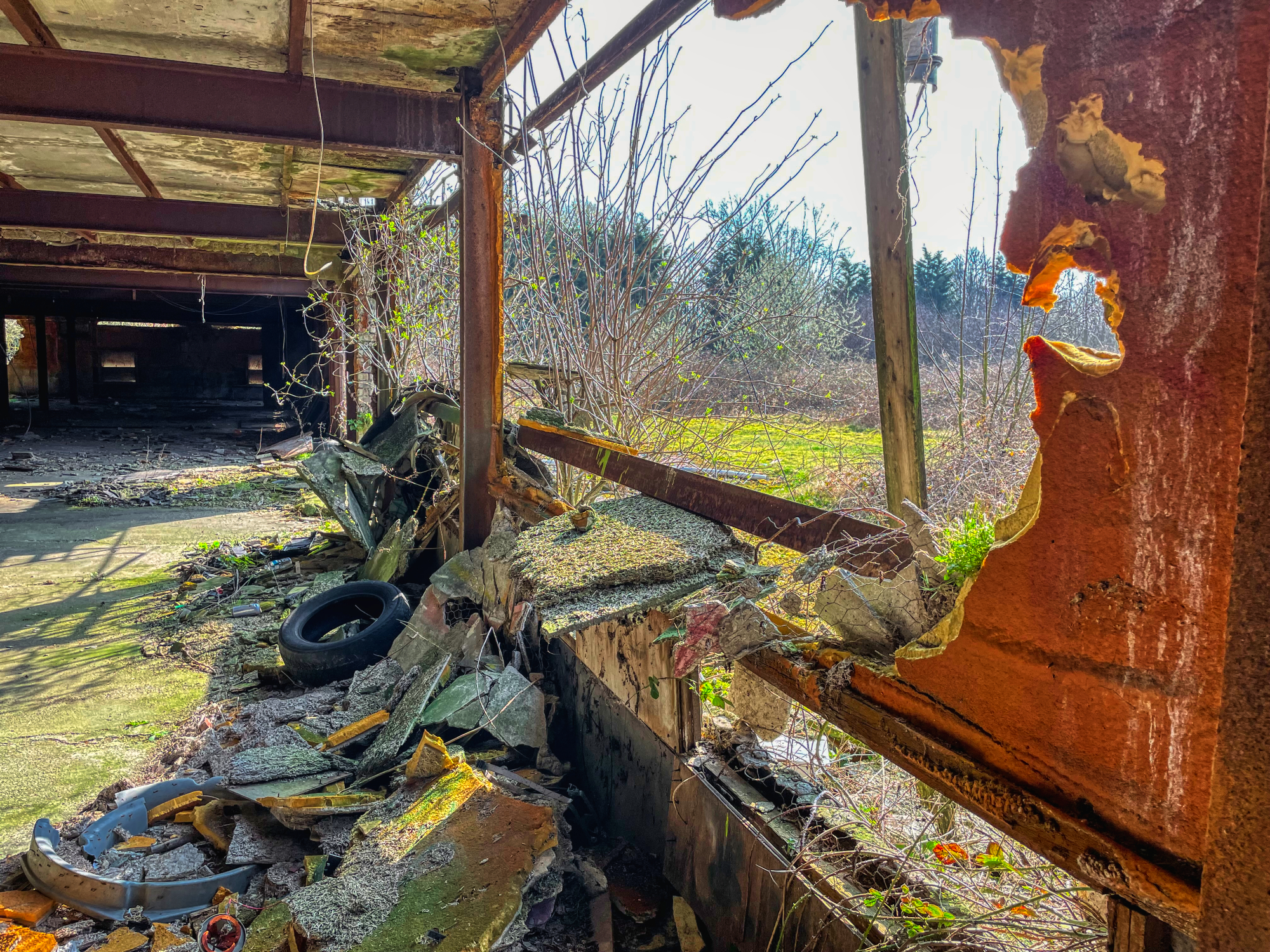 Access to the main building was simple as whole sections were missing on the ground floor.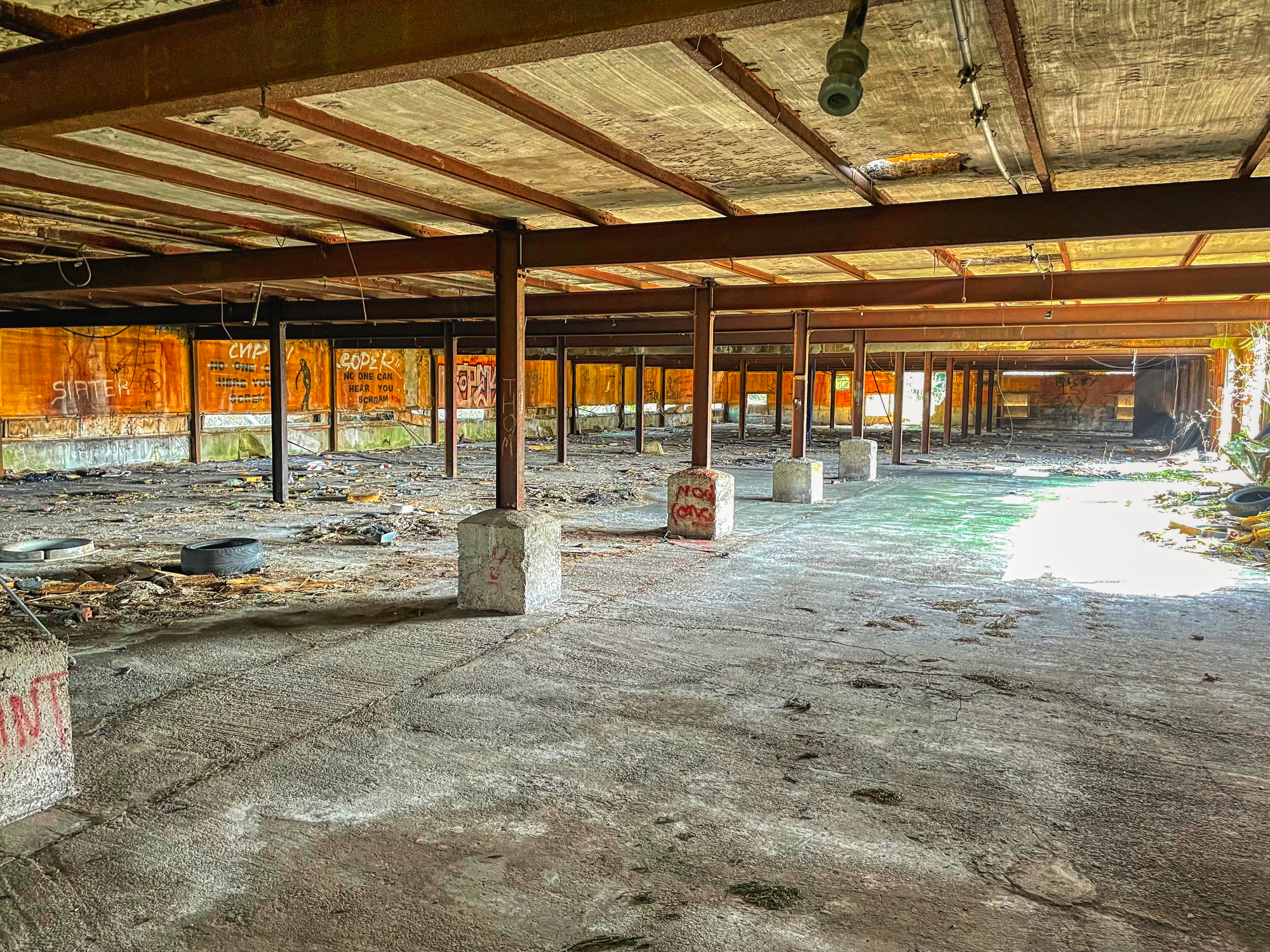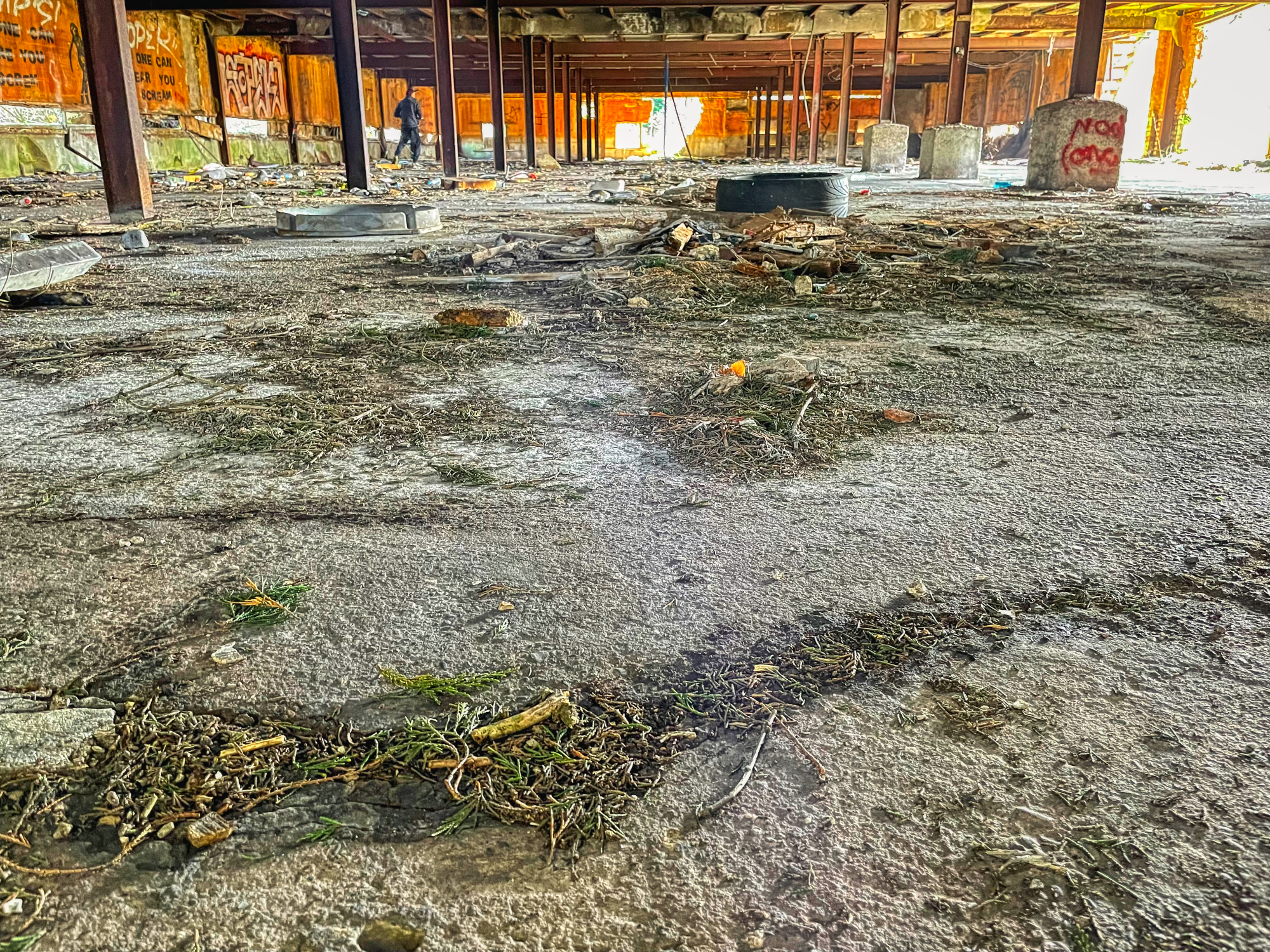 Inside was quite bare but sported some graffiti. I got a little closer to check it out.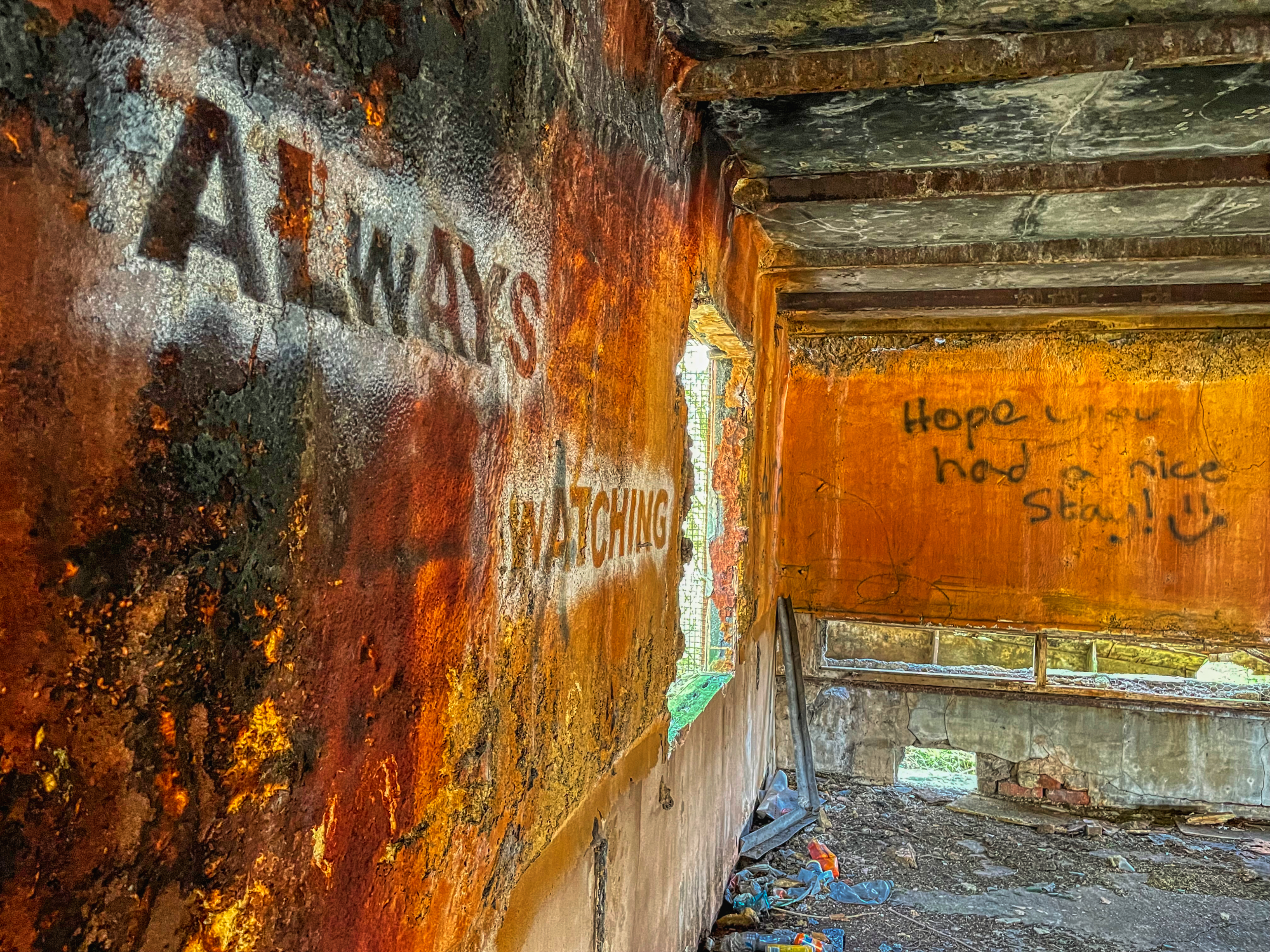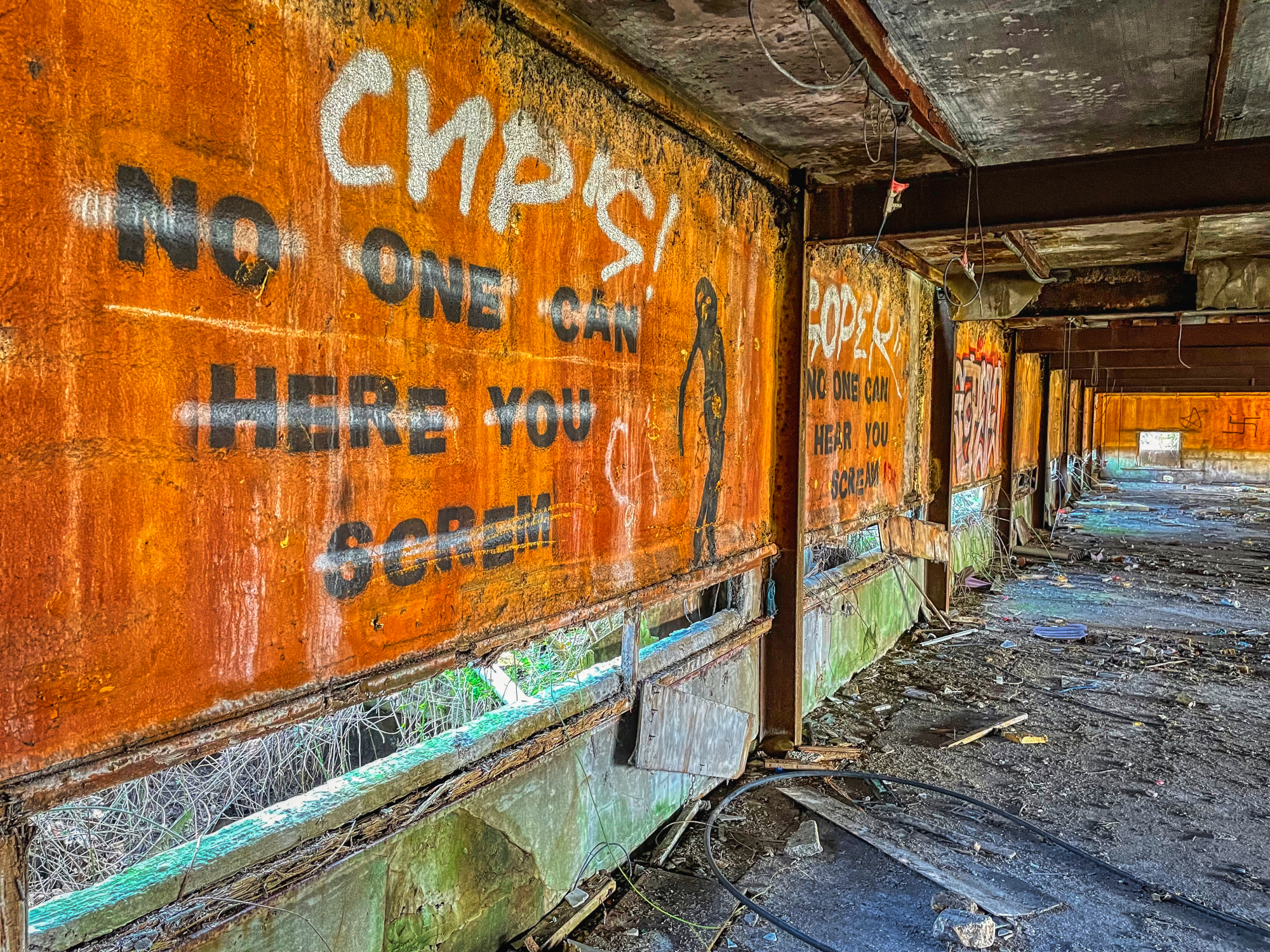 Using stencils to spray paint, isn't that cheating? I could have done it.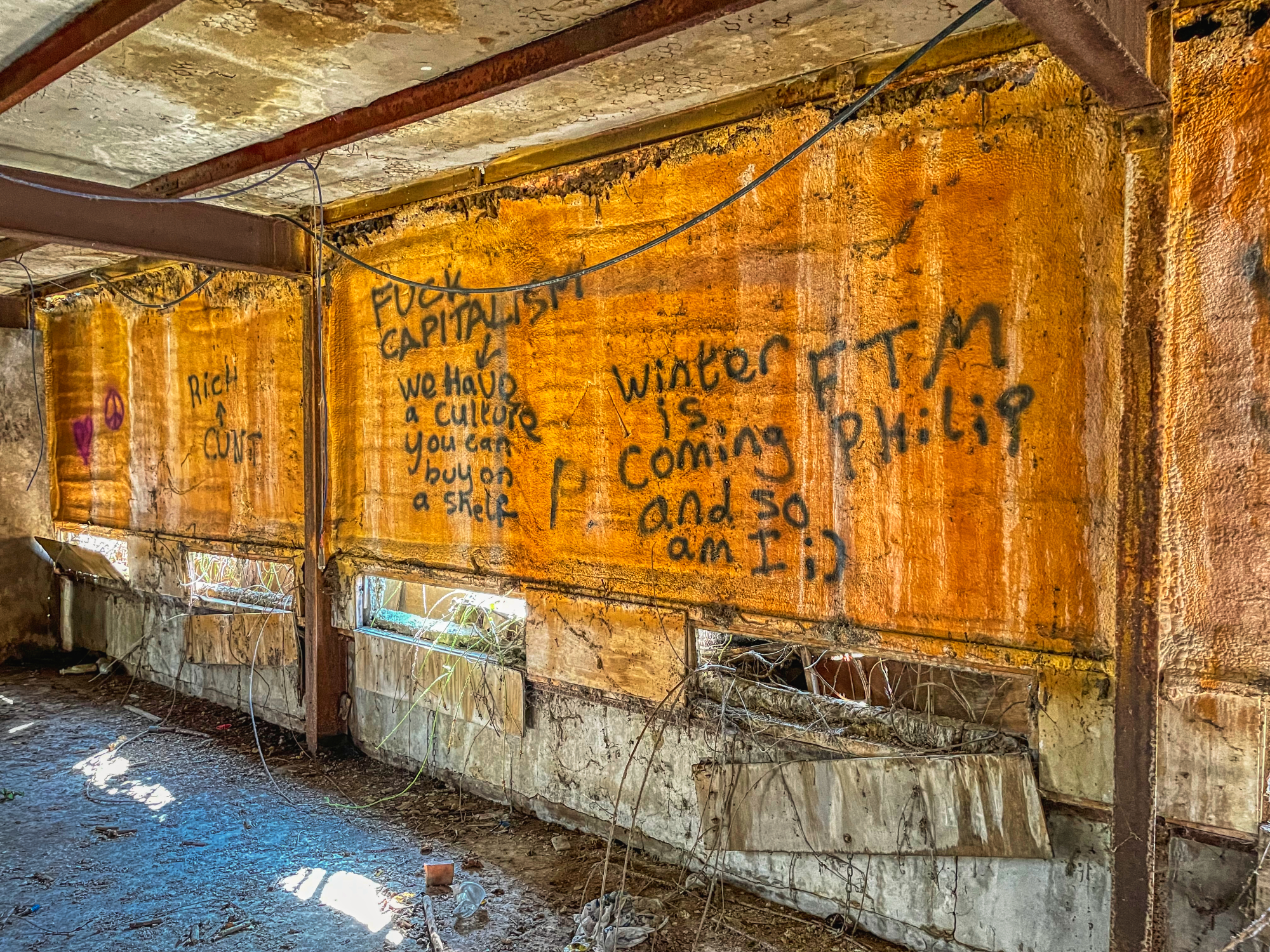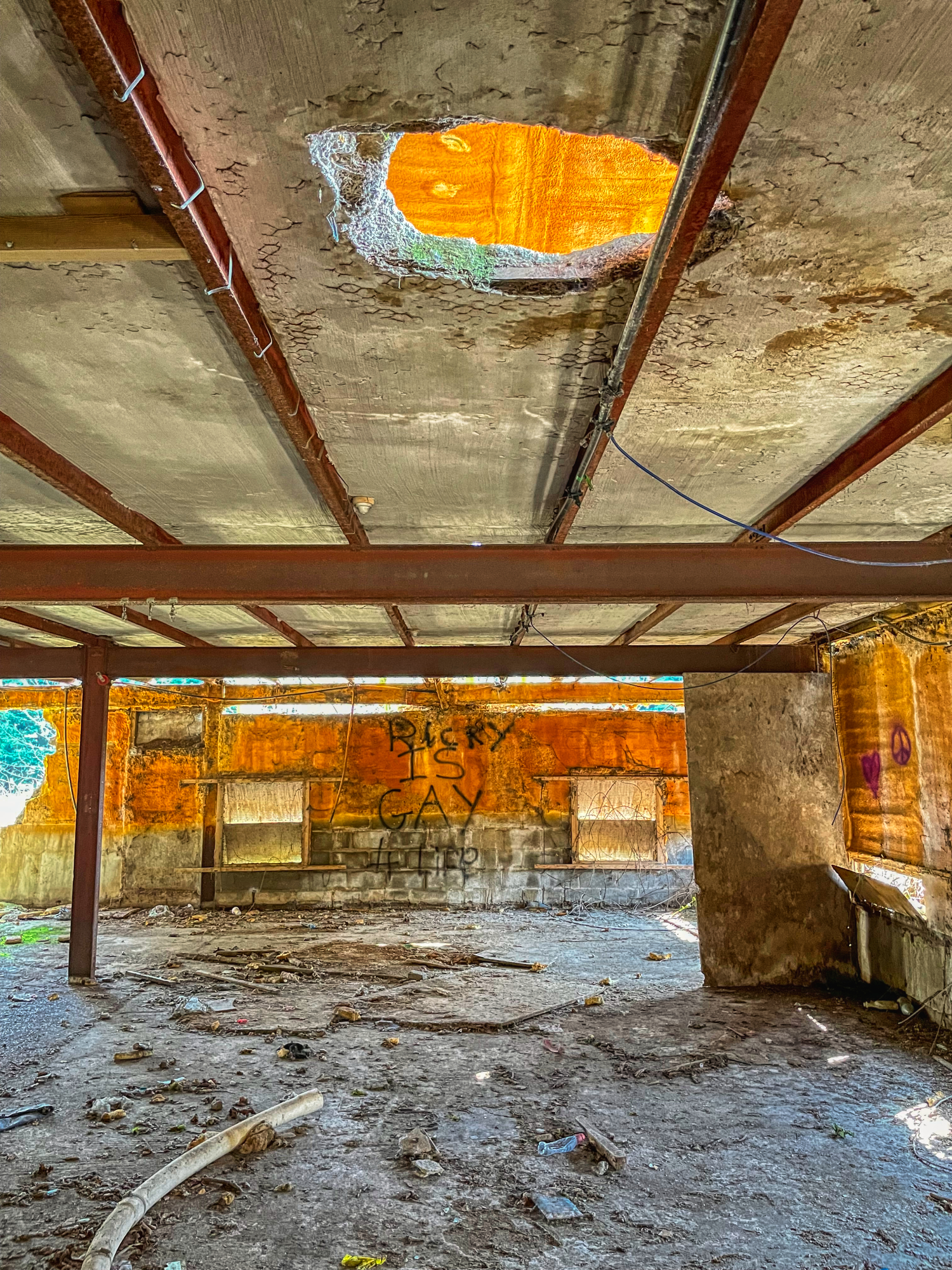 It was all quite unimaginative with writing and no great art.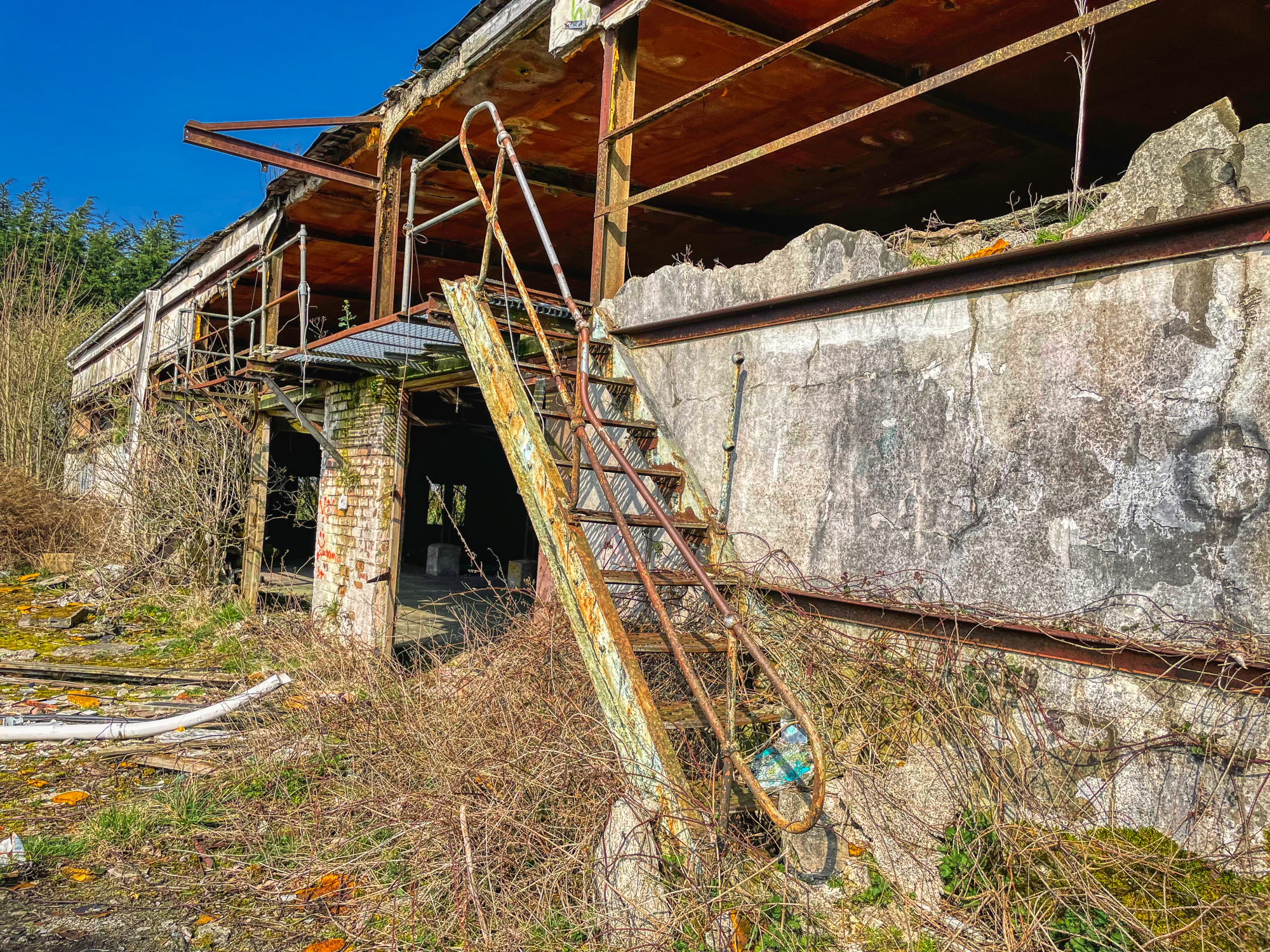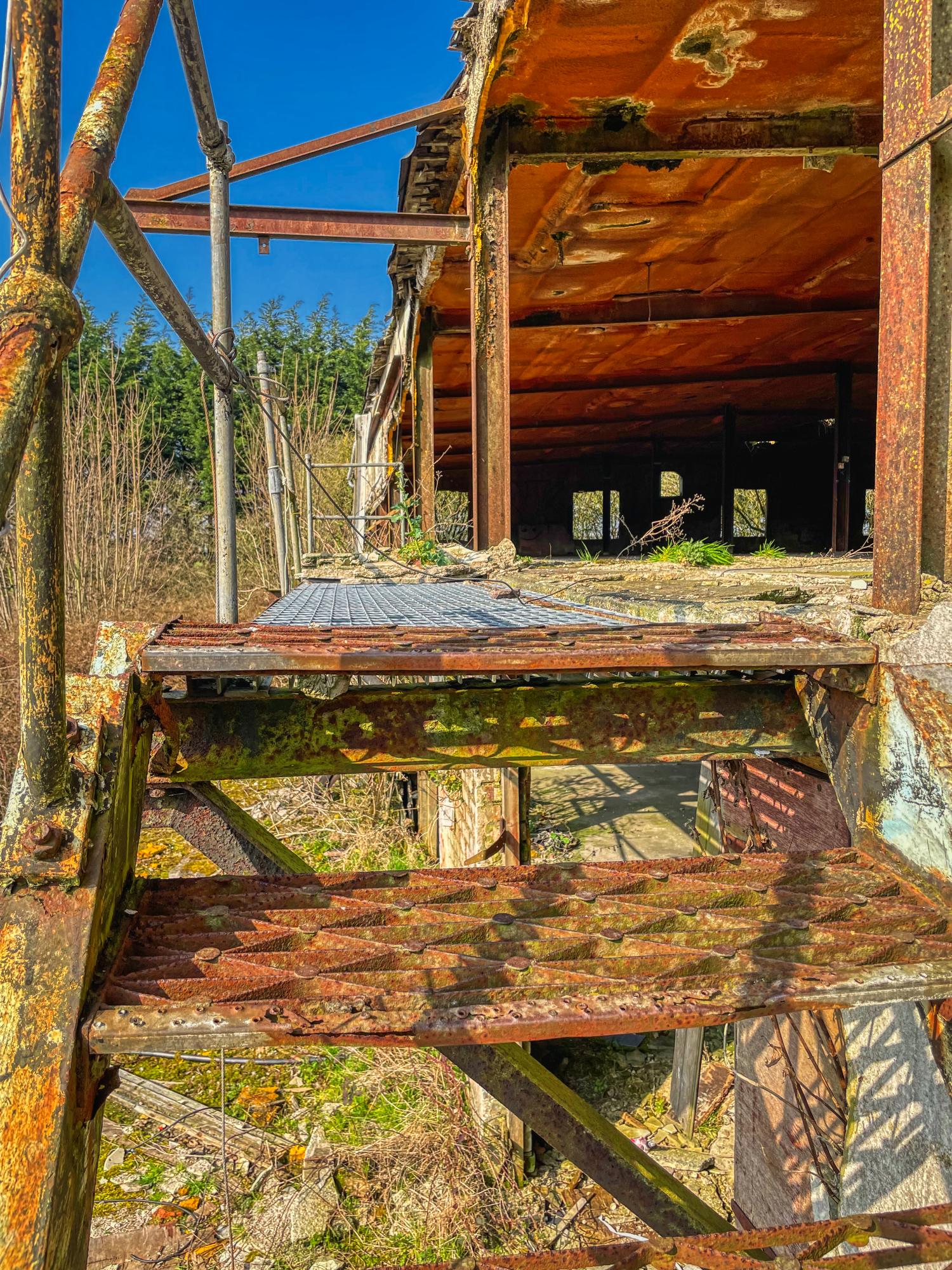 Metal stairways are great. Despite the copious amounts of rust, you can be quite sure that you are not going to break your neck using them.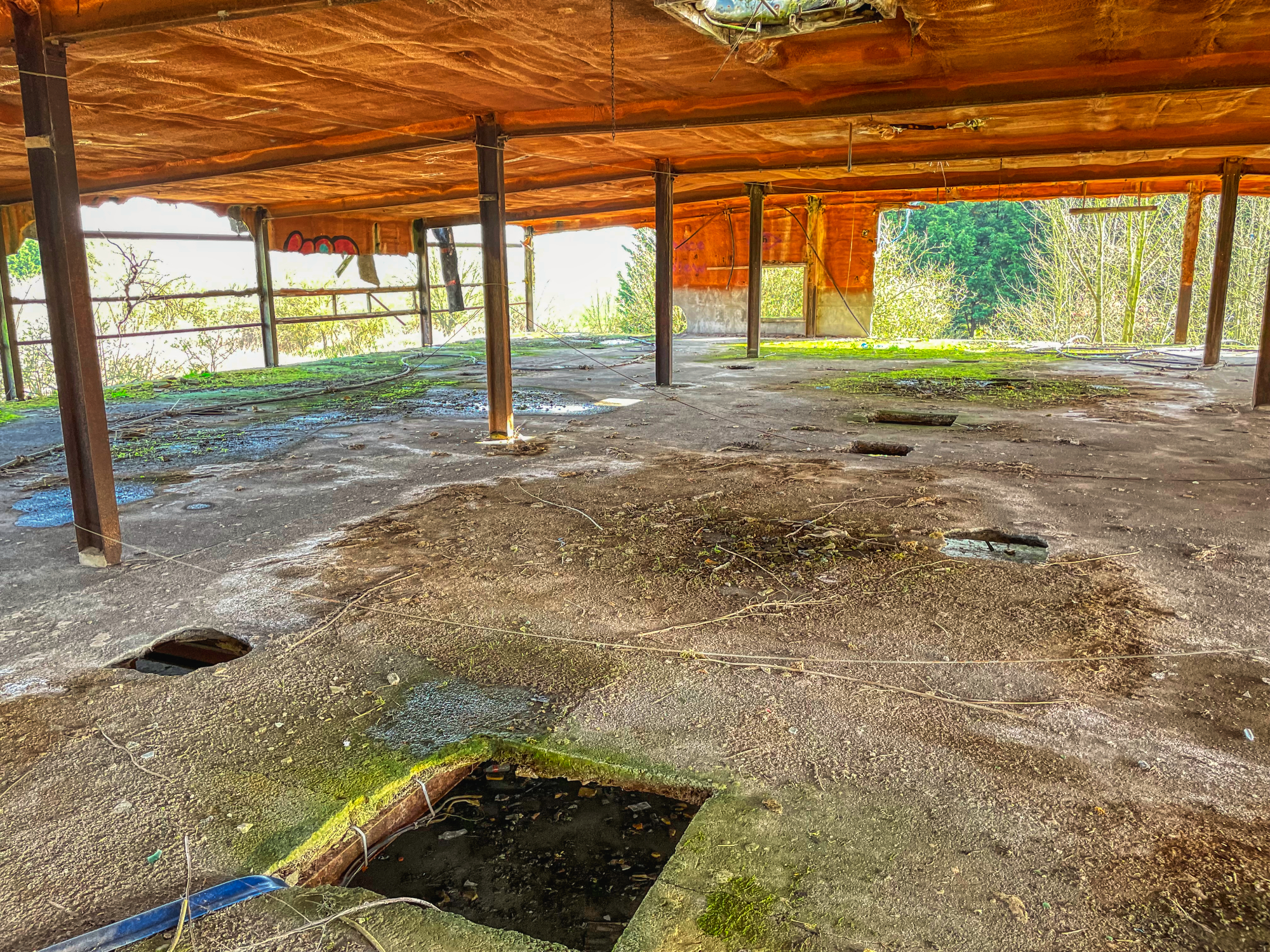 The second storey was much like the ground floor but included holes for the clumsy to fall through.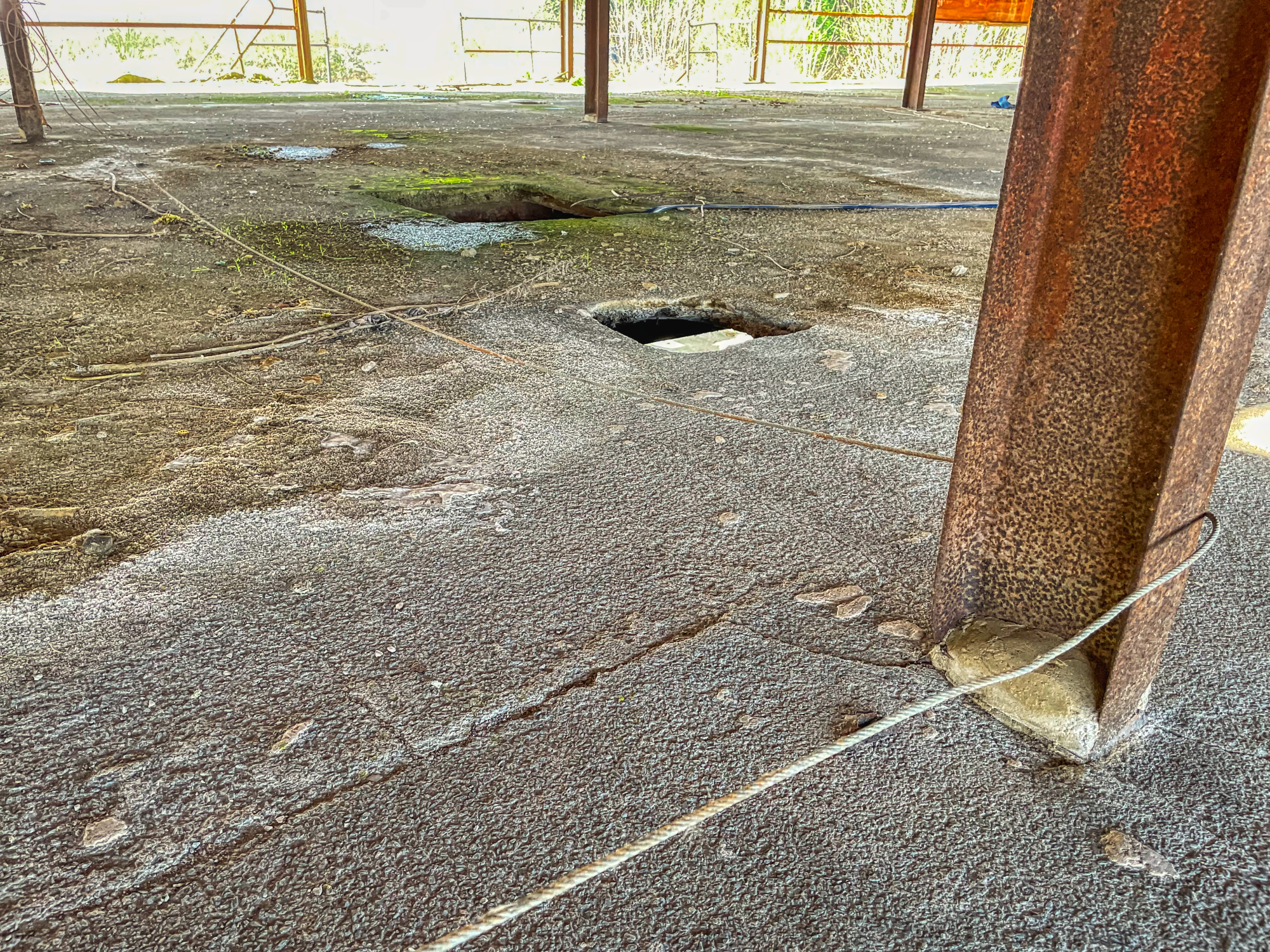 Add a little trip wire and things get more interesting. Parts of the concrete were baying a little in the centre. A little jumping might bring it all down and probably land you in hospital for the trouble.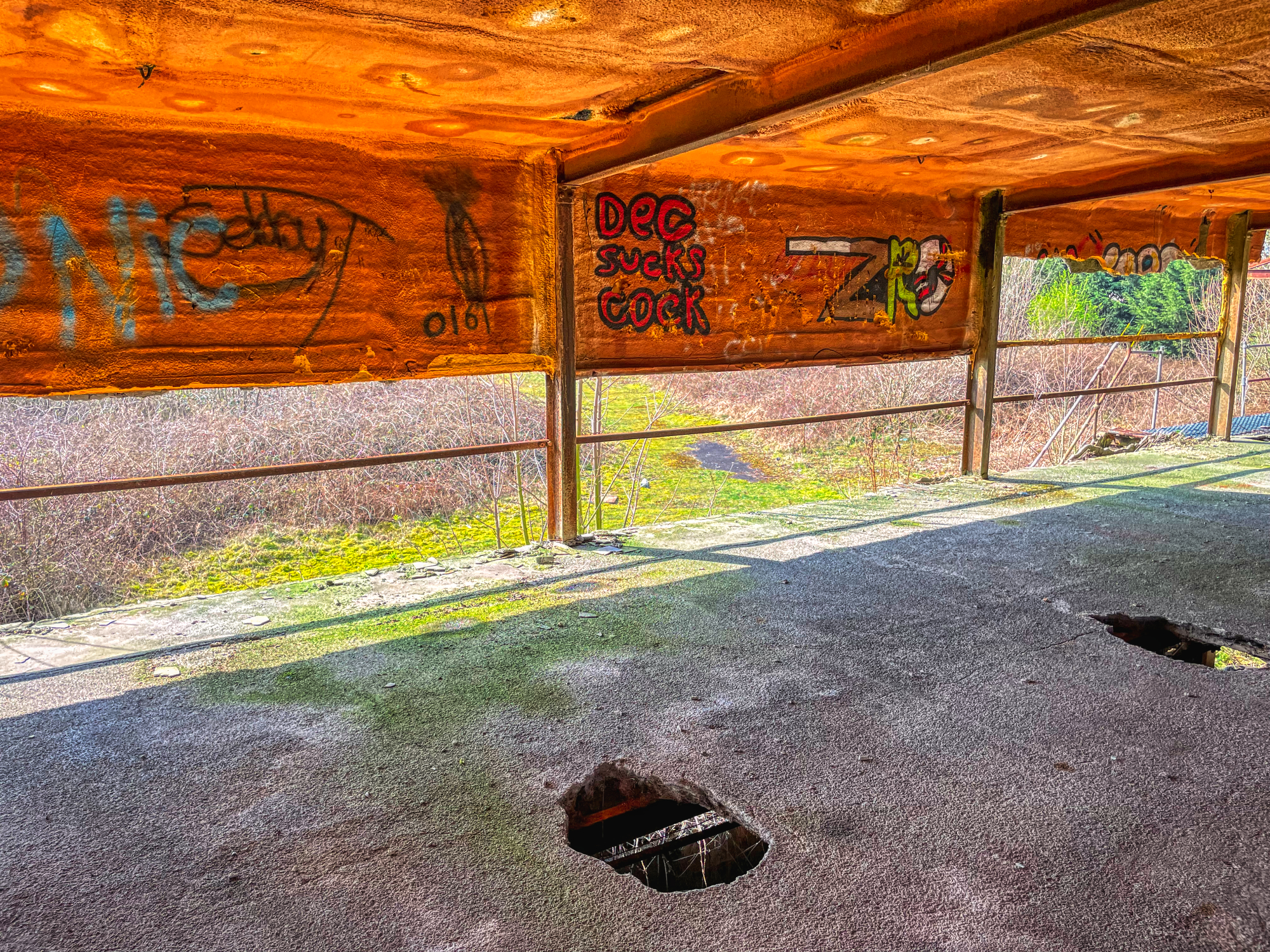 Besides more terrible graffiti it wasn't much to talk about.
Behind the larger building, it got a little denser even though it was only March. A summer visit would not be a good idea.
Finding some better graffiti was gratifying, it had been frankly quite shit so far.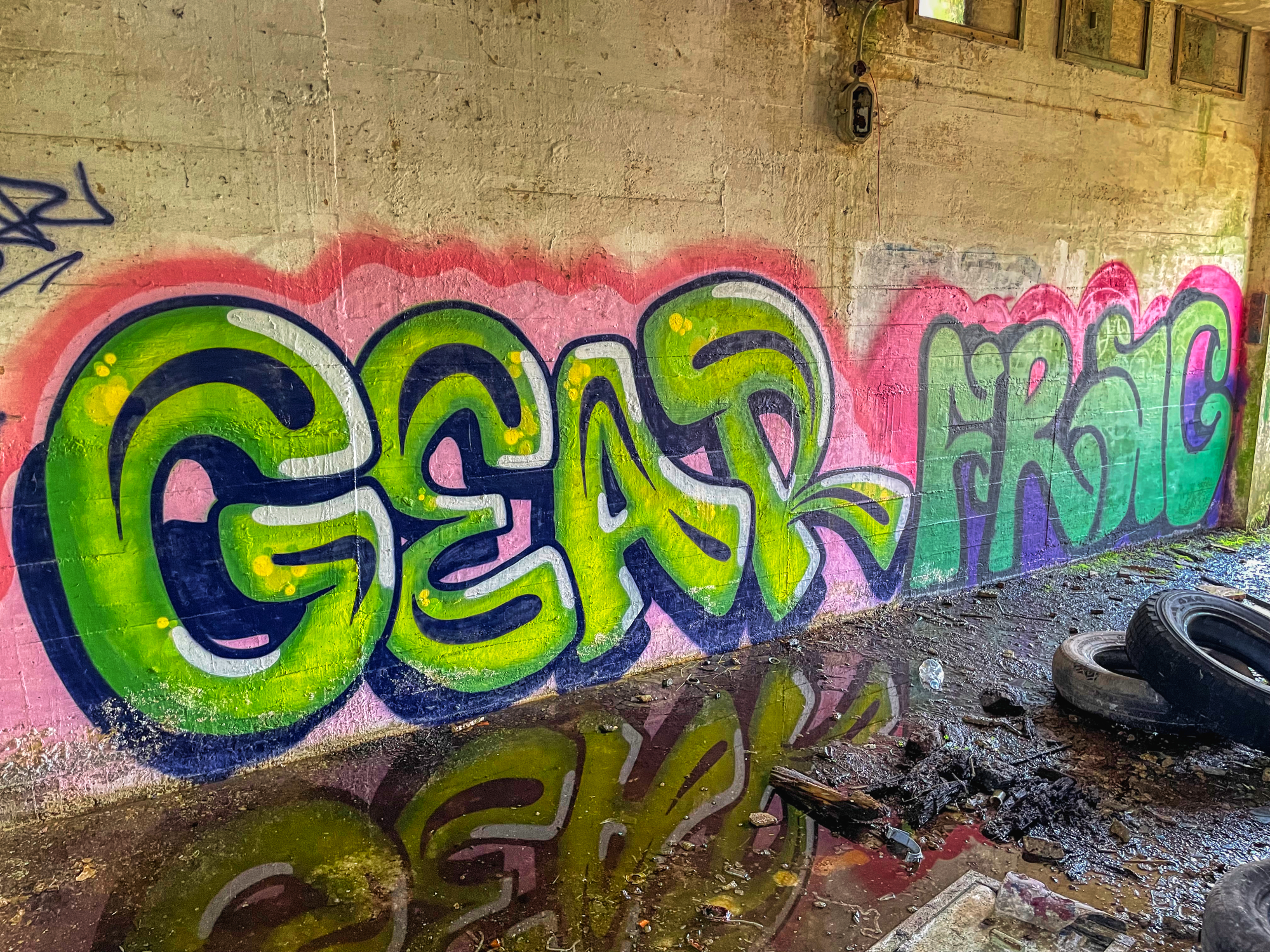 Inside was waterlogged, filled with old tyres, and housed more of the stuff.
…and I thought all the artists came from South Yorkshire…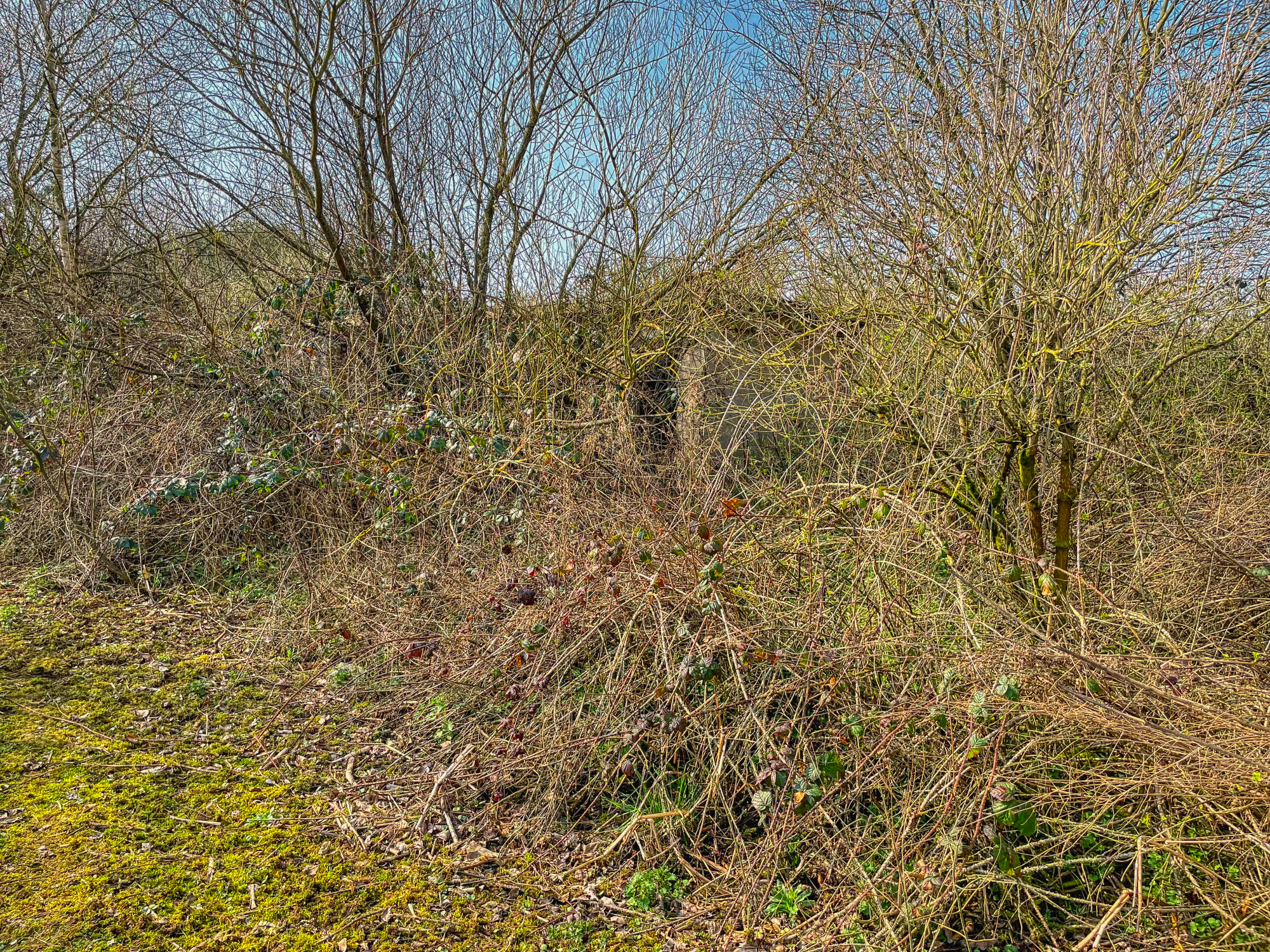 Through this mish-mesh of brambles and crap, we could see yet another building. Getting to it was a pain in the arse and anti-climactic.
...one small building full of old crap; this is why we do Urban Exploring sigh'...
'Auschwitz' is a little more impressive in its own way and the writer can't even spell; fucking idiot.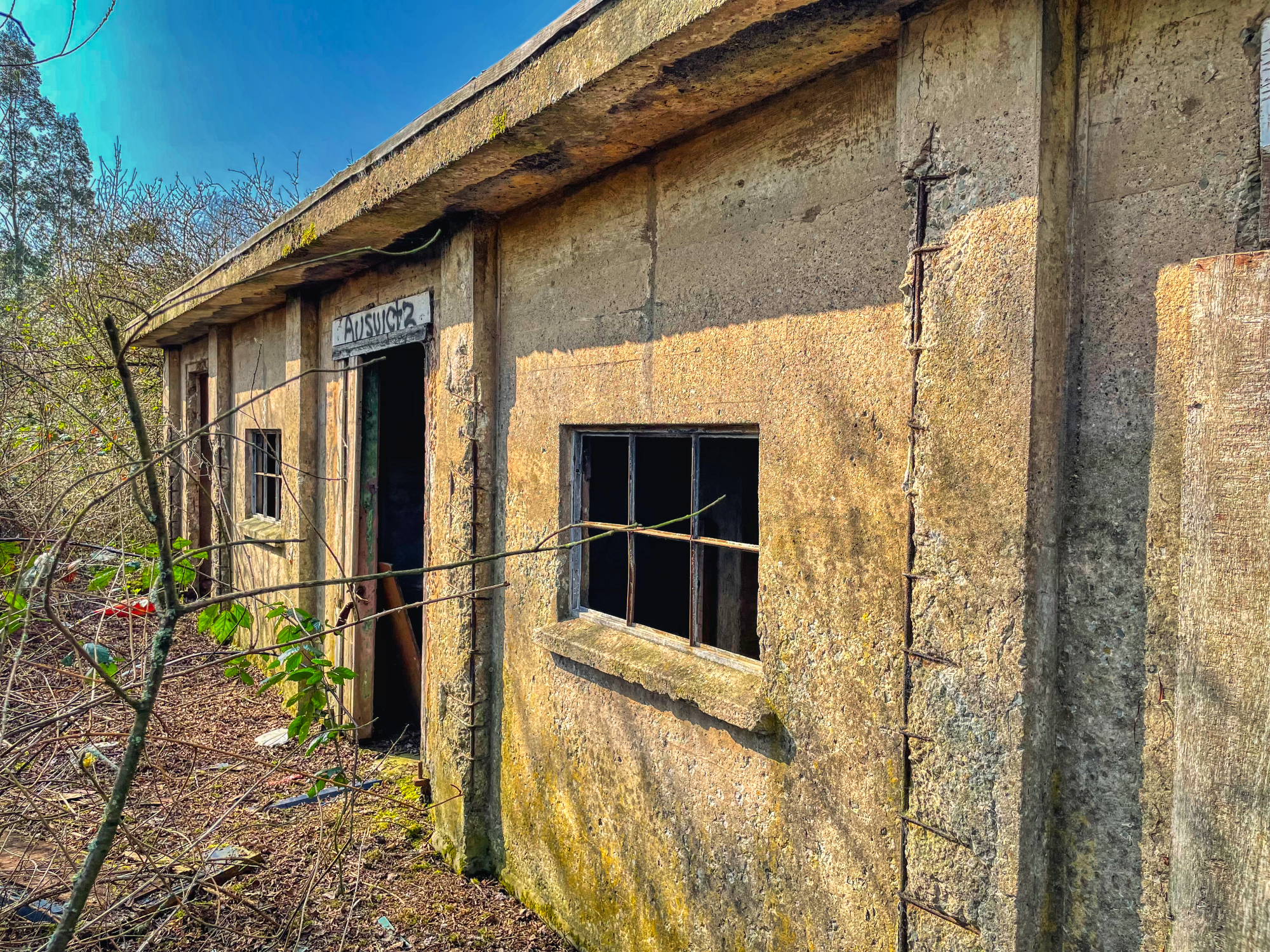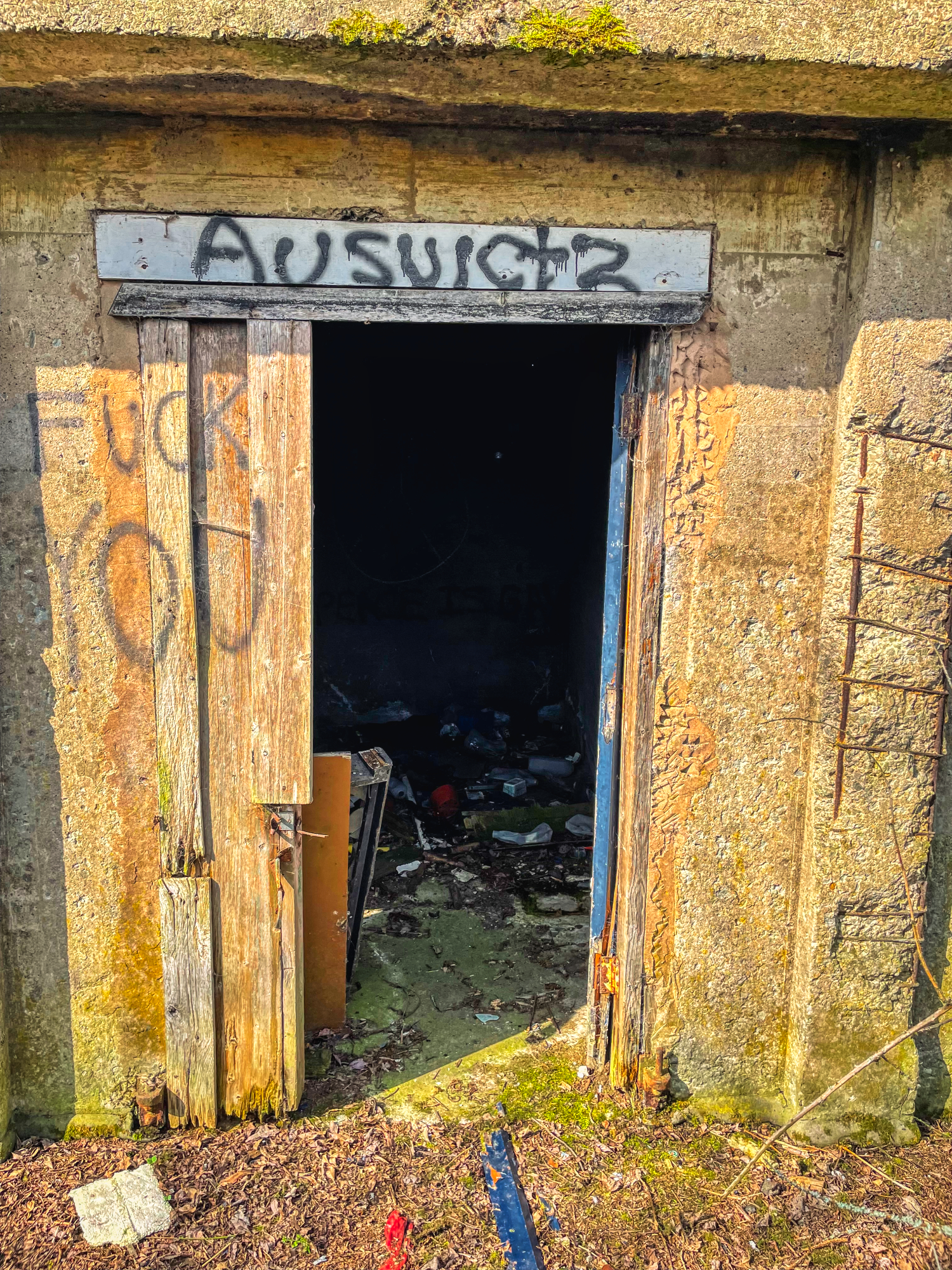 ...'don't ask what was in 'Auschwitz', you wouldn't be able to take the excitement'...

There were a few other buildings dotted around but we had seen enough, 'Auschwitz' my arse!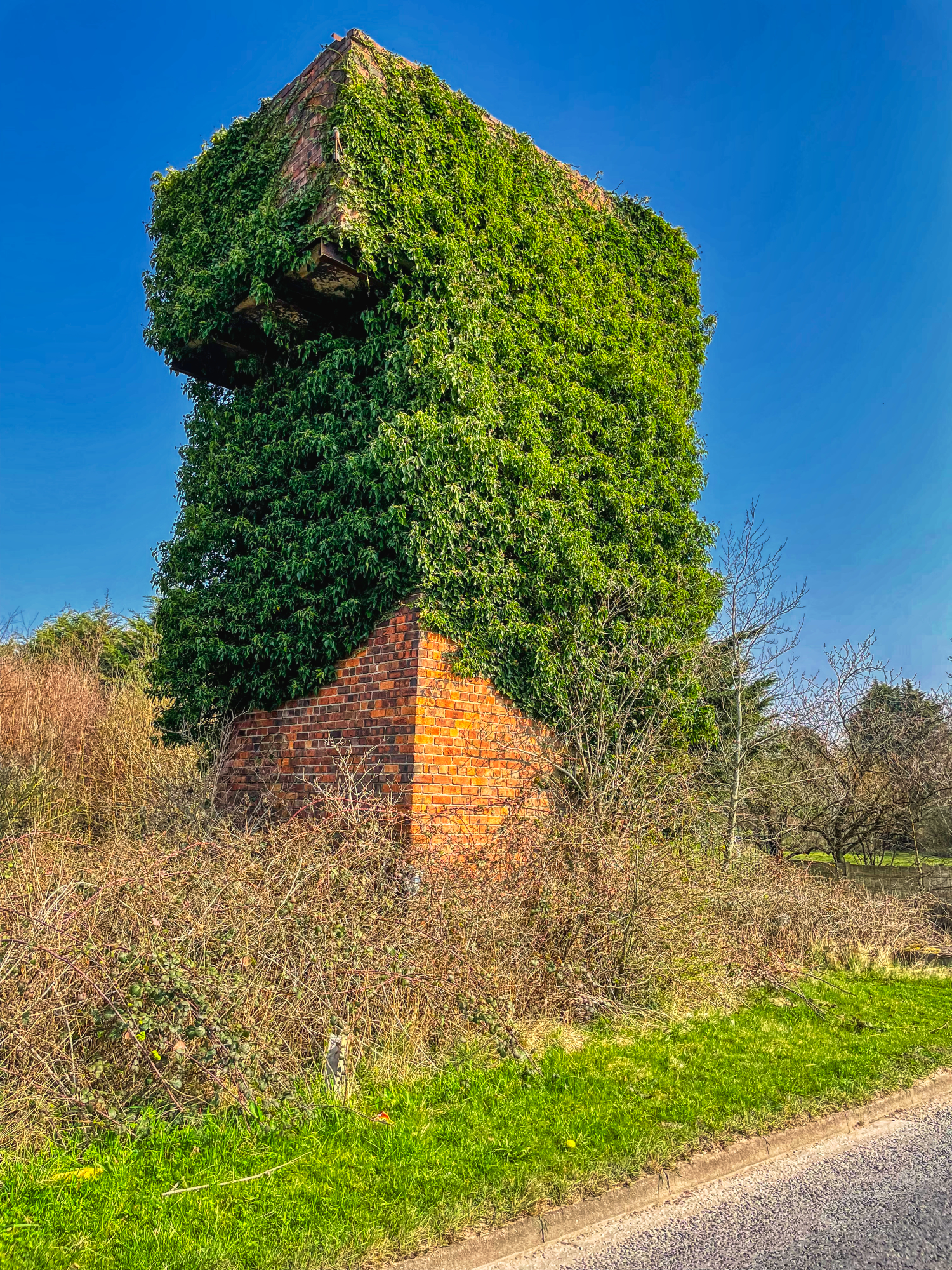 On the roadside around 100 yards away we spotted an ivy-covered tower. It was worth a look even though a domestic property was close by.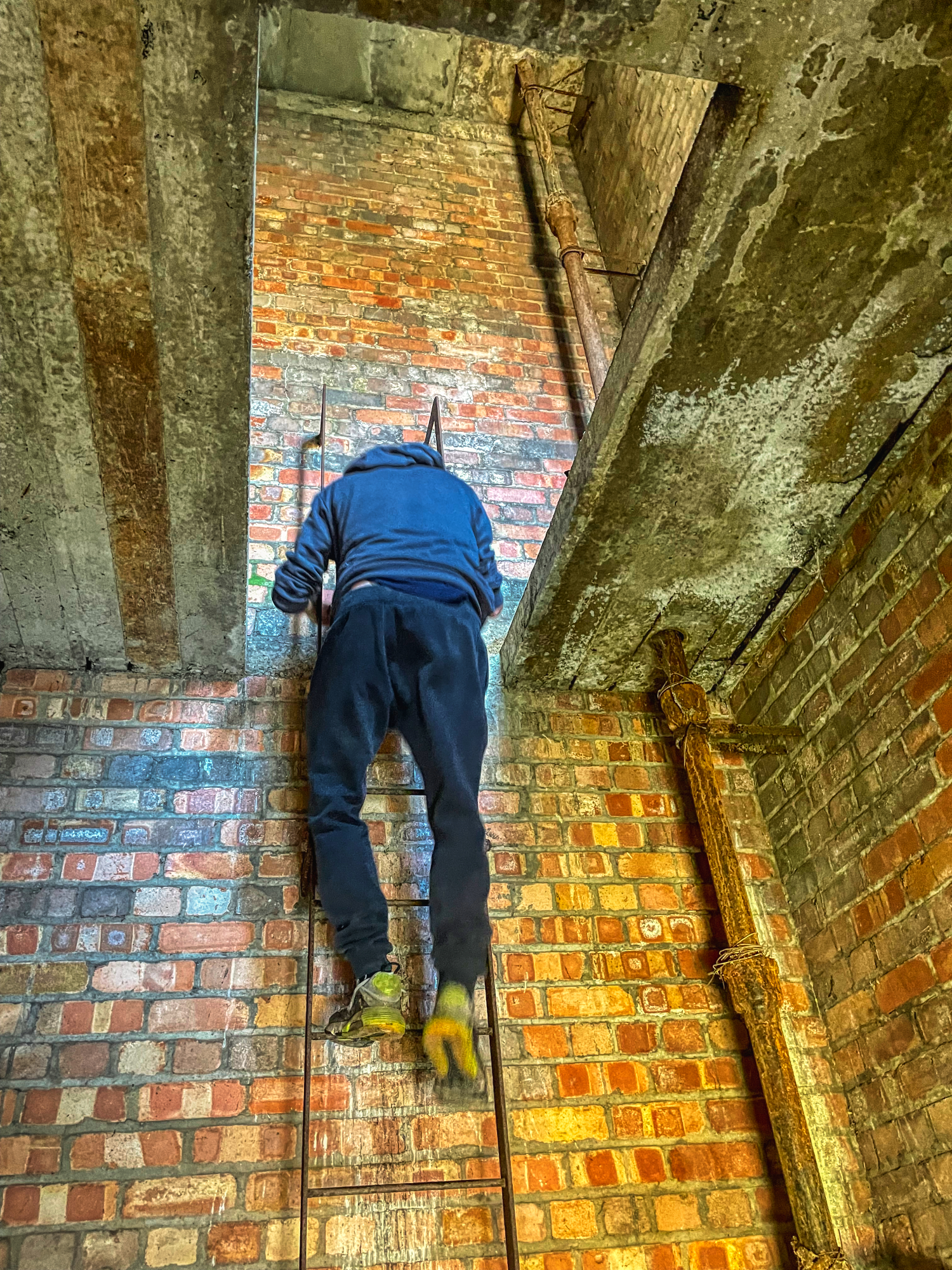 ...'@anidiotexplores has trouble keeping his trousers up while descending from the old gun tower'...

You could go inside and even climb up. Once again the metal ladder appeared sturdy. Both of us ascended to the middle floor but stopped at that.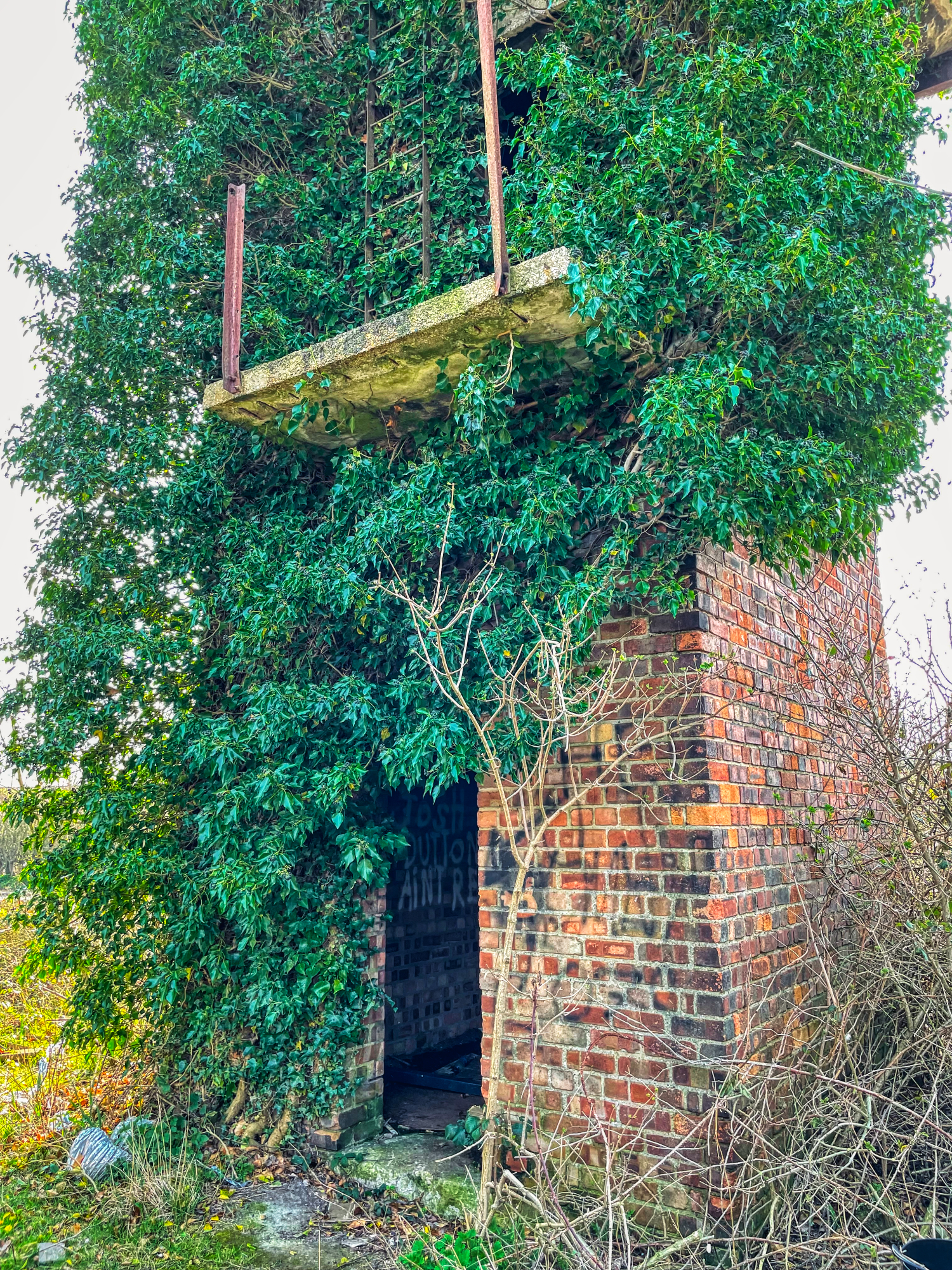 While it might be a nice view up there that metal ladder is quite external, covered in ivy, and might well come away from the wall if used.
We are daring, but there are limits.
'Penketh Heavy Anti Aircraft Gun Battery Station' is strictly a 3/10 explore and should only be visited if you are extremely bored or desperate.
We left and made our way to Daresbury Hall. Surely it couldn't be this bad?

Do you like posting your Urbex content and photography for FREE on Facebook and YouTube? I like to get some form of reward for my work and every time I create I do just that. Take a look at The Urbex Community on HIVE.
If you want to keep creating for FREE then ignore what you are reading. If you want to be like me and gain something other than BUGGER ALL for your work then click here and learn about posting on the HIVE blockchain.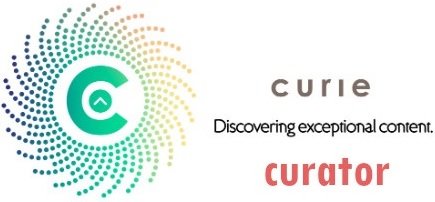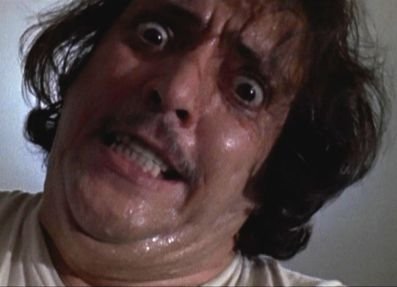 If you found this article so invigorating that you are now a positively googly-eyed, drooling lunatic with dripping saliva or even if you liked it just a bit, then please upvote, comment, rehive, engage me or all of these things.
---
---