Tales of the Urban Explorer: St Gabriel's Convent
'St Gabriel's Convent'; it's such an elegant name for a place where historical horrors have taken place.
I confess until I started manipulating these images, and digging into the history, I had it down as 'The White House'. It's white, looks presidential in an apocalyptic world and the roof is accessible.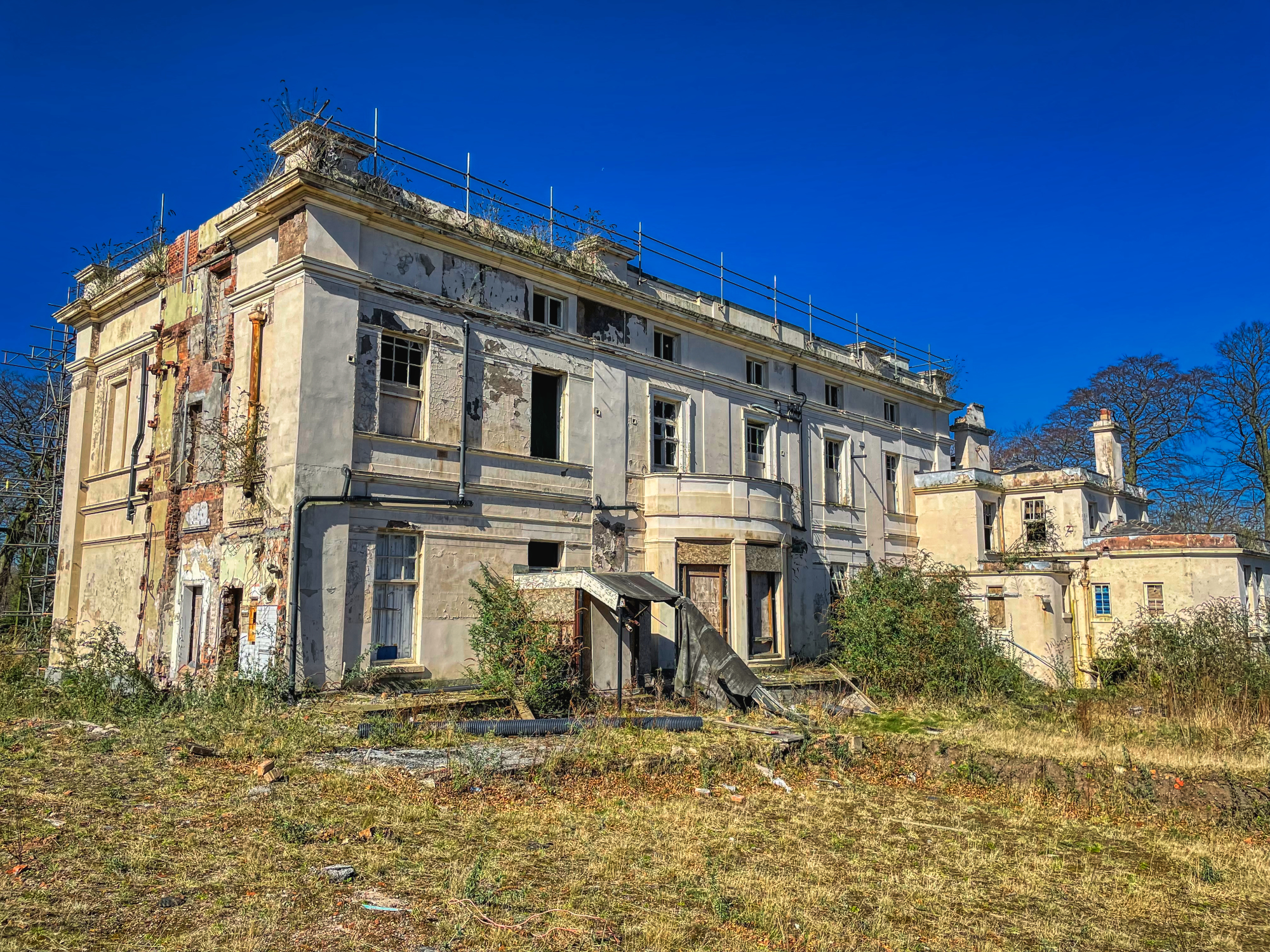 You could even land a chopper on there at a push.
Built in 1828, the Grade II listed manor house, then known at Knolle Park, later became St Gabriel's Convent and Knolle Park Children's Home.
In 1998 a volunteer worker was jailed for sexually abusing young boys. I dug a little further into this story and discovered it is unclear whether the abuser is still in jail and that one of the victims is awaiting compensation.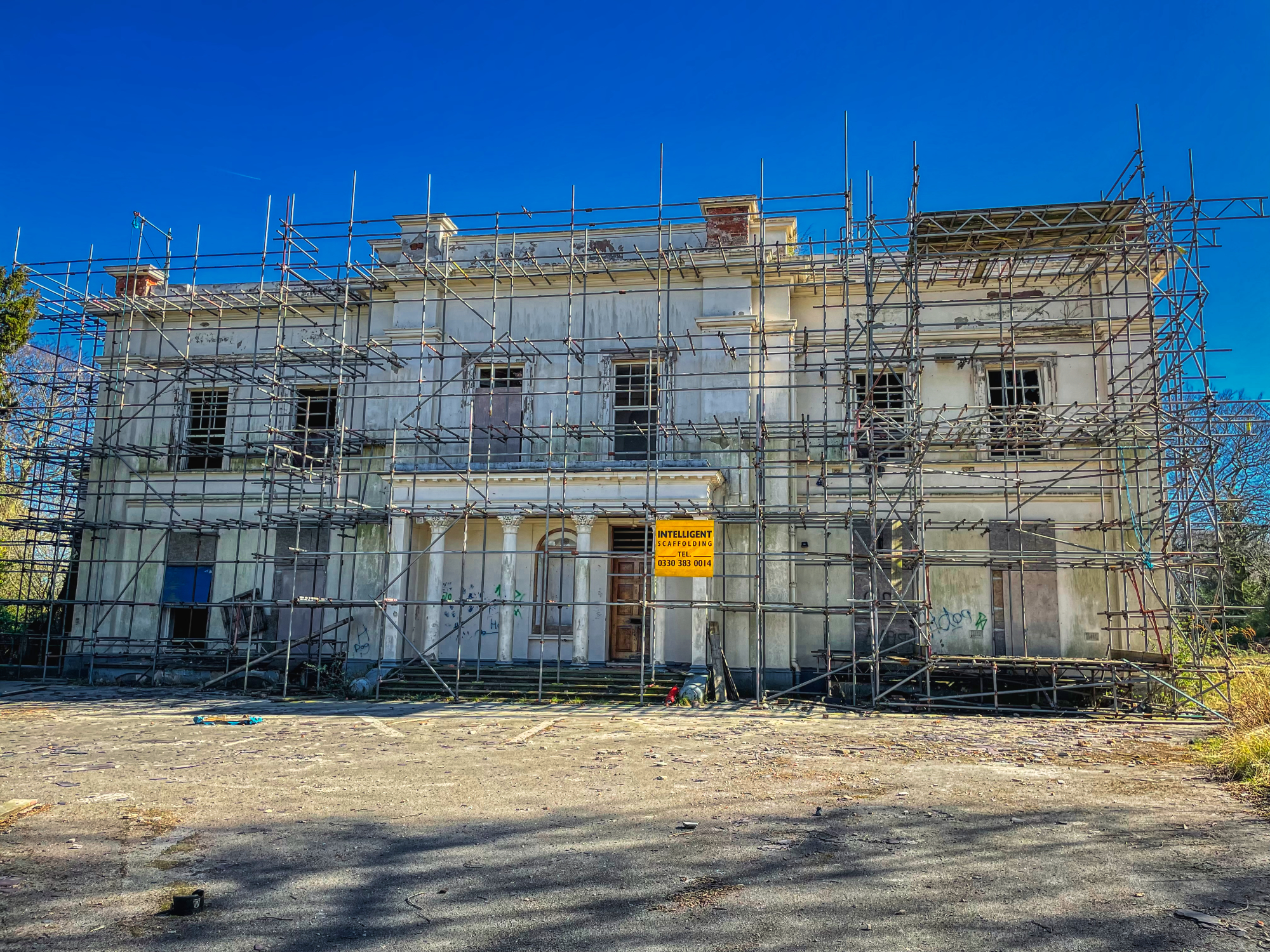 It's little wonder 'St Gabriel's Convent' closed a few years later. With this kind of stain, it would be tough to recover any sort of reputation.
We vaulted a 5-foot wall and started creeping through the jungle gardens until we spotted a large white building. It appeared to be full of scaffolding, was it a refurb, was there security?
You can never be too sure as some of these companies host their employees permanently on-site so they can enjoy zero life, drink tea or coffee, frequently abuse their willies and occasionally scare off the likes of us.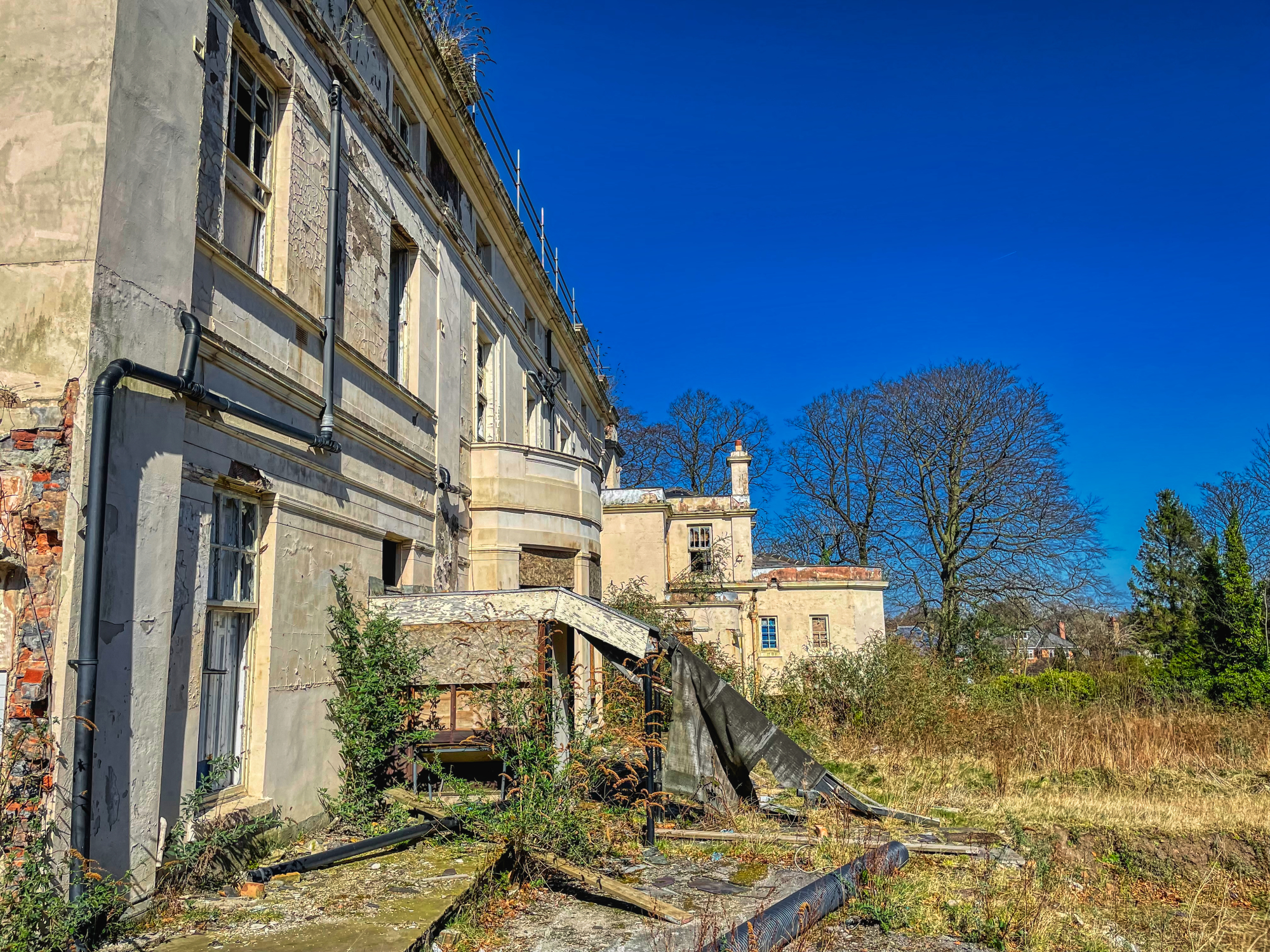 We snuck inside 'The White House' via a side entrance.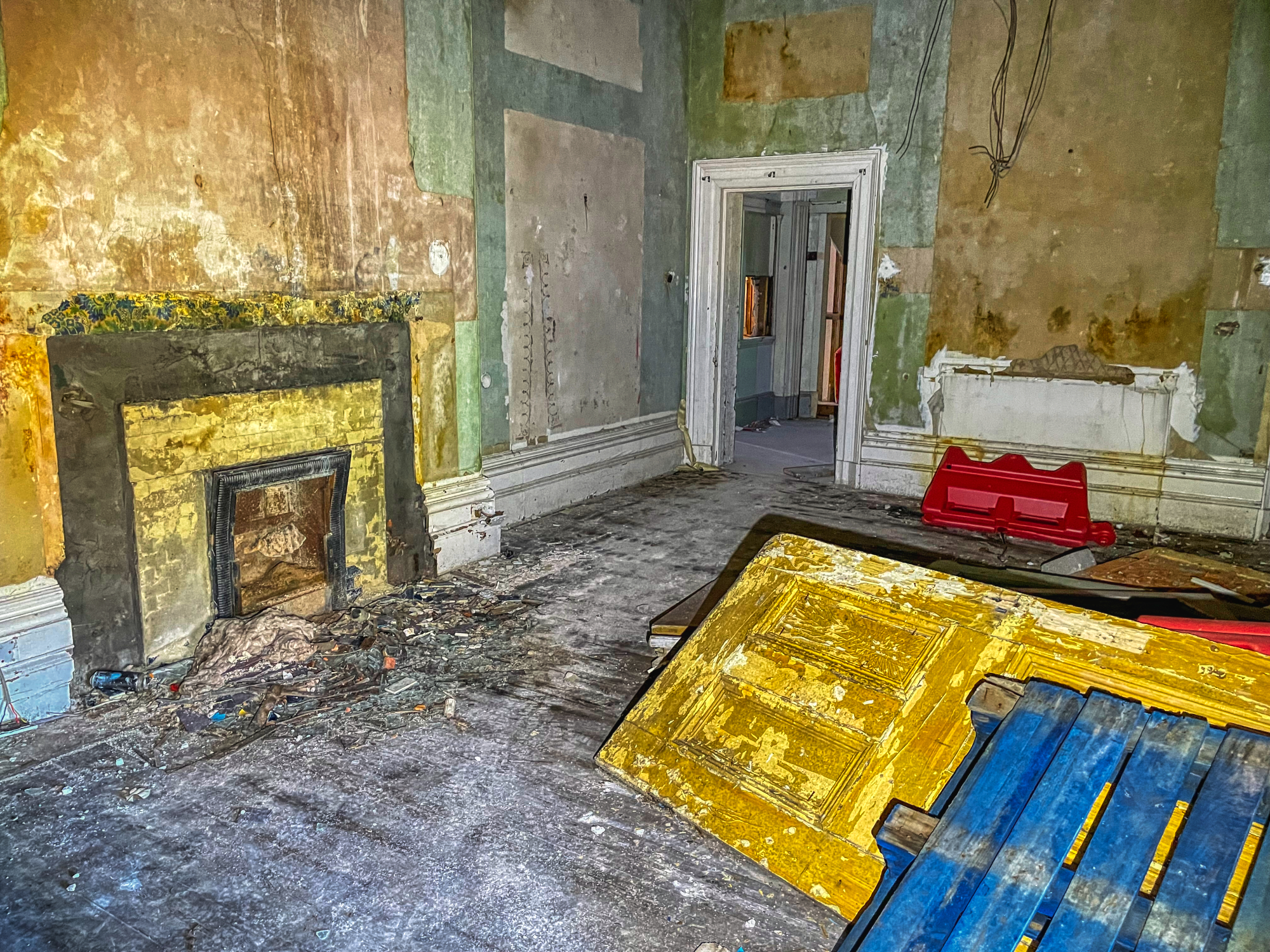 It looked stripped but lacked any refurbishment work as far as I could see, that was good.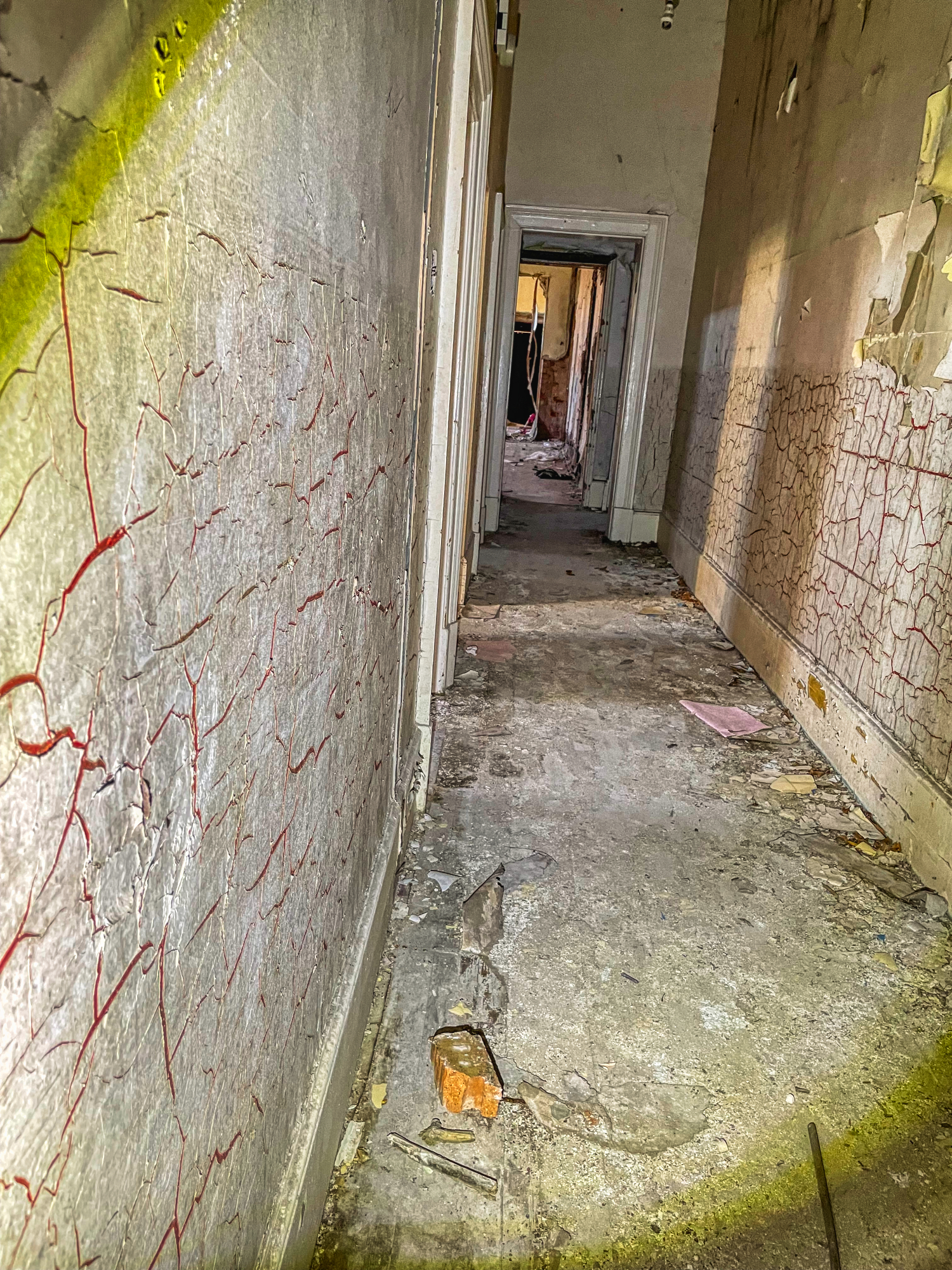 Walking down the corridor I couldn't help but notice the wallpaper.
...had many desperate nails scratched this paper and left blood trails everywhere?...
Likely not, and my morbid imagination was working on overdrive once again.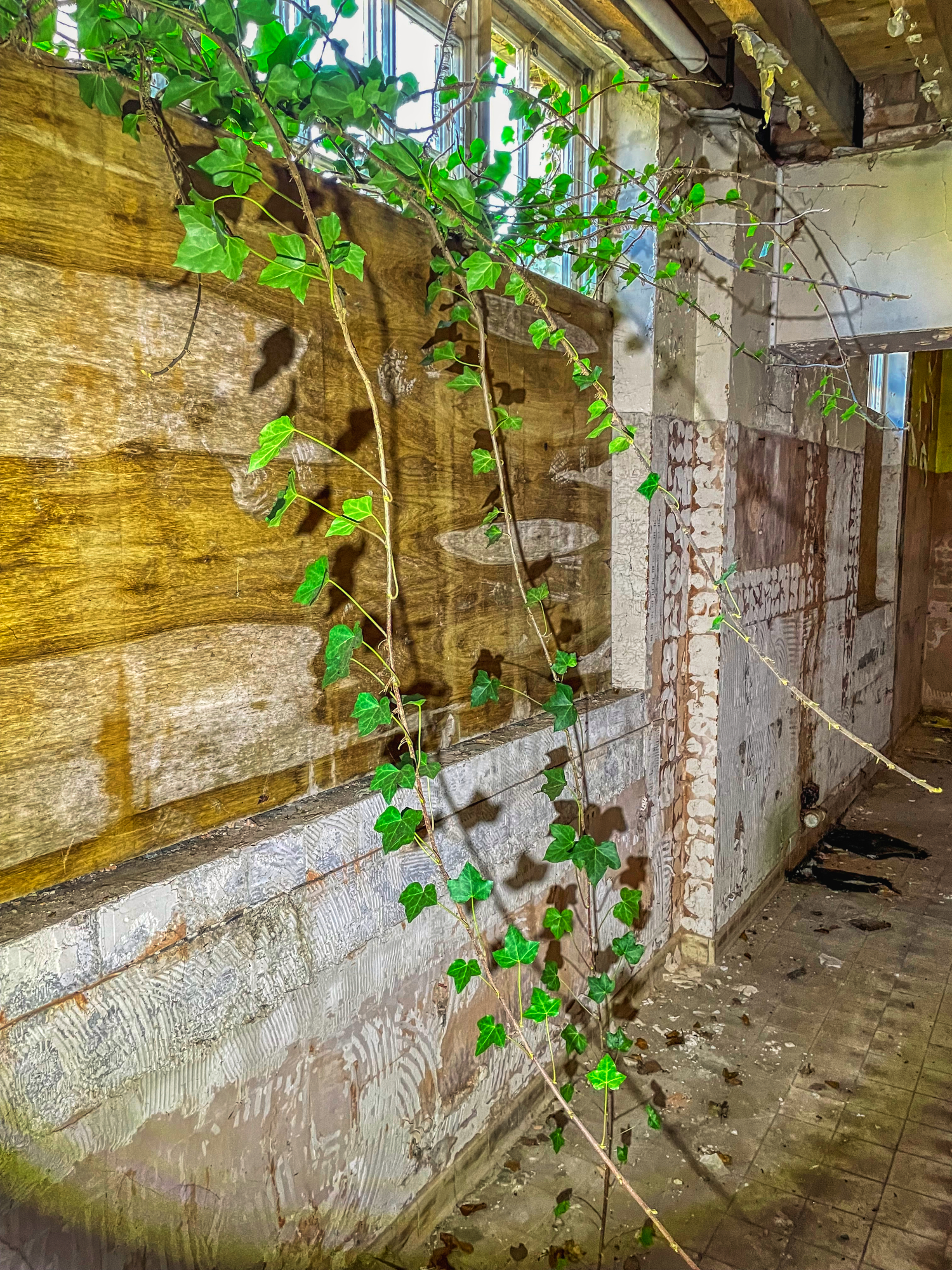 It was good to see some greenery was moving in, it makes for a decent snap at times.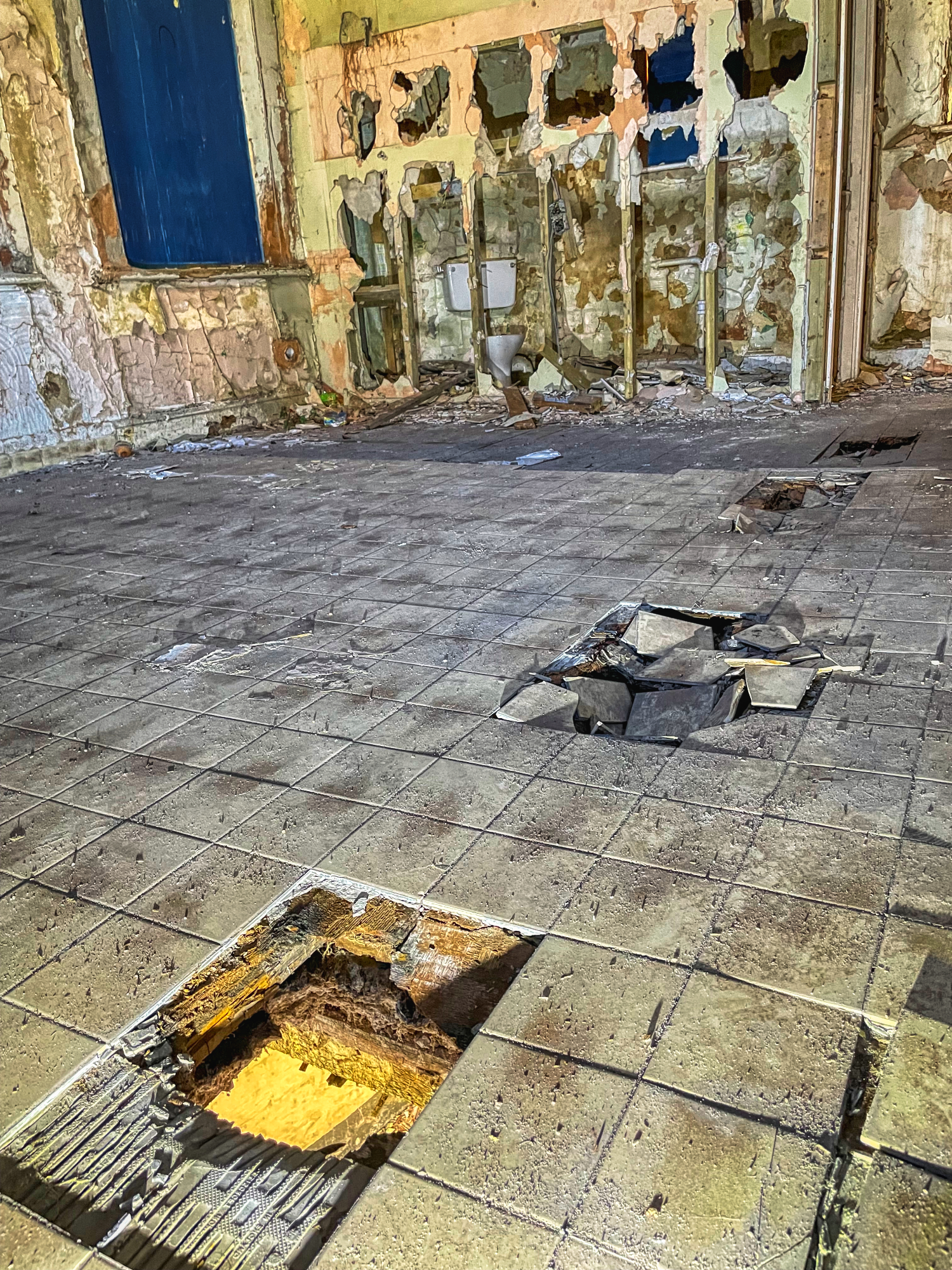 You would have to stamp very hard to break these floor tiles, isn't there easier things to vandalise?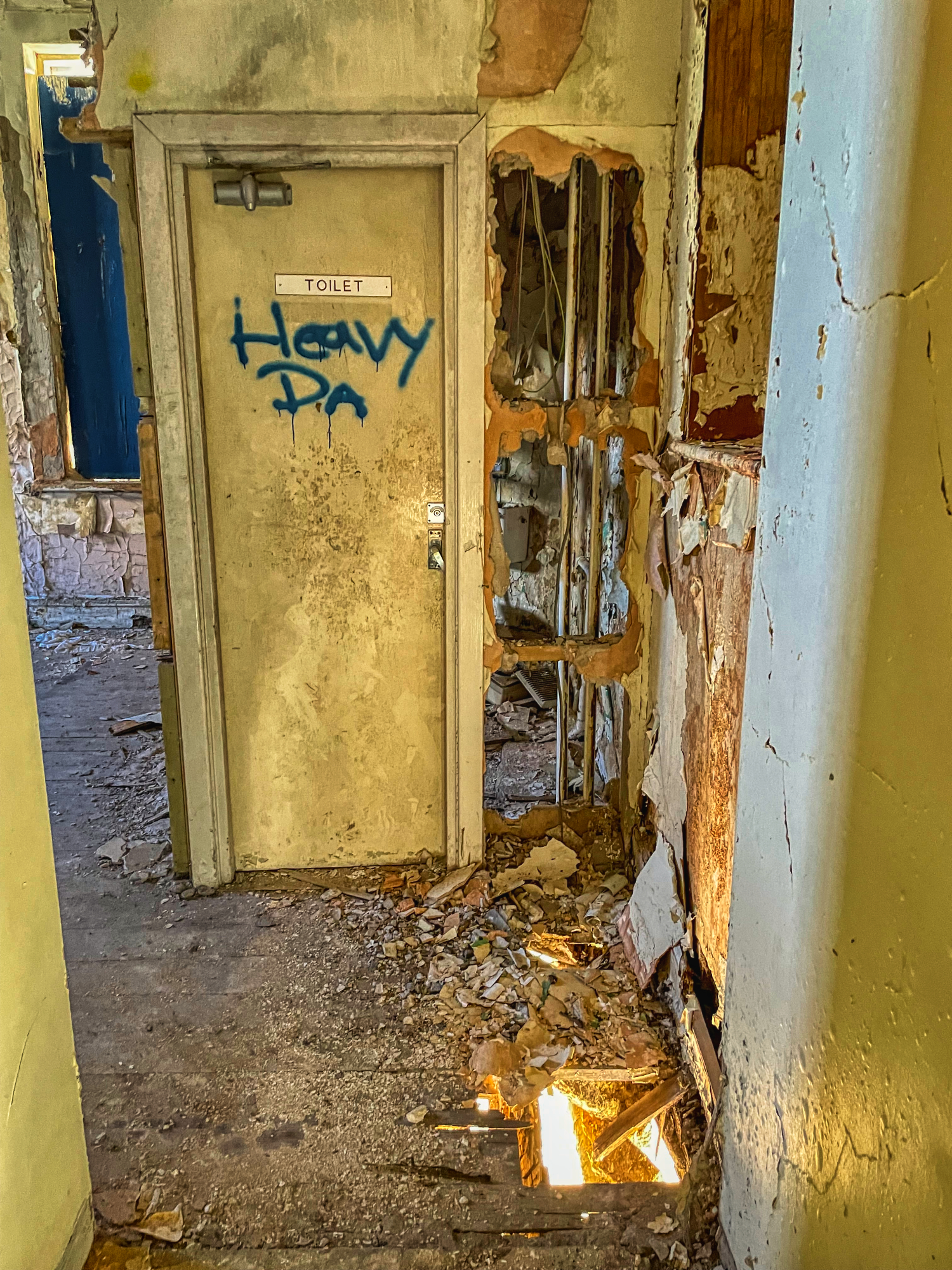 I spotted some helpful graffiti, one of part of a series. Going in there to check the 'heaviness', erm… no.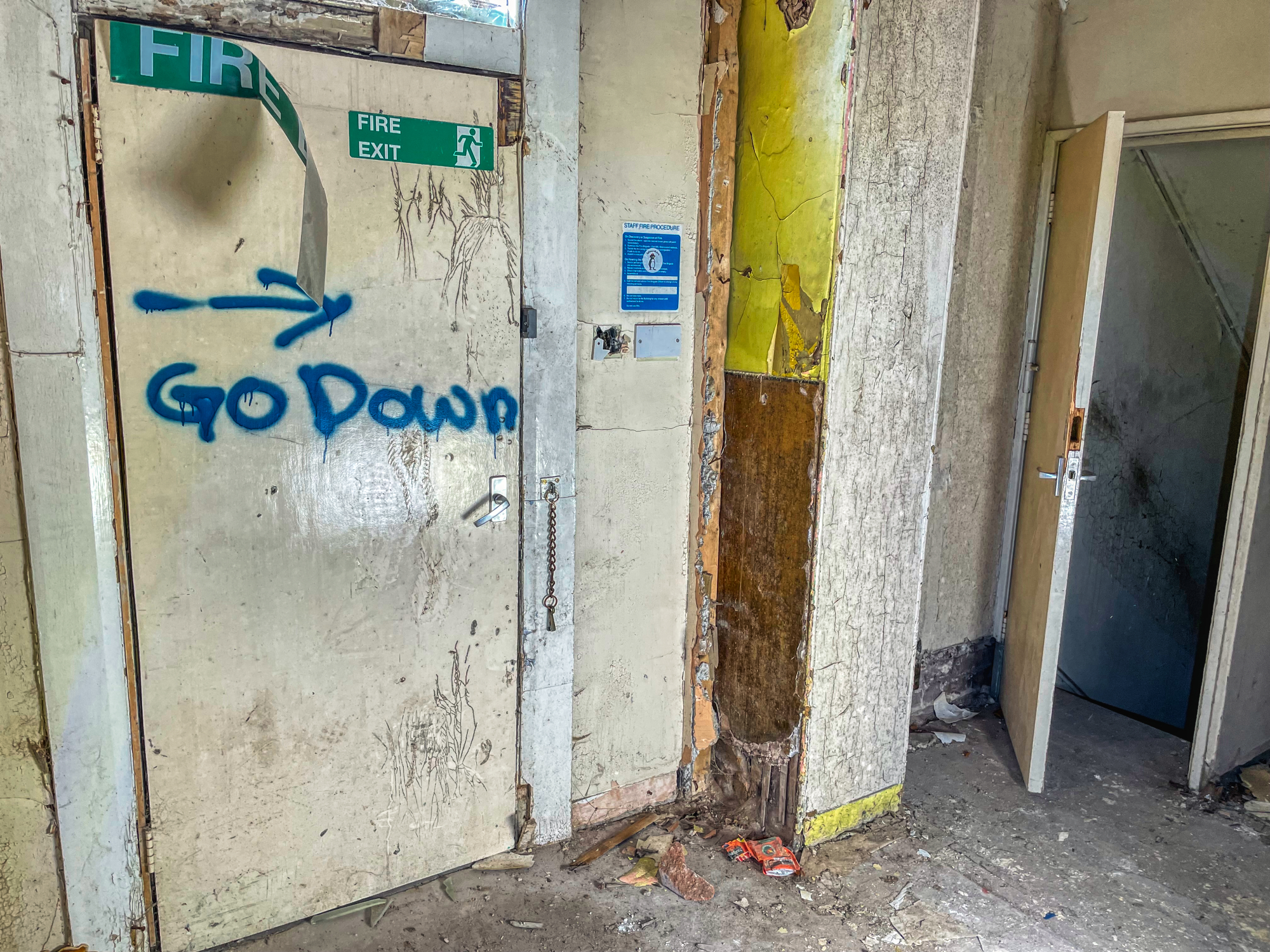 Why not follow the signs; I needed to see everything in any case.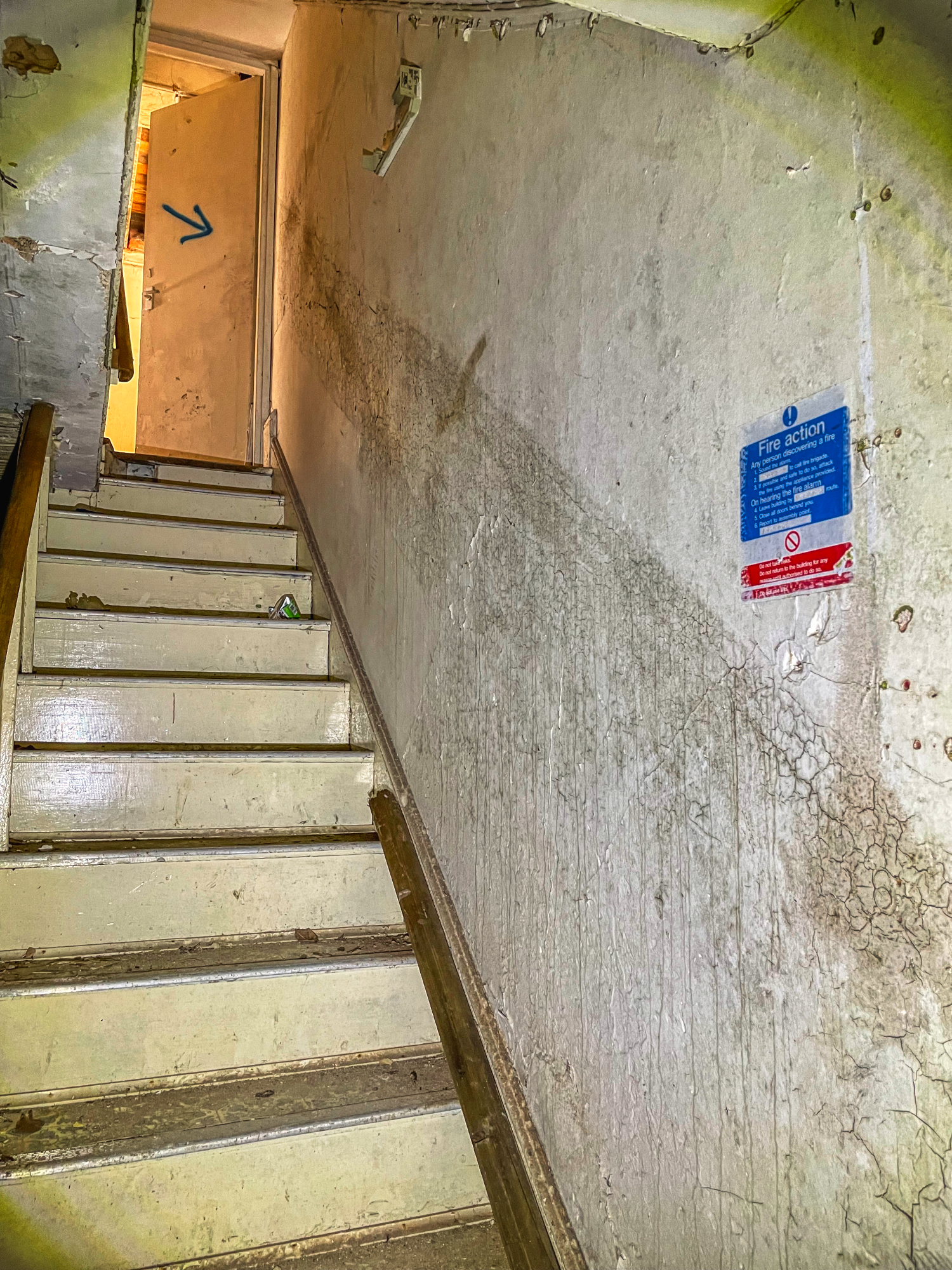 Someone does have a sense of humour (or little brains).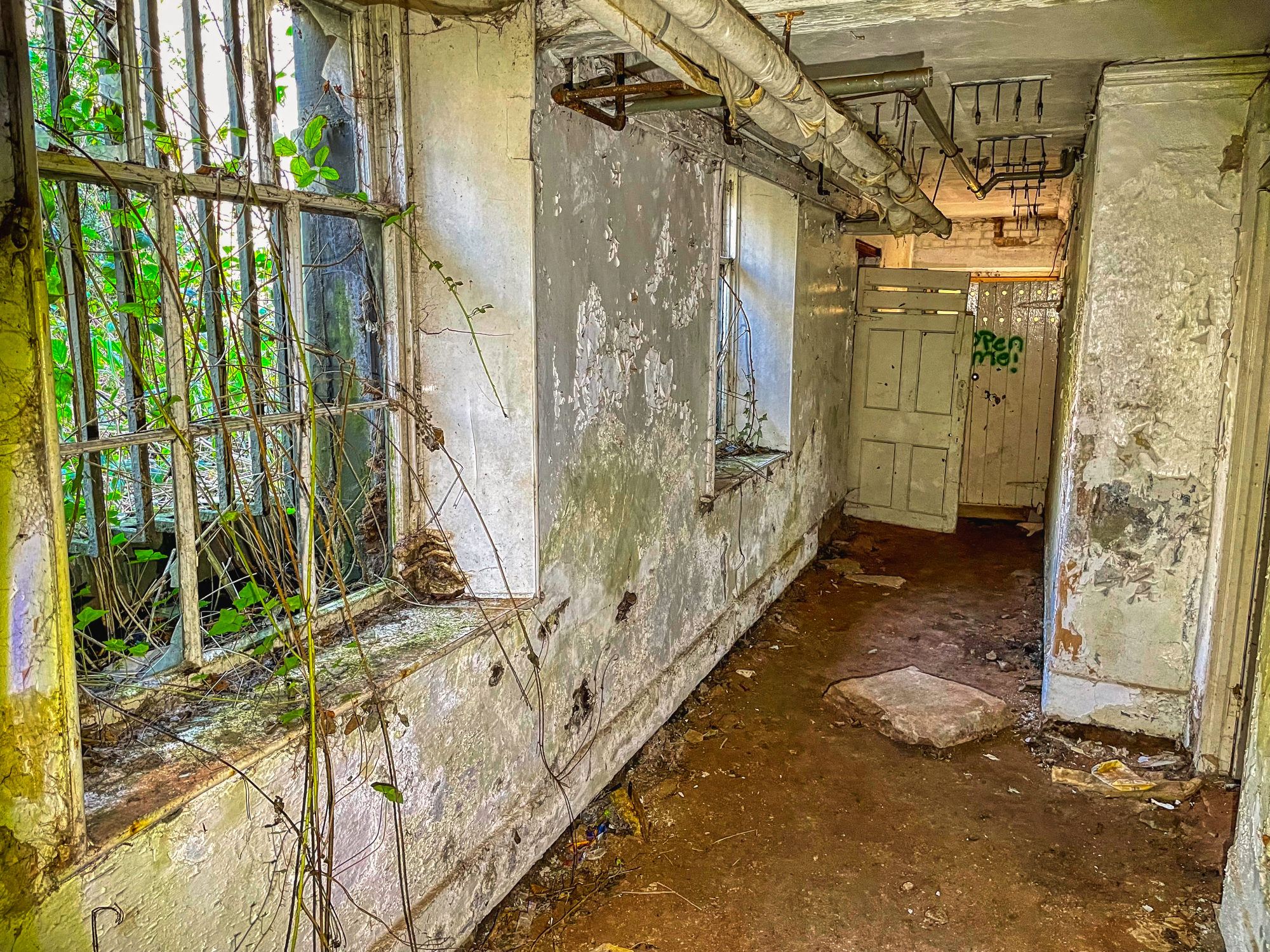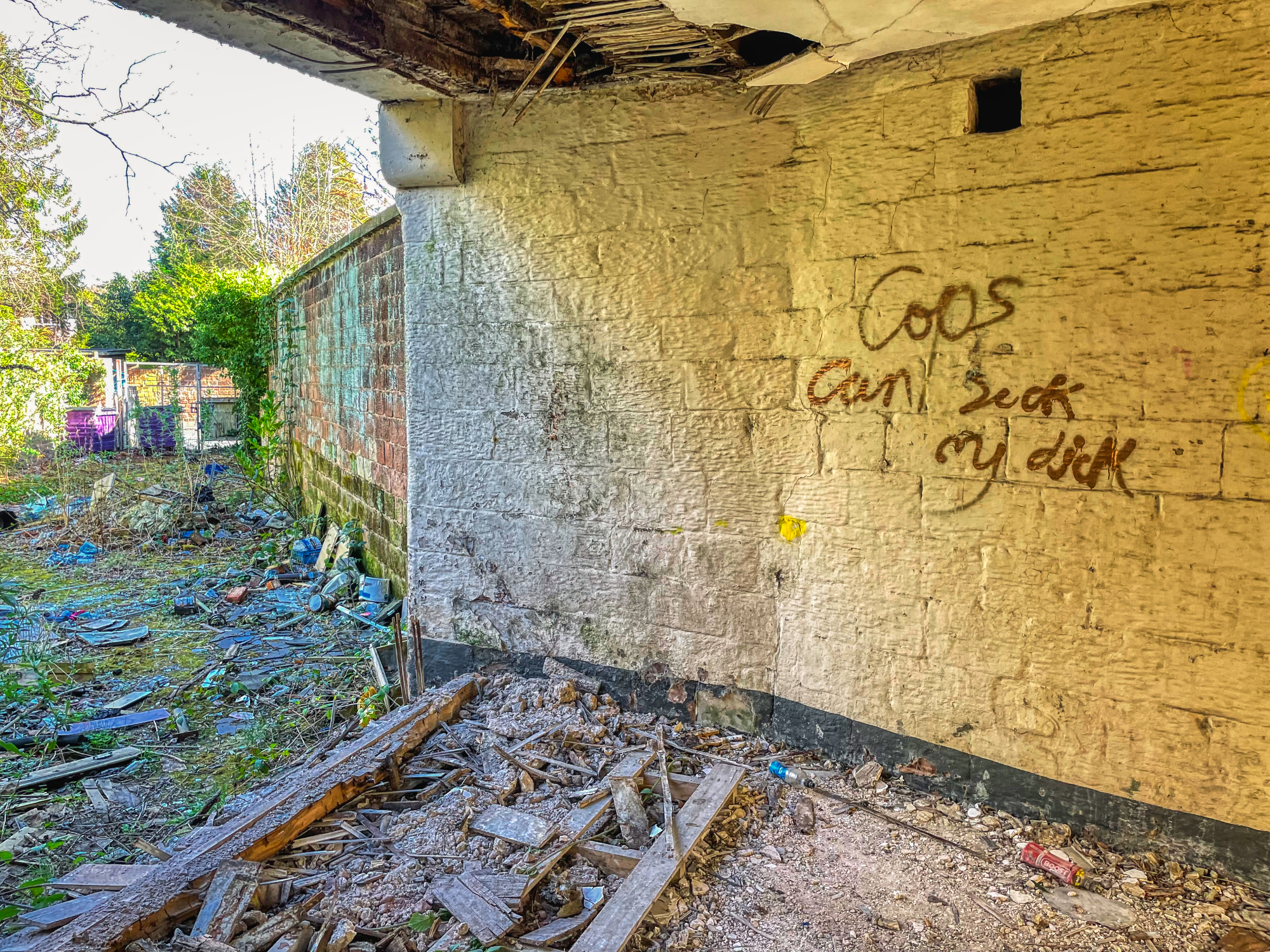 The ending was a little disappointing.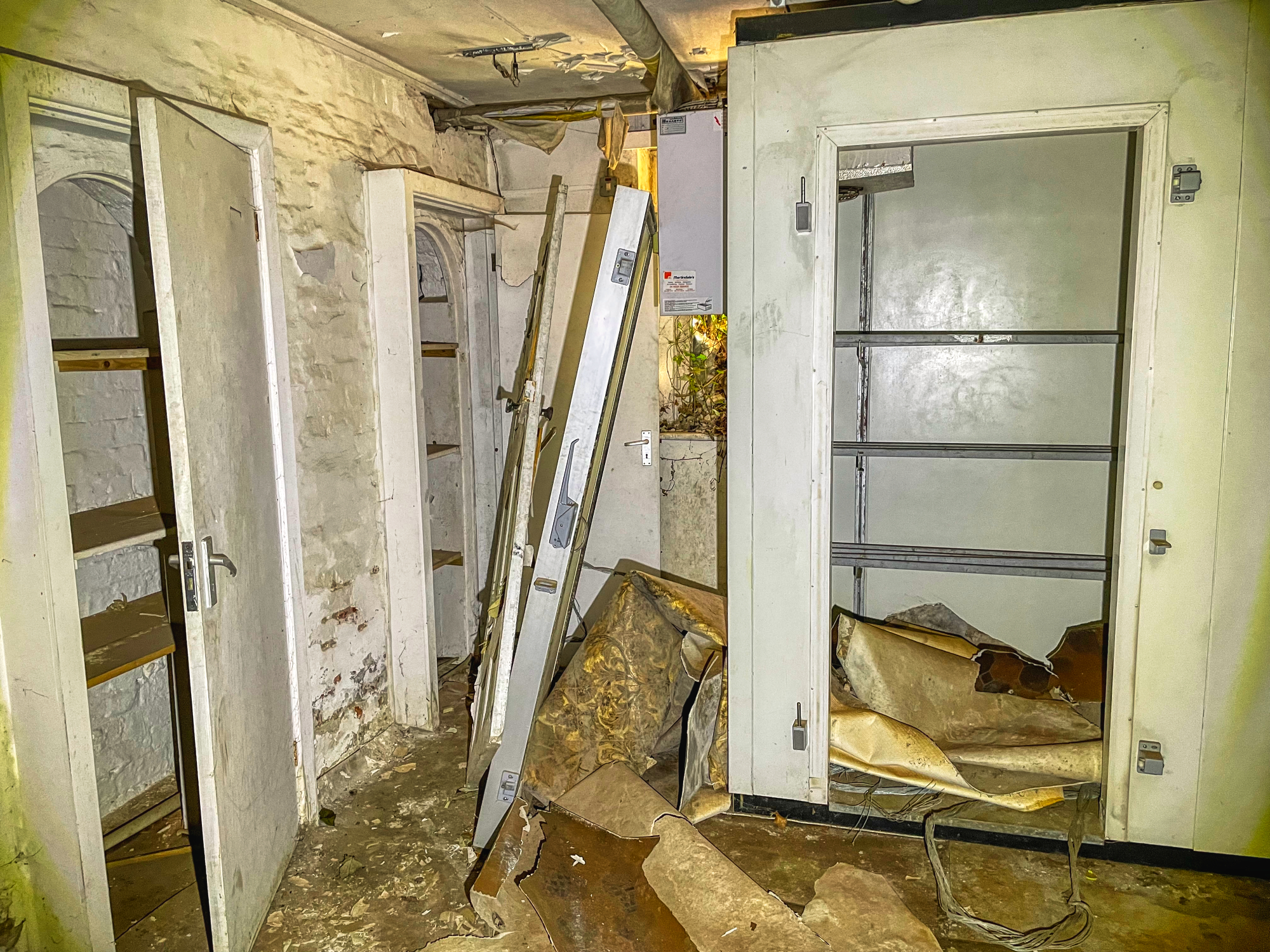 Some of the doors looked quite new. They must have done some refurbishment work just before the closure.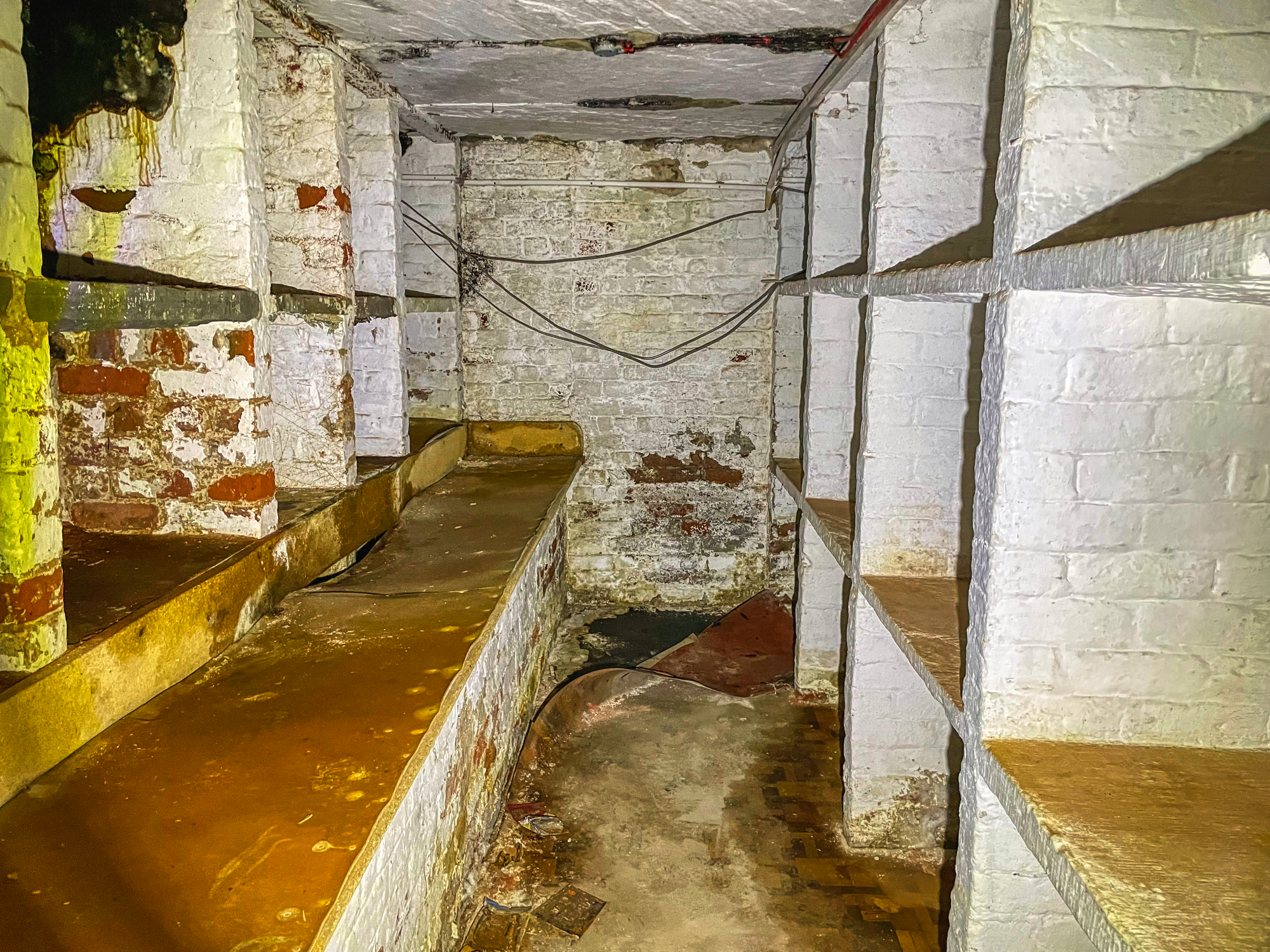 Down in the cellar where the wine used to be kept for the lords; dark, stinky, and cold.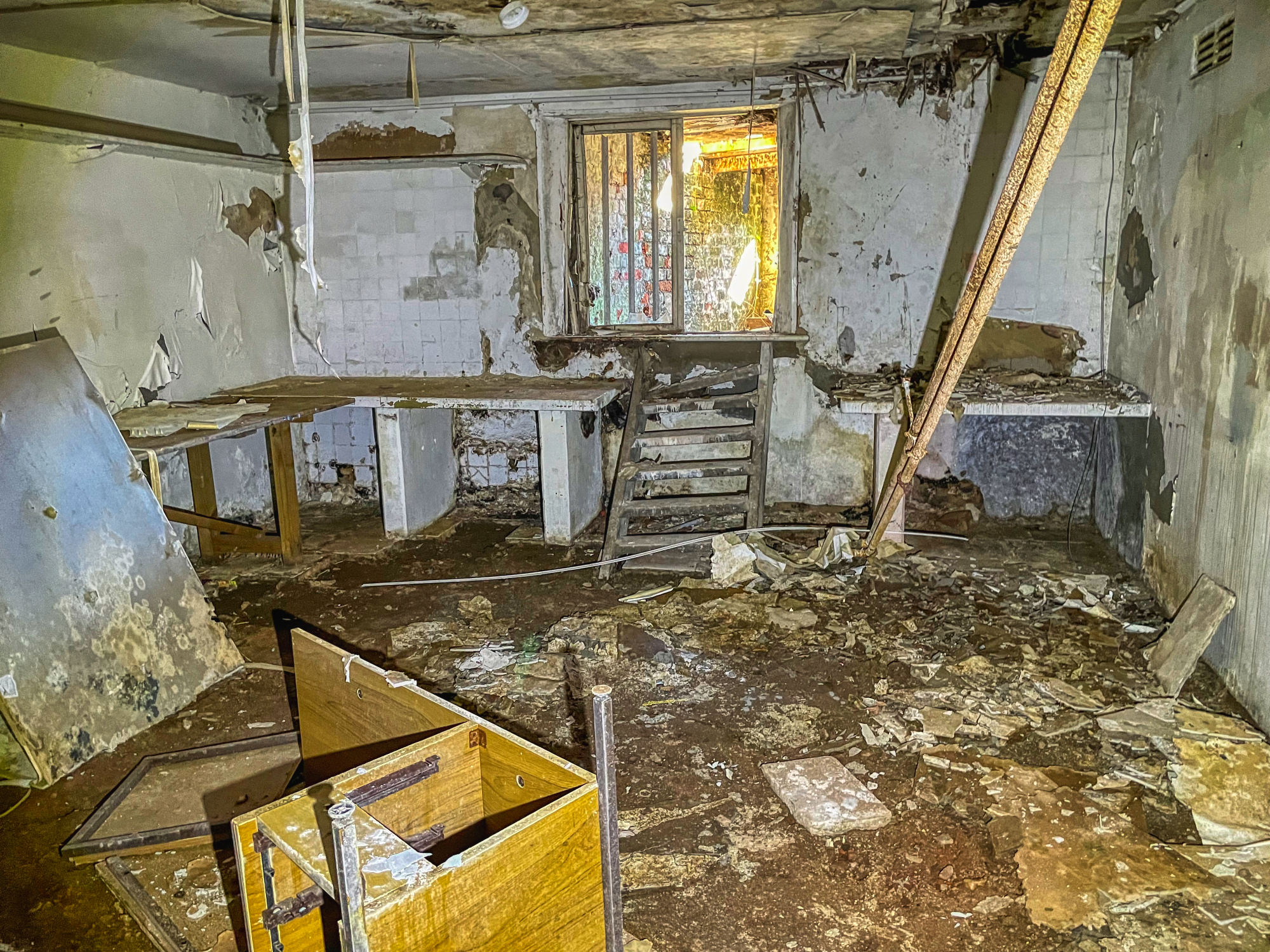 I am sure that's not an official exit point but I used it anyway.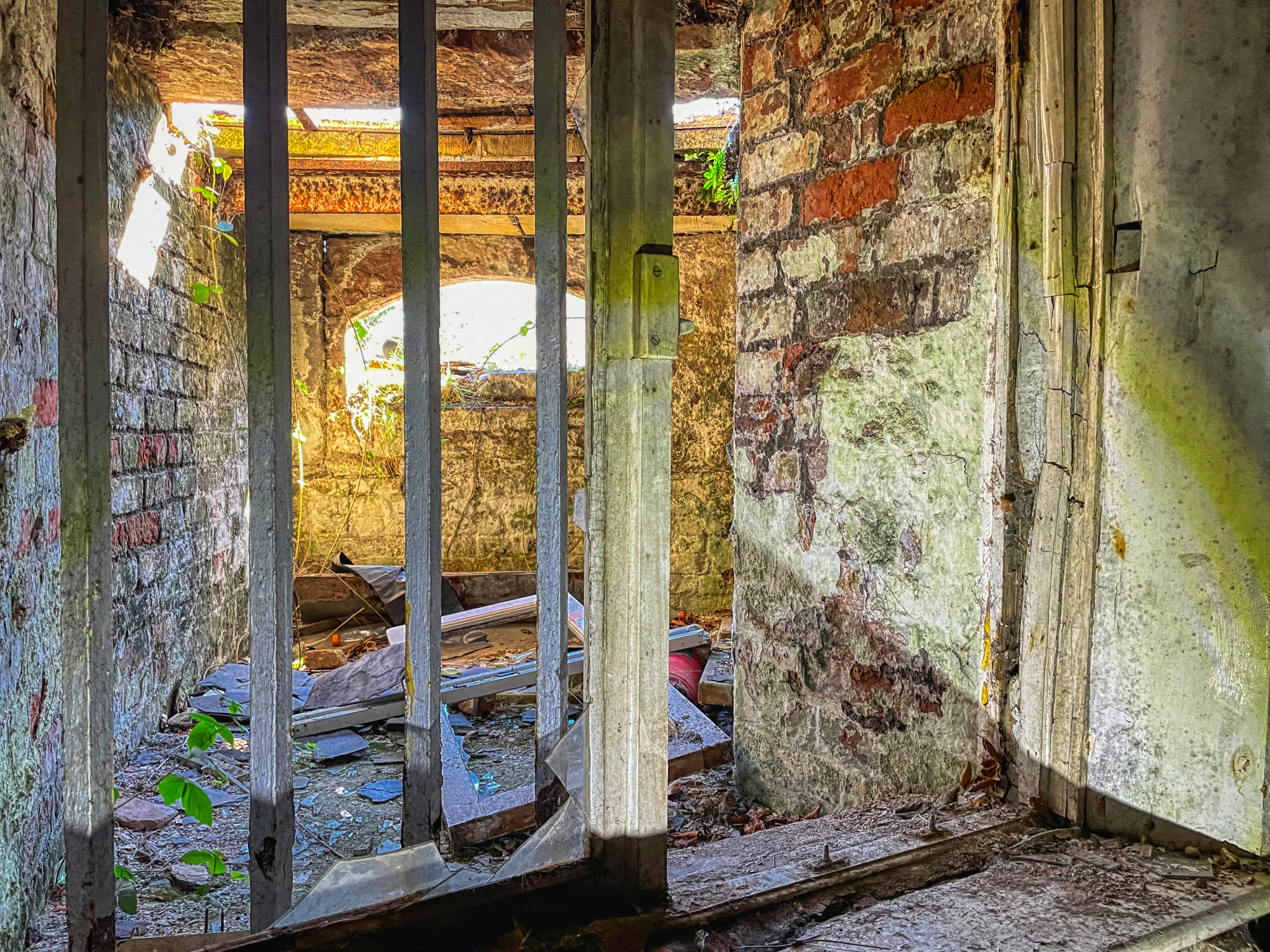 It could have been another entrance point once if a little tricky to access. There were plenty of other, easier holes at 'St Gabriel's Convent'.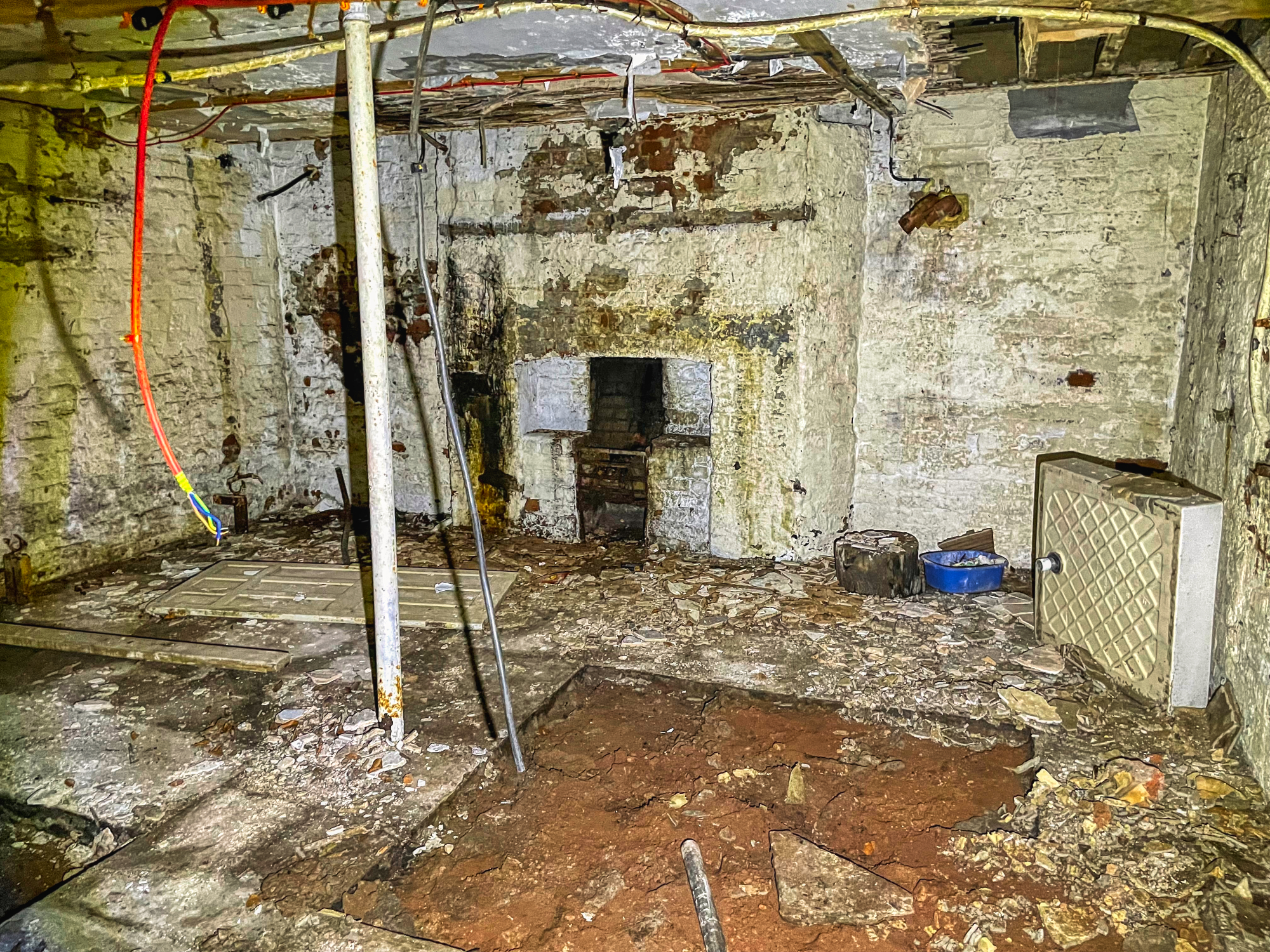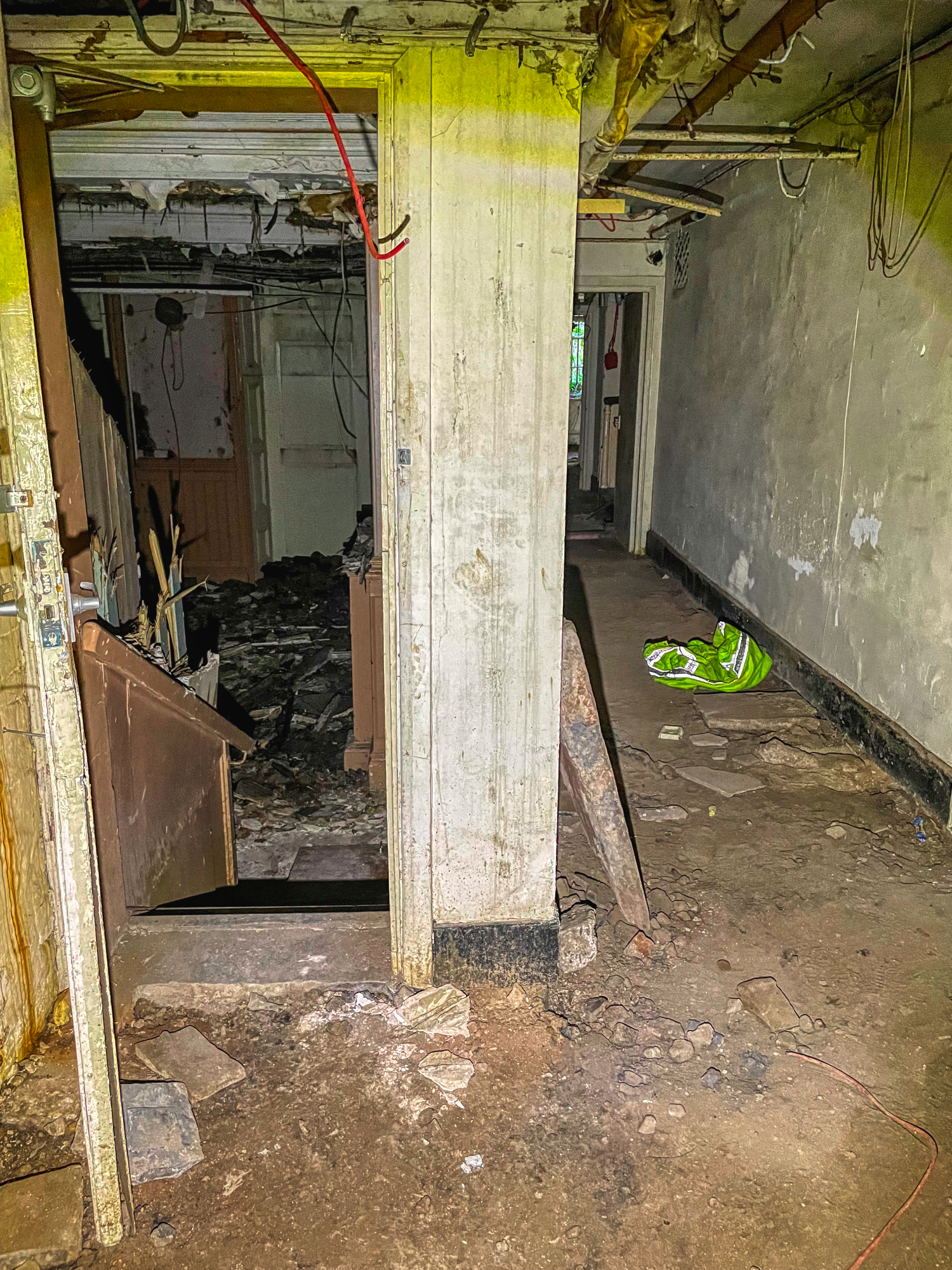 The manor house was winding and like a rabbit warren. We found doors, corridors, and secret stairways everywhere.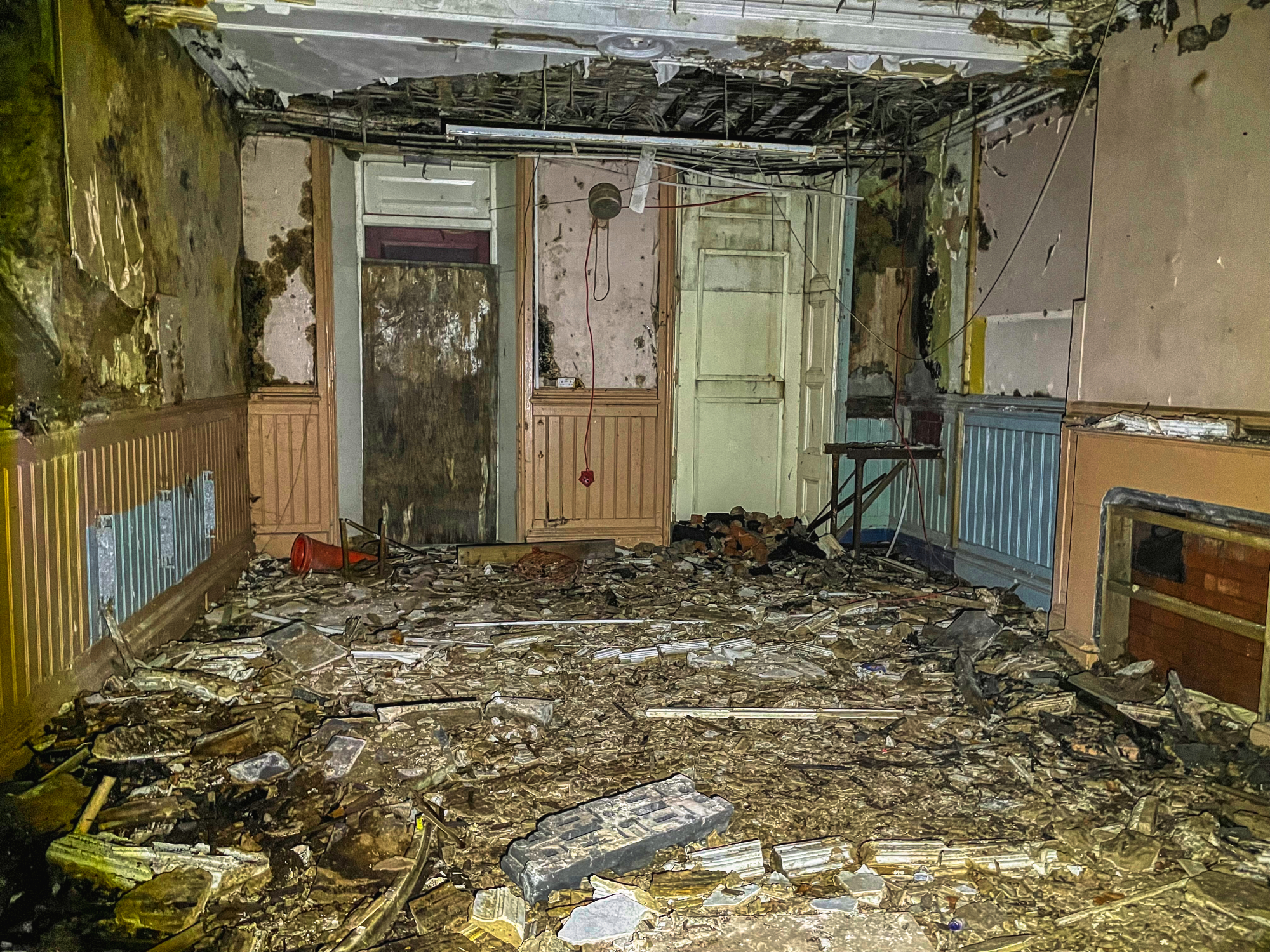 After finding little other than pure derpyness, I figured it had been left a little too long to contain anything else.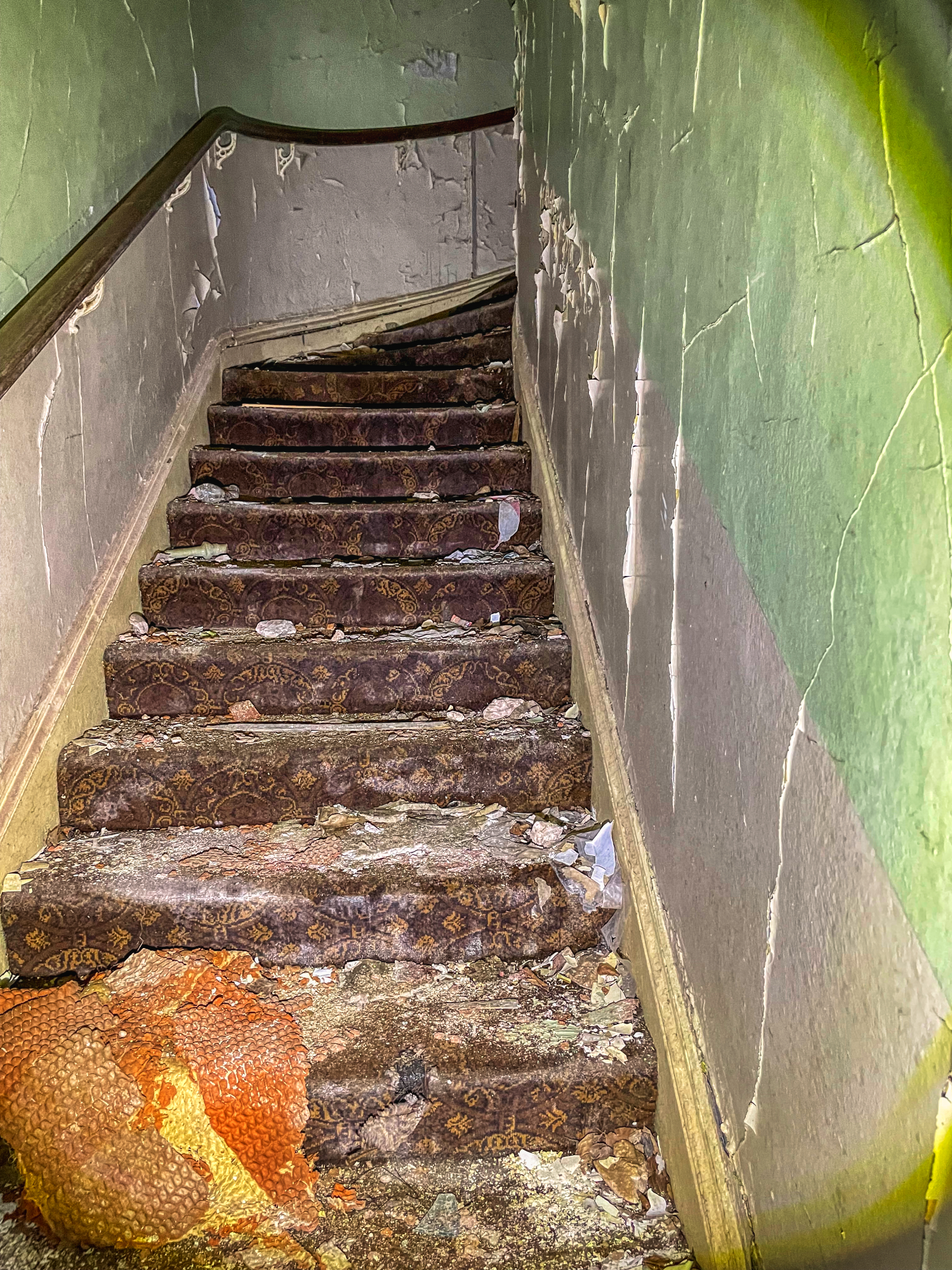 It was extremely solid, with no chance of falling through these stairs and even sporting Wilton carpets.. if not quite with todays fashion.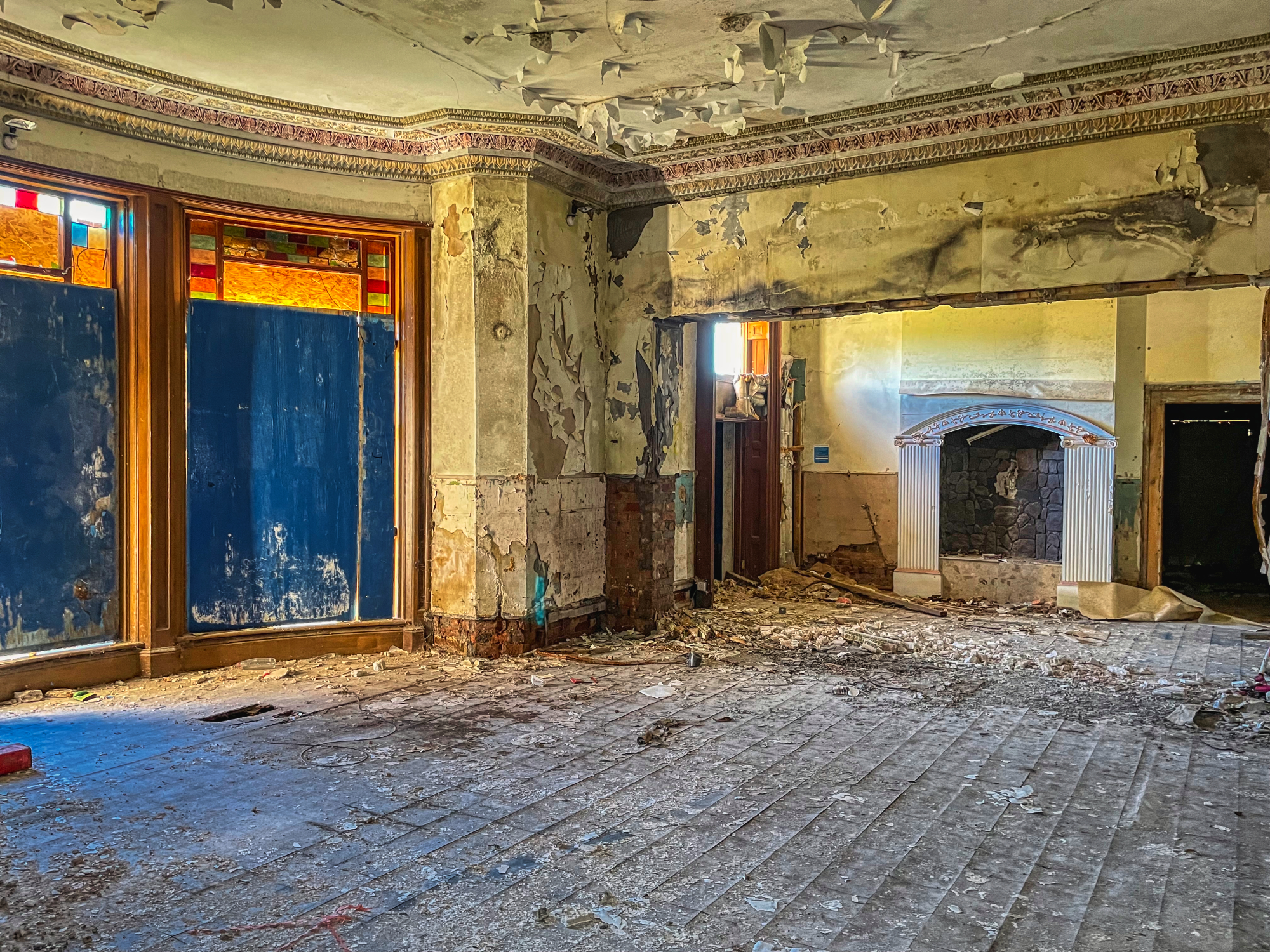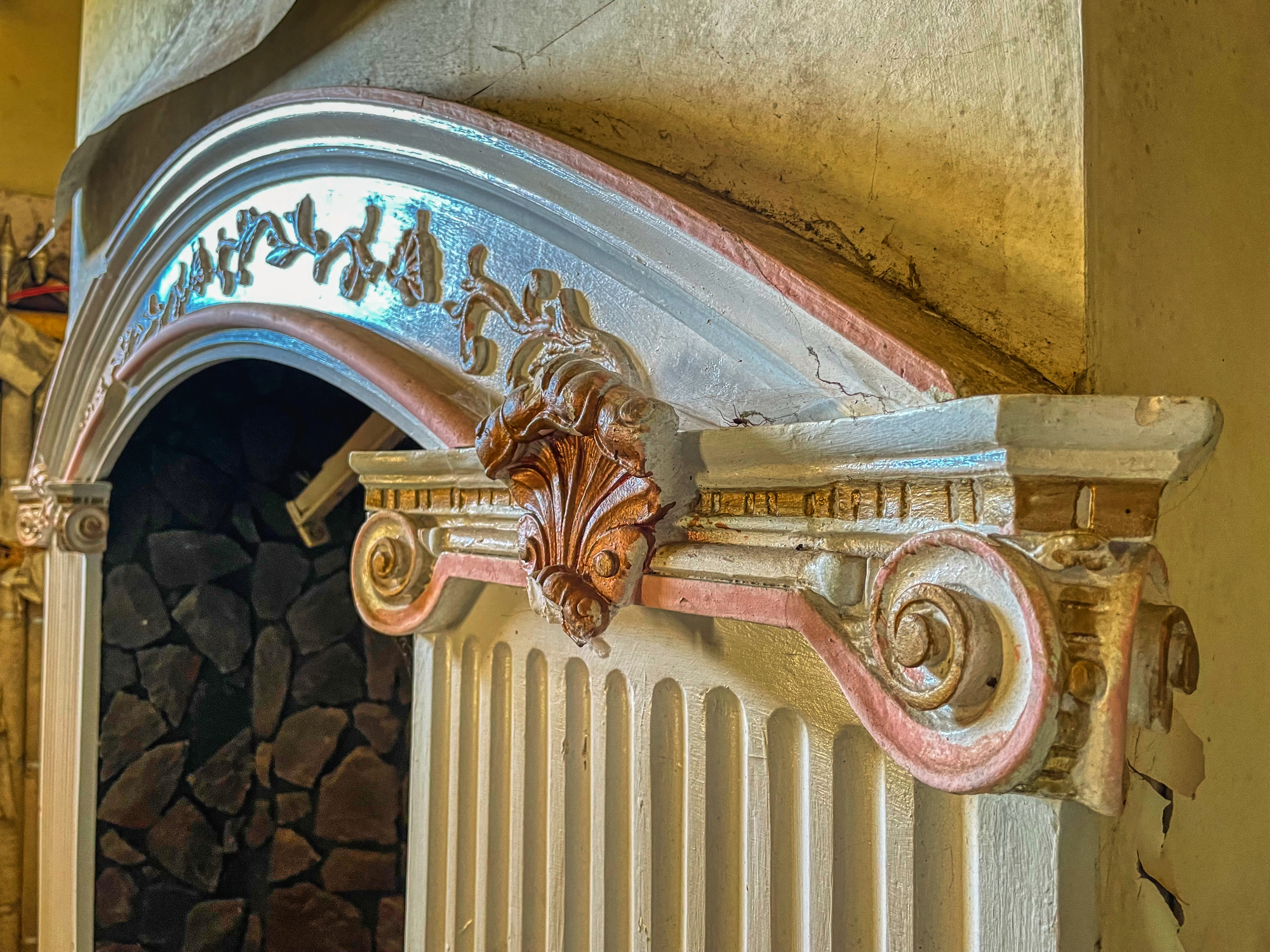 Large rooms and elegant fireplaces; this is what I love about old architecture, the attention to detail that is missing in today's world.
Feel free to call 'The Rapist' or 'Fat Sam', both numbers are freely available.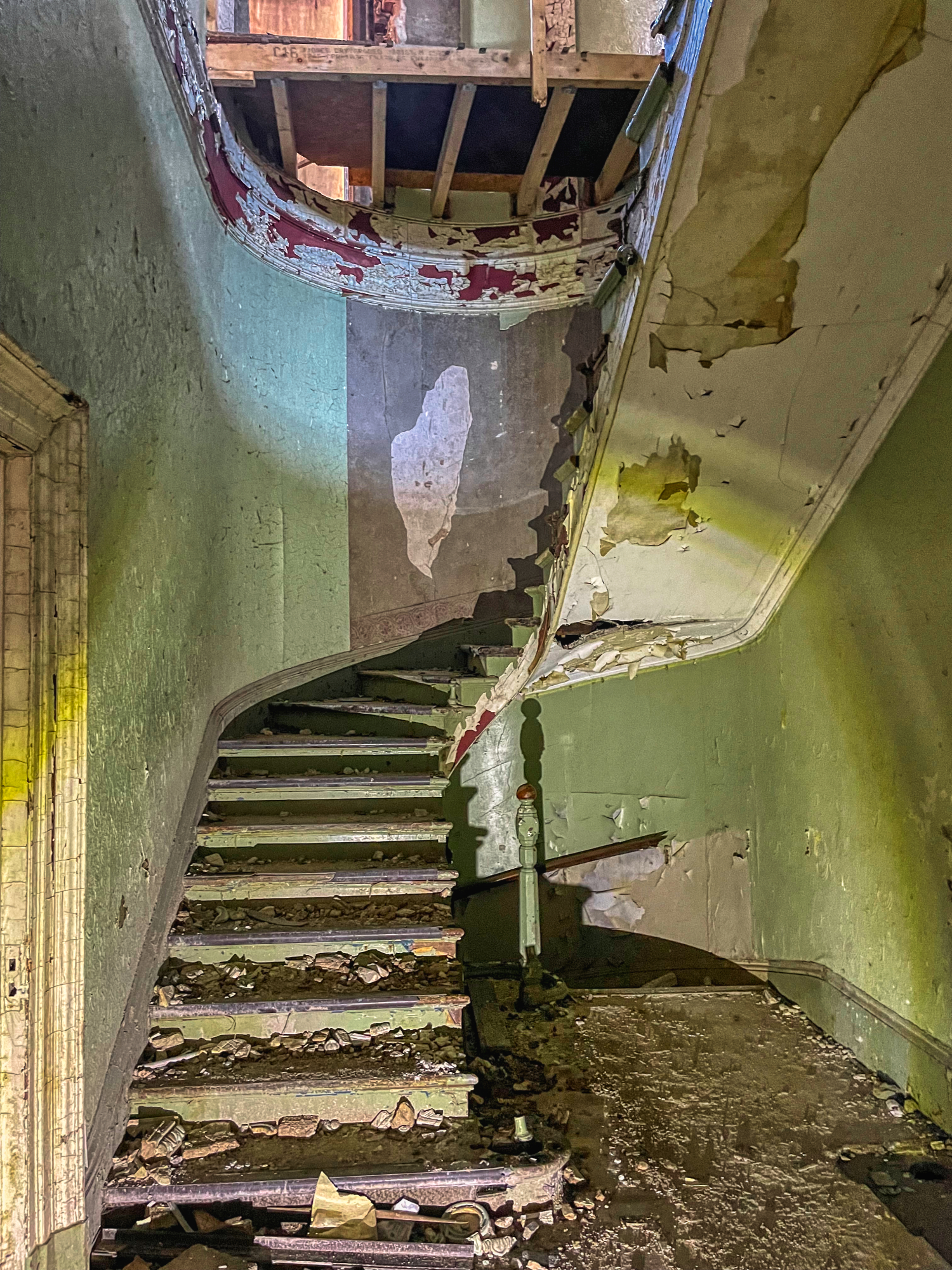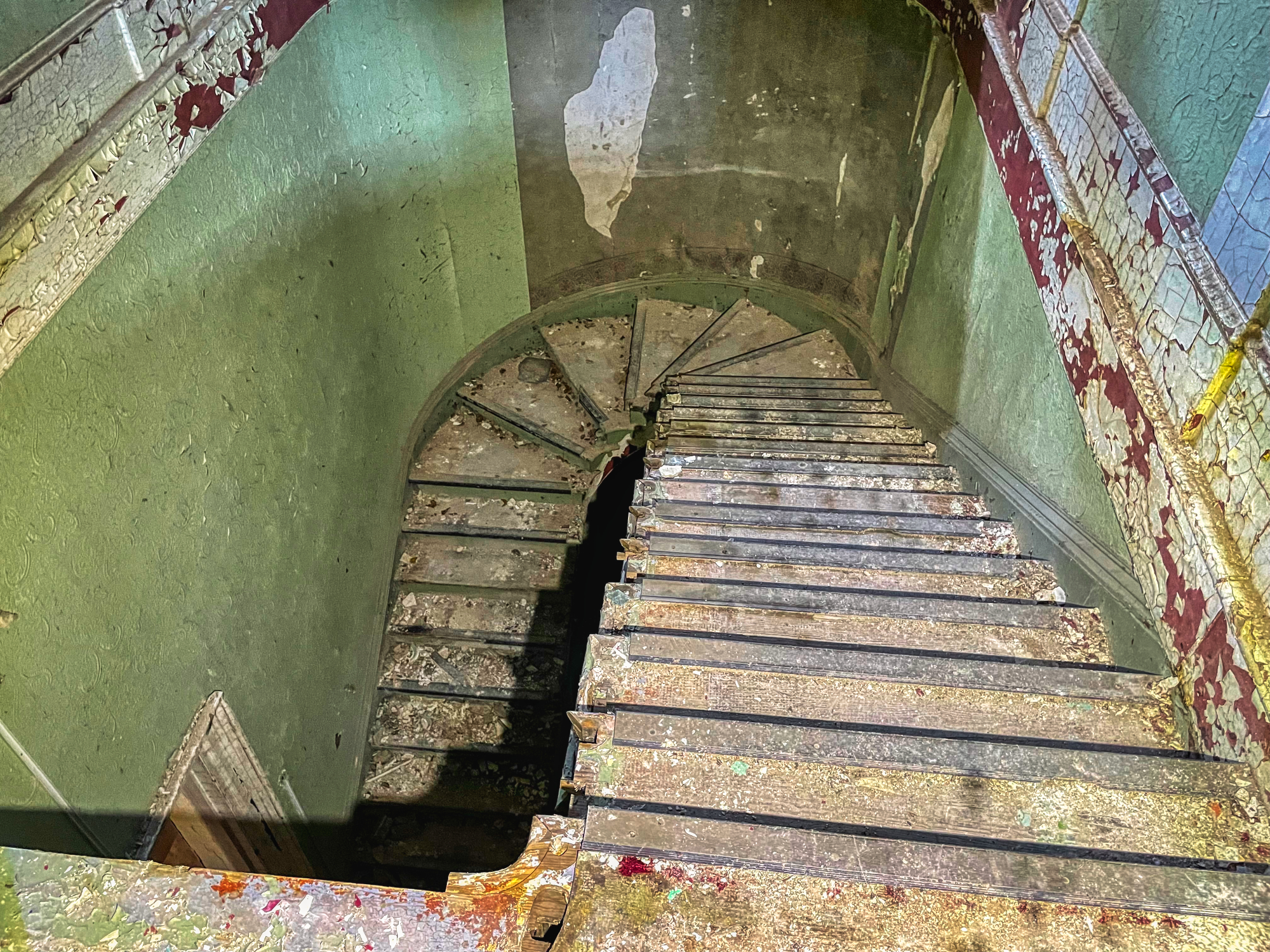 It would have been too much to expect the banister to be intact.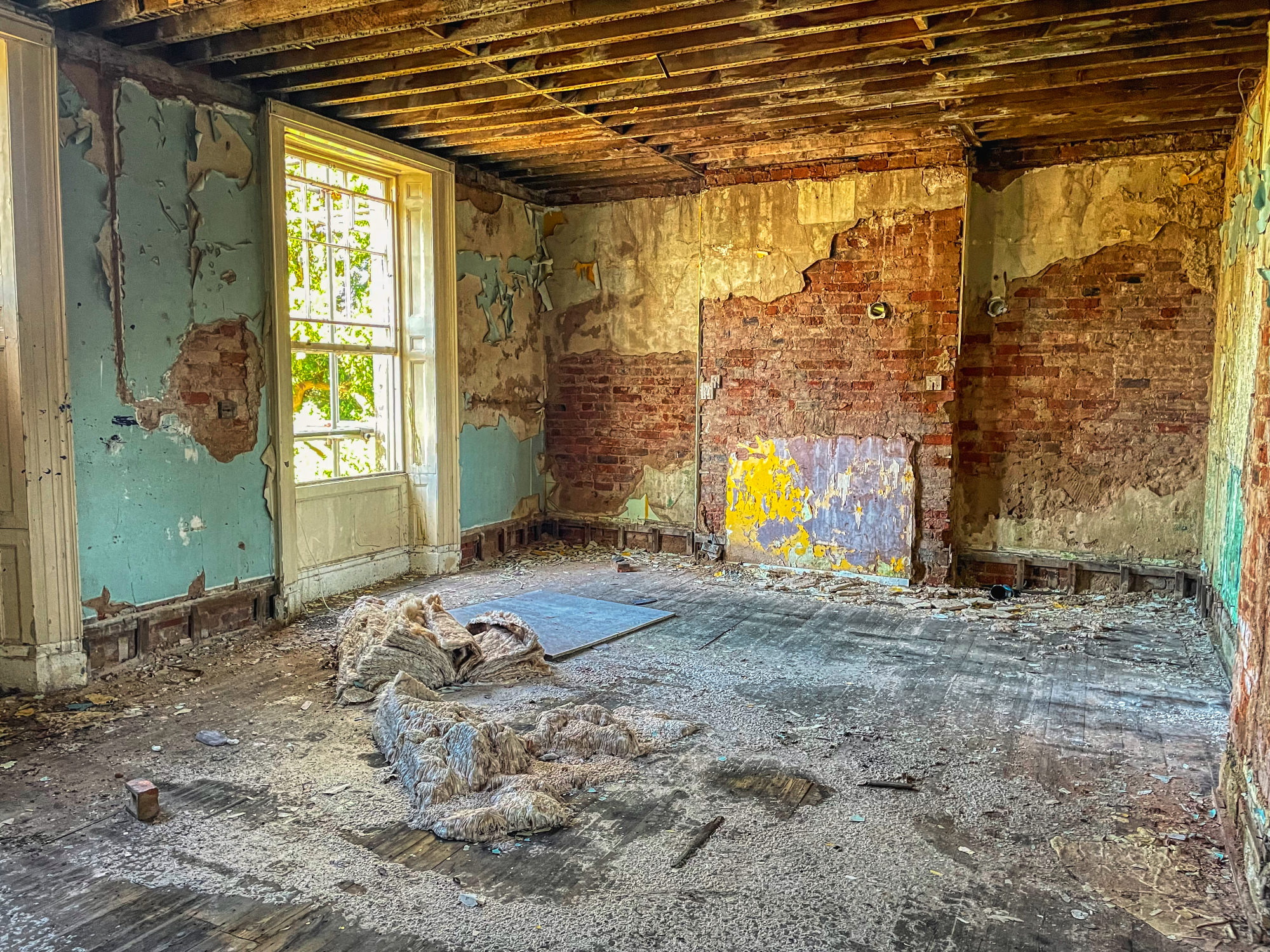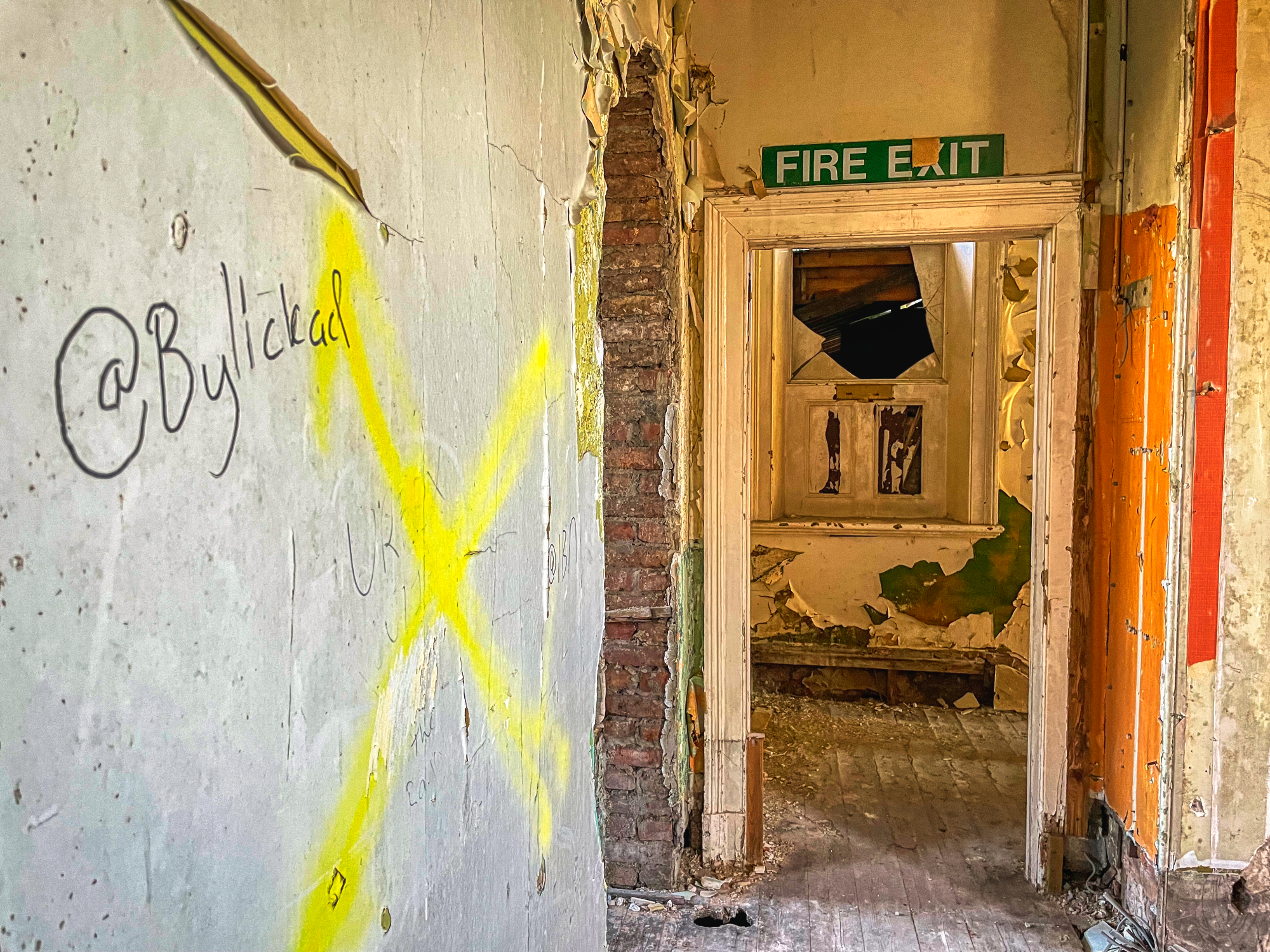 The upper floors were full of emptiness apart from a little graffiti and the odd Twitter handle.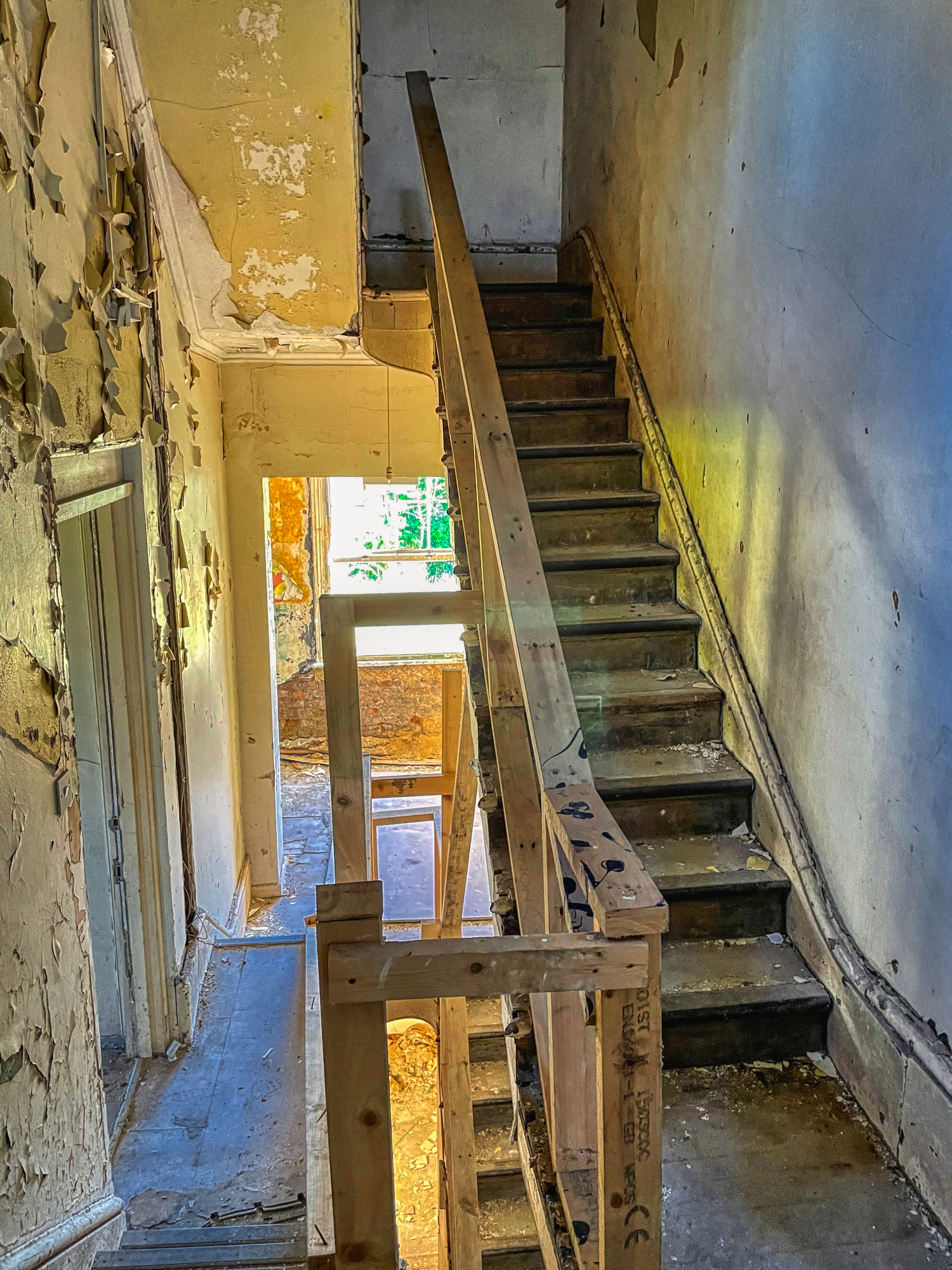 This staircase looks slightly renovated. I was hoping there would be none inside.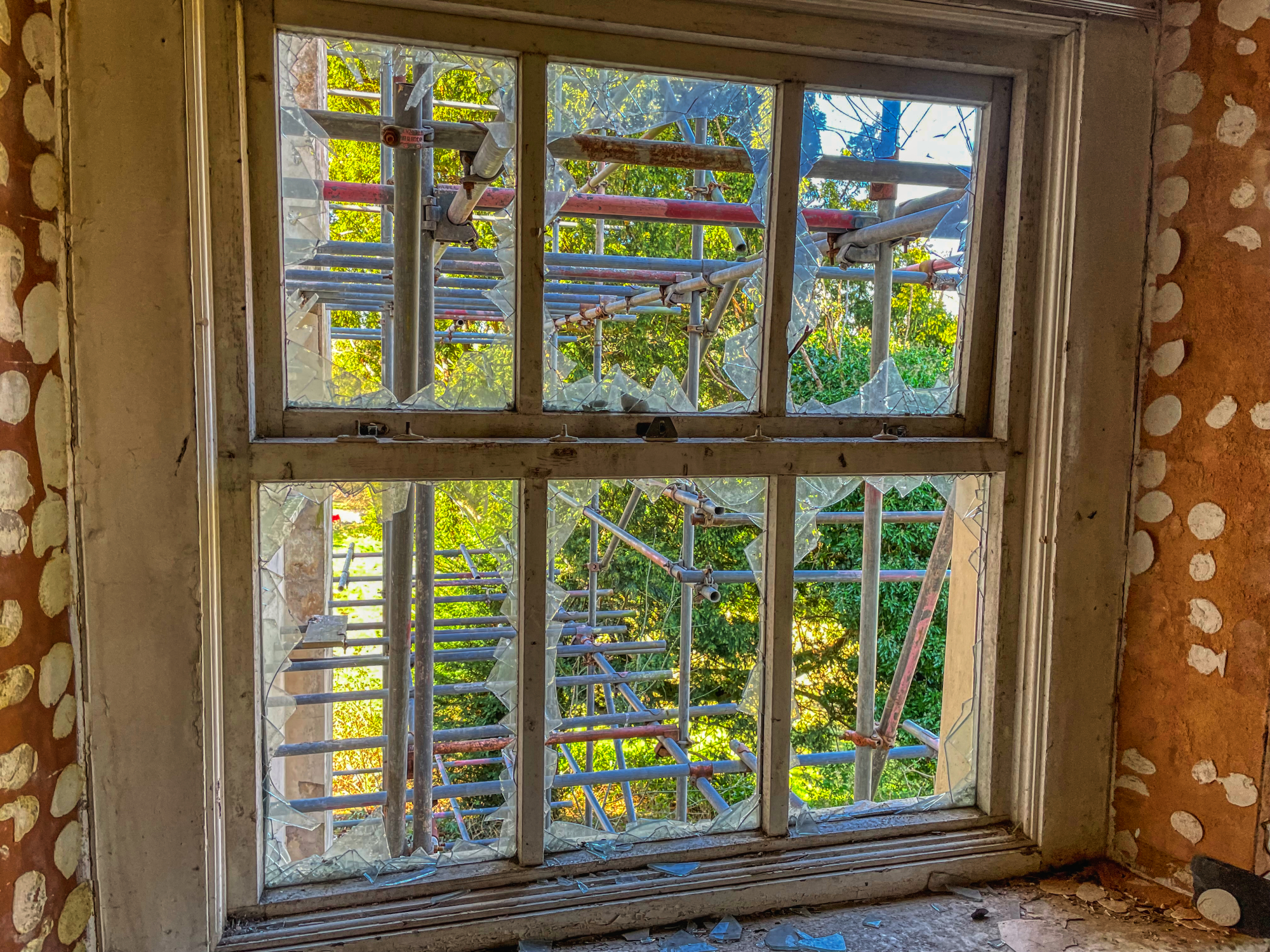 There was plenty outside, but the scaffolding refurbishments even looked abandoned.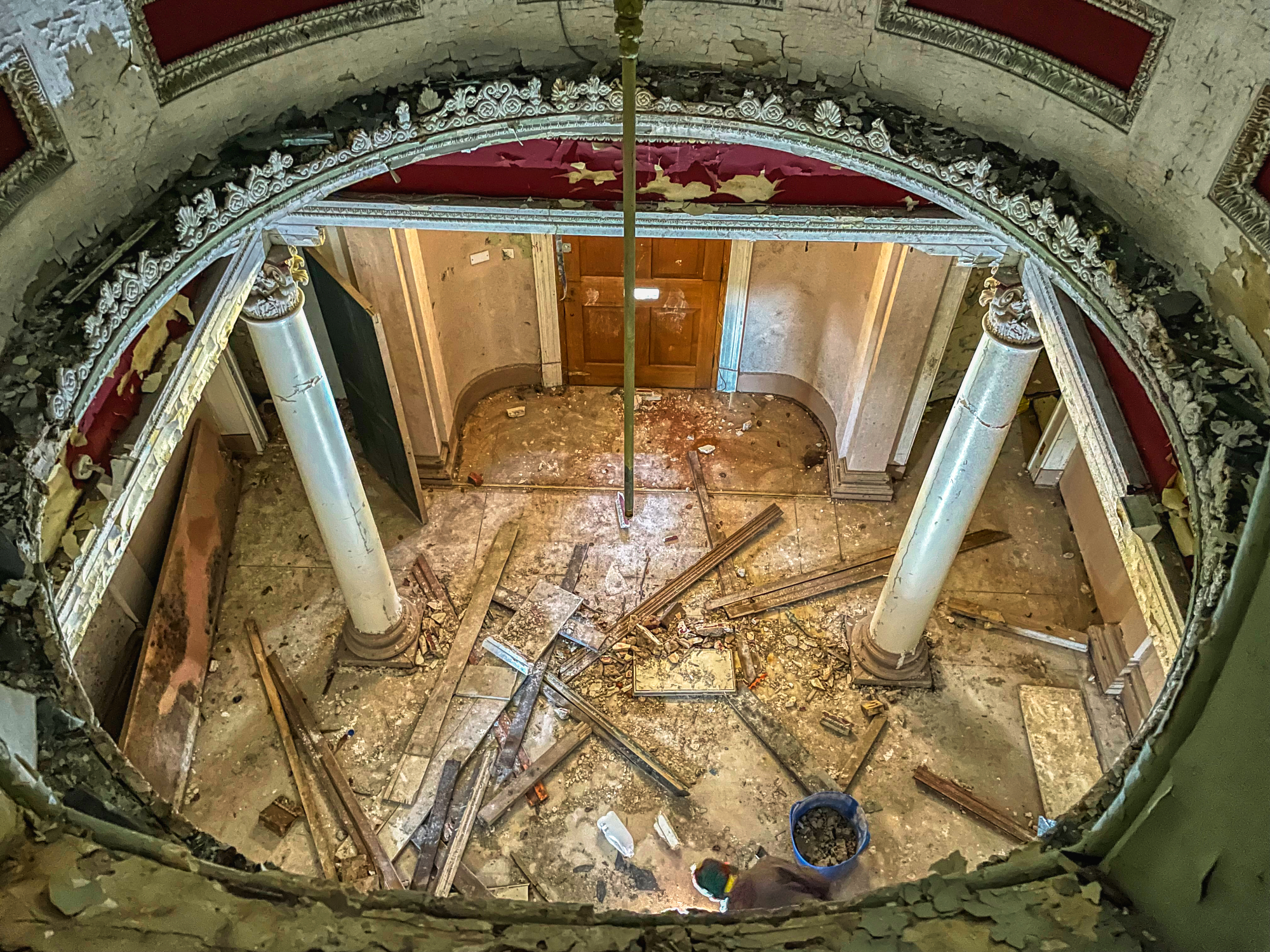 There's no banister to stop you from falling anymore, it would have been majestic once.
The only life in here now is these annoying pigeons who repeatedly scare the fuck out of you when moving from room to room.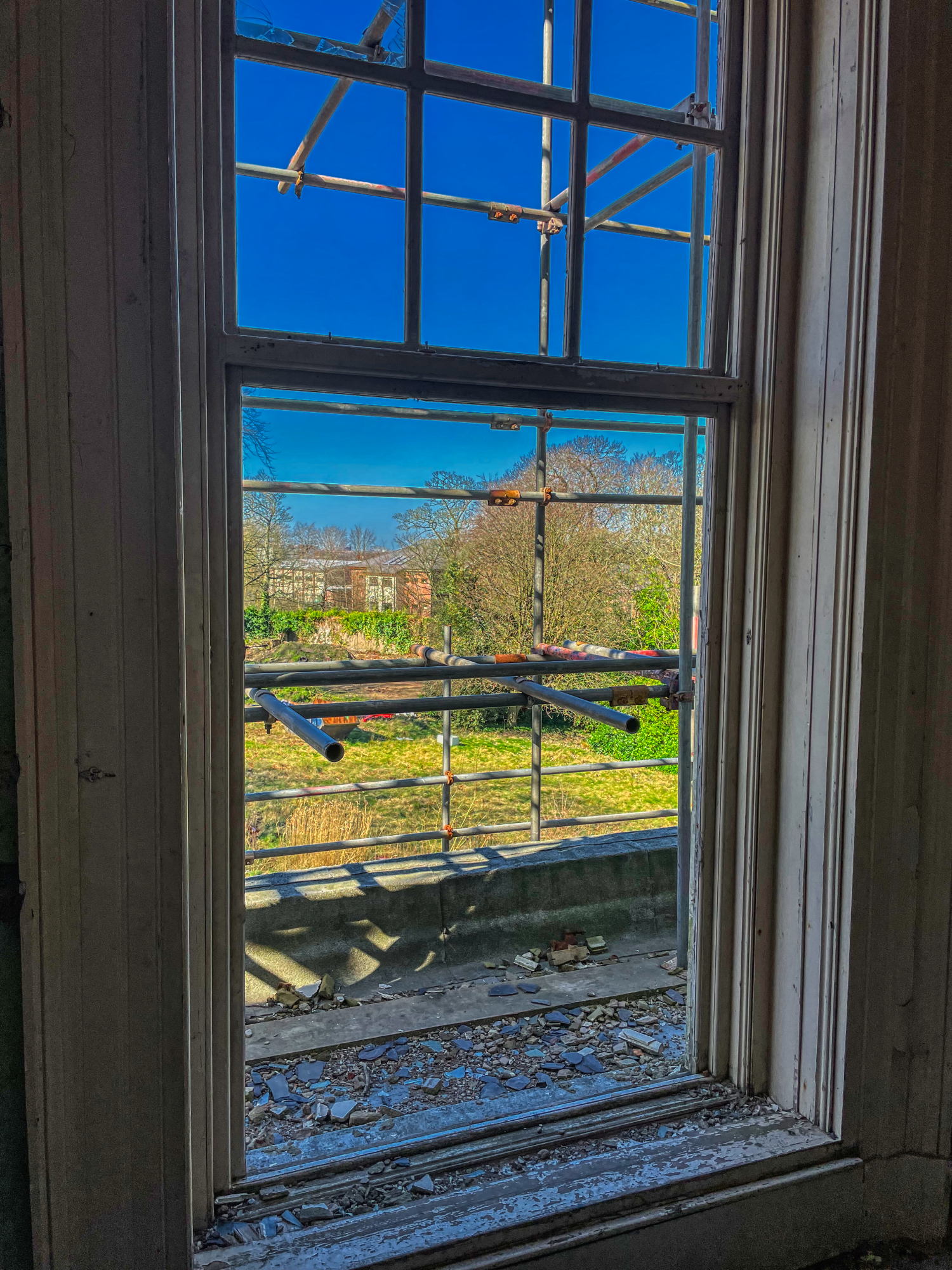 Like any great manor house from the early 19th century, you can exit the window to sneer down on the lowly peasants anytime you like.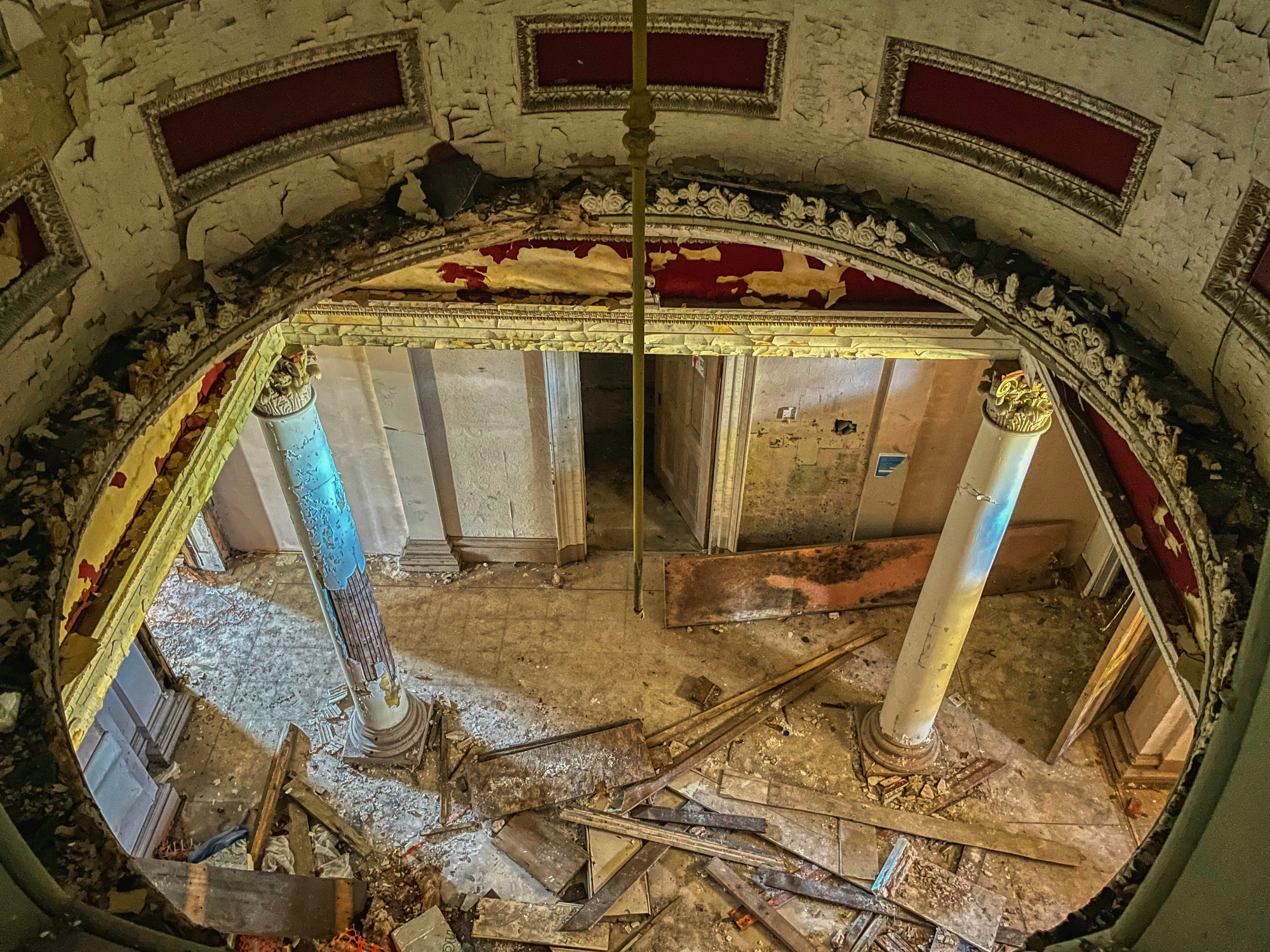 The same spot from another angle, look at those pillars. I wonder if anyone has ever jumped?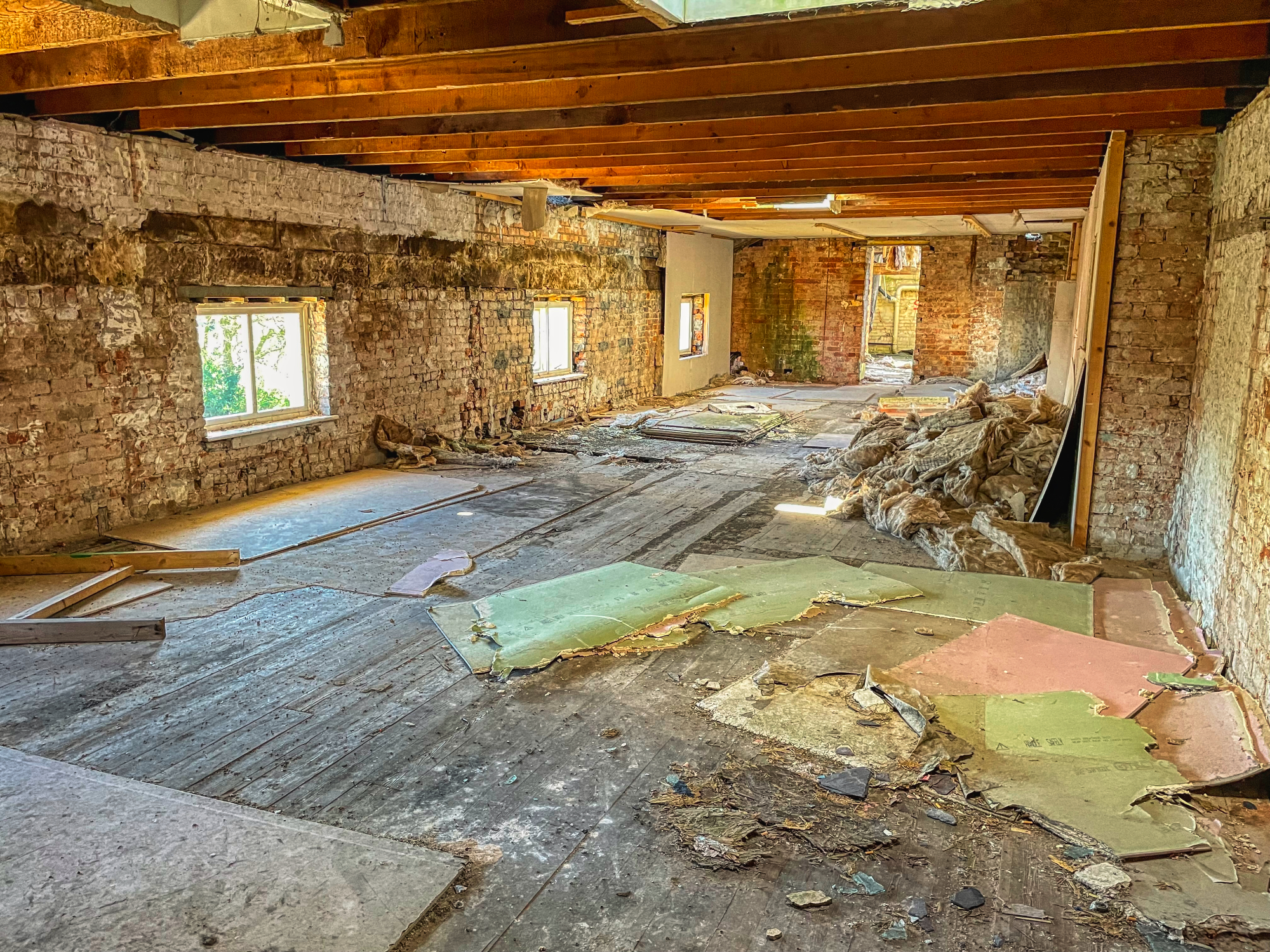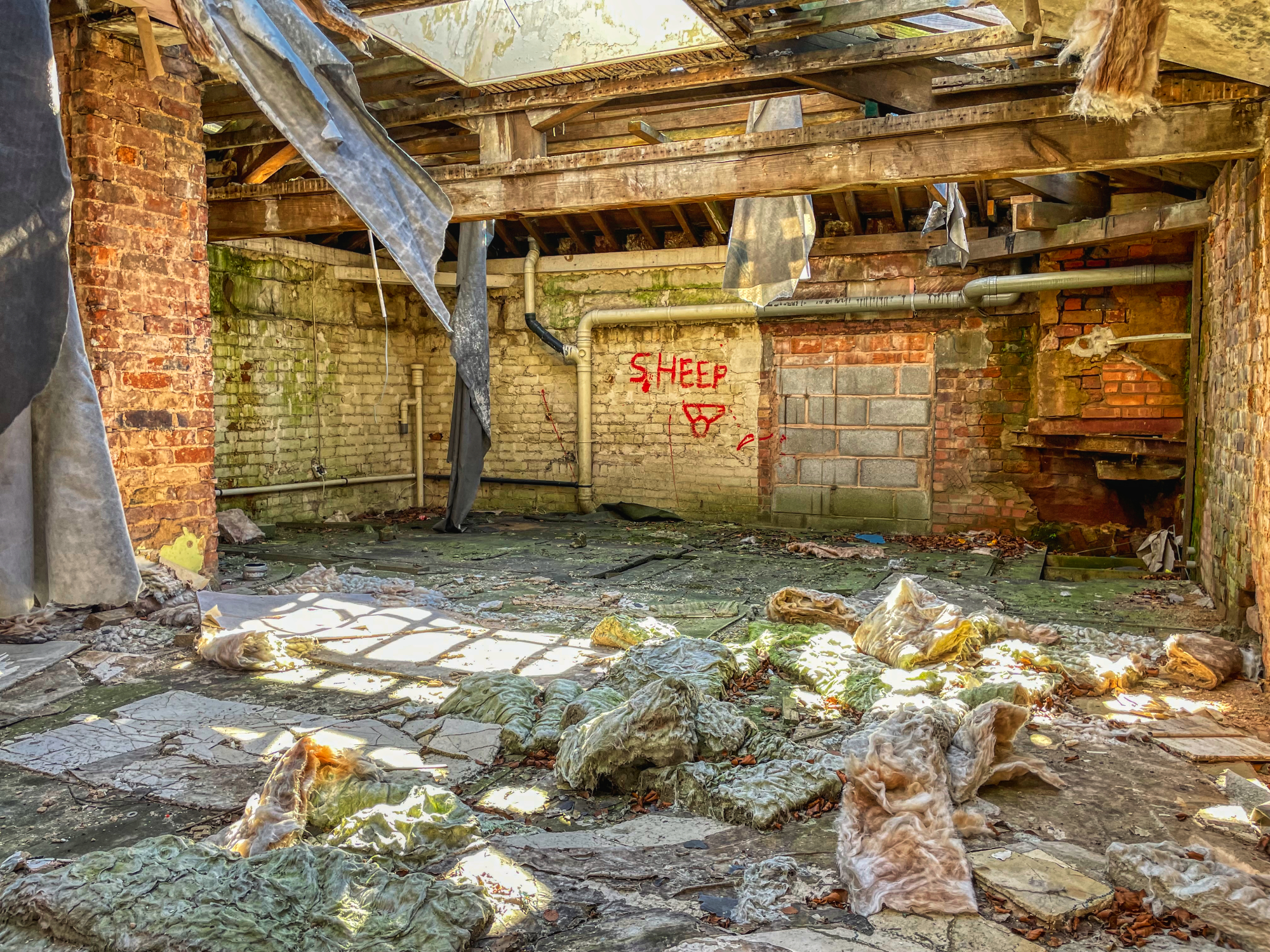 The top floor appeared to be full of sheep wool, the walls confirmed my suspicions but in reality, the roof insulation had fallen through.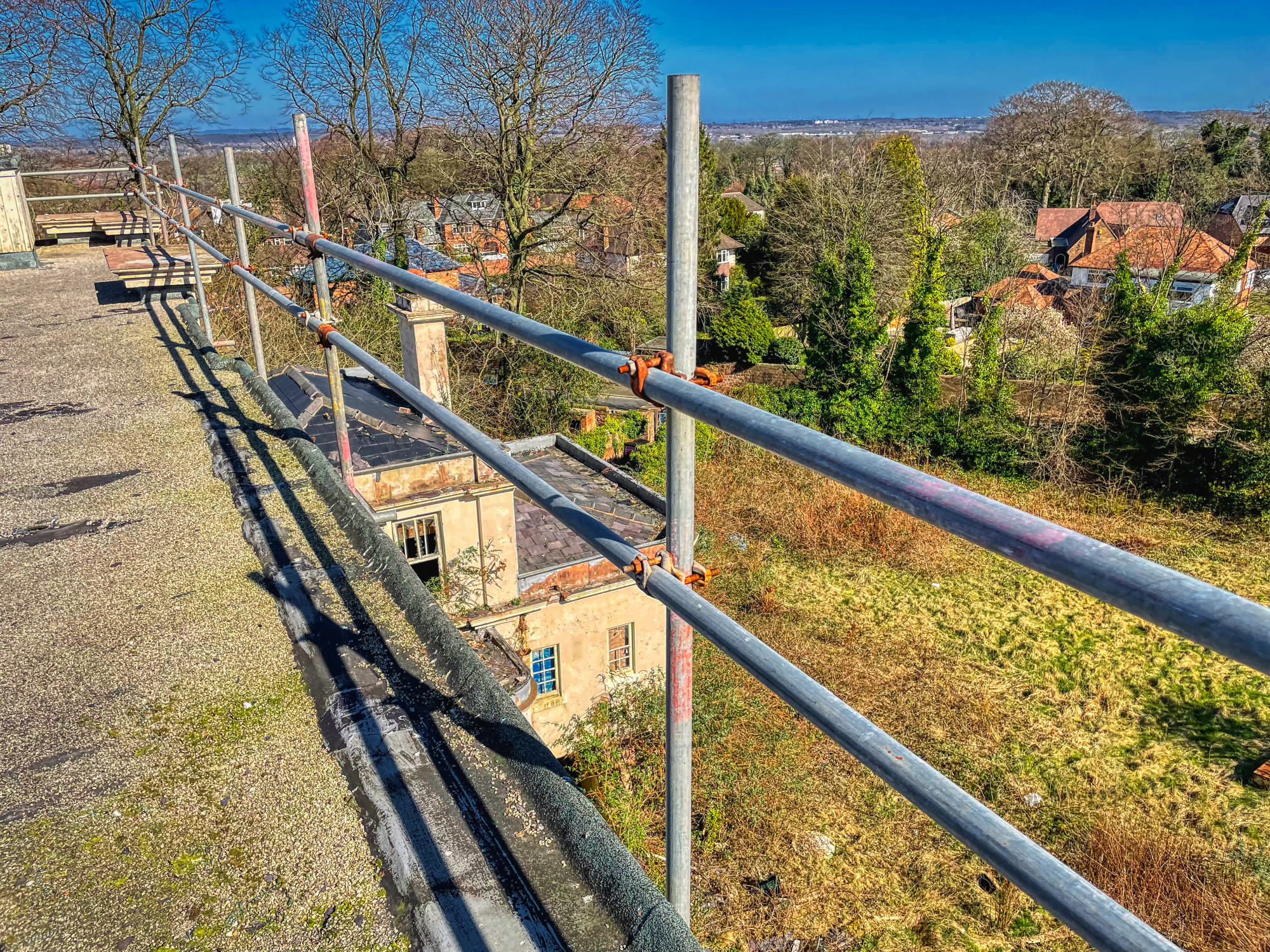 Exiting onto the roof was simple. Presidents need to escape by helicopter don't they during sieges?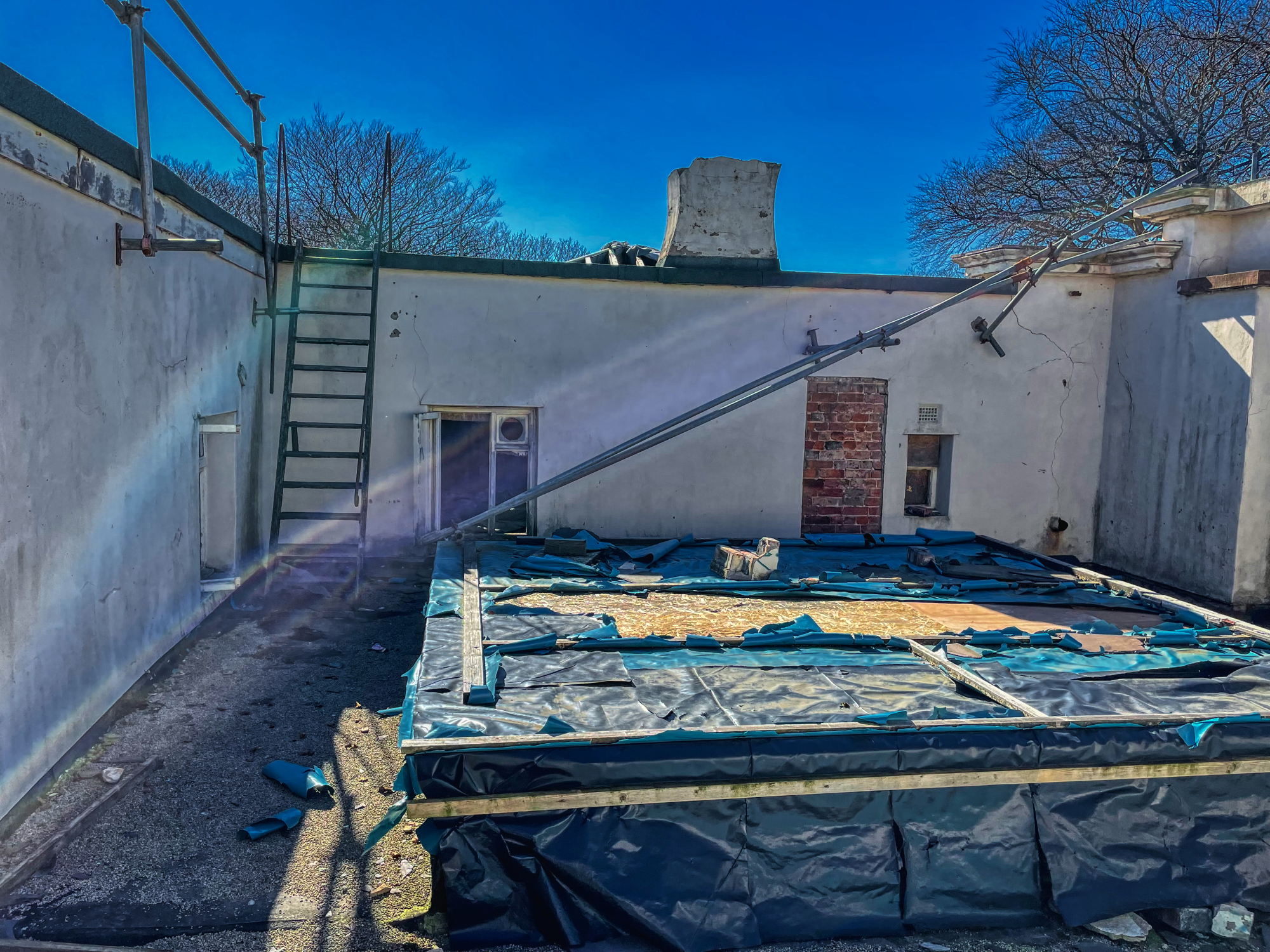 We didn't particularly want to advertise ourselves too much up there, blue flashing lights and cops were not on our agenda.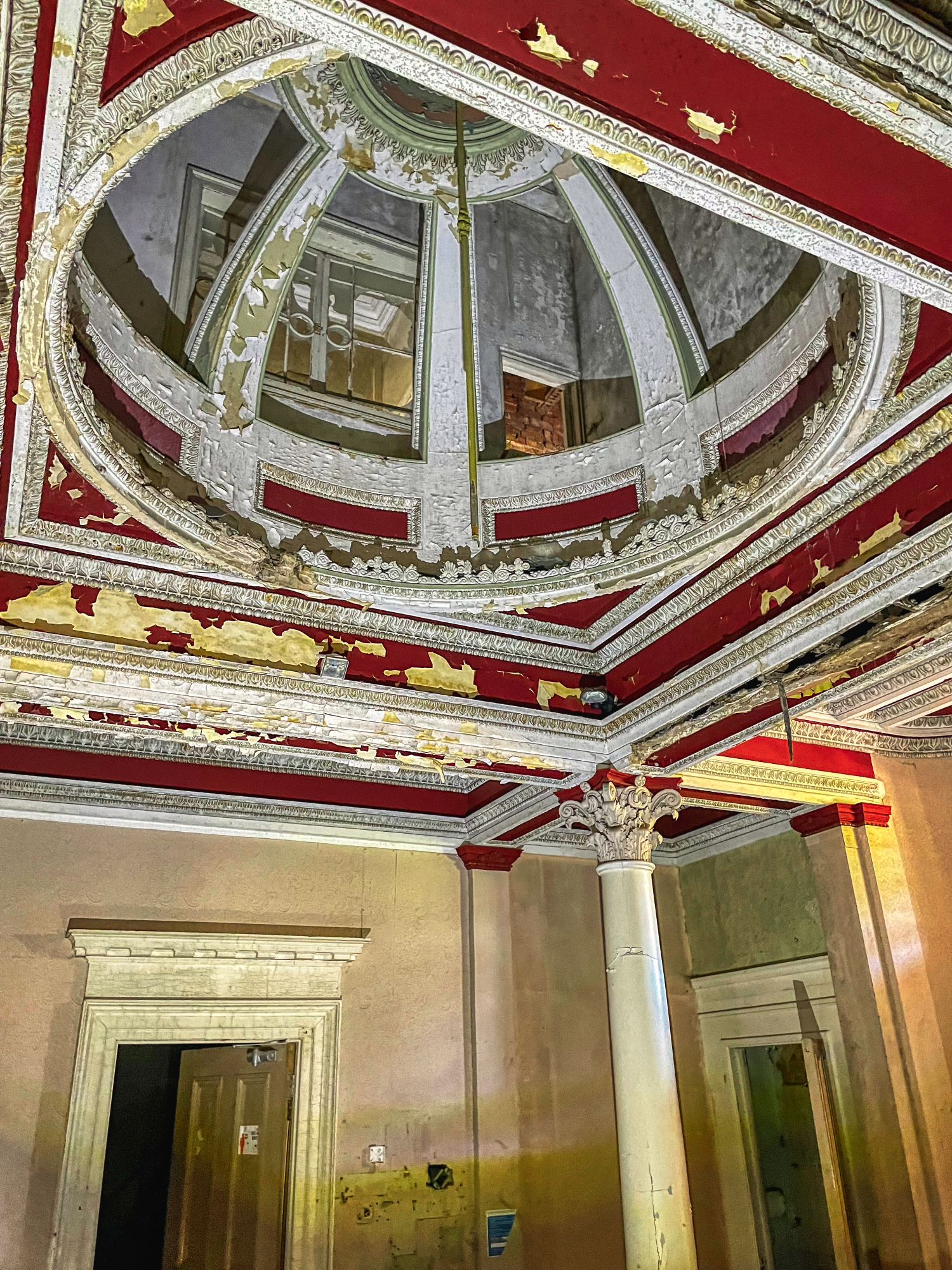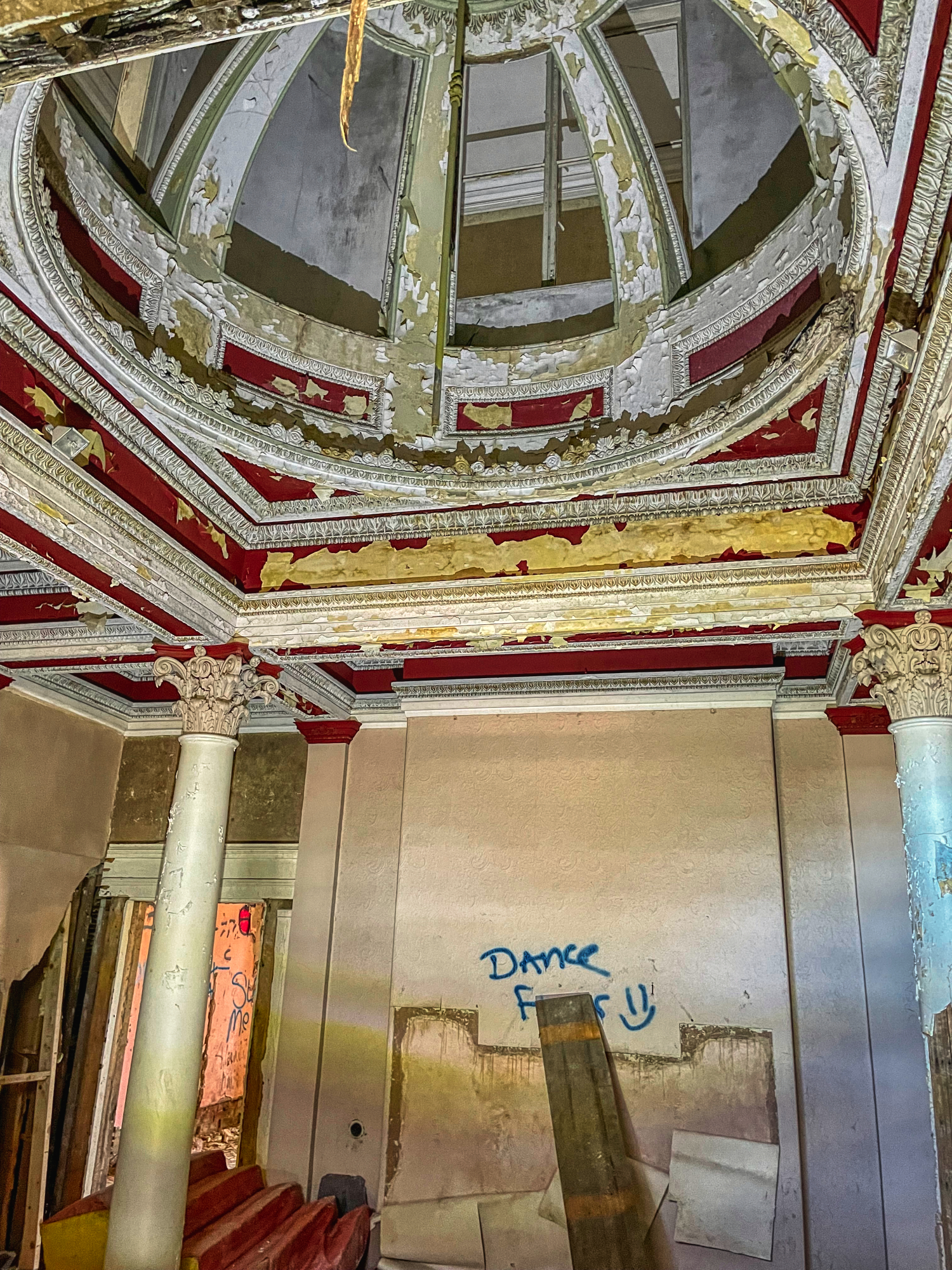 After taking a couple more shots of that fantastic ceiling we headed outside confident that if there was any security, they were long gone.
We spotted some hopeful kids approaching the building who momentarily froze when spotting us.
...this seems to happen a lot, do we look like fucking security officers or something?...
Maybe they were more brazen than the usual suspects, but they didn't run and simply carried on heading to the house after a short pause. That's scouser kids for you, they don't give a shit.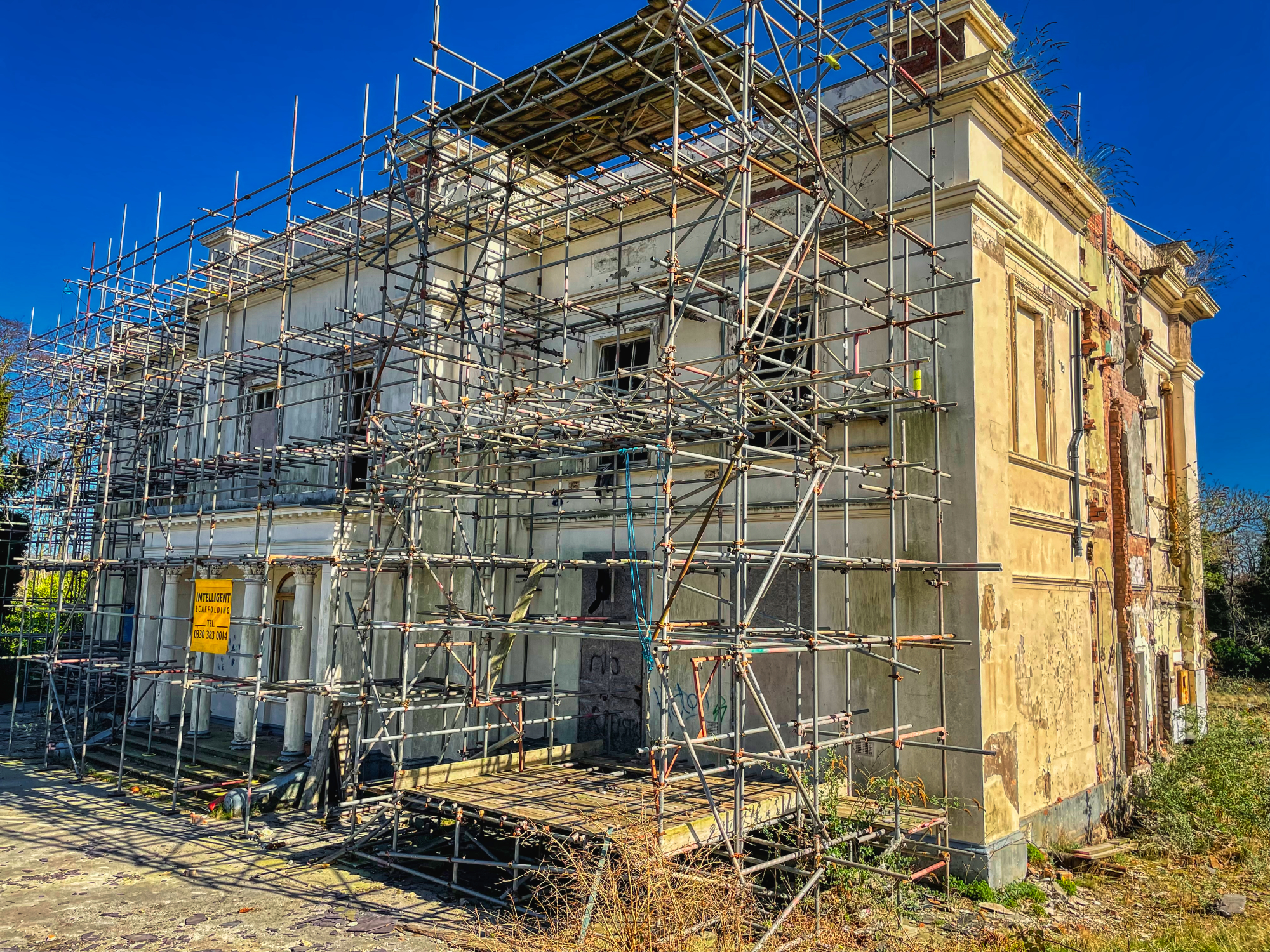 I read that 'St Gabriel's Convent' was sold for £6,000,00 in 2017. Whoever has bought this once magnificent manor house needs their fucking arse kicked.
Structurally it has survived quite well inside. I saw no huge pools of water, the roof appears OK, and the stairs are not collapsing either.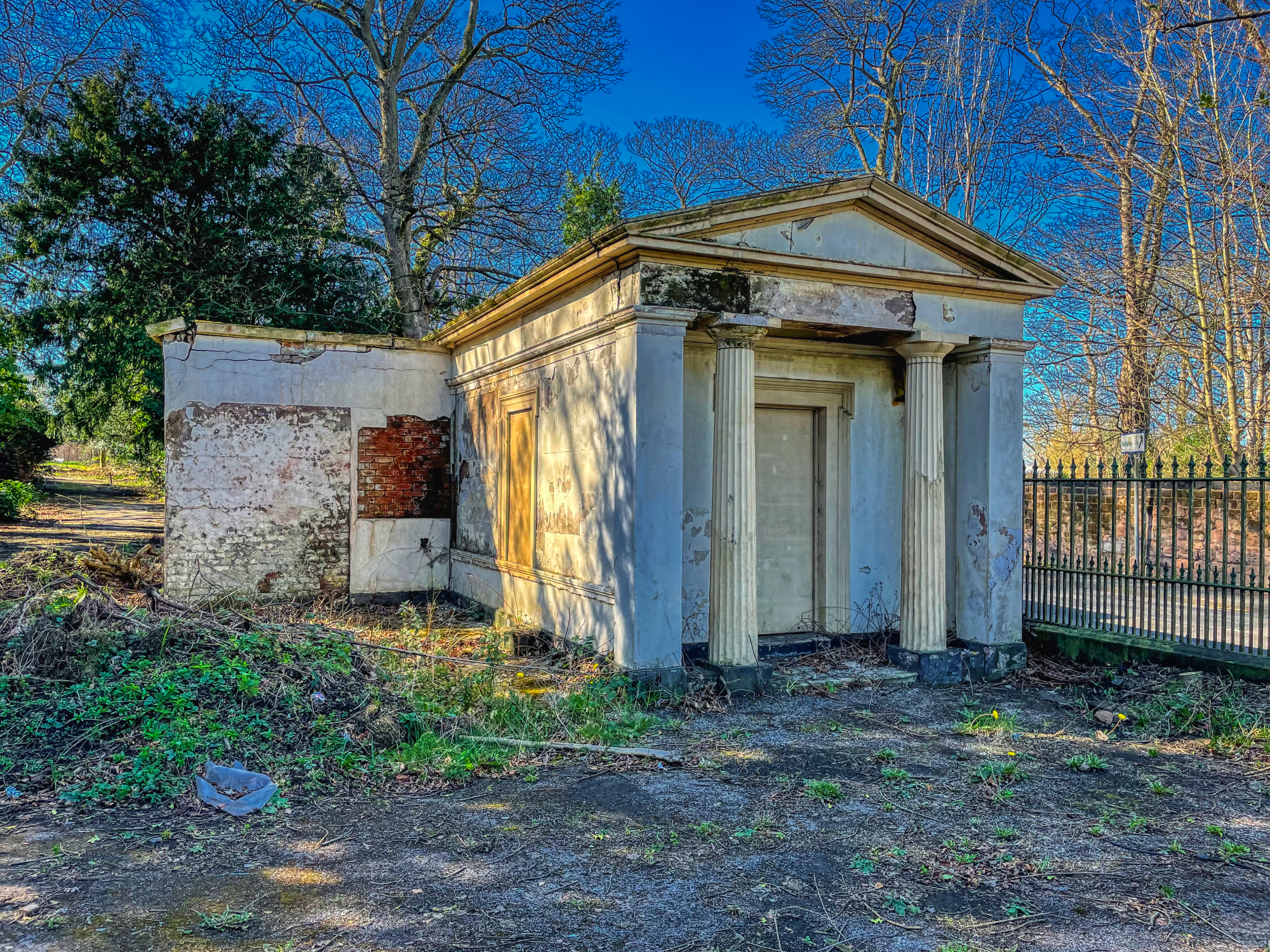 It has a decent amount of land surrounding it and could house one of those overpaid Liverpool Football players if fully renovated.
After all… it's a stroll to Anfield from here.

Do you like posting your Urbex content and photography for FREE on Facebook and YouTube? I like to get some form of reward for my work and every time I create I do just that. Take a look at The Urbex Community on HIVE.
If you want to keep creating for FREE then ignore what you are reading. If you want to be like me and gain something other than BUGGER ALL for your work then click here and learn about posting on the HIVE blockchain.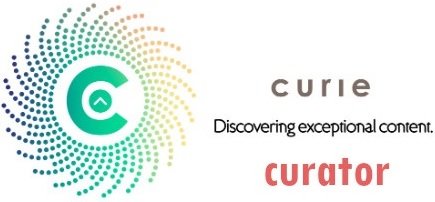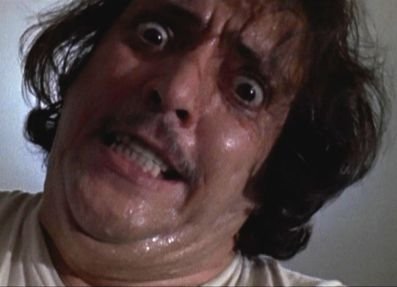 If you found this article so invigorating that you are now a positively googly-eyed, drooling lunatic with dripping saliva or even if you liked it just a bit, then please upvote, comment, rehive, engage me or all of these things.
---
---