Tales of the Urban Explorer: St Joseph's Orphanage
Yesterday I heard some lousy news that St Joseph's Orphanage was on fire. A little investigation confirmed this. For some time this famous exploration has been more accessible, it was inevitable.
The TourBus has been visiting regularly more recently, and I had been hearing rumours that it was being demolished but it seems my info was not completely correct and that work is yet to start.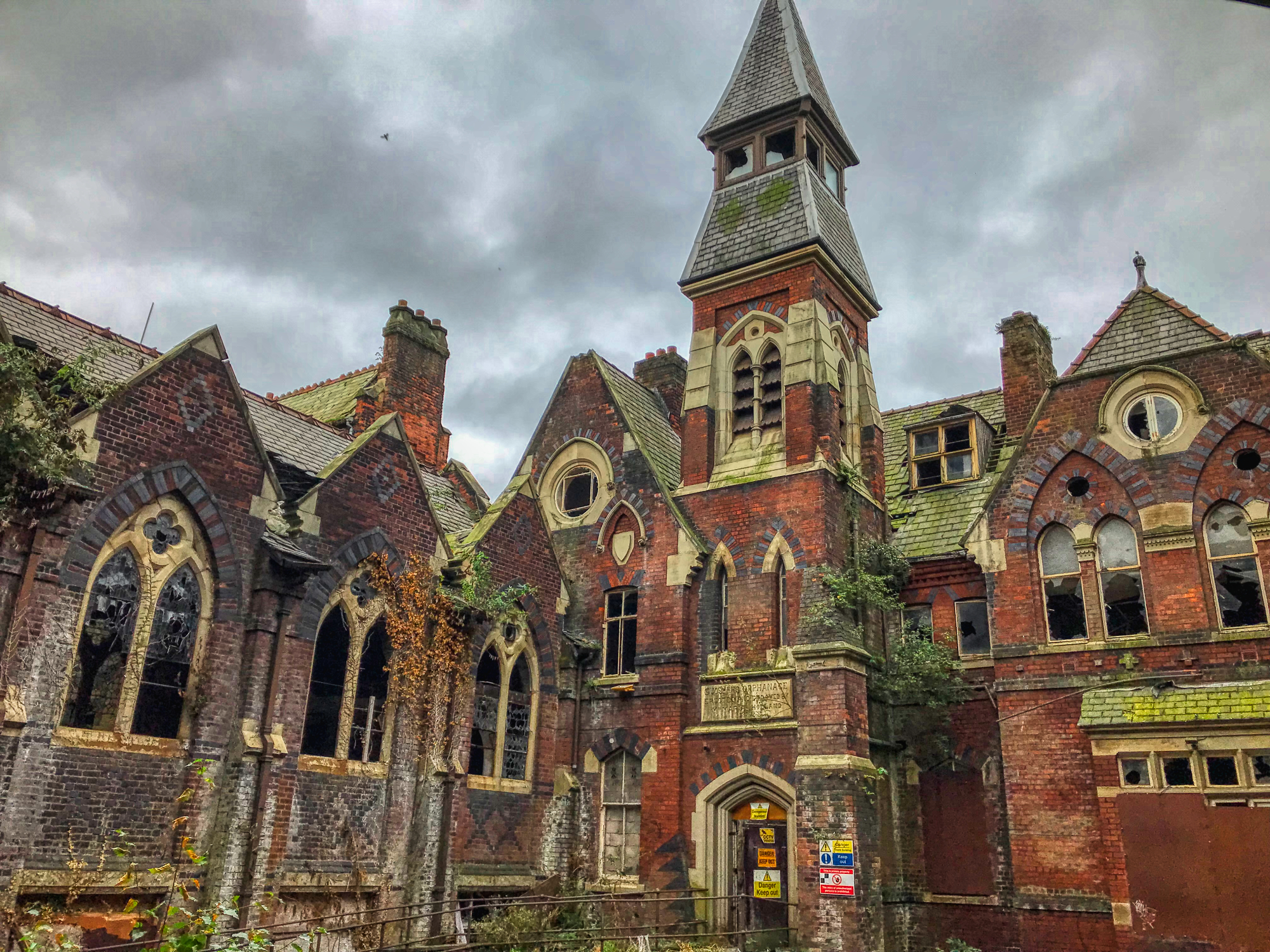 There is some history provided in the link above so I won't provide much here. I was intrigued to read that George Formby died in St Joseph's in 1961.
…'September 2021'…
"This place is cursed for me", I mumbled while snaffling on a cheap Greg's Sausage roll.
I was bemoaning @andiotexplores who had recently done the Orphanage at least twice very recently and was nursing a rib injury thanks to this exploration.
"I know the way in but it's a motherfucker and I'm not sure if you will want to try", he said also munching on a cheap roll.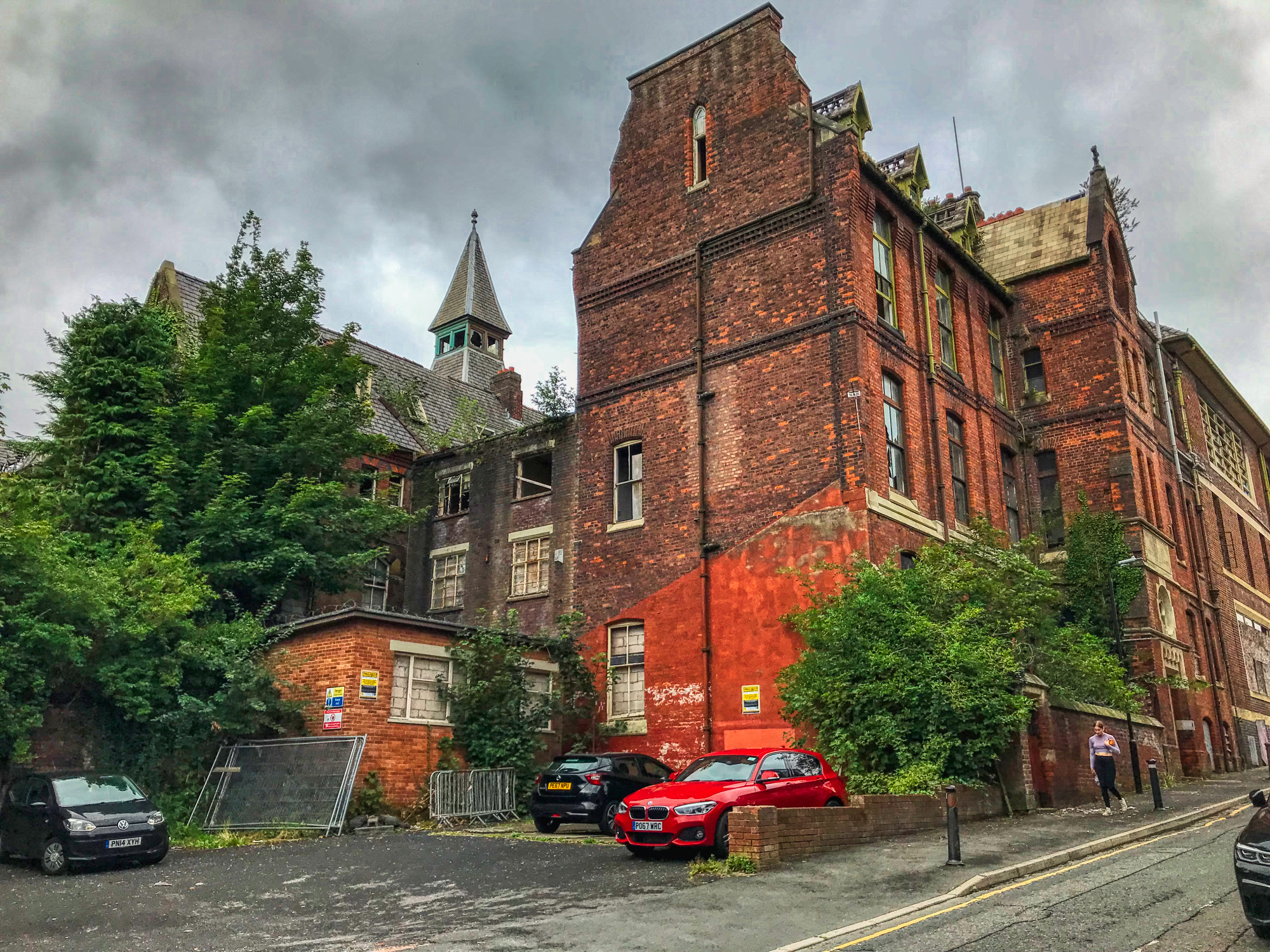 A year before I had tried to access St Joseph's Orphanage and been busted by an over-zealous Security Guard. He hadn't even been part of the Orphanage security but had told myself and @dizzydiscovery to take a hike in no uncertain terms.
"There's a hole"…
Sure enough, there was and not where we would expect. Surely it could not be this easy?
Ignoring a startled passer-by, I clumsily attempted to straddle my leg through the gap making way too much noise, and disappeared through the hole.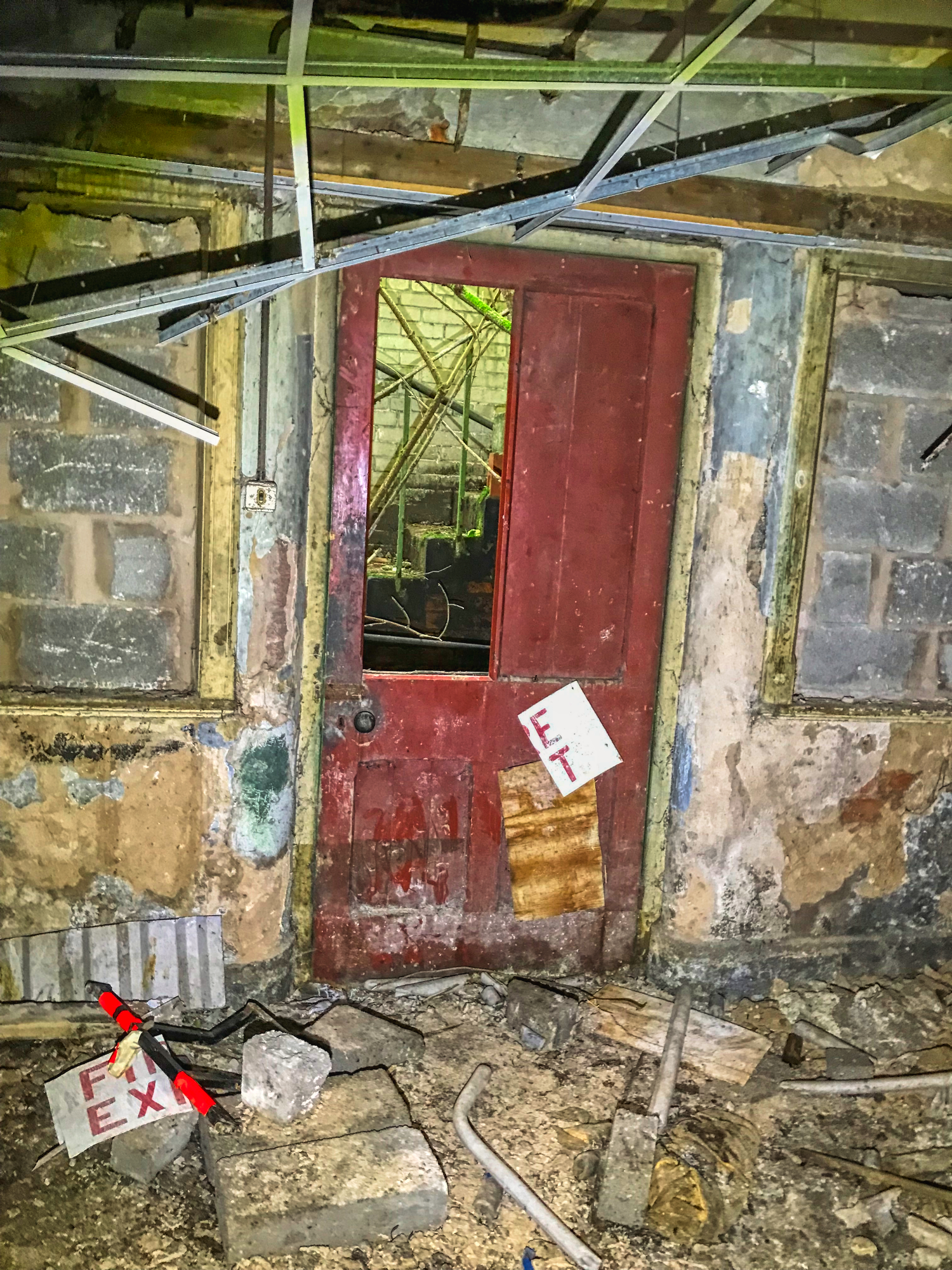 The impenetrable façade was broken, we were inside and in the depths of a murky cellar.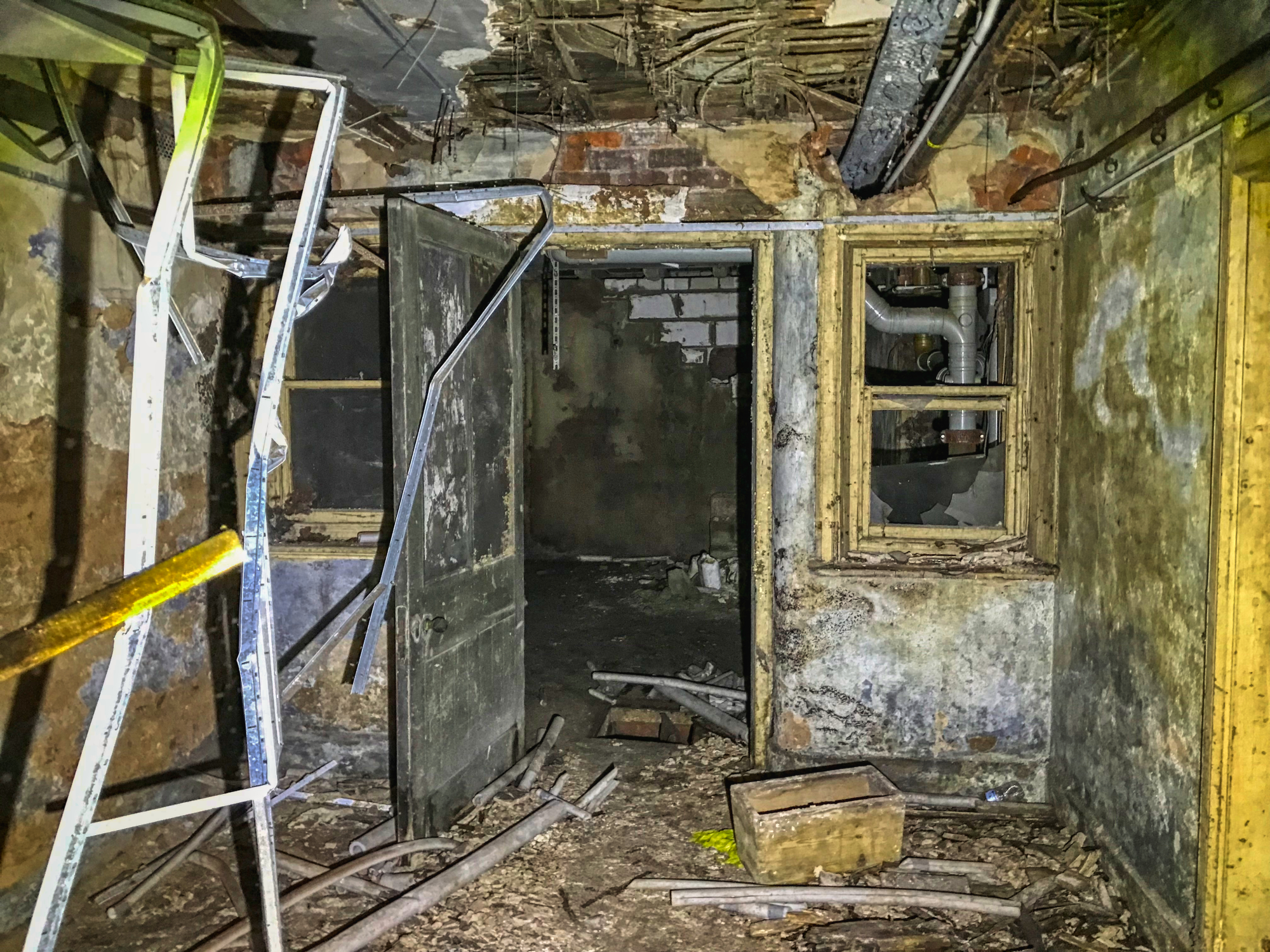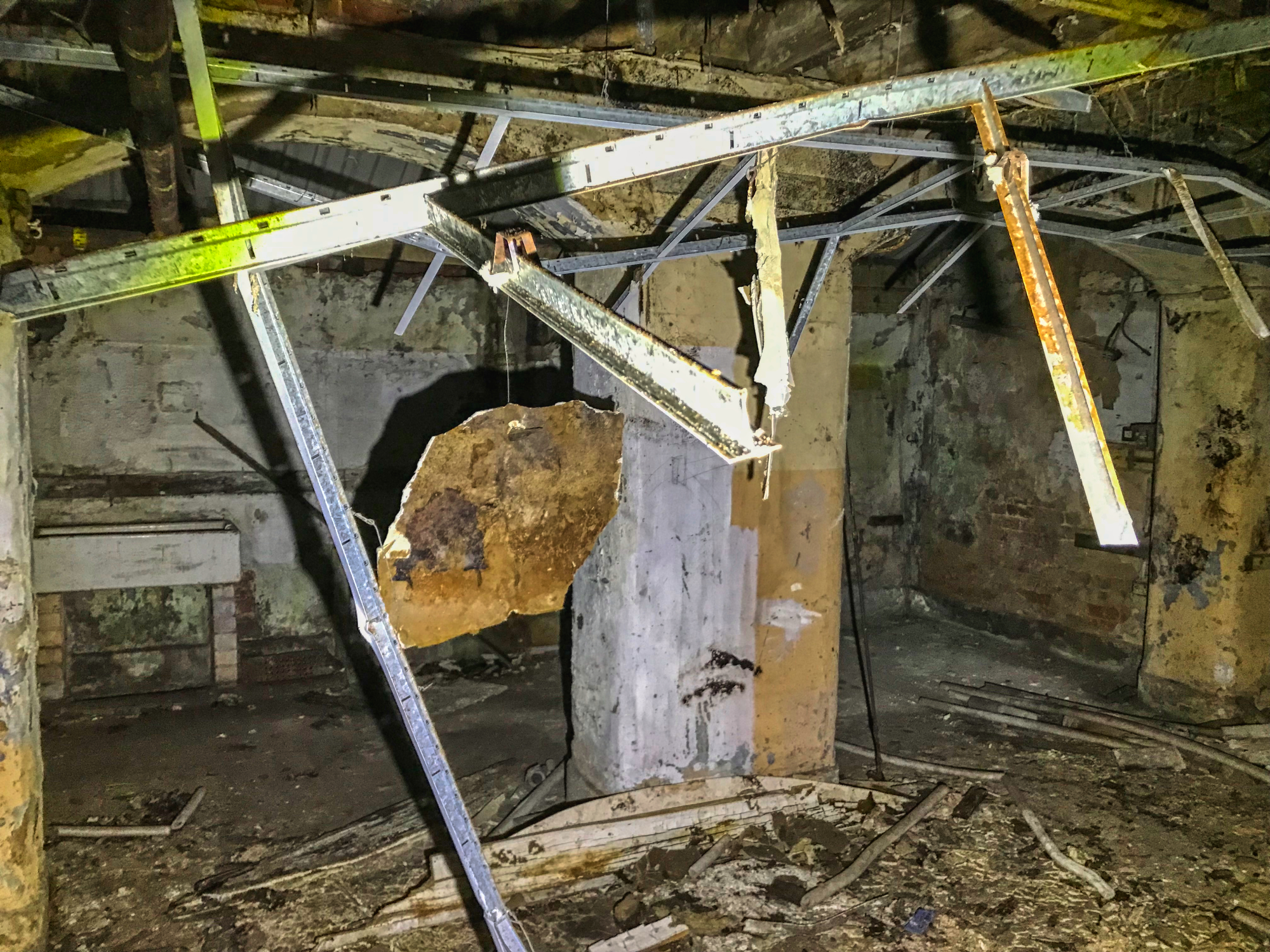 Talk about grotty and navigating the catacombs. We may as well have been in some old tomb, the tomb of grot that is.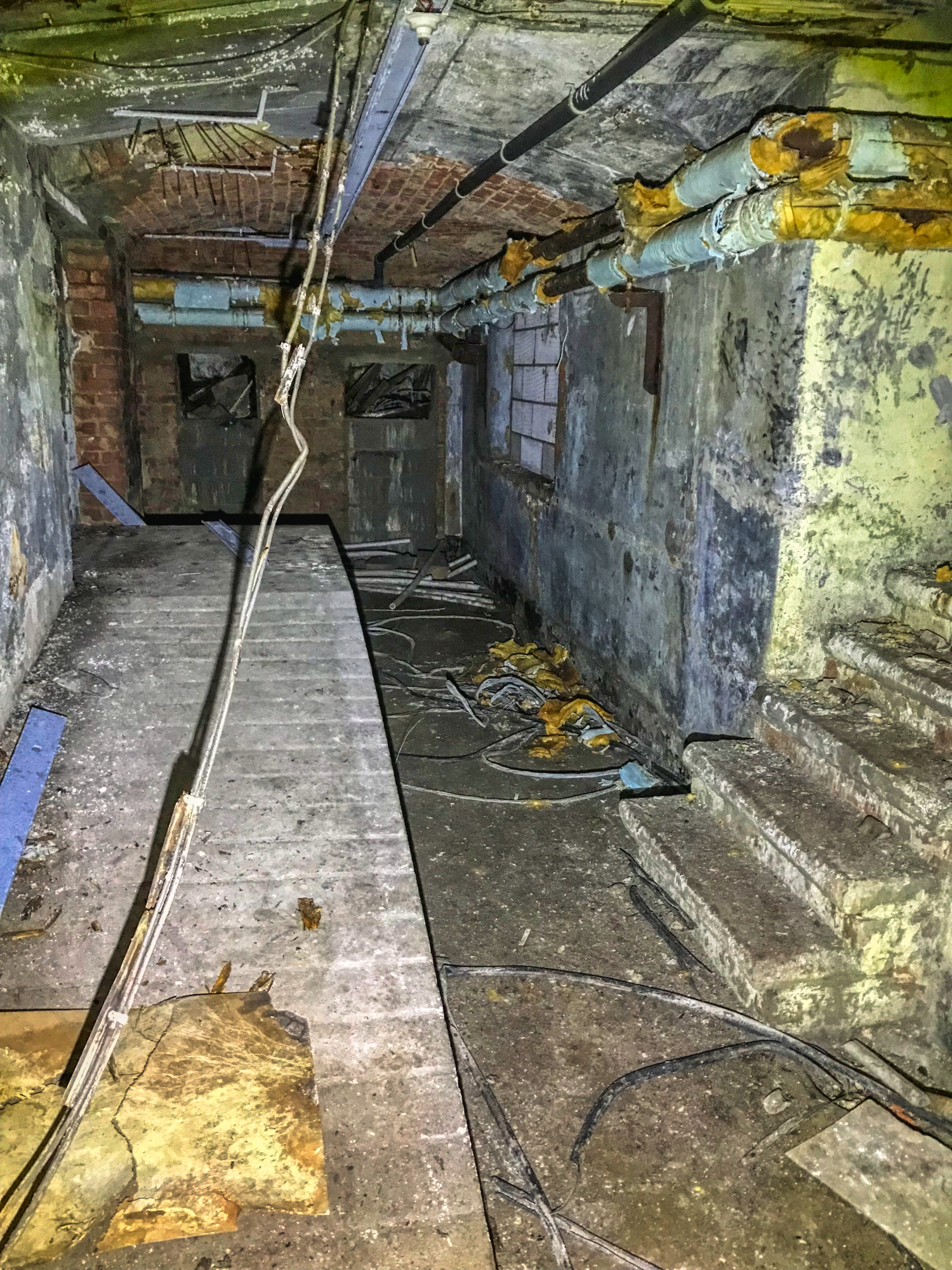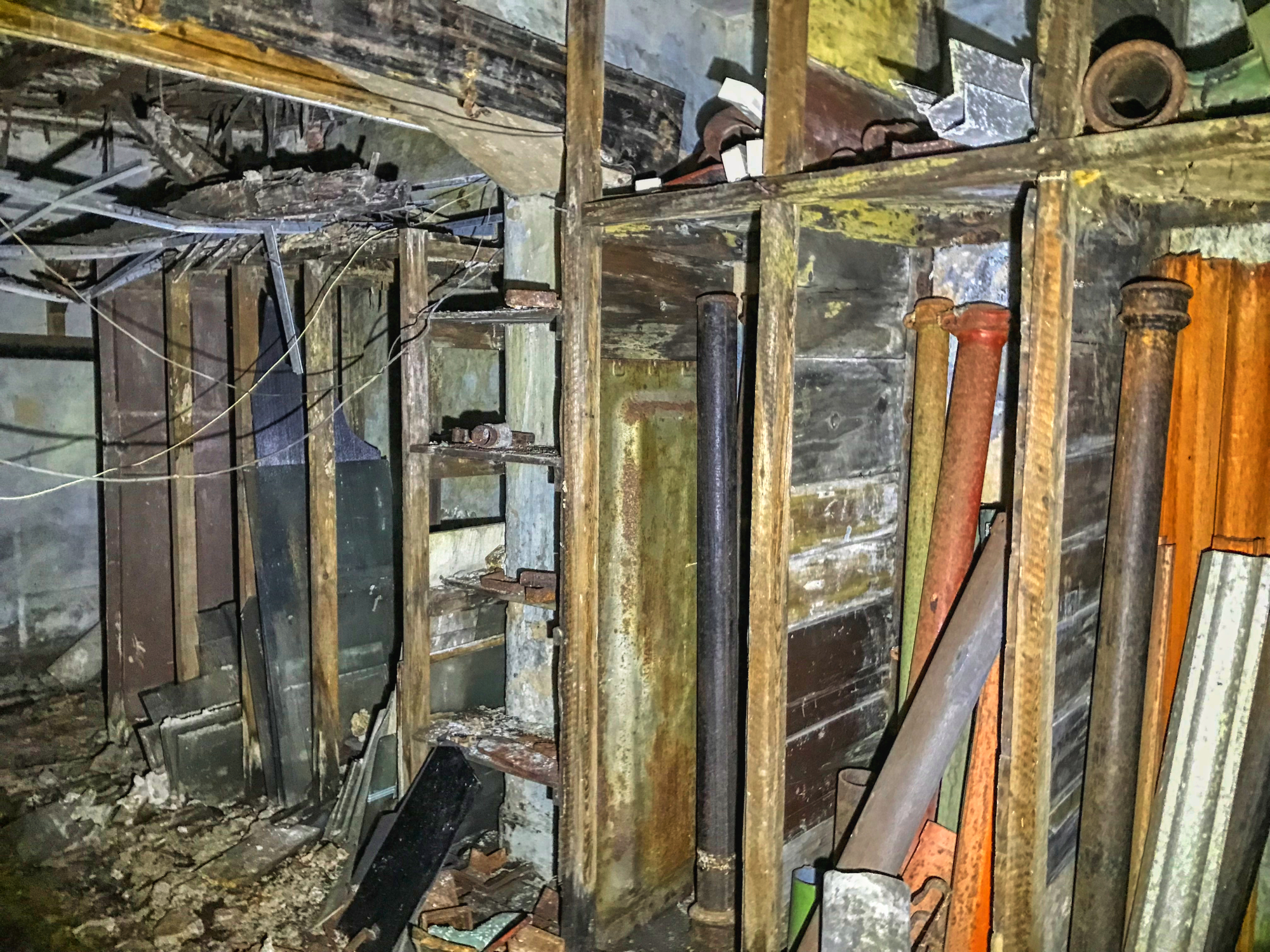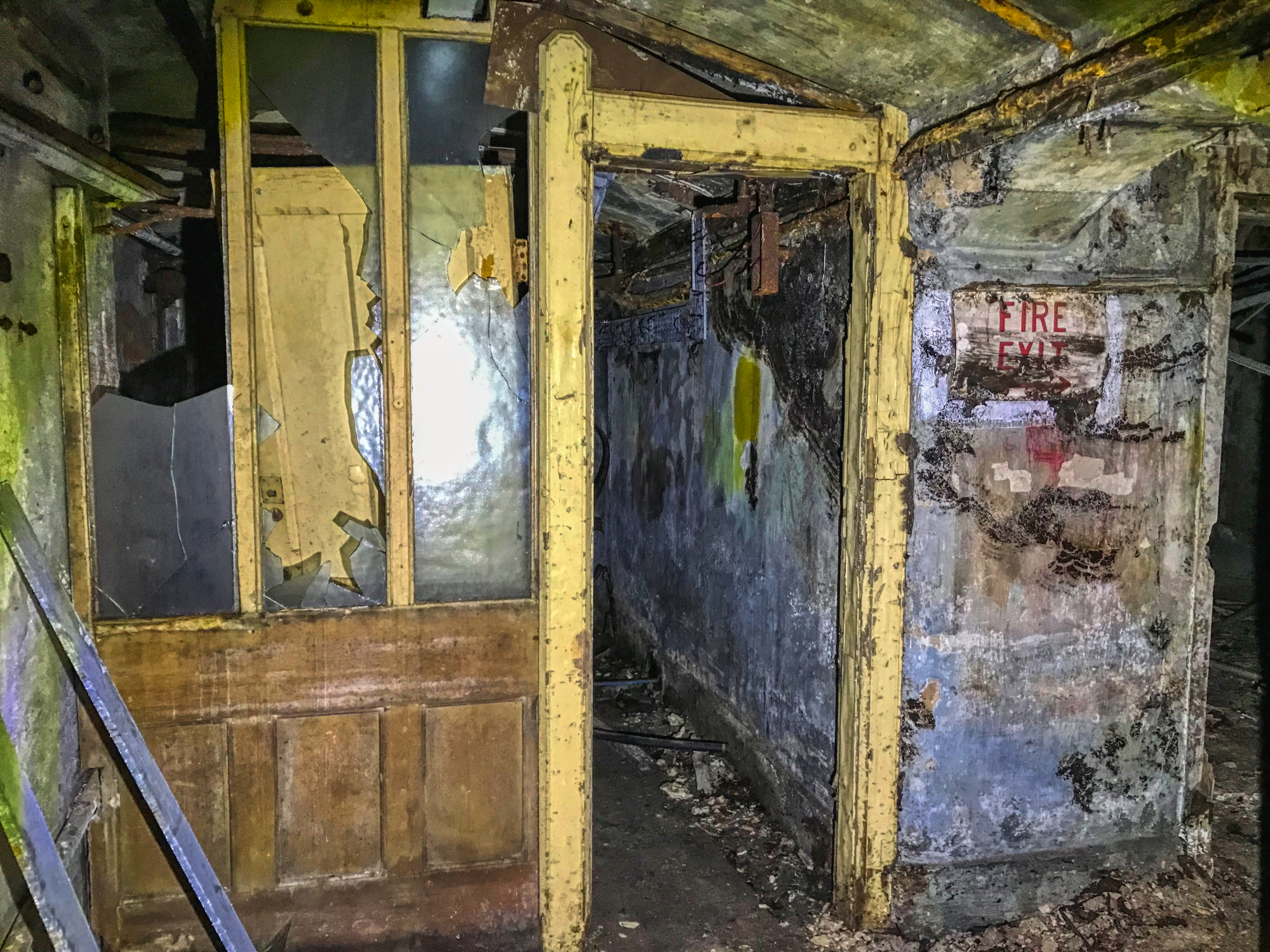 A little writing in the form of 'Fire Exit' told me that humans might have once existed this far underground and if we persevered we might eventually find a way up.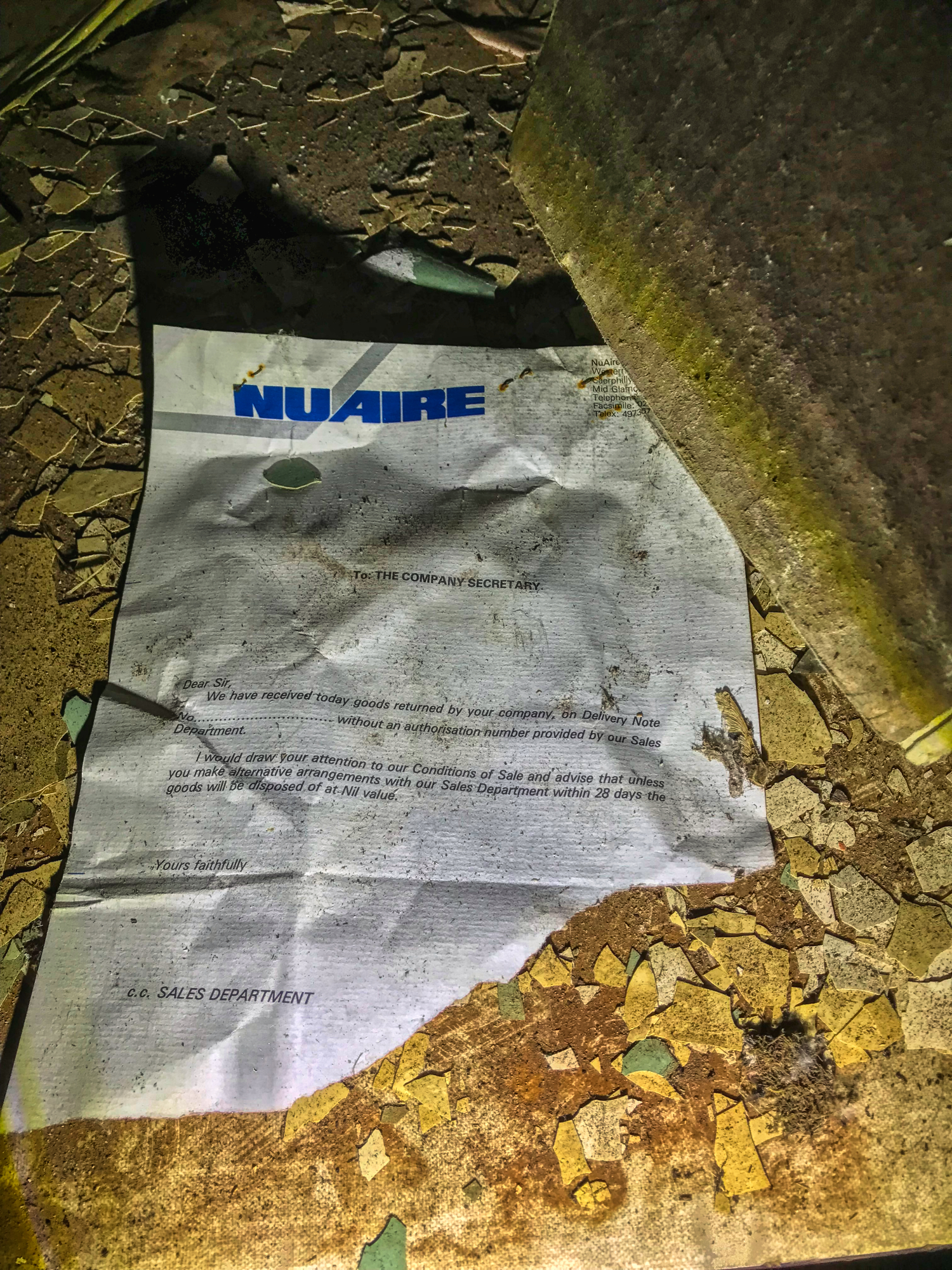 NuAire is not happy at all. You are not getting your money back they say!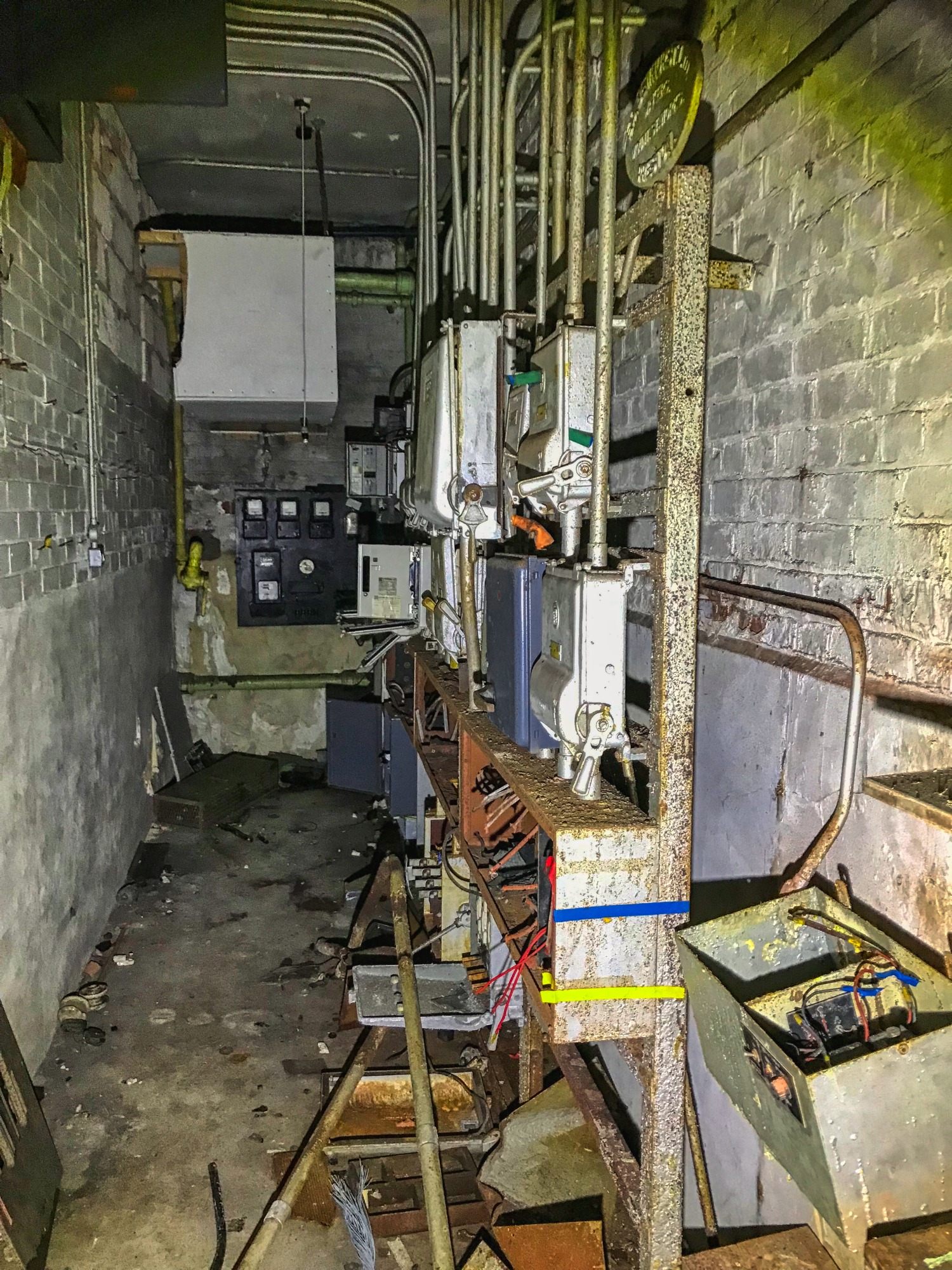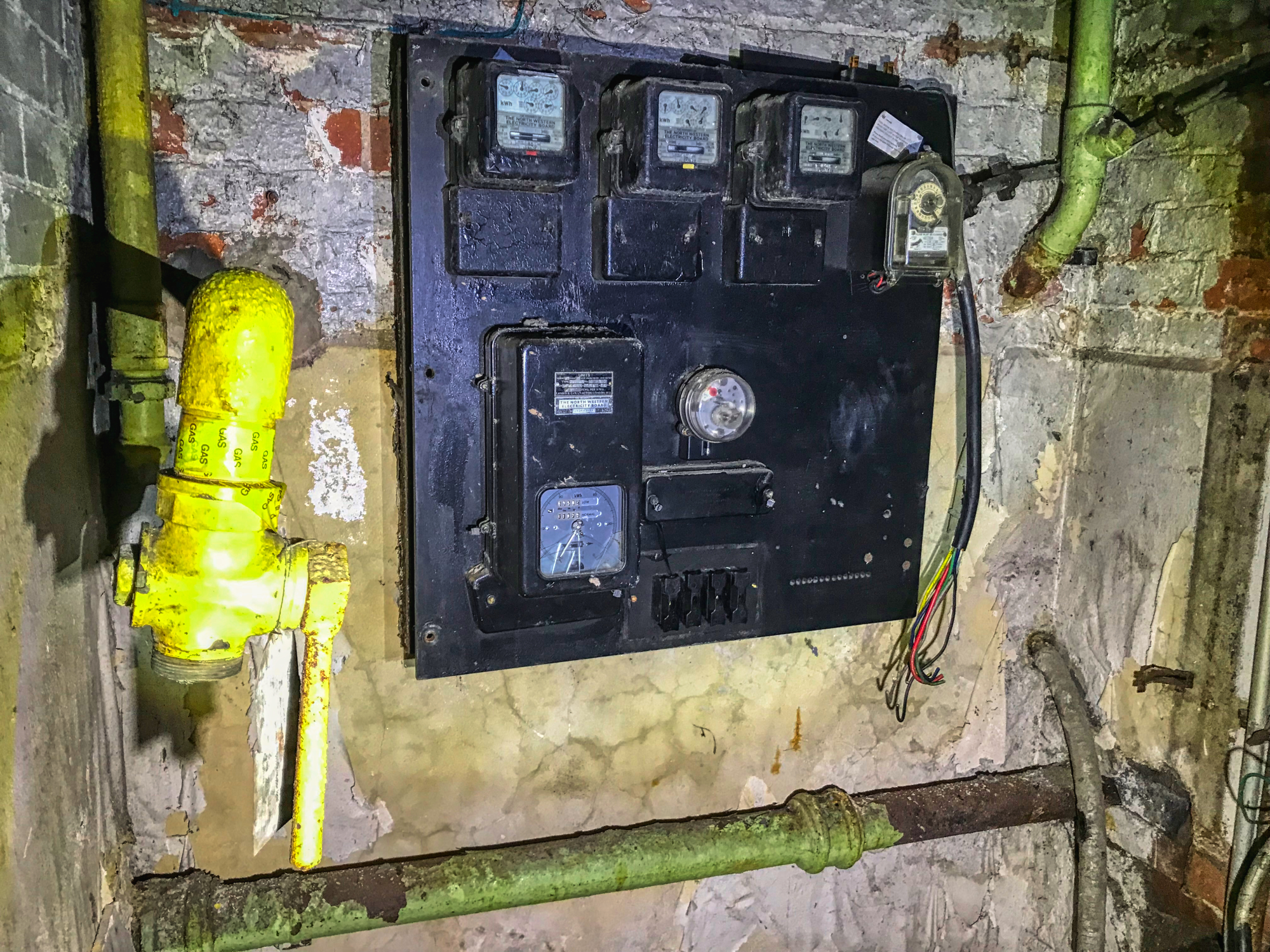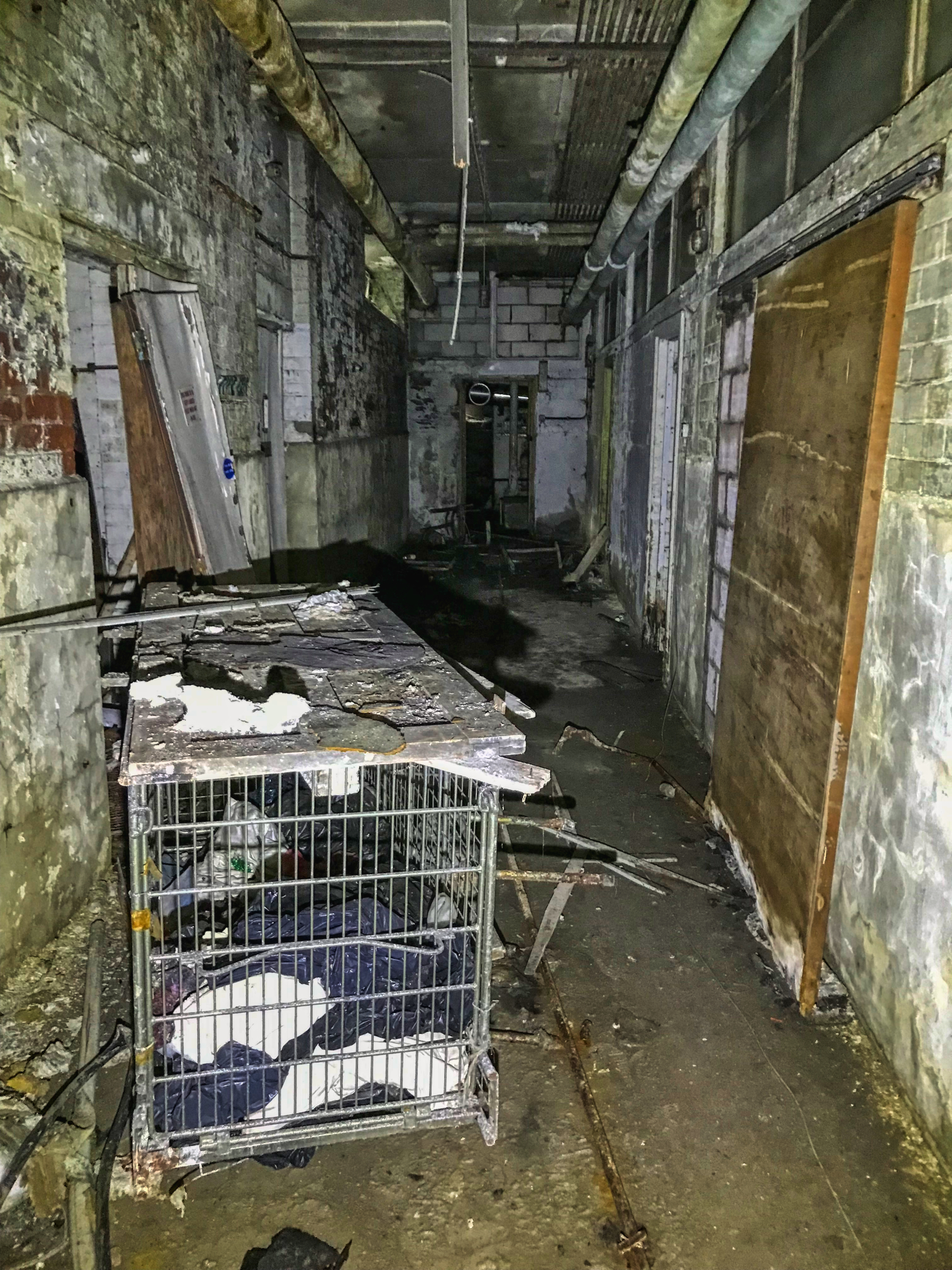 The corridors went on and on and it was some time before we saw anything of interest.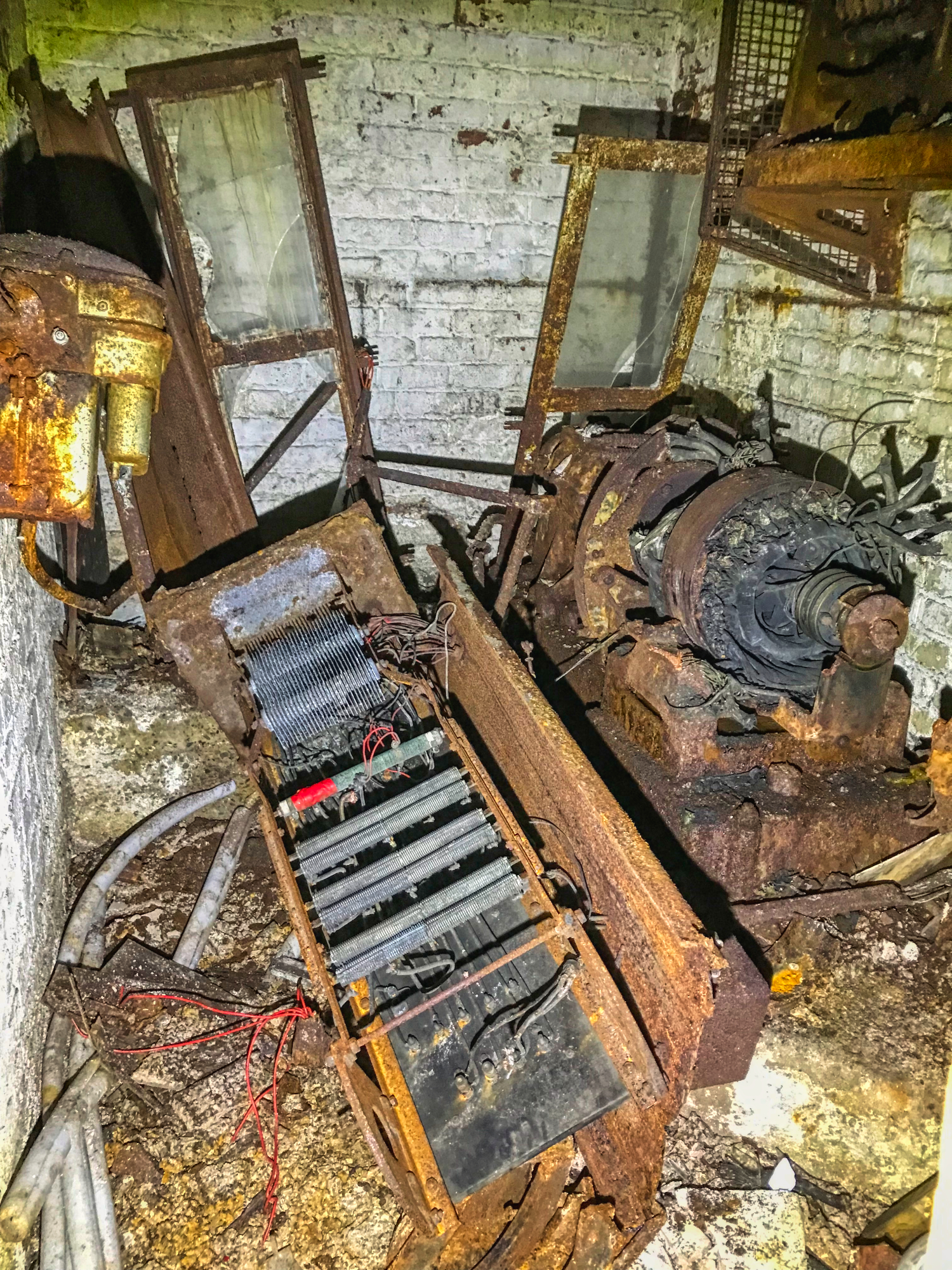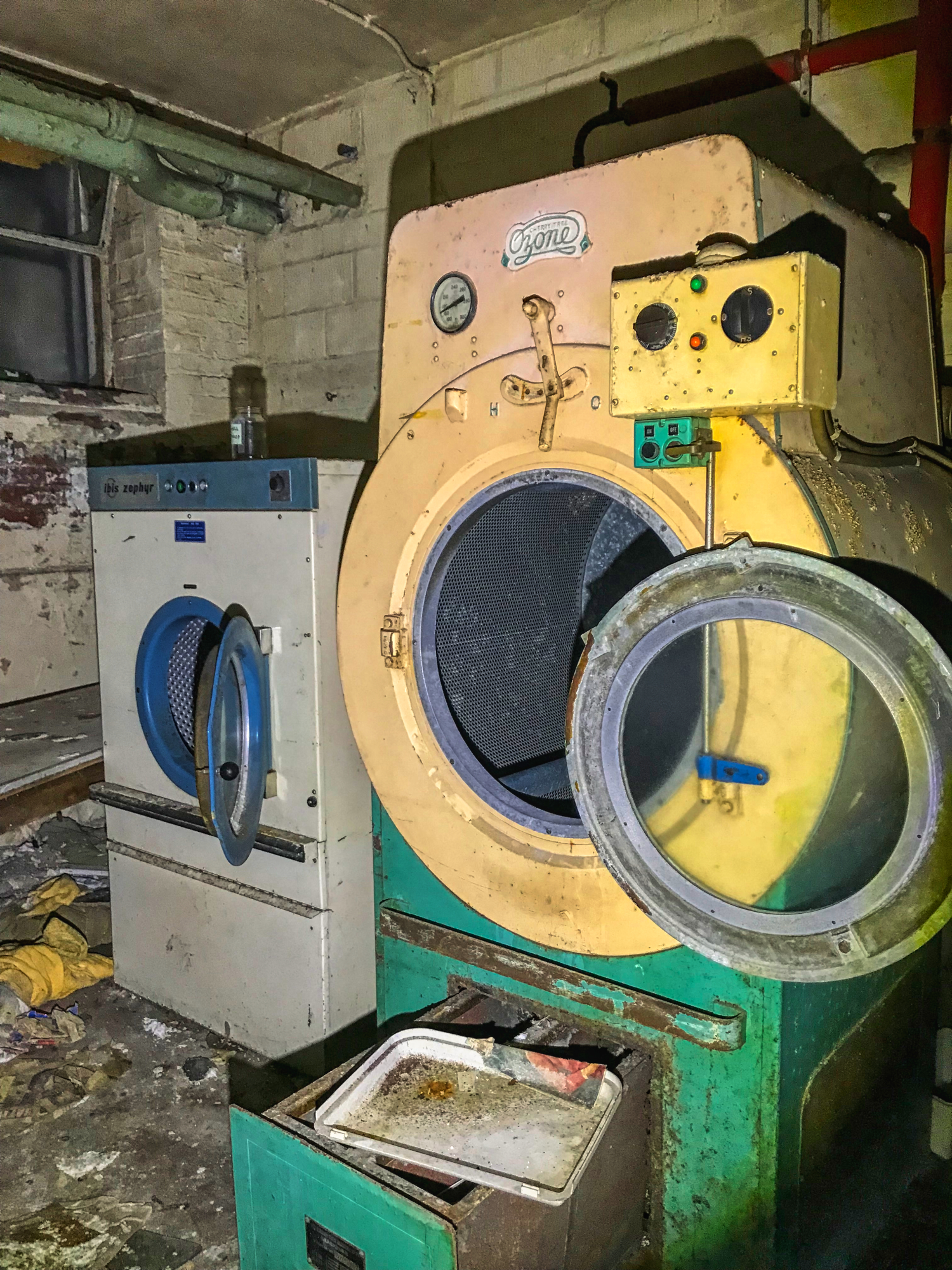 If many kids lived here, then they would need some hefty washing machines to clean their stuff.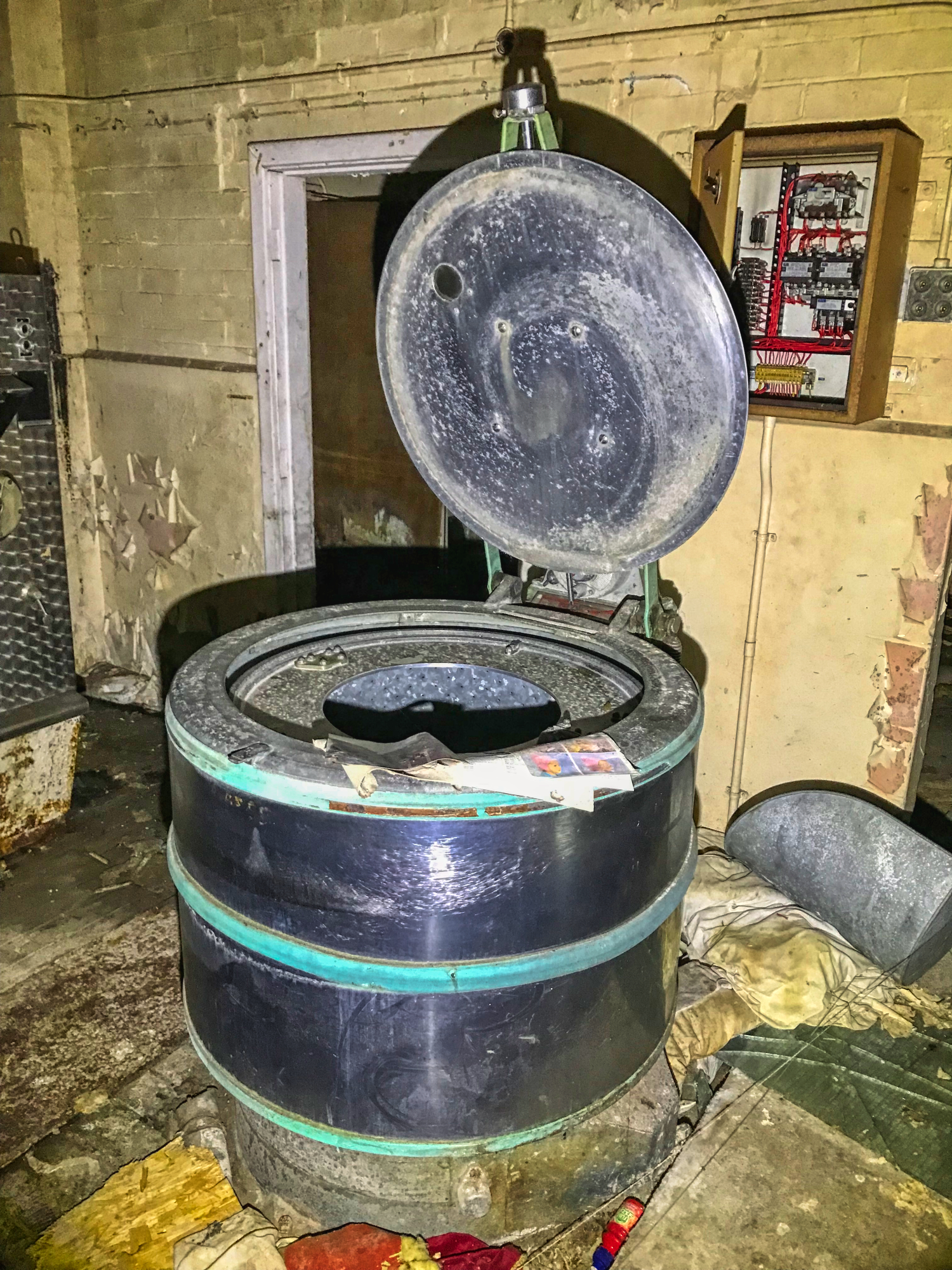 The front looks OK, but what happened to the sides of these monsters?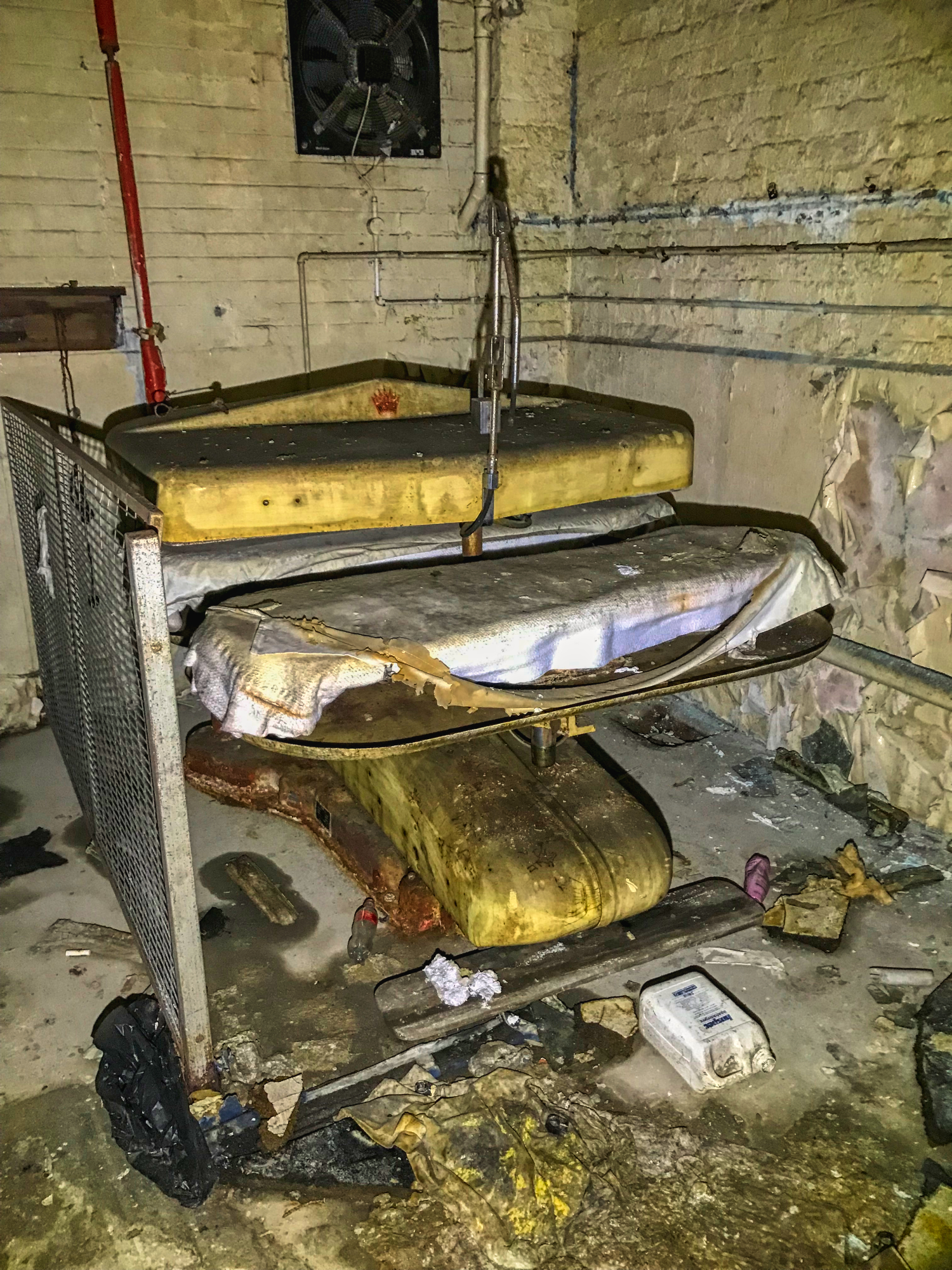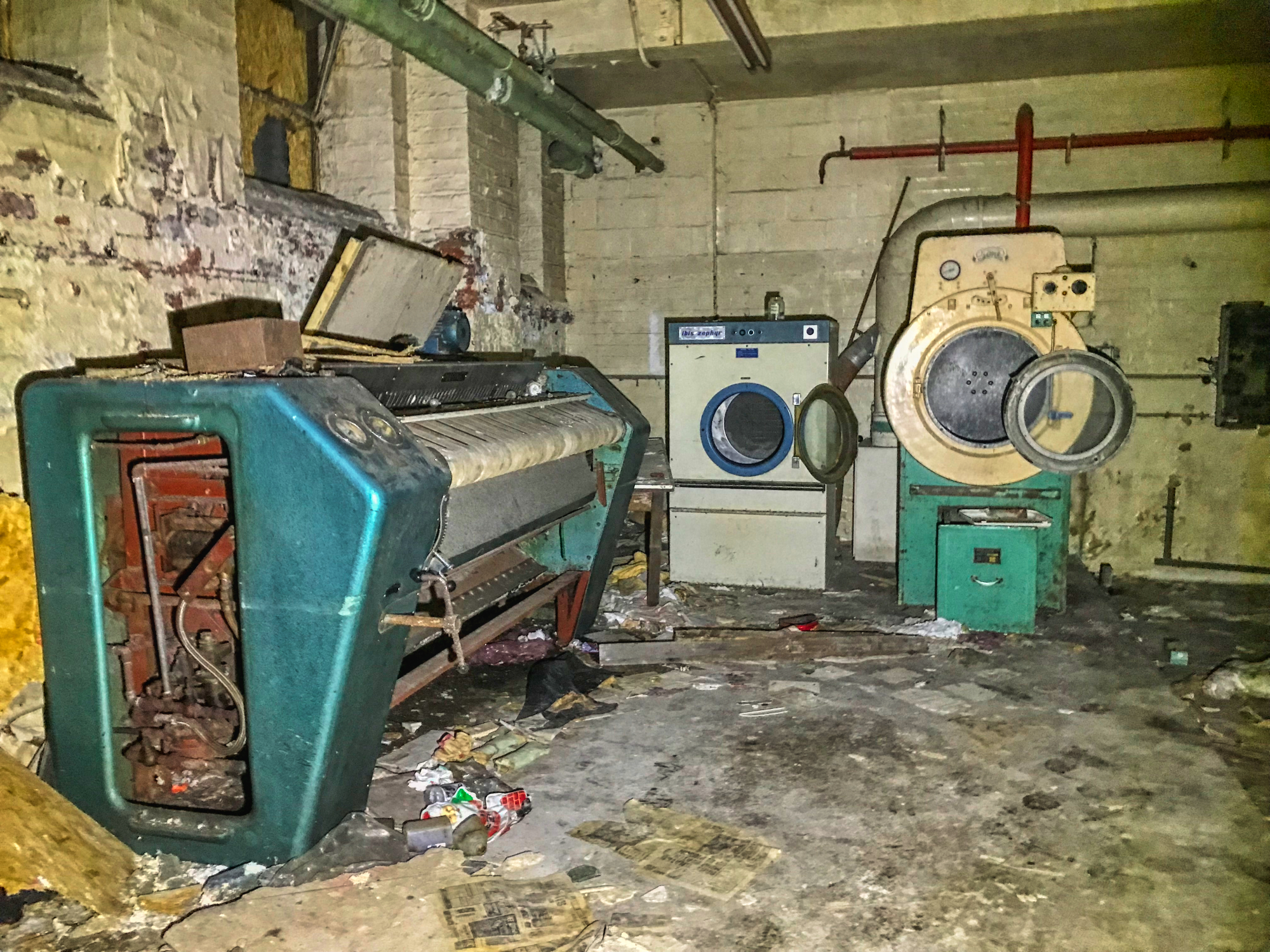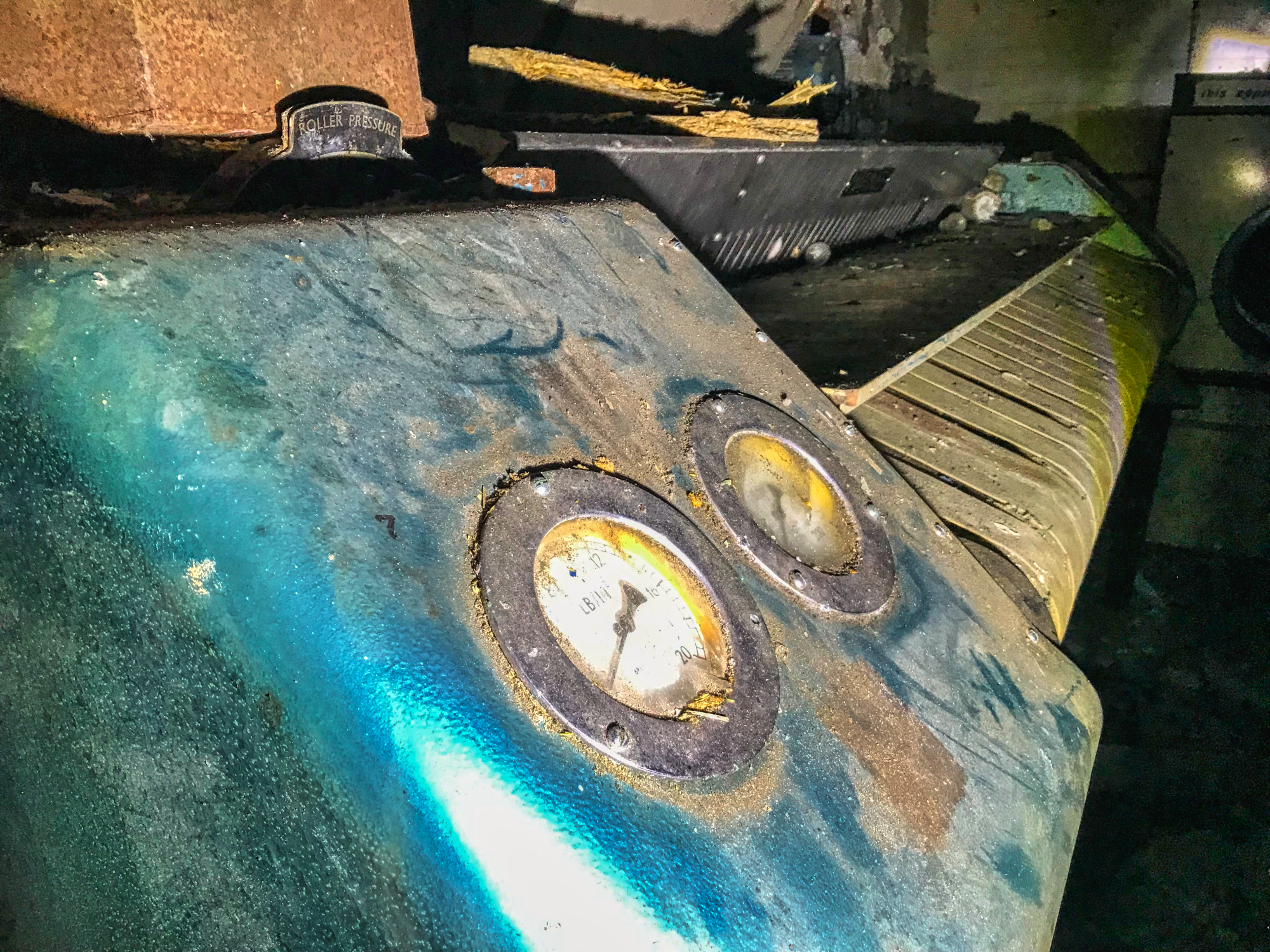 I would guess that's an industrial-sized clothes wringer, complete with dusty dials.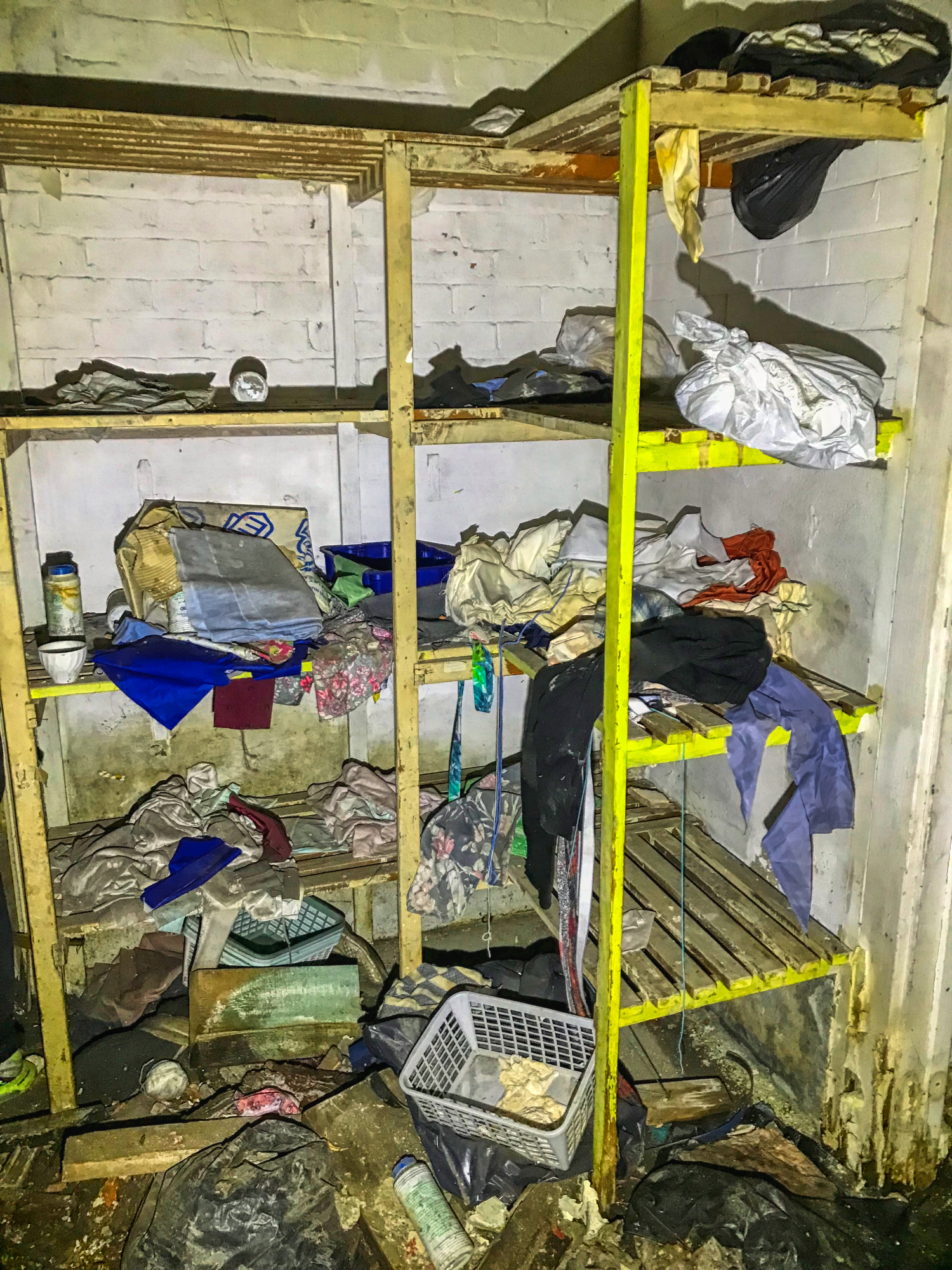 Plenty of old clothes left if yours are getting a little frayed.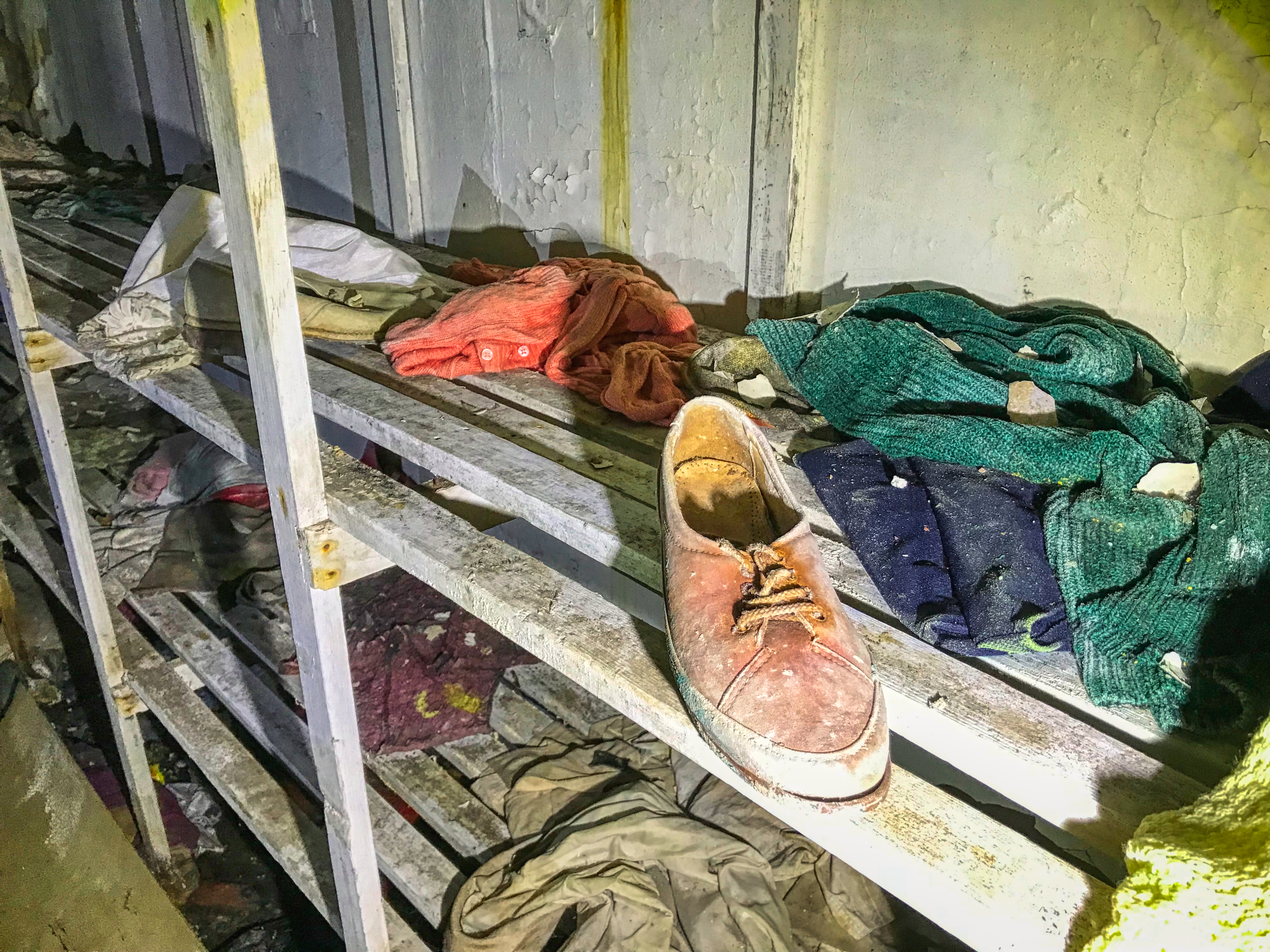 … as well as the obligatory footwear.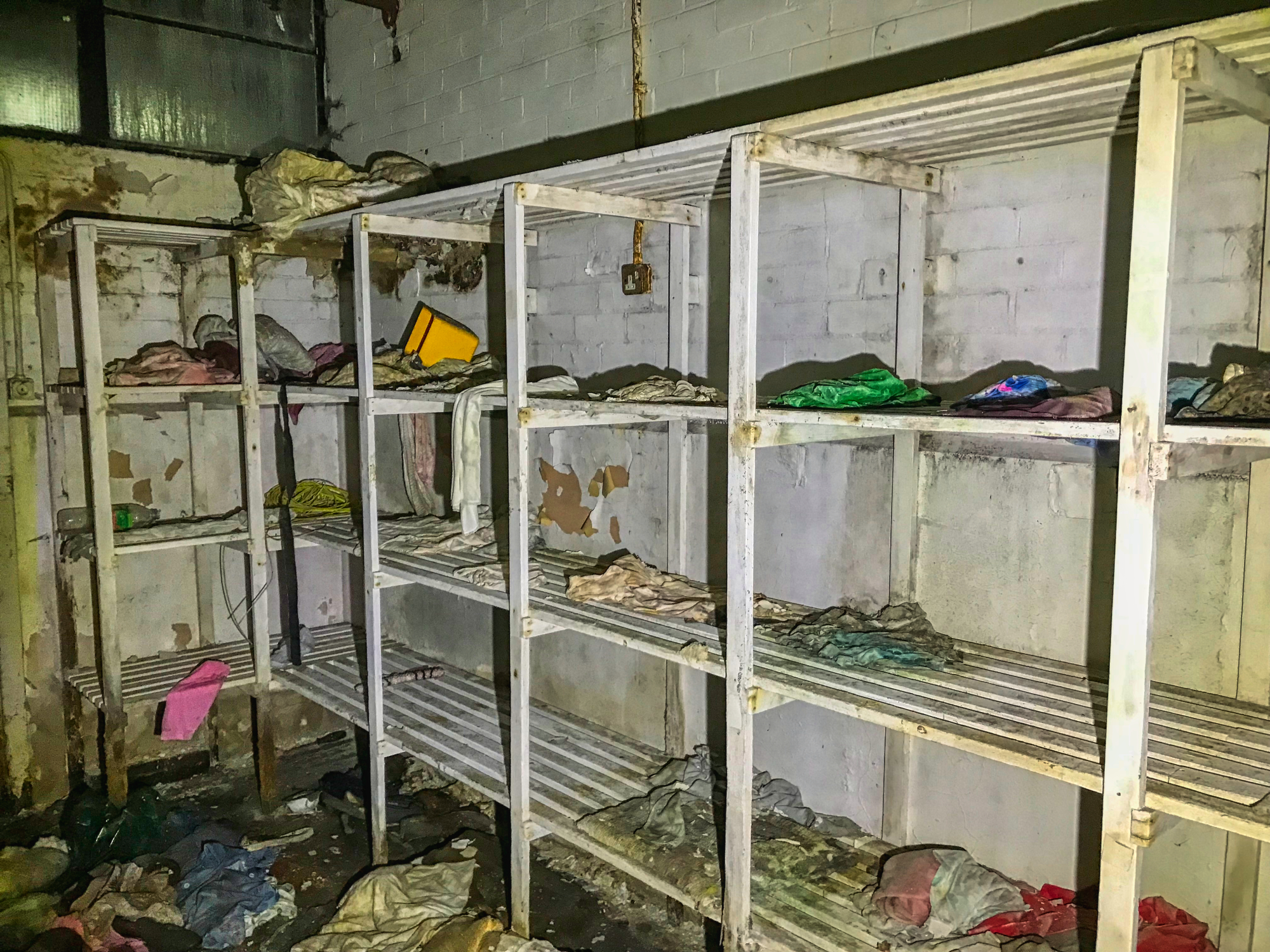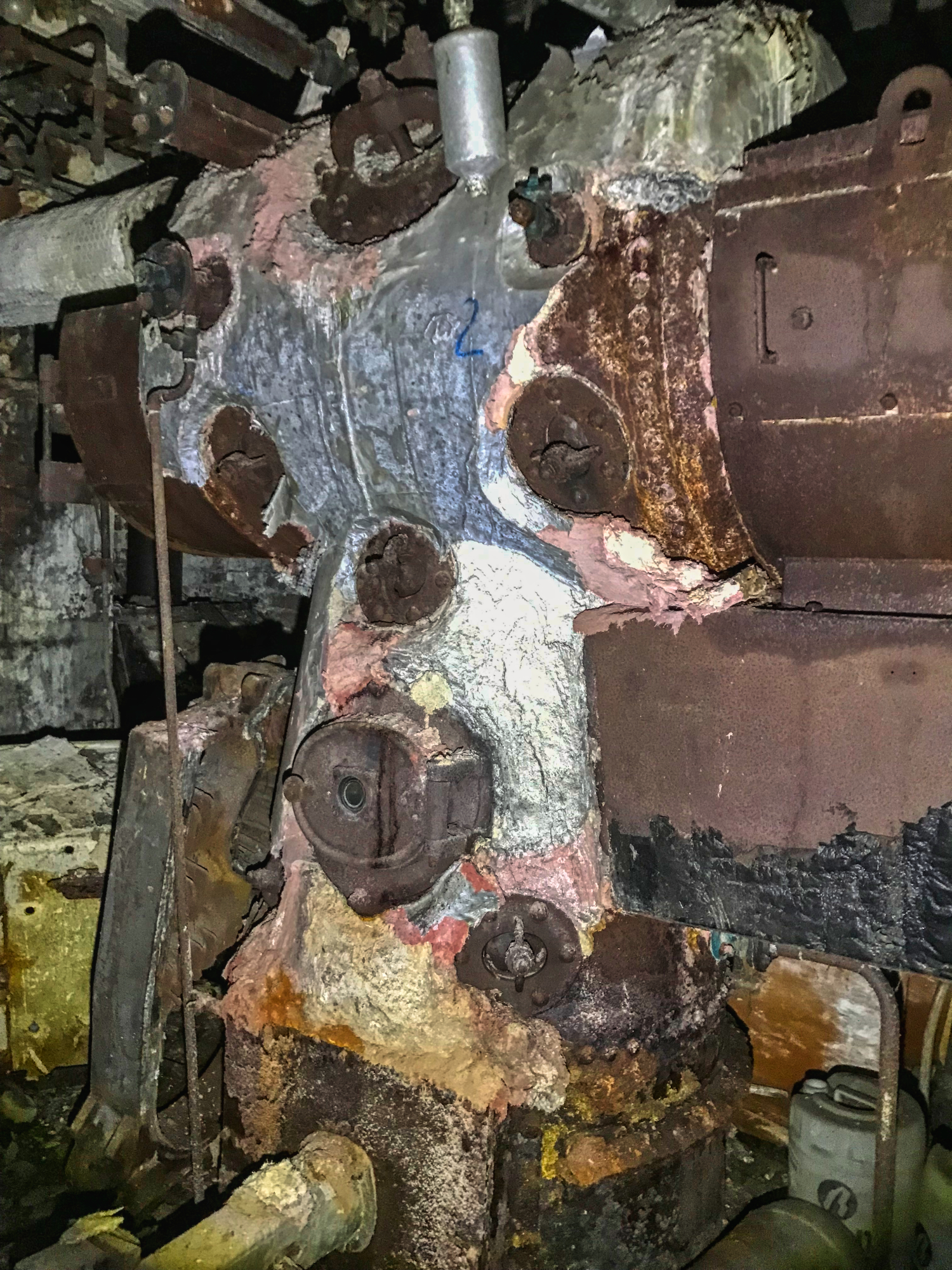 It was a little grotty down there, to say the least.
We walked some stairs and @anidiotexplores pointed me to the Mortuary room. "It's easy to miss if you don't know where it is", he explained earnestly.
There's little left of Jesus Christ once attached to the cross. Bits of him have been pulled off and scattered.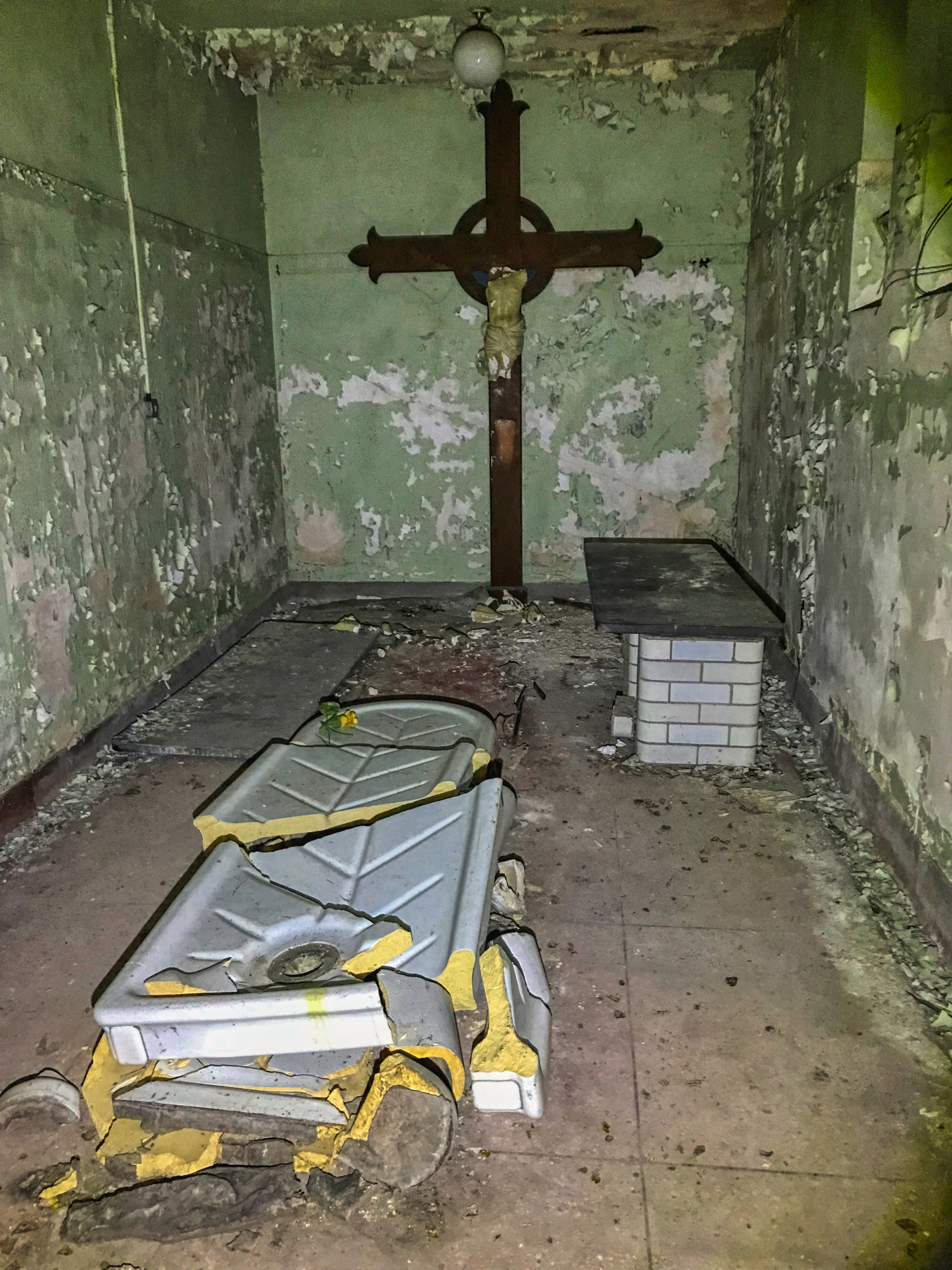 The heavy slab you see was lifted by some arseholes around 2 years ago and dropped cracking it. The 'slab breakers' were publicly chastised within the Urbex community during this time.
It was a case of… 'it was him, not me'. I remember it quite well.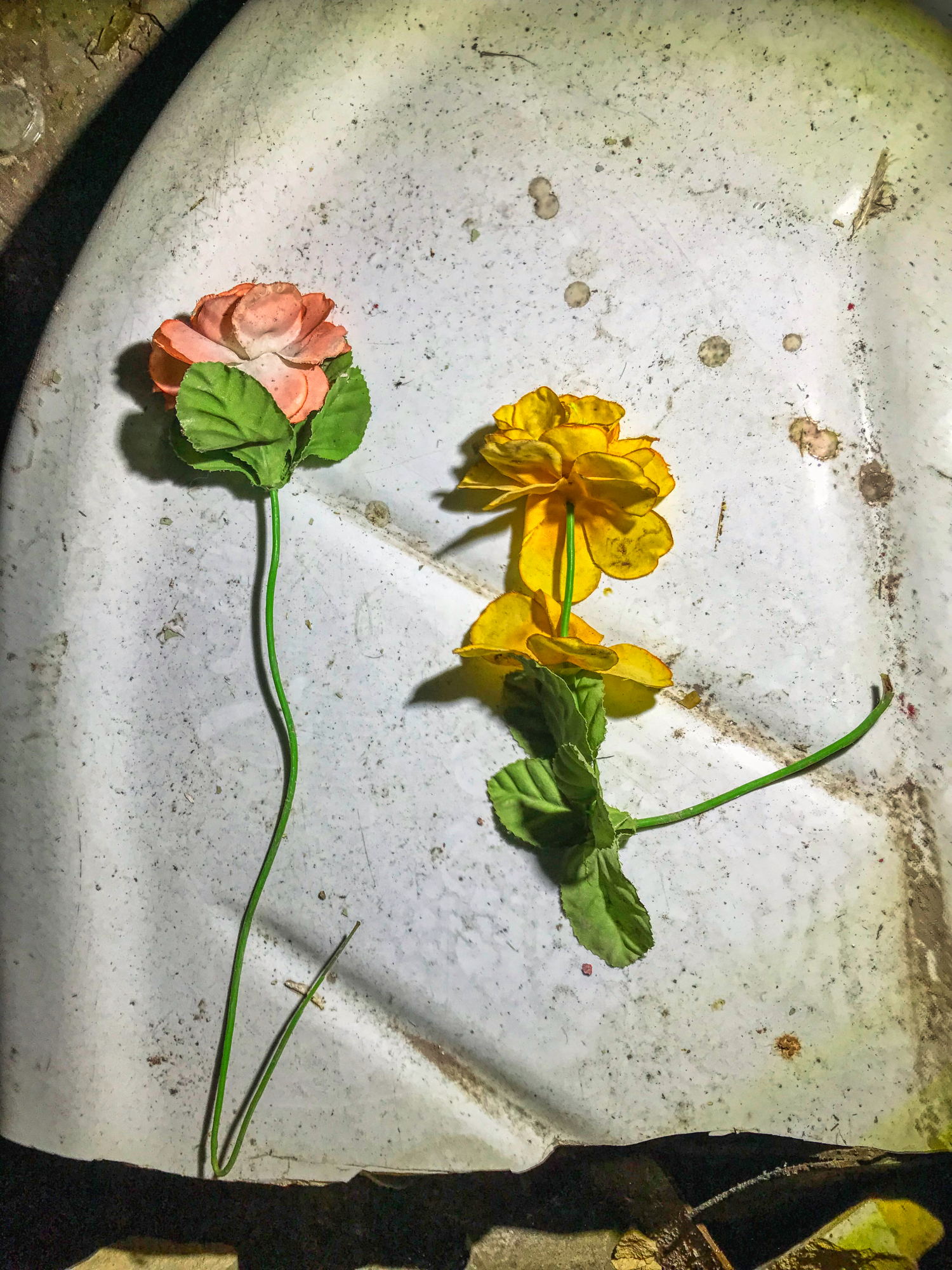 The plastic flowers have been left as a remembrance of its former glory… I guess.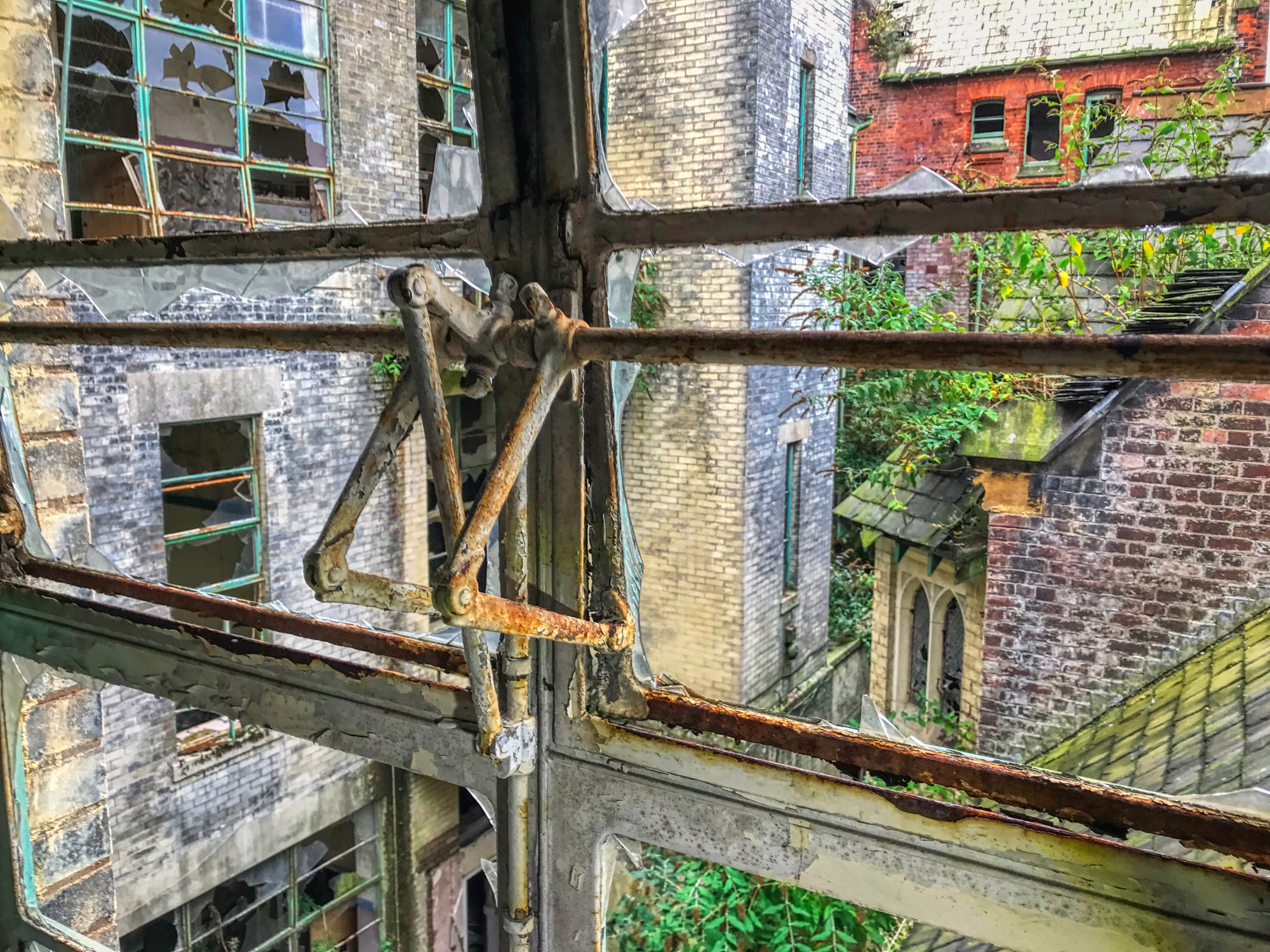 We were not alone in St Joseph's Orphanage. Voices could be heard and then they were gone. Not unearthly voices but other humans. I suspect they got a case of the willies and bolted as we didn't get a visual.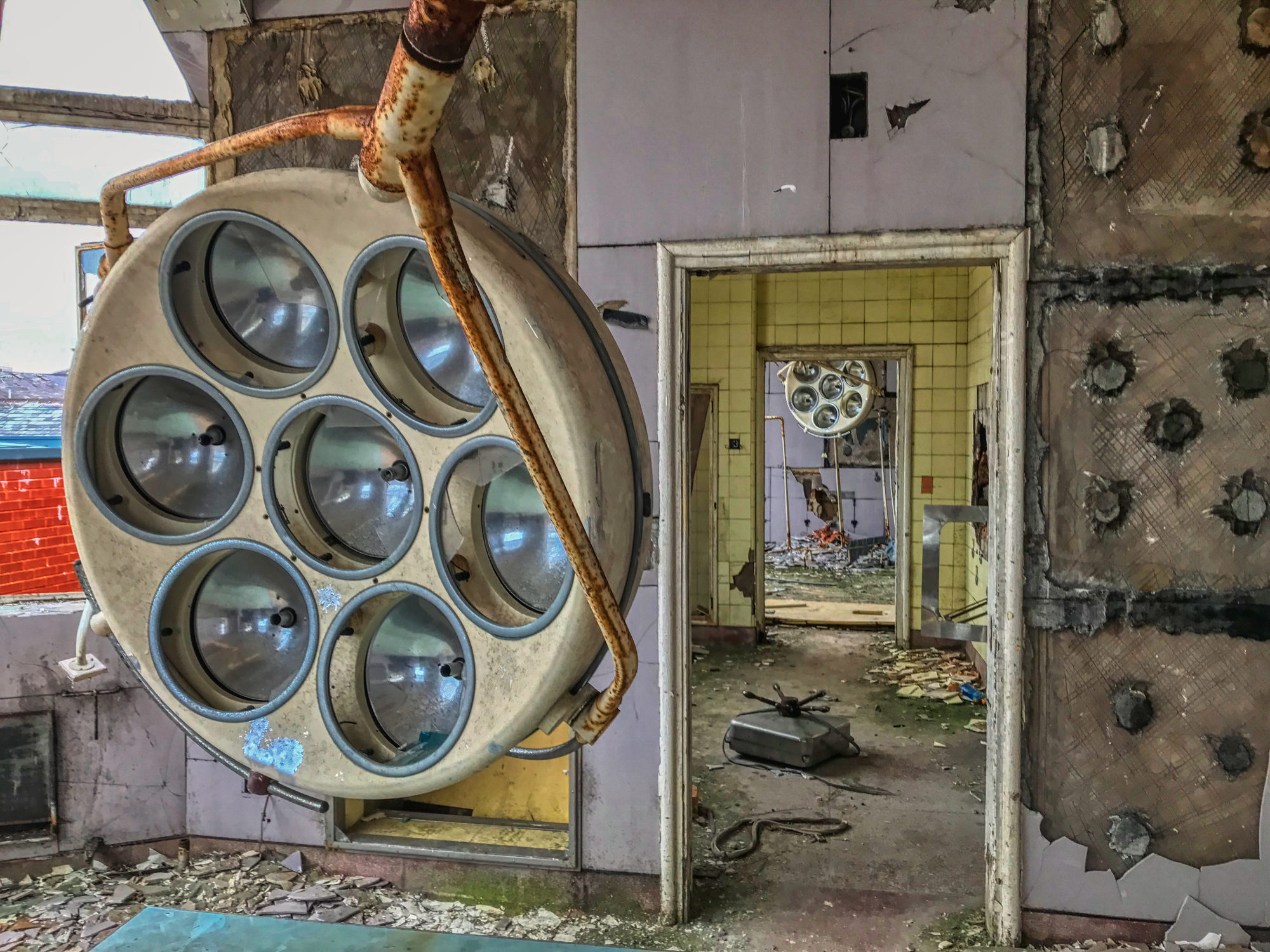 Up another flight of steps and I saw one of the highlights. They remind me of 'The Fighting Machines' from Jeff Wayne's 'War of the Worlds' for some reason.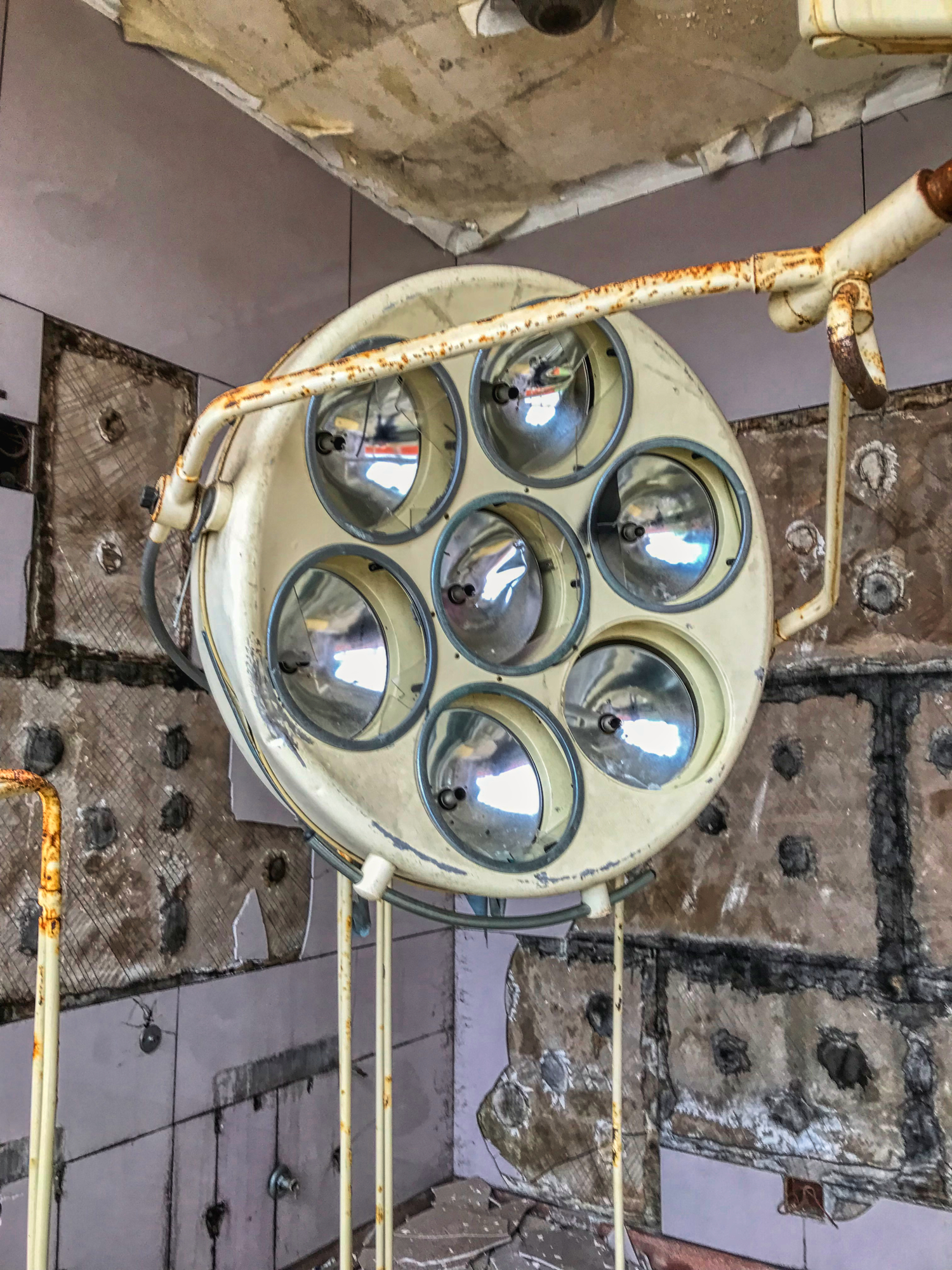 An unearthly scream of 'Oooolaaaa' would have sent me running for cover. The tall skinny 'legs' are what mark the resemblance.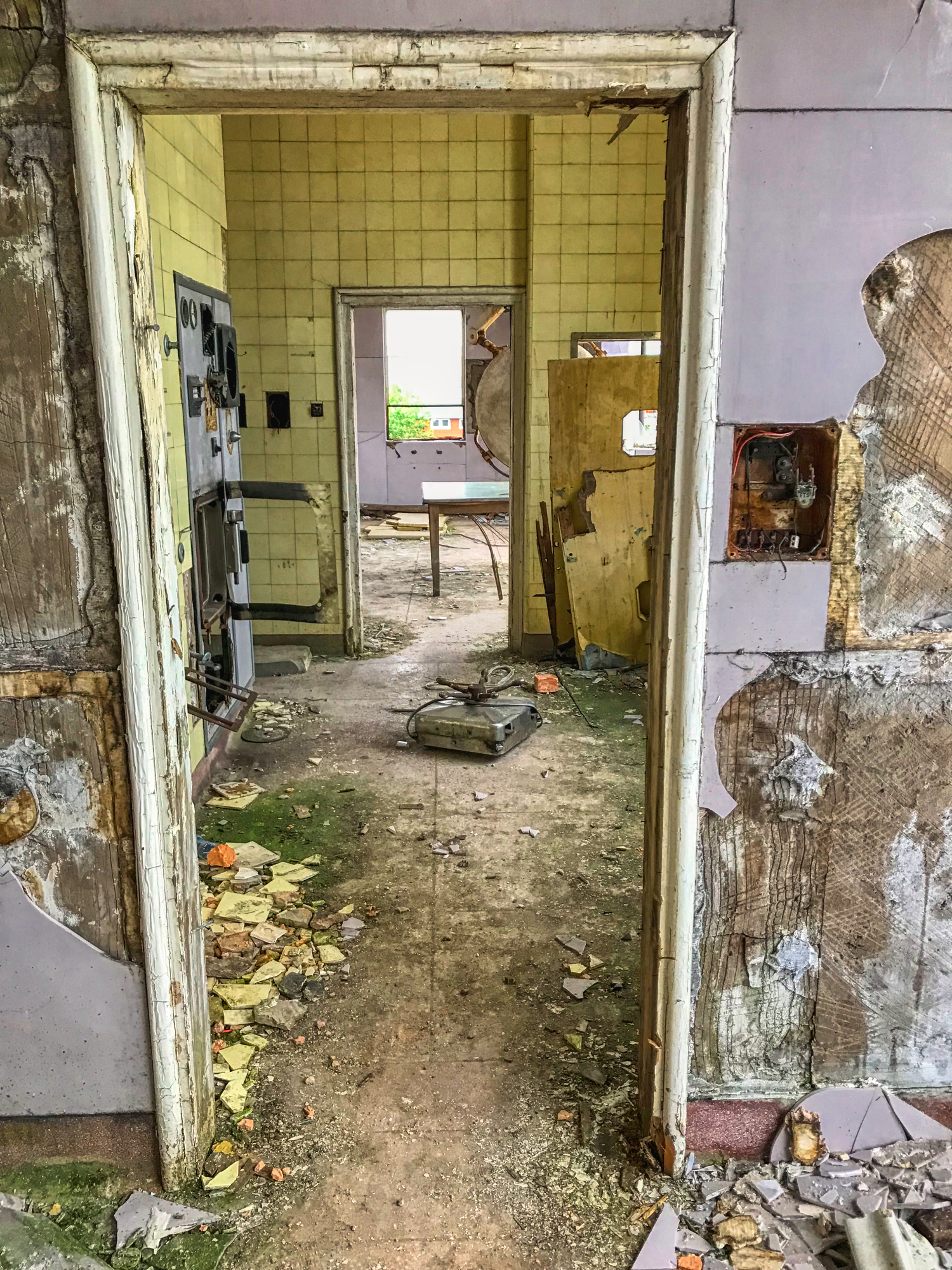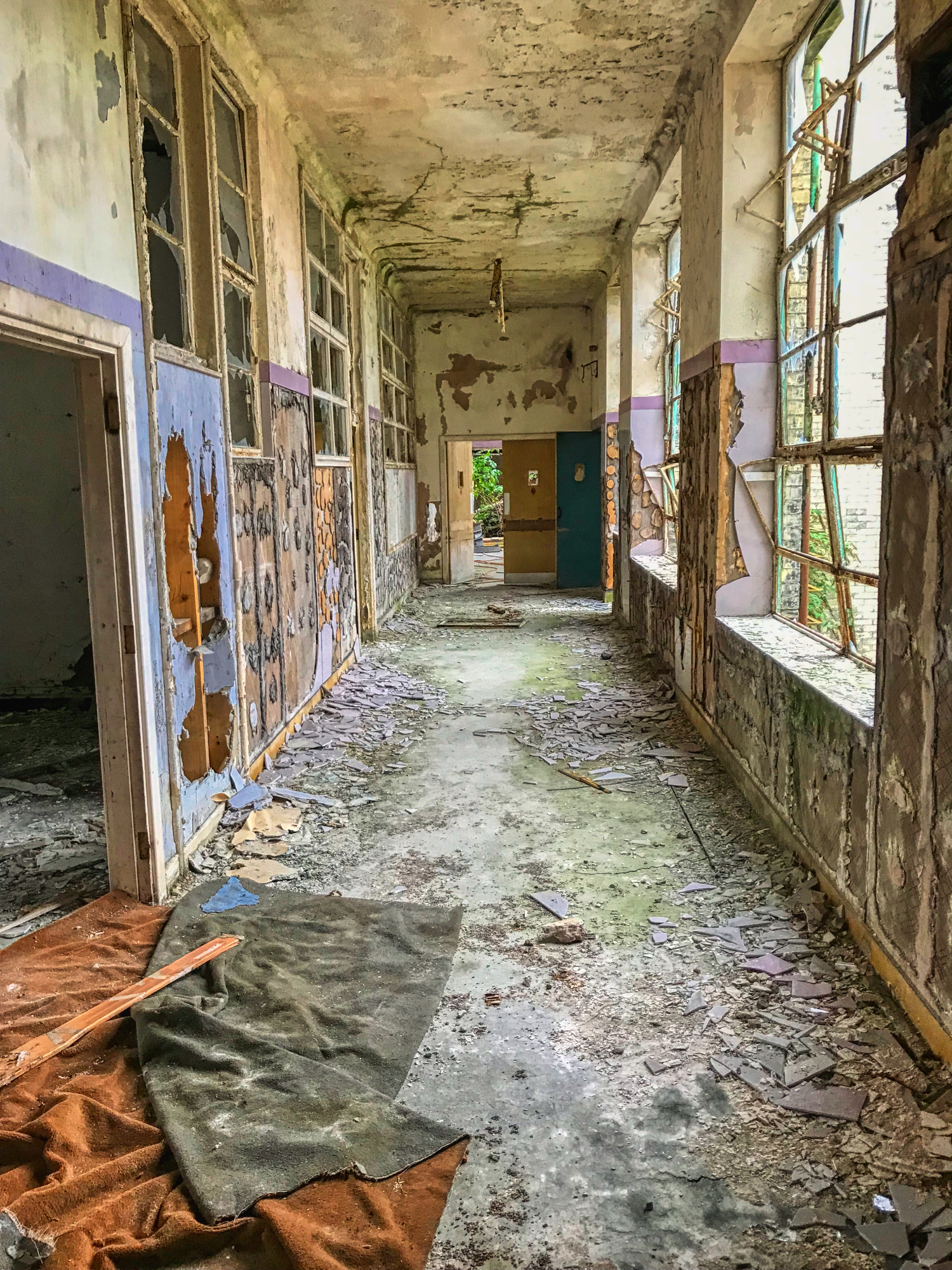 St Joseph's Orphanage was huge inside, and extremely derpy. I was thankful for @anidiotexplores' guided tour even though it encompassed jumping through windows onto outside roof areas at times.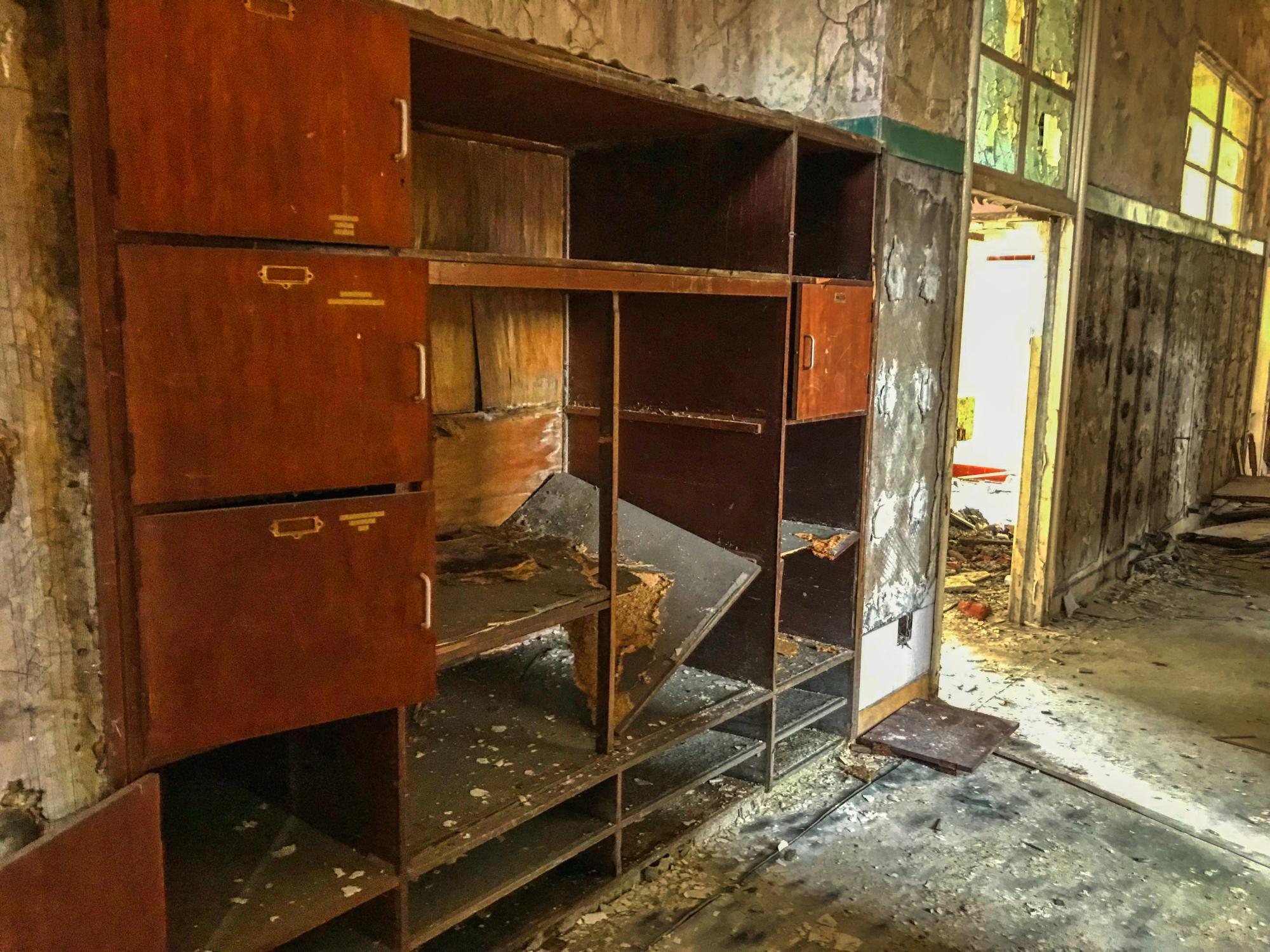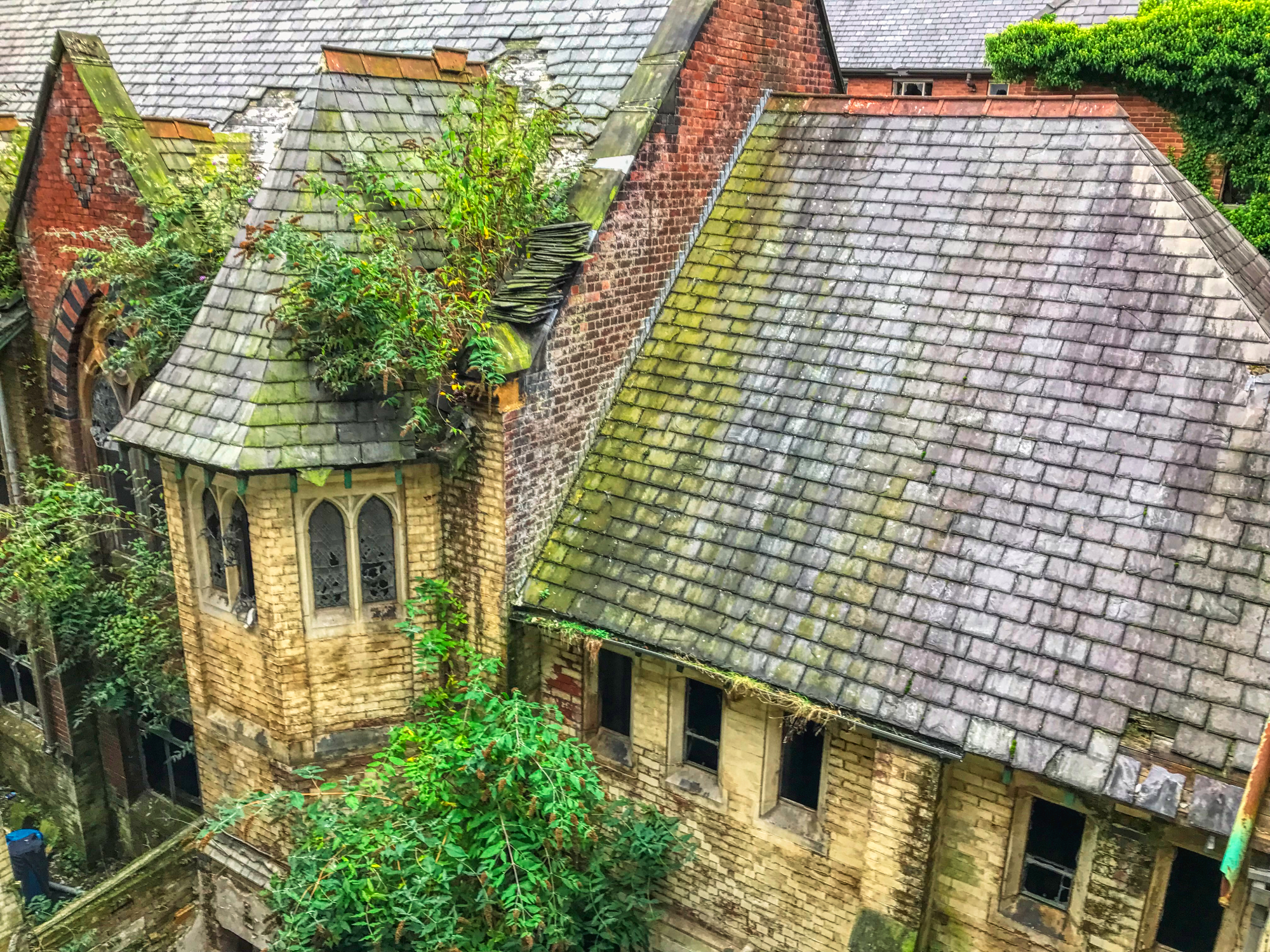 The externals from inside looked dramatic and I loved the gothic mini-towers used in abundance that adorn St Joseph's Orphanage.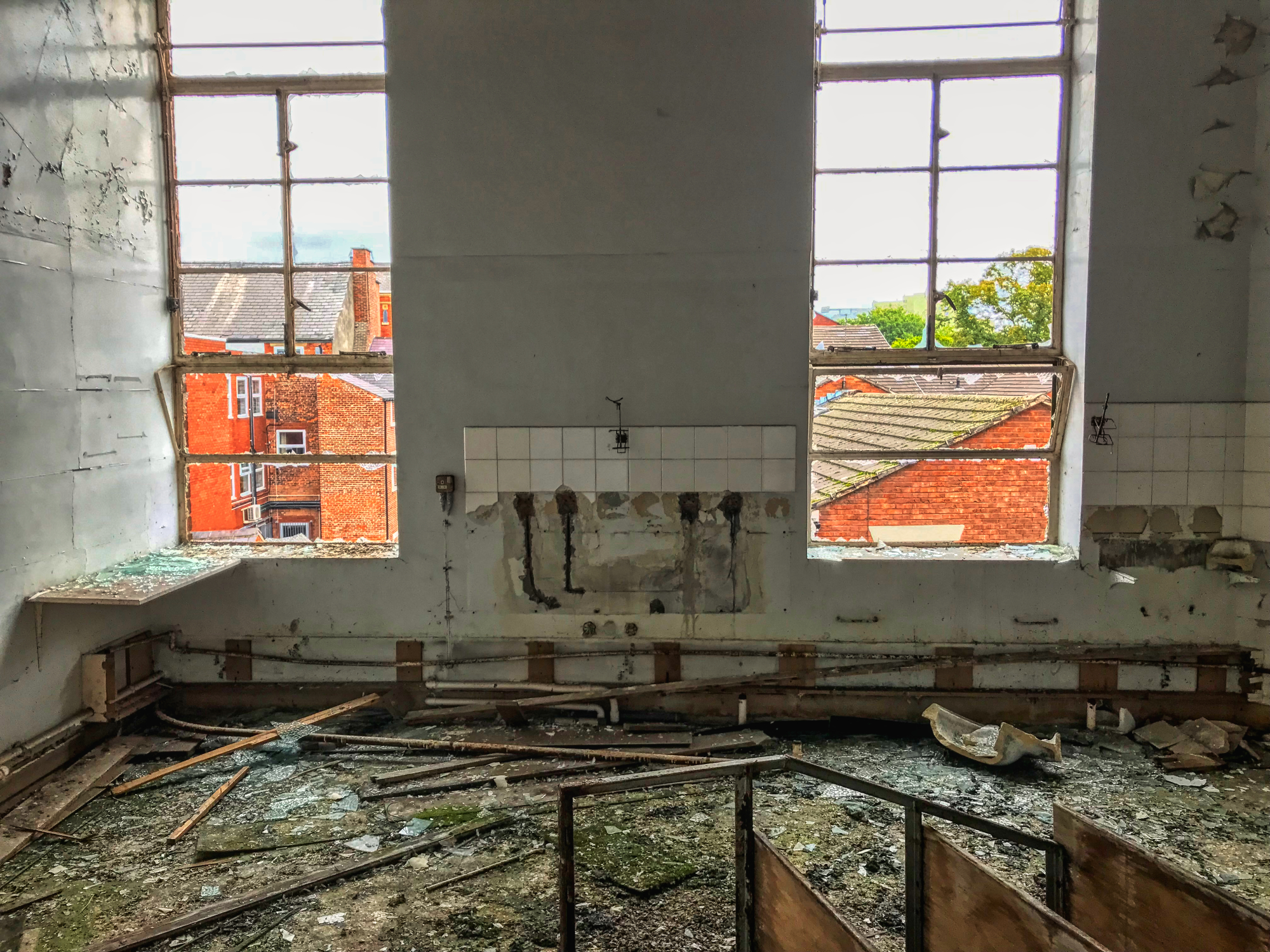 Some renovation work had been attempted sometime in the past, and subsequently abandoned.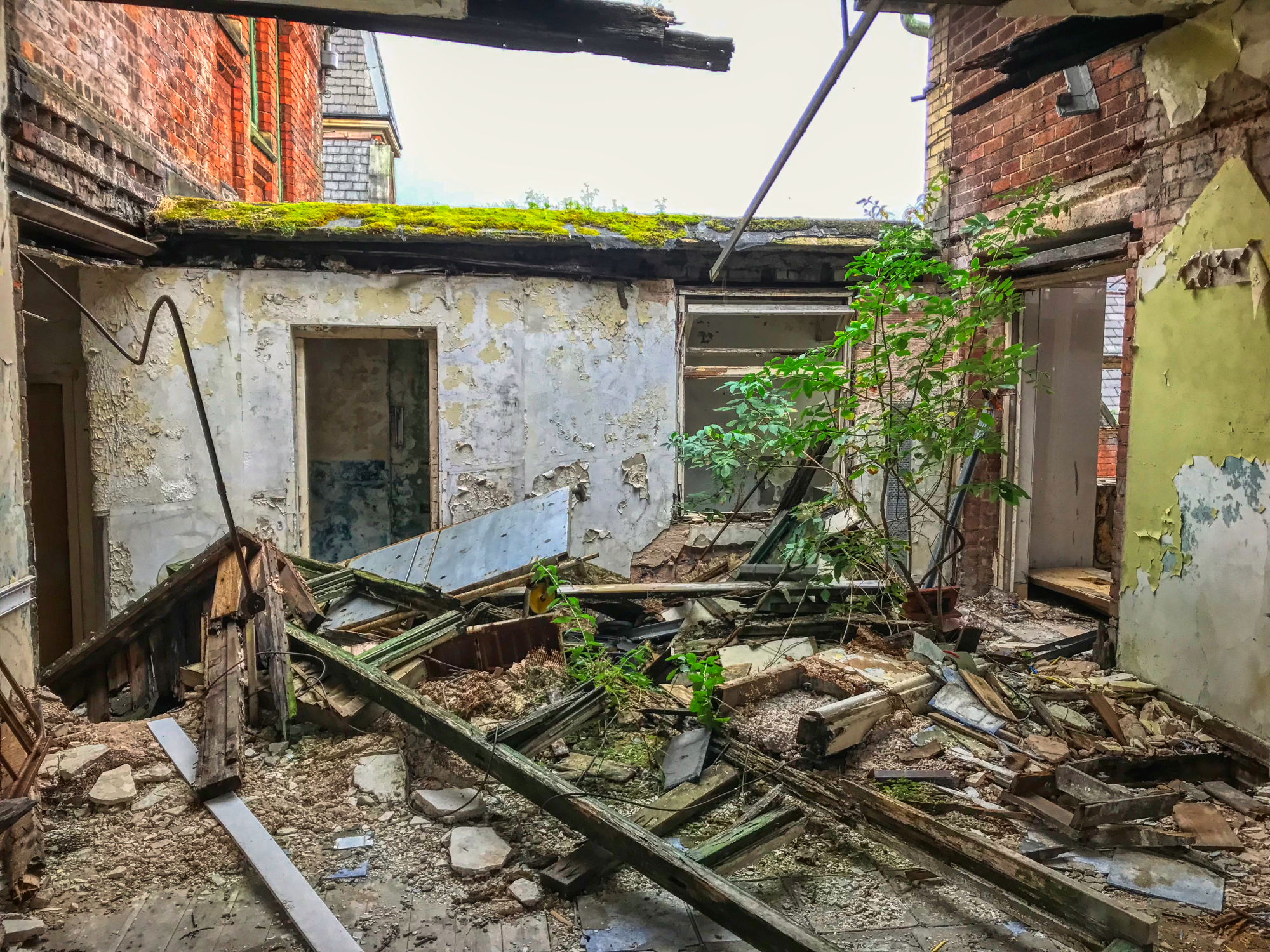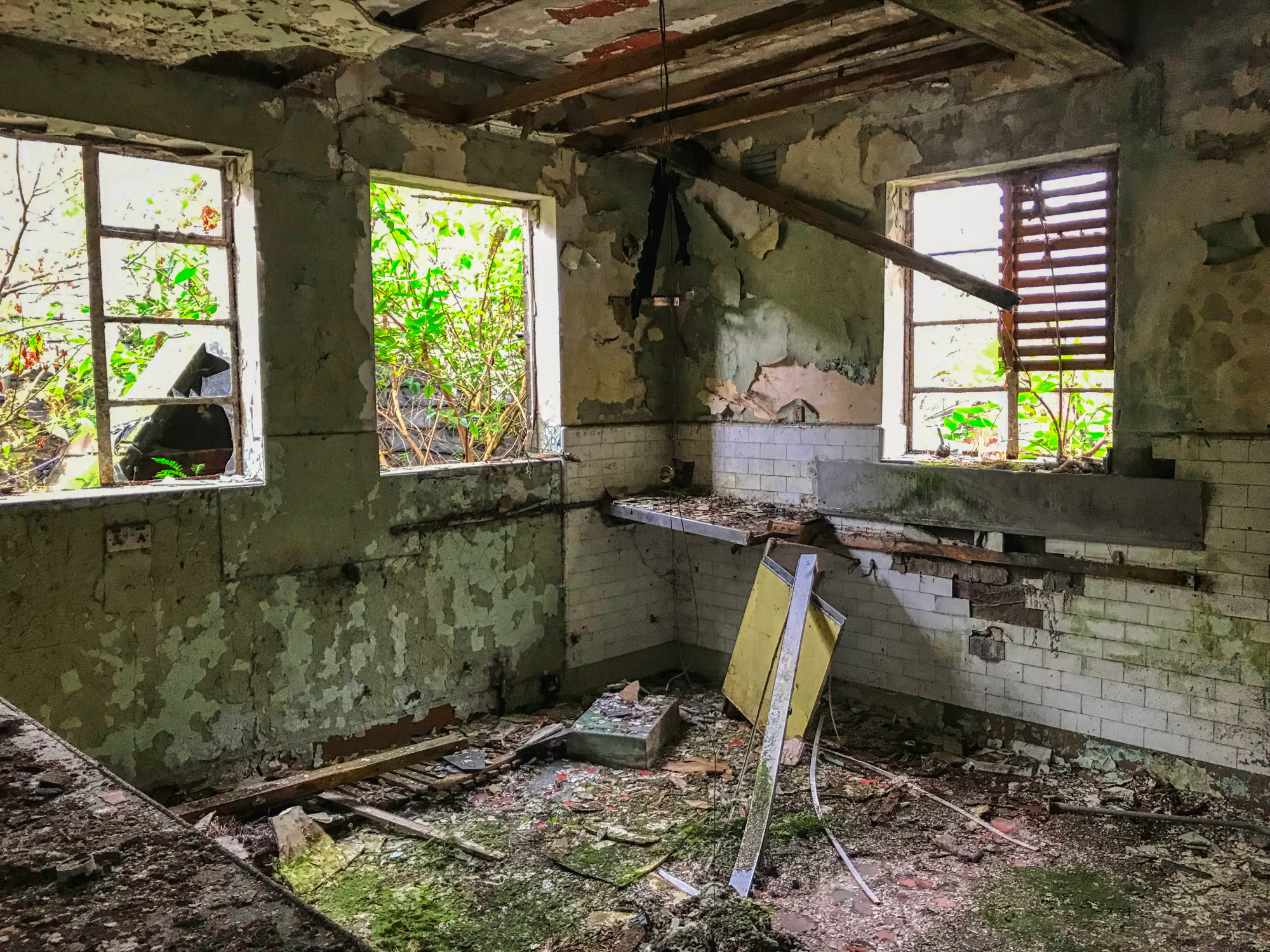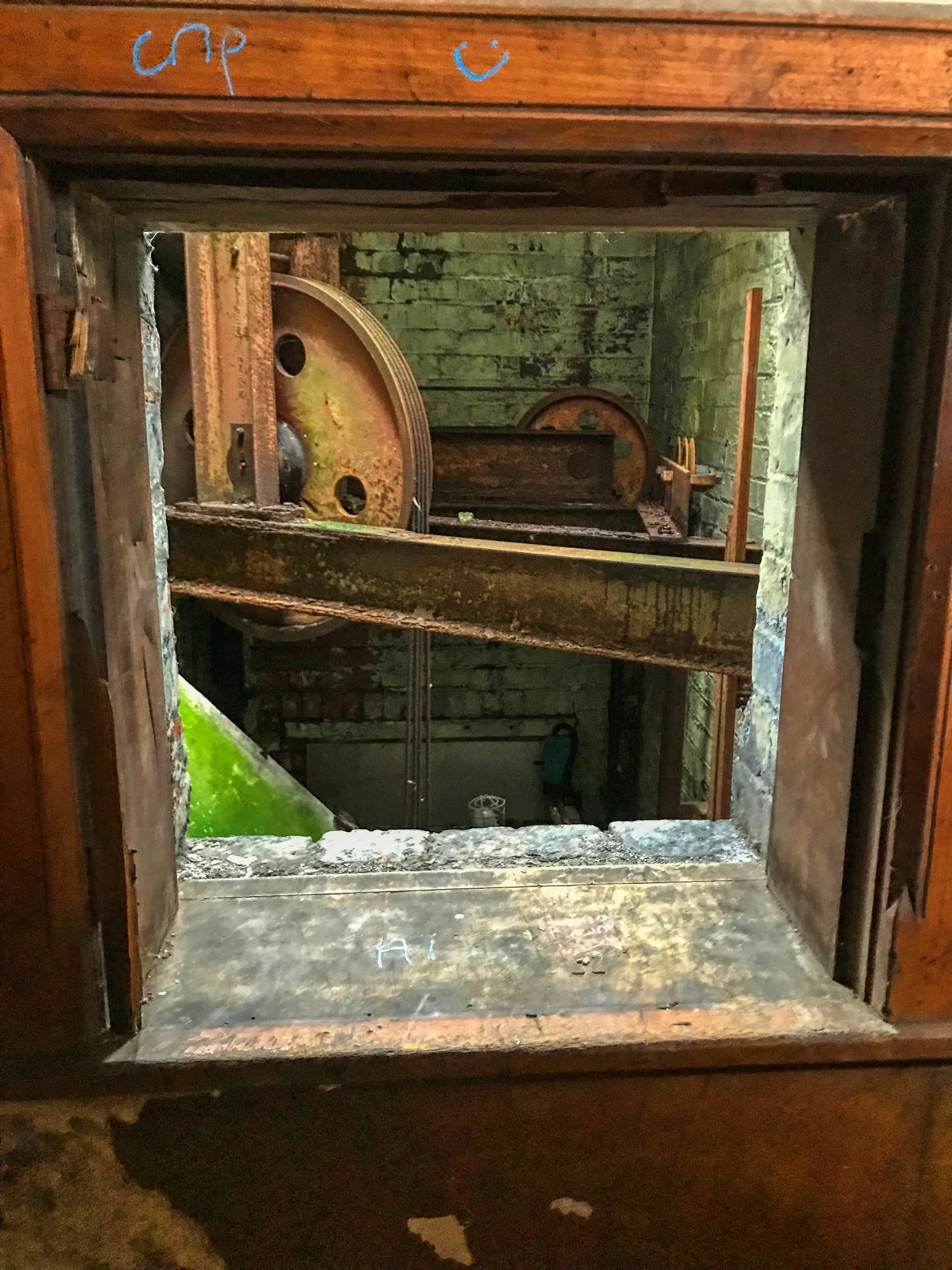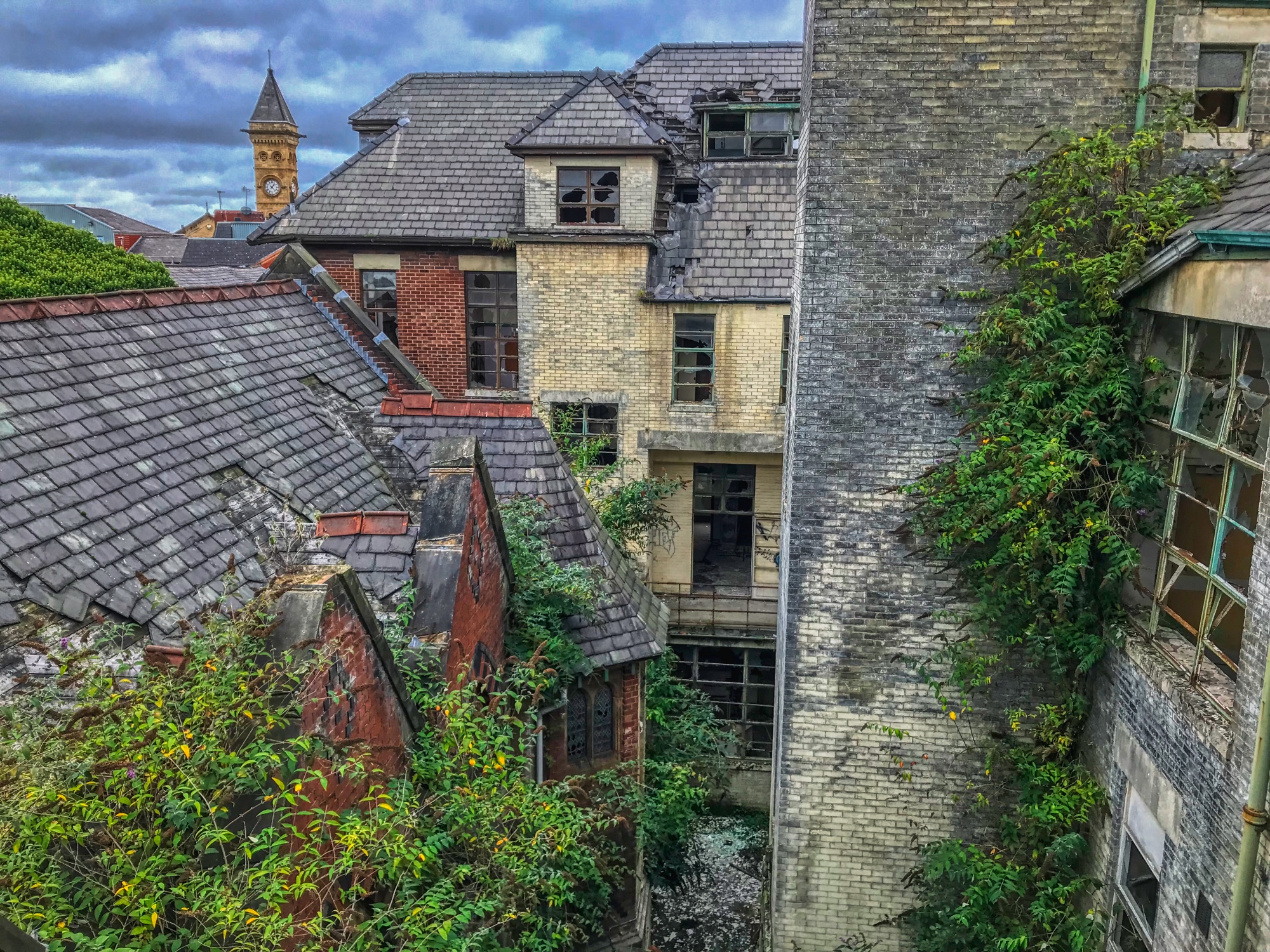 The upper floors of the Orphanage offered long drops of death for those who would get too close to the edges.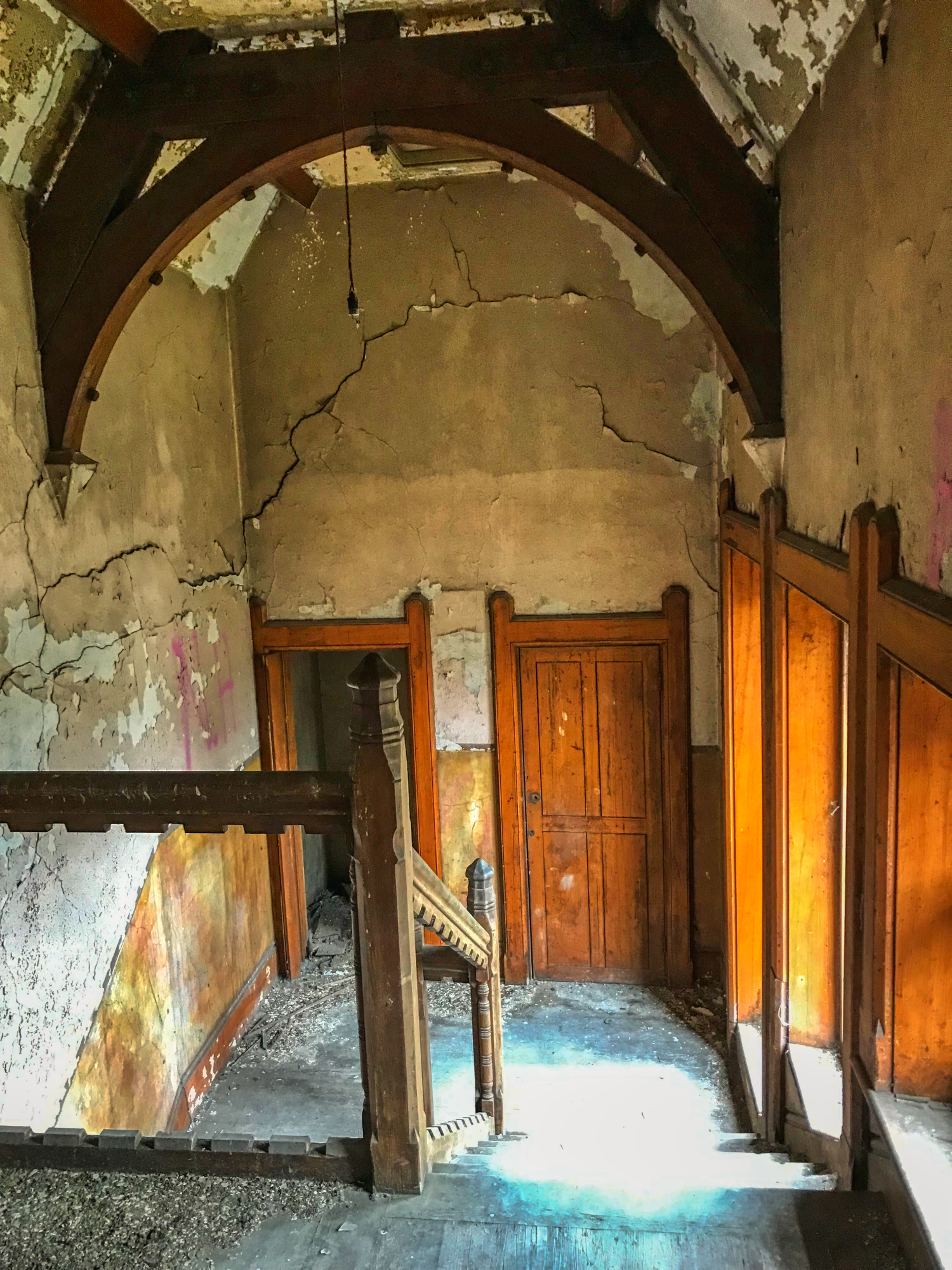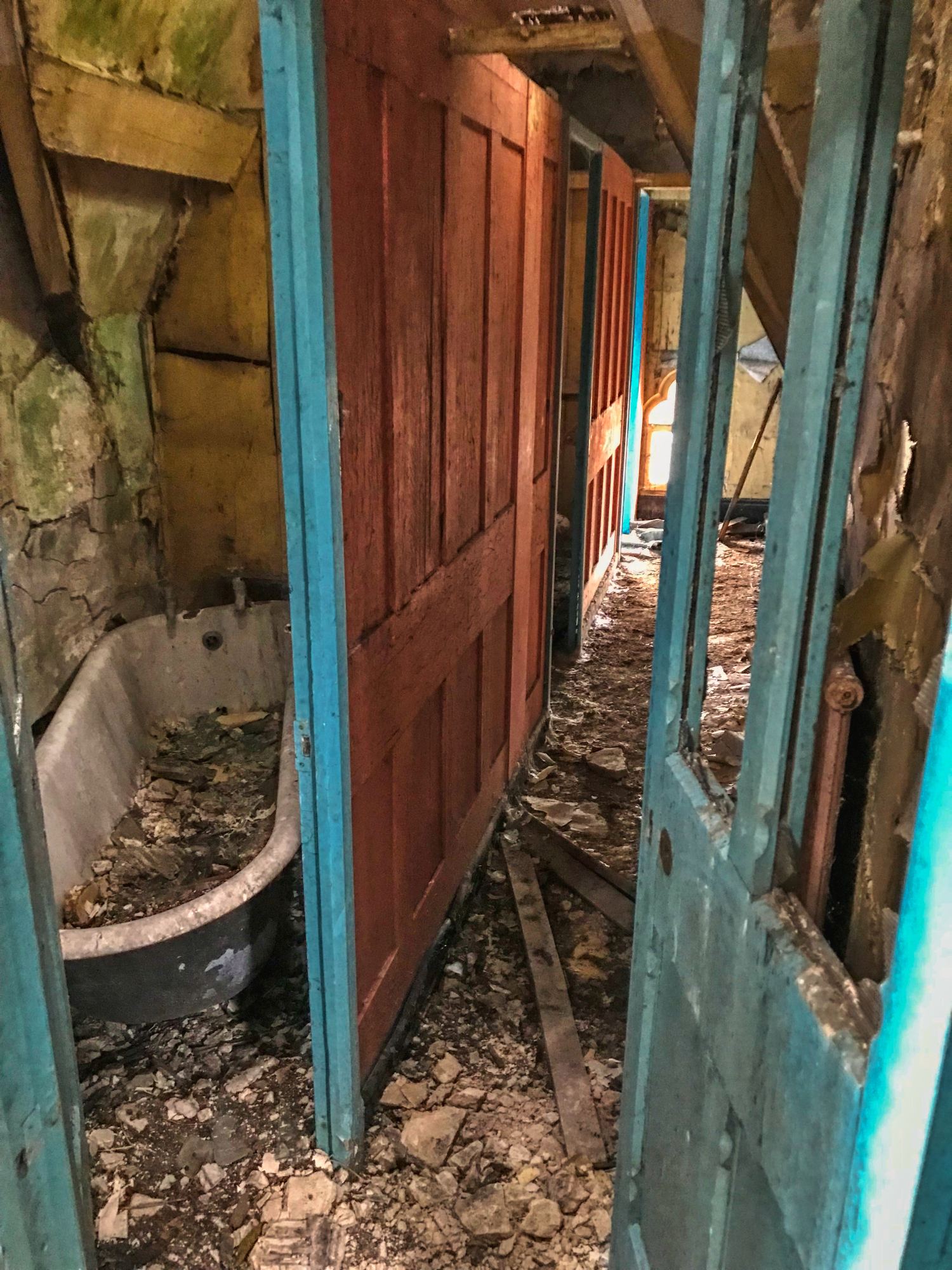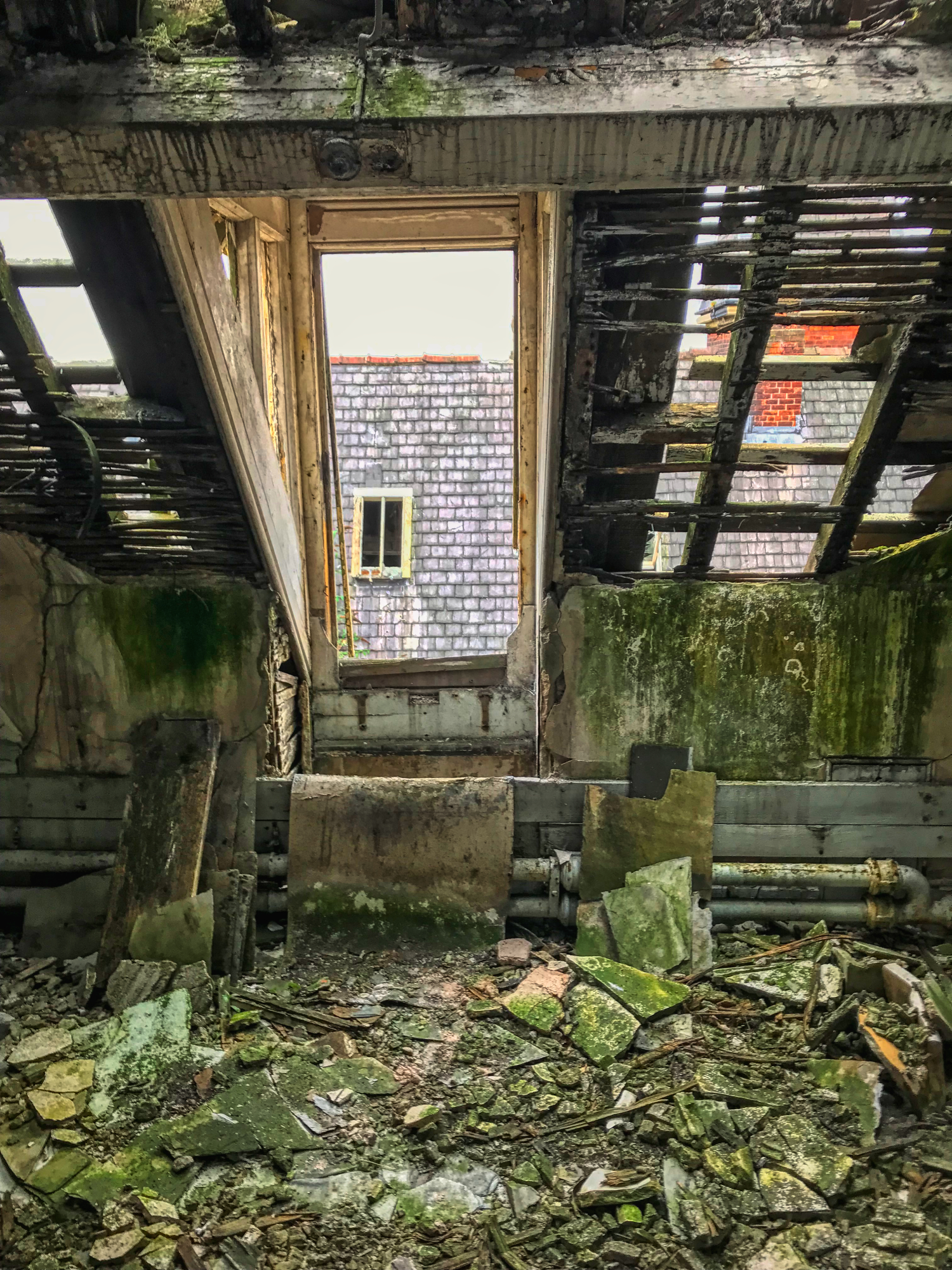 These tiny rooms were once used by orphaned children. One upper wing contained many, with slanted roofs all in terrible condition such as this.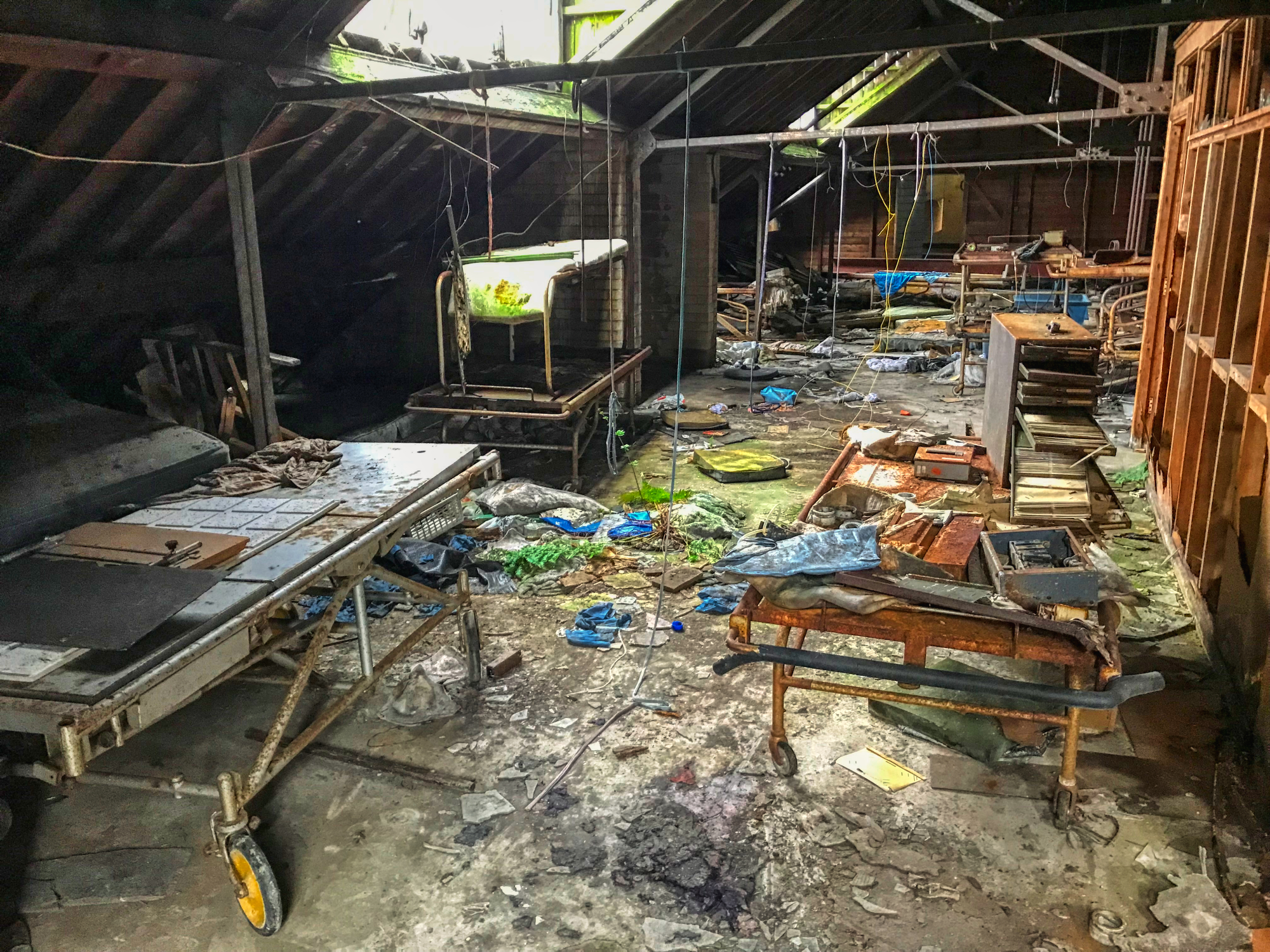 In later years the Orphanage was used as a hospital. Much evidence remains still for all to see.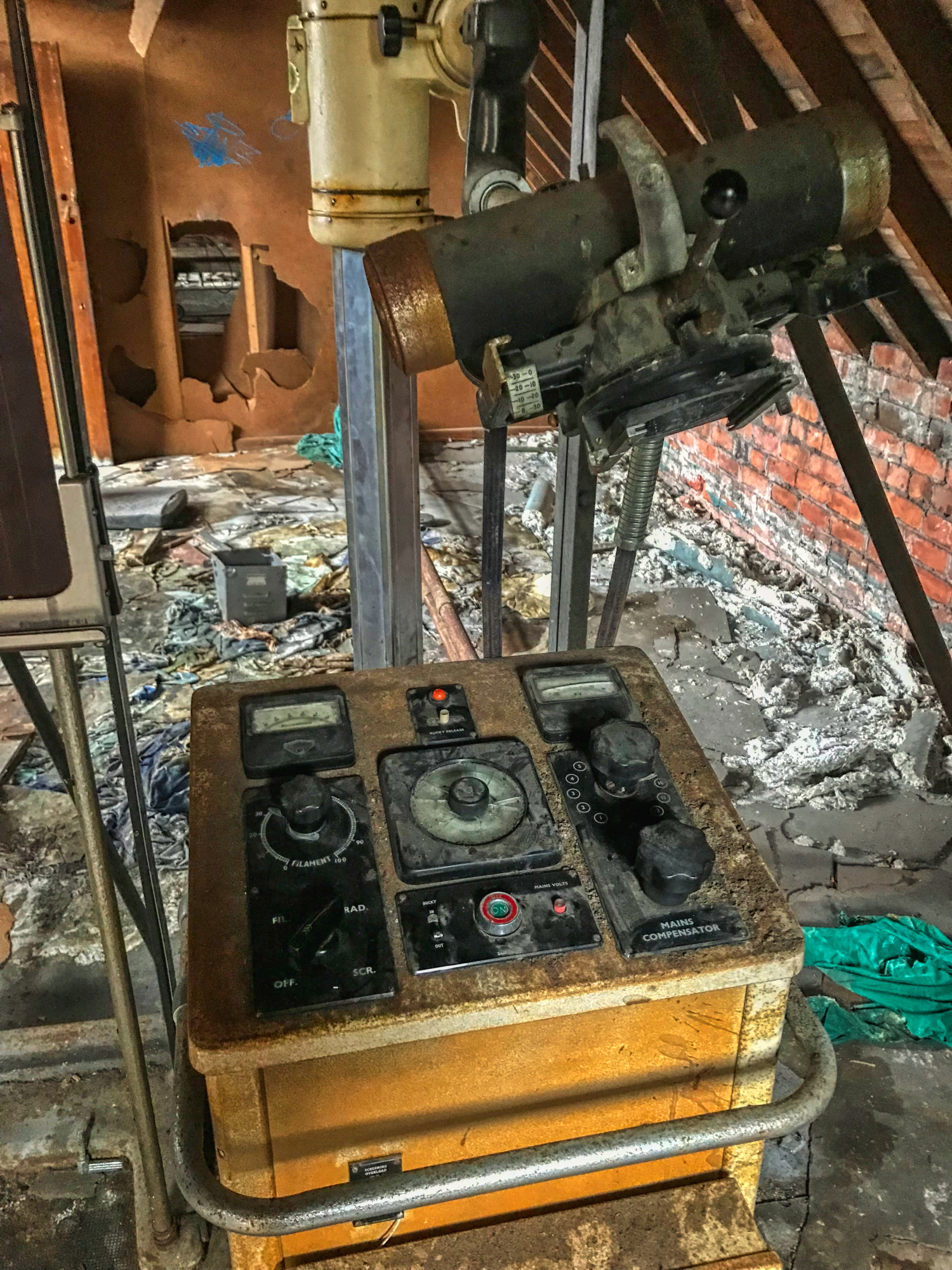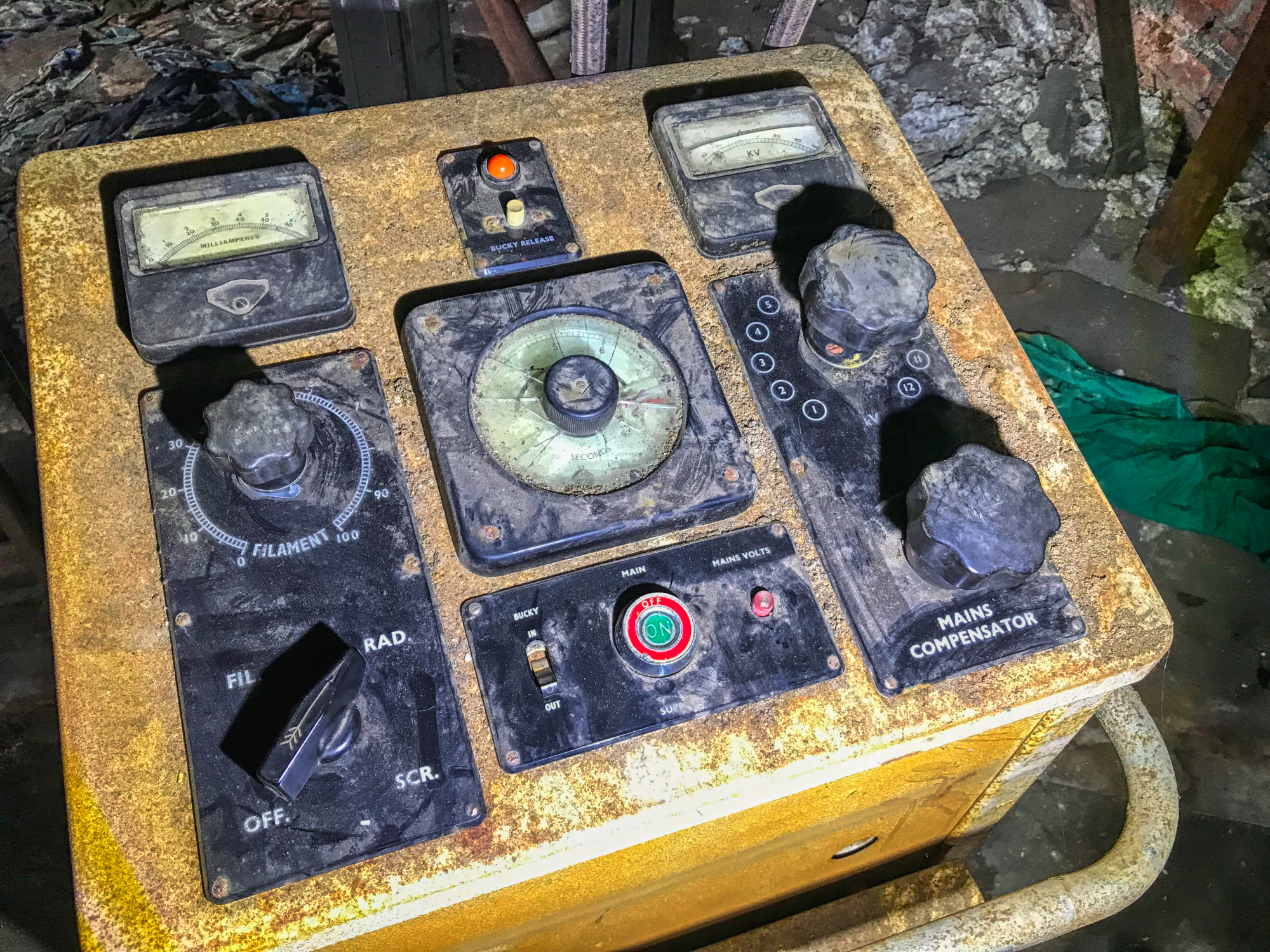 Decaying equipment left for decades accompanies the portable beds. Switches were so simple then, they went one way or the other.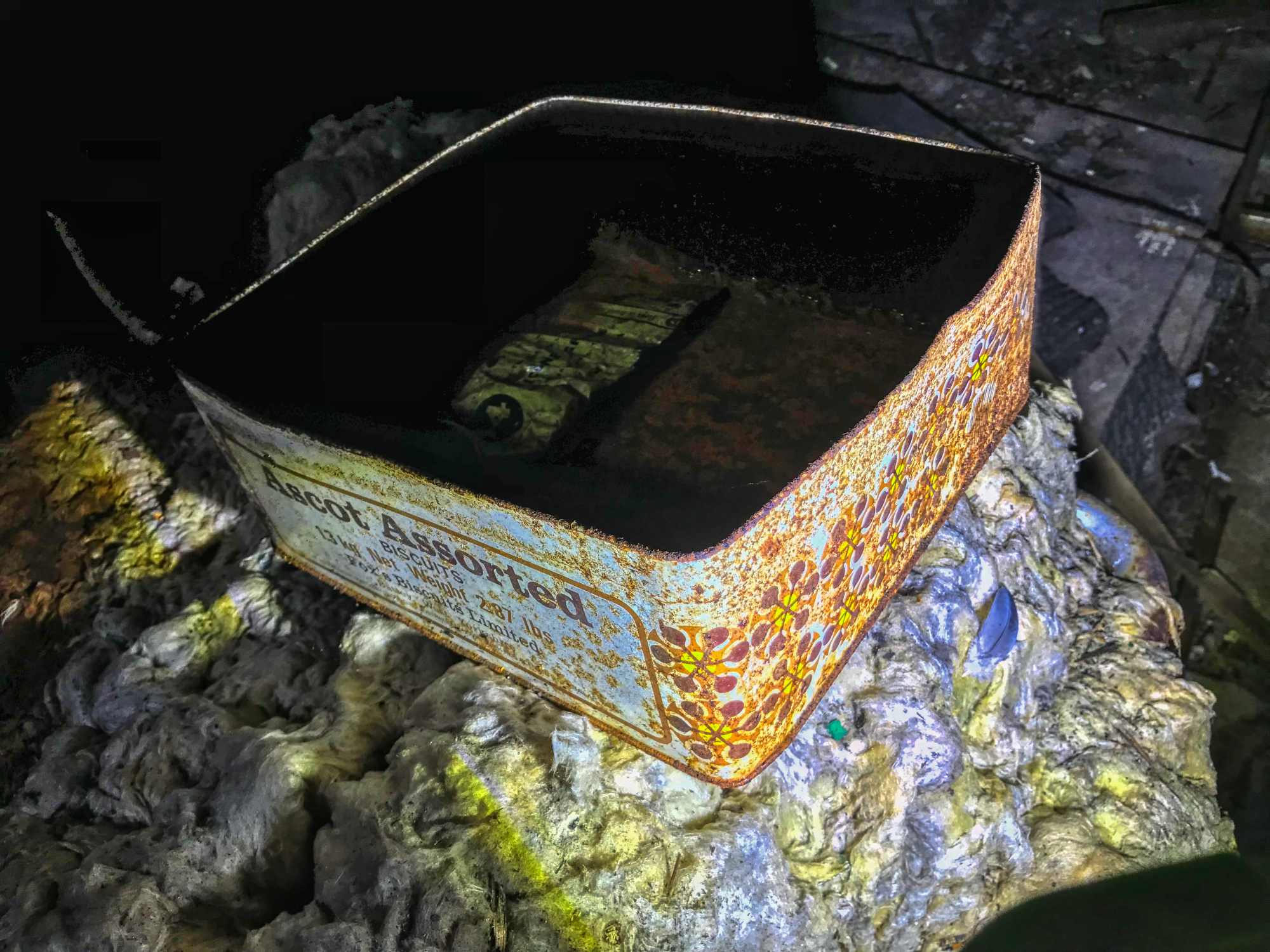 Don't ask me what was in the biscuit tin. Sheer blackness encompassed the interior and I visibly shook while witnessing its contents.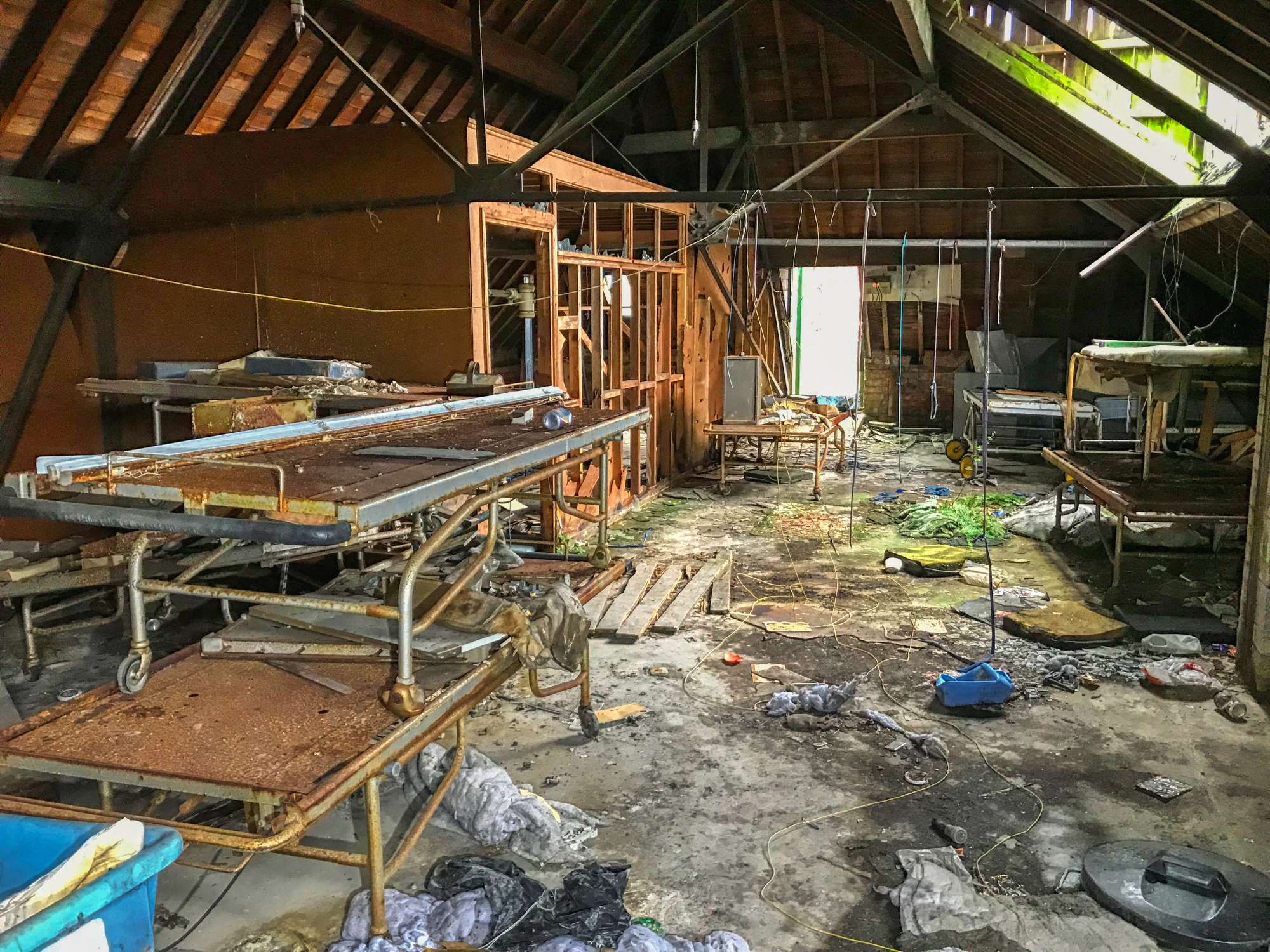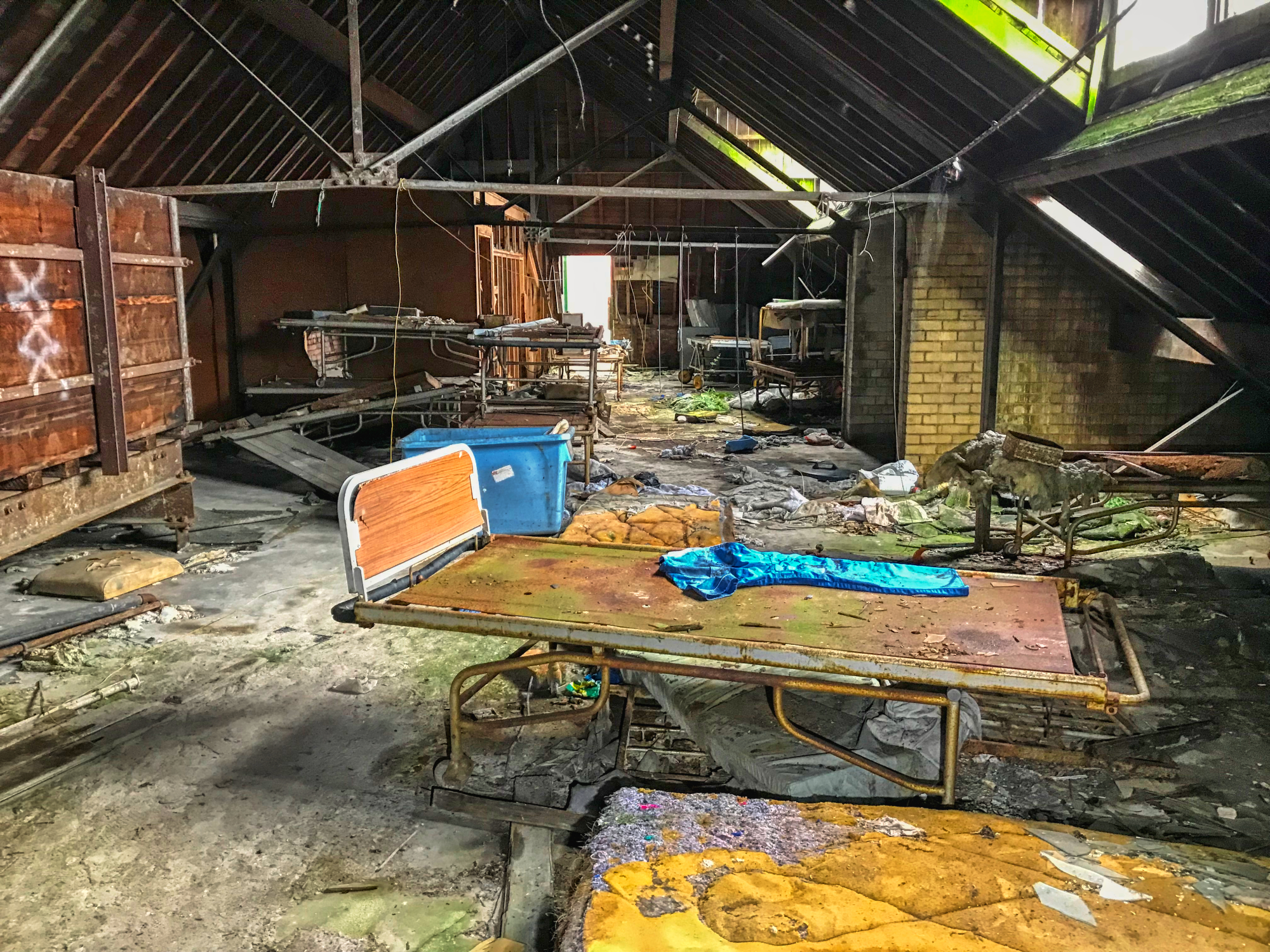 I wonder if George died in this room? What a banjo hero he was.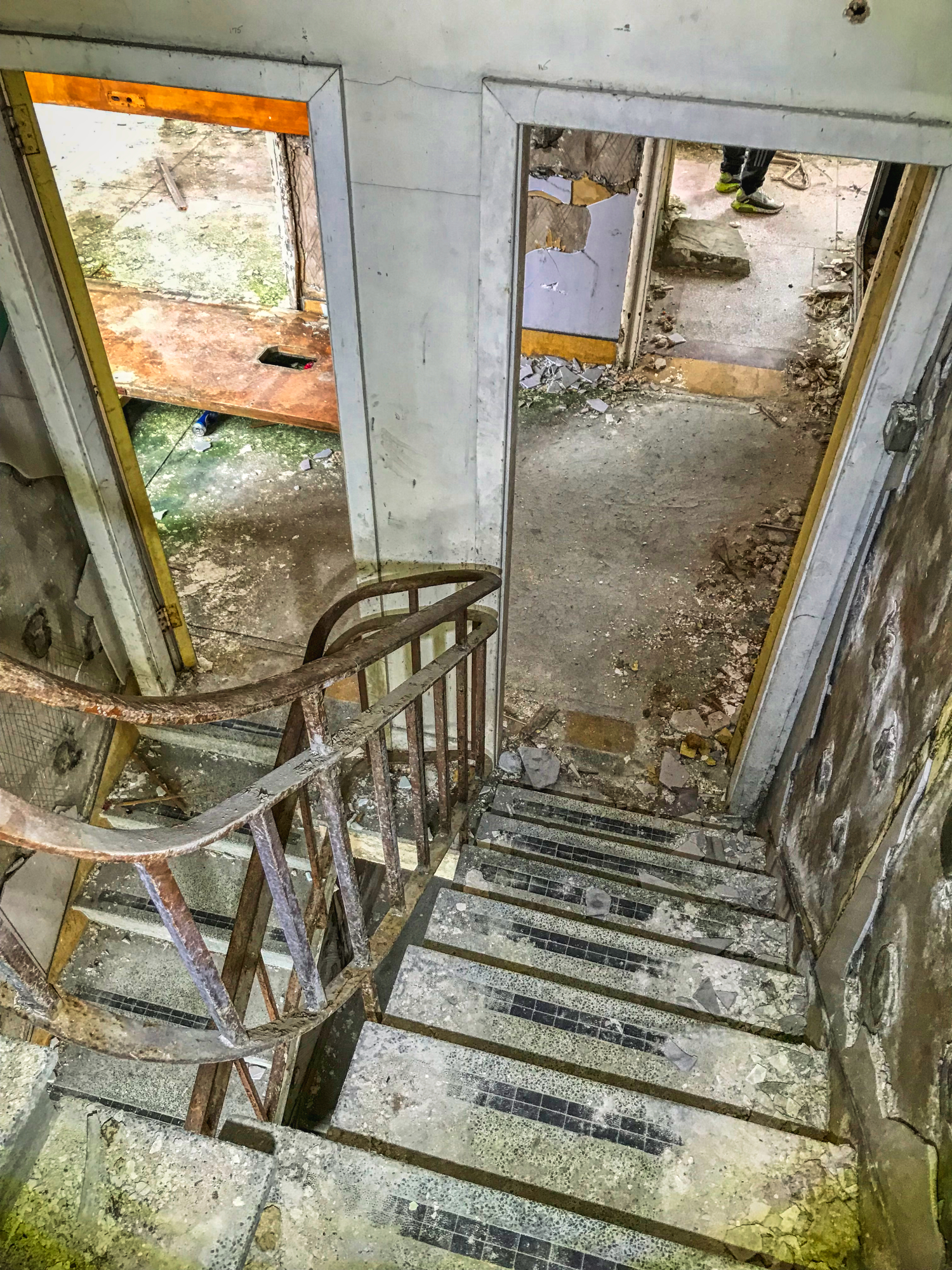 Those are the feet of @anidiotexplores, not a ghostly apparition. I don't do ghosts and spirits and have not met one yet.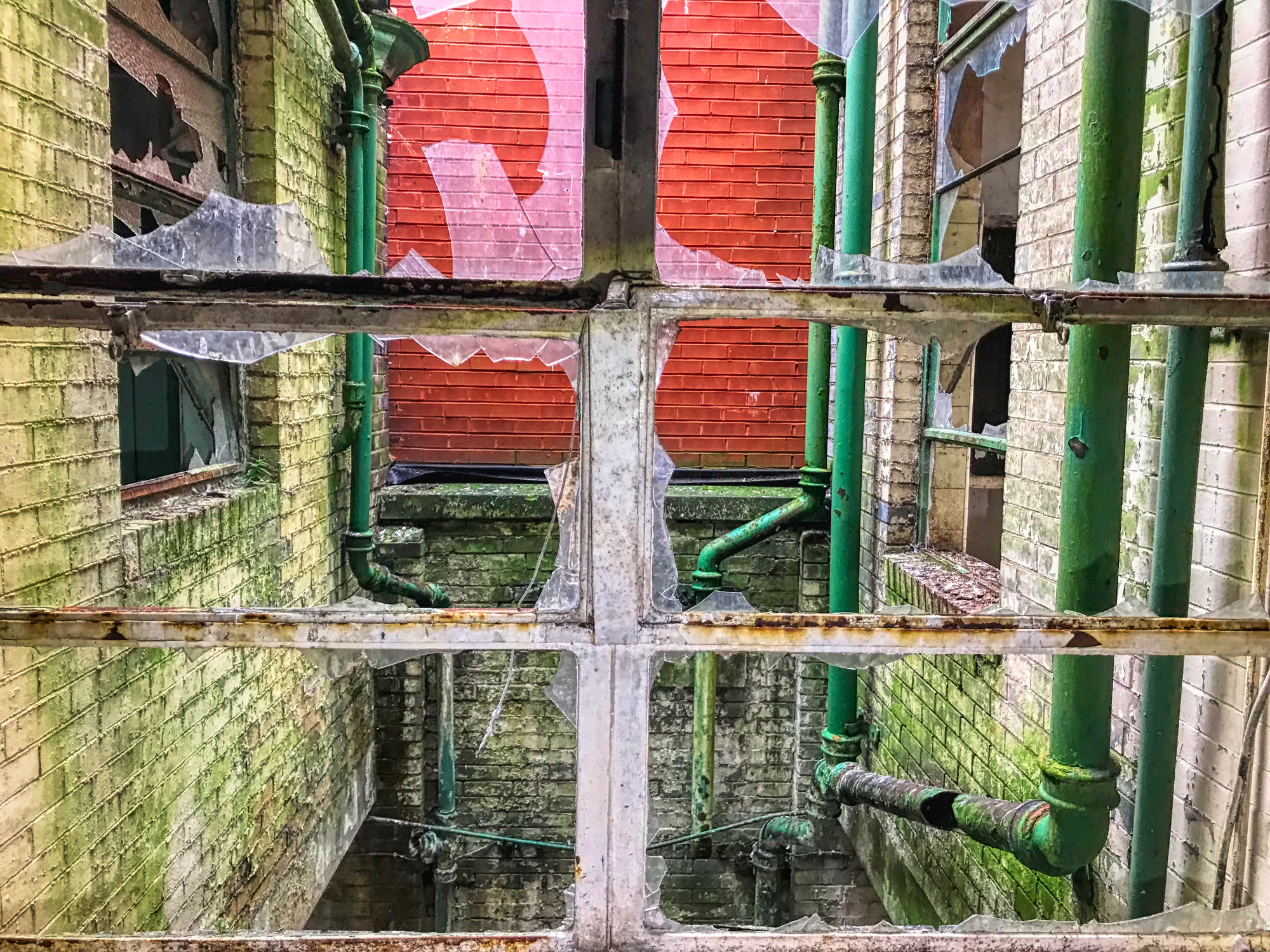 There are zero intact windows at St Joseph's Orphanage, that's a famous fact.
Long creepy corridors are numerous.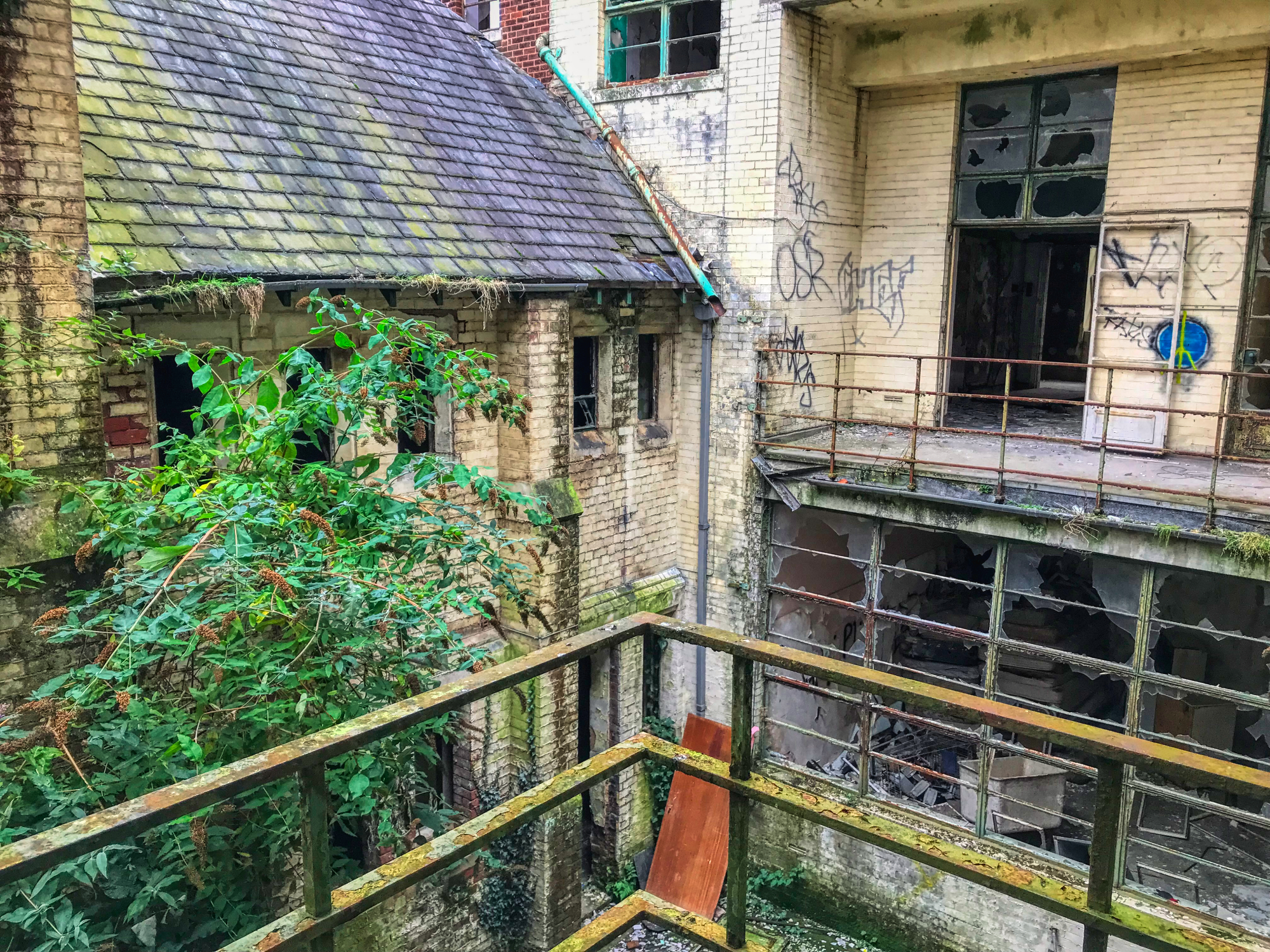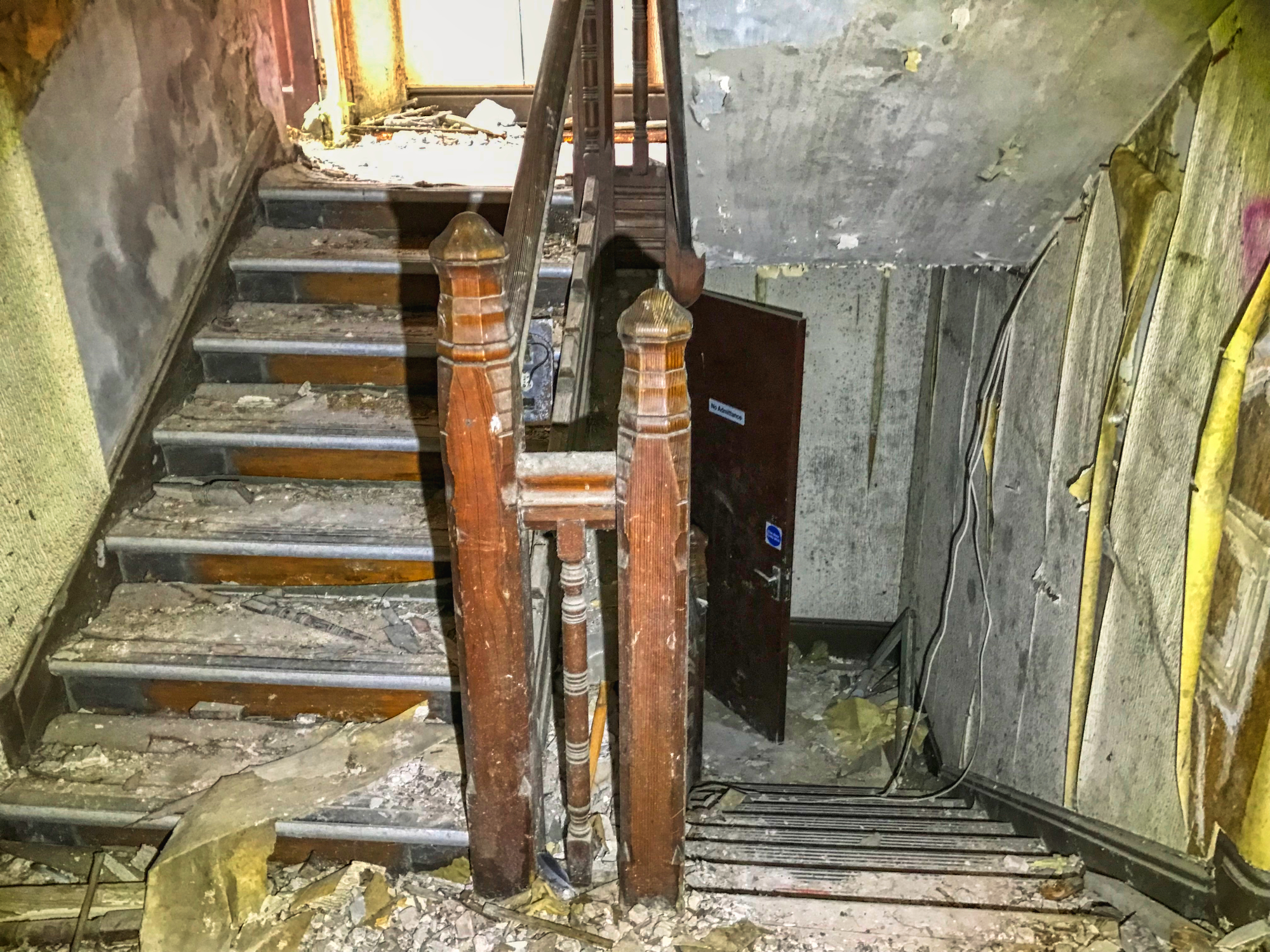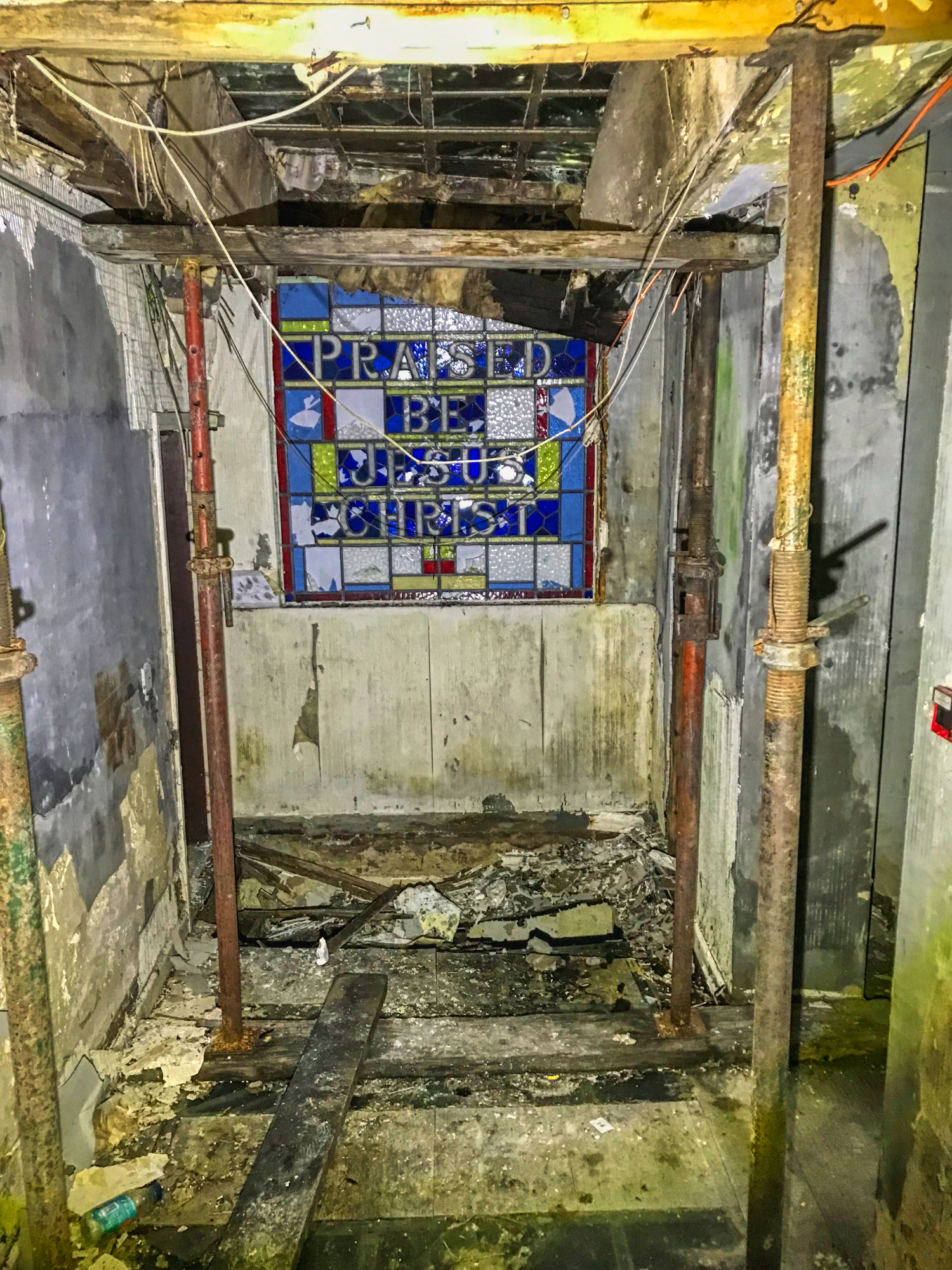 The glass window told me we were closing in on the chapel, or what's left of it.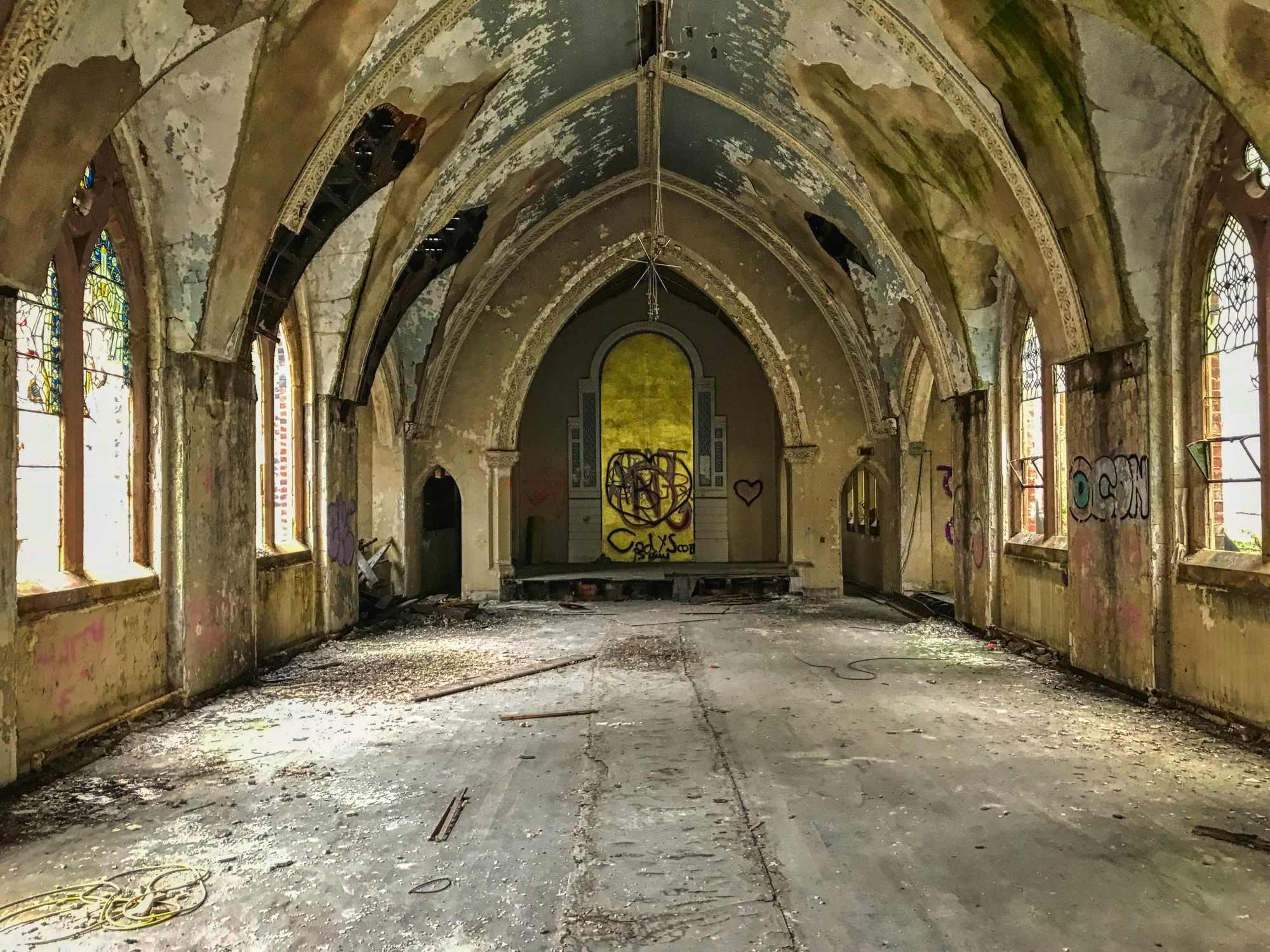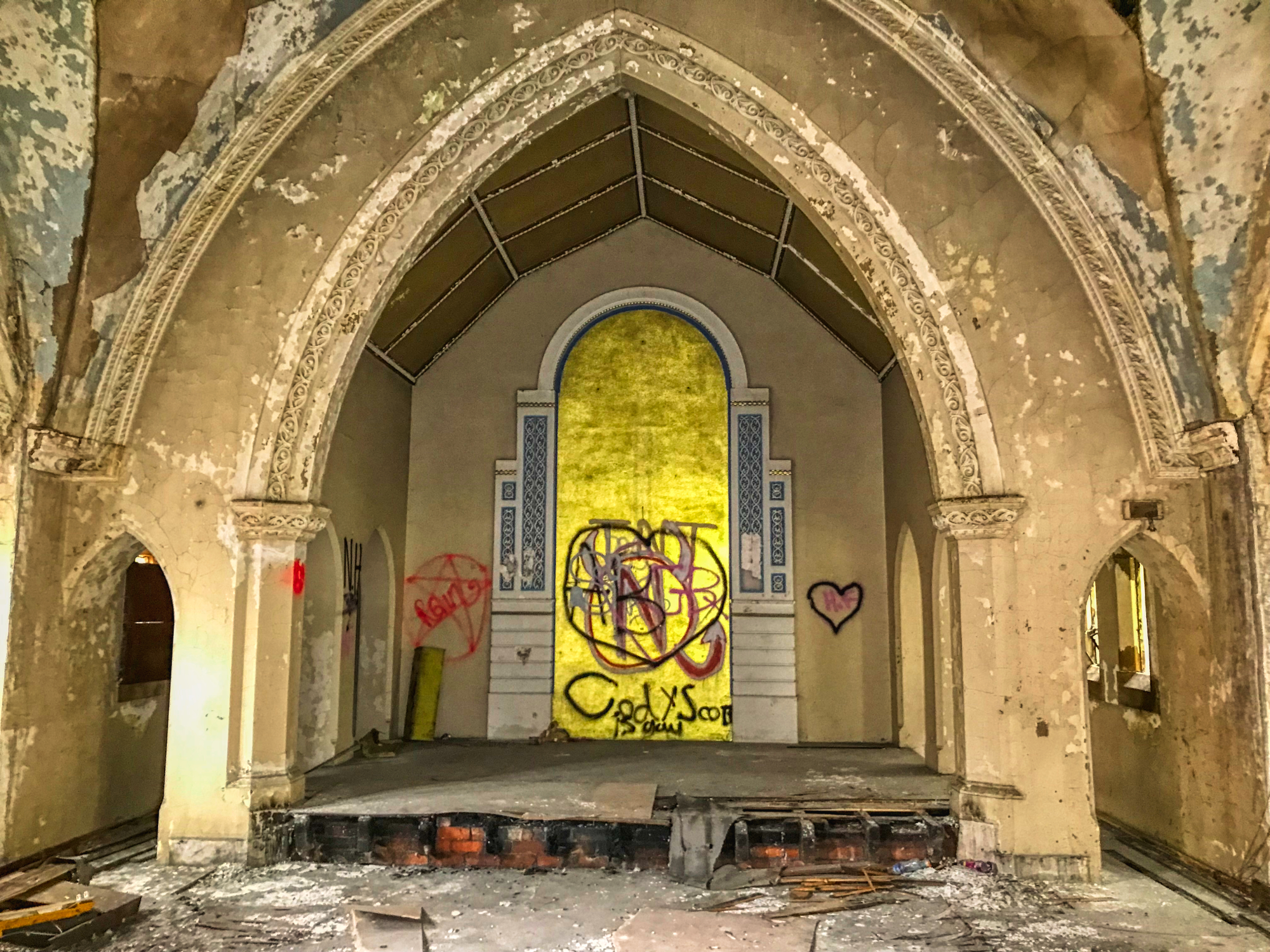 A full church, minus all the fittings resides in St Joseph's Orphanage. During the 19th century, England was extremely religious.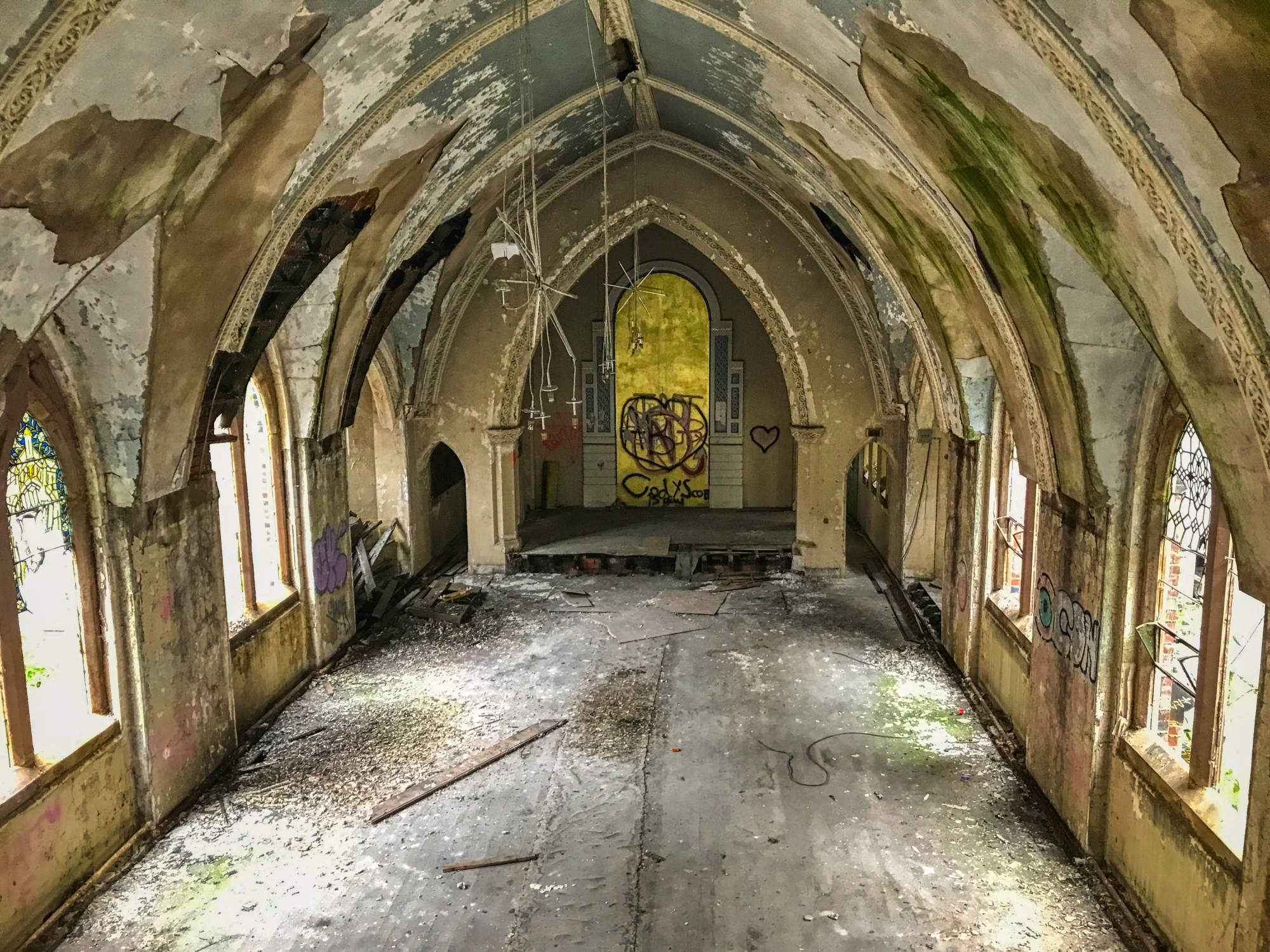 The view from the upper balcony affords the best view.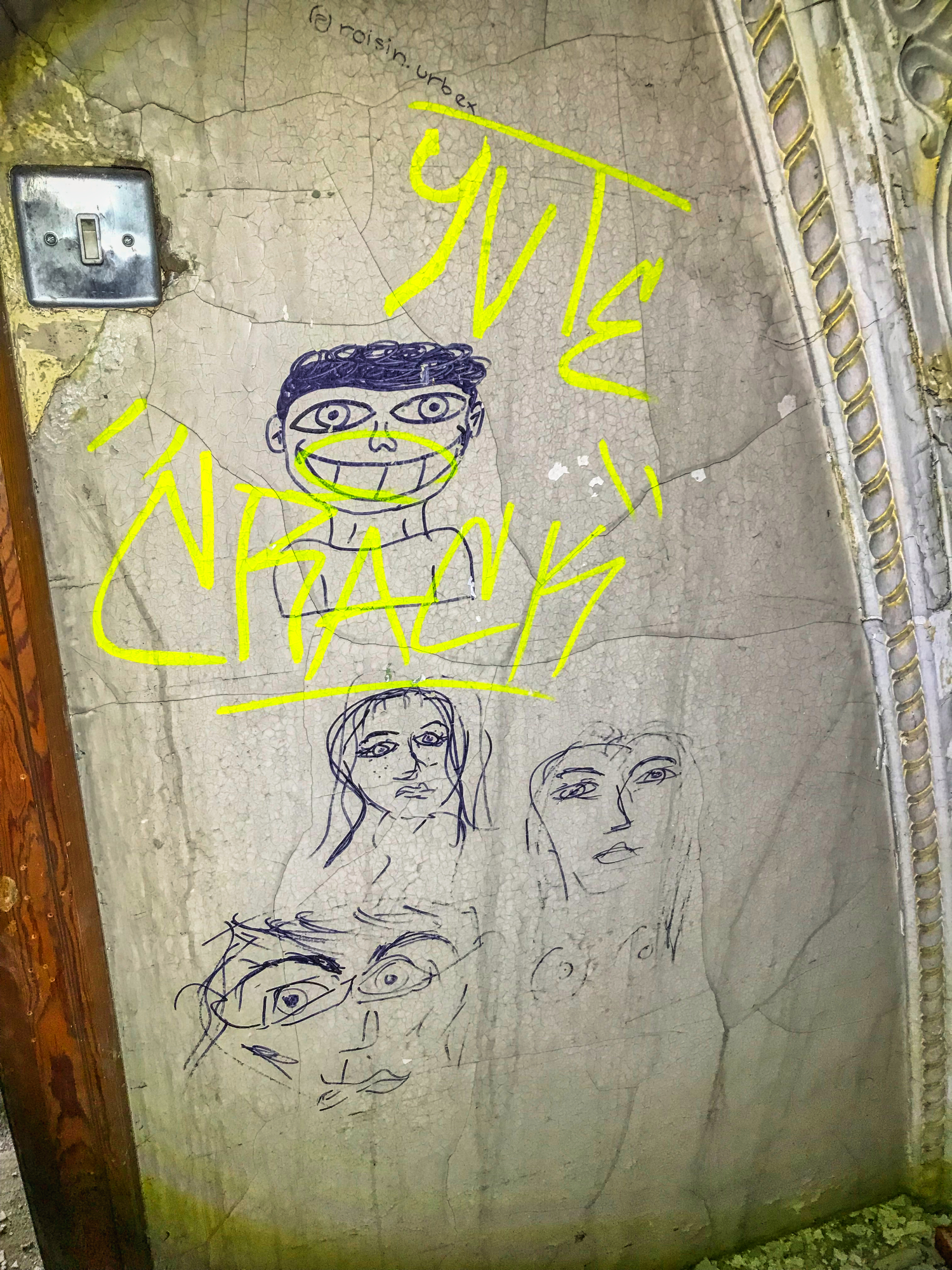 … along with some crappy graffiti.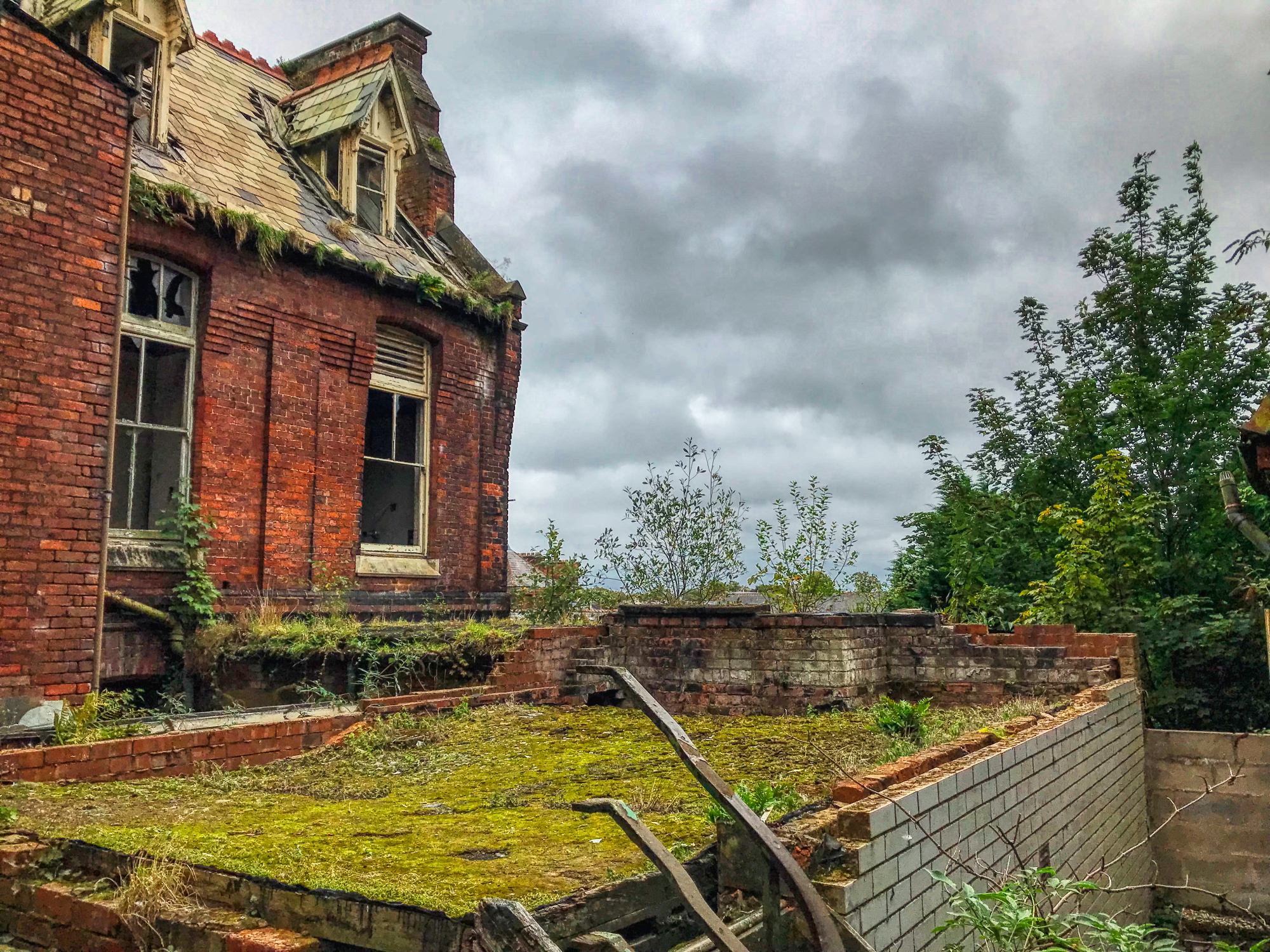 Several areas of St Joseph's Orphanages allow one to go outside and admire the view.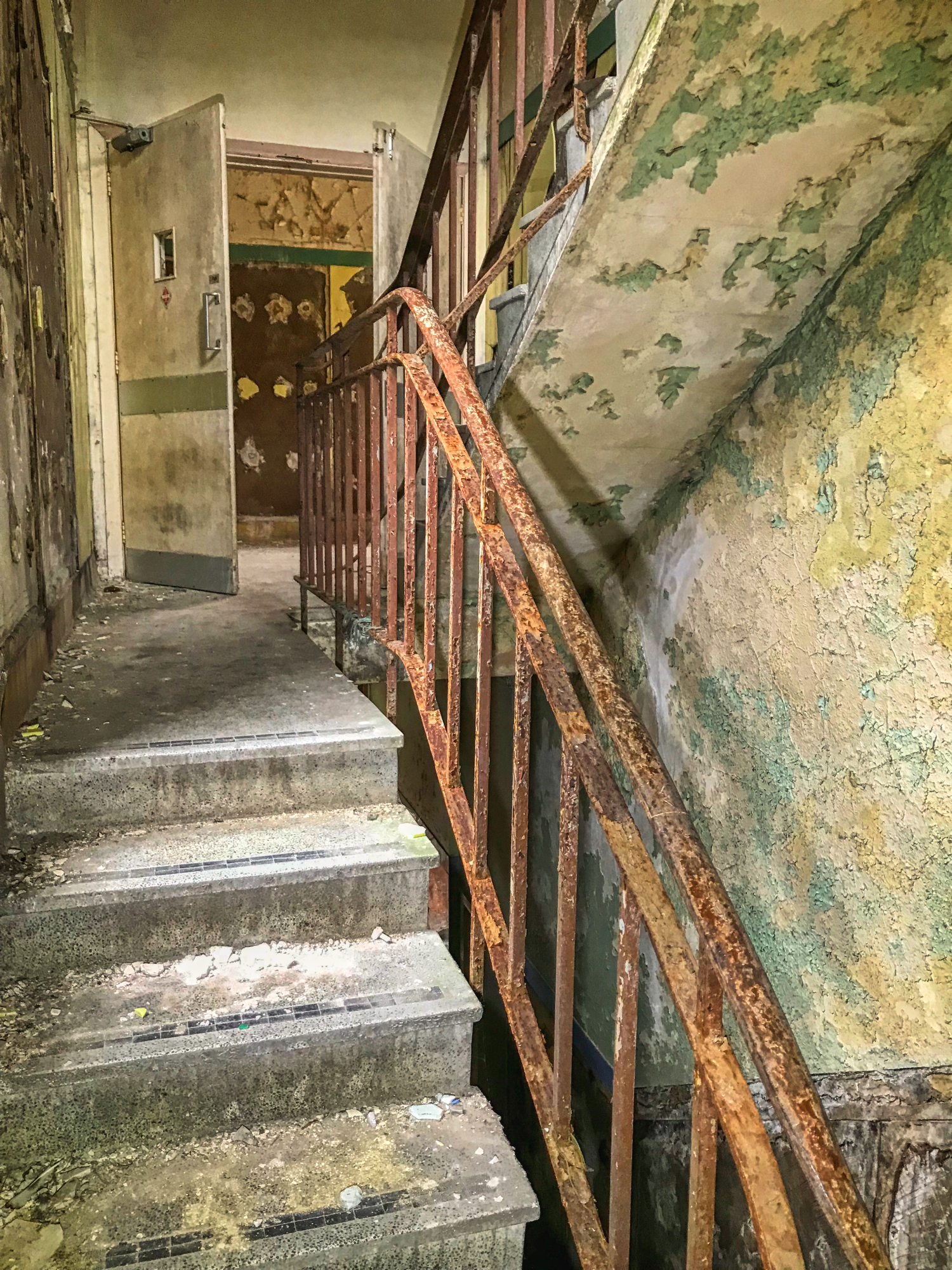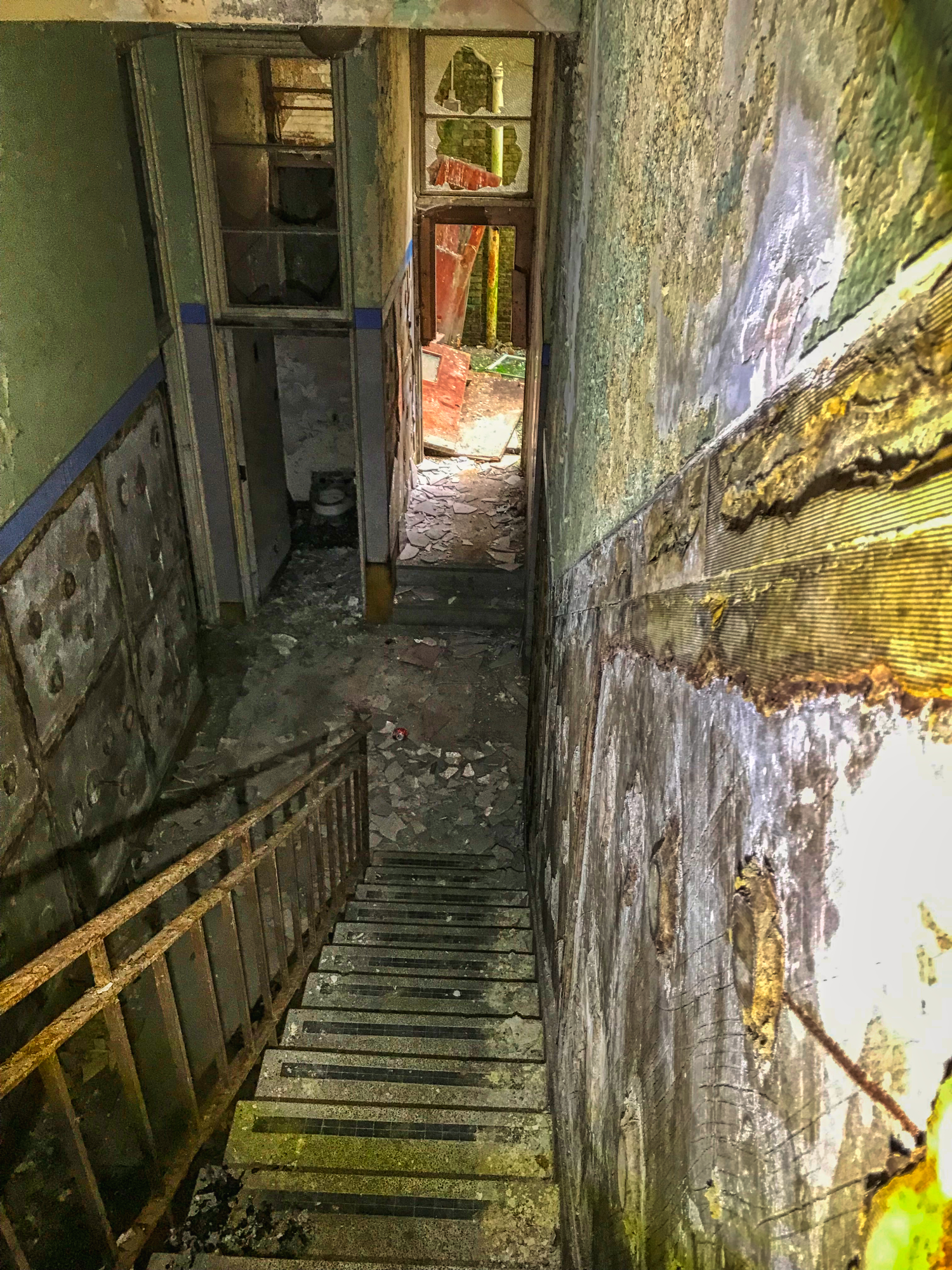 Getting lost could easily happen. The number of stairs, corridors, twists, and turns was numerous.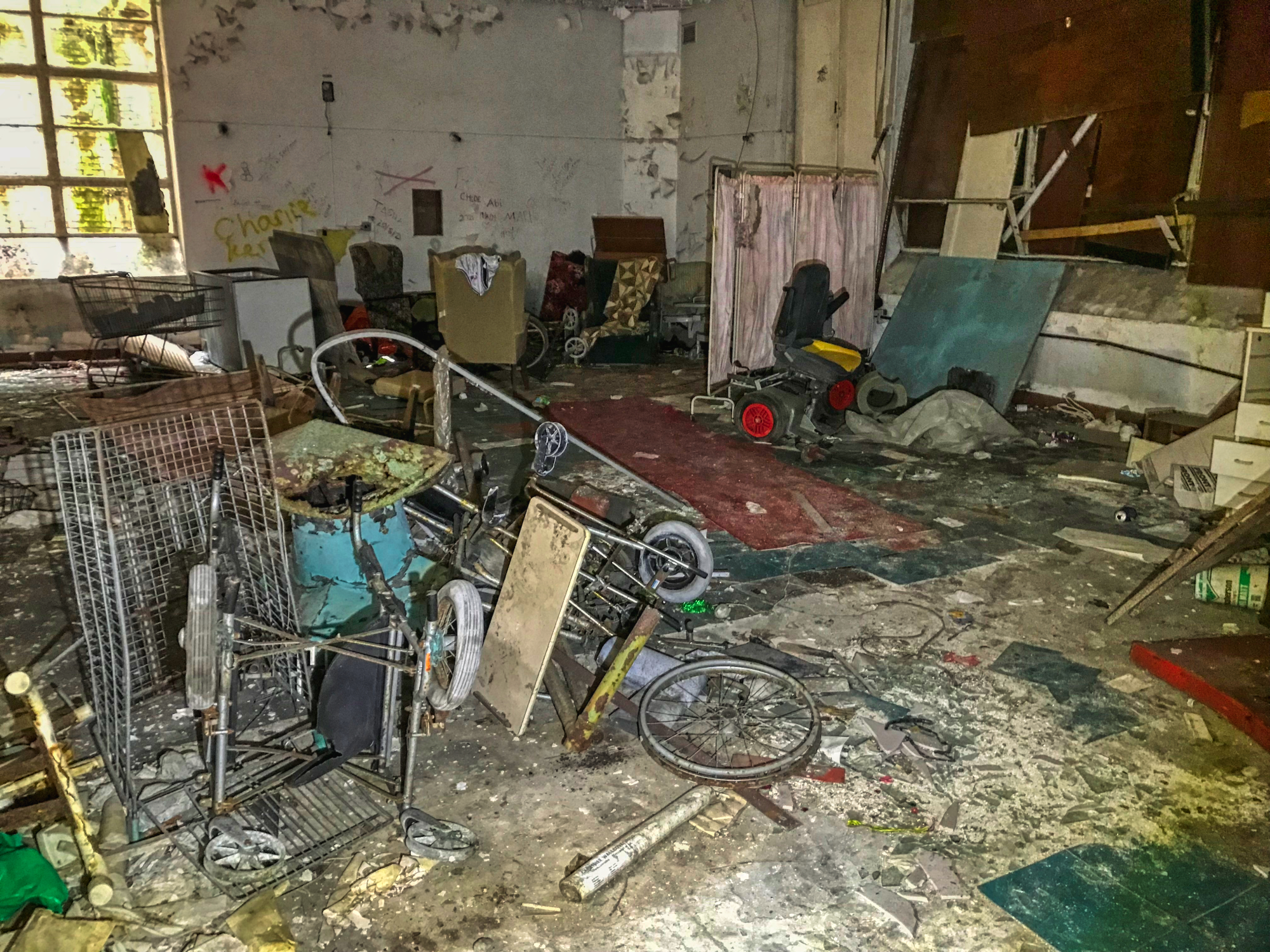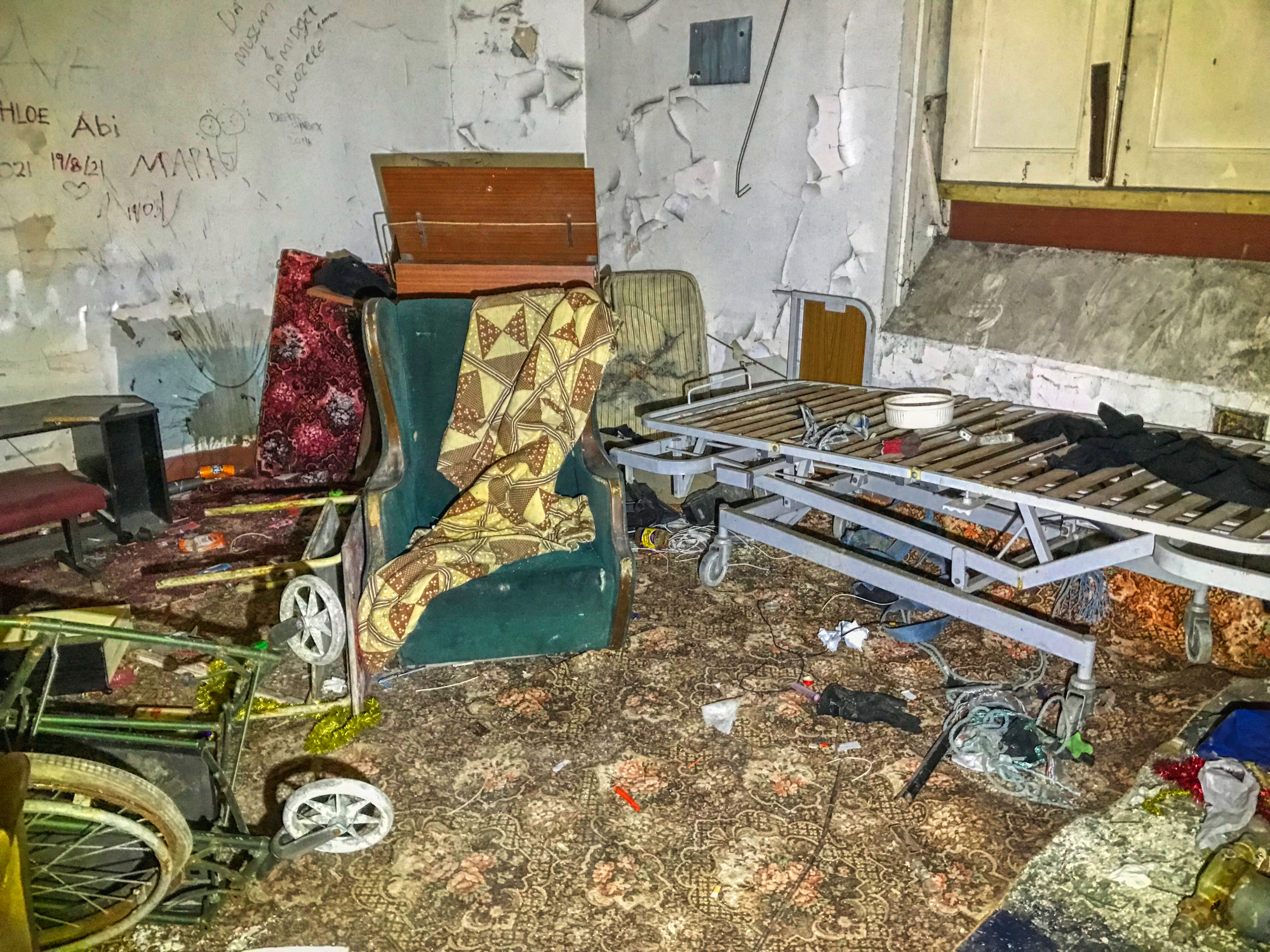 People have to sign the walls... as if I give a fuck.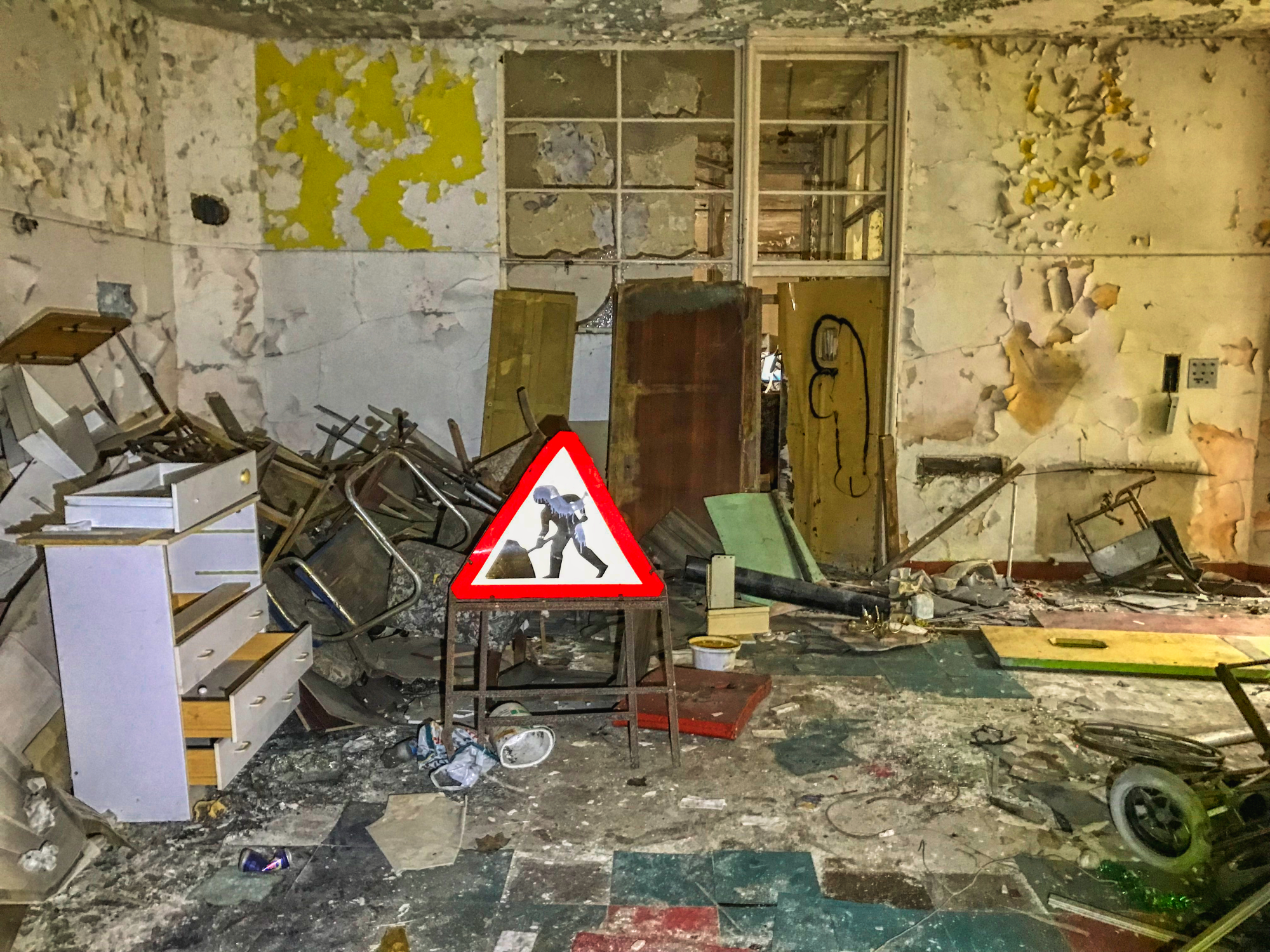 Road signs inside were novel. It was a little congested in the area so I would say it deserved its place.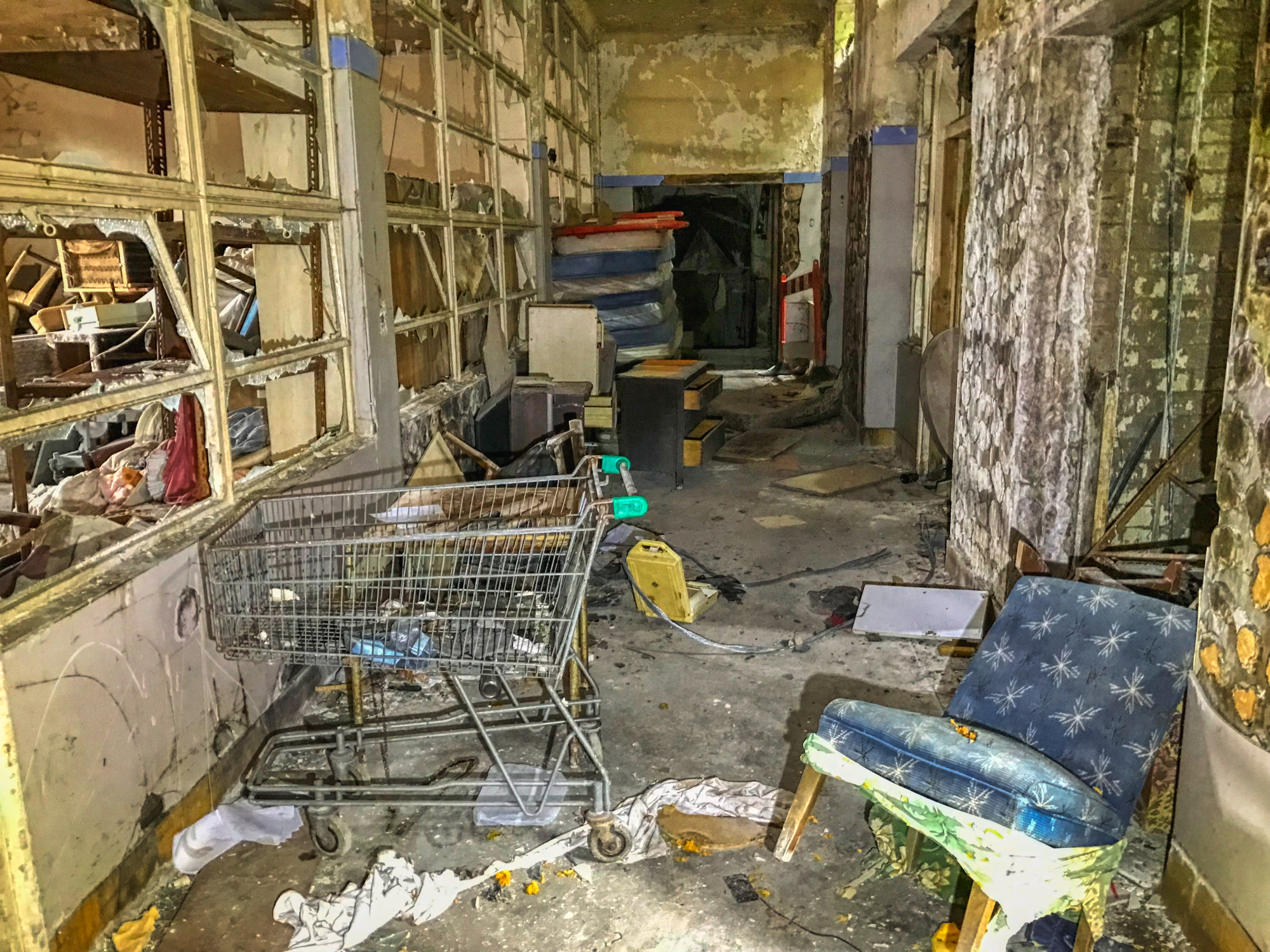 The corridor was particularly congested with junk as well as the obligatory shopping trolley.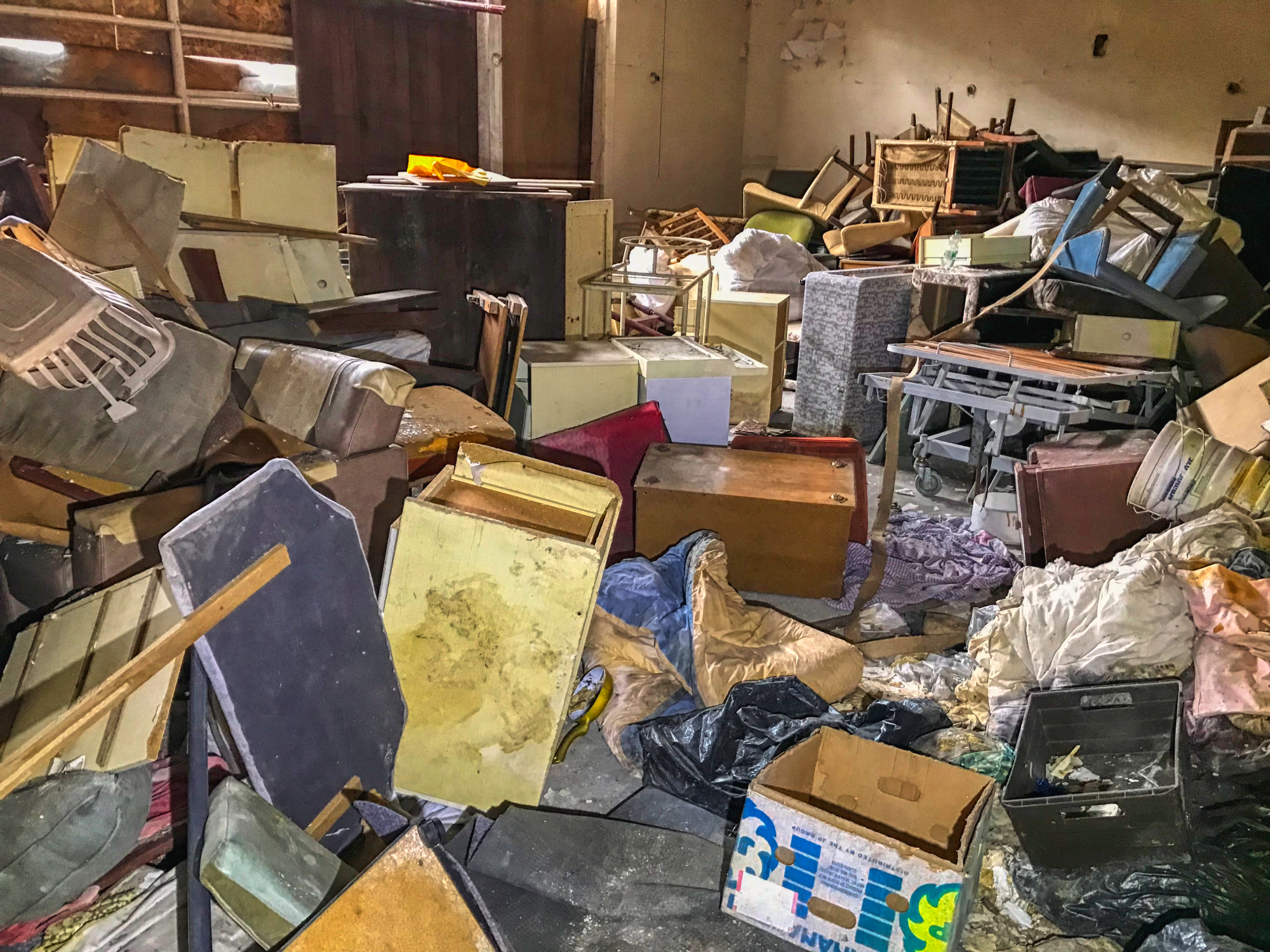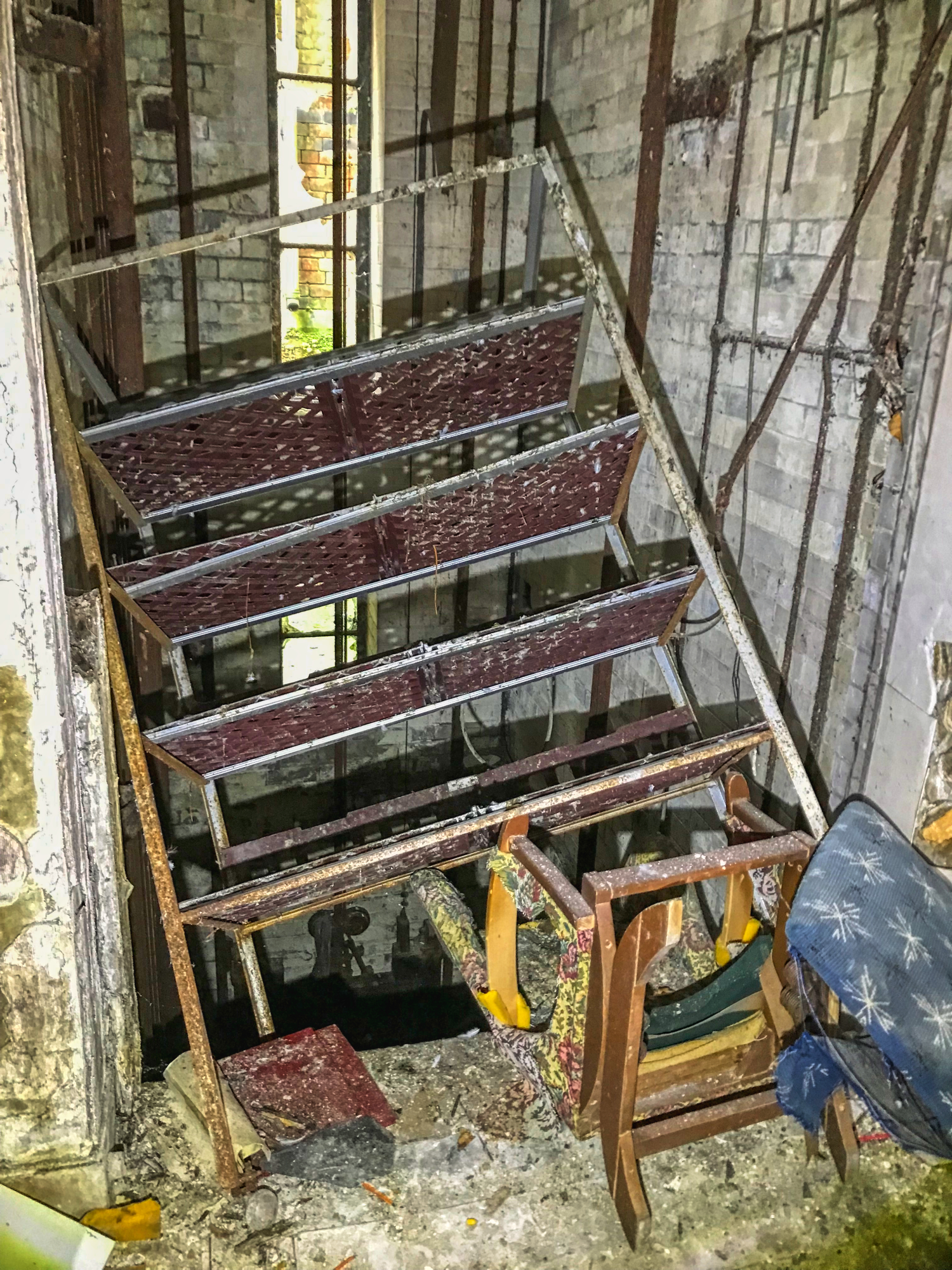 Is it cool to throw things down the lift shaft? Better that stuff than you.
At the end of a very creaky carpeted corridor, where the carpet was sinking alarmingly below my feet I discovered an office.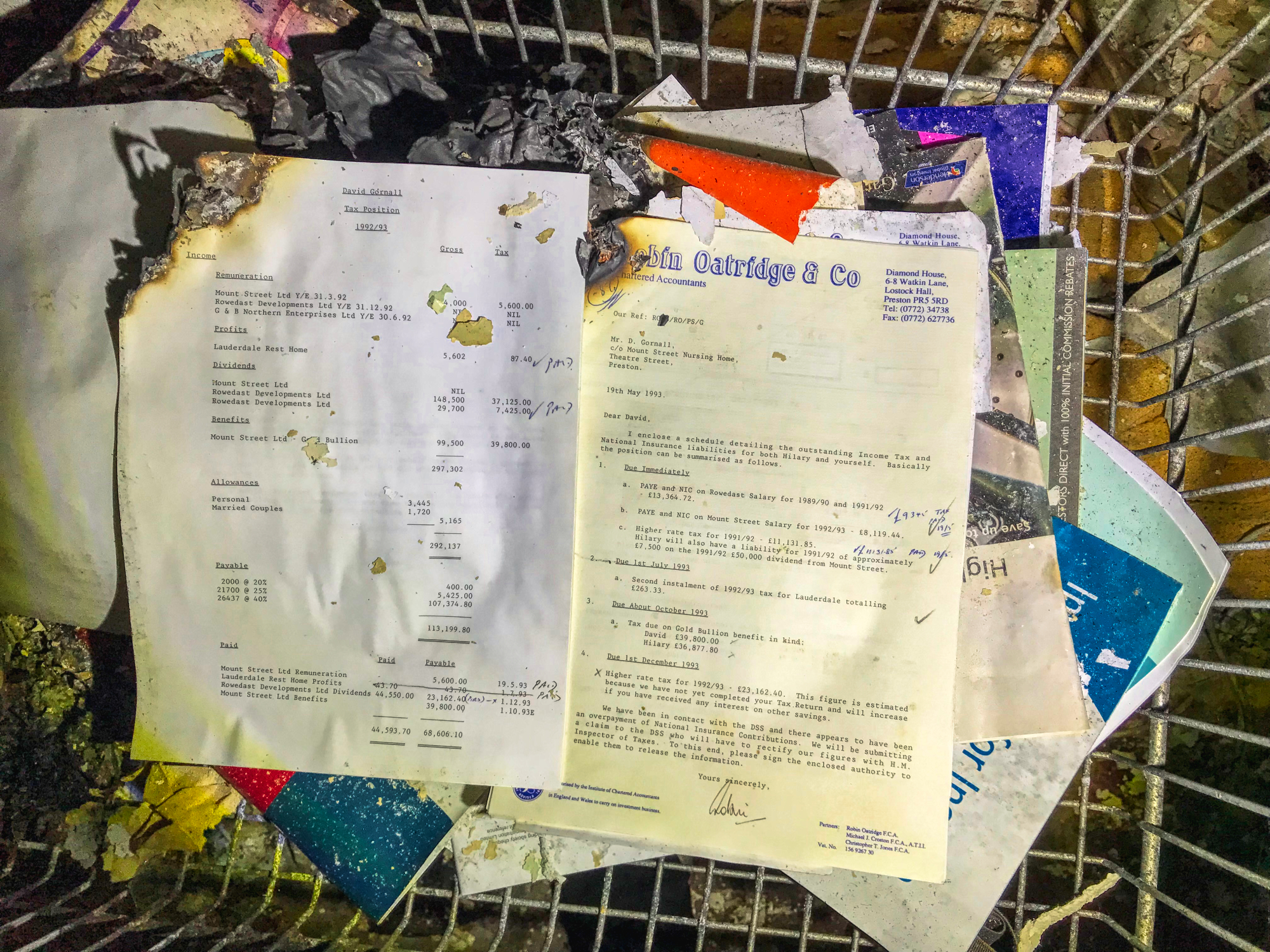 Mr. Gornall had better pay his taxes. They don't appear too high and all seems in order.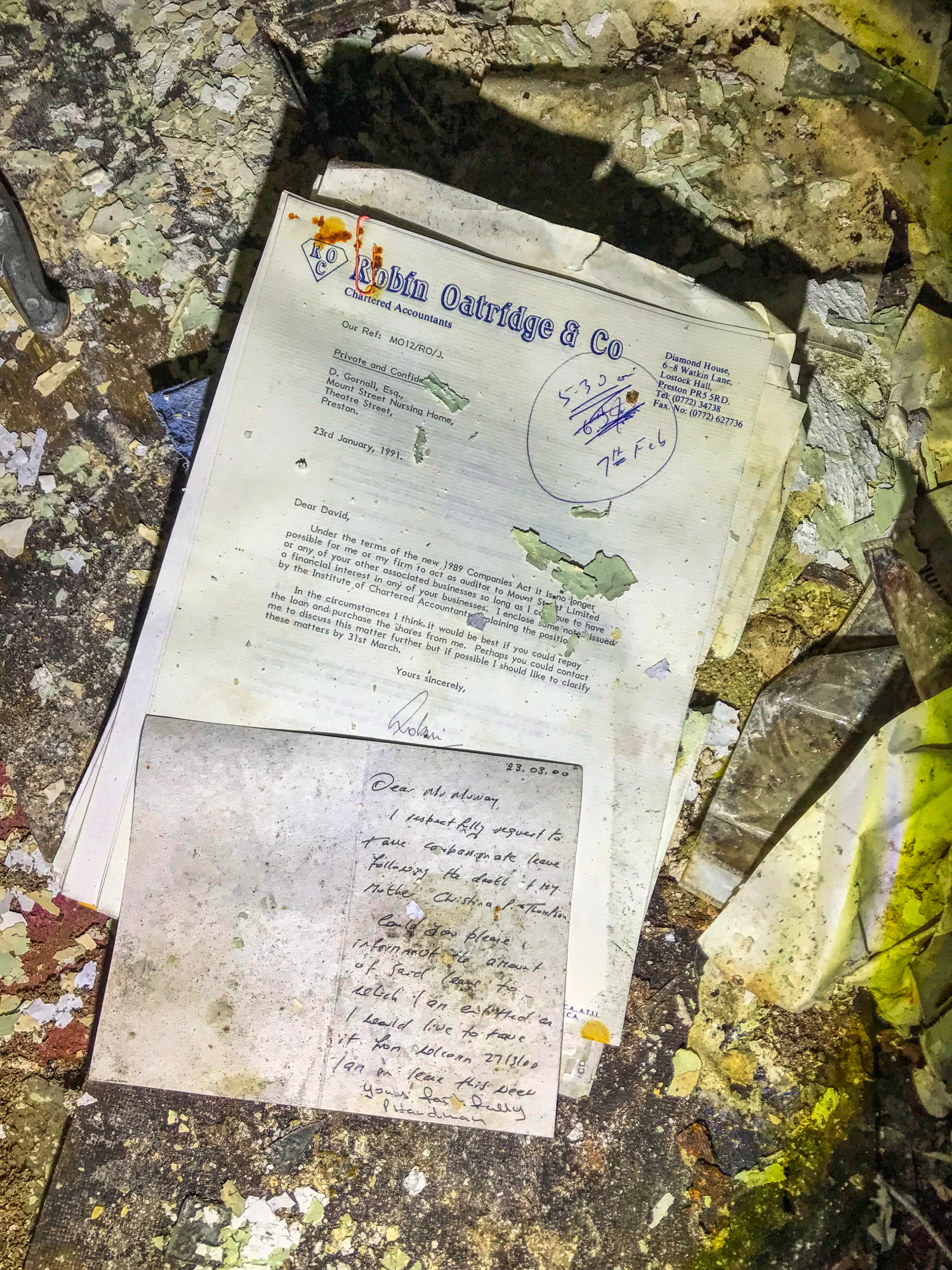 A year before his chartered accountant had tried to ditch his client. What's going on here then?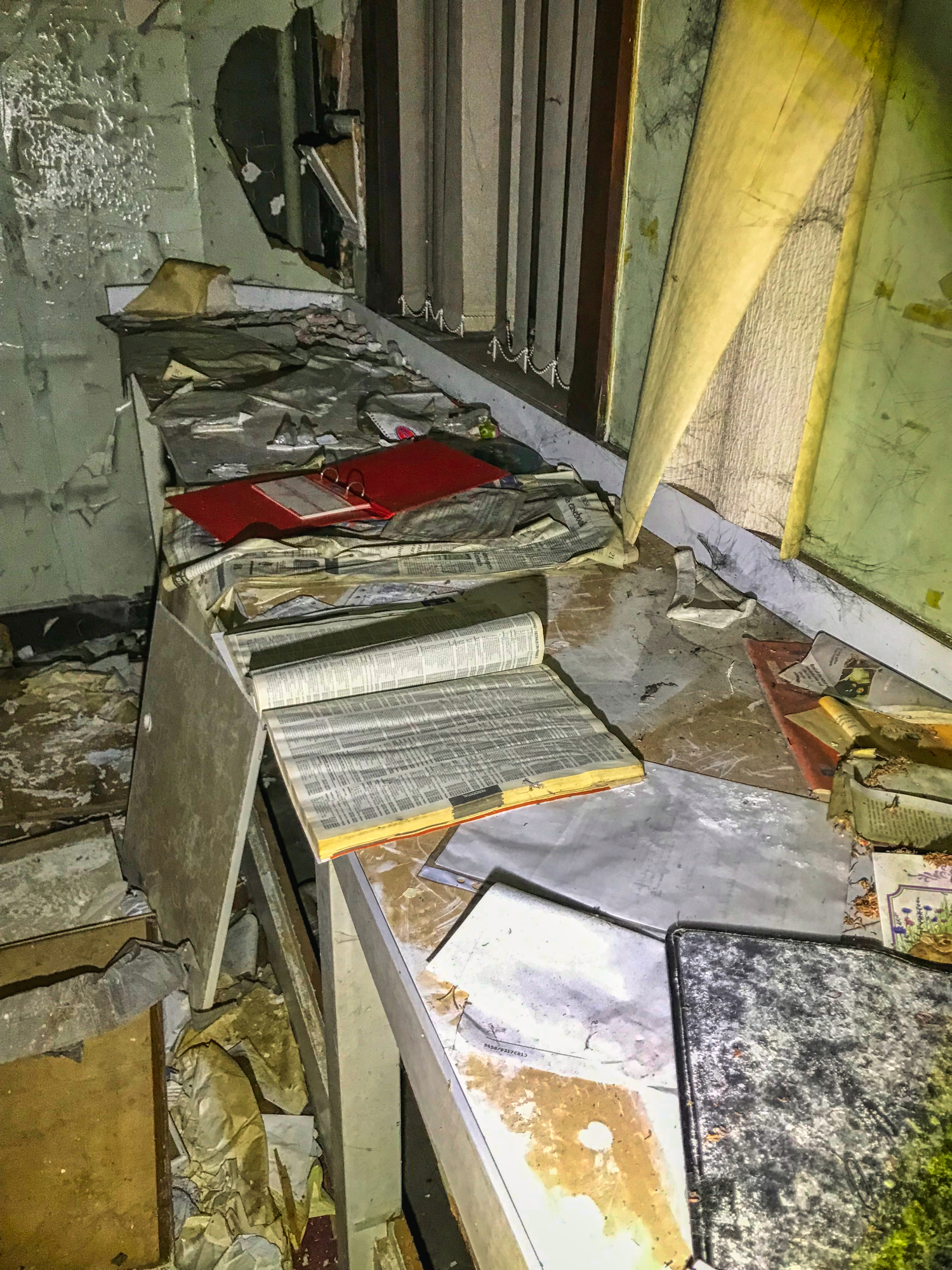 This was the only room I could find with any paperwork worthy of snooping upon.
Eight years later and Mr. Gornall is using the same accountant. They must have kissed and made up.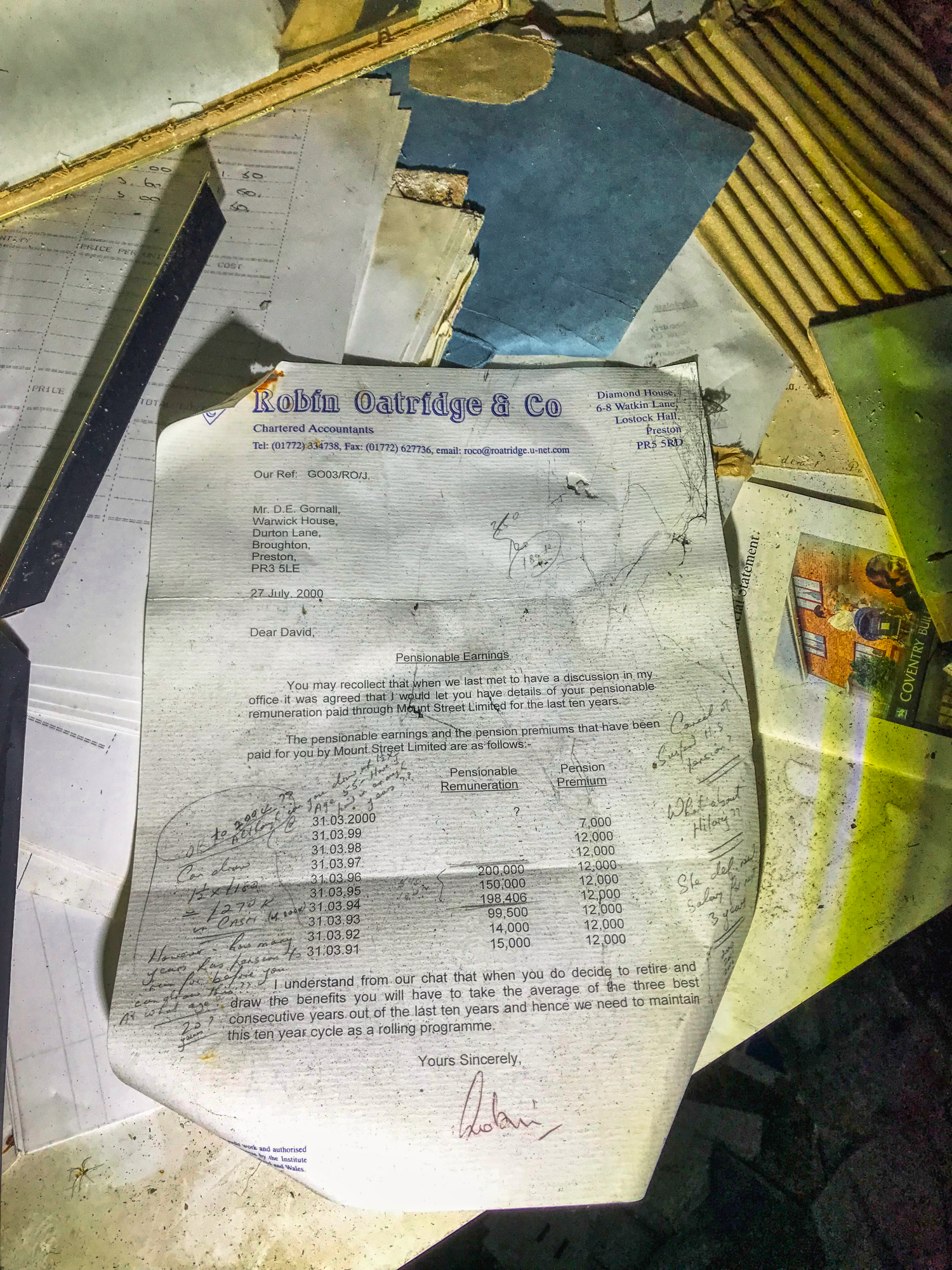 A hefty pension awaits, it's little wonder he was not particularly bothered about the closure of St Joseph's Orphanage.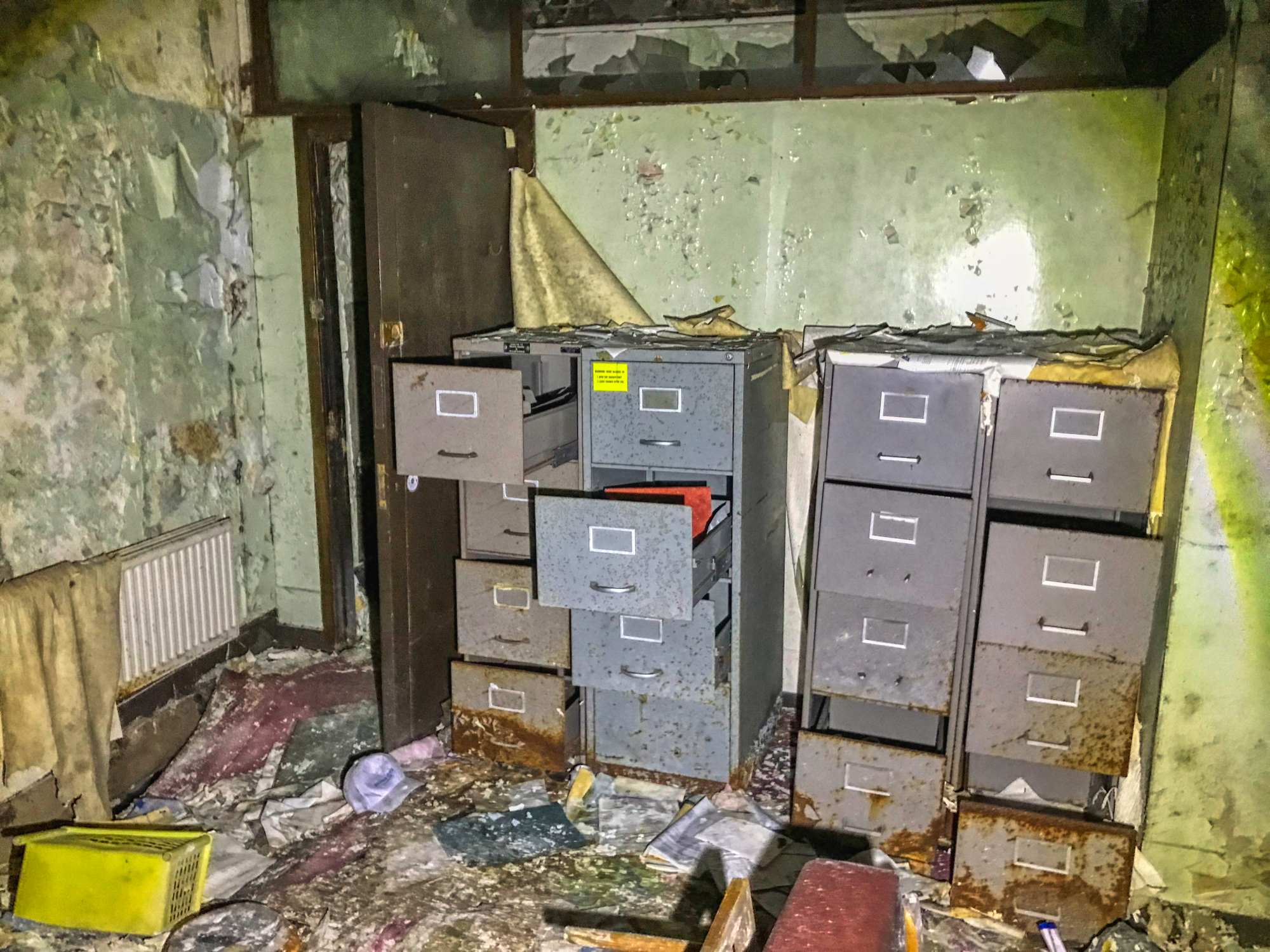 Both leaving and entering the 'hidden office' was challenging, the carpet was sinking and little was below it. @anidiotexplores chose to not enter the room stating it as 'too dodgy'.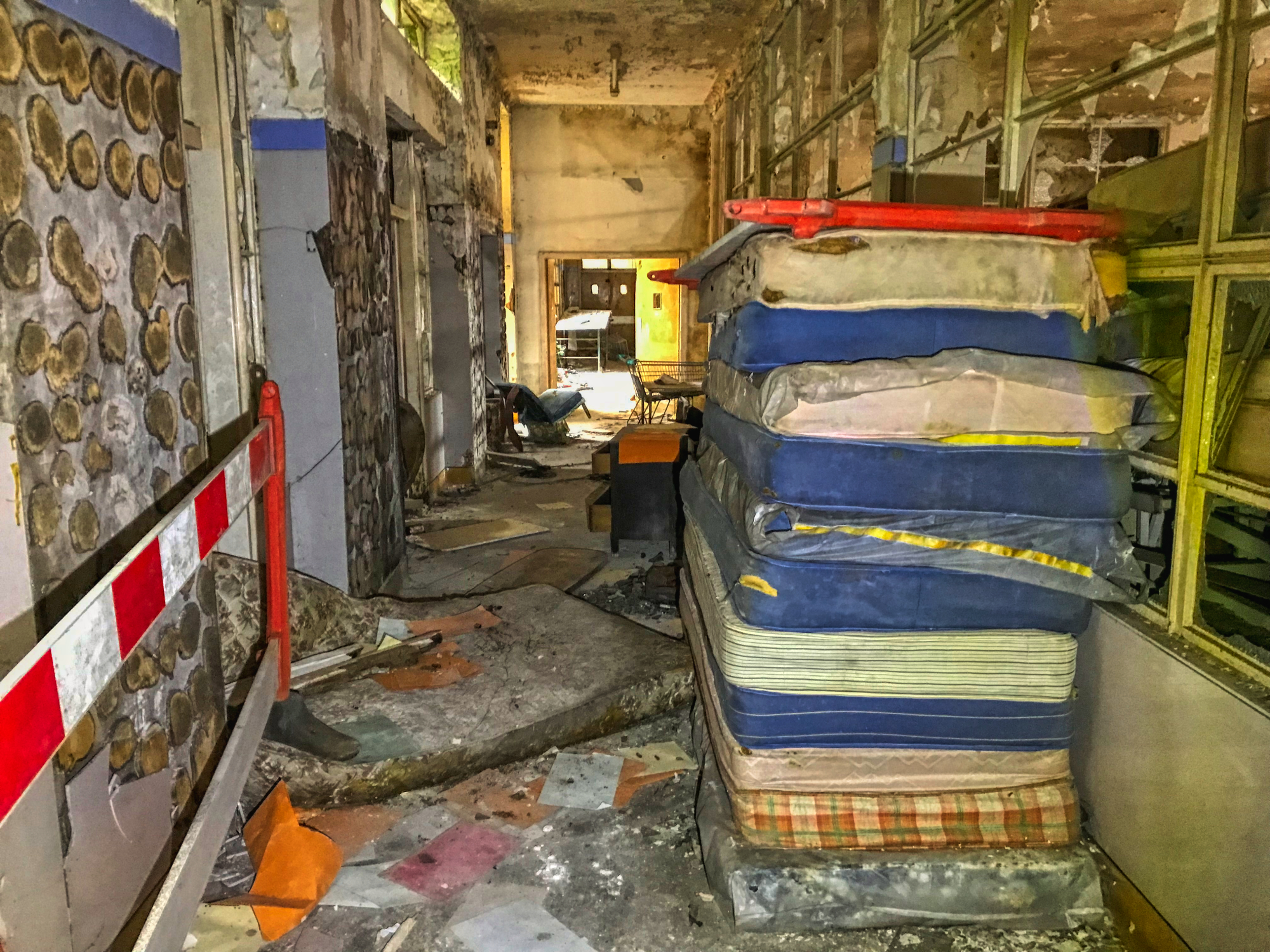 We headed back down the corridor spotting a pile of mattresses that could be well used for the homeless. Yet we saw no signs within.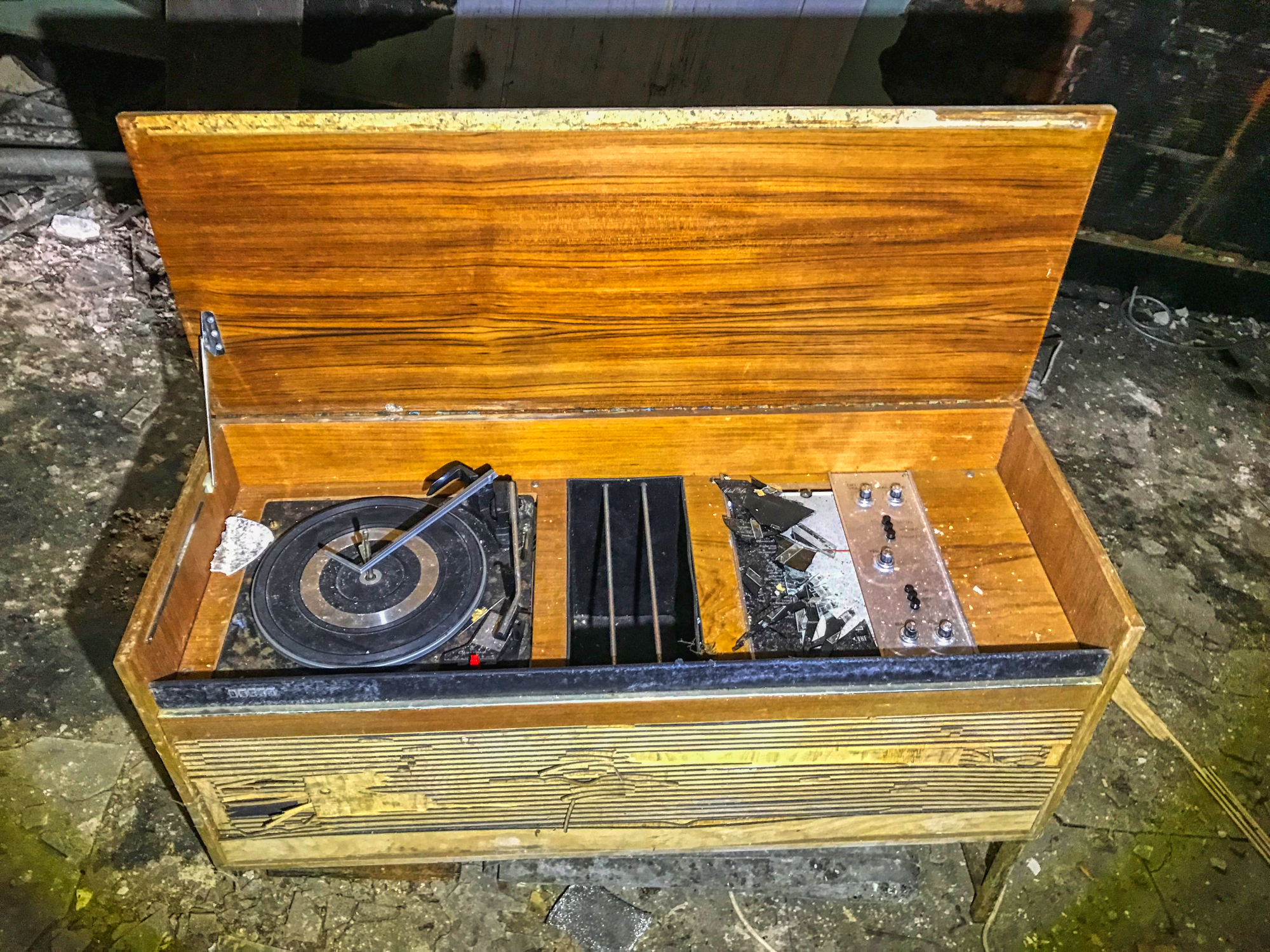 It's a little beaten up but quite a classic.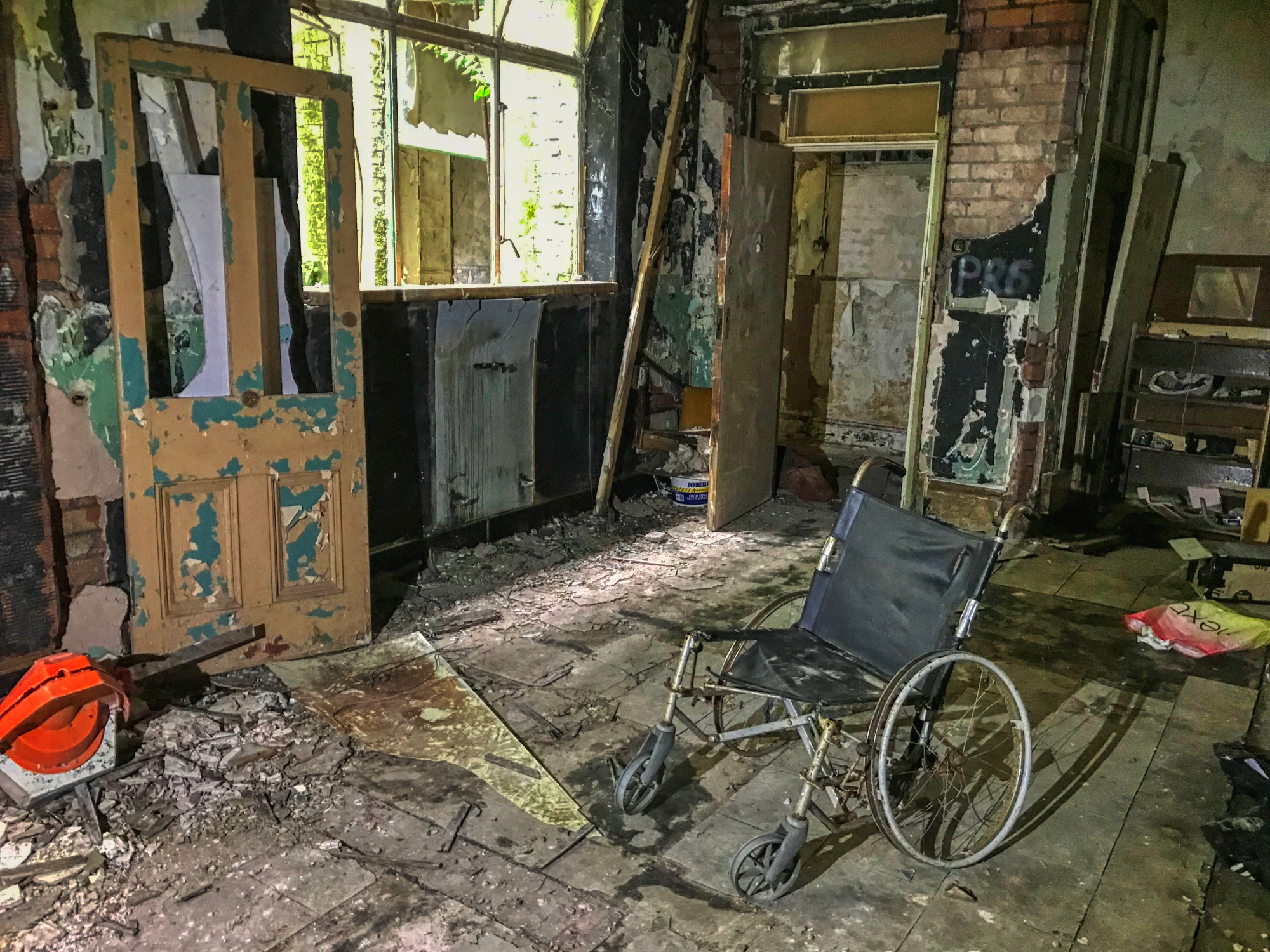 You would never guess this used to be a hospital.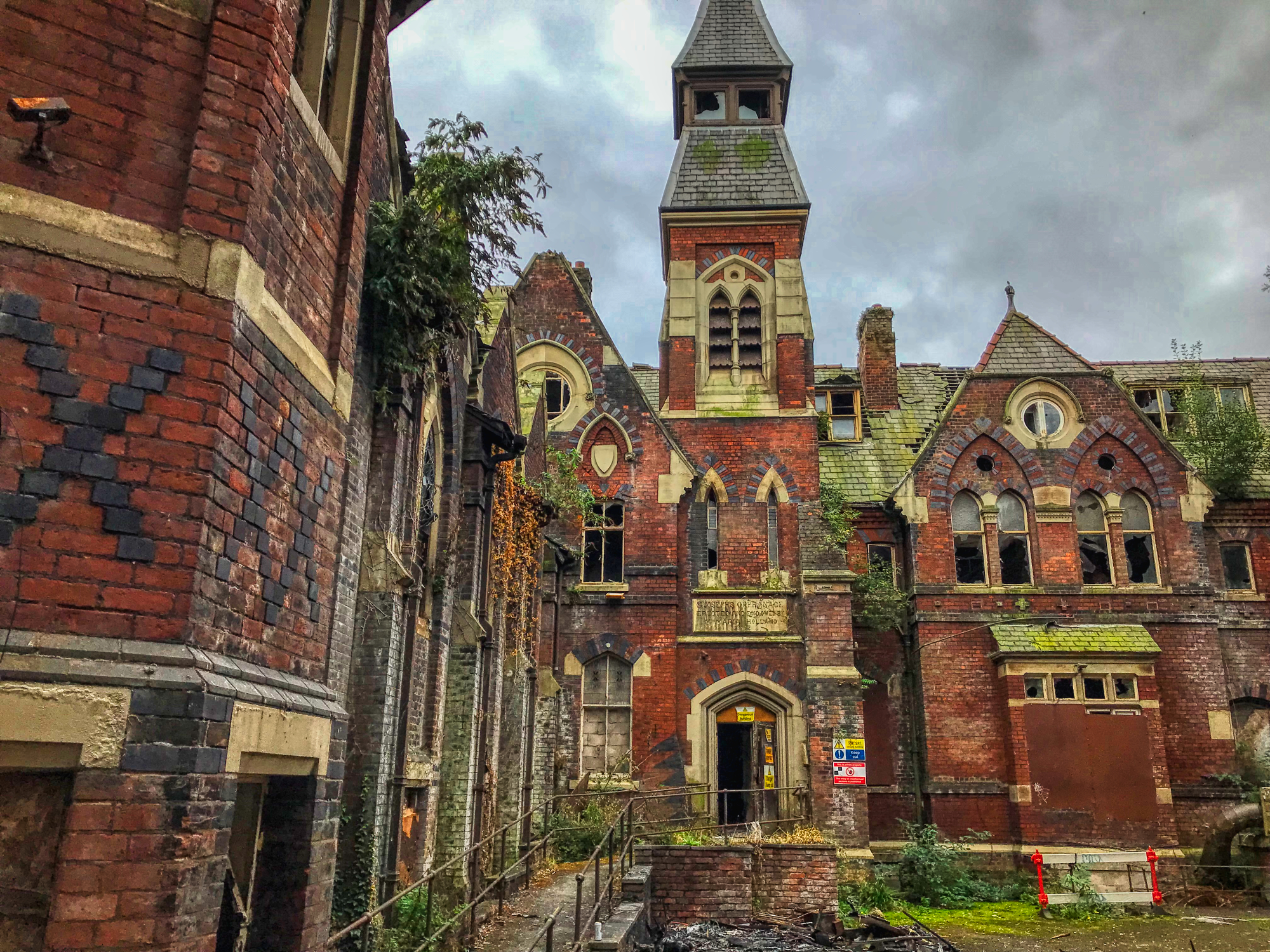 St Joseph's Orphanages' famous courtyard where a caravan once stood housing a bored security guard. The caravan was burnt, and the guard escaped.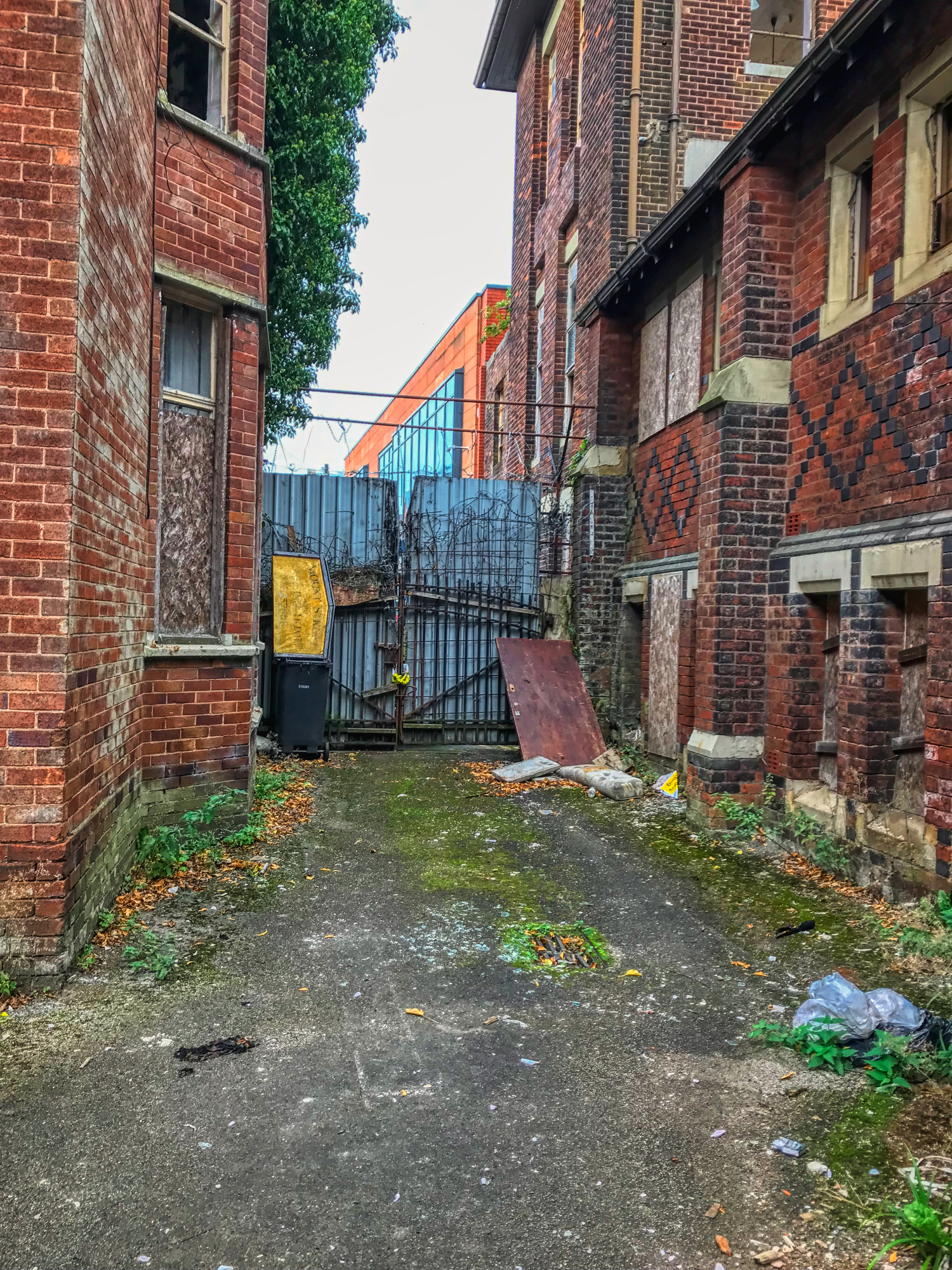 The front entrance; It can be scaled if you are an expert climber and have a natural resistance to rusty barbed wire.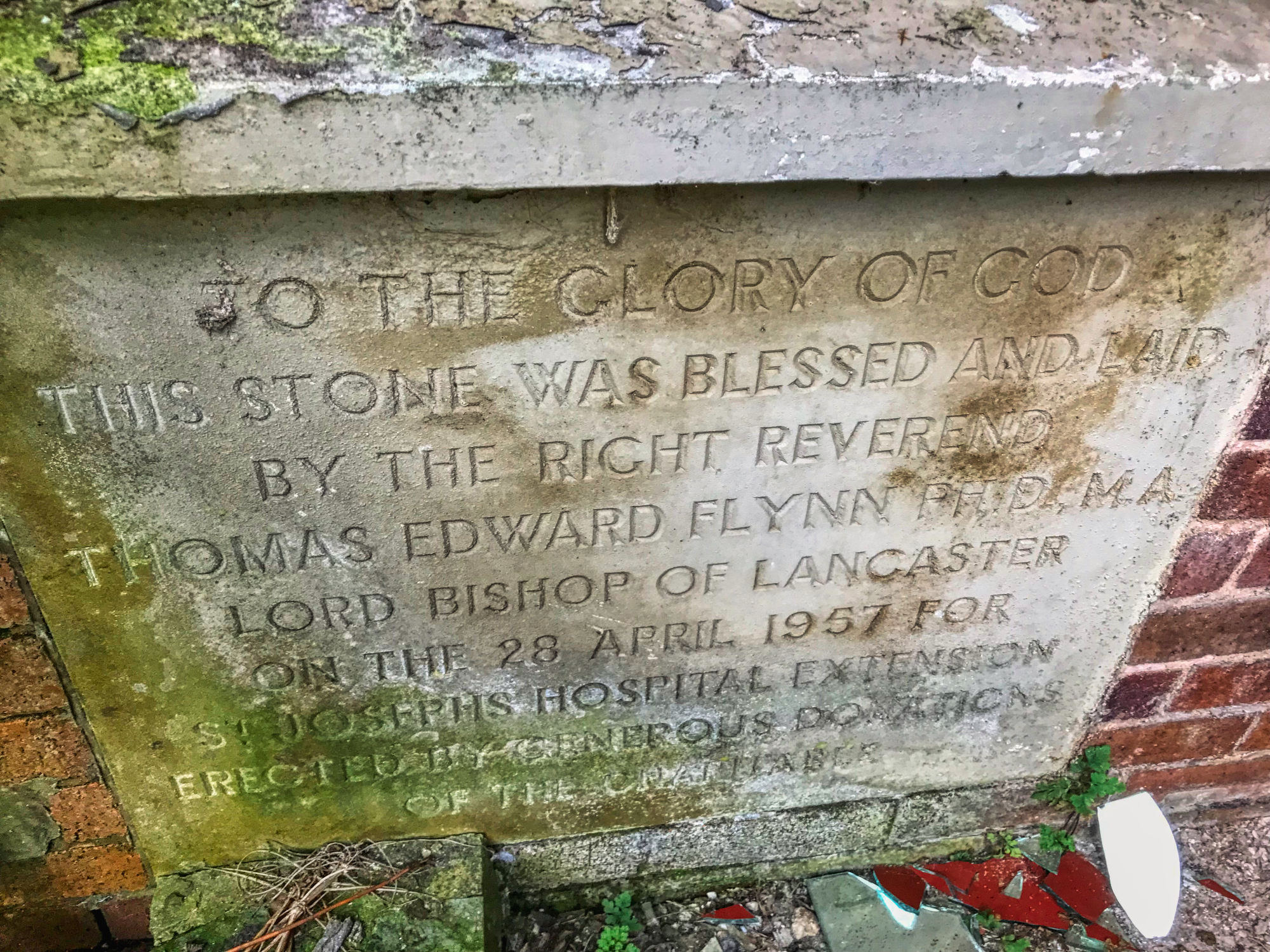 When you find gravestones within a property you know you are somewhere with past significant history.
I was intrigued to know about the 'old access point' and @anidiotexplores was only to willing to show me. This would have been my access in 2020 if Mr. Nosey Arse Cunt had not been… a nosey arsed cunt.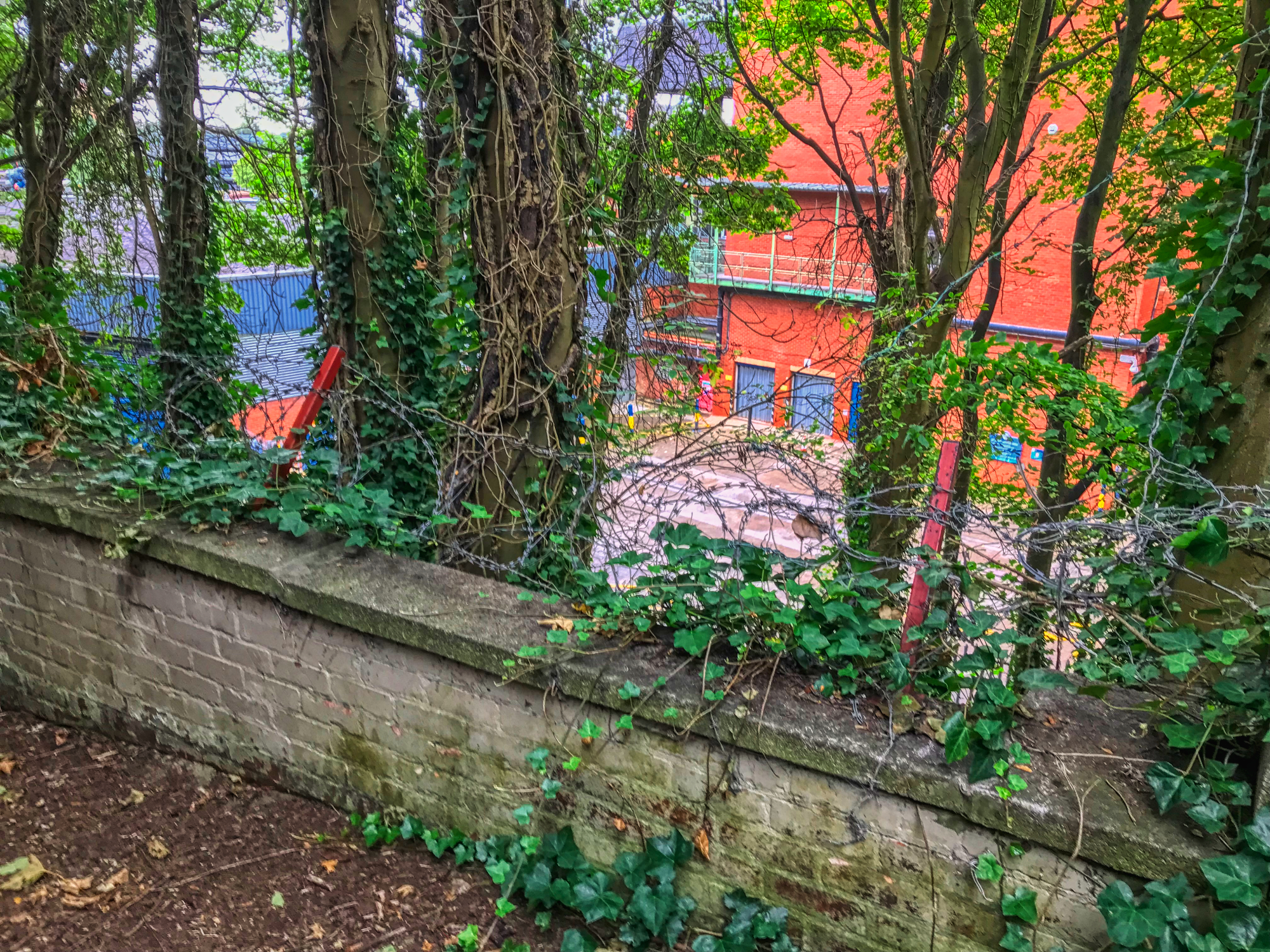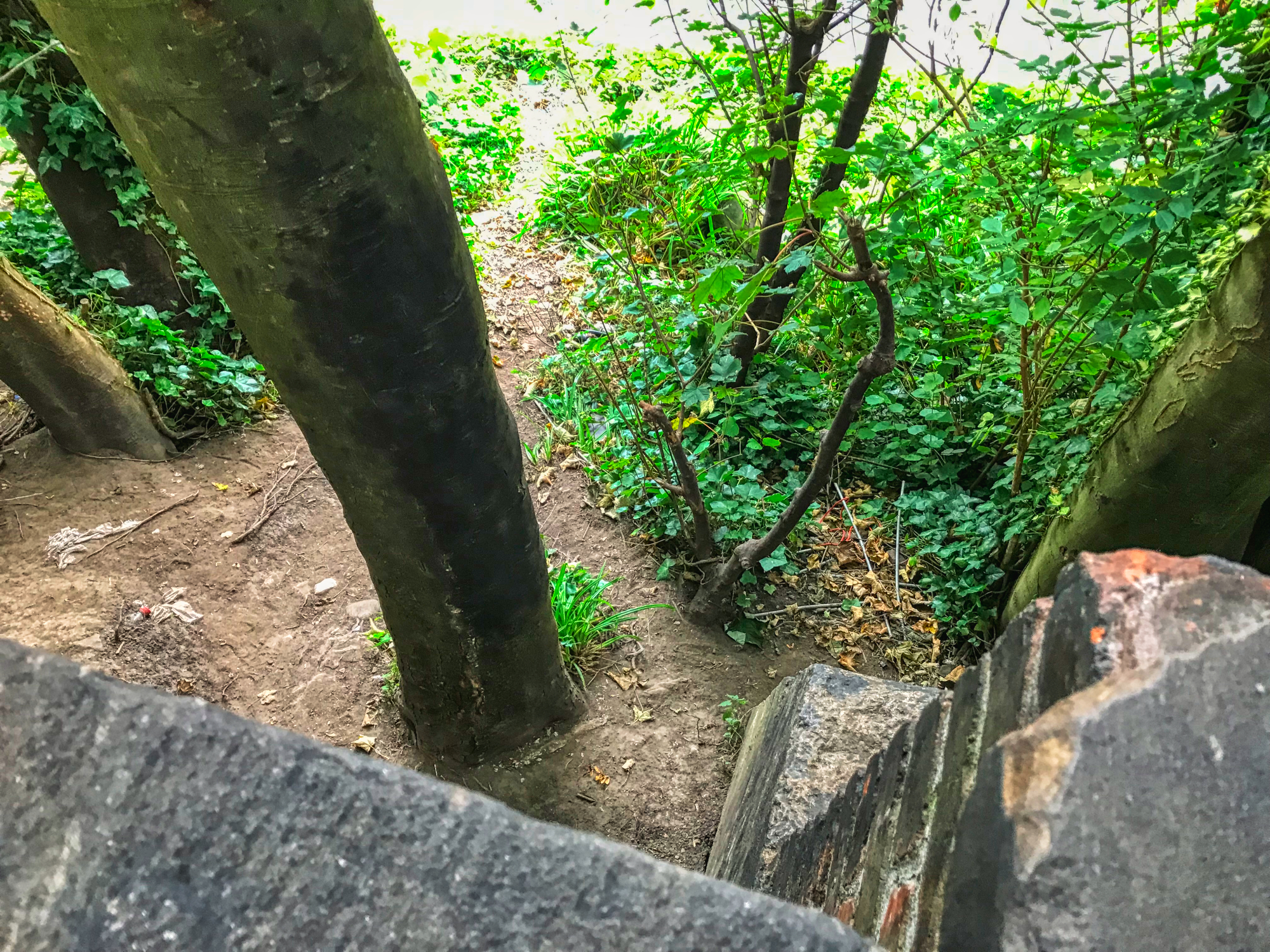 I could have managed the climb at a push.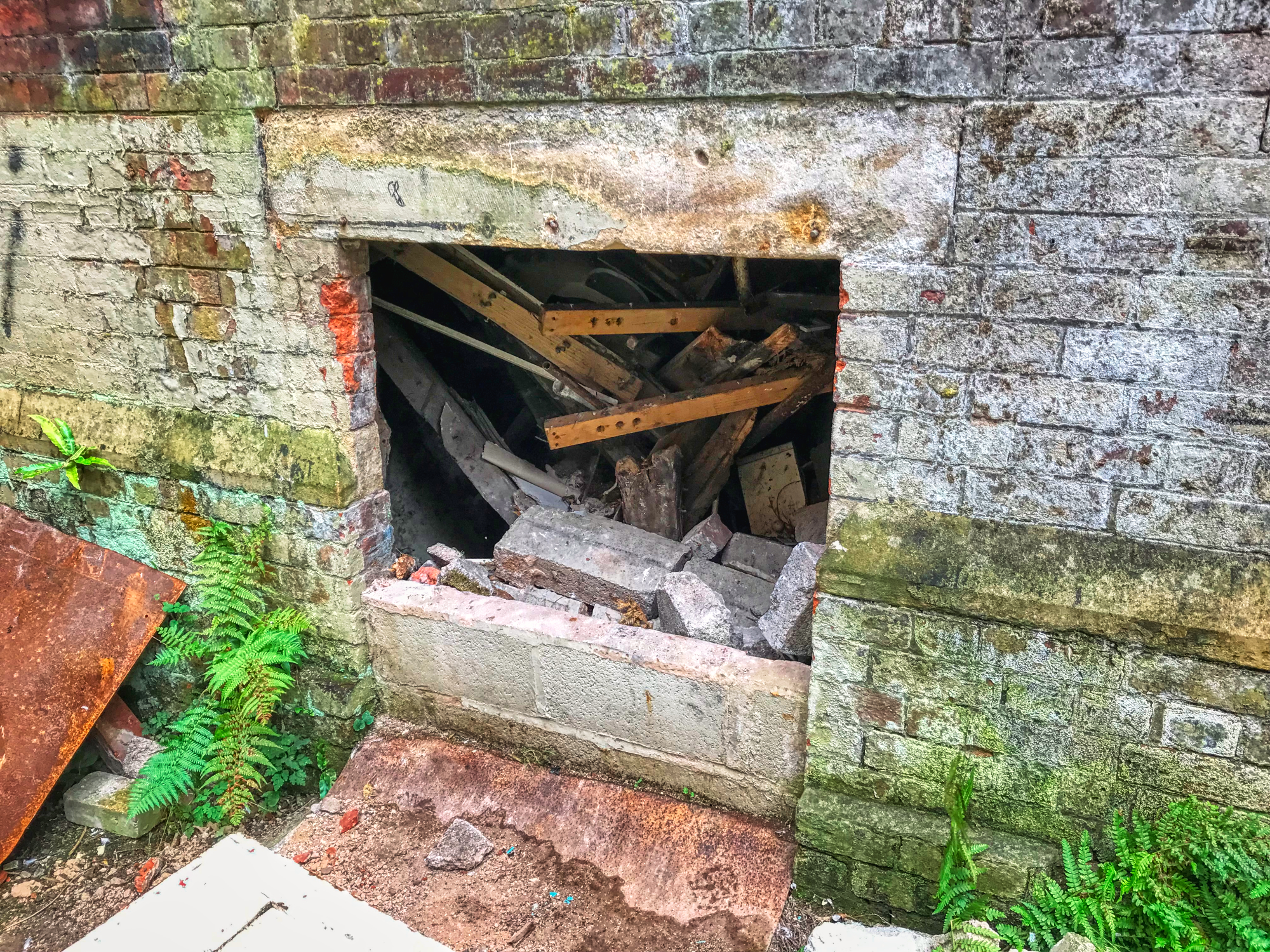 Once up, one had to scramble through here...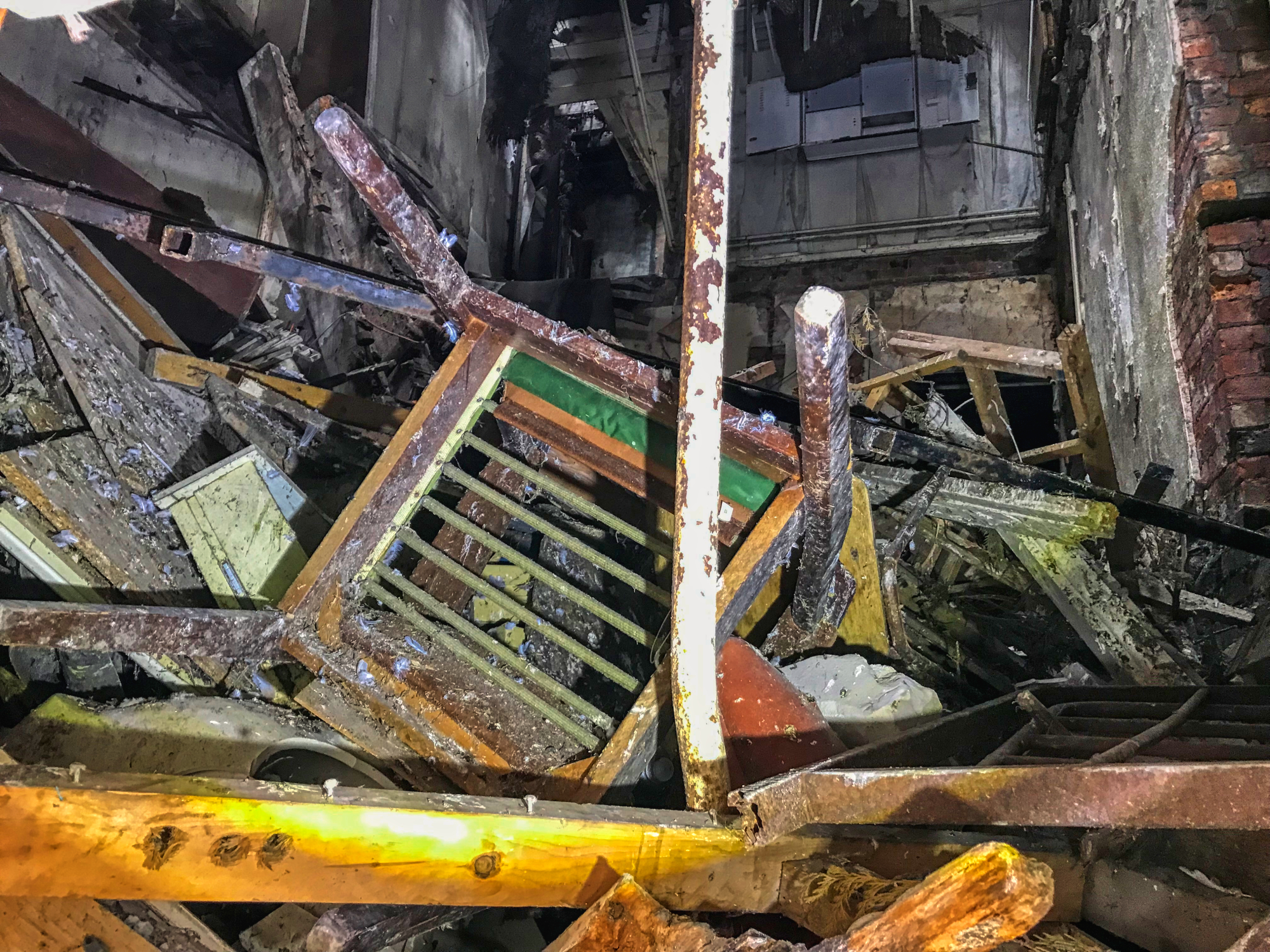 … and then work your way up through all this shit to emerge in the hospital wing.
It would be like a zombie emerging from the depths...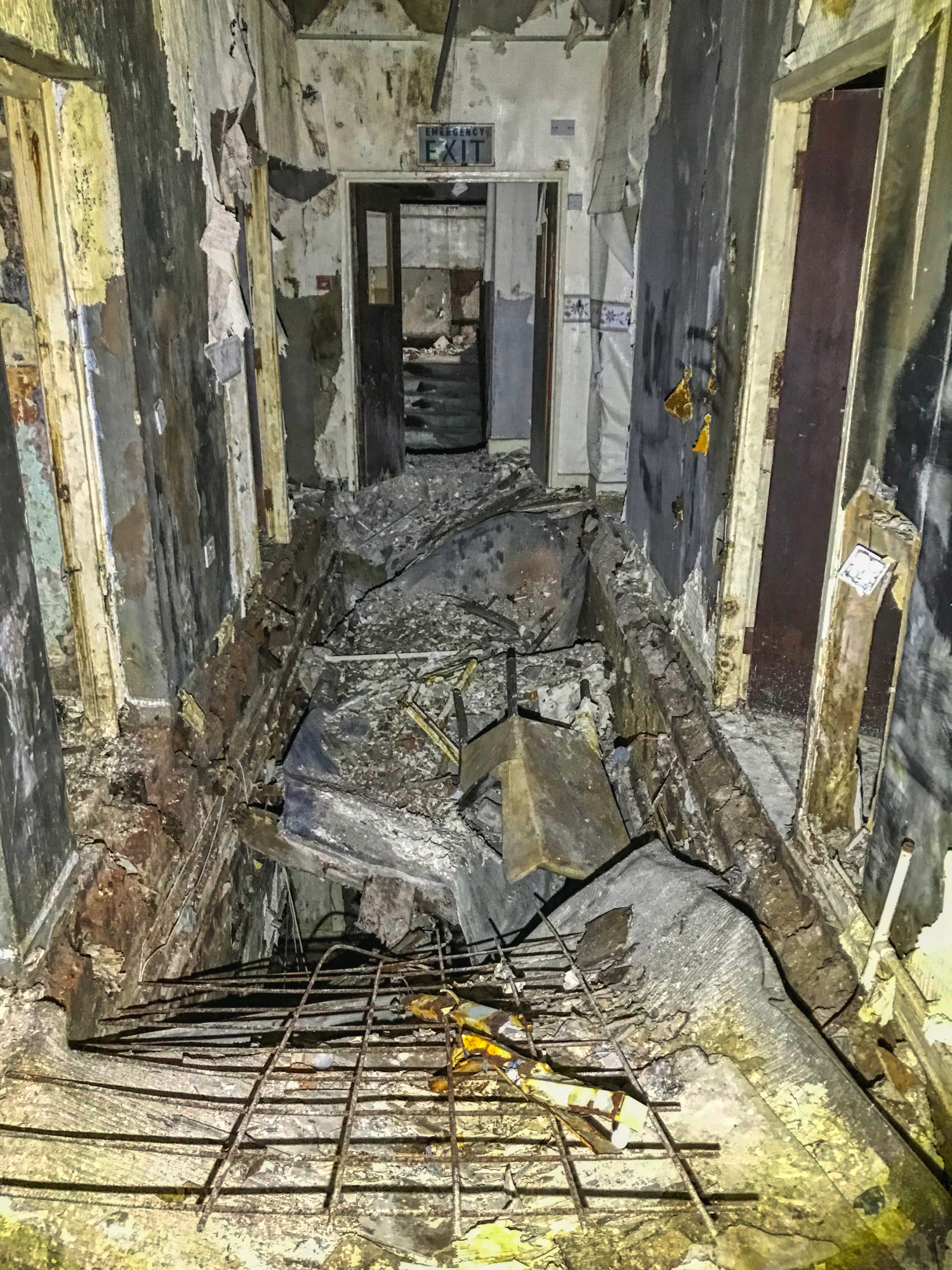 "You are fucking kidding me, man, you came this way?"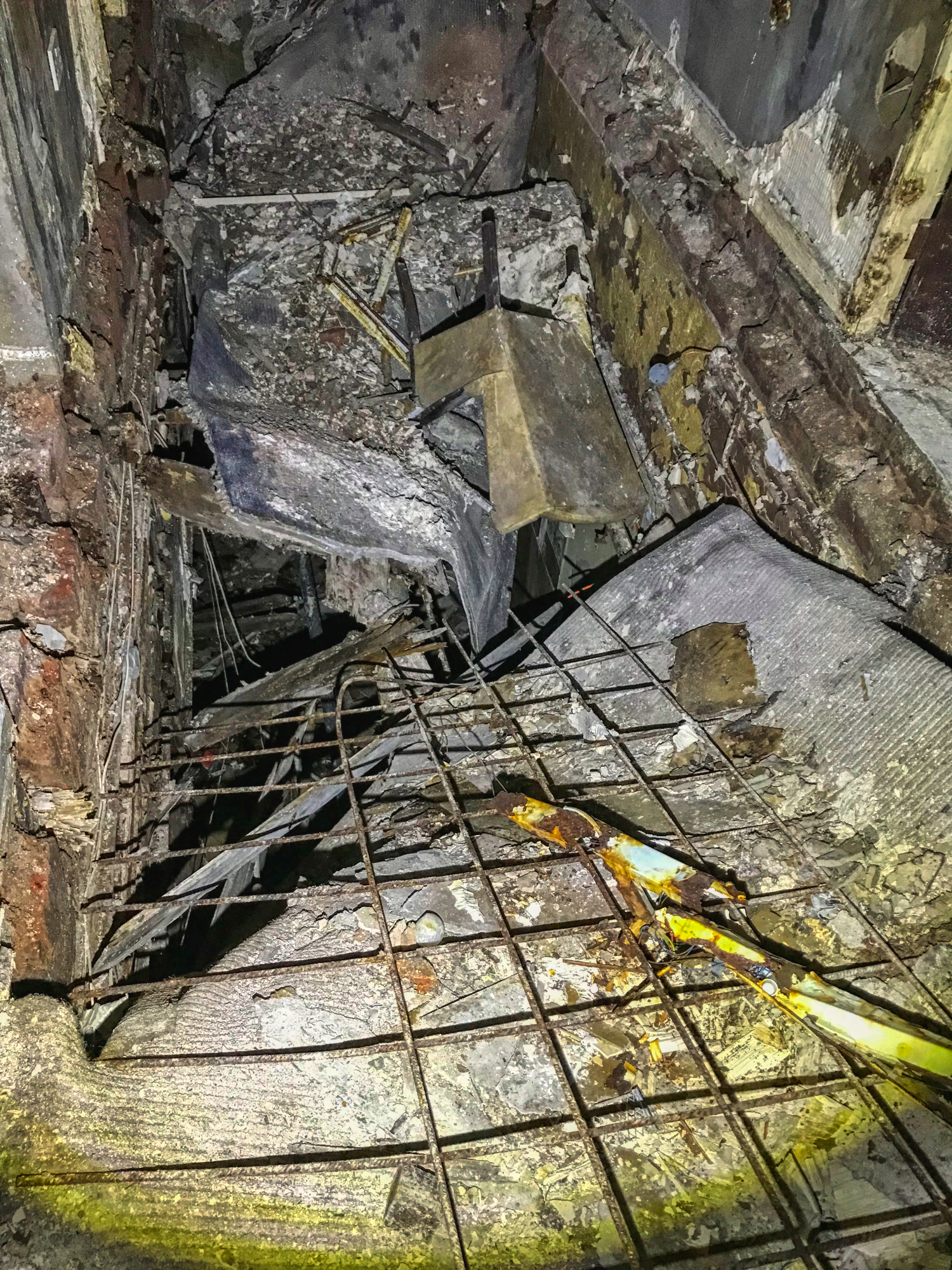 He did and did not die. That scramble through the shit may have been too much for me. I mean I am getting more daring (and stupid) as I get older but… WTF?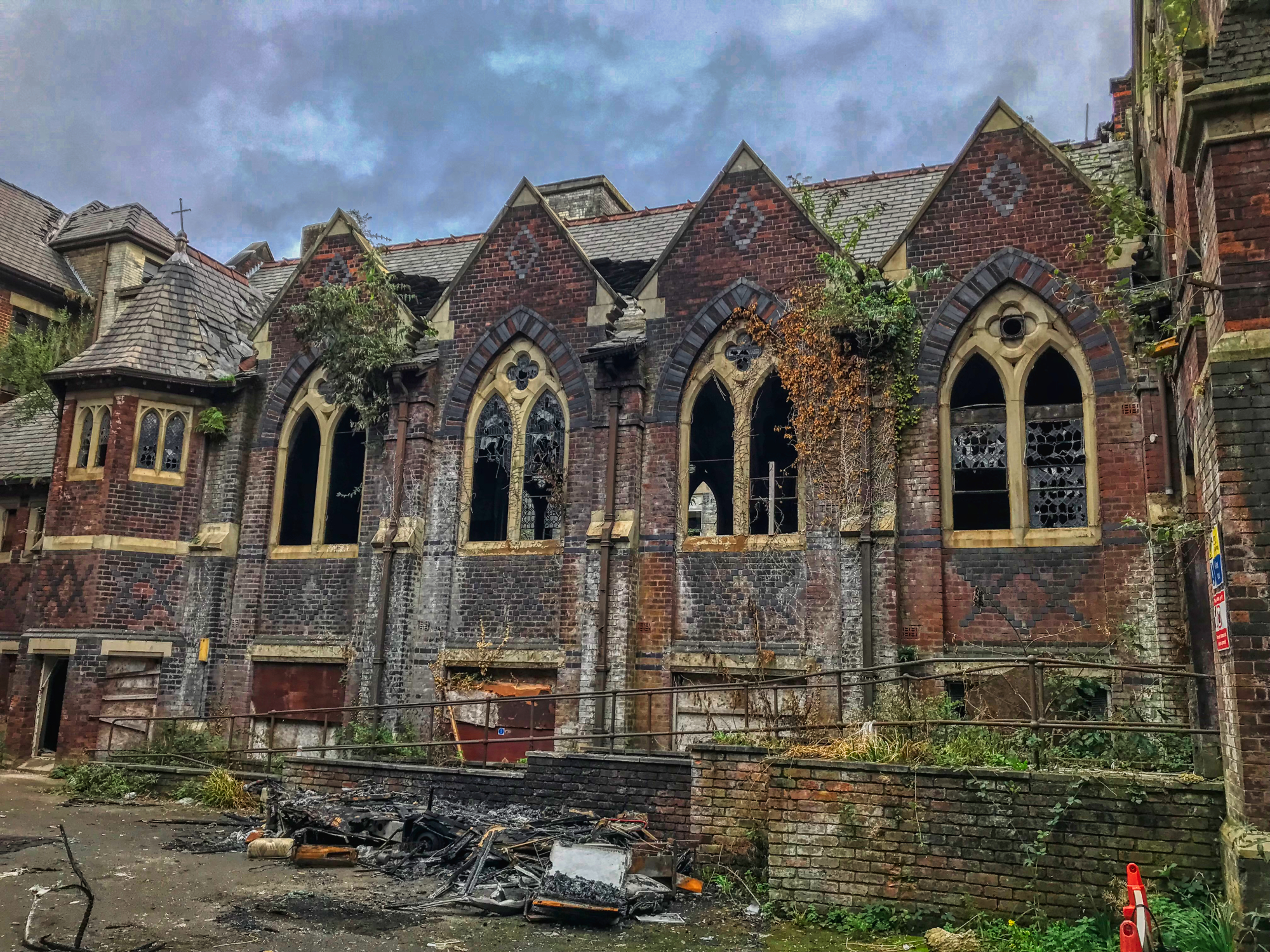 I knew we were coming to the end of our St Joseph's Orphanage explore as @anidiotexplores pointed out one last section to me.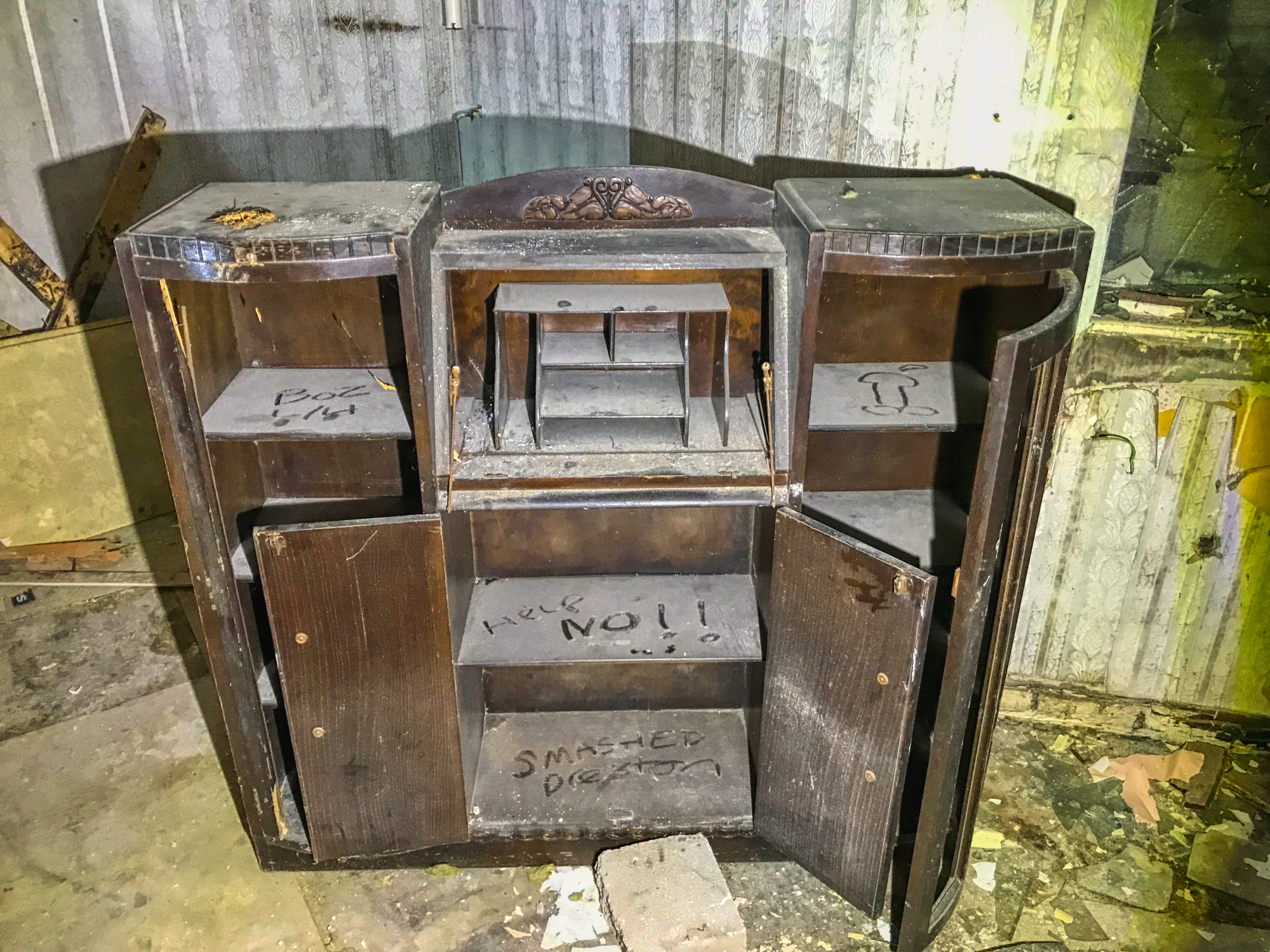 If there's no penis pictures, its not a real explore.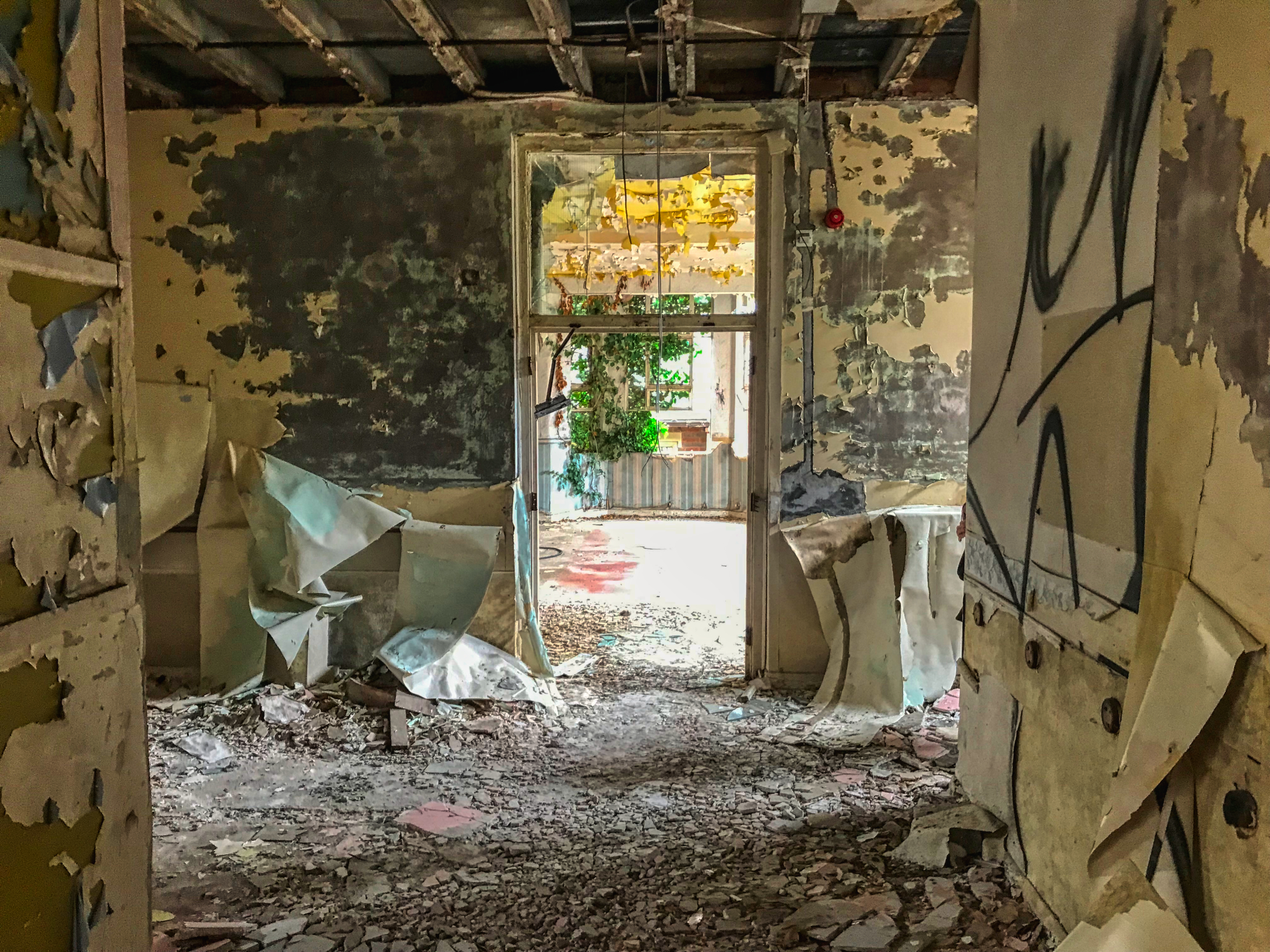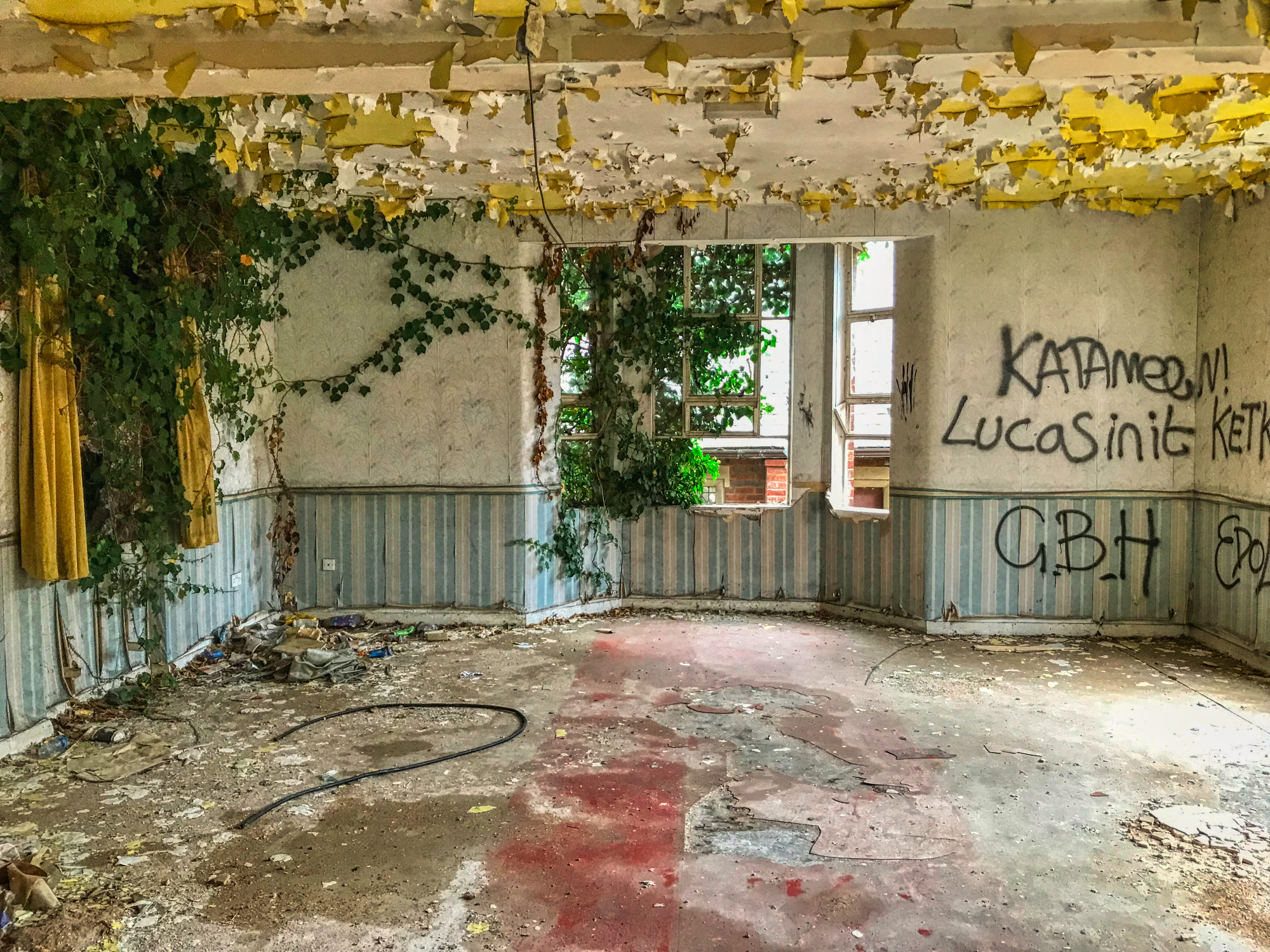 This was lathered with more graffiti than anywhere else, and peppered with nature in some rooms.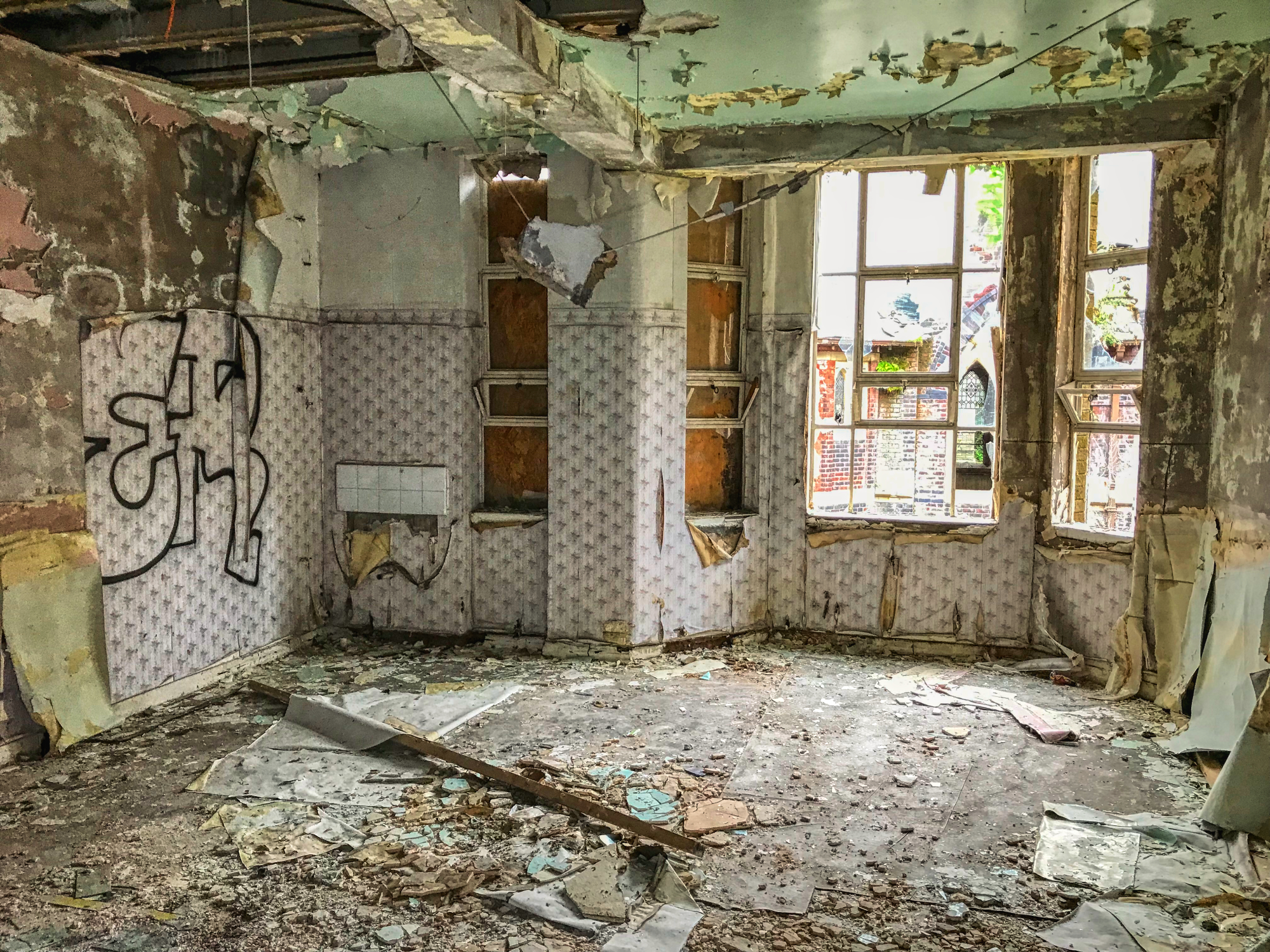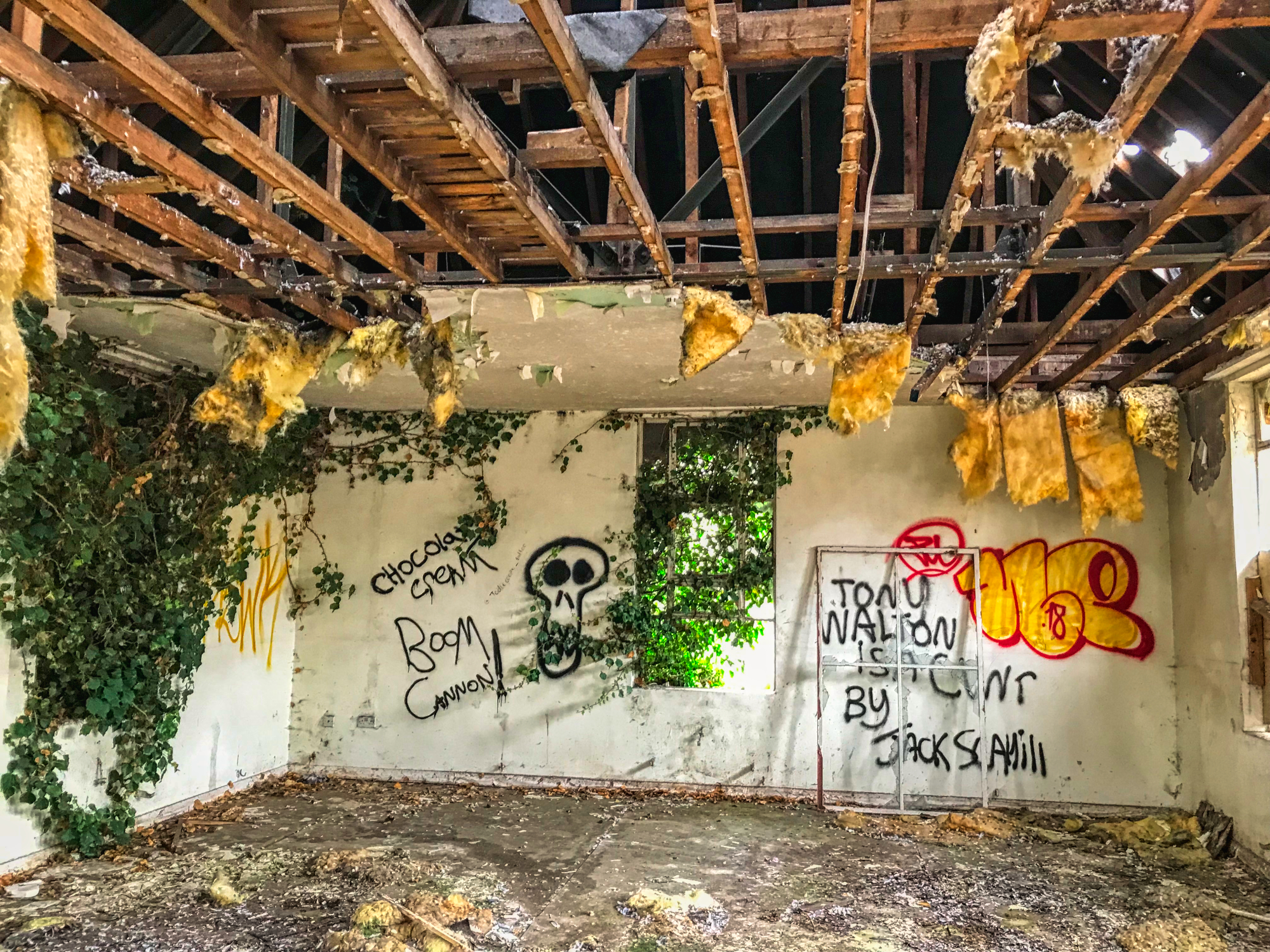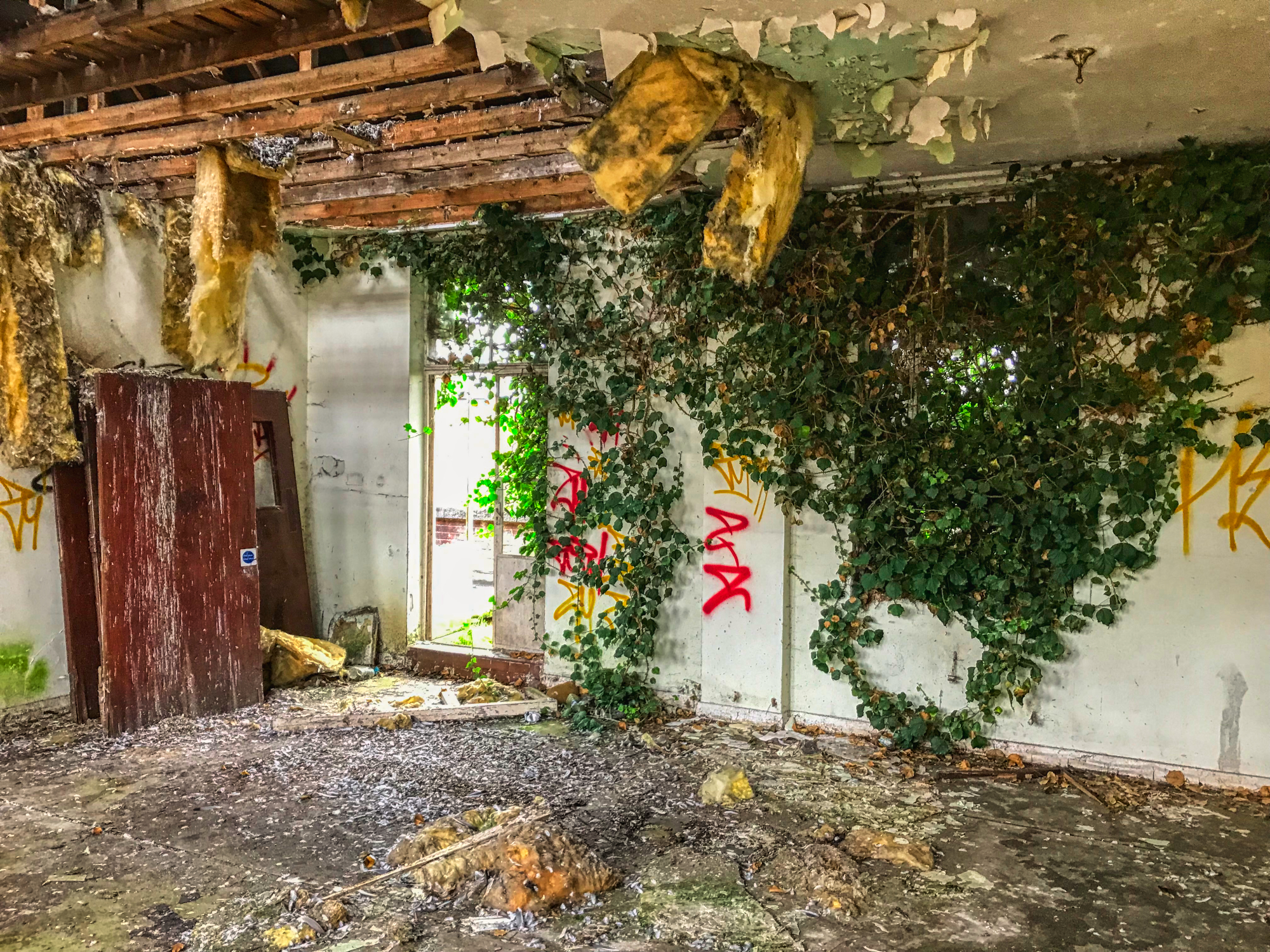 Occasionally I feel I am giving away too much information within my writings about access points.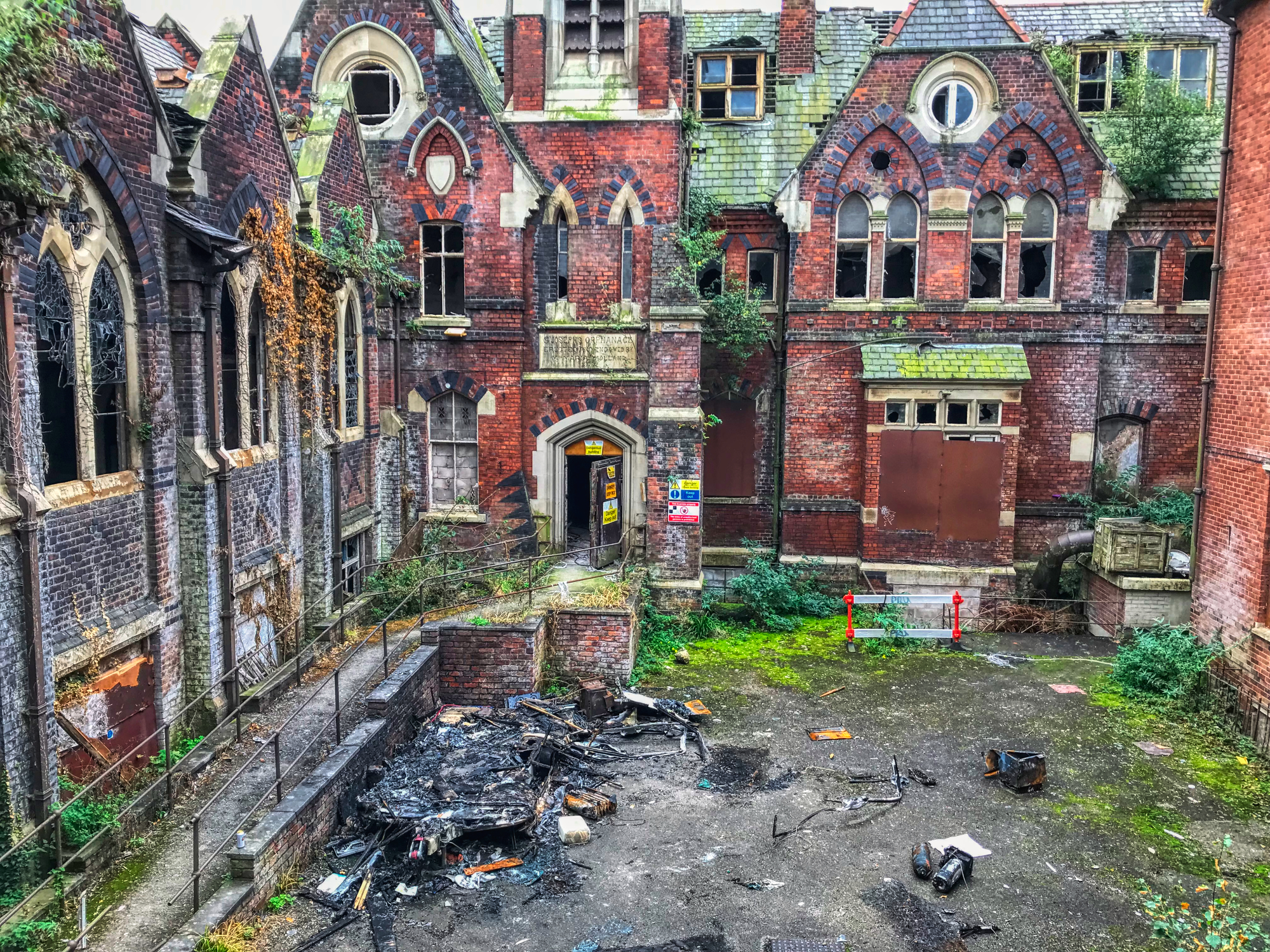 I have to remind myself that my visit was 8 months prior, security has been abandoned, every explorer on the planet has already visited, and whoever visits now has likely very easy access.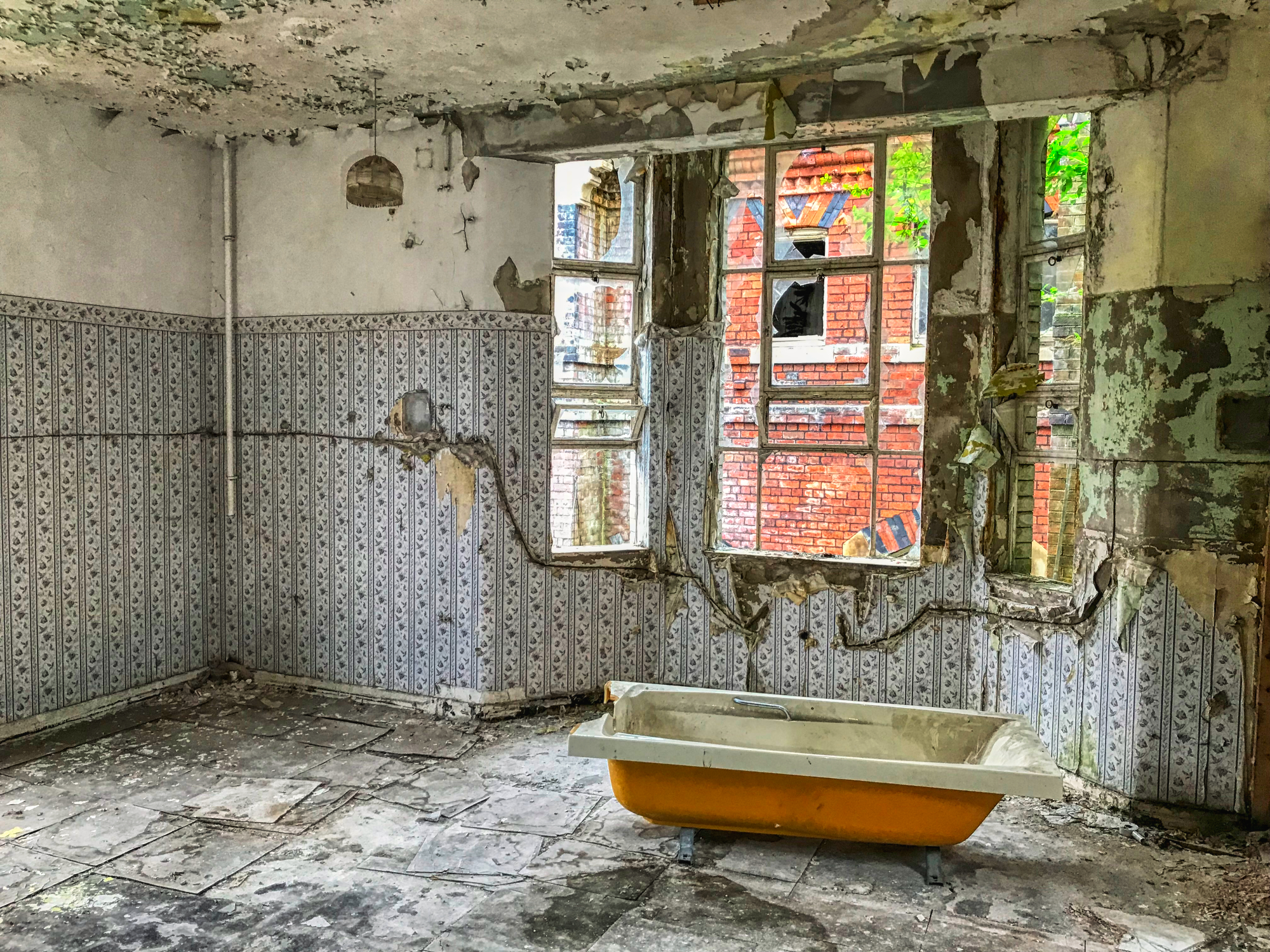 This is what happens when the TourBus arrives. Does it matter anymore?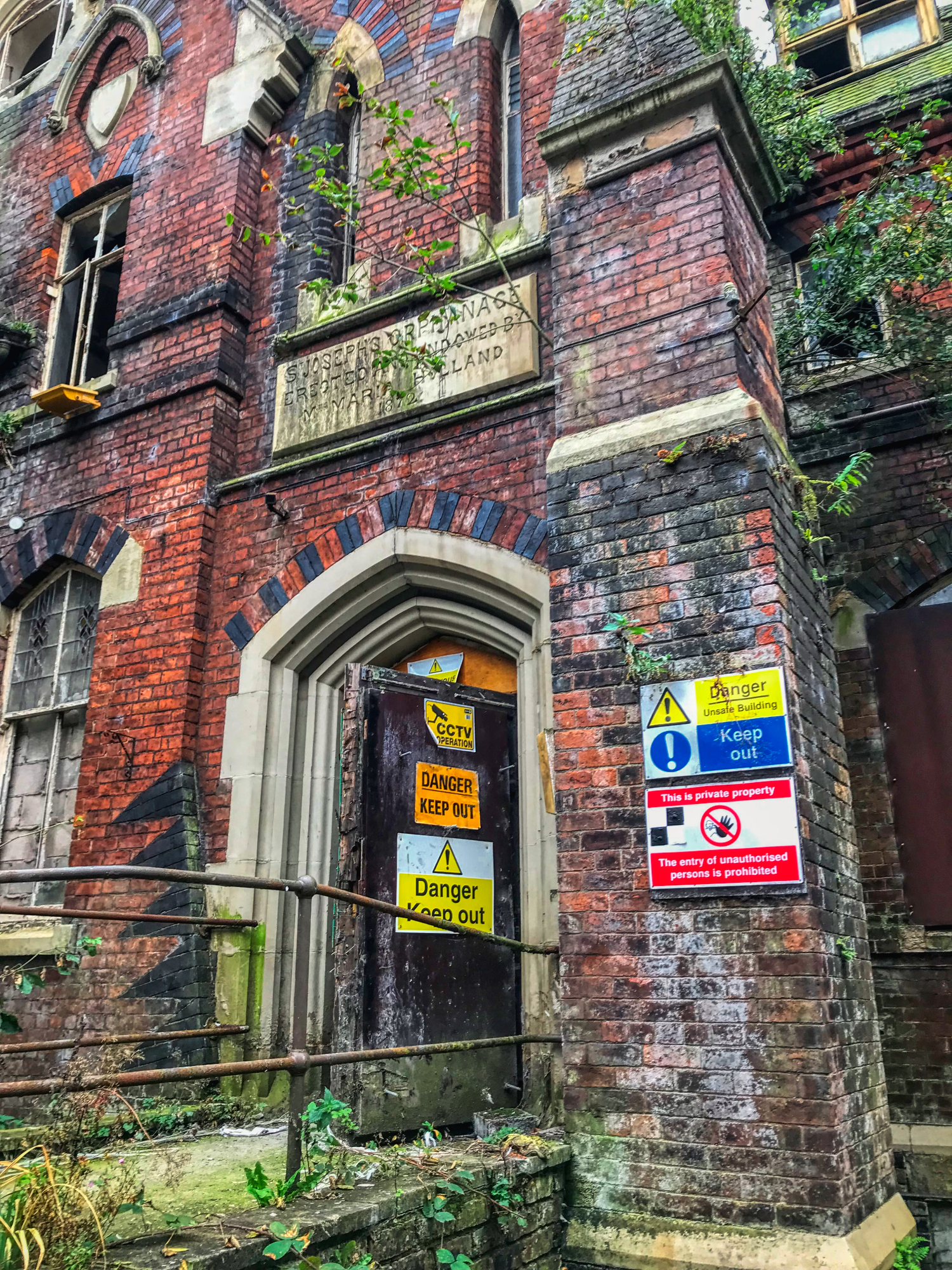 St Joseph's Orphanage is due to be demolished. It has already been torched, 'the fighting machines' are likely no longer there and what you see here does not exist in this format anymore.
Slowly we are losing the best explores. I want to visit them while I can, and before they are gone.

Do you like posting your Urbex content and photography for FREE on Facebook and YouTube? I like to get some form of reward for my work and every time I create I do just that. Take a look at The Urbex Community on HIVE.
If you want to keep creating for FREE then ignore what you are reading. If you want to be like me and gain something other than BUGGER ALL for your work then click here and learn about posting on the HIVE blockchain.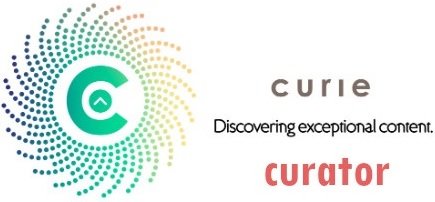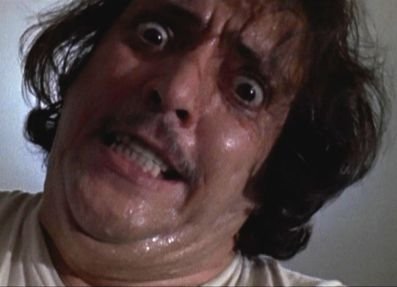 If you found this article so invigorating that you are now a positively googly-eyed, drooling lunatic with dripping saliva or even if you liked it just a bit, then please upvote, comment, rehive, engage me or all of these things.
---
---