Who says I won't be popping champagne 🥂🍾 one of this days, i sewed this outfit for a new customer and through the satisfaction he got, have gotten 7more customers 😆😆🙏
Hello my dearest friends on this platform.
Good morning to you all hope you all enjoyed your night and I specially wish you all a great and a prosperous day ahead. It actually always fun writing to you guys each time, I trust you all are safe and healthy wherever you are, it's alway gladden my heart writing to you all. I stated how happy i am in last post about returning to this amazing platform after being struck down with serious malaria and icing it with 2+'s of thyroid, the test I did showed that I had 2+'s of thyroid which mean the thyroid was really complicated and high, well long story short am very much alive after lots of injections and medications am very much alright thanks to everyone good wishes and prayers, God's grace had kept me and am super thankful for the love that was showered on me in my last post, I saw the height of care and love I never saw before now, everybody were all over so happy to have me back and were just going on and on wishing me well, to be very honest have never felt love like this before and am so very blessed to have everyone in my life, we're one big family and that point was proven to me in my last post everybody Were just all over the place wishing me well and who says that pray hasn't worked trust me am feeling much better thank the last time and am so grateful to all of you for your prayers and well wishes, reading through the comments section of my last post I was so emotional 😭 The love was too much, it was overwhelming I couldn't contend my excitement and I pray may lines fall into pleasant places for each and everyone of you. And above all ### I LOVE YOU ALL.
This means everyone here loves me too that was why you all individually wished me well, am so excited to be back guys. Still on the celebration of my home coming I'll be sharing from start to finish how I got this outfit made 😊just say connected to your favorite brand @smilestitches and give me the pleasure of taking you on an amazing adventure to the fashion world.
Am actually dedicating this post to you all.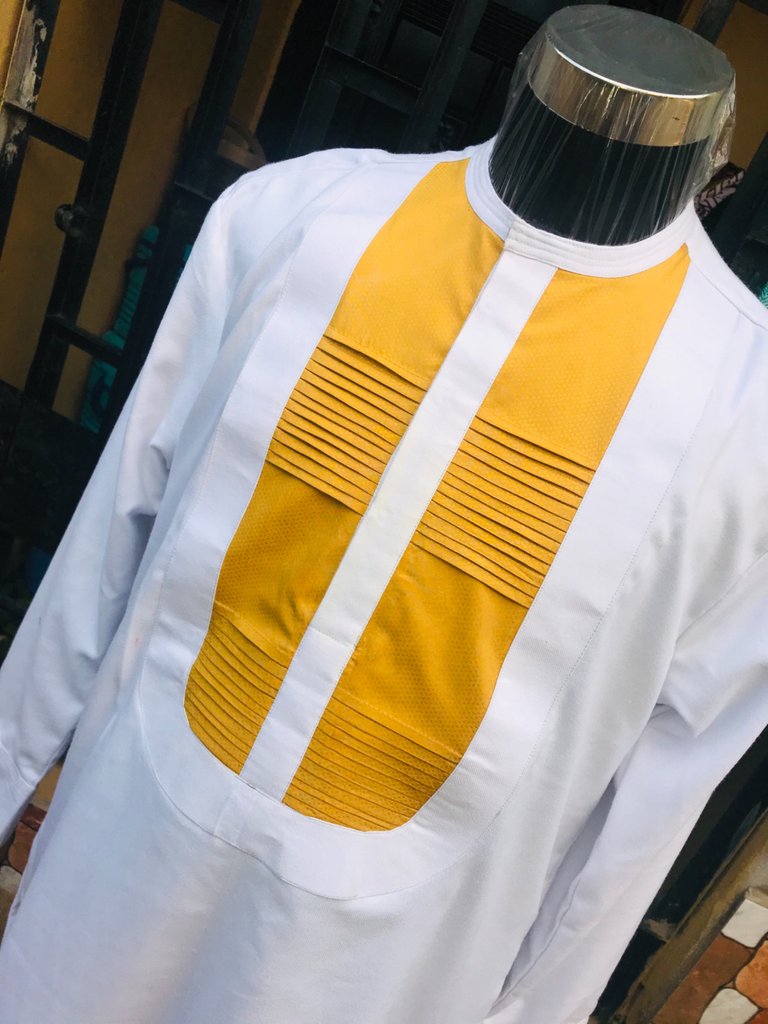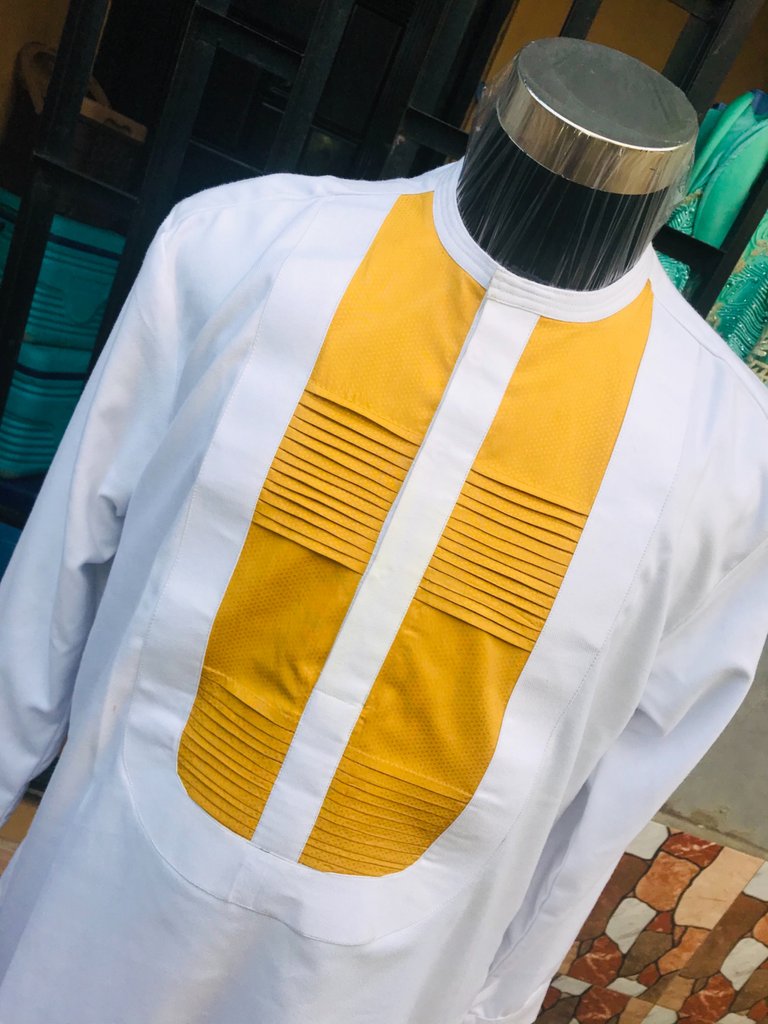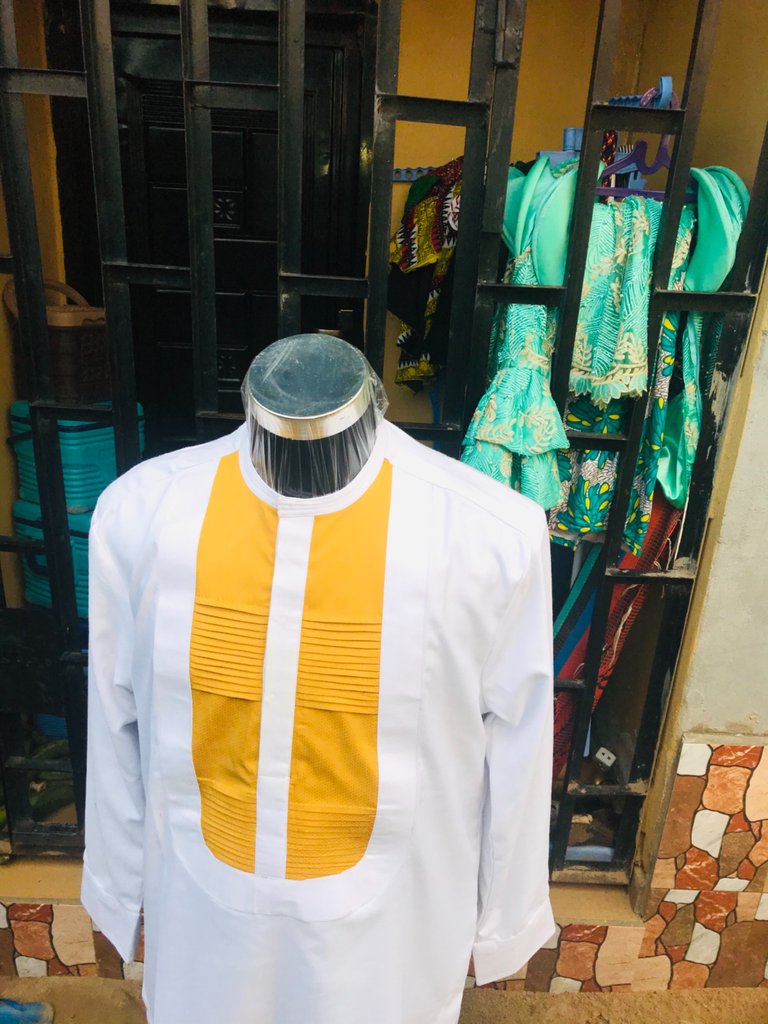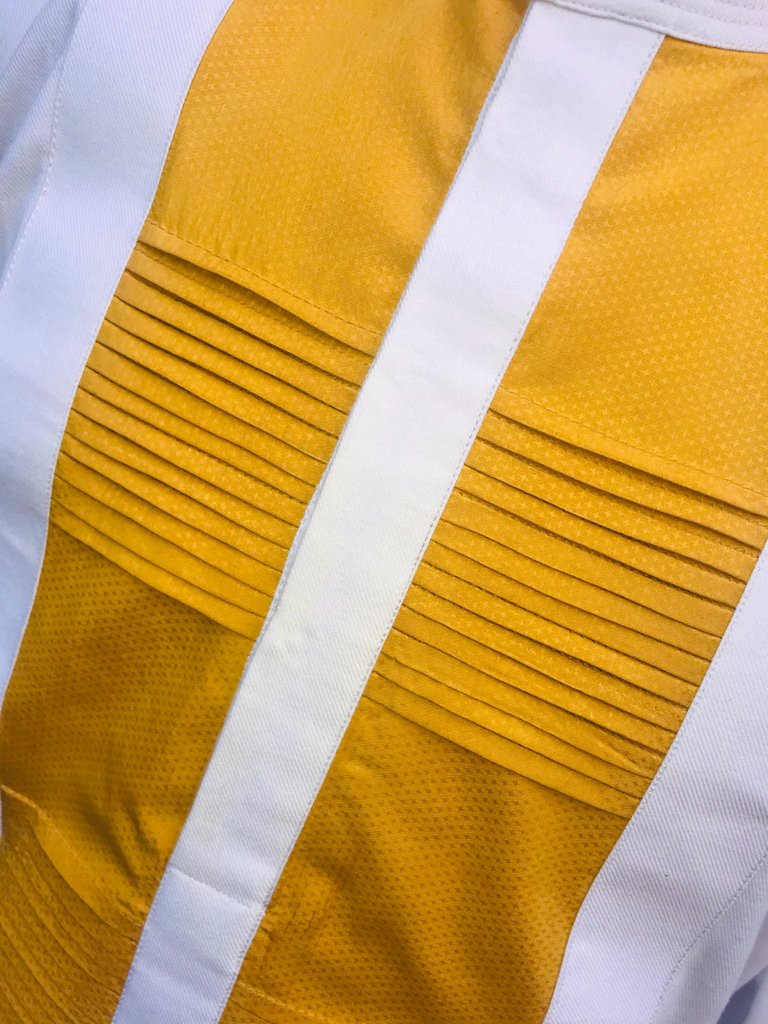 Items used:
A plain white fabric
A gold color fabric
Soft Collar gum
Light gum
Matching thread.
My cutting processes:
I lay the white Fabric on the table draft out the measurement of my client using a sketcher, I was done sketching the front view then I cut it out using the front view to draw the back and cut it out, along with the both sleeves which were long sleeves and the back facing too.
My sewing processes:
Step 1:
I took out the front iron out bend it into and iron out a straight line to indicate to middle to guide me when designing so I won't end up doing something ugly because the beauty of any design is how straight and well organized everything is at the front of the top.
Step 2:
After the ironing was done, I took the gold fabric cut size of 8inches and length of 30inches and I added the soft gum at the back view of the gold fabric and I started pleating it after leaving some inches from the top like 6inches, I then pleated it 13times and I left a spacing of 4inches and pleated it again but this time I pleaded it 17times and I took it to the iron and iron them to blend.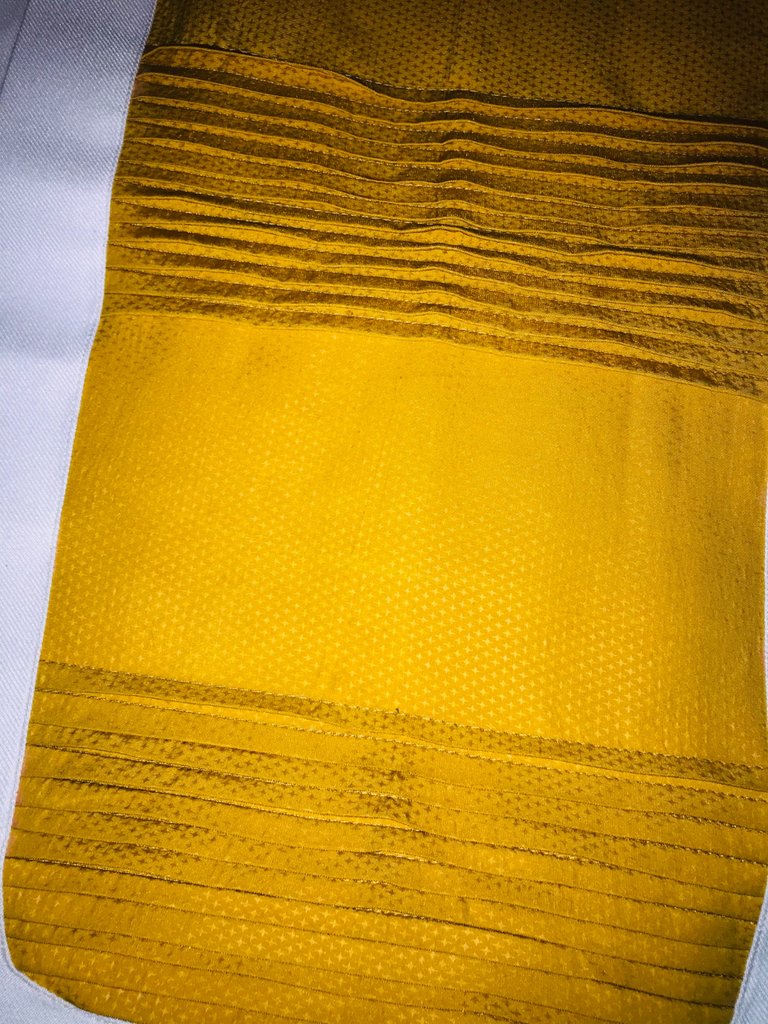 Step 3:
The pleating was done and I did a U pattern using an hard paper, so it will help me in bending the other U covering the rough edges of the gold design.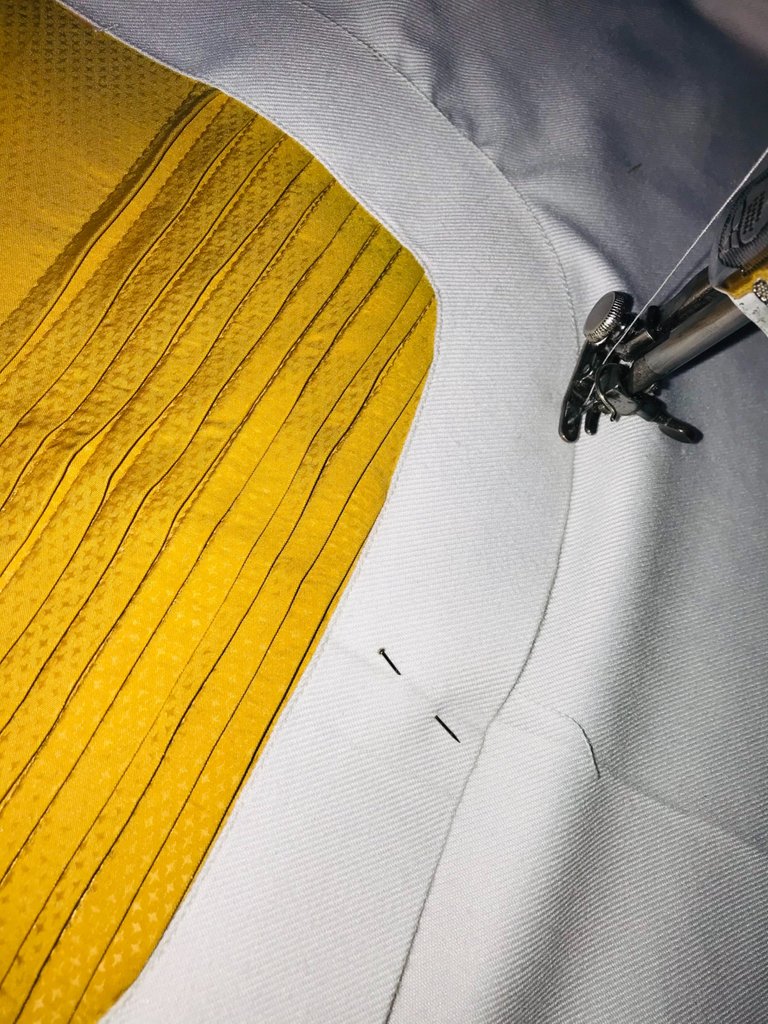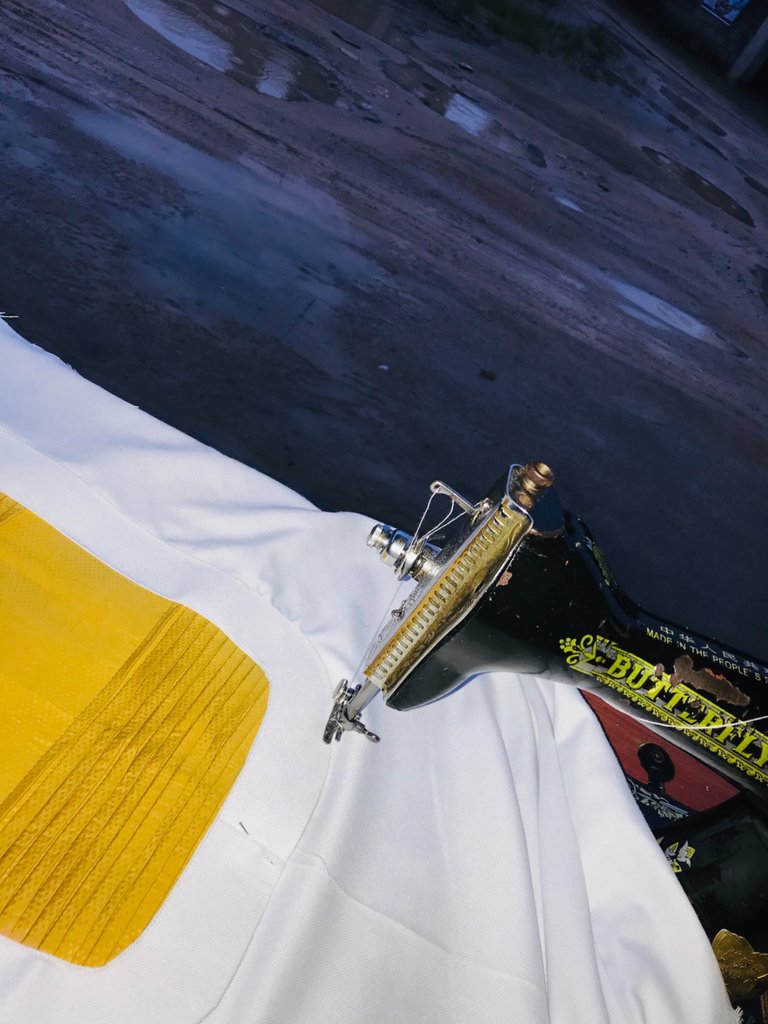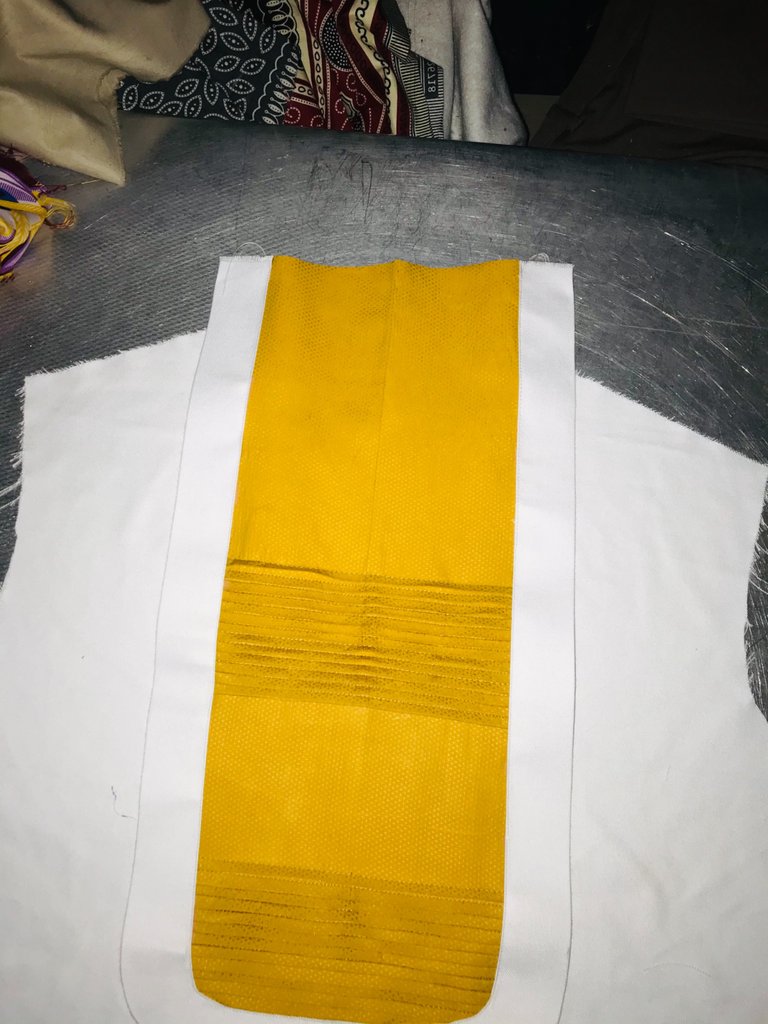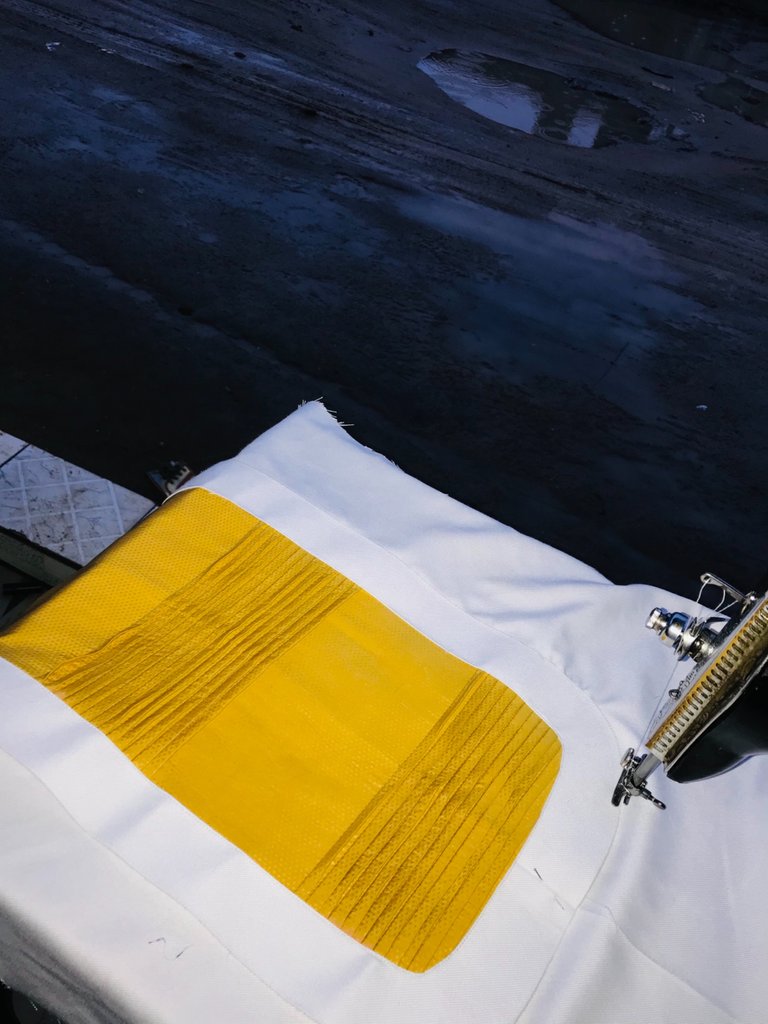 I did that and I use the hard gum to cut the flap, I cut size of 1inches and length of 15inches and I gum it to the white fabric, I cut Same size for the other one and I used them to prepare the front flap.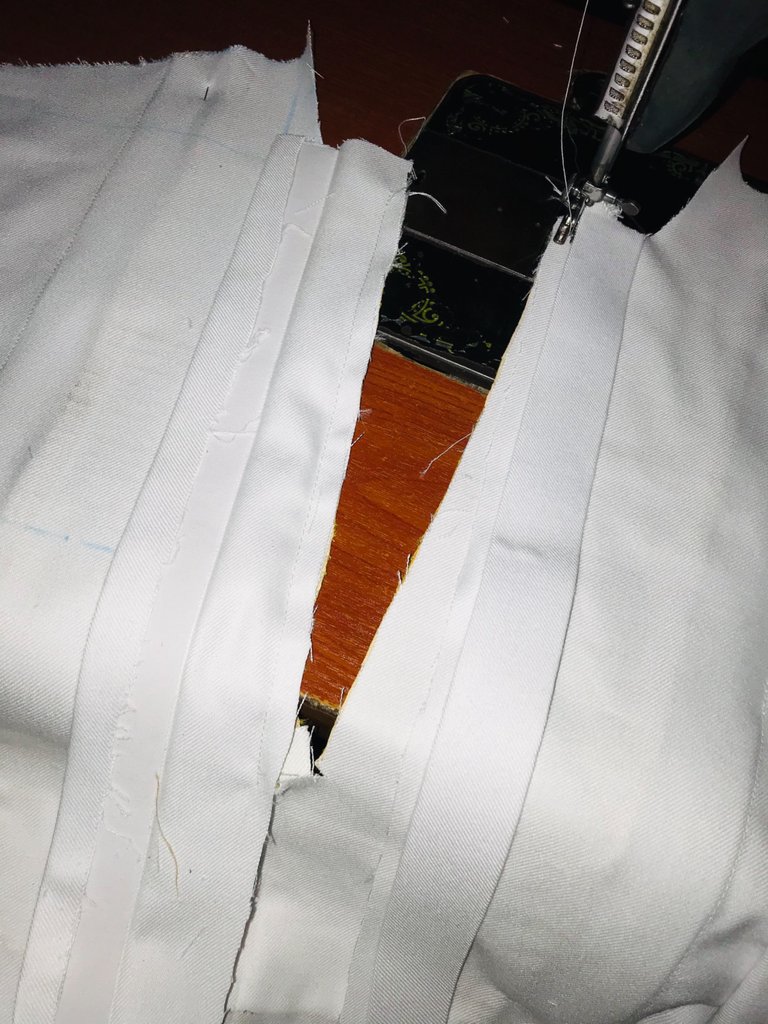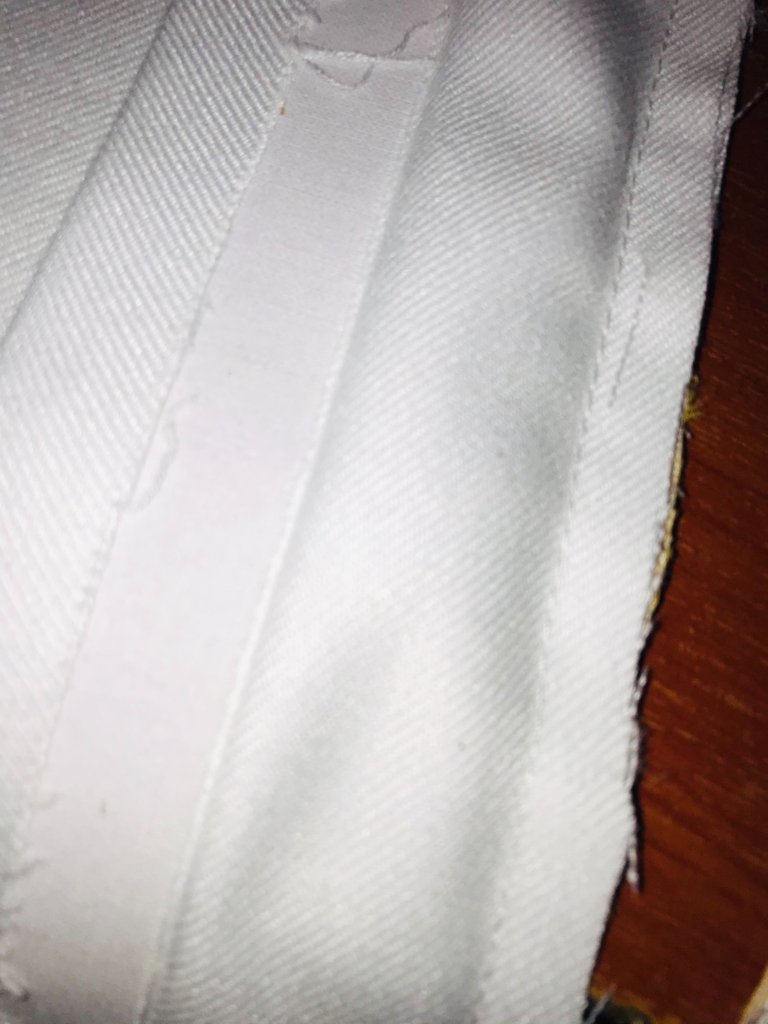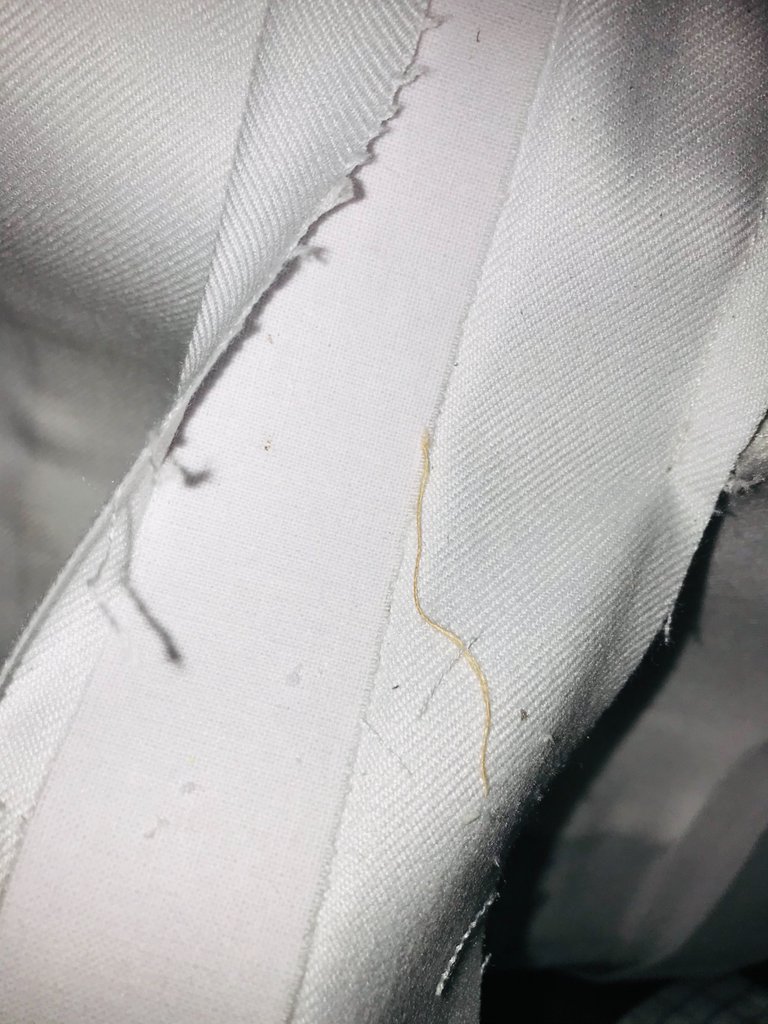 I joined the back to the front after that was done I inserted the both sleeves and joined the body size using the measurement I had of my client, lastly I piped the neck and bend the length and my client cloth was done and dusted.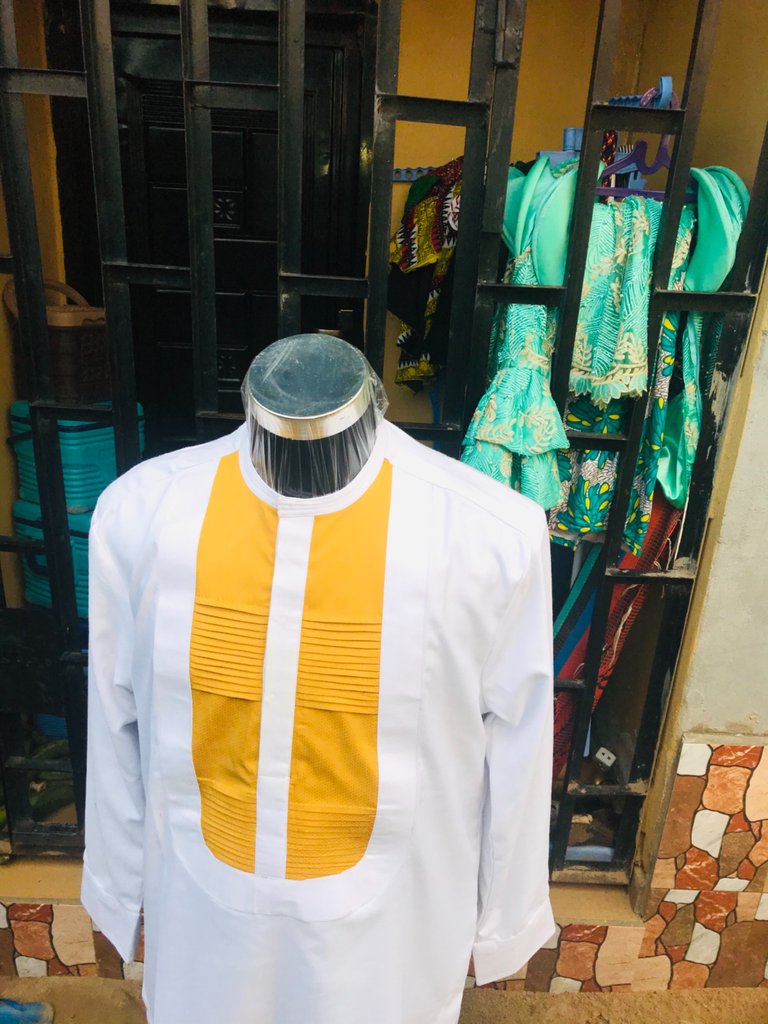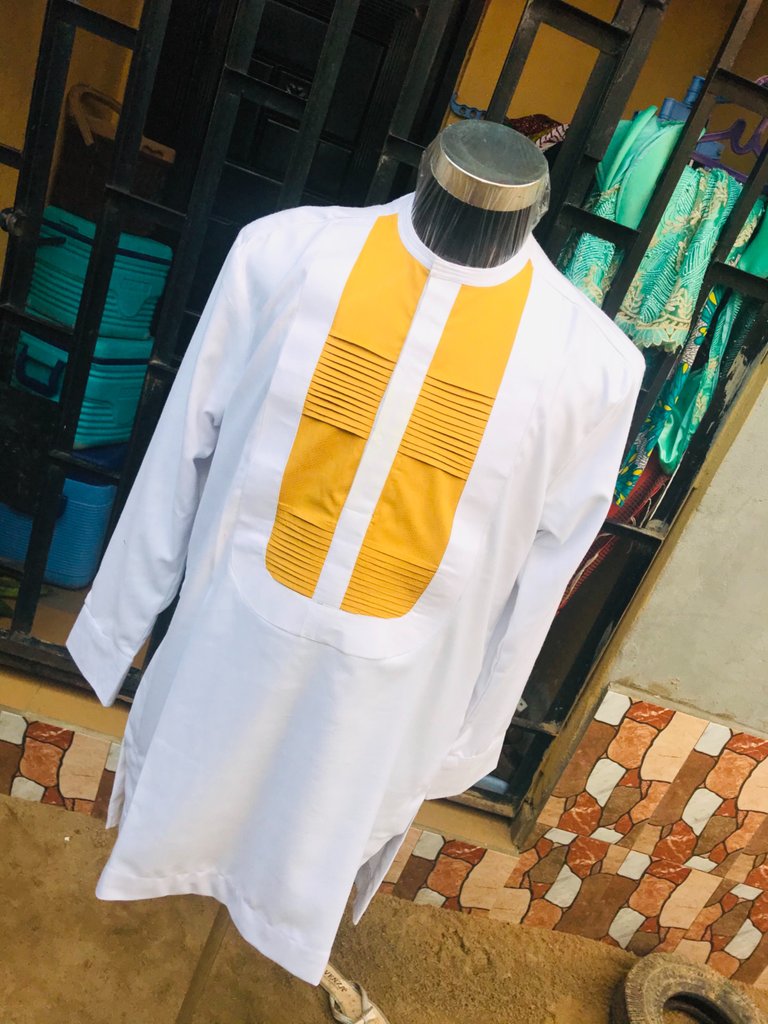 My client was so pleased with this outfit that he connected me to 7 other people for me to also make there outfits too an so happy guys, looking at me for the first time we meet he was contemplating saying I look to young if I would be able to give him a suitable design he'll love that will look good on him I gave him this and he was so marveled, am so happy because my time and effort paid off massively, who says I won't be popping champagne 🥂🍾 one of this days 😂 😂 😂.
Thanks guys for consistently reading through my posts, I wish you all prosperous day at work and a productive weekend loading, good vibes 😎.
This post is proudly brought to you by
@smilestitches!!!!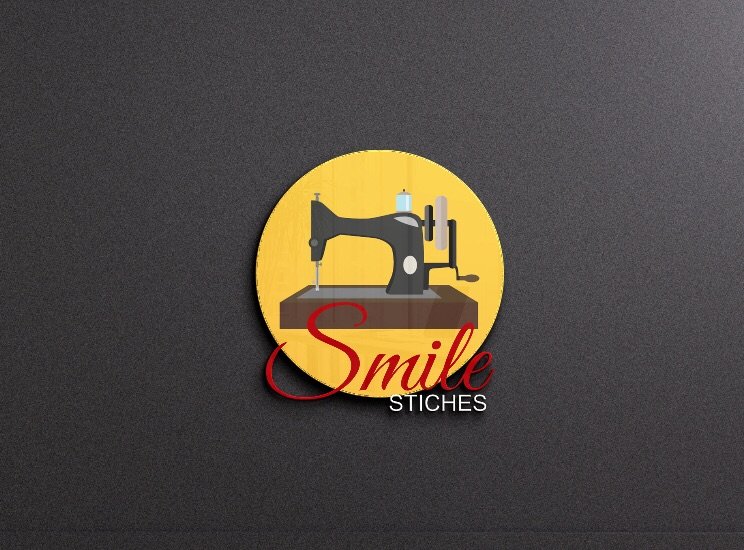 ---
---